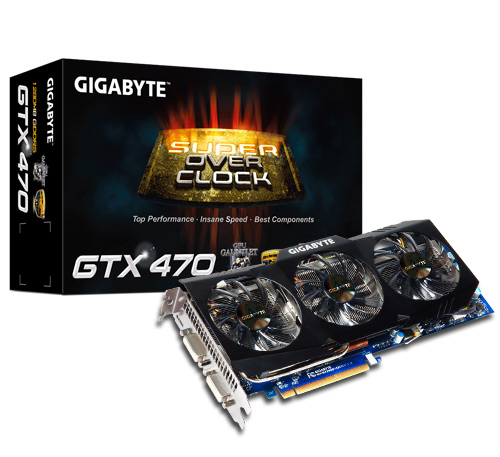 When a factory clocked video card doesn't supply enough gaming power, but you don't want to shell out a bunch more cash for the step up an overclocked card can be a good middle ground. Today we have Gigabytes overclocked version of the GTX 470.
Introduction
In this competitive market, the most well performing card wins, and these cards often come at a steep price. Even upgrading can be expensive. To help bridge the gap between two cards, we can take a lower end card and overclock it. For users who cannot or do not wish to tinker with their card's clock speeds, GIGABYTE is now offering an overclocked edition of the popular and powerful GTX 470. The step up to a GTX 480 can cost as much as $200, depending on the manufacturer or memory size chosen. This GTX 470 of course costs more than a normal 470, but it is still much cheaper than a 480.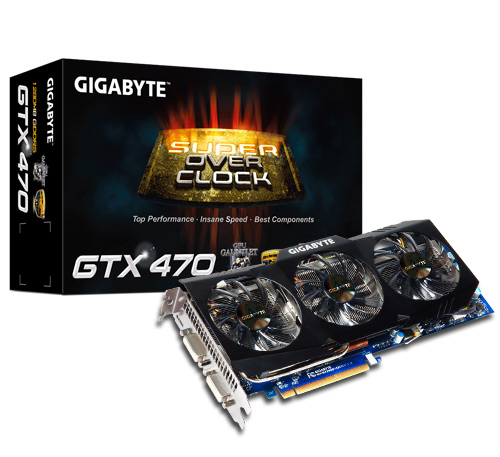 Features

GIGABYTE Super Overclock Series
1. NVIDIA GeForce GTX 470 SOC Edition
2. Overclock: Core/Mem clock: 700/ 3348 MHz
3. GIGABYTE WINDFORCETM 3X Cooling Design
4. 12 Power Phase
5. GPU GauntletTM Sorting Technology
6. Ultra Durable VGA+ High Quality Components
7. Voltage Read Point
8. OC Guru-graphics card smart tuner
9. 12% performance better than generic GTX 470
10. 18% temperature lower than generic GTX 470
11. 17% power consumption lower than generic GTX 470

RoHS Compliant
As a citizen of the global village, GIGABYTE exert ourselves to be a pioneer in environment care. Give the whole of Earth a promise that our products do not contain any of the restricted substances in concentrations and applications banned by the RoHS Directive, and are capable of being worked on at the higher temperatures required for lead free solder. One Earth and GIGABYTE Cares!
Microsoft® DirectX® 11
World's first DirectX 11 GPU with full Shader Model 4.0 support delivers unparalleled levels of graphics realims and film-quality effects.
PCI-E 2.0
PCI Express® 2.0 –Now you are ready for the most demanding graphics applications thanks to PCI Express® 2.0 support, which allows up to twice the throughput of current PCI Express® cards. Doubles the bus standard's bandwidth from 2.5 Gbit/s (PCIe 1.1) to 5 Gbit/sec.
HDCP Support
High-Bandwidth Digital Content Protection (HDCP) is a form of copy protection technology designed to prevent transmission of non-encrypted high-definition content as it travels across DVI or HDMI digital connections.

Microsoft Window7
Microsoft Windows 7 is the next generation operating system that will mark a dramatic improvement in the way the OS takes advantage of the graphics processing unit (GPU) to provide a more compelling user experience. By taking advangate of the GPU for both graphics and computing, Windows 7 will not only make todays's PCs more visual and more interactive but also ensure that they have the speed and responsiveness customers want

HDMI Ready
High Definition Multimedia Interface (HDMI) is a new interface standard for consumer electronics devices that combines HDCP-protected digital video and audio into a single, consumer-friendly connector.

CUDA Technology
NVIDIA® CUDA™ technology unlocks the power of the hundreds of cores in your NVIDIA® GeForce® graphics processor (GPU) to accelerate some of the most performance hungry computing applications. The CUDA™ technology already adopted by thousands of programers to speed up those performance hungry computing applications.

Windows Vista®
NVIDIA's fourth-gereration GPU architecture built for Windows Vista gives users the best possible experience with the Windows Aero 3D graphical user interface.

PureVideo™ HD
Available on HD DVDs and Blu-ray discs, high-definition movies are bringing an exciting new video experience to PC users. NVIDIA® PureVideo™ HD technology lets you enjoy cinematic-quality HD DVD and Blu-ray movies with low CPU utilization and power consumption, allowing higher quality movie playback and picture clarity.PureVideo HD technology provides a combination of powerful hardware acceleration, content security, and integration with movie players, plus all the features found in PureVideo.

PhysX Technology
NVIDIA® PhysX™ is the next big thing in gaming!Delivering physics in games is no easy task. It's an extremely compute-intensive environment based on a unique set of physics algorithms that require tremendous amounts of simultaneous mathematical and logical calculations. The best way to get real-time physics, such as explosions that cause dust and debris, characters with life-like motion or cloth that drapes and tears naturally is with an NVIDIA®PhysX™-ready GeForce® processor. PhysX software is widely adopted by over 150 games, is used by more than 10,000 registered users and is supported on Sony Playstation 3, Microsoft Xbox 360, Nintendo Wii and PC. PhysX™ technology will take gaming to a whole new level.
Shader Model 5.0
Shader Model 5.0 adds support for indexed temporaries which can be quite useful for certain tasks.Regular direct temporary access is preferable is most cases. One reason is that indexed temporaries are hard to optimize. The shader optimizer may not be able to identify optimizations across indexed accesses that could otherwise have been detected. Furthermore, indexed temporaries tend to increase register pressure a lot. An ordinary shader that contains for instance a few dozen variables will seldom consume a few dozen temporaries in the end but is likely to be optimized down to a handful depending on what the shader does. This is because the shader optimizer can easily track all variables and reuse registers. This is typically not possible for indexed temporaries, thus the register pressure of the shader may increase dramatically. This could be detrimental to performance as it reduces the hardware's ability to hide latencies.
40nm Technology
Faster clocks, double the transistor density of earlier 40 nm technology. 40nm technology helped make GTX 470 series products the most advanced GPUs ever highest clocks speeds, incredible feature integration, full performance and precision all the time, and ability to take advantage of future, higher-speed memories.
OpenGL 3.2® Optimizations
Ensure top-notch compatibility and performance for all OpenGL 3.2 application.
These are many of the same features that you will find in any other GTX 470. PhysX is always a nice selling point for Nvidia cards. The inclusion of DX11 is considered a strong suit for the new GeForce 400 series because of their ability to do tesseleation so well.
Specifications
| Specification | 470 GTX OC | 470 GTX |
| --- | --- | --- |
| Series | GeForce 400 Series | GeForce 400 Series |
| Chipset | GeForce GTX 470 | GeForce GTX 470 |
| Key Features | SOC | N/A |
| Core Clock | 700 MHz | 607 MHz |
| Shader Clock | 1400 MHz | 1215 MHz |
| Memory Clock | 3348 MHz | 3348 MHz |
| Memory Type | GDDR5 | GDDR5 |
| DirectX | 11 | 11 |
| D-Sub | Yes (By Adapter) | Yes (By Adapter) |
| DVI | Yes | Yes |
| HDMI | Yes | Yes |
| DisplayPort | N/A | N/A |
Compared to the stock clocked GTX 470, we see that though the overclocked version's GPU clocked quite a bit higher, the memory is still clocked at the reference level. This is a little bit of a dissapointment, since the extra bandwidth that a higher memory clock gives would definatly complement the higher core clock.
Pictures & Impressions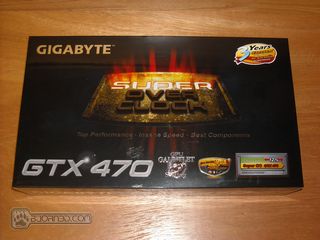 The box is a little more plain than most overclocked edition cards. We are used to seeing fantasy creatures, or attractive women on the cover. This is not to say that the design is bad, or that it even matters since our main concern is with the product inside the box.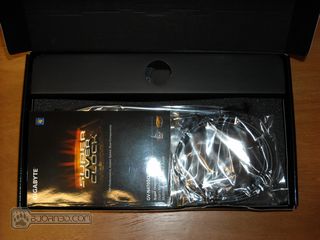 Inside we find a GTX 470 in a layer of foam, with the included accessories packed around the card. The card also has an anti-static bag around it to prevent any static from bricking the card before the box is opened.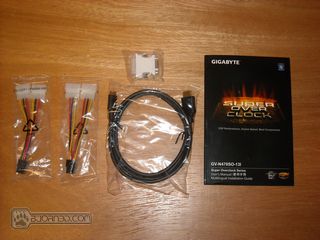 Above we can see the accessories enclosed with the card. From left to right, we have two Molex-to-PCI-E 6 pin adapters, a DVI-to-VGA adapter, an HDMI cable, and a manual. Inside the manual is a CD with the drivers and software for the card, but as always, we suggest you download the latest drivers directly from the chipset manufacturer (Nvidia's site).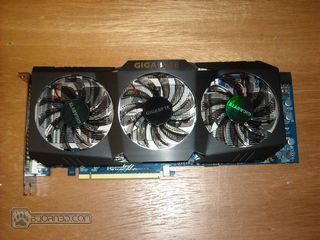 From here we can see all three fans included on the card's cooler. In theory this should allow the card to run cooler at the same noise level as the stock cooler. This cooler is a different design from the stock cooler, but not necessarily larger. The extra CFM from the fans should help keep the card cooler though. The size of the fans also make a difference. A larger fan can push the same amount of air as a smaller fan, but does so more quietly.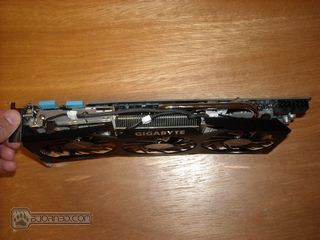 From the side we can clearly see that this card still only occupies two slots, like the stock cooler. The curved design makes it more attractive. This should allow some more room for the fans to draw in air (this is especially helpful for users running an SLI setup). From this angle we can also see the heat pipes going from the GPU into the fins of the cooler. The heat pipe is made out of copper, which is a great heat conductor, meaning the heatpipes will disspiate heat faster.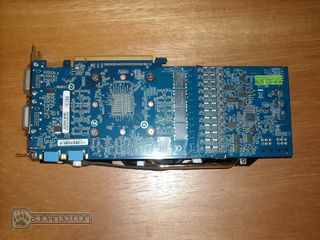 Here we have the back of the card. It is interesting to note that there are 12 LED's on the back of the card. We have not seen LED's on the back of a graphics card since the Sapphire 4870. Users who do not like LED's in their case may want to stay away from this card.
Methodology
To test this card, we did a fresh load of Windows 7 Ultimate 64 bit, applied all the patches and updates for the OS, then updated all the motherboard drivers and made sure that we had the latest GeForce 258.96 drivers. We didn't install any video drivers on the test rig at first, instead installing the basics and cloning the hard drive using Acronis. This way, when we switch from the ATI GPU to the Nvidia GPU, we can have a fresh load without any of the old drivers interfering with the result.
We ran each test 3 times and reported the average of these results here. Below is a detailed list of the components used during testing.
Test Rig
Case
NZXT Vulcan
CPU
Intel i7 920 @ 3.9 Ghz
Motherboard
DFI X58 Jr
Ram
(6x2GB) DDR3 @ 1560 9-9-9-22
CPU Cooler
D-Tek Fuzion
Hard Drives
Corsair P64
Western Digital 750 GB
Optical
LiteOn DVDR
GPU's Tested
Sapphire HD 5970
Sapphire HD 5770
Asus HD 5770
Gigabyte GTX 470
Testing PSU
Corsair HX1000 Watt
Synthetic Benchmarks & Games
Synthetic Benchmarks & Games
3DMark 06
3DMark Vantage
Crysis
Crysis Warhead
Far Cry 2
Hawx
Resident Evil 5
Grand Theft Auto 4
Temperatures

To test the temperatures of the card we first let the card idle for an hour, and then recorded that temperature. To test the load temperature, we ran FurMark for half an hour. We then recorded the highest temperature reached and recorded this as our load temperature.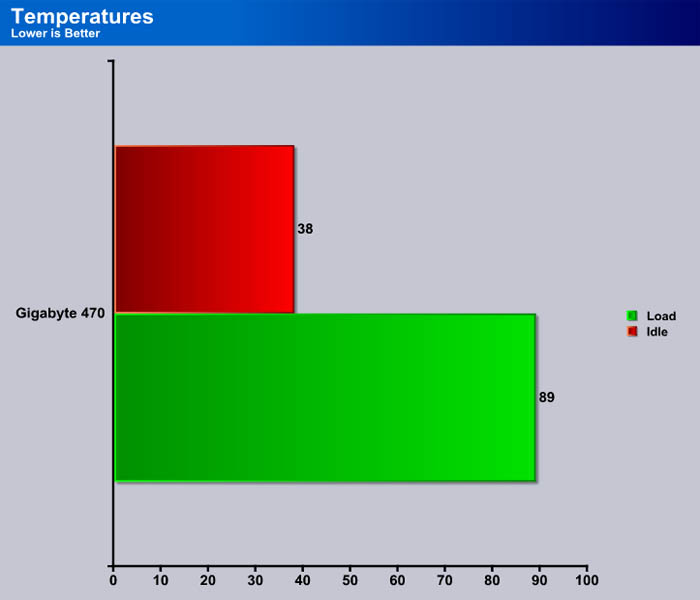 Though this is not a terrible result for a Fermi card, the load temperature is too high, especially considering the fact that the card comes with an aftermarket cooler. The load temperature was just under 90C. However, Nvidia claims that these temperatures are safe, so users should be fine.
3DMARK06 V. 1.1.0

3DMark06 developed by Futuremark, is a synthetic benchmark used for universal testing of all graphics solutions. 3DMark06 features HDR rendering, complex HDR post processing, dynamic soft shadows for all objects, water shader with HDR refraction, HDR reflection, depth fog and Gerstner wave functions, realistic sky model with cloud blending, and approximately 5.4 million triangles and 8.8 million vertices; to name just a few. The measurement unit "3DMark" is intended to give a normalized mean for comparing different GPU/VPUs. It has been accepted as both a standard and a mandatory benchmark throughout the gaming world for measuring performance.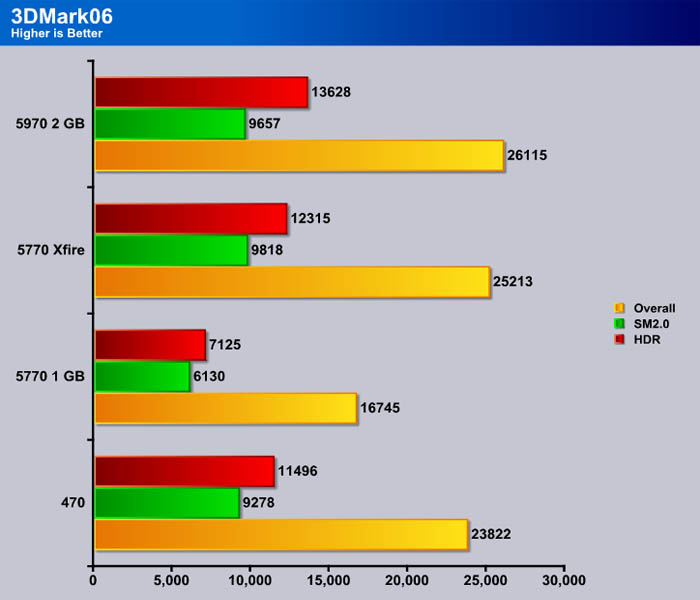 The GTX 470 gets off to a great start here. Its score was not too far behind the CrossFire setup 5770's, which is a respectable score in our opinion.
3DMark Vantage

For complete information on 3DMark Vantage Please follow this Link:
www.futuremark.com/benchmarks/3dmarkvantage/features/
The newest video benchmark from the gang at Futuremark. This utility is still a synthetic benchmark, but one that more closely reflects real world gaming performance. While it is not a perfect replacement for actual game benchmarks, it has its uses. We tested our cards at the 'Performance' setting.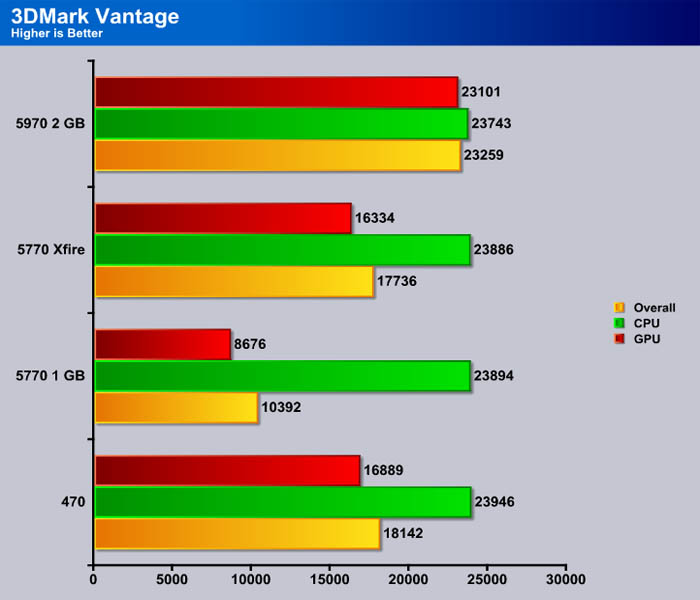 The GTX 470 is able to just barely pull ahead of the 5770's in CrossFire. Please note that PhysX was disabled for the GTX 470 to provide uniform testing conditions.
Crysis v. 1.21

Crysis ws the most highly anticipated game to hit the market in the last several years. Crysis is based on the CryENGINE™ 2 developed by Crytek. The CryENGINE™ 2 offers real time editing, bump mapping, dynamic lights, network system, integrated physics system, shaders, shadows, and a dynamic music system, just to name a few of the state-of-the-art features that are incorporated into Crysis. As one might expect with this number of features, the game is extremely demanding of system resources, especially the GPU. We expect Crysis to be a primary gaming benchmark for many years to come.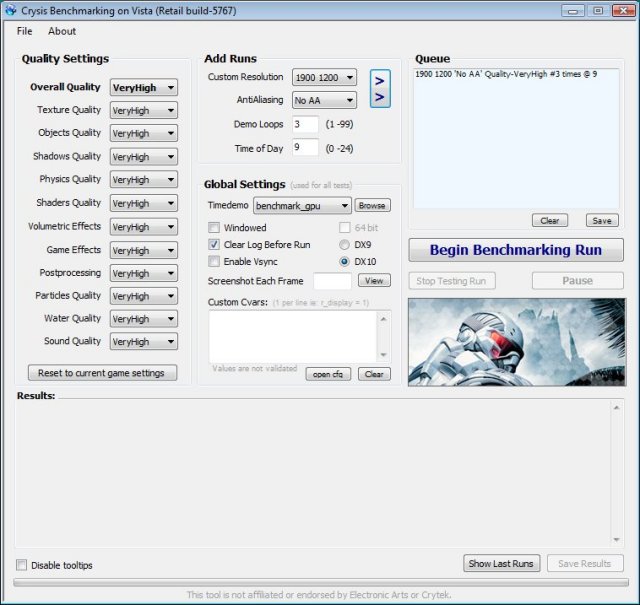 The Settings we use for benchmarking Crysis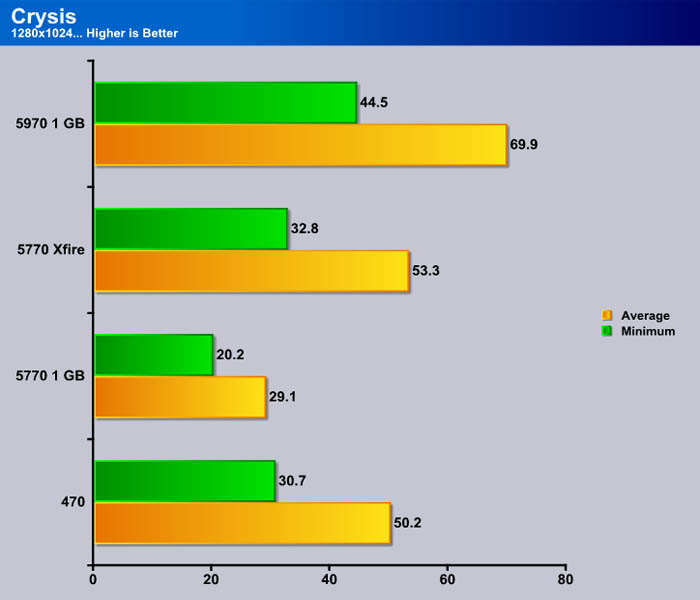 Even at a low resolution, Crysis is still limited heavily by the GPU. Here we see the GTX 470 has no issue playing the game at a good clip, and the best part is it doesn't dip below 30 FPS, so users should experience rock solid game play.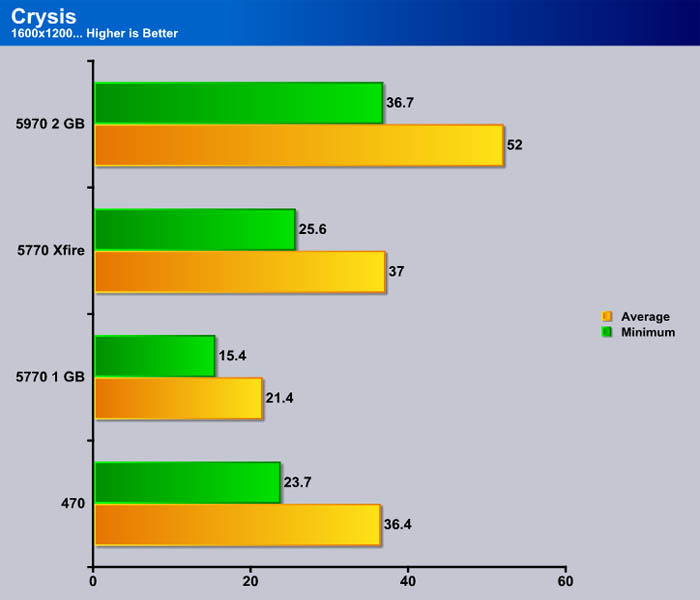 When we increase the resolution we see that the 470 is just a shade behind the CrossFire 5770's again.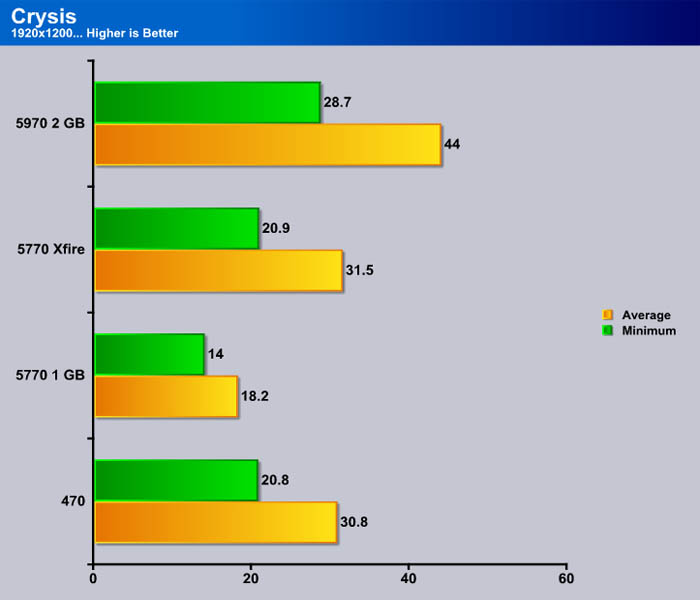 The 470 looses a bit of ground to the 5770 CrossFire here, but this is probably because of the higher bandwidth that a double-card setup produces.
CRYSIS WARHEAD

 Crysis Warhead is the much anticipated standalone exansion to Crysis, featuring an updated CryENGINE™ 2 with better optimization. It was one of the most anticipated titles of 2008.

The Settings we use for benchmarking Warhead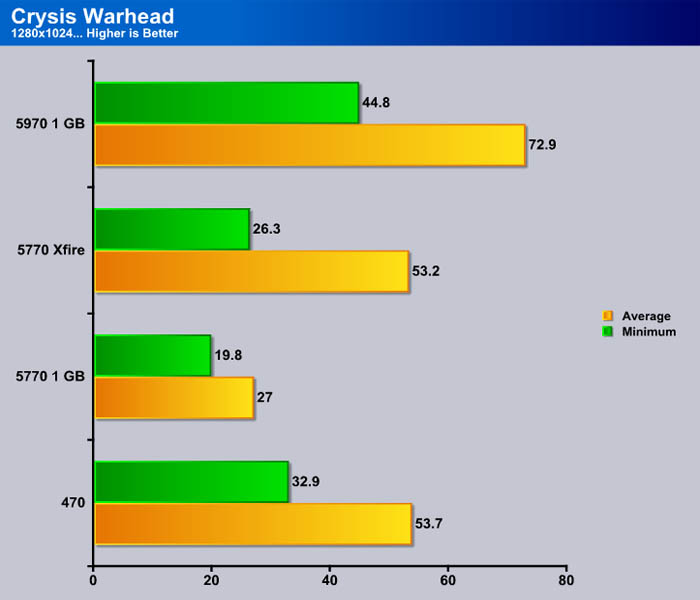 The 470 takes a lead here over the CrossFire 5770's.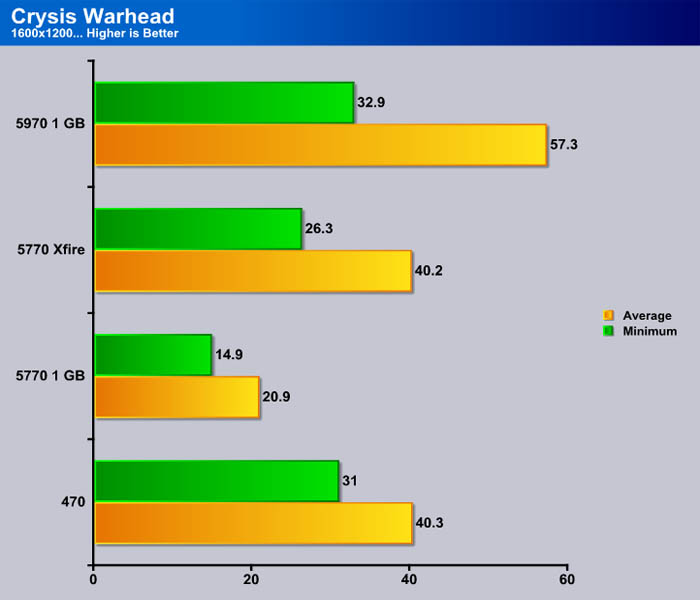 The 470 is barely able to hold back the 5770 CrossFire in average FPS, but it posts up a decently higher minimum FPS.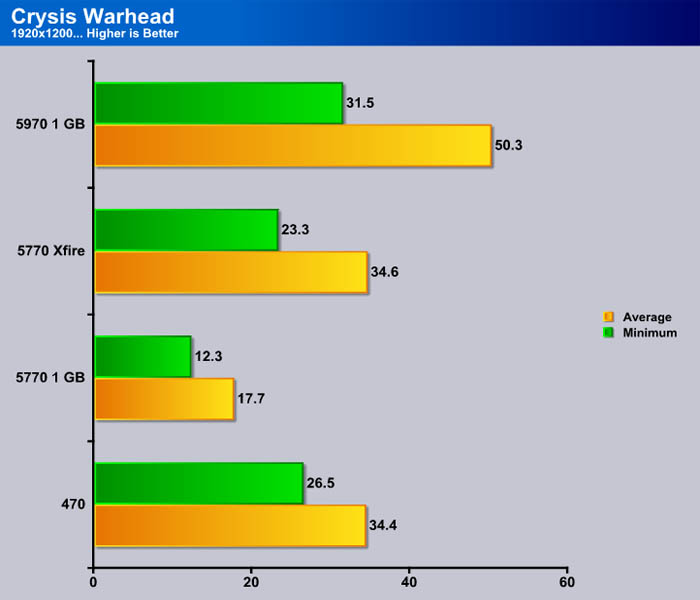 The CrossFire 5770's beat out the 470, but only by a slim margin. In fact, the 470 still produces a higher minimum frame rate.
Far Cry 2

Far Cry 2, released in October 2008 by Ubisoft, was one of the most anticipated titles of the year. It's an engaging state-of-the-art First Person Shooter set in an un-named African country. Caught between two rival factions, you're sent to take out "The Jackal". Far Cry 2 ships with a full featured benchmark utility and it is one of the most well designed, well thought out game benchmarks we've ever seen. One big difference between this benchmark and others is that it leaves the game's AI (Artificial Intelligence) running while the benchmark is being performed.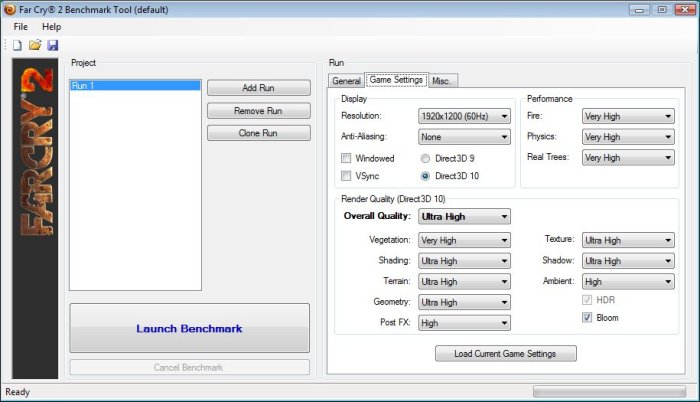 The Settings we use for benchmarking FarCry 2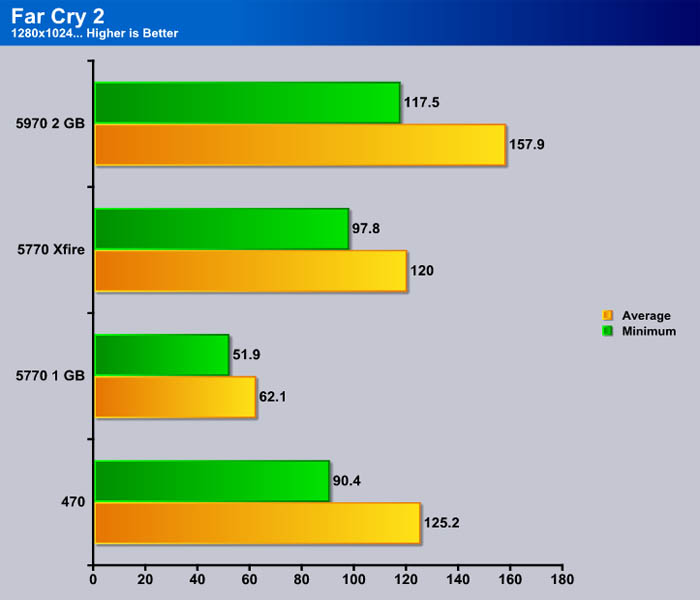 Right from the start we see the 470 take the lead over CrossFire 5770's. However the 5770's did manage to put up a better minimum frame rate.
When the resolution increases, we see the 470 loose quite a bit of ground in average FPS, but it gains on the 5770's in the minimum FPS category.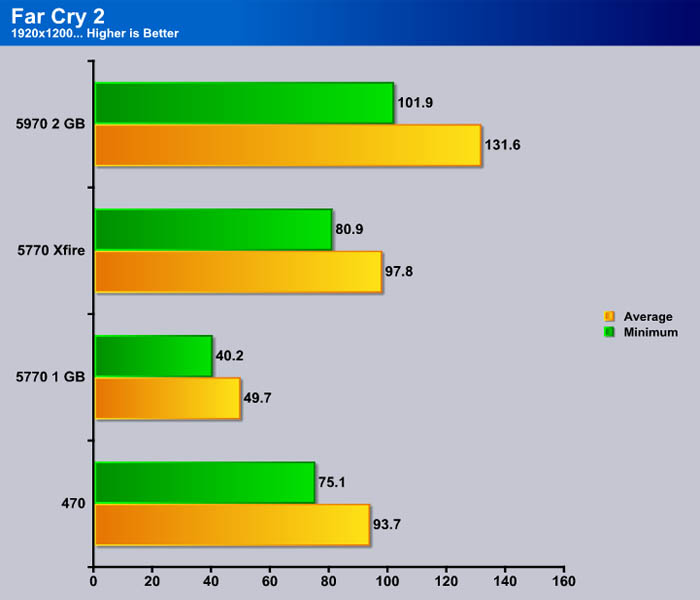 When we get to the final resolution, we see that the 470 is no longer able to match the 5770 CrossFire, merely staying closely behind.
HawX

The story begins in the year 2012. As the era of the nation–state draws quickly to a close, the rules of warfare evolve even more rapidly. More and more nations become increasingly dependent on private military companies (PMCs), elite mercenaries with a lax view of the law. The Reykjavik Accords further legitimize their existence by authorizing their right to serve in every aspect of military operations. While the benefits of such PMCs are apparent, growing concerns surrounding giving them too much power begin to mount.
Tom Clancy's HAWX is the first air combat game set in the world–renowned Tom Clancy's video game universe. Cutting–edge technology, devastating firepower, and intense dogfights bestow this new title a deserving place in the prestigious Tom Clancy franchise. Soon, flying at Mach 3 becomes a right, not a privilege.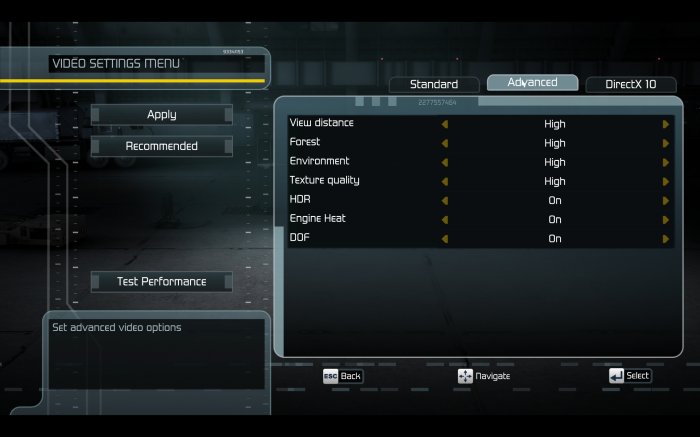 The Settings we use for benchmarking HawX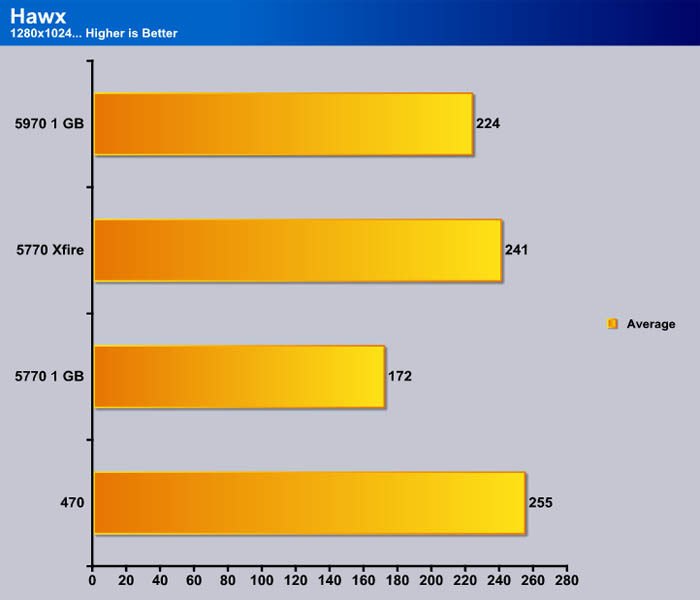 HAWX is one of the most unpredictable gaming benchmarks we have used. Our chart looks a lot like scrambled eggs, with the 5970 losing to the 5770's CrossFire, and the 470 taking the lead.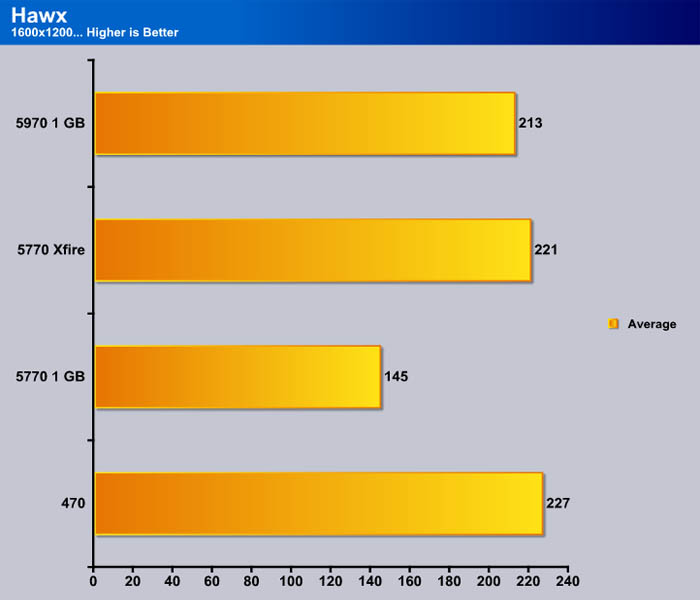 We see a similar picture to what we saw at lower resolution.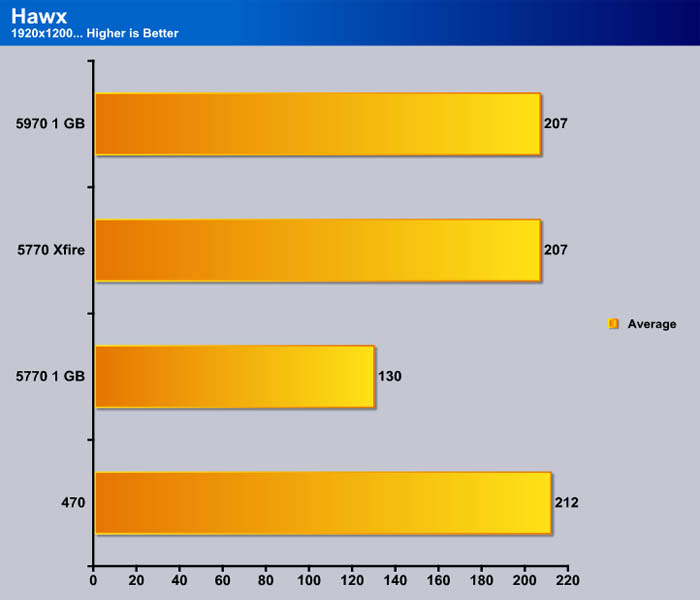 The 5970 is finally able to match the 5770 CrossFire here, but the 470 outperforms all.
Resident Evil 5

Resident Evil 5 is the latest addition to the popular Resident Evil franchise. Set in Africa, you play as Chris Redfeild who is part of the Bio-terrorism Security Assessment Alliance (BSAA). You are sent to capture Ricardo Irving who is trying to bring a bio-organic weapon to the black market. However you quickly unravel something bigger…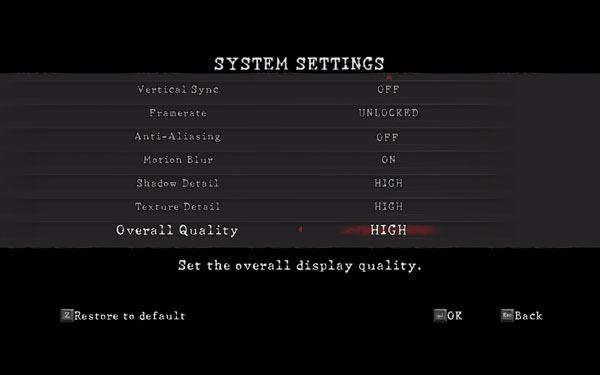 The settings we used in Resident Evil 5

The 470 takes a decisive lead over the 5770 CrossFire here.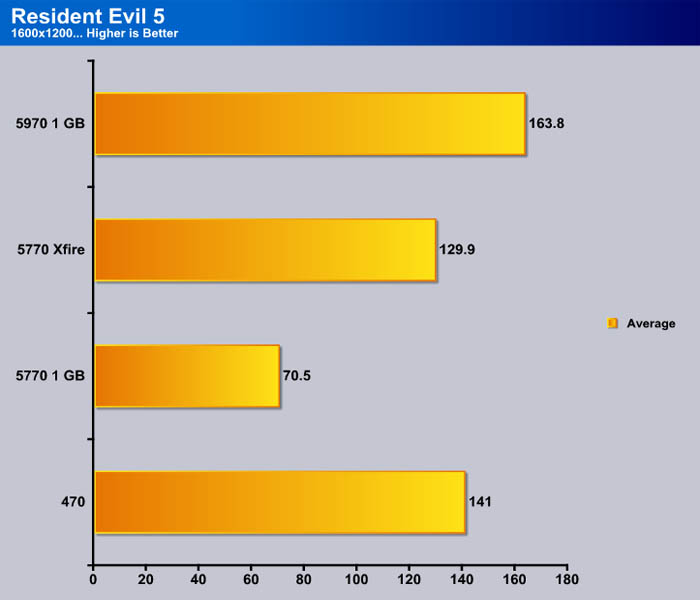 The 470 again comes out on top, however it does loose a little bit of ground to the 5770 CrossFire.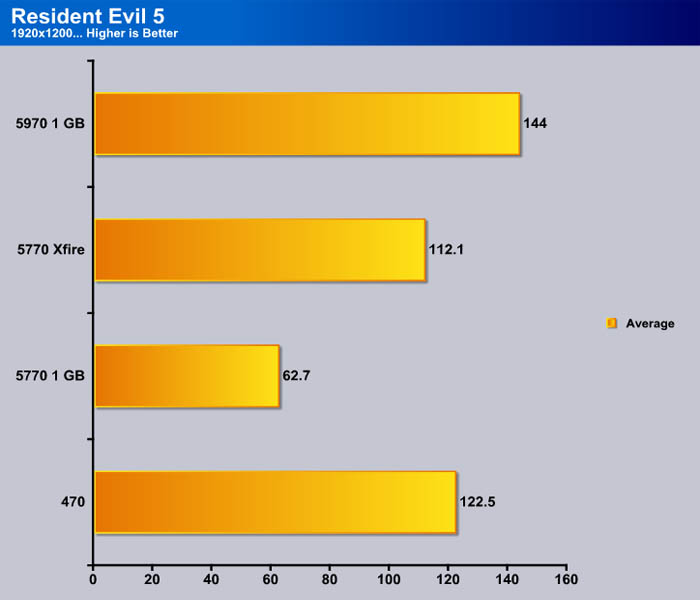 Though the 470 keeps loosing ground to the 5770 CrossFire, it still manages to hold it off at the highest resolution.
Grand Theft Auto 4

Grand Theft Auto 4 is the latest edition to the GTA franchise. The game takes you back to Liberty to play as Niko Bellic. Niko has come from an unnamed European country to "live the dream" with his cousin. He soon finds out that his cousin has been lying to him, and he must do odd jobs for big name criminals as well as high ranking officials just to stay alive.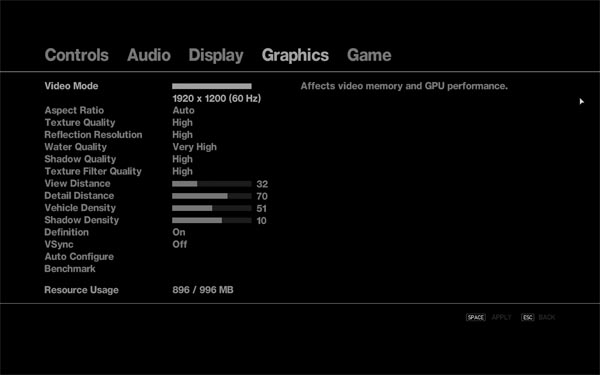 The settings we used in GTA4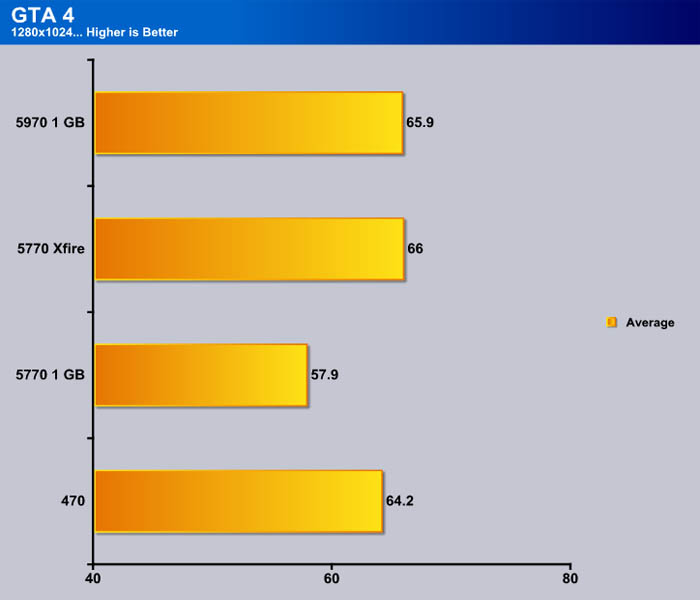 Grand Theft Auto 4 is one of the games that don't seem to go very high over 60 GPS.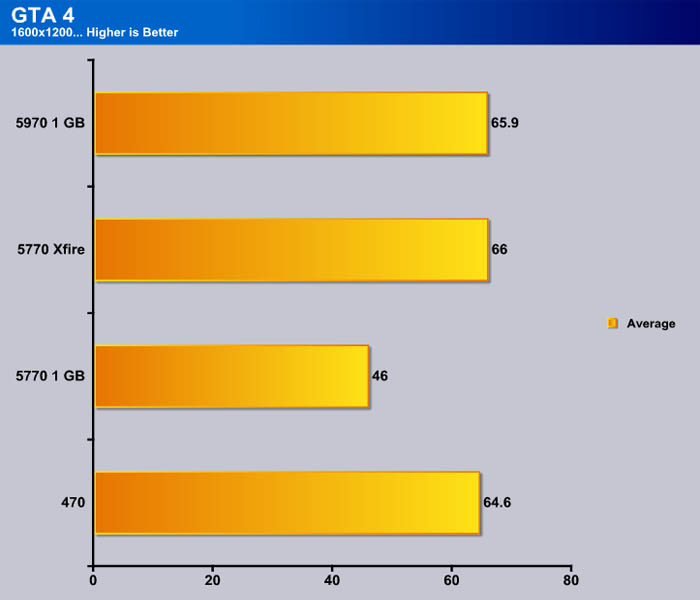 We see the same exact results here as with the lower resolution.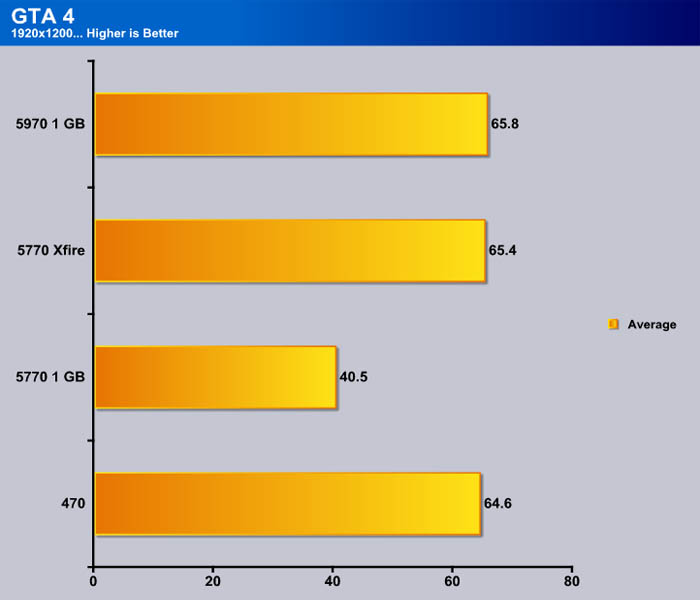 We really wish the GTA 4 engine would yield higher FPS, but at least it is able to constantly output 60 FPS, which keeps the action smooth.
Conclusion
The Gigabyte GTX470 Super Overclock is a very powerful card, as shown by our testing. With the ability to compete with a CrossFire 5770 system, this card packs a considerable punch. Unless users decide to go for high end models, however, the CrossFire 5770 setup costs a considerable amount less. Conversely, the single 470 setup eliminates the headache caused by CrossFire errors, and a single card also takes up less room in a case.
Unfortunately, Gigabyte does not back any of their cards with a warranty. This shows a lack of confidence in their cards, but we have not had too many issues with Gigabyte cards yet. Nonetheless, the high temperatures reached by the Fermi cards makes us wish that Gigabyte would include a warranty. Our main complaint with this card is that DX11 is barely used, and for the same price users can buy an AMD/ATI card and have better performance in everything but DX11 games.
OUR VERDICT: Gigabyte GTX 470 Super Overclock

| | |
| --- | --- |
| Performance | 7.5 |
| Value | 6.5 |
| Quality | 8 |
| Features | 8 |
| Innovation | 7 |

We are using an addition to our scoring system to provide additional feedback beyond a flat score. Please note that the final score isn't an aggregate average of the rating system.

Pros
Cons

Performance in DX11
Aftermarket Cooler
Overclocked

 CrossFire system is cheaper
DX11 is not used very much

 
Summary: The Gigabyte GTX 470 Super Overclock is a well-performing card, especially in DX11 applications. Its only downfall is the cost compared to a CrossFire or SLI setup. DX11 just doesn't have enough support to justify buying this card over a CrossFire/SLI setup.