A great card that performs well in comparison to those in its category. Its performance is not sacrificed by appearance but it isn't lackluster either. Overall a great card that would be great for gamers on a budget.
Introduction
Asus released their GTX-460 TOP, one of their many performance model video cards. Using the new Fermi design, the Asus GTX-460 TOP is definitely innovative. Our initial impression of this card was great, but the true performance of this card has yet to be judged.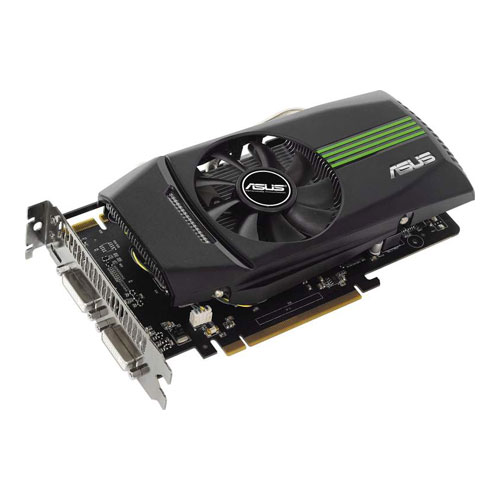 Features
ASUS Exclusive Voltage Tweak Technology for up to 50% performance


 

ASUS Exclusive DirectCU Thermal Solution: Two 8mm flattened copper heat-pipes to contact GPU directly for up to 20% COOLER than generic GeForce GTX460


 
Gigantic 768MB GDDR5 Memory

For the best gaming experience & resolution

Powered by NVIDIA® GeForce GTX460

700 MHz engine clock overclocked

GeForce CUDA™ Technology

Unlocks the power of GPU's processor cores to accelerate the most demanding system tasks

PCI Express 2.0 support

NVIDIA PhysX™ ready

Dynamic visual effects like blazing explosions, reactive debris, realistic water, and lifelike characters

ASUS Splendid

Watching movies on PC is as good as on Top-of-the-line consumer television

Microsoft® DirectX® 11 Support

Bring new levels of visual realism to gaming on the PC and get top-notch performance

ASUS Gamer OSD

Real-time overclocking, benchmarking and video capturing in any PC game!

Microsoft® Windows® 7 Support

Enable PC users to enjoy an advanced computing experience and to do more with their PC

ASUS Smart Doctor

Your intelligent hardware protection and powerful overclocking tool

SLI Support

Multi-GPU technology for extreme performance ode

GPU Guard

Doubles structural reinforcement. Cracks free!

Take Your Game Beyond HD

Dual-link DVI able to drive the industry's largest & highest resolution flat-panel displays up to 2560×1600

EMI Shield

Effectively blocks 66% radiations to protect user's health and improve graphics clarity

 
 

Fuse Protection

Fuse Protection technology delivers double the over-current protection for risk-free computing

 
 
 Specifications
| Feature/Specification | Asus GTX-460 768MB |
| --- | --- |
| Core Clock | 700MHz |
| Shader Clock | 1400MHz |
| Memory Clock | 3680MHz |
| Memory Interface | 192-bit |
| Memory Size | 768MB |
Pictures & Impressions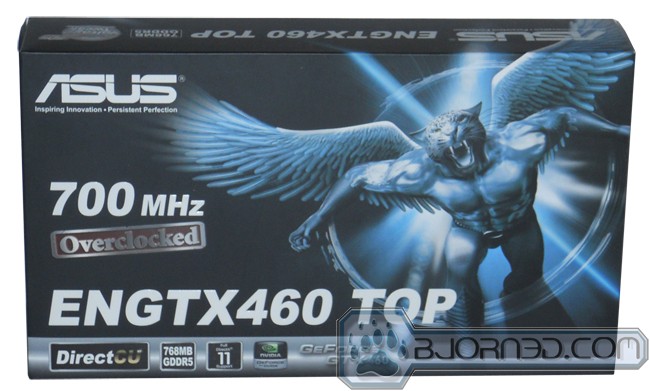 The attractiveness of the box adds to the appeal of the card.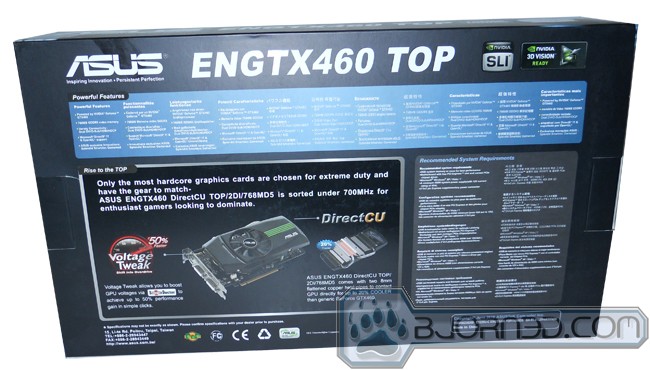 The back of the box lists information, including the product's features, specifications, and an explanation of the voltage tweak available with the card.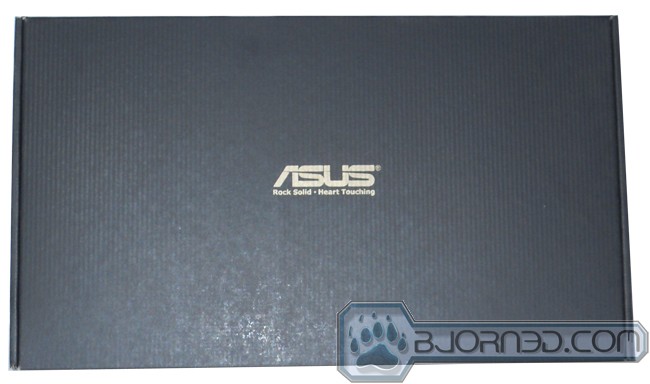 The outermost box contains another stiff cardboard box, which encloses the card.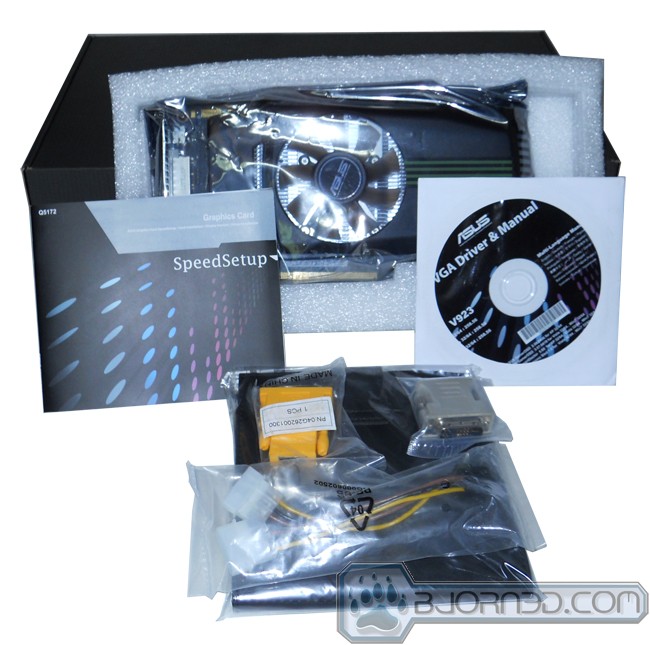 The card comes with many essentials, such as DVI-VGA adapters, SATA-to-Molex power connectors, a Driver CD, and a user manual.
The cooler that Asus uses adds a nice aesthetic touch to the card.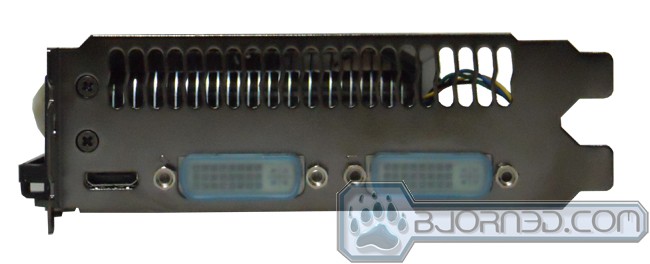 The card comes with 2 DVI ports and 1 HDMI port.
The side of this card looks a bit shabby (especially with the wiring visible), but it does give us a nice look at the cooler on the card.

The other side of the card shows us a clear view of the heatpipes and the two  6-pin plugs used for powering this card.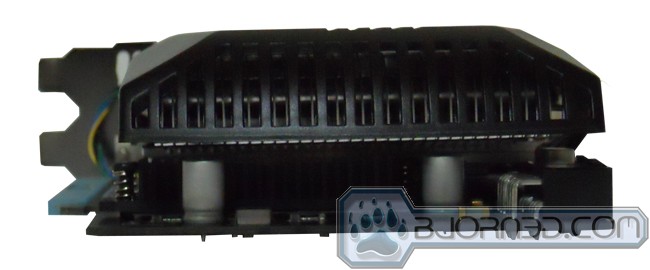 Here we have the front of the card, wcan get a great view of the exhausts and a few of the components that makeup this card.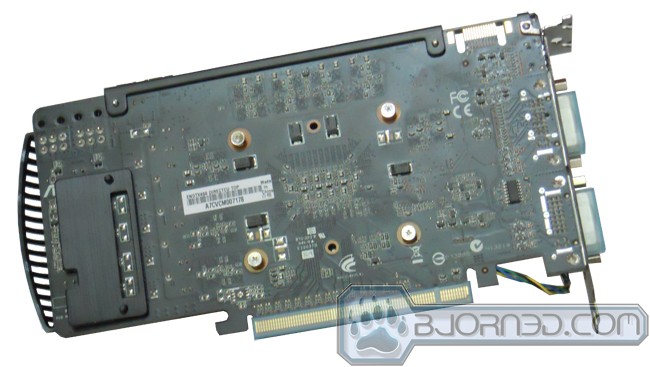 The bottom of the card has a sticker with the barcode and other standard information. Our overall impression of the card so far is great. We will now test the performance of the card.
TESTING & METHODOLOGY
To test the Asus GTX-460 we did a fresh load of Windows 7 Ultimate, applied all the updates we could find, installed the latest motherboard drivers for the Asus P6T6, updated the BIOS, and loaded our test suite. We didn't load graphic drivers so we could clone the HDD with the fresh load of Windows 7 without graphics drivers. That way we have an OS load complete with testing suite but without other GPU drivers. Should we need to switch GPU's or run a CrossFire setup later, all we have to do is clone our hard drive and install GPU drivers and we are good to go.
We ran each test a total of 3 times and reported the average here. In the case of a screenshot of a benchmark we ran the benchmark 3 times, tossed out the high and low, and posted the median result. Anomalous results were ignored and the test re-run. 
Test Rig
Test Rig
"Quadzilla"
Case Type
Cooler Master HAF 932
CPU

Intel Core i5-750

Motherboard
Asus P7P55D-E PRO
Ram
Kingston HyperX 4GB 1600 MHz 7-7-7-27
CPU Cooler
OCZ Vendetta II
Hard Drives
WD 750GB Green
Optical
LG Lite-On DVD Burner
GPU Tested

Asus 5970
GTX-285 SLI
Nvidia GTX-480
BFG GTX-295
Asus GTX-295
PNY GTX-470
Gigabyte 5870 SOC
Asus 5870v2 VT
Asus GTX-470
Nvidia GTX-460 1GB
Asus GTX-460
Asus GTX-465
Gigabyte GTX-460
Nvidia GTX-460
Visiontek 5870
Gigabyte 5870
XFX GTX-285
PNY GTX-285
Nvidia GTX-275
Drivers for Nvidia GPU's 257.21
Drivers for ATI GPU's 10.6

Case Fans
3x120mm case fans cooling CPU area
Docking Stations
IcyDock
Testing PSU
In-Win 1200W
Mouse
Cyborg R.A.T. 7
Keyboard
Logitech G15
Gaming Ear Buds

Plantronics 377
Speakers
Logitech X240
Synthetic Benchmarks & Games
Synthetic Benchmarks & Games
Crysis
Crysis Warhead
FarCry 2
Stalker COP
Stone Giant
Unigine Heaven v.2.0
Metro 2033
Mass Effect 2
Our battery of tests is very comprehsnsive, including DX9, DX10, DX11, Tessellation, and many others. We wanted our test results to be as thorough as possible.
Crysis v. 1.21

Crysis was the most highly anticipated game to hit the market in the last several years. Crysis is based on the CryENGINE™ 2 developed by Crytek. The CryENGINE™ 2 offers real time editing, bump mapping, dynamic lights, network system, integrated physics system, shaders, shadows, and a dynamic music system, just to name a few of the state-of-the-art features that are incorporated into Crysis. As one might expect with this number of features, the game is extremely demanding of system resources, especially the GPU. We expect Crysis to be a primary gaming benchmark for many years to come.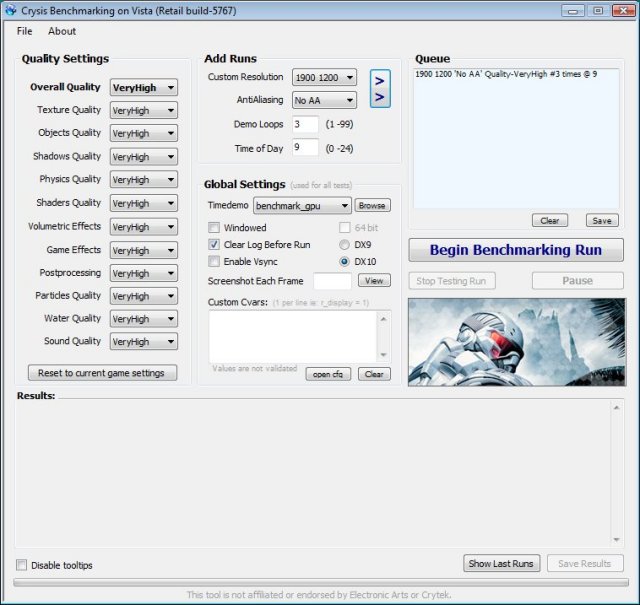 The Settings we use for benchmarking Crysis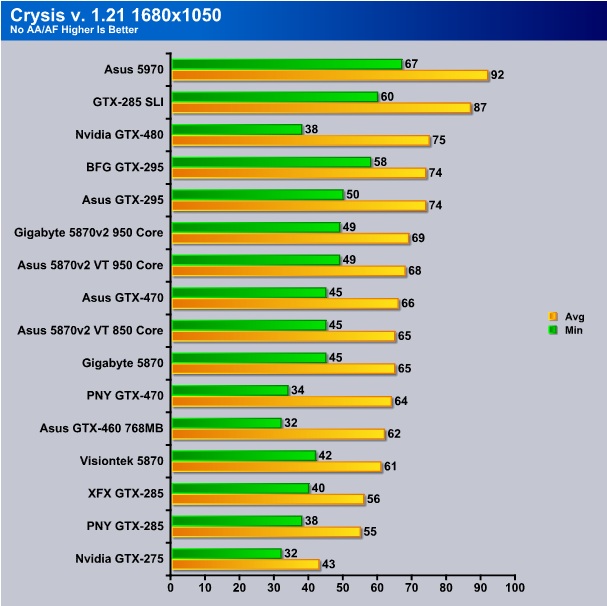 The GTX-460 from Asus works well, and scores just barely below the 470.
As we turn up the settings we can see that the Asus GTX-460 compares well to 460s from other companies.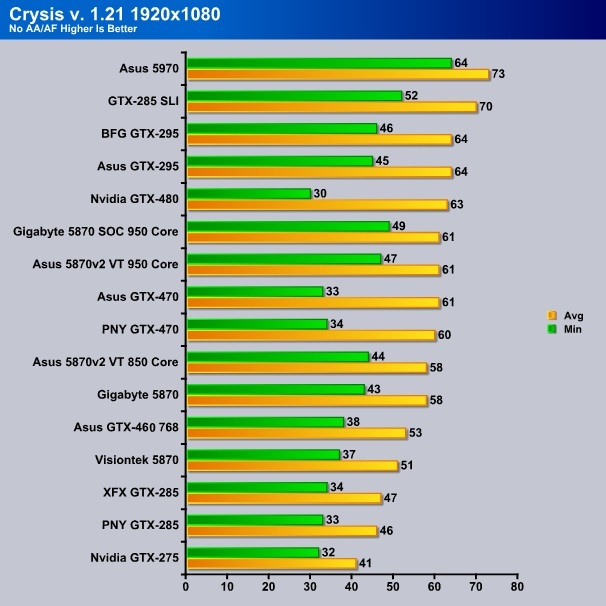 An increase in resolution shows a fall in the performance of the GTX-460 as expected.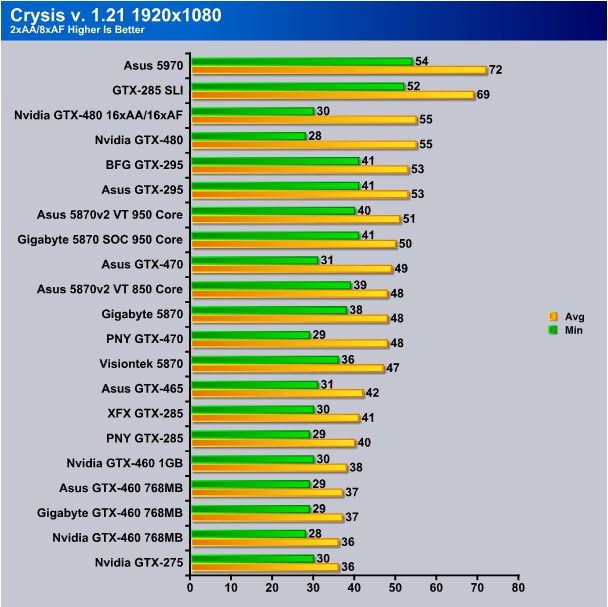 After turning on anti aliasing we can see the GTX-460 performs just as expected, staying close to its Nvidia and Gigabyte counterparts.
CRYSIS WARHEAD

Crysis Warhead is the much anticipated standalone expansion pack to Crysis, featuring an updated CryENGINE™ 2 with better optimization. It was one of the most anticipated titles of 2008.

The Settings we use for benchmarking Warhead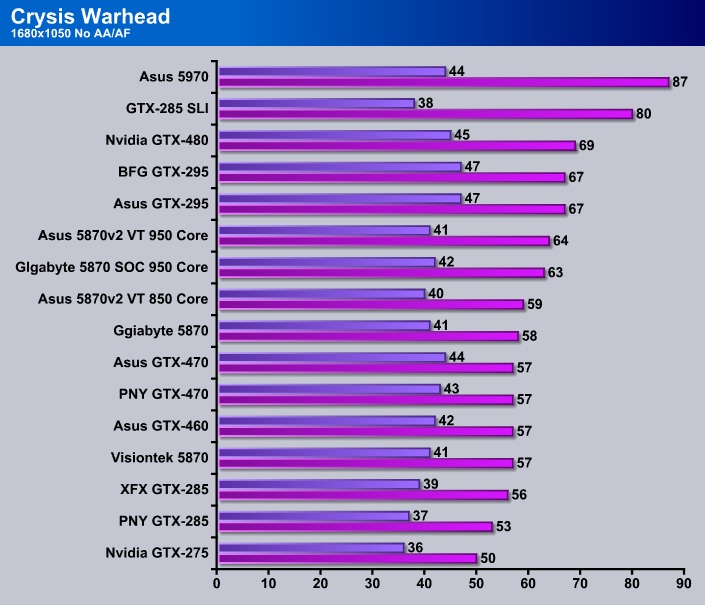 The card performed very well in this benchmark, once againshows off how great of a card it is.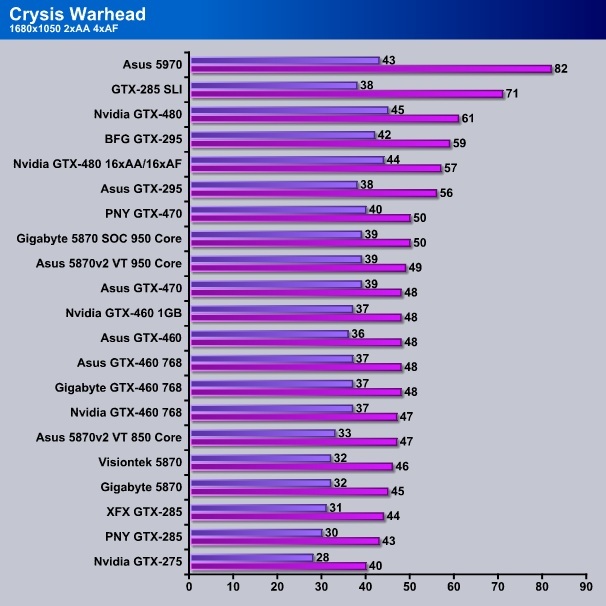 Even with 2x anti-aliasing, this card really keeps up performance.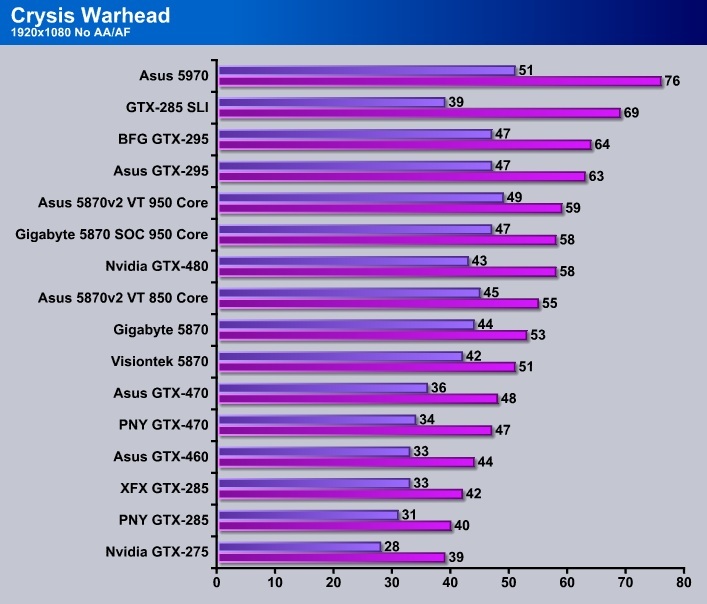 As we turned up the resolution, the GTX-460 performed very well, coming out ahead of its predecessor the GTX-285.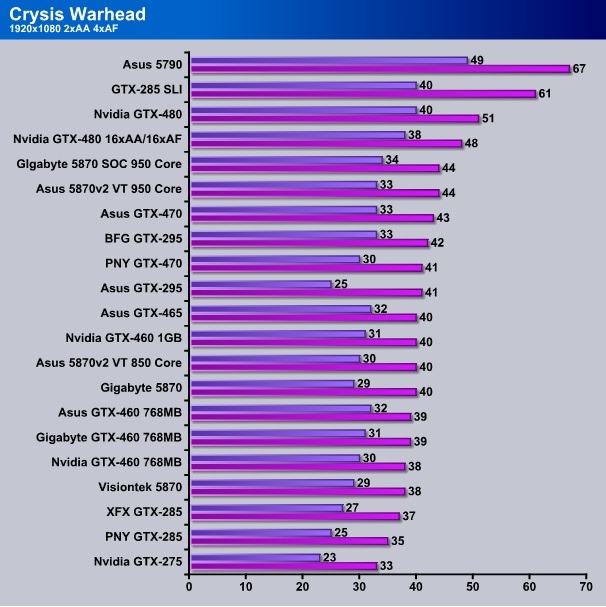 After increasing the settings, we can see the true performance of the GTX-460 as it outperforms other 460s.
 S.T.A.L.K.E.R.: CALL OF PRIPYAT
Call of Pripyat is the latest addition to the S.T.A.L.K.E.R. franchise. S.T.A.L.K.E.R. has long been considered the thinking man's shooter, because it gives the player many different ways of completing the objectives. The game includes new advanced DirectX 11 effects as well as the continuation of the story from the previous games.


The settings we used for benching  S.T.A.L.K.E.R.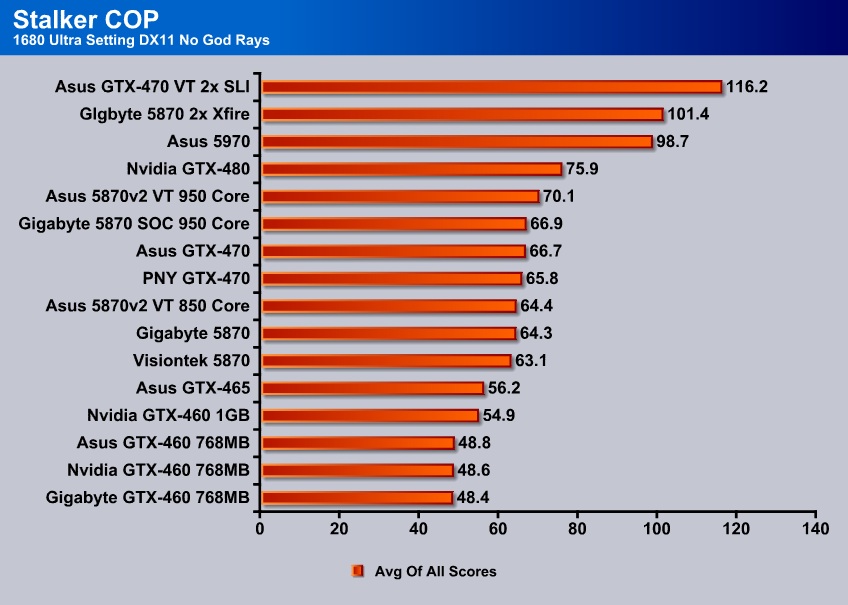 The Asus GTX-460 falls right in at 48 FPS, very close to hitting 49 FPS.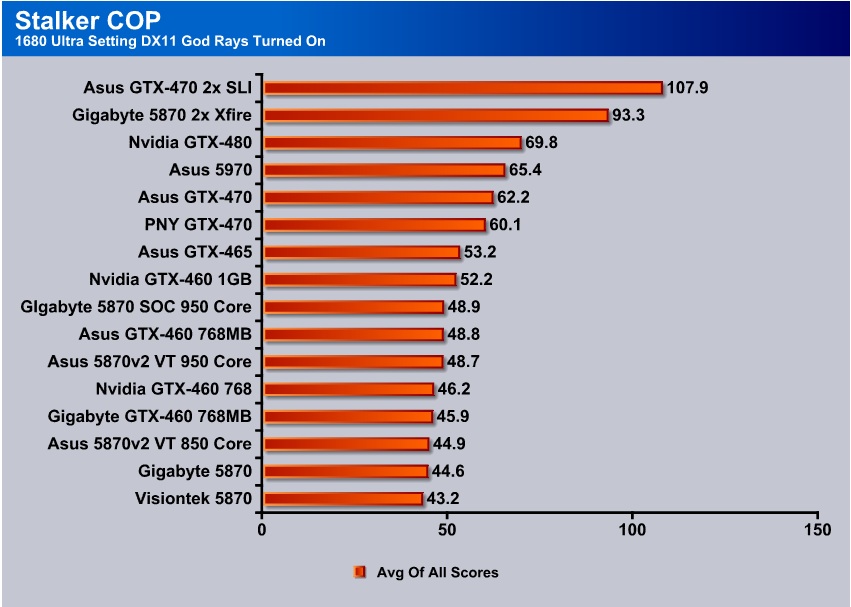 Once we take God Rays into account, the Asus GTX-460 really shines, as do all of the Nvidia cards.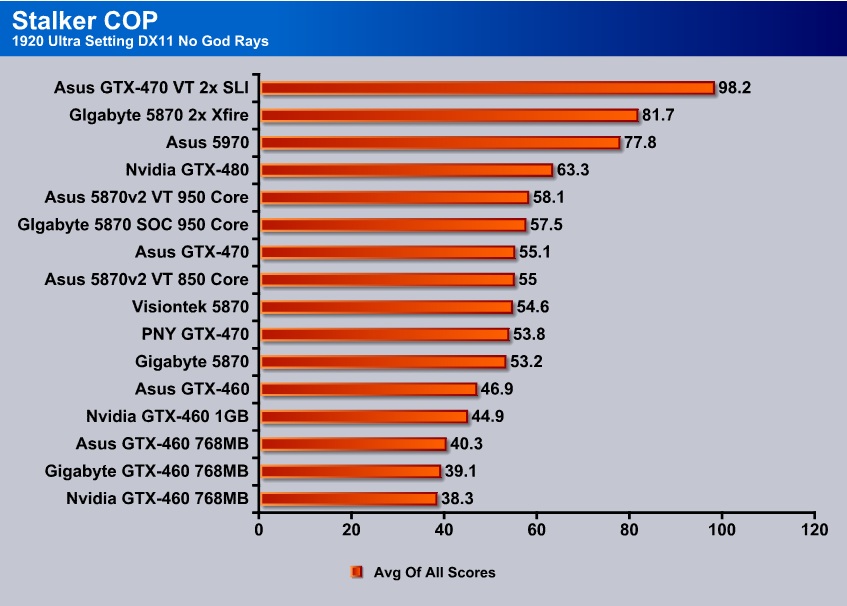 As we up the resolution, the Asus GTX-460 stays consistently above 40 FPS.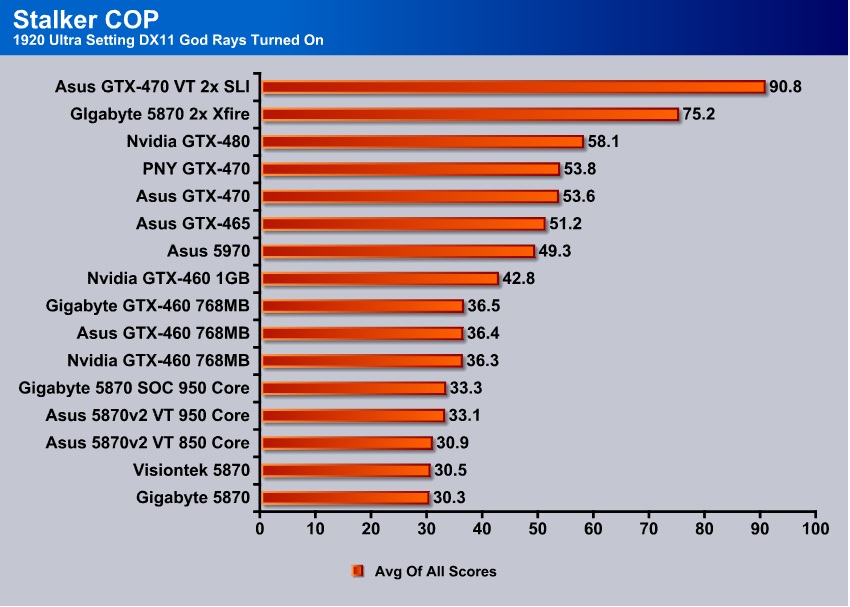 The average FPS falls down to 36 when God Rays are turned on.
Far Cry 2

Far Cry 2, released in October 2008 by Ubisoft, was one of the most anticipated titles of the year. It's an engaging state-of-the-art First Person Shooter set in an un-named African country. Caught between two rival factions, you're sent to take out "The Jackal". Far Cry 2 ships with a full featured benchmark utility and it is one of the most well designed, well thought out game benchmarks we've ever seen. One big difference between this benchmark and others is that it leaves the game's AI (Artificial Intelligence) running while the benchmark is being performed.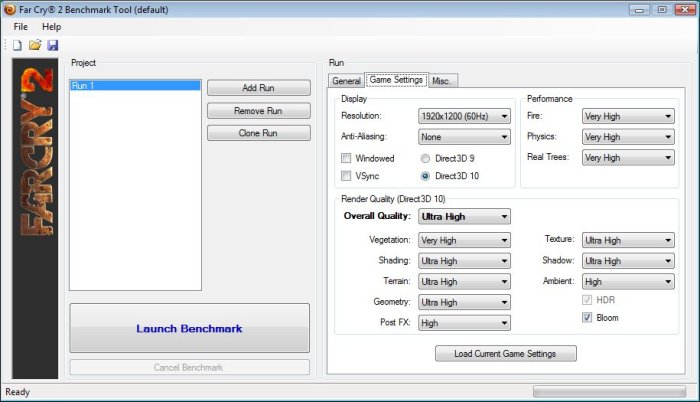 The Settings we use for benchmarking FarCry 2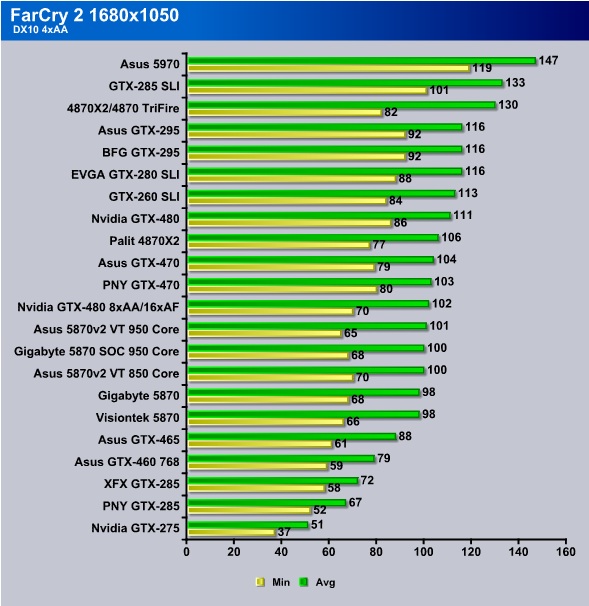 At the lower resolution the GTX-460 from Asus performed extremely well in Far Cry 2, keeping the minimum FPS just below 60.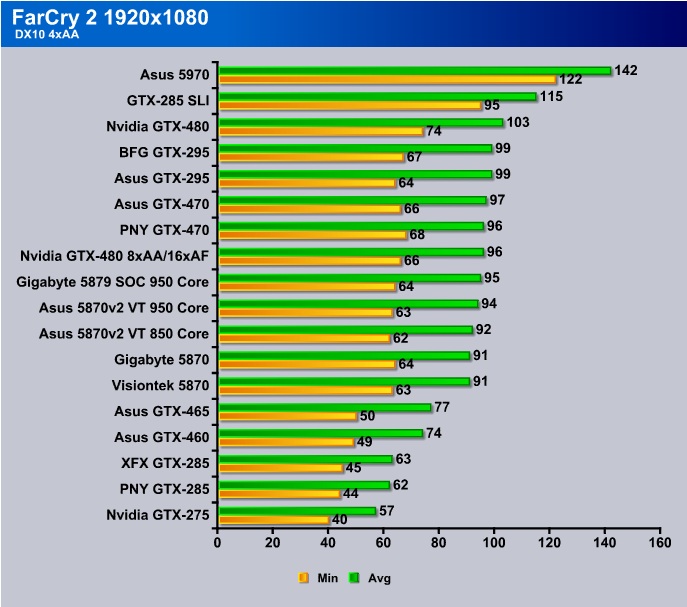 As we turn up the resolution, the GTX-460 only loses 10 FPS for its minimum FPS value.
Mass Effect 2
Two years after Commander Shepard repelled invading Reapers bent on the destruction of organic life, a mysterious new enemy has emerged. On the fringes of known space, something is silently abducting entire human colonies. Now Shepard must work with Cerberus, a ruthless organization devoted to human survival at any cost, to stop the most terrifying threat mankind has ever faced.
To even attempt this perilous mission, Shepard must assemble the galaxy's most elite team and command the most powerful ship ever built. Even then, they say it would be suicide. Commander Shepard intends to prove them wrong.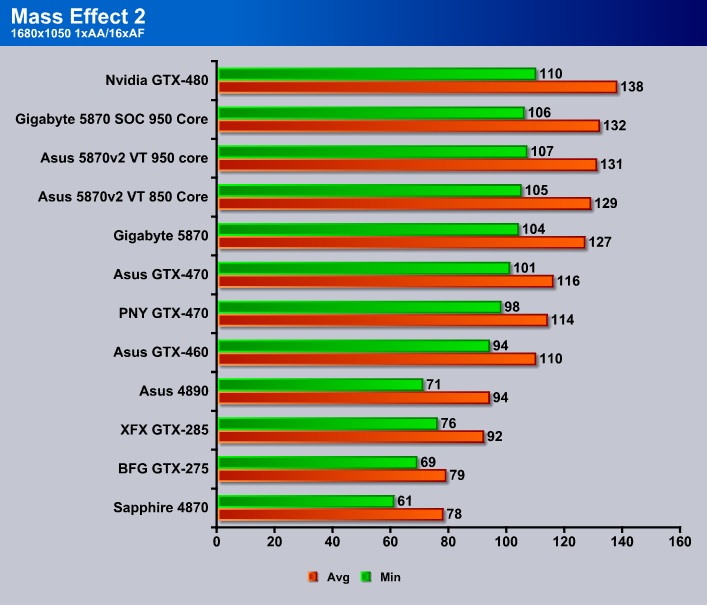 The GTX-460 performed extremely well in Mass Effect 2.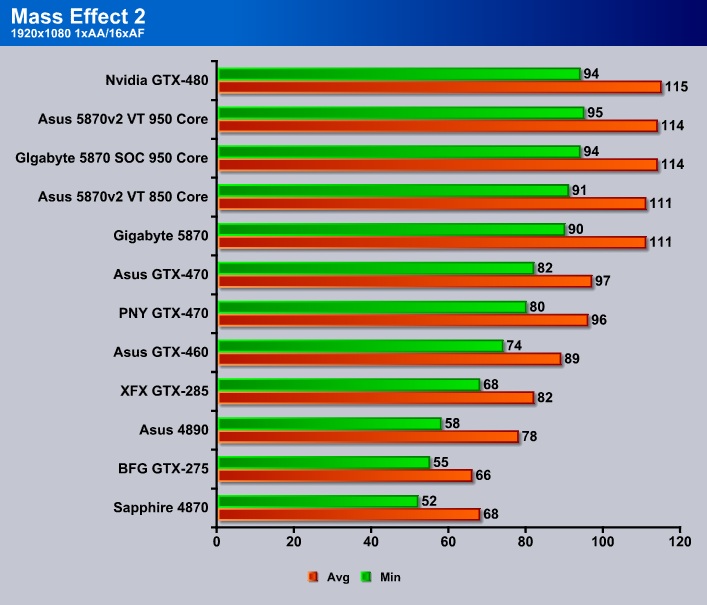 The GTX-460 keeps the performance coming even with the increased resolution.
Metro 2033

Metro 2033 is an action-oriented video game with a combination of survival horror, and first-person shooter elements. The game is based on the novel Metro 2033 by Russian author Dmitry Glukhovsky.
The enemies that the player encounters range from human renegades to giant mutated rats and even paranormal forces known only as "The Dark Ones". Players frequently have to defend themselves with makeshift combination's of different weapons, e.g a revolver with a sniper scope attached.
Ammunition is also scarce, and the more rare Military Grade bullets are used as currency (to purchase supplies and guns), or in combat as a last resort, giving an added damage boost, forcing the player to hoard supplies.
The game lacks a health meter, relying on audible heart rate and blood spatters to show the player what state they are in and how much damage was done. A gas mask must be worn at all times when exploring the surface due to the harsh air and radiation. There is no on-screen indicator to tell how long the player has until the gas mask's filters begin to fail, so players must set a wrist watch, and continue to check it every time they wish to know how long they have until their oxygen runs out, requiring the player to replace the filter (found throughout the game). The gas mask also indicates damage in the form of visible cracks, warning the player when a new mask is needed. The game does feature traditional HUD elements, however, such as an ammunition indicator and a list of how many gas mask filters and adrenaline shots remain.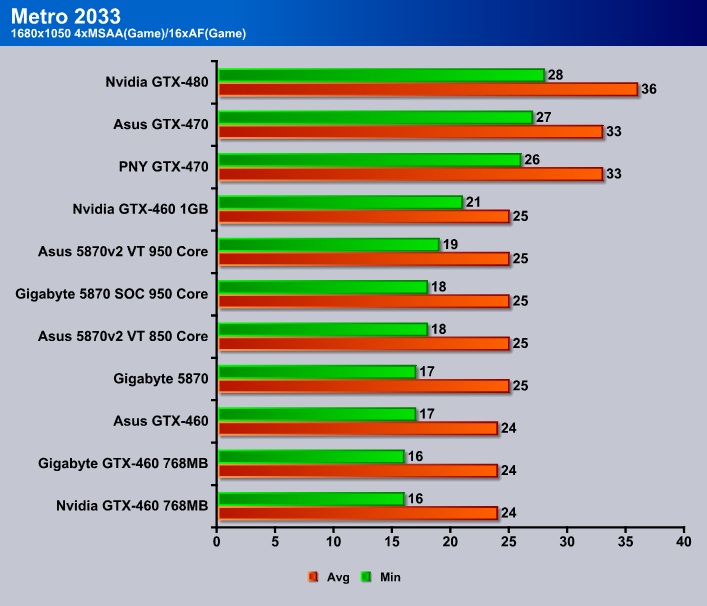 The GTX-460 from Asus performed poorly in the Metro 2033 benchmark (readers should note that this benchmark is very taxing), but stayed just ahead of the other 460s.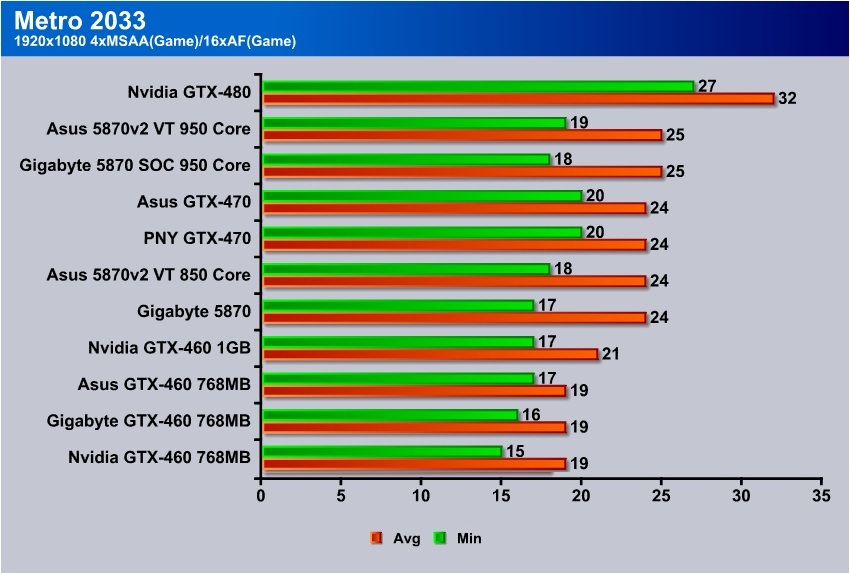 After turning up the resolution, performance is even worse. Readers should again note that the game's default settings are entirely playable. The benchmarking portion of Metro 2033 is rough on FPS reading, but the game plays great which is a little strange.
Unigine Heaven 2.0

Unigine Heaven is a benchmark program based on Unigine Corp's latest engine, Unigine. The engine features DirectX 11, Hardware tessellation, DirectCompute, and Shader Model 5.0. All of these new technologies combined with the ability to run each card through the same exact test means this benchmark should be in our arsenal for a long time.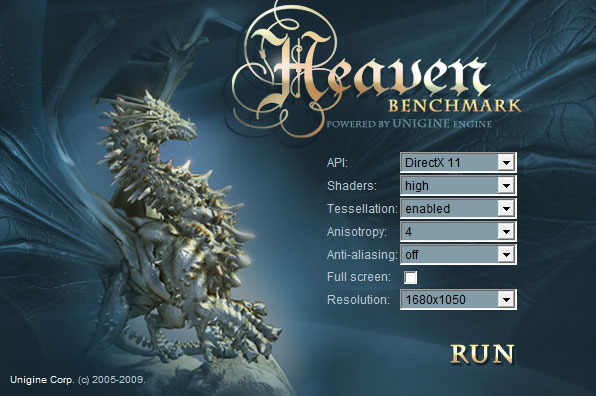 The settings we used in Unigine Heaven
Though this card performed poorly in the Metro 2033 benchmark, it's performance in Unigine Heaven was remarkable.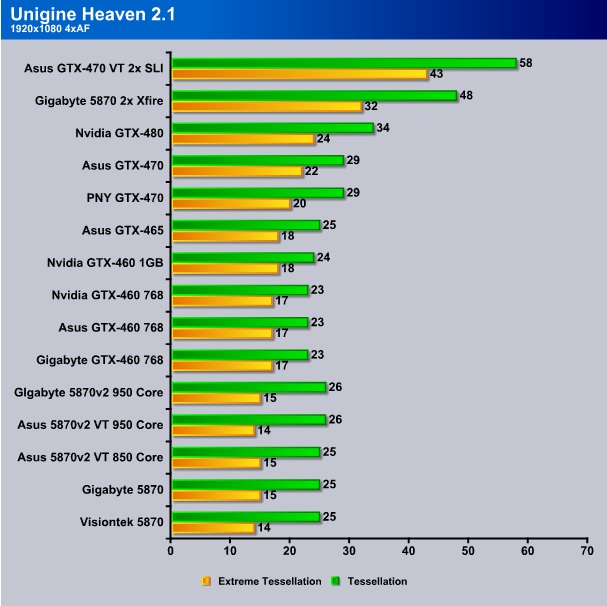 The Tesselation portion of Unigine Heaven is very taxing on video cards, but the Asus GTX-460 performed well here.
Stone Giant

We used a 90 second Fraps run and recorded the Min/Avg/Max FPS rather than rely on the built-in utility for determining FPS. We started the benchmark, triggered Fraps and let it run on stock settings for 90 seconds without making any adjustments of changing camera angles. We just let it run at default and had Fraps record the FPS and log them to a file for us.
Key features of the BitSquid Tech (PC version) include:
Highly parallel, data oriented design
Support for all new DX11 GPUs, including the NVIDIA GeForce GTX 400 Series and AMD Radeon 5000 series
Compute Shader 5 based depth of field effects
Dynamic level of detail through displacement map tessellation
Stereoscopic 3D support for NVIDIA 3dVision
"With advanced tessellation scenes, and high levels of geometry, Stone Giant will allow consumers to test the DX11 credentials of their new graphics cards", said Tobias Persson, Founder and Senior Graphics Architect at BitSquid. "We believe that the great image fidelity seen in Stone Giant, made possible by the advanced features of DirectX 11, is something that we will come to expect in future games."
"At Fatshark, we have been creating the art content seen in Stone Giant", said Martin Wahlund, CEO of Fatshark. "It has been amazing to work with a bleeding edge engine, without the usual geometric limitations seen in current games".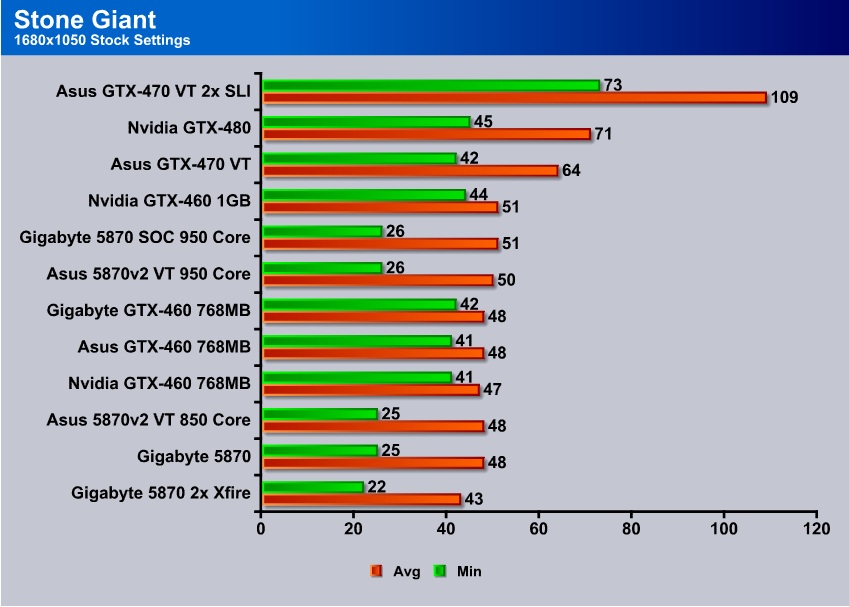 The Asus GTX-460 still performed very well in Stone Giant, outperforming all other 460 cards.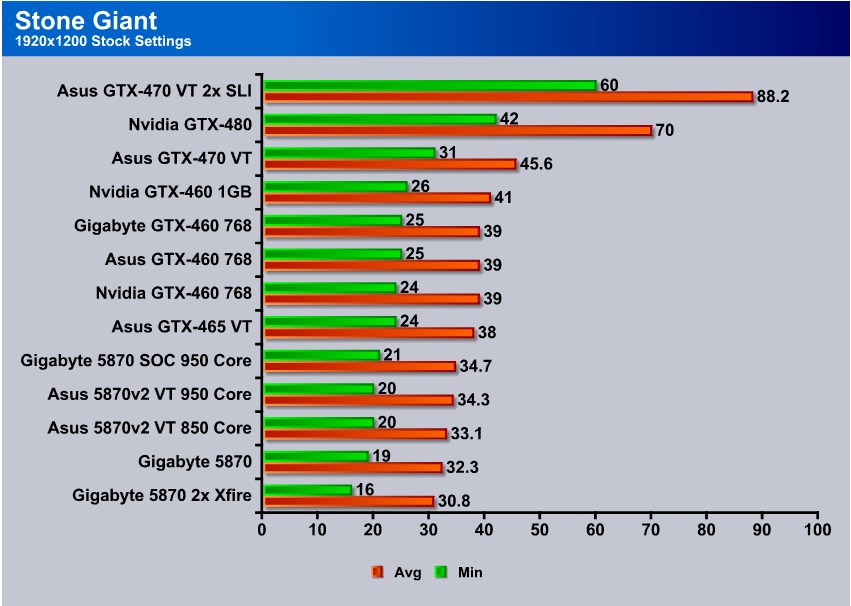 When Stone Giant's resolution was turned up to 1920 x 1200, the Asus GTX-460 768 MB card stayed consistent, performing very close to the Nvidia GTX-460 1GB.
Overclocking
For Overclocking, we used the latest version of MSI Afterburner and took screenshots of GPU-Z to capture our overclocks.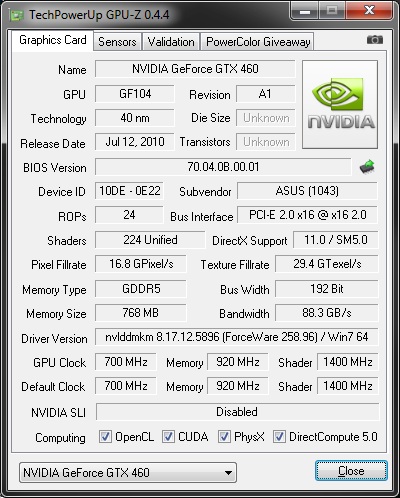 Here are the stock clocks on the GTX-460.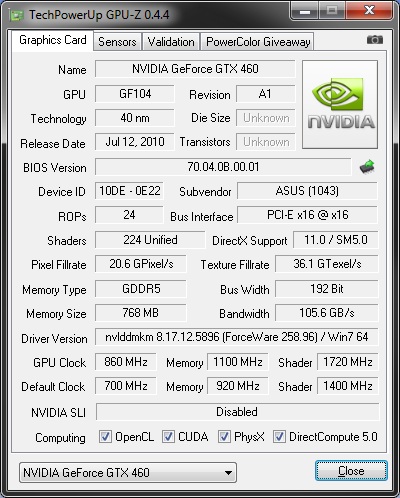 We were able to reach a pretty impressive stable overclock, and we had to note that the stock cooler on this card is of very good quality.
TEMPERATURES

We went with screenshots of GPU-Z for temperatures and used ATITool for ten minutes to heat them up.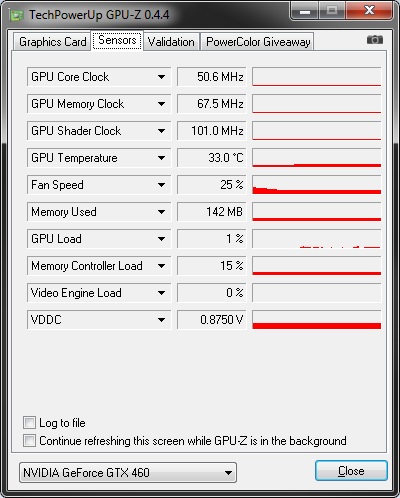 We left the computer idle at the desktop and the GPU bounced between 32C and 33C for idle temperatures.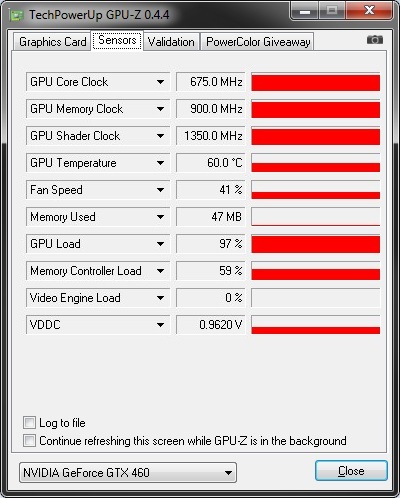 We ran ATITool for a while, but the GPU peaked at 60C, a great load temperature, especially for a modern Fermi based GPU.
Conclusion
The price-to-performance ratio of the GTX-460 lineup is almost off the charts. These cards overclock like demons, and while they don't offer the performance of the GTX-480 or GTX-470, they offer the best price-performance punch of the GTX-4xx family.
Though it is not quite enthusiast grade, but it definitely delivers more than performance grade. Two of these in SLI would be a great combination that could handle almost anything. Even one will be more than enough for all but the most demanding gamers. At $199 for the 768MB model and $229 for the 1GB model, it's a deal that's hard to beat.
It's nice to see such an affordable Fermi card on the market, and performs very well.
OUR VERDICT: Asus GTX-460's 768MB
| | |
| --- | --- |
| Performance | 7 |
| Value | 10 |
| Quality | 9 |
| Features | 9 |
| Innovation | 9 |

We are using an addition to our scoring system to provide additional feedback beyond a flat score. Please note that the final score isn't an aggregate average of the rating system.

Pros
Cons

Great OC

Decent Performance

DX11

Good Price Performance Ratio

Under $250

PhysX

CUDA compatible

3DVision

Uses lot of power. (Wattage)

 
Summary: The greatest thing about the GTX-460 series is its price-to-performance ratio. Not only did they manage to pack quite the punch for such a small price point, they packaged it with all kinds of features that set it apart from its predecessors. We are proud to give the Asus GTX-460 TOP the Bjorn3D Silver Bear Award.