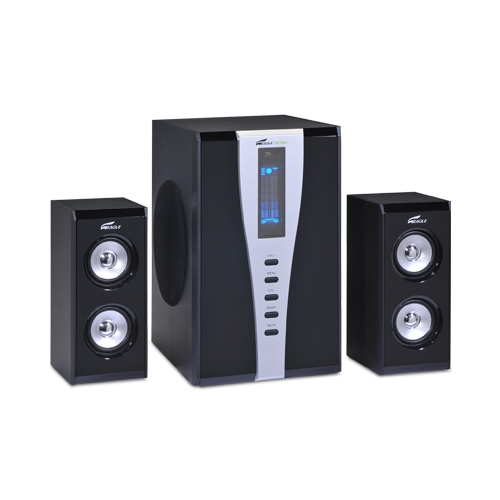 The ET-AR506-BK is a stereo speaker aimed at HTC user with its large sub and two satellite speaker. Is this unit worth your money? Let's find it out.
INTRODUCTION
I found myself spending more time in front of my computer. Not only that I use computer for work and play games, I found myself watching TV shows via Hulu and YouTube and movies. One thing for certain is that whenever I sit in front my computer, I always have the speaker on playing some sort of sound: music, movies, or games.
For my main system, I have a Creative 6.1 speaker set that I have had for quite a long time. For movie buffs and hardcore gamers, having a multi-channel audio setup is critical to enjoy the best experience but for those with limited space to setup a multi-channel audio, a good stereo speaker can often offer a good enjoyment despite lack of extra channels. This is why that you will see a stereo speaker selling at $200 while a crappy 5.1 audio setup can be purchased as low as $50.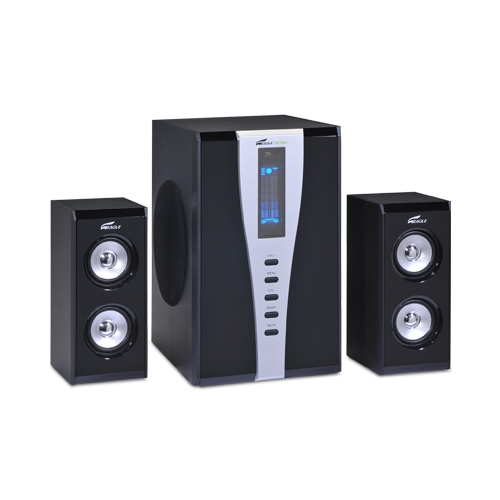 Many LCD monitors on the market have a built-in pair of tiny 5W stereo speakers and many pre-built systems come with $10 stereo speakers that are simply not strong enough even for average user if you are slightly picky about the sound quality. If you have not heard a good pair of stereo speakers coming out of your computer, it may be hard for me to convince you that they do make a huge difference. While able to output audio, these built-in or $10 stereo speakers often do not produce good enough sound in the low bass and high treble, thus they often are not crisp.
Eagle Tech has just launched a new 2.1 Soundstage speaker system with subwoofer, the ET-AR508LR-BK, that the company has shipped to us for a review. Let's take a closer look to see if this stereo speaker set is worth your hard earned money.
CLOSER LOOK AT ET-AR508LR-BK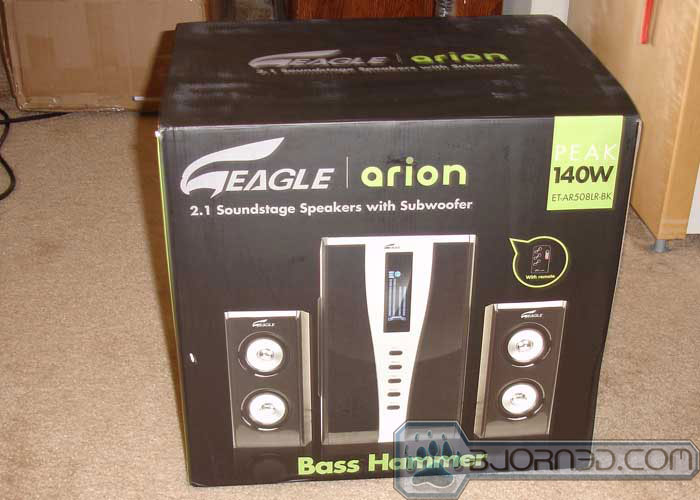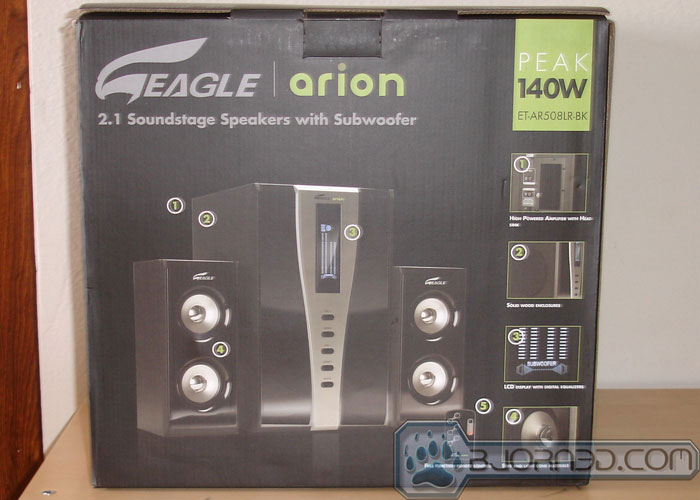 The black and green box of the ET-AR508LR-BK displays key features and the specification of the speakers. A picture of the speaker set is also being displayed on the box to help you decide if the speaker will fit into your décor.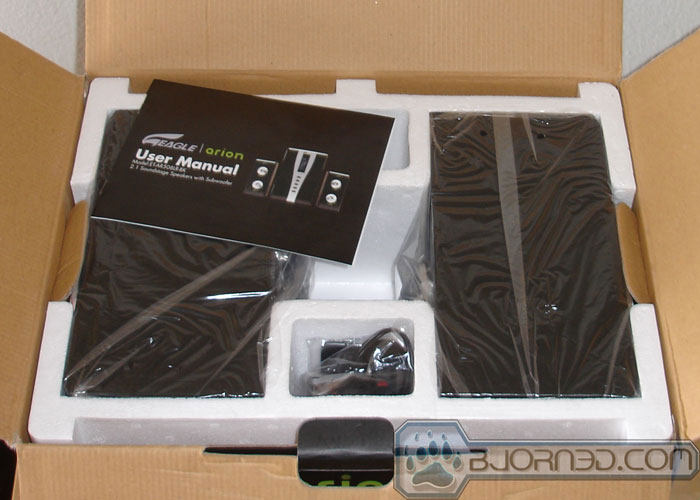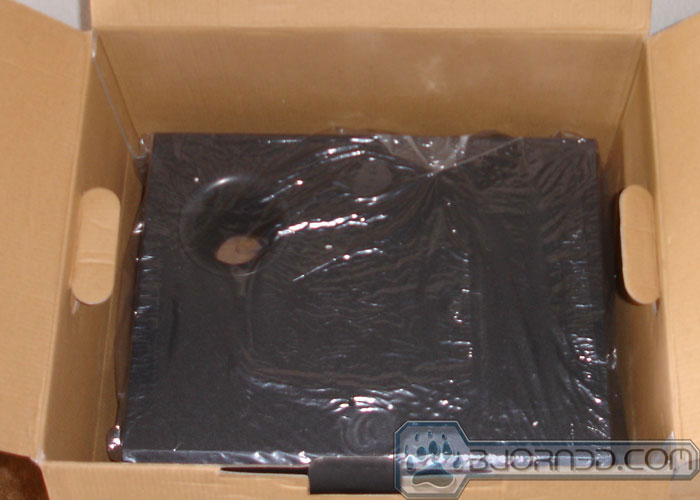 The speaker is very well-packaged where the satellite and the accessories are placed in cut-out Styrofoam to avoid any potential damages. Underneath is where the subwoofer is located.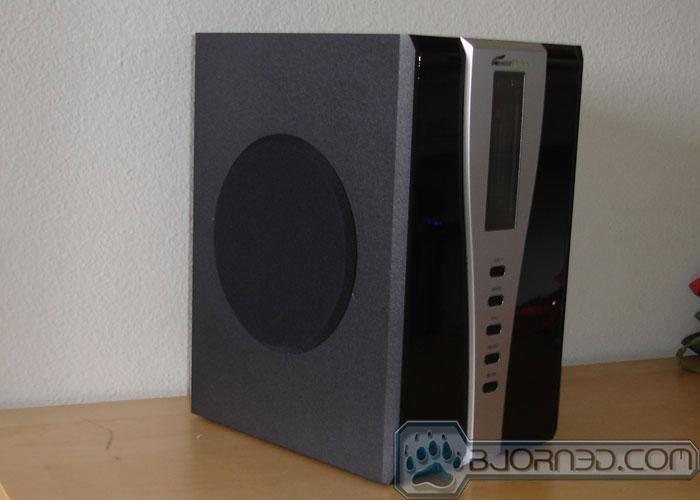 The ET-AR508LR-BK has a black body with a stripe of silver running through the front center of the subwoofer that looks like a tuxedo. The tuxedo looking subwoofer has a black glossy finish on the front but the rest of the body is matte finish. Beauty is always in the eyes of the beholder so whether the tuxedo looking sub fits your taste is purely up to you. While we are not too thrilled with the look, we do appreciate the classic look of the speaker.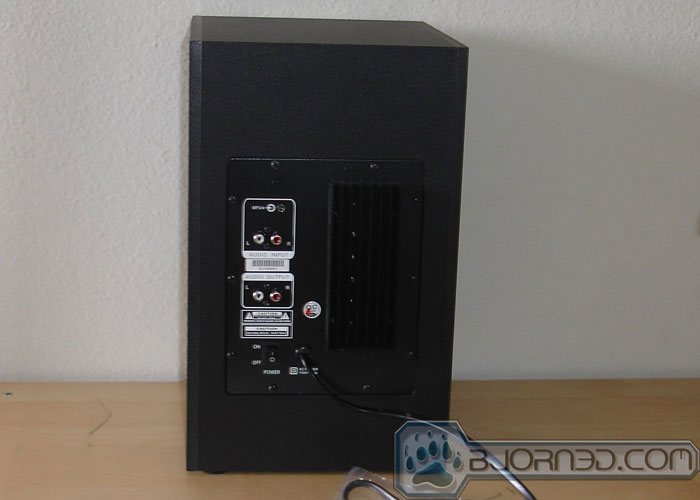 The large subwoofer enclosed in solid wood with rather large dimension of 8.67 x 14.18 x 9.85 inches. It delivers 40 watts RMS of power through the 6.5-inch driver to give you the punch for your bass.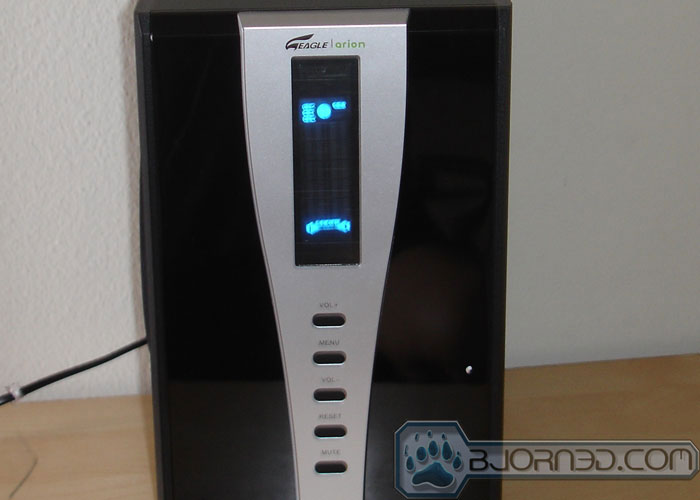 We like the fact Eagle Tech includes a mute and reset button.
On the front of the subwoofer is an LCD display and a few buttons controlling the volume of the speaker. The LCD display is a nice touch but has limited functionality. It does not show an equalizer during music playback except under extreme bass and tremble. A single Menu button cycles through three different modes: master, treble, and bass. Using the volume up and down, you can fine-tune the speaker's bass and treble volume levels to those that sounded best to you. One thing we do wish to see is for the LCD display to show the volume level when we make the adjustment. Lacking any sort of visual indicator of the volume level makes it hard to know if you have reached the maximum level.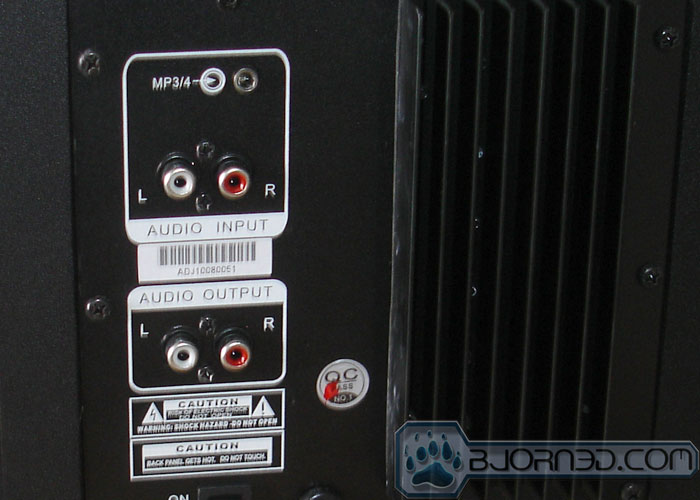 The back of the subwoofer is the usual connector for the satellites. RCA input is used to connect to the satellite speakers. We are glad to see the inclusion of the 3.5mm audio input where you can plug in your MP3 player directly to the speaker amplifier and blast music off the speaker set. Unfortunately Eagle Tech did not include the audio cable for it.
Two satellite speakers measuring 4.53 x 9.85 x 5.12 inches delivering 15 watts RMS each. Like the subwoofer, the satellite speakers are also enclosed in wood and each comes with dual 3 inch tweeter. As oppose to the ET-AR506-BK that we had reviewed awhile ago, the ET-AR508LR-BK relies on the two drivers for the midrange and the tweeter while the  ET-AR506-BK has a dedicated midrange and tweeter driver. In our ears, we can clearly hear the differences between the two sets of speakers where the ET-AR506-BK clearly produces a more surround sound.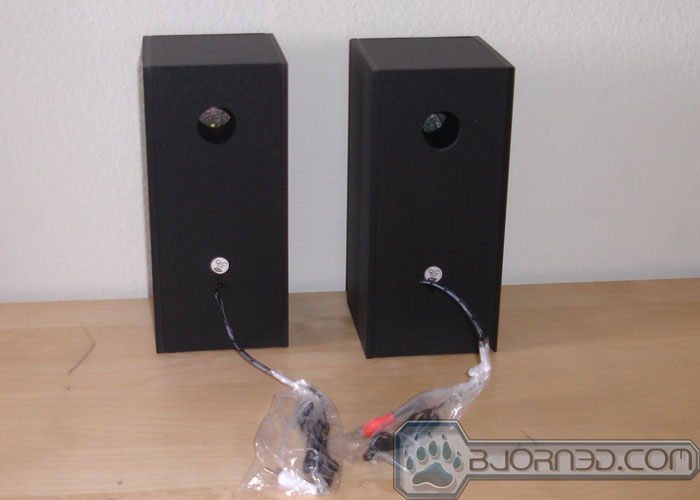 The speaker set has rated frequency response of 35 Hz to 20 kHz with total of 70 watts RMS power through the subwoofer and two satellite speakers. The frequency range is a tad narrower than the 20 Hz to 20 kHz human audible frequency. This means that the speaker may have trouble outputting a good bass sound at the low end of the spectrum. A true audiophile would be turned off by this is. Those who have a sharp ear listening to the full orchestra symphony where it emphasizes the low notes of tuba and large pipe organs would want to look elsewhere for a better stereo speaker that covers such range of frequency.
Some speakers compensate lack of low frequency by having a louder bass which in our mind sounded even worse because it often leads to muffled sound and lots of audio distortion. I ran the audio test from Wikipedia and confirmed that at 8.18 Hz and 16.35 Hz the speaker is unable to produce any sound. So Eagle Tech is being honest here with the low frequency.
The same test from Wikipedia also reveals that while the speaker  is able to produce sound at 16.744 kHz, it does not seem as strong as we would have liked. The sound it produces is quite weak and is hard to be heard. So Eagle Tech is being honest again with their high frequency, it may not satisfy a true audiophile in this area either.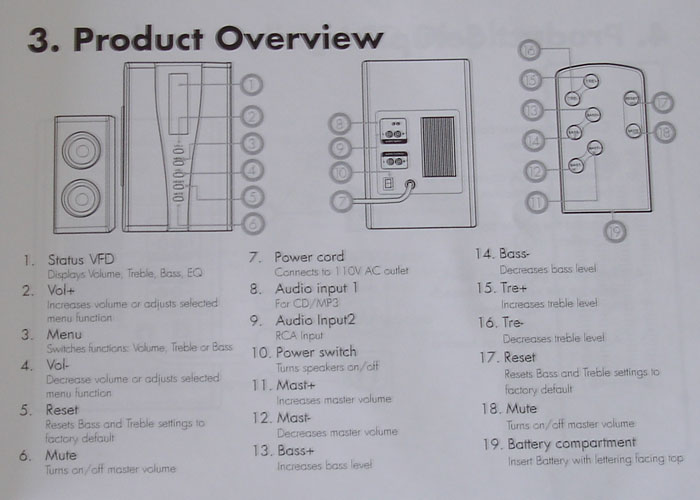 Here is a look at the ports of the speaker and the buttons for the speaker and the remote.
One thing that we absolutely wish Eagle Tech would improve is the length of the cable. The satellite speakers connect to the subwoofer through a rather short 1 meter RCA connector.  Since the cable is soldered onto the satellite speaker, it is not removable. To place the speaker farther from the subwoofer, users would have to use an RCA cable extender.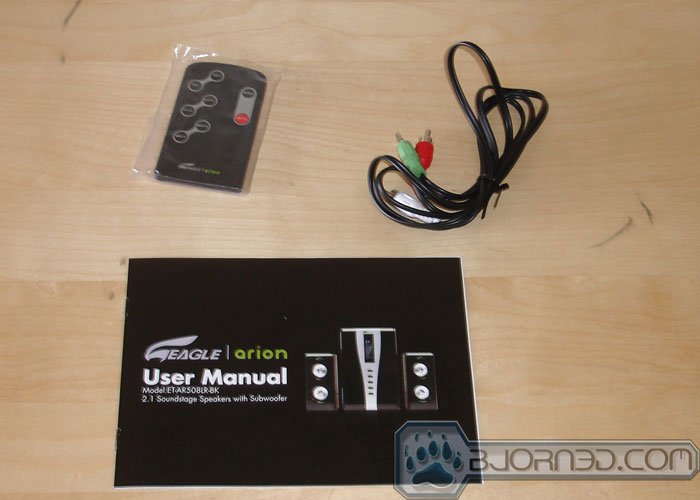 Eagle Tech includes a handy remote with the speaker. The remote comes with the battery installed so you can just use it the moment you opened up your speaker unit. It lets you adjust the bass, tremble, and master volume of the speaker. A handy reset button is also on the remote in case you want to reset to the factory setting and a dedicated mute button is also there.
FEATURES
140 watts amplifier with low distortion digital equalizer
Passive crossover networks for clean separation of different frequencies
Premium quality tweeters and subwoofer drivers for crisp highs and punchy lows
Smooth response over wide frequencies with exceptional imaging and accuracy
LCD display and full function remote control
Great for HTPC, video gaming system, home theater system and more
Sound dampening solid wood enclosures
SPECIFICATION
Total RMS Power: 70 Watts

Satellites: 15 Watts RMS x 2 (into 4 ohms, @<=1% THD)
Subwoofer: 40 Watts RMS x 1 (into 4 ohms, @<=1% THD)

Total Peak Power: 140 Watts
Frequency Response: 35Hz to 20kHz
Drivers:

Satellites: Dual 3-inch tweeter with solid wood enclosure
Subwoofer: 6.5-inch driver with solid wood enclosure

Speaker Dimension:

Satellites: 4.53 x 9.85 x 5.12 inches
Subwoofer: 8.67 x 14.18 x 9.85 inches
PACKAGE CONTENT
ET-AR508LR-BK speaker system
Remote control with battery
User manual
3.5mm to RCA audio cable
How does it sound?
As always, testing a speaker is very subjective because there is no standard of testing. Even if there is a standard, a good sounding speaker to one individual may sound terrible to another individual. Thus, always take this opinion with a grain of salt and the best option when it comes to purchasing speakers is hear it for yourself.
I hooked the ET-AR508LR-BK to my secondary computer. I have decided to simply rely on the onboard Realtek audio chip as integrated audio has come a long way in that they offer a fairly decent sound quality. I envision many of us actually are using the onboard audio instead of a dedicated sound card Creative X-FI or Asus Xonar.
I started by testing the speaker without any bass or treble adjustment. The first thing I want to mention is that the speaker is really loud. We just have to raise the volume by one to two settings and it is loud enough for us for a mid-size living room.
By default without adjusting the bass and the tremble, the midrange seems a bit hollow compared to the ET-AR506-BK. The default sound setting also lacks the bass and the treble as a result the mid-range sounded quite clear despite its hollowness. With playback of movies and music, I can definitely feel that the bass does not give you the punch that gets your heartbeat up and blood racing like the ET-AR506-BK did. While the dialogs are very clear (in fact it's clearer than the ET-AR506-BK), they sounded a bit distant.
Since the speaker set comes with dedicated bass and treble adjustment, I fine-tuned the speaker from its default setting and tested it again. I raised the bass and the treble a couple of settings higher. As we mentioned earlier, the speaker lacks any sort of indicator so it is hard to know the exact setting but what we did is press the reset button to return the speaker to the default setting and then playback a couple selections of music while raising and lowering the bass and treble until it sounded best to us.
After we find a good setting, we tested the speaker again. This time, we can clearly hear a strong bass and the high sounded slightly better. Unfortunately, the sound is not consistent. Our setting does not work all the time. In some instances, like playing movies, we will get a very strong and good sounding bass but the same setting would produce too strong bass that is a bit distorted. In addition, in the scenes where the bass is just about right, it can drown out the dialogs due to the weak midrange and the hollow sound that we mentioned earlier.
When we playback pop music, the speaker can sound quite good but then in hip hop, the bass would be too heavy that literally shake the floor. While some people may love the ground-shaking bass, we prefer a balanced sound because such strong bass sounded distorted and drowned out the vocals. To get a good sound coming out of the speaker, it would require constantly adjusting the bass and the treble. While we appreciate the inclusion of the remote, it is a hassle that it requires constant tune up to fully enjoy the audio.
CONCLUSION
The the ET-AR508LR-BK turns out to be a mix-bag. It produced a strong volume but the sound quality is not consistent across different sources. As a result, it requires constant adjustments when play different genres of music. In movie playback, the dialog sounded a bit hallow and distant and can sometimes be drowned out by the bass.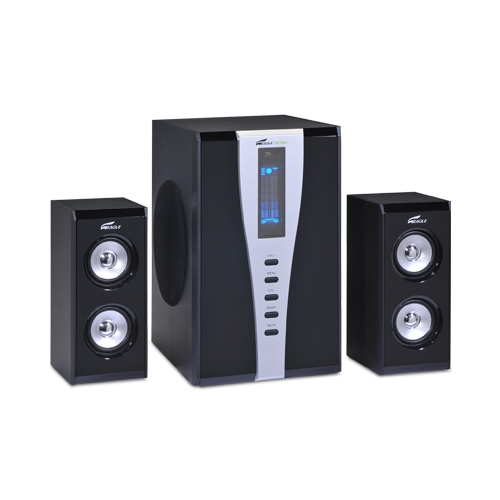 We appreciate the inclusion of the remote for easy audio tuning but we would love to be able to use the speaker without constant adjustment. If constant adjustments are needed, we at least would hope Eagle Tech let user save their profiles. Furthermore, we love to see some sort of visual indicators of volume setting and also longer cables.
If you like a loud speaker and love a strong bass, we feel that the ET-AR508LR-BK probably would suit your need. We would like to point out again that the speaker only is able to reproduce sound at 35 Hz and higher so you would not able to hear the sound from 20 to 35 Hz. So depending on how picky you are with the bass, you may love or hate the speaker.
While the ET-AR508LR-BK sounded far better than the cheap $20 stereo speaker, it is far from being perfect for its retail price of $79.99. There are other better choice of speakers out there at this price range. Even Eagle Tech's own ET-AR506-BK sounded more balanced and has a greater frequency response (and cheaper too) than the ET-AR508LR-BK despite it does not sound as loud. Untimately, for those who come from cheap stereo desktop speaker would enjoy the incredible loudness and decent bass and high volume of the speaker but for picky audiophiles, the ET-AR508LR-BK will not blow you away.
OUR VERDICT: Eagle Tech ET-AR508LR-BK
| | |
| --- | --- |
| Performance | 6.5 |
| Value | 7 |
| Quality | 7 |
| Features | 8 |
| Innovation | 7 |

We are using a new addition to our scoring system to provide additional feedback beyond a flat score. Please note that the final score isn't an aggregate average of the new rating system.

Pros
Cons
Very loud

Strong bass

Adjustable bass and treble

Remote control

3.5mm audio input

Weak midrange

Unbalanced audio across different audio source
Summary:
 The Eagle Tech ET-AR508LR-BK produces loud volume but its audio quality is not balanced across different sources. Furthermore, it failed to produce a good bass and tweet that would turn many audiophiles away. We do appreciate the included bass and treble adjustment, remote control, and the 3.5mm audio input but we feel it would be hard for us to recommend the speaker due to its audio quality.