Eagle Tech Arion ET-AR506-BK has an elegant looks and good specification for a stereo speaker. But how well does it sound in the real-world testing? Let's find out.
INTRODUCTION
Desktop speakers do not often get much attention in the computer world. This is partially due to the fact that audio technology advancement is not changing as fast as other computer hardware. Also, audio quality is a very subjective matter. So there is no standard way to evaluate the sound quality.
Computer audio has come a long way. We no longer need a dedicated sound card to be able to enjoy music while working on the computer. The onboard audio chip that is bundled with all motherboards are all decent enough that for casual listeners. While there are dedicated sound cards available, such as Creative X-FI and Asus Xonar, that are meant to improve the gaming experience, for most people the onboard audio provides enough sound quality that there is no need to spend extra money on a sound card.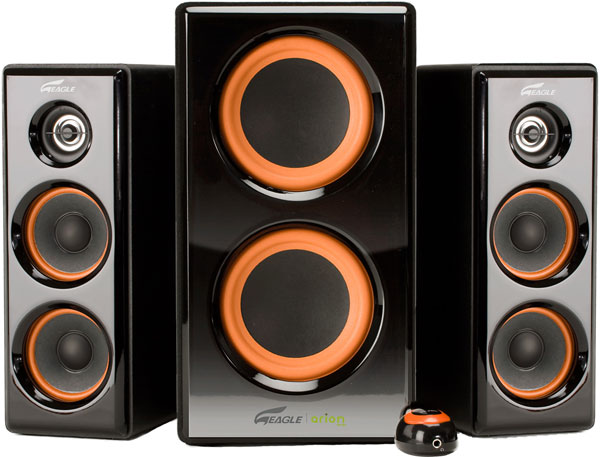 To get a good sound quality, not only do you need a good sound chip, more importantly would be the speakers. Stereo audio may not be too exciting in the computing world where the surround sound experience with 5.1, 6.1, and even 7.1 audio channels is getting most attention. However, a high quality stereo speaker often would produce a greater audio experience than a crappy multi-channel speaker setup.
Eagle Tech has recently introduced Arion ET-AR506-BK, a 2.1 Soundstage Speakers with Dual Subwoofers – 5" Drivers that is targeted toward HTPC and computer users who wish to have a good stereo speaker set. The company sent the speakesr to Bjorn3D for us to test out and see just how well they sound. Let's find it out.
EAGLE TECH ARION ET-AR506-BK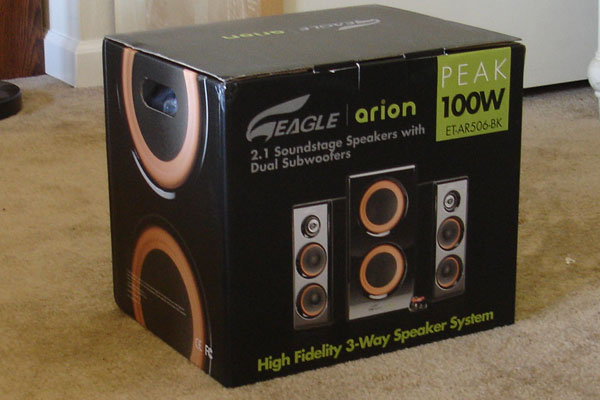 The Eagle Tech Arion ET-AR506-BK arrives in a very nice box where you get to see the speaker outside of the box.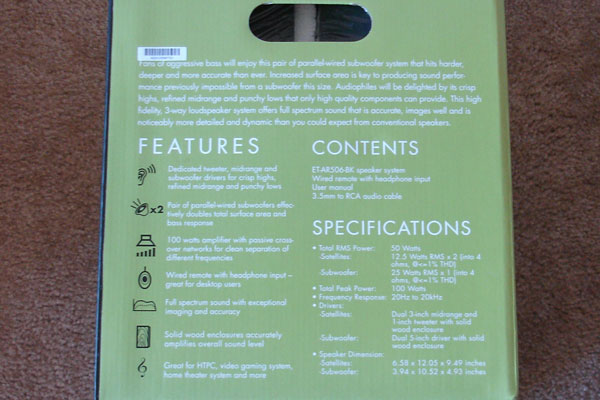 You get to see the features and specifications of the speaker on the outside of the box.
FEATURES
High fidelity 3-way loudspeaker system reproduces accurate, full spectrum sound
Increased subwoofer cone area yields higher SPL and deeper bass across a wider listening area
Sound dampening solid wood enclosures
Glossy finish complements modern room décor.
100 watts amplifier with passive crossover networks for clean separation of different frequencies
Premium quality tweeter, midrange and subwoofer drivers for crisp highs, refined midrange and punchy lows
Smooth linear response over broad frequencies so you hear the music at exactly the same way it was recorded
Wired volume control with headphone input – great for desktop users
Great for HTPC, video gaming system, home theater system and more
A detail view of the features can also be found on the box where you can see the connectors, remote control, and the speakers.
SPECIFICATION
Total RMS Power: 50 Watts
Satellites: 12.5 Watts RMS x 2 (into 4 ohms, @<=1% THD)
Subwoofer: 25 Watts RMS x 1 (into 4 ohms, @<=1% THD)
Total Peak Power: 100 Watts
Frequency Response: 20Hz to 20kHz
Drivers:

Satellites: Dual 3-inch midrange and 1-inch tweeter with solid wood enclosure
Subwoofer: Dual 5-inch driver with solid wood enclosure

Speaker Dimension:

Satellites: 3.94 x 10.52 x 4.93 inches
Subwoofer: 6.58 x 12.05 x 9.49 inches
PACKAGE CONTENT
ET-AR506-BK speaker system
User manual
3.5mm to RCA audio cable
Each of the parts are neatly placed with padding so the speakers will arrive without any damage.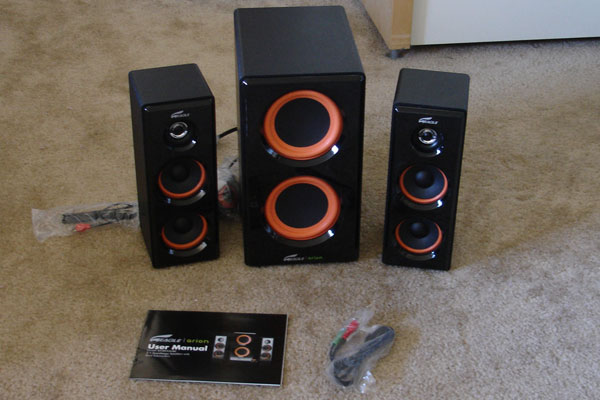 The Eagle Tech Arion ET-AR506-BK is your standard desktop 2.1 speaker set where you get a subwoofer and two satellite speakers. The speaker is black with high-glossy finish on the front of the speaker. Around each driver rim is an orange ring. Depending on your taste of the orange ring on a black background, you either would like the Halloween color scheme or hate it. Although looks is somewhat subjective, I feel that the aesthetic of the ET-AR506 is elegant and classy yet modern enough that it would blend nicely in a modern household.
As expected, we get two satellite speaker that each has a rated 12.5 Watts RMS and the subwoofer has a rating of 25 Watts RMS. Each one of the satellite speaker has a dedicated 1-in tweeter on the top that is designed to produce high frequency in the 2,000 Hz to 20,000 Hz range. In addition, a dedicated dual 3 inch midrange driver that provides a refined midrange. Finally, we get a dual subwoofer that is aimed to give you a punch in the lows.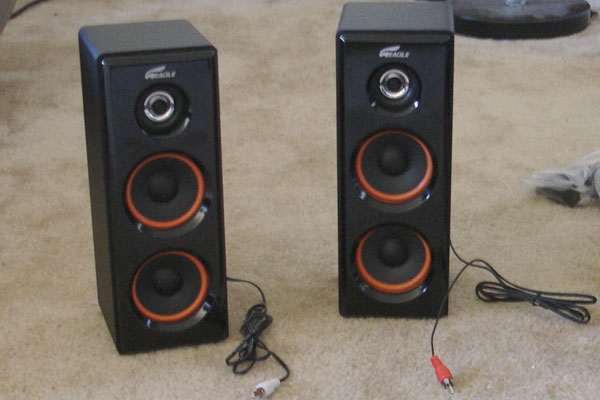 Each of the satellite speakers measures 3.94 x 10.52 x 4.93 inches which takes up quite a lot of desktop space compare to your traditional desktop stereo speaker. The subwoofer on the other hand is smaller and slender and less boxy than common 2.1 speaker system. It measures only 6.58 x 12.05 x 9.49 inches. All of the speakers are enclosed in wood which is better for sound quality than plastic enclosure.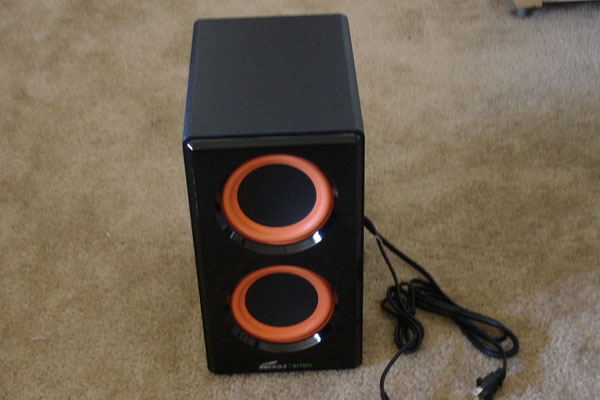 The speakers and the subwoofers are connected to each other via 3.5'' RCA audio cable. Unfortunately, the audio cable is soldered direct to the satellite speaker and Eagle Tech includes a rather short cable that is only about a meter long. This means that the speaker must be placed very close to the subwoofer or you need to purchase an extension. The subwoofer is connected to you computer through the 1/8 inch adapter that splits into a left and right 3.5'' RCA audio cable.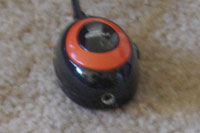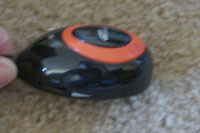 Dangling off the speaker is a wired remote control that lets you turn the speaker on or off. The control only lets you adjust the volume and with the included headphone jack, you can plug in your headphone. Like the audio cable, the remote control's cable is also unusually short which force me to put it on top of my computer case and not on my table.
A little blue LED light will stayed on regardless if the speaker is on which can be somewhat annoying because it is very bright. We feel that the control function is rather limited. We would love to see a microphone connector and a bass adjustment on the remote like what we have seen with other speaker set. Furthermore, we would love to see it include an auxiliary port so you can plug in your iPod to stream music.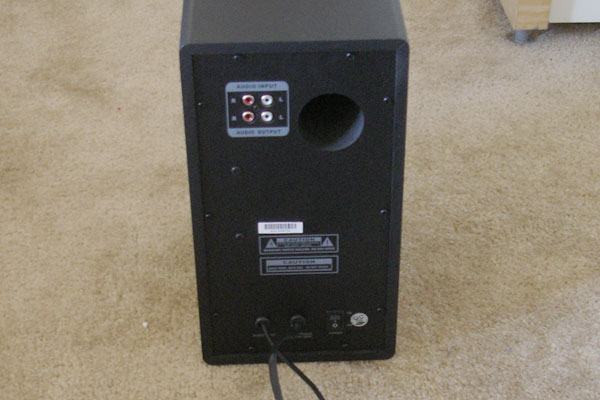 SOUND QUALITY
General Sound quality
Since there is no real standard test for speakers, we can only rely on the subjective tests. So always take the results with a grain of salt. What sounds good to one person's ear may sounds horrible to another person's ear. In addition, testing audio on a computer system also depends on the sound card and the placement of the speaker. We have decided to test it with our system using the integrated Realtek audio chip because we feel that users who are purchasing the speaker would most likely be using the onboard audio instead of a dedicated card.
We have decided to test the speaker in three areas: music audio payback, movie playback, and gaming.
Music Audio—MP3 and CDs
I popped in a Celine Dion CD to test the music playback. Being well-known for her high and thin voice, she is a perfect sound to test on the speaker's tweeter and midrange. I also tested with various MP3 files that I have on my computer while working on the article to get a sense of different sounds. I played various genre of musics, such as pop, rap, country, and light-metal. 
What I noticed is that the midrange sounded decent but can sometimes be drowned out by the bass of the speaker. This is often an issue with many stereo speakers due to the heavy emphasis on the bass level that it often drowns out the midrange and high. I do want to mention that despite the fact that the sound can be drowned by the bass, the audio is very full. I feel that the audio is actually surrounding me instead of the next to me. You can definitely sense the 12.5 watts satellite speakers doing their job as I can fully hear the audio without turning the volume up high. The sound quality feels very rich and lush that it makes the audio sounded very three dimensional like you are sitting in a concert hall despite the fact it is only stereo.
As expected the bass sounded very nice, much due to the 25 watts of power and the dual-subwoofer. And despite the fact it can drown out the midrange sometimes, it does less than some other stereo speakers that I have used. Since the speaker set does not have a way adjust the bass, an easy fix would simply using the desktop audio software to adjust the equalizer that sounds best to you.
Overall, the speaker performs quite decent in the music playback. I feel that the speaker is going to be a very nice unit to be used for watching movies despite lack of multi-channels because of the fullness of the sound it is able to reproduce. With this, let's see how it does in our movie sound test.
Movie Playback
We have already noticed how full and strong the Arion ET-AR506-BK 2 is able to produce audio with our music listening test. Therefore, we kind of expected a very good movie watching experience.
We pop in the Pirates of Caribbean II DVD. Our movie watching experience with the ET-AR506-BK is just what we had expected. The rich volume produced by the speaker makes the sound lively and vivid. In the scene where there is heavy explosion and action, the speaker produces sounds with a heavy punch. In the scene with the beating heart, you can clearly hear the heartbeat from the bass of the speaker and it makes your heart pump.
Unfortunately, the low mid-range and high of the speaker is more problematic in the movie playback than we experienced in our music playback. While the heavy bass really gives you a good punch in the action scenes, in scenes where there is a mix of dialog and actions sequences, the dialog sometimes can be hard to hear. This would require you to constantly adjust the volume up and down depending on scenes. In scenes where there's a lot of dialog, we had to increase the volume while in the action scenes, we had to lower the volume slightly otherwise, it may be too loud.
While Eagle Tech is targeting the speaker for HTPC users, we feel that it's fullness of the sound does the job well but the low and midrange is going to make the speaker only good for certain movies. For best movie enjoyment, we think that a bit of fine-tuning is needed in order to have a balanced midrange, high, and bass.
Gaming
Gaming with the speaker is very enjoyable because dialogs are often not the most important factor in games. Most dialogs in games are on the forefront with the music score on the background and they often appears only on the cutscenes. What makes a game enjoyable is the music score played on the background and of course accurately pinponit the enemy's position. Therefore, the low midrange and the high audio from the speaker are not as critical here. As a result, the dialogs are easy to hear while the good bass produces a very vivid and realistic game play.
Do not forget that this is a 2.1 speakers so do not expect too high in terms of enemy position as you would with the 5.1 speaker system. Nonetheless, the fullness of the sound and the strong volume makes the speaker system a good enough for casual gamers.
CONCLUSION
Eagle Arion ET-AR506-BK is a decent stereo speaker for $59.99. The speaker produces full audio with its 12.5W satellite speaker and 25W dual-subwoofer. While the speaker's bass is excellent, we feel that its midrange and high are too weak and often can be drowned out by the bass. Despite the dedicated drivers for the tweet and midrange, the speaker is simply unable to offer a good balanced audio in music and movie playback. Unfortunately, Eagle Tech does not provide a control for the bass so users would have to rely on their audio chip's equalizer to fine-tune their speaker in order to have a good overall sound quality.
We like the fullness of the sound where in game play the speaker shines to produce a very realistic environment where it made our heart pounding. The overall design of the speaker is also nice, elegant yet not overly over the board, that we feel it should fits nicely in any décor. While we liked the use of the RCA cable, we absolutely would love Eagle Tech to include a longer cable. We feel that for a speaker that is this powerful, a longer cable should be included in order to place them farther apart in order to fully take advantage of its sound quality. Moreover, we would love to see from the ET-AR506-BK a control that allows base adjustment, a mic port, and an auxiliary port.
Overall, while we are impressed by the fullness and strong bass of the ET-AR506-BK, we feel that its low midrange and high let us down a bit. We feel that it is certainly much better speaker than your cheap $20 desktop speaker, it is unfortunately not perfect. If you like strong bass sound, this would be a perfect speaker for you but if you are into more balanced audio, then this may not do the job you wish to without fine-tuning it with audio chip's equalizer. .
OUR VERDICT: Eagle Tech Arion ET-AR506-BK
| | |
| --- | --- |
| Performance | 7 |
| Value | 8 |
| Quality | 7.5 |
| Features | 8.5 |
| Innovation | 8 |

We are using an addition to our scoring system to provide additional feedback beyond a flat score. Please note that the final score isn't an aggregate average of the rating system.

Pros
Cons

Very strong bass

Full sound

Dynamic and lush audio

Powerfull spekaer with strong volume

Extremely short cable

Mid and high can be drowned by the bass

No bass adjustment

No auxiliary and mic port

 

 
Summary: While the the speaker packed with a heavy punch for its bass, its mid and high is a tad weak and easily drowned by the bass.