Asus has once again amazed us by bringing the EAH5870 (5870v2) Voltage Tweak to market. Clocked to stock 850/1250 the Voltage Tweak it offers should make it a top overclocker.
Introduction
Asus has long been producing exciting products, and even more exciting product variants. By now the HD5870 is pretty much a known quantity, leave it to Asus to come along and change that. They have fielded the Asus EAH5870 Voltage Tweak. It's an HD5870 with improved cooling and lets you adjust the voltage for better overclocking.
In our experience the Voltage Tweak editions can hit as high as 1050MHz core speed while normal HD5870 might hit 925MHz if you got a good one. Let's fire this puppy up and see how it fares at stock clocks and at a comfortable overclock. After we bench it at some insane core speed we'll push it to the limits and see how fast it can go at the ragged edge of maximum OC.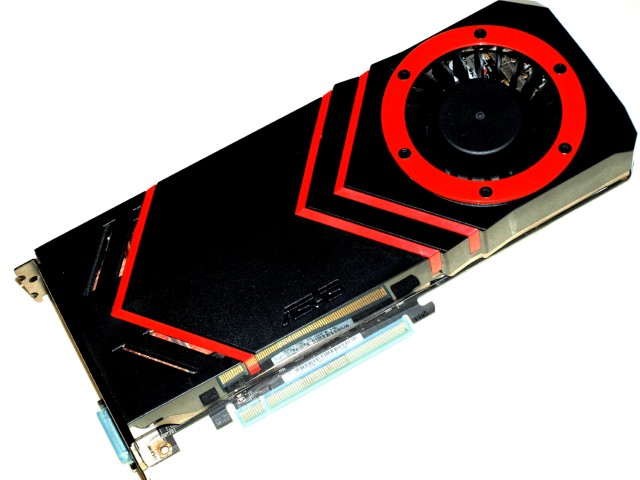 With an over-sized fan the EAH5870 Voltage Tweak (HD5870v2) offers great overclocking and 17% better cooling than reference HD5870's. With the Voltage Tweak option allowing for substantially better overclocking we may need that 17% better cooling because we are going to make this card scream.
Features & Specifications
ASUS Exclusive Innovation
ASUS Exclusive Voltage Tweak Technology for up to 50% performance
Equipping with 8.5cm Extra Large Fan & Pure Copper Fins, we proudly deliver 17% cooler performance than reference design.*
*Test Under the same clock & voltage setting with reference design.
 
ASUS Features
ASUS Splendid

Watching movies on PC is as good as on Top-of-the-line consumer television

ASUS Gamer OSD

Real-time overclocking, benchmarking and video capturing in any PC game!

ASUS Smart Doctor

Your intelligent hardware protection and powerful overclocking tool

Gigantic 1GB GDDR5 Memory

On-board memory for the best gaming experience & the best resolution
Graphics GPU Features
Radeon HD 5870

40nm GPU

Less power consumption & more efficient transistor

Microsoft® DirectX® 11 Support

Bring new levels of visual realism to gaming on the PC and get top-notch performance

Microsoft® Windows® 7 Support

Enable PC users to enjoy an advanced computing experience and to do more with their PC

ATI CrossFireX™ Technology

Get up to 1.8X of a graphics performance boost in dual mode

PCI Express 2.1 support

Support Large & High Resolution

Dual-link DVI able to drive the industry's largest & highest resolution flat-panel displays up to 2560×1600
ATI Eyefinity Technology
Extend the View across 3 Displays to immerse yourself in gameplay and entertainment
Xtreme Design VGA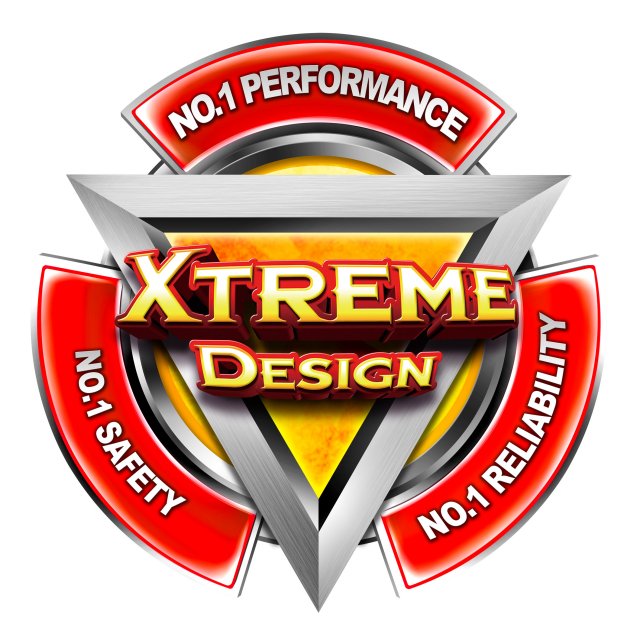 Every GPU vendor is looking to distinguish themselves from other brands. Often we find there's little substance to the differentiation, other than marketing hype. Usually we just pass by it and give a polite nod but once in a great while we see something worth passing on. That's the case with Asus Xtreme Design VGA. While a lot of the features aren't obvious to they eye when opening the package Asus has gone to great lengths to insure you have the highest quality GPU.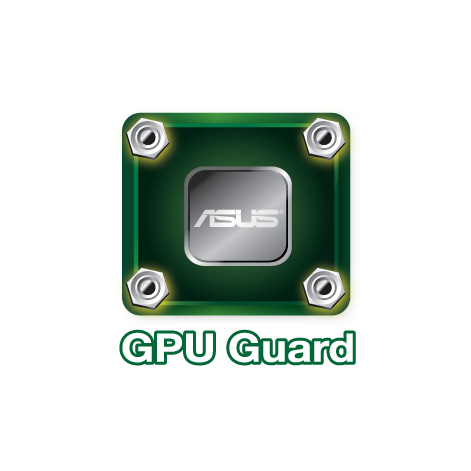 Large GPU's have an inherent problem, PCB warp. To that end Asus has reinforced the space between the PCB with Glue to make it harder for the PCB to bend. On larger full cowling GPU's like the EAH5870 VT that's not much of a problem because the PCB has multiple contact points with the cowling. Still it's nice to have the piece of mind knowing that if you put a water block on later that reinforcement is there to protect your investment.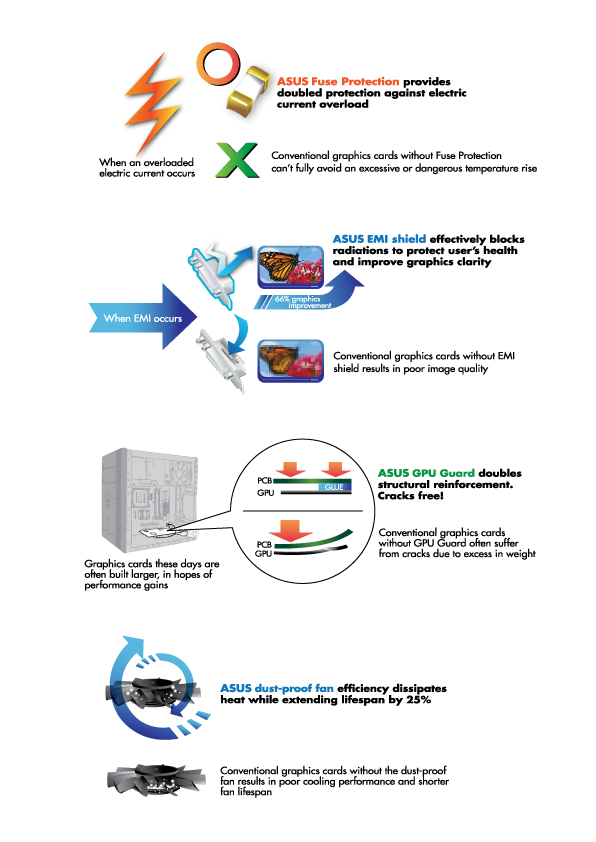 Some of the goodies Asus packed in the EAH5870 VT are, fuse protection to protect against overvolt situations. Electromagnetic shielding for interference free graphics. The GPU guard structural reinforcement we mentioned earlier. Asus Dust proof fan which helps extend the life of the GPU by keeping airflow high. This combination of features will help insure a nice long life for your GPU investment.

Design does matter and with the added value you get from SmartDoctor and Gamer OSD along with the added reliability from Asus's Xtreme Design VGA you'll know that your gaming weapon will always be ready to deal death upon those who oppose you.
| | | | | | | | |
| --- | --- | --- | --- | --- | --- | --- | --- |
| GPU | GTX-480 | GTX-470 | GTX-285 | 5850 | 5870 | Asus HD5870 Voltage Tweak | 5970 |
| Shader units | 480 | 448 | 240 | 1440 | 1600 | 1600 | 2x 1600 |
| ROPs | 48 | 40 | 32 | 32 | 32 | 32 | 2x 32 |
| GPU | GF100 | GF100 | GT200b | Cypress | Cypress | Cypress | 2x Cypress |
| Transistors | 3200M | 3200M | 1400M | 2154M | 2154M | 2154M | 2x 2154M |
| Memory Size | 1536 MB | 1280 MB | 1024 MB | 1024 MB | 1024 MB | 1024 MB | 2x 1024 MB |
| Memory Bus Width | 384 bit | 320 bit | 512 bit | 256 bit | 256 bit | 256 bit | 2x 256 bit |
| Core Clock | 700 MHz | 607 MHz | 648 MHz | 725 MHz | 850 MHz | 850 MHz | 725 MHz |
| Memory Clock | 924 MHz | 837 MHz | 1242 MHz | 1000 MHz | 1200 MHz | 1200 MHz | 1000 MHz |
| Price | $499 | $349 | $340 | $299 | $399 | $420 | $599 |
SmartDoctor & Overclocking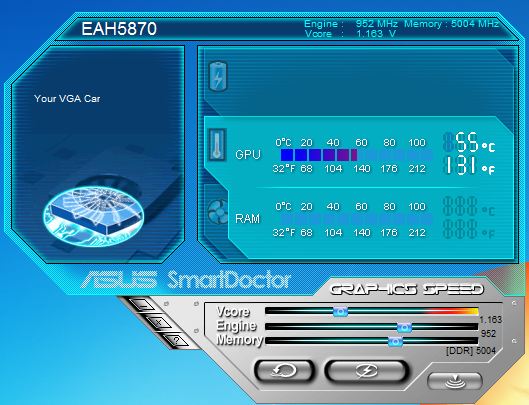 We were running late due to a technical glitch with the test rig so lets go right to the Overclocking. We loaded SmartDoctor and at stock voltage of 1.153V we got a core speed of 952MHz and memory was at 1251MHz (5004 Quad pumped). Hitting 952 Core is a pretty good achievement for a $420(ish) HD5870.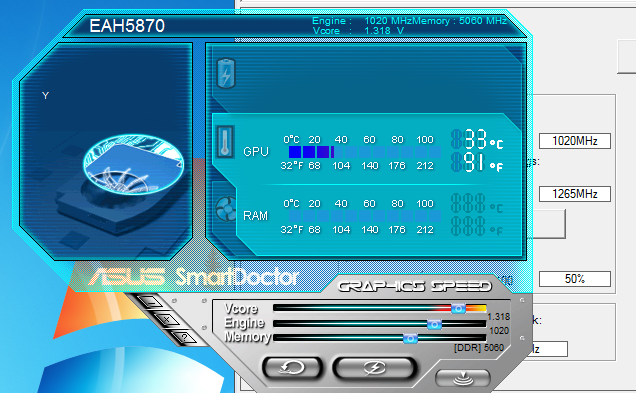 We had to crank the Voltage to 1.318V to get there but we got a 1020MHz core which is a Bjorn3D site record for HD5870's. We also managed to squeeze out 1265MHz memory (5060 Quad Pumped). That's a better OC result than much more expensive aftermarket cards we've seen. When you combine that with the over sized fan that provides better cooling you have a powerful combination.
To make sure there was nothing in the SmartDoctor code that was fudging reported speeds we ran CCC and it reported the same speed as SmartDoctor.
We don't have any details at this time but we hear quiet whispers of a new Asus overclocking utility that will replace SmartDoctor, and it will work on any vendors GPU. Of course Voltage Tweak will only be available on Asus Voltage Tweak GPU's but with Asus' expertise in hardware their overclocker is sure to be one of, if not the, premier GPU overclocking utilities out there. (When we say quiet whispers we aren't talking rumor so expect a new utility soon).
Pictures & Impressions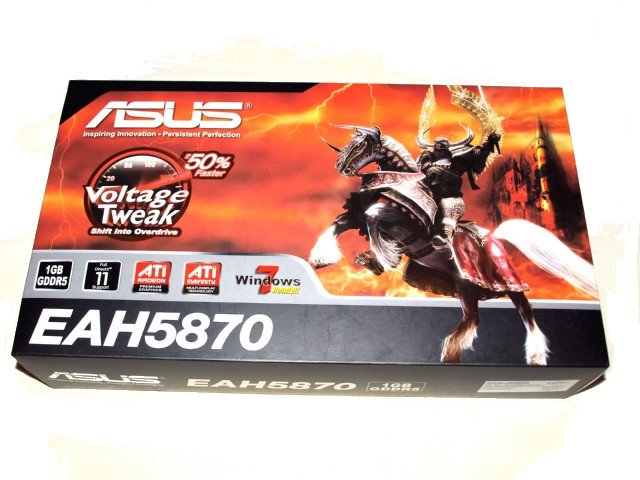 The box for the Asus EAH5870 Voltage Tweak shows typical Asus flair and a nice graphic of a midieval(ish) character on the front. Inside the box the card was well protected and arrived in good condition.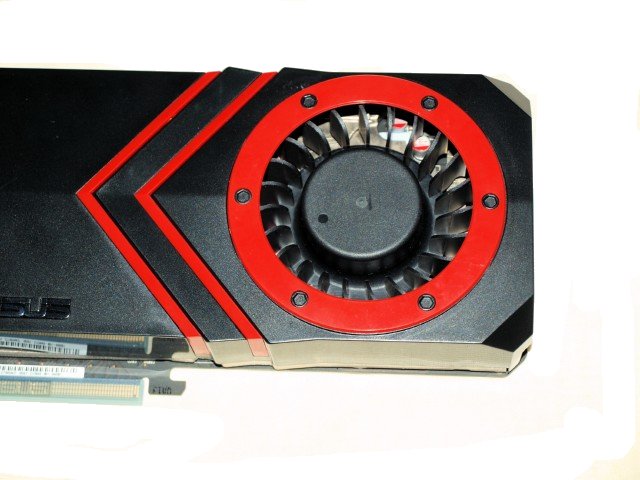 The first thing we noticed out of the box was the oversized fan that provides up to 17% better cooling than stock fans. When we say that we mean at stock speed and stock voltage. Overclocking and adding voltage will change that percentage.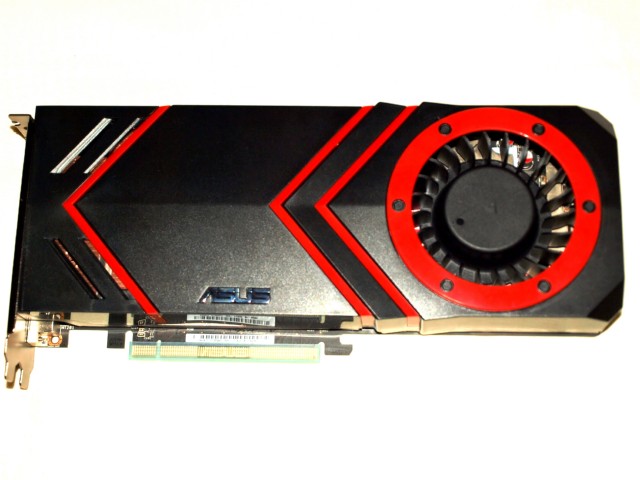 The card itself is striking in appearance but not overly done. By that we mean it looks good but doesn't look gaudy.
Asus went a little different on the cowling and it's not one continuous surface. The red lines on the card aren't graphics but rather part of the cowling and where they come to the side of the card are indented a little.

For connectors you get one DVI, one Displayport and one mini-HDMI. Asus has provided for a second DVI by adapter.
The top of the card shows the Xfire connector and some vent slots up by the connector end.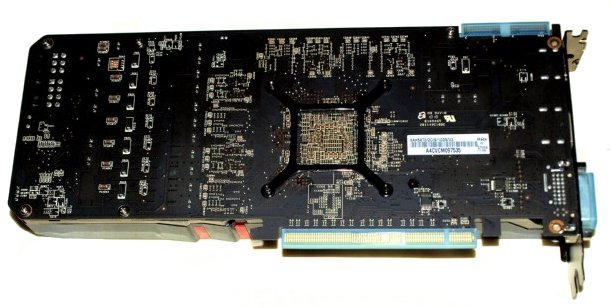 The back of the card is fairly unremarkable but does have a nice black PCB.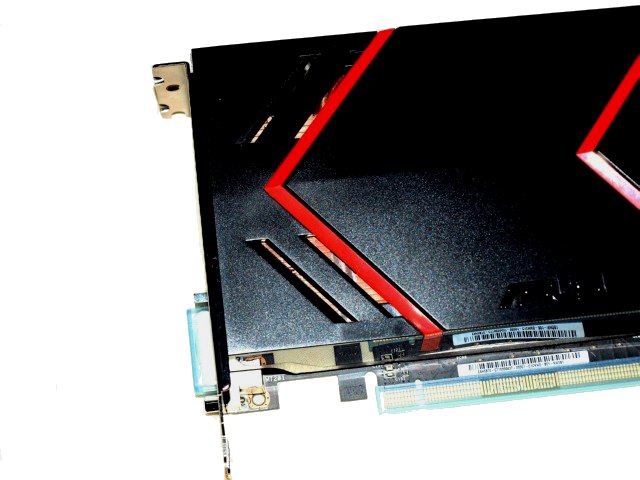 Up on the front of the card you find a couple of additional vents which add to the looks of the EAH5870 Voltage Tweak.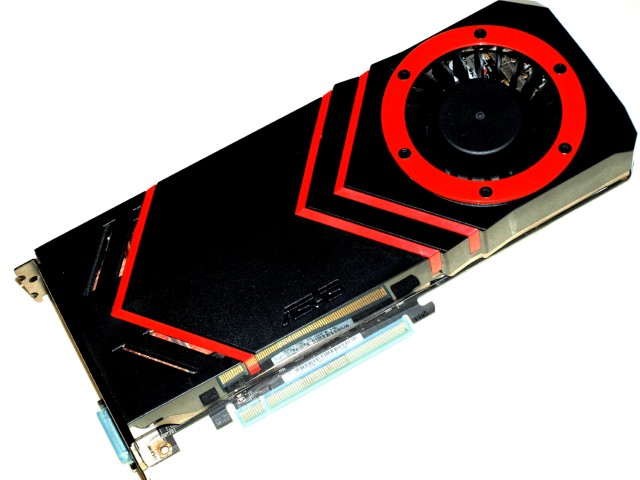 Looking at it from an angle you can see that this card easily shows that it's not a reference GPU and should turn a few heads if you are showing off the gaming shrine.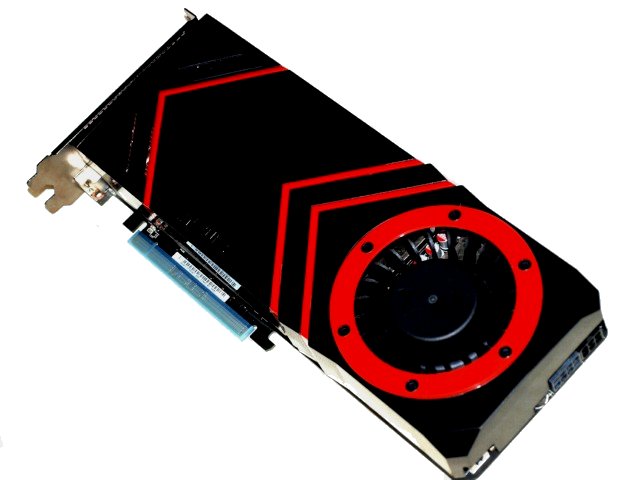 No matter the angle we got on the GPU it still extrudes that quiet look of serious graphics power.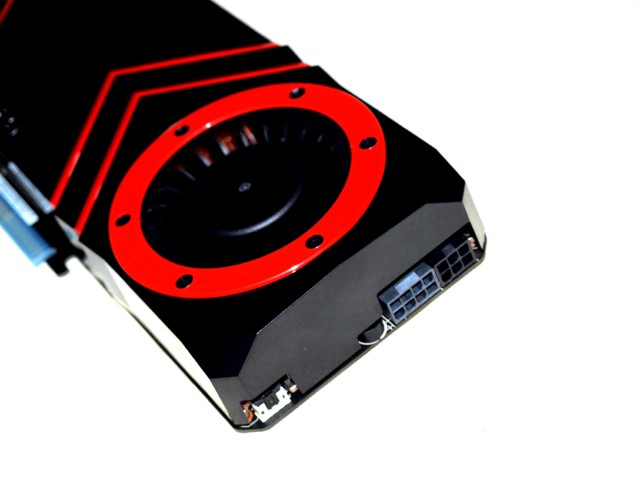 Since the Asus EAH5870 Voltage Tweak might need a little more power than a standard HD5870, Asus designed it with an eight pin PCI-E and six pin PCI-E power connector. The normal cards have two six pin PCI-E power connectors so this one might consume a little more power when the Voltage Tweak is applied.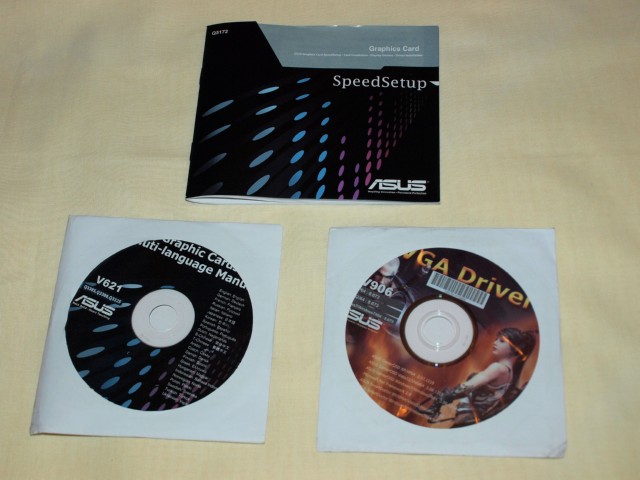 Like normal, we found a Quick Start Guide, a manual on disk and a Driver disk with Asus Smart Doctor included.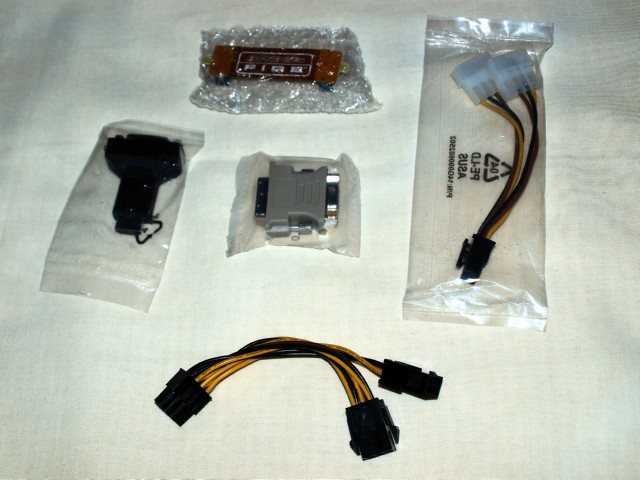 Included we found a HDMI to DVI connector, a DVI to 15 pin Dsub (VGA), a Crossfire Bridge, a two Molex to six pin PCI-E power adapter and a two six pin PCI-E power to one eight pin PCI-E power adapter.
TESTING & METHODOLOGY
To Test the Asus EAH5870 Voltage Tweak, we did a fresh load of Windows 7 Ultimate; then applied all the updates we could find. Installed the latest motherboard drivers for the Asus P6T6, updated the BIOS, and loaded our test suite. We didn't load graphic drivers because we wanted too clone the HD with the fresh load of Windows 7 without graphic drivers. That way we have a complete OS load with testing suite, and it's not contaminated with GPU drivers. Should we need to switch GPU's, or run some Crossfire action later, all we have to do is clone from our cloned OS, install GPU drivers, and we are good to go.
We ran each test a total of 3 times, and reported the average score from all three scores. In the case of a screenshot of a benchmark we ran that benchmark 3 times, tossed out the high and low scores; then posted the median result from that benchmark. If we received any seriously weird results, we kicked out that run, and redid the run. Say if we got 55FPS in two benchmark runs, then the third came in at 25FPS we kick out the 25FPS run and repeat the test. That doesn't happen very often but anomalous runs do rarely happen.
Test Rig
Test Rig
"Quadzilla"
Case Type
Silverstone Raven 2
CPU
Intel Core I7 980 Extreme
Motherboard
Asus P6T6 WS Revolution
Ram
Kingston HyperX 12GB 1600 MHz 9-9-9-24
CPU Cooler
Thermalright Ultra 120 RT (Dual 120mm Fans)
Hard Drives
Patriot 128 GB SSD (Boot & Games)/WD Velociraptor 300GB
Optical
Asus BD Combo
GPU Tested

Asus EAH5870 Voltage Tweak
Gigabyte HD5870 Super Overclock
Asus GTX-470 Voltage Tweak Edition
PNY GTX-470
Nvidia GTX-480
Asus 5970
Visiontek HD Radeon 5870
Gigabyte HD Radeon 5870 Gigabyte HD Radeon 4890 OC
Asus HD Radeon 4890 Voltage Tweak Edition
PNY GTX-285 Performance Edition
XFX GTX-285 XXX
BFG GTX-295
Asus GTX-295
XFX 9800 GTX+ Black Edition
BFG GTX-260 MaxCore
Palit HD Radeon 4870X2
Sapphire HD Radeon 4870 512MB
Diamond HD Radeon 4870 1 GB
Sapphire HD Radeon 4850 Toxic
Drivers for Nvidia GPU's 197.41
Drivers for ATI GPU's 10.3

Case Fans
120mm Fan cooling the mosfet CPU area
Docking Stations
Thermaltake VION
Testing PSU
Silverstone Strider 1500 Watt
Legacy
Floppy
Mouse
Razer Lachesis
Keyboard
Razer Lycosa
Gaming Ear Buds

Razer Moray
Speakers
Logitech Dolby 5.1
Any Attempt Copy This System Configuration May Lead to Bankruptcy
Synthetic Benchmarks & Games
Synthetic Benchmarks & Games
3DMark Vantage
World In Conflict Benchmark
Crysis v. 1.2
Dirt 2
FarCry 2
Stalker COP
 Crysis Warhead
Unigine Heaven v.2.0
Just Plain Gaming With it
FurMark
Mass Effect 2
Metro 2033
You can see, we are indeed all over the map, DX9, DX10, DX11, Tessellation, old, new, and in between. We wanted as wide a representative sample as possible in the time available.
Crysis v. 1.21

Crysis is the most highly anticipated game to hit the market in the last several years. Crysis is based on the CryENGINE™ 2 developed by Crytek. The CryENGINE™ 2 offers real time editing, bump mapping, dynamic lights, network system, integrated physics system, shaders, shadows, and a dynamic music system, just to name a few of the state-of-the-art features that are incorporated into Crysis. As one might expect with this number of features, the game is extremely demanding of system resources, especially the GPU. We expect Crysis to be a primary gaming benchmark for many years to come.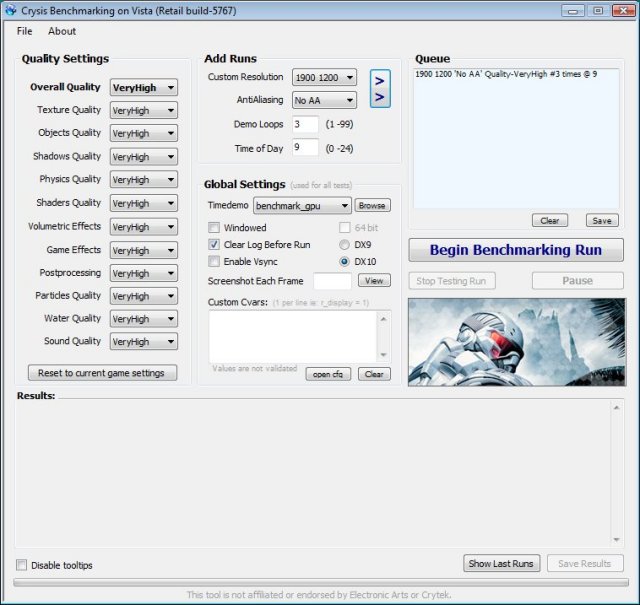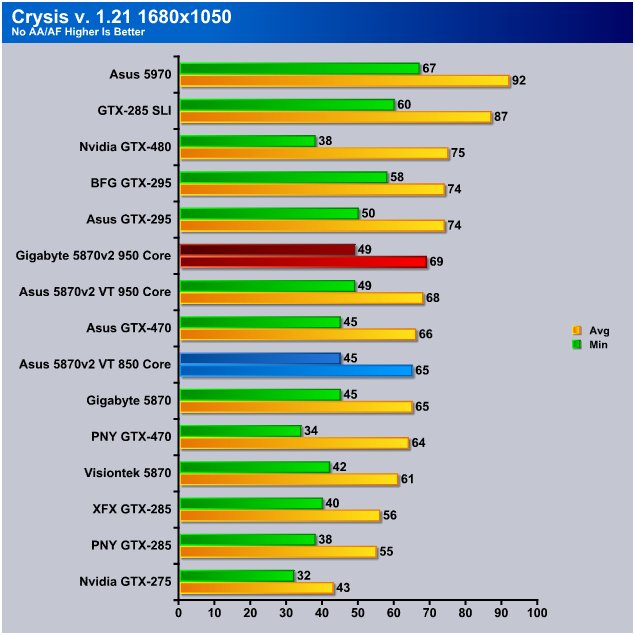 We had two GPU's in-house so we charted both at once, since we had the Gigabyte HD5870 at stock clocks of 950/1250 we went ahead and ran the Asus model at stock clocks 800/1200; then overclocked it to 950/1250, and benched at those clocks as well. The reason we did that is factory overclocked cards generally have a premium price. In this case as much as $499 for the Giga HD5870 SOC. On the other hand the Asus EAH5870 Voltage Tweak runs about $429 and we got the same performance from the cheaper GPU by manually overclocking it.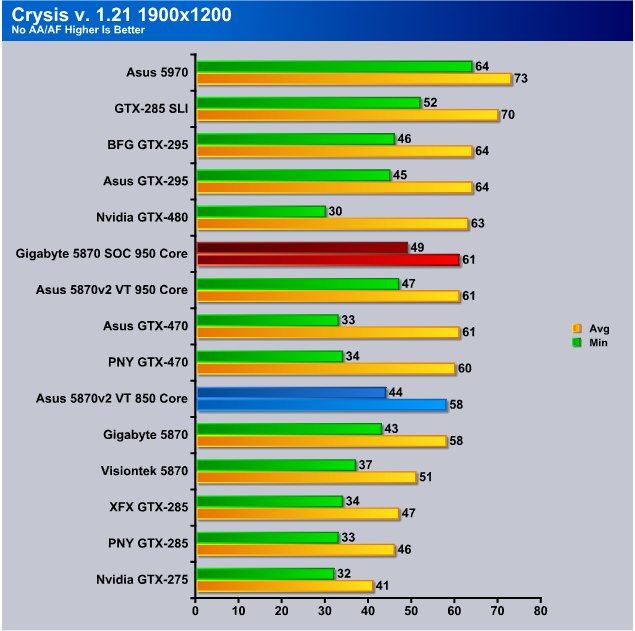 Here at stock clocks, the Asus EAH5870 performs the same as the regular HD5870's. Now put the overclock to it and it performs roughly the same as the highly factory overclocked Giga model.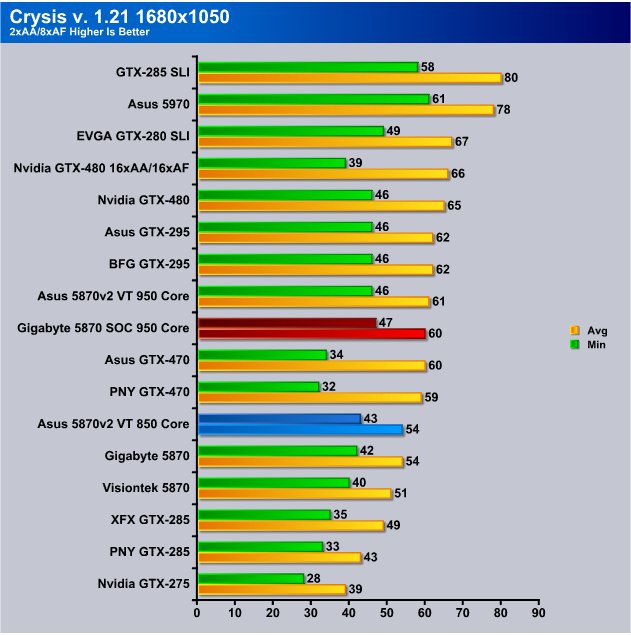 Here again at 1680×1050, we see the same performance as reference clocked 5870s. Add the hefty OC of 950/1250, the EAH5870 Voltage Tweak (5870v2 VT) runs just as well as the more expensive factory clocked Giga model.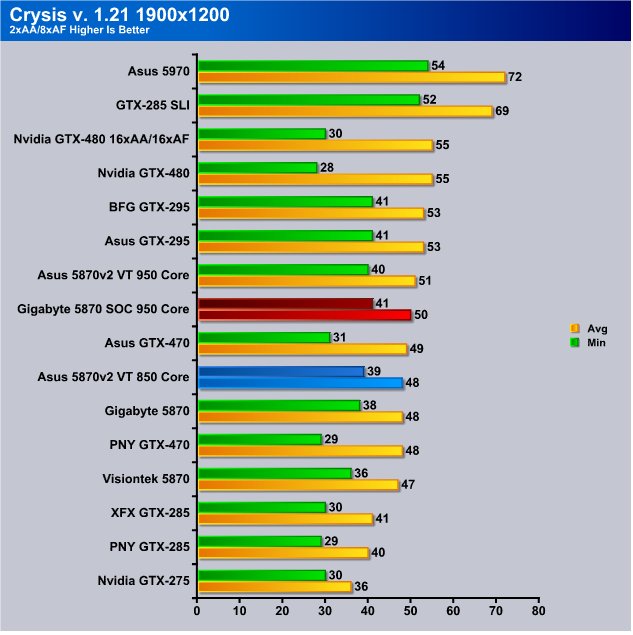 The highest resolution we tested was 1920×1200 with AA/AF turned on the entire (stock clocked) family of HD5870's performed about the same. Give the Asus EAH5870 Voltage Tweak a little extra voltage, clock it to 950/1250, and it jumps out in front of the pack. Keep in mind this isn't the maximum OC on the card.
CRYSIS WARHEAD

Crysis Warhead is the much anticipated sequel of Crysis, featuring an updated CryENGINE™ 2 with better optimization. It was one of the most anticipated titles of 2008.

The Settings we use for benchmarking Warhead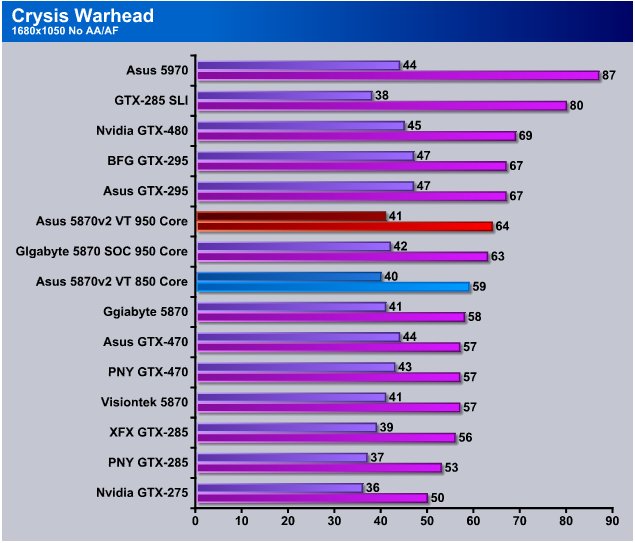 We start most of our testing at 1680×1050 because frankly 1280×1024 doesn't challenge any of these GPU's. Here in Crysis at that resolution we got 40 FPS min and 59 FPS avg at stock clocks. Overclocked we got 41/64 FPS, which is a nice little performance boost.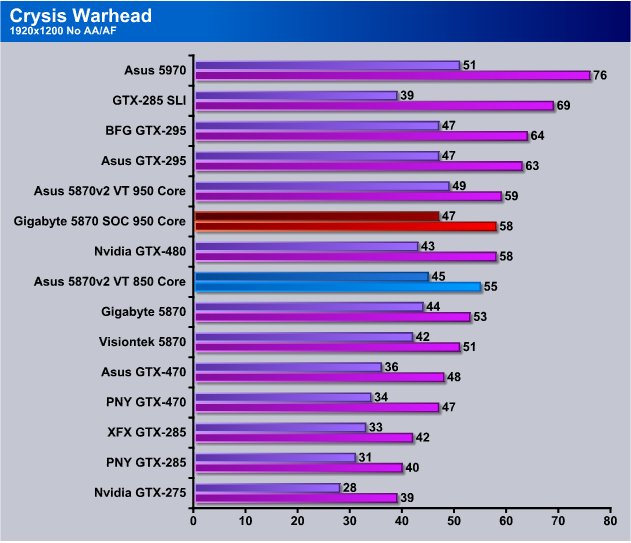 At 1920×1200 resolution starts to stress GPU's pretty good we got 45/55 FPS at stock clocks and 49/59 at the OC speed.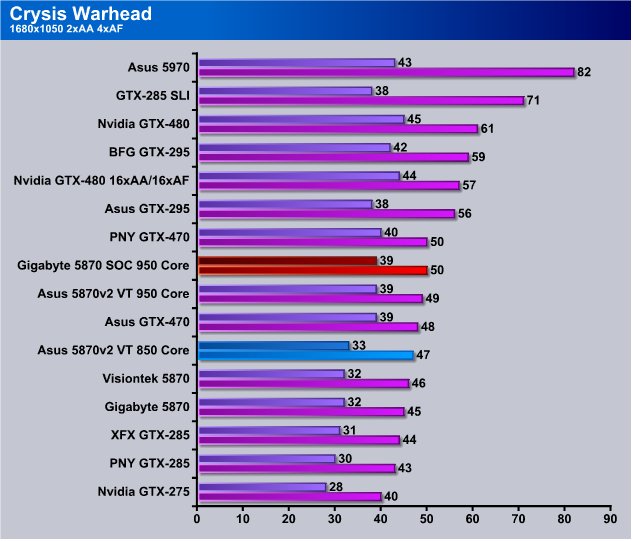 We are finding the Asus EAH5870 to be a very sensible card price wise, but it's a wolf in sheep's clothing because turn on the Voltage Tweak and we got 6 FPS more on the minimum FPS and 3 more FPS Average.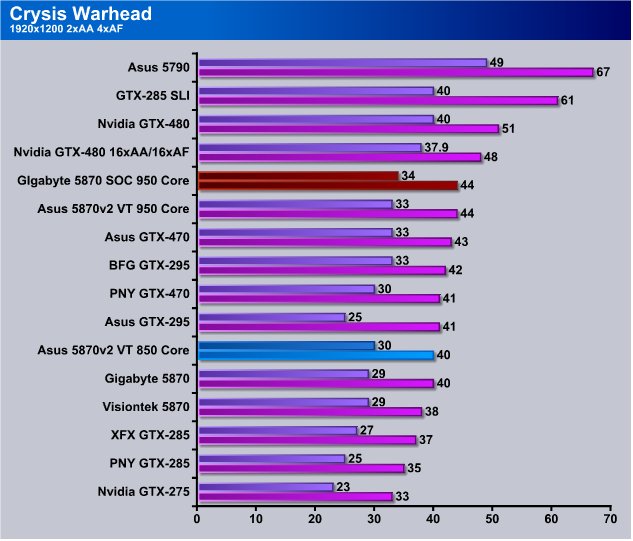 Highest resolution tested we got 30/40 FPS, and that's still in the rock solid (to the human eye) playable arena. Kick the OC to it and we picked up 3 FPS minimum and 4 FPS average.
Far Cry 2

Far Cry 2, released in October 2008 by Ubisoft, was one of the most anticipated titles of the year. It's an engaging state-of-the-art First Person Shooter set in an un-named African country. Caught between two rival factions, you're sent to take out "The Jackal". Far Cry2 ships with a full featured benchmark utility and it is one of the most well designed, well thought out game benchmarks we've ever seen. One big difference between this benchmark and others is that it leaves the game's AI (Artificial Intelligence) running while the benchmark is being performed.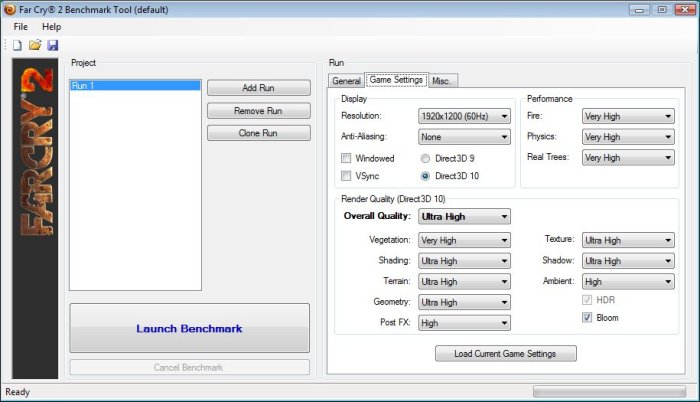 The Settings we use for benchmarking Far Cry 2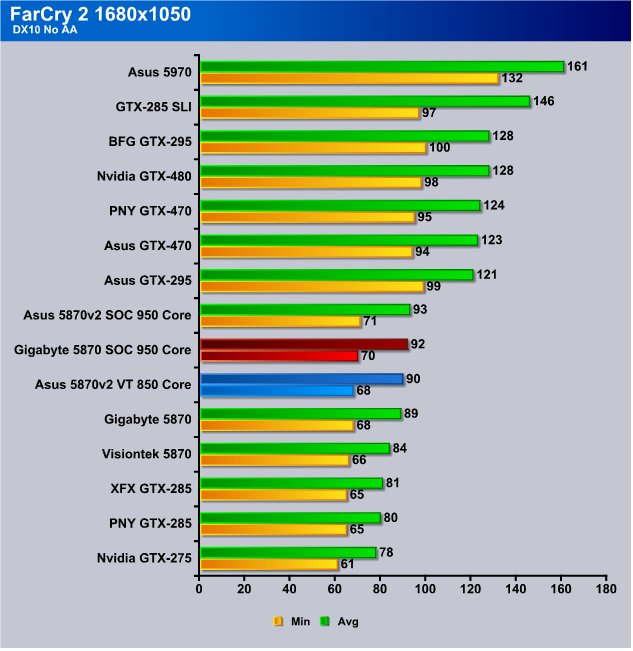 Far Cry 2 The Asus EAH5870 Voltage Tweak topped the standard HD5870's at 1680×1050 and when we applied the OC it topped all the HD5870's.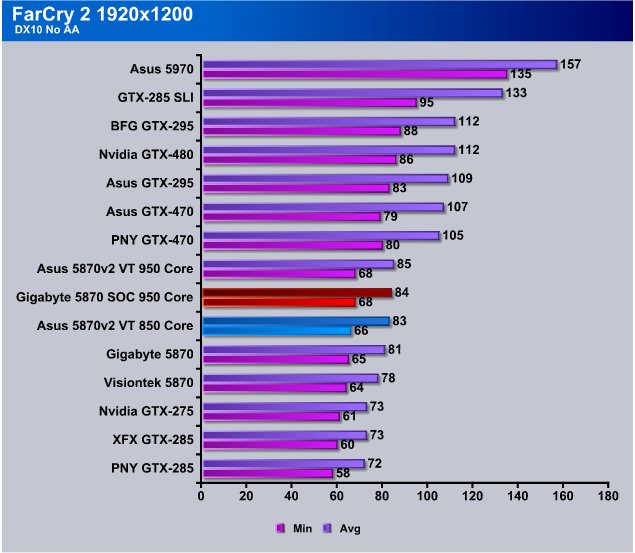 When we move to 1920×1200 without AA/AF the Asus EAH5870 VT was barely behind the factory overclocked Gigabyte model and when we applied the same OC the Giga model has it took the lead.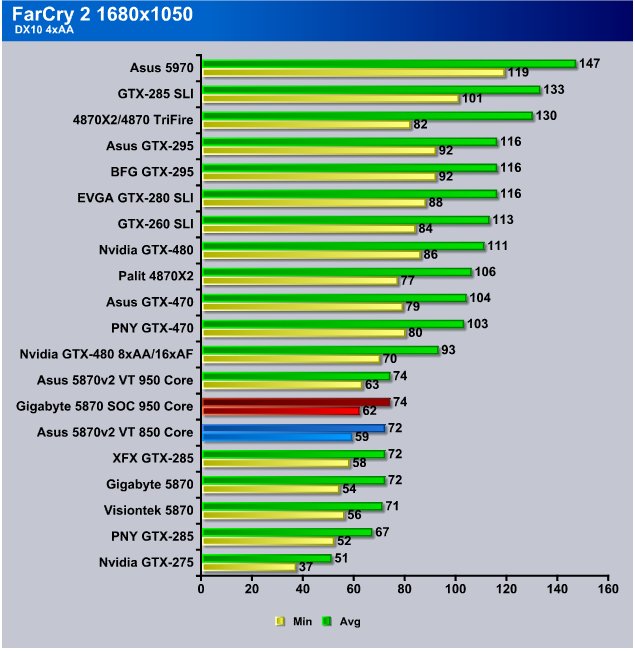 Turning on AA/AF at 1680×1050 the Asus EAH5870 VT easily topped the stock clocked HD5870's and with the OC we used it picked up a few FPS.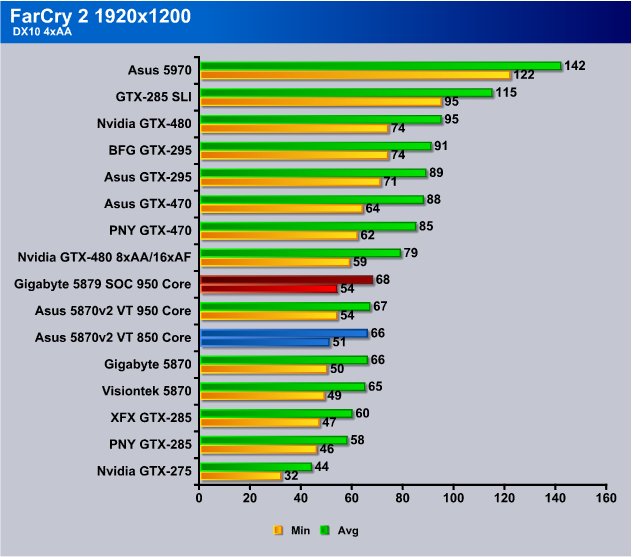 Stock clocked the EAH5870 VT hit 66 FPS average and 51 minimum and picked up to 54 FPS minimum and 68 FPS average when we overclocked it.
Unigine Heaven 2.0

Unigine Heaven is a benchmark program based on Unigine Corp's latest engine, Unigine. The engine features DirectX 11, Hardware tessellation, DirectCompute, and Shader Model 5.0. All of these new technologies combined with the ability to run each card through the same exact test means this benchmark should be in our arsenal for a long time.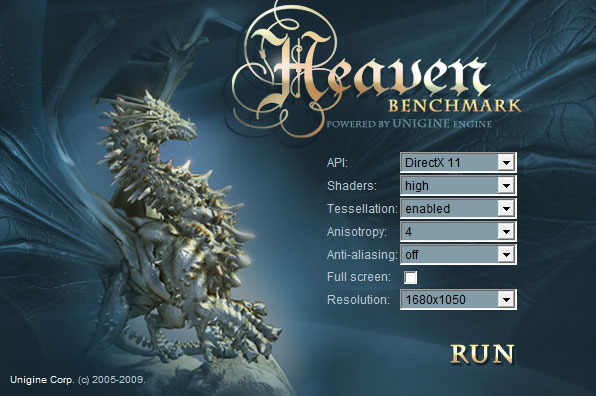 The settings we used in Unigine Heaven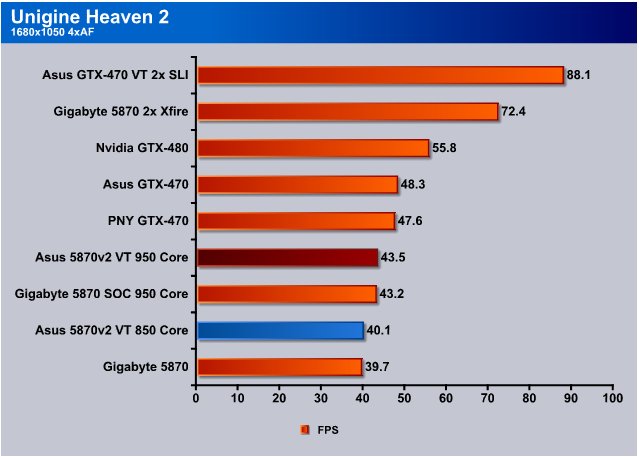 We got 40.1 FPS in Heaven 2 which is pretty good then when we slammed the OC on there that jumped to 43.5 FPS and easily topped the HD5870 stock. Notice we put some 5870 Crossfire on the chart as well as some SLI GTX-470 and the scaling on both is looking good.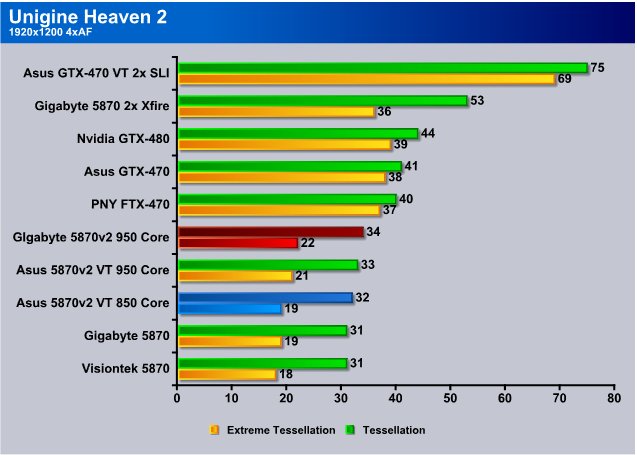 Heaven 2 gets really rough on GPU's at 1920×1200 with extreme Tessellation and AA/AF turned on we got 19 FPS, regular Tessellation we got 32 FPS. Give the EAH5870 VT the OC and it picks up a few FPS.
Dirt 2

Colin McRae Dirt 2 is the squeal to the popular racing game Colin McRae Dirt. The game is a racing game, but with an off road twist. Instead of racing Bugattis and Porsches your going to be racing trophy trucks and rally cars. The newest addition adds DirectX 11 effects, and modified physics from the original game.
We only tested Dirt 2 with AA/AF and you'll see why in a moment.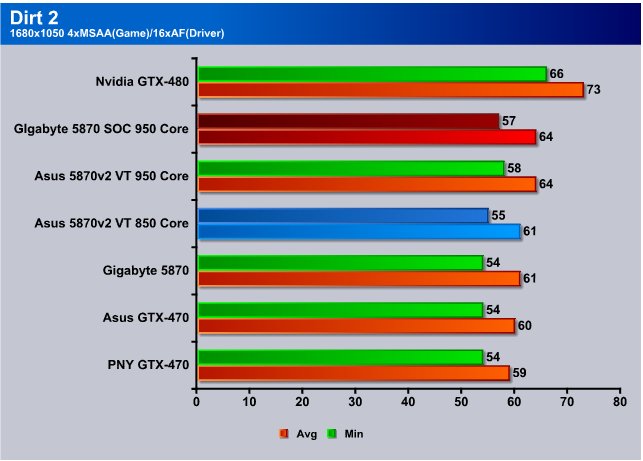 Dirt 2 at 1680×1050 with 4xMSAA in game and 16xAF by driver we hit 58/64 FPS and that picked up to 58/64 FPS when we overclocked to 950 core 1250 memory.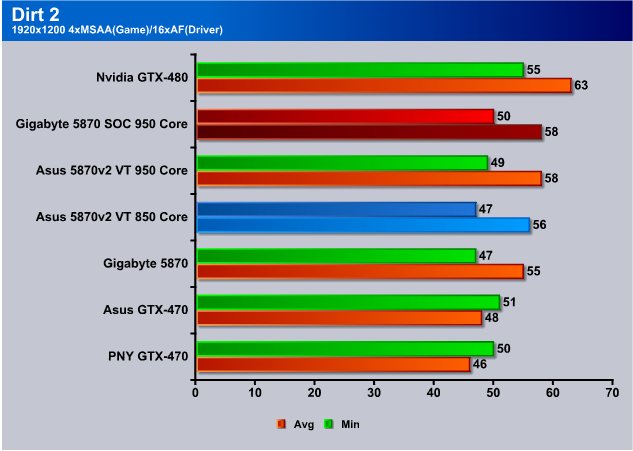 At 1920×1200 the EAH5870 VT hit 47 FPS minimum and 56 FPS average, kick it an overclock and it hits 49/58.
S.T.A.L.K.E.R.: Call of Pripyat
Call of Pripyat is the latest addition to the S.T.A.L.K.E.R. franchise. S.T.A.L.K.E.R. has long been considered the thinking man's shooter, because it gives the player many different ways of completing the objectives. The game includes new advanced DirectX 11 effects as well as the continuation of the story from the previous games.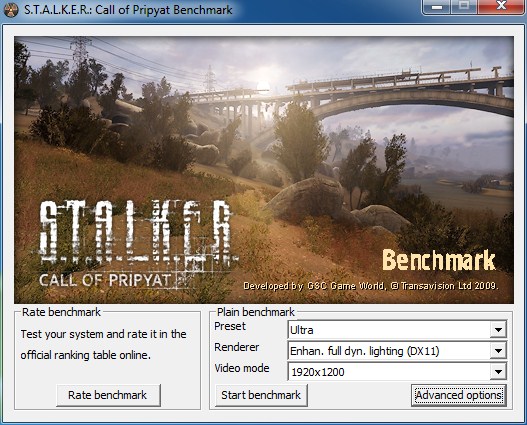 The settings we used benching Stalker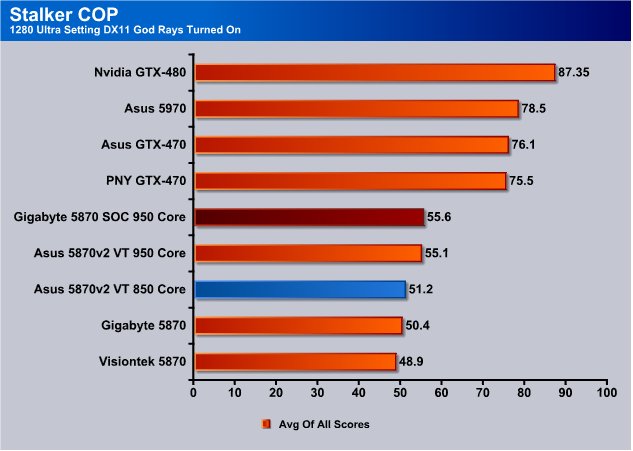 Stalker we bench two ways, with Sun Shafts and without. To show the effect that some eye candy can have on performance. With Sun Shafts on we got 51.2 FPS and kick the EAH5870 VT the OC and we got 55.1 FPS.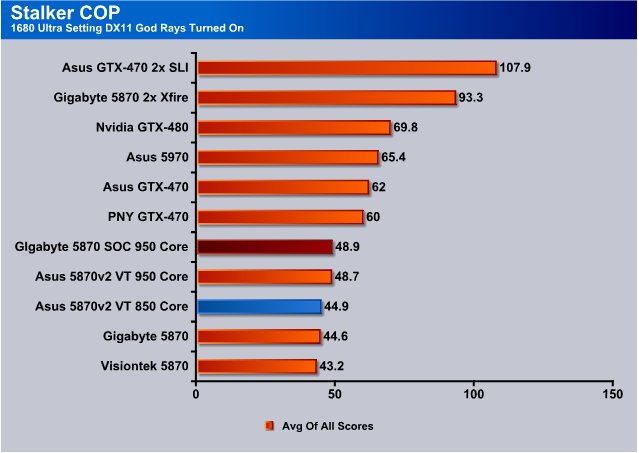 At 1680×1050 with Sun Shafts we got 44.9 FPS and picked up 4 FPS with the overclock applied.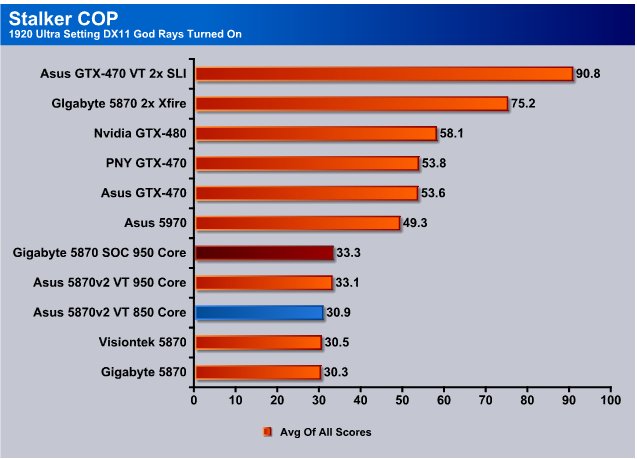 Here at 1920×1200 we got 30.9 FPS and with FPS like that during heavy AI scenes with a lot of enemy on screen that may drop a hair or two. Apply the OC to the Asus EAH5870 VT and we pick up to 33.3 FPS which might be enough to keeps FPS above thirty with heavy enemy AI activity on screen.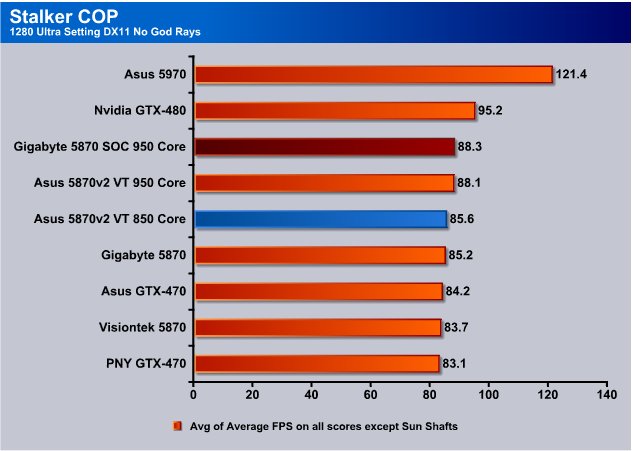 Take Sun Shafts out of the equation and the Asus EAH5870 VT hits 85.6 FPS but with Shafts turned on we got 51.2 FPS. So keeping Sun Shafts costs us 34.5 FPS but they do look really nice.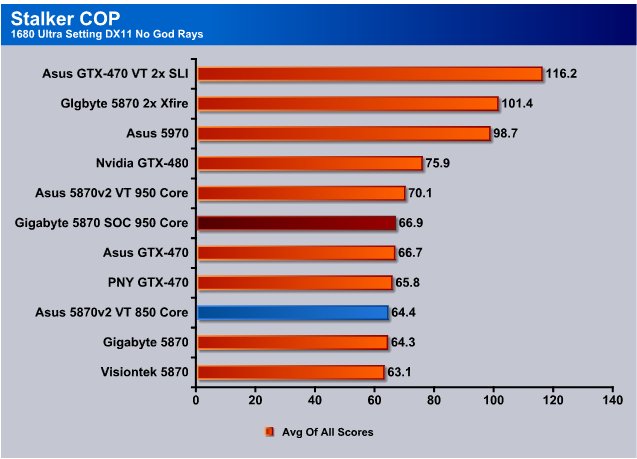 At 1680×1050 we got 64.4 FPS and for a stock clocked HD5870 that was the highest score but not by much. We pick up a frame or two per second with the overclock. People tend to not know the real effect that just a few FPS actually add up to. Lets say we pick up 2 FPS, in 60 seconds we get 120 frames per minute more, that translates to 7200 frames more per hour. Mainly you need to OC for benchmarking scores and in games like Crysis where the game can bog the GPU down.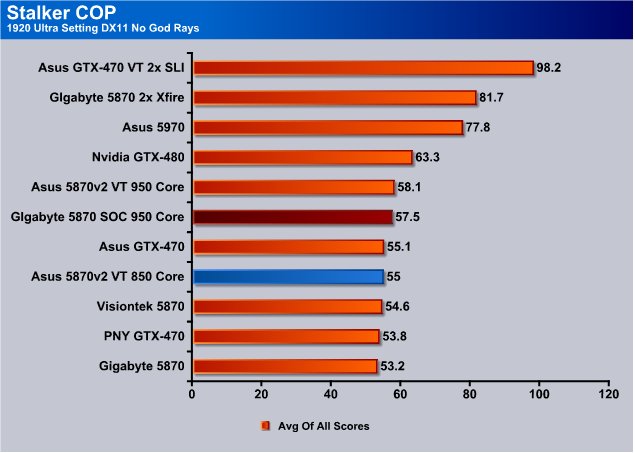 At 1920×1200 we got 55 FPS from the EAH5870 VT and that increased to 58.1 FPS or an increase of 3.1 FPS overall.
Furmark
Since Furmark has a built in benchmark we decided to play with that a little bit to evaluate it's benchmark viability. This is a shot of the Furmark results from a previous review so you can see what the results page looks like. We went ahead and built charts for this review.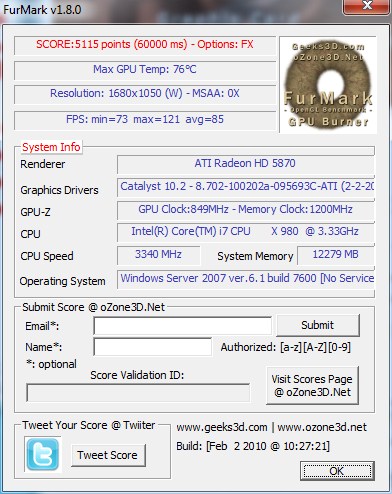 This shot of Furmark benchmark results isn't from this round of testing, it's just there to show you what the results page looks like.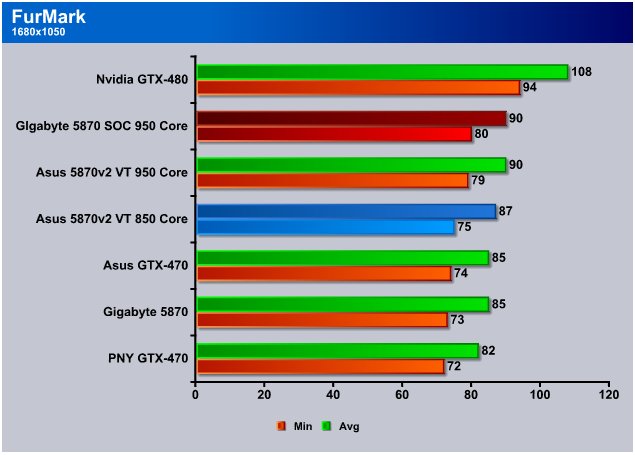 At 1680×1050 in Furmark we got 75 FPS min and 87 FPS Average, crank the GPU to 950/1250 and that increases to 79/90. The Giga factory OC model did pass it by 1 FPS minimum but lets face it 1 FPS on the Gigabyte model at a cost of $70 more probably isn't worth it unless you are planning on extreme cooling and want the voltage measurement points it offers.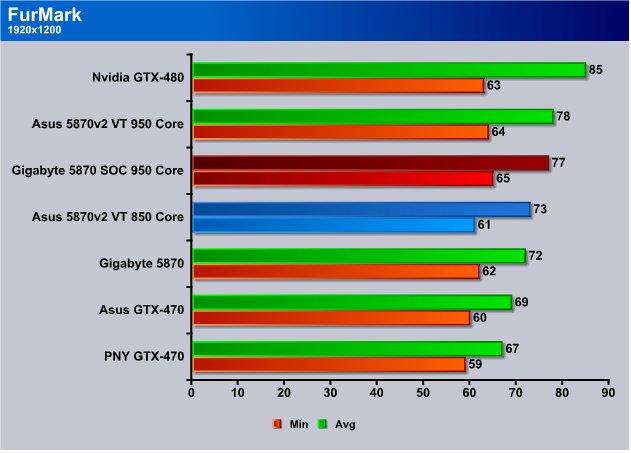 Hitting 1920×1200 the Asus EAH5870 VT makes 61/73 FPS and put the OC on it and it runs 64/78 FPS. What you'll find is that in most games the OC isn't needed and GPU's last longer at reference clocks than overclocked so it's a good idea to OC only when needed.
Mass Effect 2
Two years after Commander Shepard repelled invading Reapers bent on the destruction of organic life, a mysterious new enemy has emerged. On the fringes of known space, something is silently abducting entire human colonies. Now Shepard must work with Cerberus, a ruthless organization devoted to human survival at any cost, to stop the most terrifying threat mankind has ever faced.
To even attempt this perilous mission, Shepard must assemble the galaxy's most elite team and command the most powerful ship ever built. Even then, they say it would be suicide. Commander Shepard intends to prove them wrong.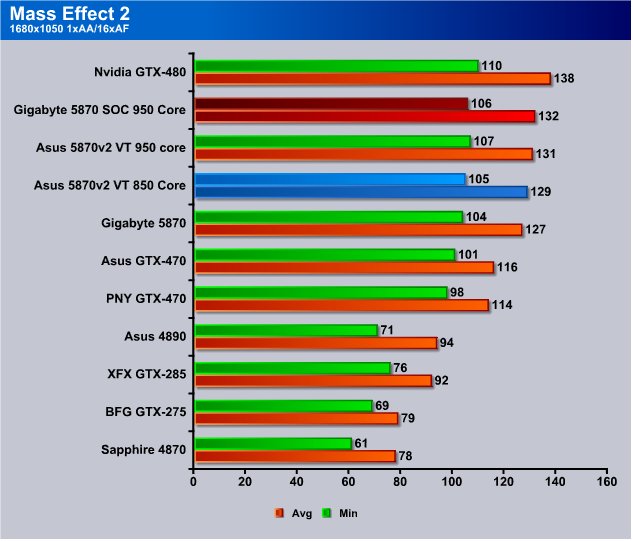 Mass Effect 2 isn't very demanding but from what we've seen it scales very well across GPU's. The EAH5870 VT does 105/129 FPS and picks up a couple of FPS when overclocked.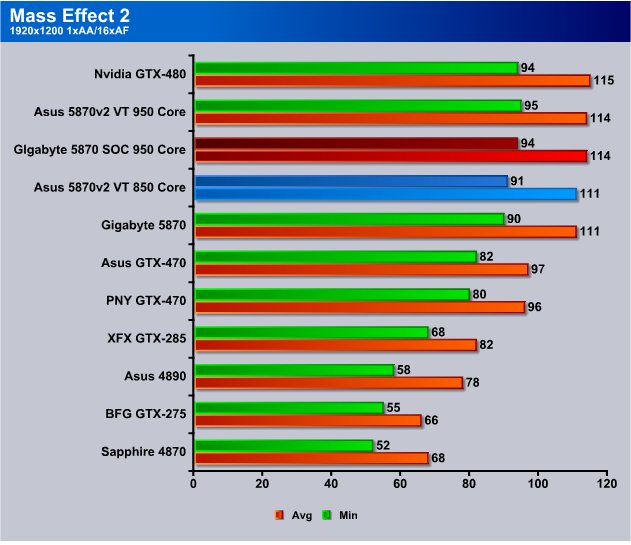 At 1920×1200 the EAH5870 VT barely slows down and turned in 91/111 FPS and the OC yielded 95/114 FPS.
Metro 2033

Metro 2033 is an action-oriented video game with a combination of survival horror, and first-person shooter elements. The game is based on the novel Metro 2033 by Russian author Dmitry Glukhovsky.
The enemies that the player encounters range from human renegades to giant mutated rats and even paranormal forces known only as "The Dark Ones". Players frequently have to defend themselves with makeshift combination's of different weapons, e.g a revolver with a sniper scope attached.
Ammunition is also scarce, and the more rare Military Grade bullets are used as currency (to purchase supplies and guns), or in combat as a last resort, giving an added damage boost, forcing the player to hoard supplies.
The game lacks a health meter, relying on audible heart rate and blood spatters to show the player what state they are in and how much damage was done. A gas mask must be worn at all times when exploring the surface due to the harsh air and radiation. There is no on-screen indicator to tell how long the player has until the gas mask's filters begin to fail, so players must set a wrist watch, and continue to check it every time they wish to know how long they have until their oxygen runs out, requiring the player to replace the filter (found throughout the game). The gas mask also indicates damage in the form of visible cracks, warning the player a new mask is needed. The game does feature traditional HUD elements, however, such as an ammunition indicator and a list of how many gas mask filters and adrenaline shots remain.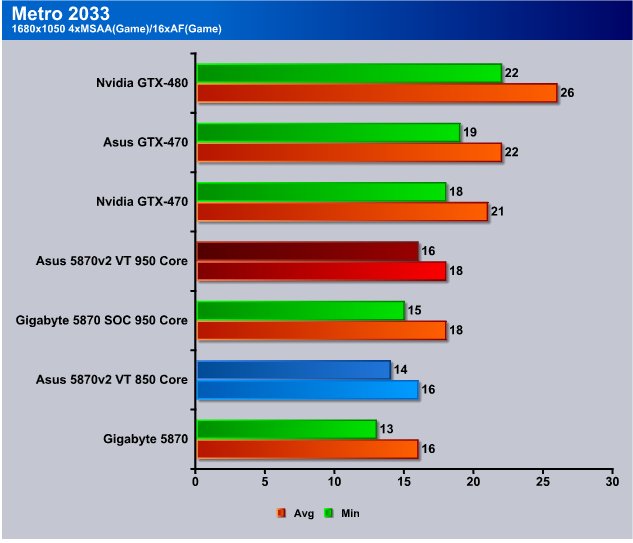 We forgot to make note of it on the chart but at 1680×1050 with 4xMSAA/16xAF we had PhysX running. Metro 2033 is really tough on GPU's even without PhysX and ATI GPU's aren't designed to run PhysX. We went ahead and ran with the chart because even with PhysX on there just isn't that much difference between the ATI and GTX-470. No single GPU we've seen so far will hit 30 FPS average let alone minimum. Metro 2033 might be around for a while in the benchmark suite.
Here at 1920×1200 with AA/AF on (No PhysX) we got 21/25 and when we OCed the card we got 23/27 so even on these powerful cards we needed to dial down the eye candy a notch to get solid playable frame rates.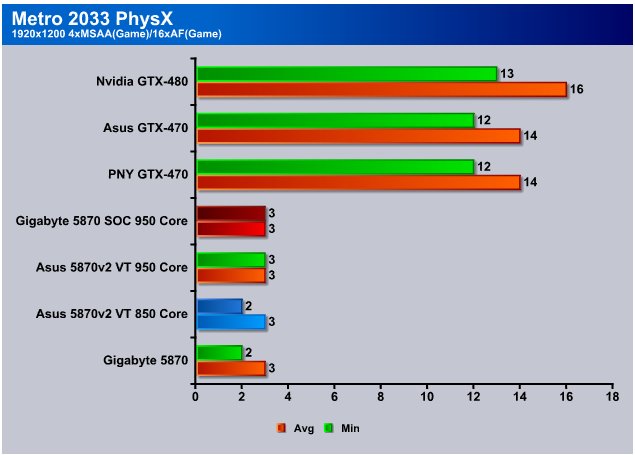 Here's what's really sad, turn on PhysX at 1920×1200 and even the Nvidia lineup, which is designed to run PhysX, falls to its knees. The ATI lineup doesn't stand a chance because PhysX is running on the CPU. The sad part, this was running on the Intel 980x Hex core and we get about 3 FPS on ATI GPU's even with the most powerful CPU available for desktop machines. No eye candy is worth that and PhysX needs to be made scalable to run on the available hardware if they ever want to mainstream it.
We've actually been able to run Metro 2033 at these setting and barely playable frame rates but it took two GTX-470's with a GTX-285 dedicated to PhysX. So we were looking at around $1000 worth of GPU's to play a $50 dollar video game, that's a little insane.
Stone Giant

We used a 90 second Fraps run and recorded the Min/Avg/Max FPS rather than rely on the built-in utility for determining FPS. We started the benchmark, triggered Fraps and let it run on stock settings for 90 seconds without making any adjustments of changing camera angles. We just let it run at default and had Fraps record the FPS and log them to a file for us.
Key features of the BitSquid Tech (PC version) include:
Highly parallel, data oriented design
Support for all new DX11 GPUs, including the NVIDIA GeForce GTX 400 Series and AMD Radeon 5000 series
Compute Shader 5 based depth of field effects
Dynamic level of detail through displacement map tessellation
Stereoscopic 3D support for NVIDIA 3dVision
"With advanced tessellation scenes, and high levels of geometry, Stone Giant will allow consumers to test the DX11 credentials of their new graphics cards", said Tobias Persson, Founder and Senior Graphics Architect at BitSquid. "We believe that the great image fidelity seen in Stone Giant, made possible by the advanced features of DirectX 11, is something that we will come to expect in future games."
"At Fatshark, we have been creating the art content seen in Stone Giant", said Martin Wahlund, CEO of Fatshark. "It has been amazing to work with a bleeding edge engine, without the usual geometric limitations seen in current games".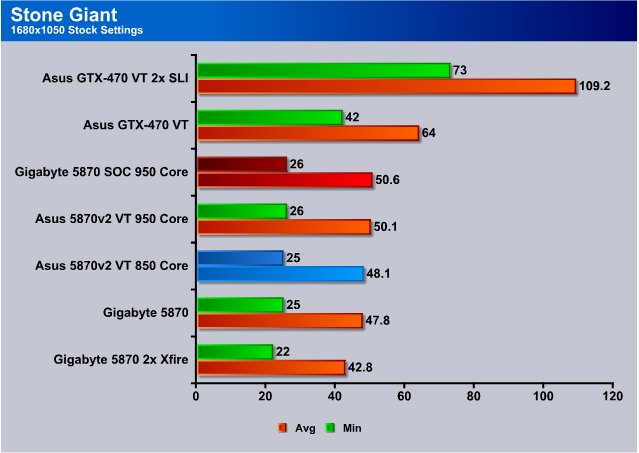 With Stone Giant we do a 90 second FRAPS run and record the results to a text file, it's just easier. On this new benchmark we got 25/48.1 FPS and when we hit the OC we got 26/50.1. With heavy Tessellation this benchmark really gives the advantage to Nvidia GPU's.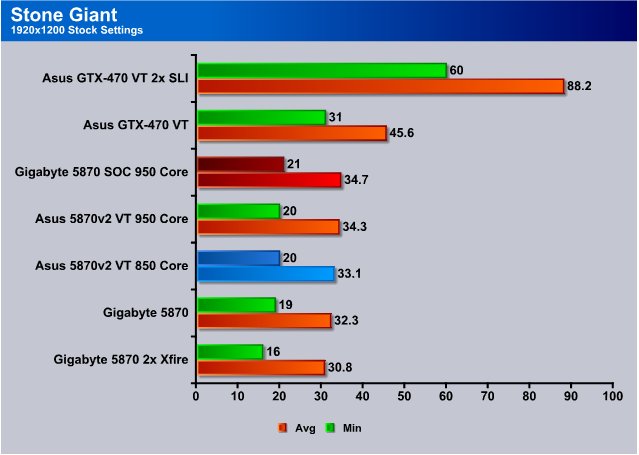 Turn the benchmark up to 1920×1200 at stock settings and we got 20/33.1 FPS and the overclock barely made any difference.
HawX

The story begins in the year 2012. As the era of the nation–state draws quickly to a close, the rules of warfare evolve even more rapidly. More and more nations become increasingly dependent on private military companies (PMCs), elite mercenaries with a lax view of the law. The Reykjavik Accords further legitimize their existence by authorizing their right to serve in every aspect of military operations. While the benefits of such PMCs are apparent, growing concerns surrounding giving them too much power begin to mount.
Tom Clancy's HAWX is the first air combat game set in the world–renowned Tom Clancy's video game universe. Cutting–edge technology, devastating firepower, and intense dogfights bestow this new title a deserving place in the prestigious Tom Clancy franchise. Soon, flying at Mach 3 becomes a right, not a privilege.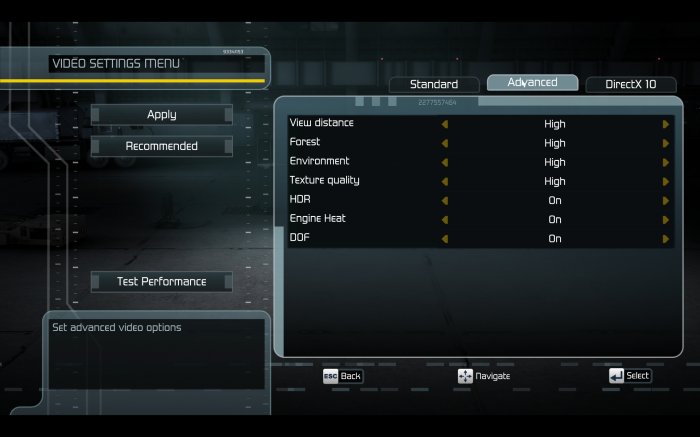 The Settings we use for benchmarking HawX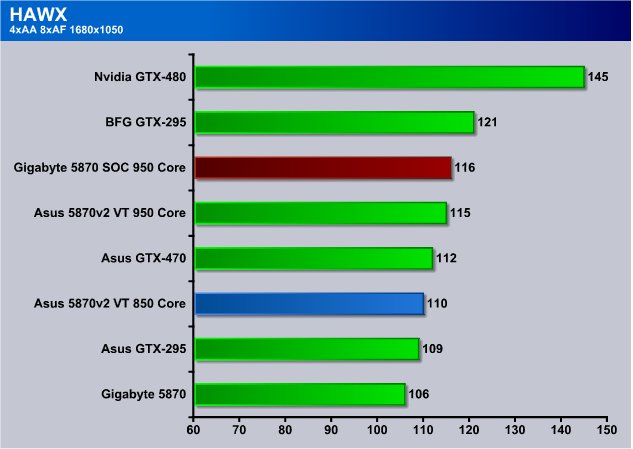 HawX just isn't stressing the GPU's so I suspect it's not going to be around much longer. We got 110 FPS at stock speed and overclocked we got 115.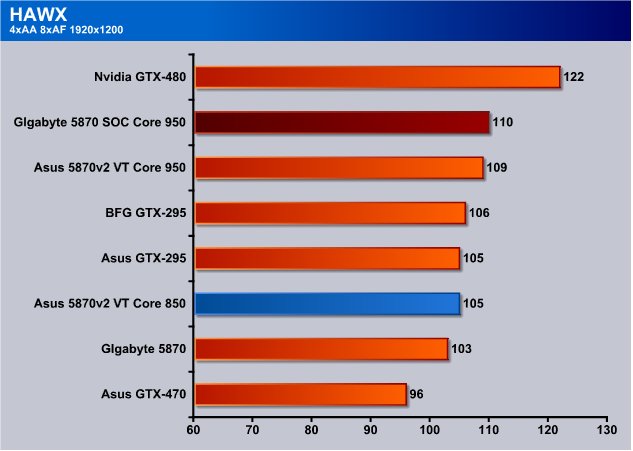 Moving to 1920×1200 barely slowed the GPU's down and we got 105 FPS stock speed and 110 FPS overclocked.
POWER CONSUMPTION

To get our power consumption numbers we plugged in our Kill A Watt power measurement device and took the Idle reading at the desktop during our temperature readings. We left it at the desktop for about 15 minutes and took the idle reading. Then we ran Furmark for 10 minutes and recorded the highest power usage.
GPU Power Consumption
GPU
Idle
Load
Asus HD5870 VT
171 Watts
374 Watts
Asus GTX-470
181 Watts
488 Watts
PNY GTX-470
178 Watts
487 Watts
Nvidia GTX-480
196 Watts
521 Watts
Gigabyte HD5870
167 Watts
379 Watts
Asus EAH5970
182 Watts
412 Watts
Gigabyte 4890 OC
239 Watts
358 Watts
Asus EAH4770
131 Watts
205 Watts
BFG GTX-275 OC
216 Watts
369 Watts
Nvidia GTX-275 Reference
217 Watts
367 Watts
Asus HD 4890 Voltage Tweak Edition
241 Watts
359 Watts
EVGA GTS-250 1 GB Superclocked
192 Watts
283 Watts
XFX GTX-285 XXX
215 Watts
369 Watts
BFG GTX-295
238 Watts
450 Watts
Asus GTX-295
240 Watts
451 Watts
EVGA GTX-280
217 Watts
345 Watts
EVGA GTX-280 SLI
239 Watts
515 Watts
Sapphire Toxic HD 4850
183 Watts
275 Watts
Sapphire HD 4870
207 Watts
298 Watts
Palit HD 4870×2
267 Watts
447 Watts
Total System Power Consumption
We read 171 Watts at an idle whole system consumption and at load we got 374 Watts which is pretty much what we get on most HD5870's. When we overvolted during overclocking the load only went up to 379 Watts and compared to the current GTX lineup that's barely sipping any power.
TEMPERATURES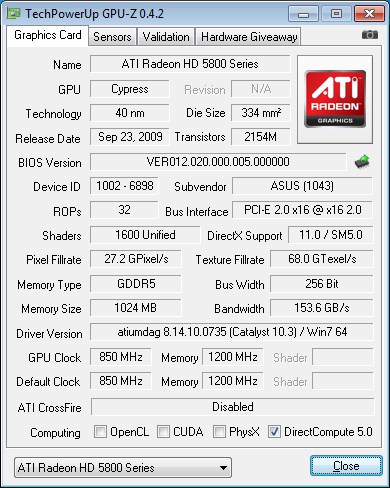 Yes this is the temperatures section but we like to lead out with a simple GPU-Z shot to show you the stock clocks on GPU's. When Asus says up to 17% better cooling on the EAH5870 Voltage Tweak they mean when compared to a reference style GPU. Unfortunately the only reference GPU we had in house we sent back to the vendor so it could be passed on to a review site less fortunate than Bjorn3D. So feel free to complain but it was a humanitarian effort to help a lesser known GPU vendor spread the word about a good product.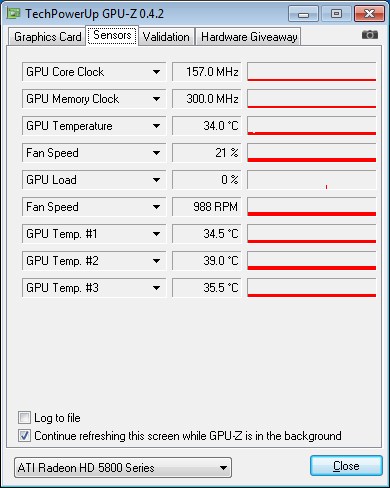 What we saw was a nice low Idle temperature of 34°C. On the one reference HD5870 we've had hands on ( Here ) we got an idle of 36°C so that works out to about 6% cooler. On the reference GPU we got a load temperature of 85°C so lets see how that stacks up (We got 85°C in both ATITool and Furmark so it's apples to apples in the comparison here).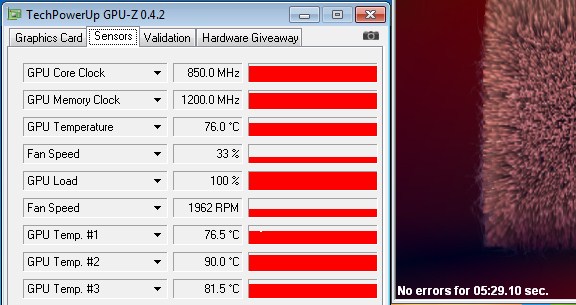 Loaded for 5 minutes (We actually let the test run for 20 minutes but 76°C was top end anyway) and the ref GPU hit 85°C so that's 9°C cooler and that works out to about 12% so we are in the right range for better cooling. Considering ambient temperature differences. The big story here to us is not only the percentage of better cooling but rather the fan on the Asus EAH5870 Voltage Tweak was running at 970(ish) RPM and whisper quiet. The fan on the reference GPU was at 2200 RPM and audible. During overclocking we did kick the fan up on the Asus EAH5870 and it was noisy (57ish dB) but the GPU never got above 40% fan during testing and remained whisper quiet except when we set it to 100% manually for overclocking. At 100% fan the GPU loaded at 57°C with the core hitting 1020MHz. Considering we hit 1020MHz for short glory runs entirely stable we can live with a little noise. Even at 952MHz core loaded the card was whisper quiet so we are extremely happy with the cooling solution.
Conclusion
We like the Asus HD5870 for a few reasons. The oversized fan keeps it up to 17% cooler at stock speeds and we all know the cooler electronics run at the longer they live. We like the MSRP at $429 because we've seen factory overclocked cards at $499 that are nice but at a $61 dollar savings this card overclocked just as well. When overclocked to the same speed as the Gigabyte HD5870 SOC the Asus HD5870 VT performed just as well.
You do have to overclock the card manually but that's so easy these days we don't see that as a negative. Factory warranty, well lets say if you don't tell them you overclocked they probably won't know. After all you put a feature like Voltage Tweak on a card it's hard not to call it an overclocker's card.
The value represented by the Asus EAH5870 Voltage Tweak is exceptional, $429 for a top ATI card with the Voltage Tweak option thrown in to boot makes it a great choice for the serious overclocker, and for those that just like to dabble in overclocking this is a good place to start. If you don't overclock at all the price is still attractive and that makes the EAH5870 Voltage Tweak a good choice across a wide range of end consumers.
OUR VERDICT: Asus EAH5870 Voltage Tweak Edition
| | |
| --- | --- |
| Performance | 9 |
| Value | 10 |
| Quality | 9.5 |
| Features | 9 |
| Innovation | 10 |

We are using an addition to our scoring system to provide additional feedback beyond a flat score. Please note that the final score isn't an aggregate average of the rating system.

Pros
Cons

Overclocks well

High Performance

DX11

Price

Voltage Tweak

Asus Quality

Eye candy that will make a grown man tear up

Price/performance punch

Not the top single core GU anymore.

Price when compared to a GTX-470.

.

 

 
Summary: The Asus EAH5870 Voltage Tweak Edition makes sense from a performance and price standpoint. The Voltage Tweak option lets you overclock higher and the oversized fan keeps the card nice and cool. The EAH5870 VT solves a lot of problems in one price effective package, it's already aftermarket cooled, and you can increase voltage. That means whether running at stock speed or in the hands of a crazed overclocker the GPU fits the bill. That versatility combined with the almost bargain price should make this a very popular choice with enthusiasts.