The OCZ Vertex 2 uses the new SandForce SF-1200 controller and proprietary OCZ firmware. That firmware allows for up to 50K IOPS making it the fastest MLC SSD we've tested.
Introduction
The OCZ Vertex 2 utilizes the new SandForce SF-1200 controller. We've been waiting on a drive with the SandForce controller for a while and when OCZ approached us about taking a look at it we were eager to get it into the lab to take a look. There are other SandForce controller drives out there but this one uses a proprietary Firmware that allows it up to 50k IOPS making it in a class by itself. OCZ has been testing the SandForce SF-1200 and SF-1500 controllers for months internally and during CES they made the formal announcement that OCZ would be bringing out the Vertex 2 series of SSDs using these two new controllers. The SF-1500 is used in the OCZ Vertex Limited edition and the SF-1200 is used in the Vertex 2 lineup. The SF-1200 has performance close to the SF-1500 at a fraction of the cost so we can't wait to get it on the bench and drive it until it screams.
The Vertex 2 will be available in 50GB (OCZSSD2-2VTX50G), 100GB (OCZSSD2-2VTX100G) and 200GB (OCZSSD2-2VTX200G) drive capacities (50GB  $199.00, 100GB at $409.99, 200GB  for $749.99. They aren't cheap but the performance is very high on this series.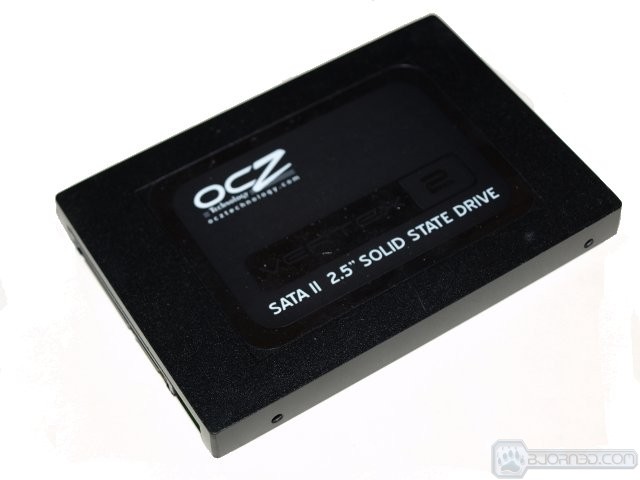 The drive we have to review is the OCZ Vertex 2 100GB model with part number OCZSSD2-2VTX100G.It has a nice matte black finish and should fit well with any system motif. There really isn't much you can do to pretty these things up and really since it will be locked away in a laptop bay or tucked discretely into your chassis there is no need.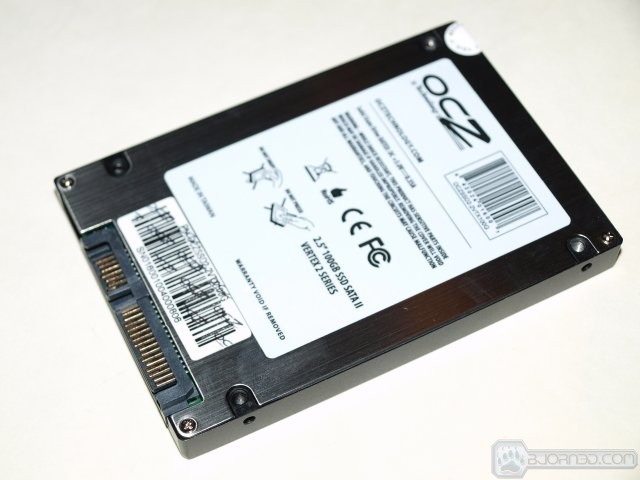 This is a standard Sata 2 interface and with the revision of BIOS we received on the drive it should run at 285MB/s read and 275MB/s write with up to an impressive 50,000 IOPS. This drive runs better with a heavy Que Depth (Depth 32) so only those applications using heavy Que Depth will see top IOPS performance.
Vertex 2 Maximum Performance 
Max Read: up to 285MB/s
Max Write: up to 275MB/s
Sustained Write: up to 250MB/s
Max Aligned 4k IOPS: up to 50,000 IOPS
With Native Trim Support and weighing in at 77g and 99.8 x 69.63 x 9.3mm in size the Vertex 2 has a shock tolerance of 1500G. The drive uses 0.5W at idle and during operation only 2W so it barely sips on your power supply.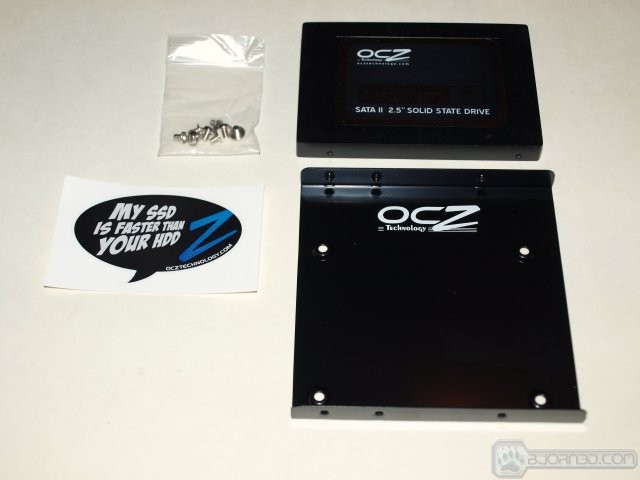 Inside the box we found the Vertex 2, a set of screws, a drive tray (Nice Addition!) and a cute sticker. The Vertex 2 has a nice 3 year warranty should it fail inside that period. With a rated MTBF of 2 million hours OCZ won't be very worried about many RMA's.
Here's some more information on the drive for those that like endless specifications and features.
Available in 50GB to 400GB capacities
Available in 60GB to 480GB extended capacities
Native TRIM support
Max IOPS Firmware
Seek Time: .1ms
Slim 2.5″ Design
99.8 x 69.63 x 9.3mm
Lightweight: 77g
Operating Temp: 0°C ~ 70°C
Storage Temp: -45°C ~ +85°C
Low Power Consumption: 2W in operation,
.5W in standby
Shock Resistant up to 1500G
RAID Support
Included 3.5″ Desktop adapter bracket
Compatible with Windows XP, Vista, 7, and Linux
MTBF: 2 million hours
50-240GB Max Performance
Max Read: up to 285MB/s
Max Write: up to 275MB/s
Sustained Write: up to 250MB/s
Random Write 4KB (Aligned): 50,000 IOPS
400-480GB Max Performance
Max Read: up to 250MB/s
Max Write: up to 240MB/s
Sustained Write: up to 200MB/s
Random Write 4KB (Aligned): 22,500 IOPS
Part Numbers
50GB – OCZSSD2-2VTX50G
100GB – OCZSSD2-2VTX100G
200GB – OCZSSD2-2VTX200G
400GB – OCZSSD2-2VTX400G

Extended Capacities:

60GB – OCZSSD2-2VTXE60G
120GB – OCZSSD2-2VTXE120G
240GB – OCZSSD2-2VTXE240G
480GB – OCZSSD2-2VTXE480G
OCZ Toolbox Utility v.0.60
We got a version of OCZ toolbox utility with the Vertex 2 and the Toolbox isn't ready for mass production yet so we aren't going very far into it.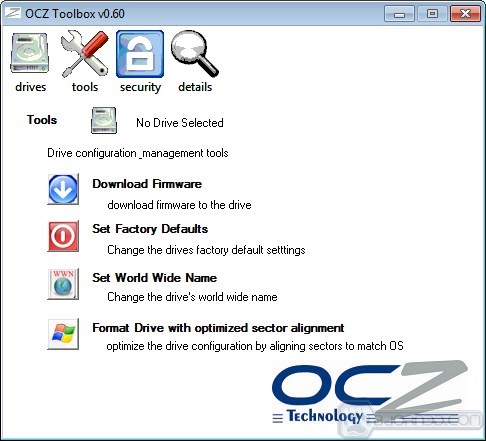 On the first page (not pictured) you can select the drive to work on. This page (tools) you can download Firmware, Set Factory Defaults (didn't work for us because it's not ready), change the drive's name and most importantly format the drive with optimized sector alignment for better performance.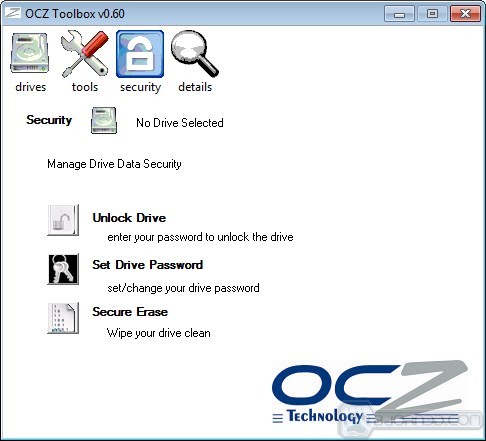 The Security tab allows you to set a drive password, unlock the drive and securely erase the drive. When it's completely finished the OCZ Toolbox will be a handy little tool for working with your drive. Even partially functional it's still nice. OCZ informs us the utility should be ready for full functionality soon.
Testing Method
To test the OCZ Vertex 2 we cloned our test rig drive to the SSD. It is the same test drive we've been using on all of our drive testing and is nothing more than a clean Windows load with all the drive testing software installed, as well as all the current drivers and patches for the OS. It's the equivalent of doing a fresh load of Vista from the disc but takes a lot less time and ensures that every drive tested uses exactly the same OS load and drivers. Nothing that may effect the outcome of the testing procedure can creep in. We ran all of the tests a total of 3 times and averaged those results. The Average of the three results are presented here. In the case of a pictorial benchmark we ran the bench 3 times and picked the median result. As with most SSD testing differences from run to run are minimal and the median result is a good indication of what you can expect from the drive.
We ran our usual battery of tests on the drive, and used it as the primary boot drive during testing. All of the drives tested were used as the primary boot drive during testing. That's a more realistic test than strapping the drive in and testing it with a bare format or as a non-boot drive and it represents real life transfer rates, much like you can expect when you install and operate the drive in your own system. Each test was performed 3 times and the average of the 3 test run is reported here.
Test Rig
Test Rig
"Quadzilla"
Case Type
Top Deck Testing Station
CPU
Intel Core I7 980 Extreme
Motherboard
Asus Rampage 3

Ram
Kingston HyperX 12GB 9-9-9-24
CPU Cooler
Thermalright Ultra 120 RT (Dual 120mm Fans)
Hard Drives

OCZ Vertex 2 100GB
Kingston SSDNow V+ 128GB MLC
OCZ Agility EX 60GB (SLC)
Kingston SSDNow V 40GB (MLC)
Kingston SSDNow V+ 128GB (MLC)
G.Skill Titan 256 GB SSD (FM-25S2S-256GBT1) (MLC)
Patriot 128GB Warp SSD (MLC)
Intel 80 GB SSD X25-M
G.Skill 64GB SSD (FM-25S25-64GB) (MLC)
2 WD VelociRaptor's 300GB (In single and Raid0)
WD 160 GB SATA 2
Maxtor 160 GB SATA 2
WD & Maxtor in Raid 0

Optical
Asus BD-Combo
GPU
Asus GTX-470
Case Fans
120mm Fan cooling the mosfet CPU area
Docking Stations
None
Testing PSU
Thermaltake Toughpower 1200 Watt
Legacy
None
Mouse
Razer Lachesis
Keyboard
Razer Lycosa
Gaming Ear Buds

Razer Moray
Speakers
None
Any Attempt Copy This System Configuration May Lead to Bankruptcy
Test Suite
Benchmarks
ATTO
HDTach
Crystal DiskMark
HD Tune Pro
AS SSD Benchmark
IOMeter
IOMeter
In IOMeter we are using a preset configuration file for each test. The configuration files were obtained from a trustworthy vendor (Not OCZ) who had no idea what we were going to use them for. Normally they are not optimized or altered in any way after receiving them. That way the vendor doesn't influence testing results, we don't optimize for any particular drive, and testing is the same for every drive across the board with no chance of prejudice working its way in. In this case the OCZ Vertex 100GB drive is said to have exceptional 4k write speeds at Que Depth 32, we didn't use that setting but did modify the Random Write test to Random Write 4k, the updated configuration file we requested from OCZ should be random Read and Write 4k with Que Depth 32. Until then we are running with what we have in IOMeter and acquired an updated version of CrystalDiskMark which has a Que Depth 32 portion.
The Four Test files are:
Random Read IOPS Test
Random Write IOPS Test
Seq Read Test
Seq Write Test
We have requested a set of optimized test configuration files from OCZ and when we receive them we will run some optimized tests and those we will clearly label as OCZ Optimized runs.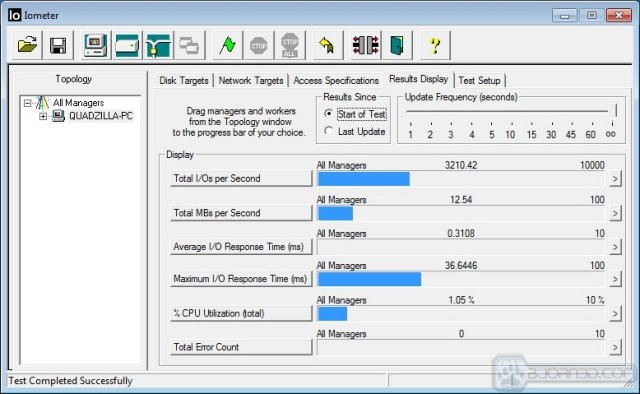 Random 4k Write IOPS shows that the heavy Que depth of 32 is pretty much a requirement for good IOPS. Using the configuration file we always use with default settings and the parameters changed to 4k 100% random 4k Write we got nowhere close to 50K IOPS. We got a transfer speed of 12.54 MB/s which is close to what we got in other benchmarks with low Que Depth.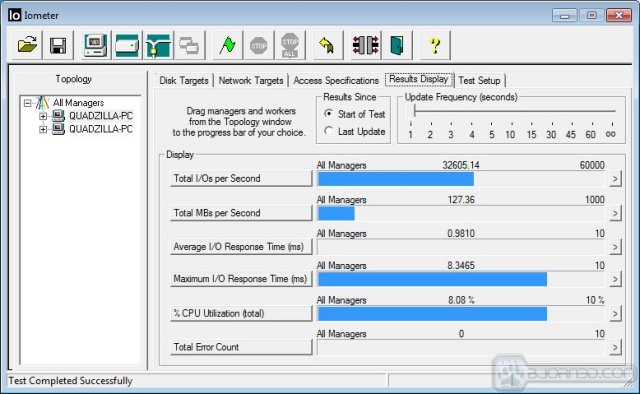 Random Read IOPS we got a great result for IOPS coming in at 32605.14 IOPS and the transfer rate hit 127.36.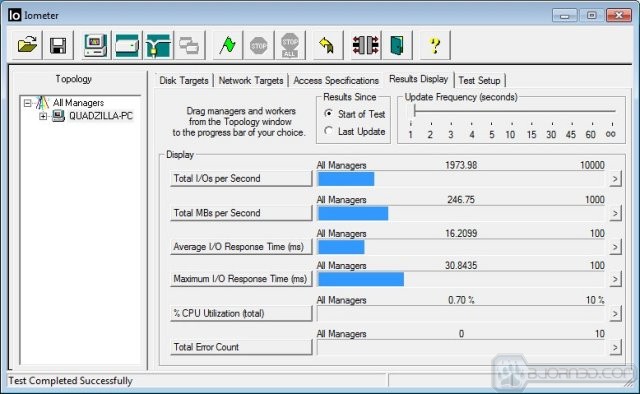 Sequential Read we got 1973.98 IOPS with a transfer speed of 246.75 MB/s which is a pretty amazing transfer rate.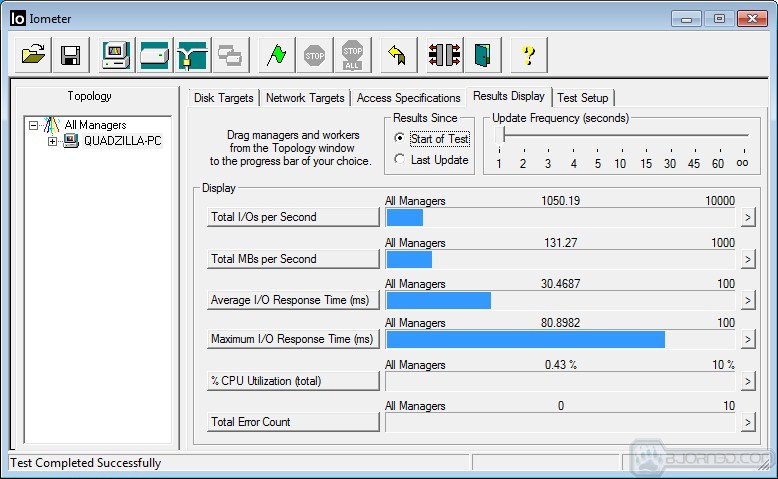 Sequential Write we got 1050.19 IOPS with a transfer speed of 131.27 MB/s and the question we find ourselves asking is since the Vertex 2 responds best to a Que Depth of 32 is: How many programs and applications use a que depth of 32 to take advantage of the Vertex's high IOPS capabilities.
CrystalDiskMark
In CrystalDiskMark we find ourselves in an unusual position. We have been using version 2.2 but 3.0 is the newest version and it has a Que Depth 32 portion. What we have done in this review is used both and made note of which version we are using. It's a stopgap until we get time to re-bench a stack of drives that would make your head spin. We also wanted to study Aligned and Un-Aligned as offered by the OCZ Toolbox. Unfortunately we Aligned the drive not knowing the OCZ Toolbox would give us this error when we tried to reset factory default settings.
SInce the drive is supposed to have exceptional 4K performance with a Que Depth of 32 we limited our exploration of CDM 3.0 to that until we have time to re-bench a slew of drives.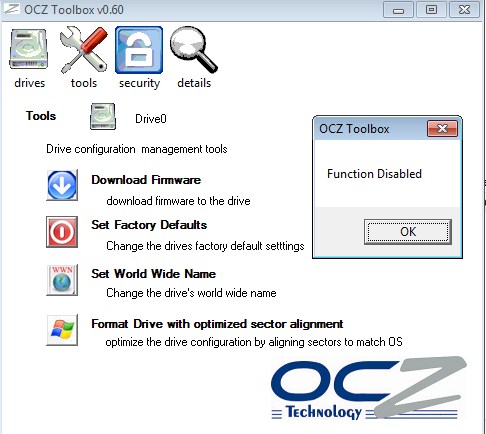 We were lucky though, most of the tests we needed were already in the bag when we got the Function Disabled message.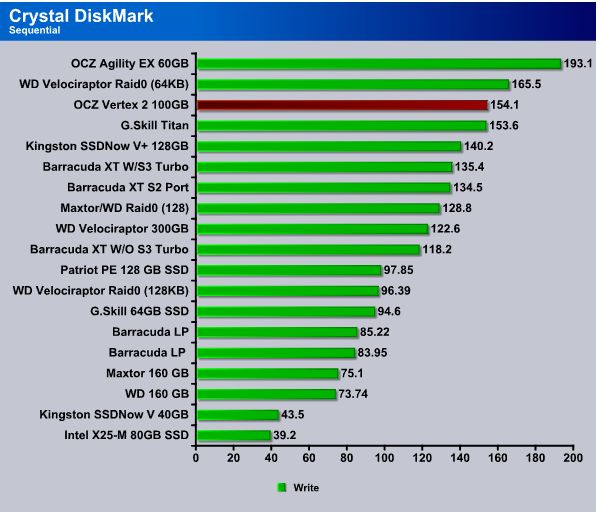 Sequential write we are using the same 2.2 version we've been using for a while and we got 154.1 MB/s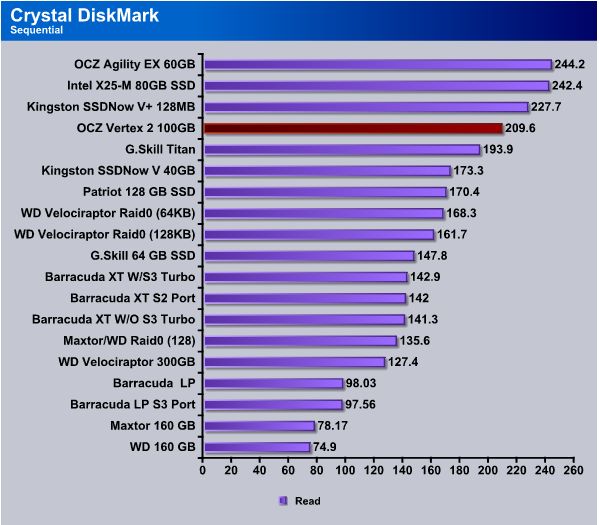 Sequential Read we get a score of 209.6 MB/s and you can tell that CDM 2.2 doesn't use a particularly heavy Que Depth which is probably going to force us to look for more flexible Hard Drive Benchmarks like IOMeter.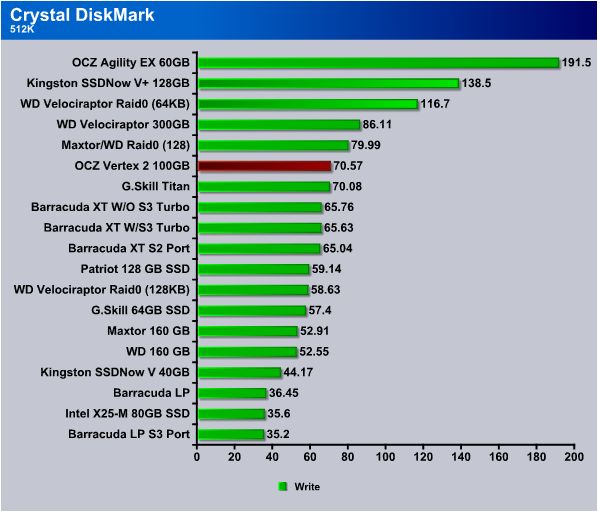 Still using version 2.2 we got a 70.57 MB/s on the Vertex 2 in the 512K Write. Not to worry we included a screen shot of both 2.2 and 3.0 a little later.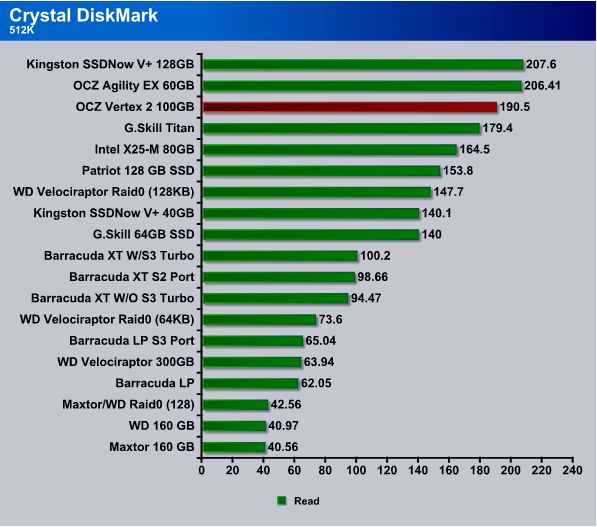 The 512 Read test shows us 190.5 MB/s and the Vertex 2 beats all but two of our drives. It's a little refreshing to see a drive that wasn't completely optimized for the benchmark suites and focuses on real life performance.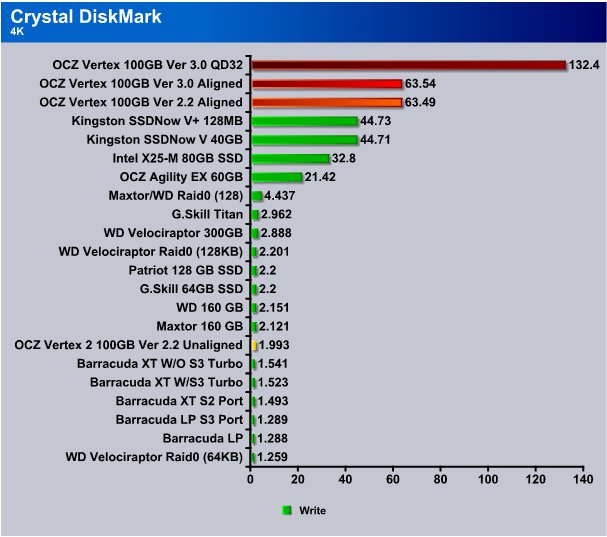 Here's where we are using CDM 2.2 and 3.0 and keep in mind that since they are different versions this is somewhat Apples to Oranges in comparison. Without aligning the drive in version 2.2 we got a lackluster 1.993 MB/s in the 4k Write test. When we aligned the drive using the same version we got 63.49 MB/s and it's looking like the OCZ Toolbox is indeed a very important tool for this drive.
Shifting to version 3.0 aligned we got an almost identical score of 63.54 MB/s but when we read the Que Depth score with a Que Depth of 32 we almost choked. We got a whopping 132.4 MB/s and the proprietary Firmware OCZ is using on the SandForce SF-1200 controller is looking like gold to us.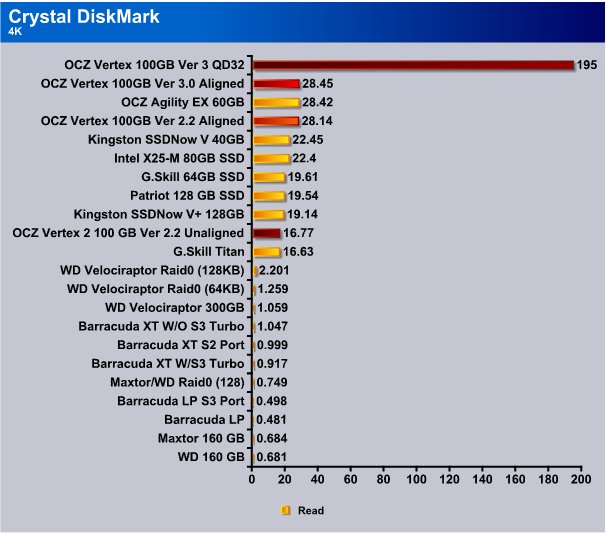 Here again we use both version 2.2 and version 3.0 and Version 2.2 with the drive unaligned we got another lackluster score of 16.77 in the read test. Align the drive using the OCZ toolbox and we got 28.14 MB/s and the second fastest 4k Read we have ever gotten and the only drive beating it was a SLC drive which is a totally different critter.
Move to CDM Version 3.0 and again we got an almost identical score to version 2.2 after the drive was aligned. Move to Que Depth 32 and again we almost choked and saw a score of 195 MB/s and again the question of the day is: How many applications use that heavy a Que Depth? We would bet that a Que Depth of 32 is the exception and not the rule.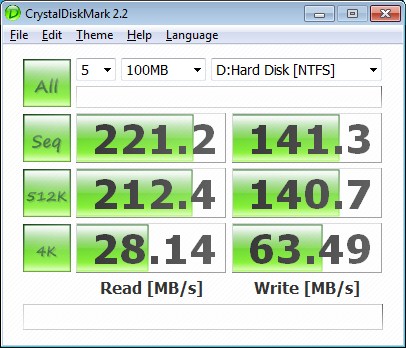 Putting Version 2.2 and Version 3.0 on top one another in screenshots you can see that the only real difference between the two in scores is the new 4k read/write with a Que Depth of 32.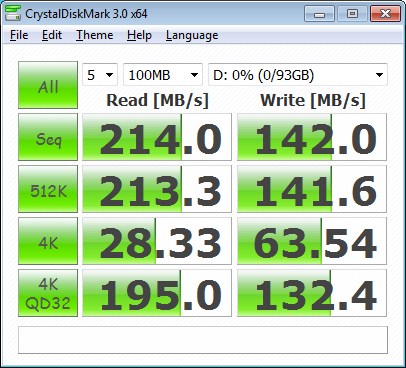 We've tried contacting the CrystalDiskMark team to find out what prompted them to add a Que Depth of 32 to their benchmark but as yet we have received no response.
AS SSD
AS SSD is an infant in the benchmark world and has been going through enough revisions that we just use screen shots of it. Trying to chart performance on a benchmark that is being changed weekly is a little pointless but since it's written specifically for SSD's we are tossing in the screenshots.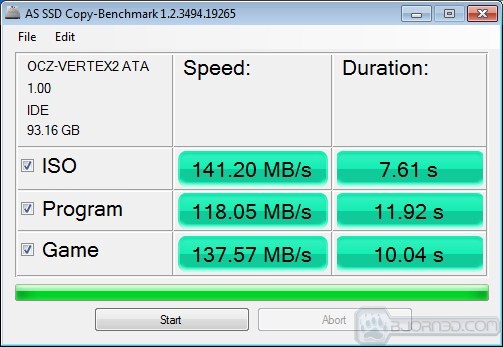 The COpy portion of AS SSD give us a little more realistic look at speed than raw benchmarks of a synthetic nature. In the copy portion we got 141.20 MB/s for ISO's, the program sections shows us 118.05 MB/s and the gaming section shows 137.57 MB/s. We've actually ran platter drives on this benchmark and they take hours to run, SSD's finish in mere minutes (3 – 5 Minutes). That should tell you the inherent difference between SSD and Platter Drives.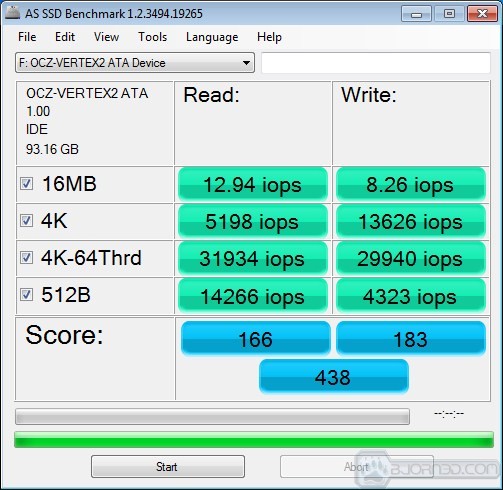 The important section of the IOP's test in this case is the 4k-84k Threaded. Most drives we've seen hit 5k in the 4k or 4k-64k Threaded threaded if they are lucky. The Vertex 2 blows that out of the water and hits 29 – 32k(ish) in the 4k – 64k Threaded test.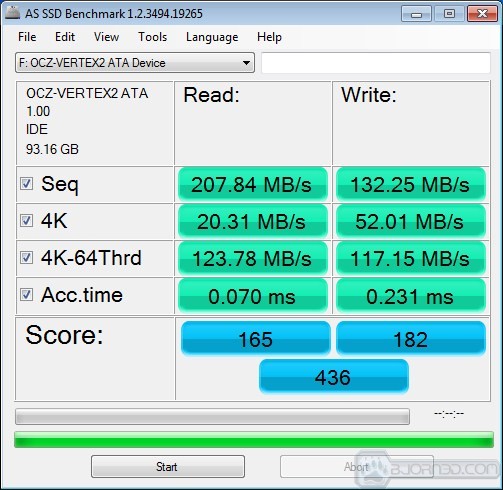 Straight speed benchmarks show us that the OCZ Vertex 2 does indeed excel at 4k and 4k – 64k Threaded testing. A lot of other drives we've seen top out at 32 MB/s and here we see a top end of 117.5 MB/s Write.
ATTO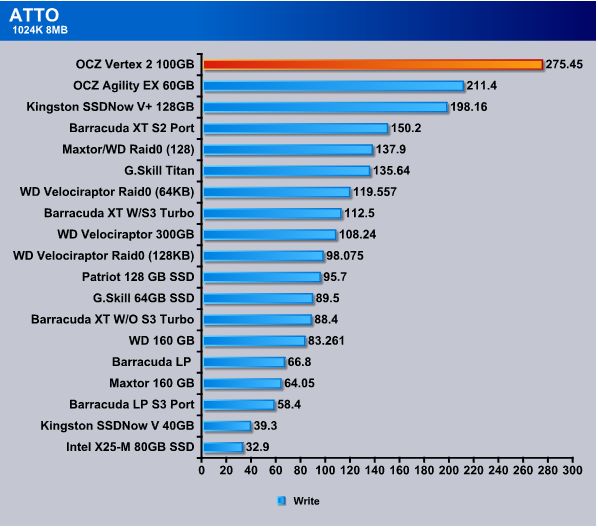 ATTO in the 8MB Write test shows us the Vertex 2 100Gb SSD running away with the performance crown and probably laughing at the competition.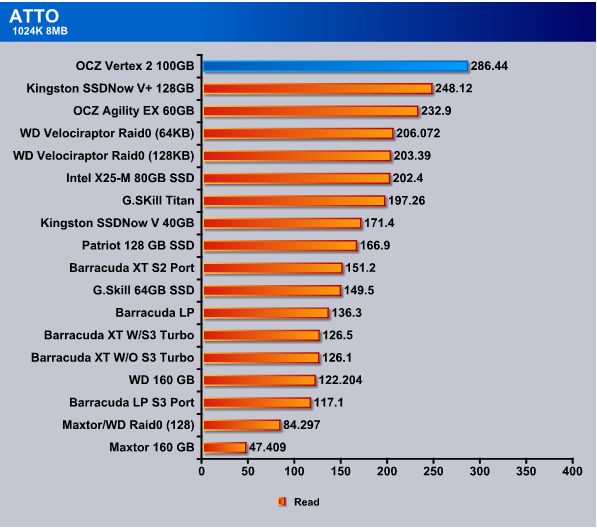 The Read test shows up pretty much the same thing and the drive approaches the theoretical limit of Sata 2 transfer speeds. We would love to get a couple of these drives on a hardware RAID controller and see just how they make us smile.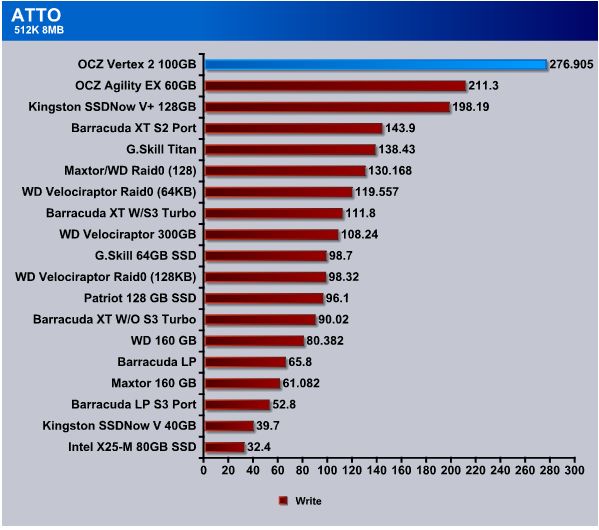 Kicking to the 512k test we see the Vertex 2 65MB/s ahead of the closest drive and once again probably can't even see the other drives in it's rear view mirror.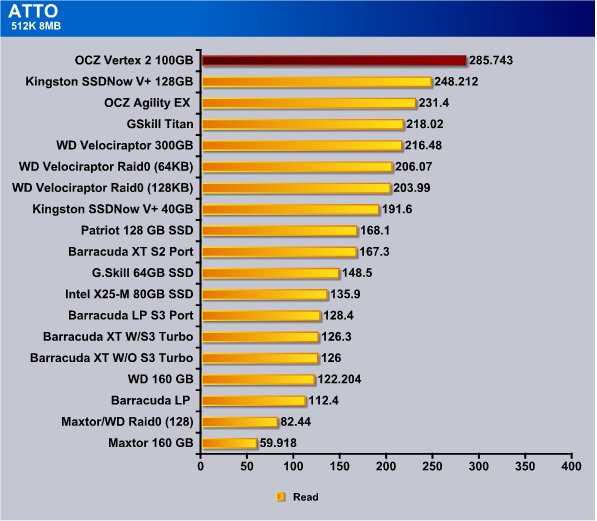 The Vertex 2 makes a clean sweep of things in ATTO and topped the charts in every test.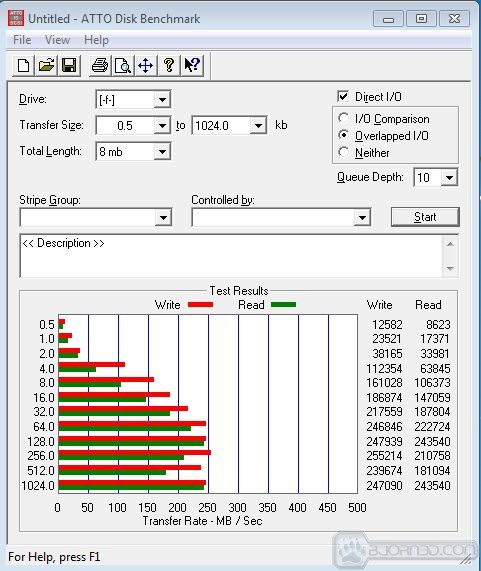 We wanted to see the difference between short 8 MB tests and 32 MB tests on this drive so we included the screen shots of the tests. If you will notice the tests are more choppy in the 8 mB portion.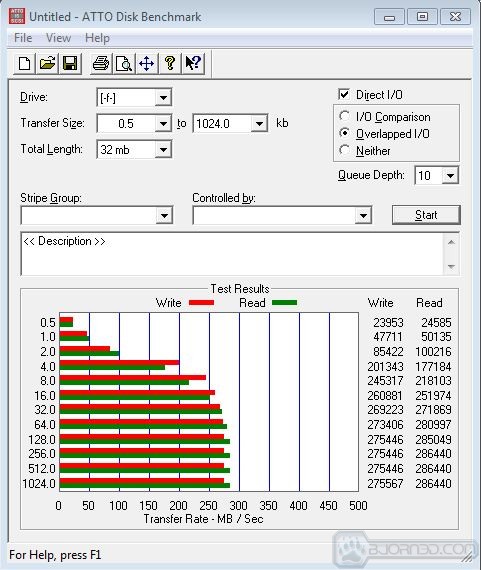 Move to the 32 MB test and the drive hits stride at about 16kb and remains consistently above 275MB/s read and write beyond that.
Hard Drive Tune Pro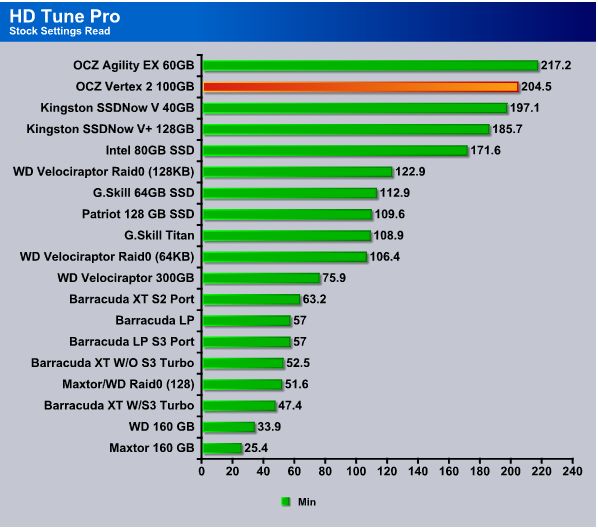 Minimum speed on the Vertex 2 comes in at 204.5 MB/s and from its position on the chart you can see this drive is a contender for overall fastest drive. (Considering the Agility EX is an SLC drive anyway)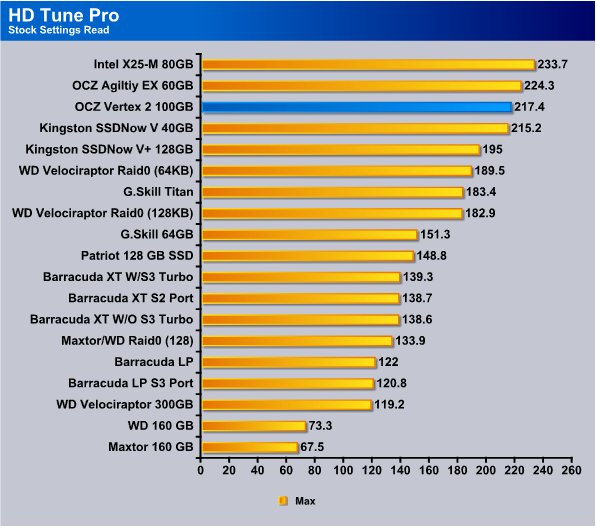 The Vertex 2 hit 217 MB/s in the Maximum speed test and the only MLC drive to top it was the Intel X25-M.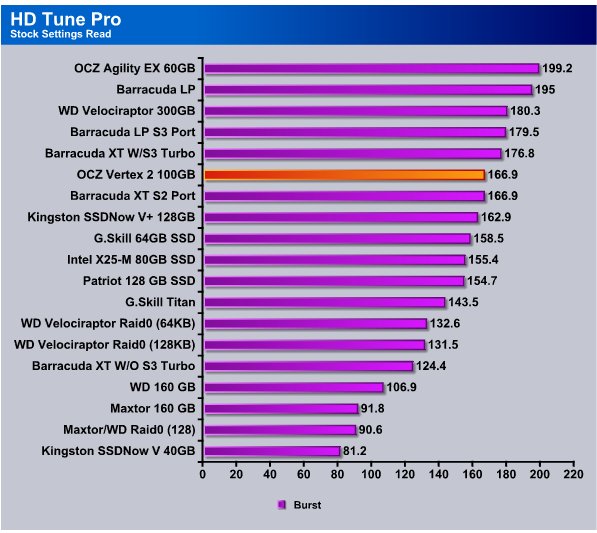 The burst speed on the drive hit 166.9 and isn't representative of the drives true performance. Burst tests tend to be cache only hits and not very indicative of real performance.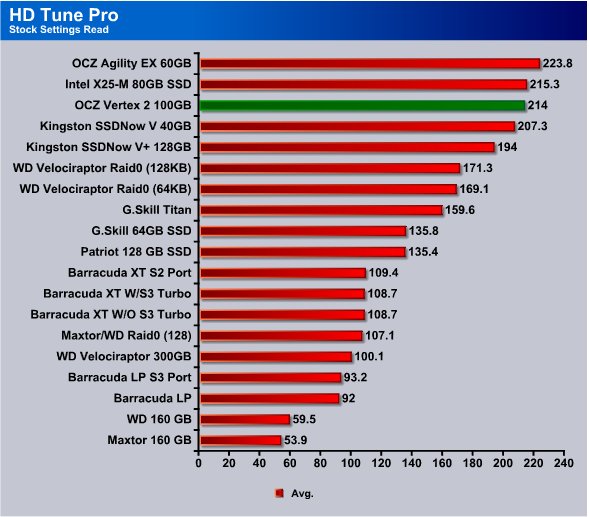 The Average speed of the Vertex 2 is 214 MB/s and again the only MLC (multi Level Cell) drive that managed to best it is the Intel X25-M and HD Tune Pro seems to favor the Intel drive somewhat because this is about the only test where it bests the Vertex 2.
HDTach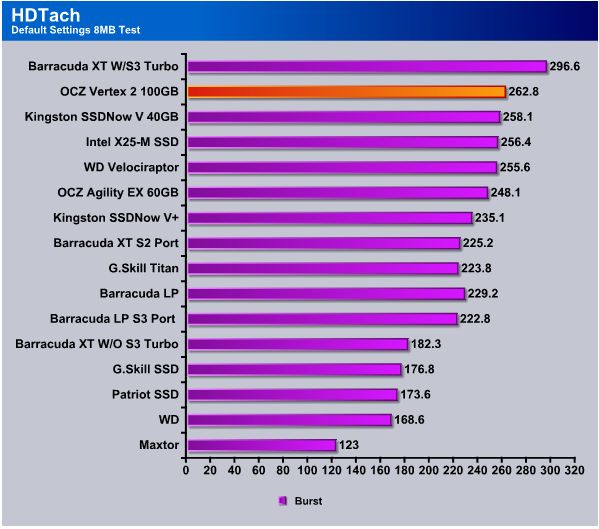 Here again, let us iterate that we don't weigh burst testing heavily in the final scoring of a drive. The Vertex 2 hit more than respectable burst speed of 262.8 MB/s but burst tests usually consist of cache only hits and as for real life performance don't do a lot for you unless your stuck in a cubical doing the same redundant things over and over for an 8 hour shift. Normal usage we tend to wander from program to program and the cache flushes more often than the toilet at a raw oyster bar.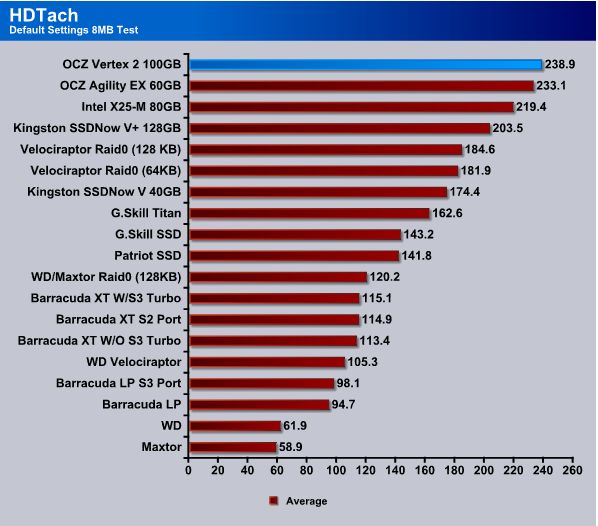 The Average Speed of the Vertex 2 where the smart money is at hits 238.9 MB/s and at this point we would have to say the Vertex 2 is the fastest overall drive we've tested.
Conclusion
Performance wise the OCZ Vertex 2 does an excellent job of satisfying our need for speed. Price wise we aren't ready to throw our endorsement completely behind any SSD at this time. With a $400(ish) price tag and formatted capacity of around 93GB that exceeds $4/Gigabyte and that cost sets us back a little.
If you can spring the price the Vertex 2 does provides blazing speed and a 3 year warranty but you are trading storage capacity for speed and that has to be considered. We've seen (admittedly slower) 1TB platter drives on sale for $100 and for the same price as the Vertex 2 you can have 4 TB of storage running in RAID 0 or 100 GB of SSD storage. That's a hard choice to make.
All that being said if you have need for speed SSD's simplify things and provide great performance but they do so at a premium price. The OCZ Vertex 2 has the premium speed and premium price but like most SSD's storage is limited. We love the speed, grumble about the price and plain don't like the limited size.
Still with Native Trim support, the SandForce controller, OCZ proprietary Firmware, and exceptional speed it's hard not to like the Vertex 2 100GB.
When considering purchasing an SSD the Vertex 2 is hard not to recommend as far as SSD's go. It's the overall fastest SSD we've seen.
OUR VERDICT: OCZ Vertex 2
| | |
| --- | --- |
| Performance | 9.5 |
| Value | 8.5 |
| Quality | 9 |
| Features | 9 |
| Innovation | 10 |

We are using a new addition to our scoring system to provide additional feedback beyond a flat score. Please note that the final score isn't an aggregate average of the new rating system.

Pros
Cons

TRIM support

Good sequential read and write

Great Depth 32 Que 4k Reads and Writes

New SandleForce Controller looks good!

3 year warranty

Price Vs Storage Capacity

 

 
Summary: The OCZ Vertex 2 proves to be a signifigant force in the SSD world. Overall we would say it's the fastest drive we've tested. The future looks bright for the OCZ lineup of drives and their OCZ Toolbox just makes it even sweeter.