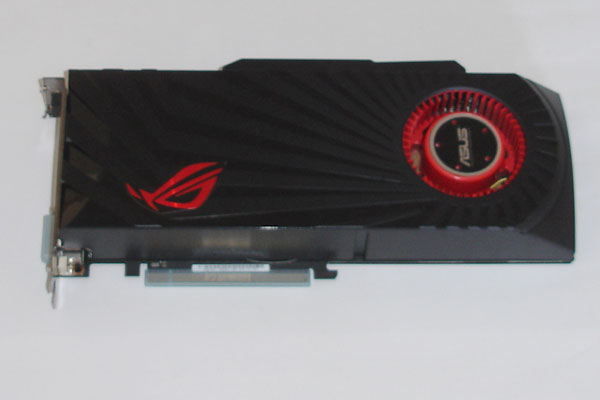 Asus HD 5870 Matrix Platinum comes at 900MHz overclocking of the GPU core, 2GB GDDR5 memory and plenty of features that hardcore overclockers are looking for in a video card. Does the 2GB memory matters or the GPU speed matters, let's find out.
INTRODUCTION
Asus is taking the Republic of Gamers (ROP) brand to the next level with the introduction of the HD 5870 Matrix Platinum. The ROP is Asus best of crop hardware where the products have innovative design and best performance. The ROP brand includes notebooks, motherboards, and graphic cards. Innovation such as onboard voltage probe point, excellent power regulators, and better cooling are often found with the Asus's ROP products. These features often are designed to satisfy hardcore overclockers who wish to take their hardware beyond imagination.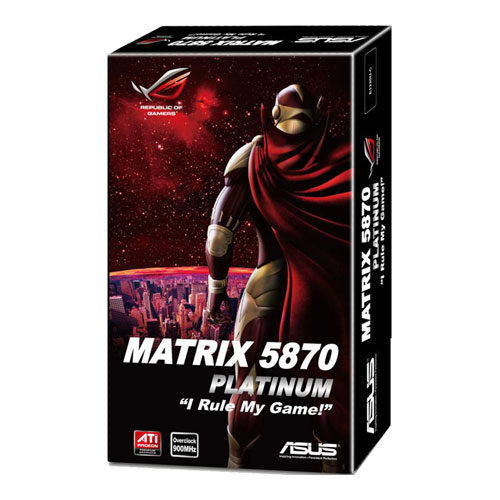 Asus has recently launched the two HD 5870 Matrix cards. The regular Matrix 5870 runs at reference HD 5870 clockspeed of 850MHz core and 1200MHz memory but comes with 2 GB GDDR5 memory instead of 1GB.The Matrix 5870 Platinum on the other hand is the highest overclocked HD 5870 from Asus where it is overclocked to 900 MHz. In addition to the faster clockspeed, the Platinum also comes with 2GB of GDDR5 memory. The Matrix cards also feature other innovations that we are going to take a closer look at as we take the Asus HD 5870 Matrix Platinum for a spin.
Features and Specifications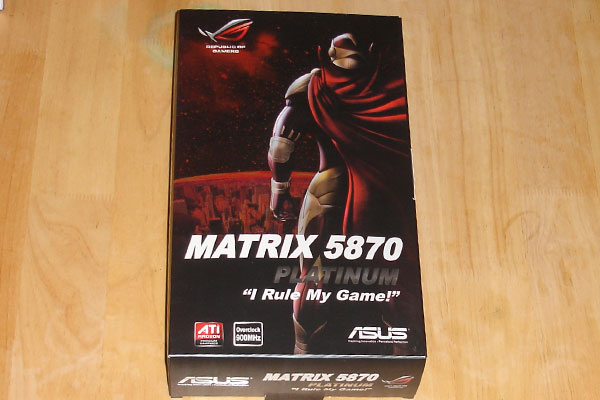 From the box which the card comes in you already get a sense that the card is different. One of the trademarks with the Matrix cards is the taller than usual box which the card is shipped in. Asus choose the biggest video card box we have seen because they packaged the expensive piece of hardware in a thick Styrofoam mold of the card and places all of the accessories in a separate box to avoid any potential damages during shipping.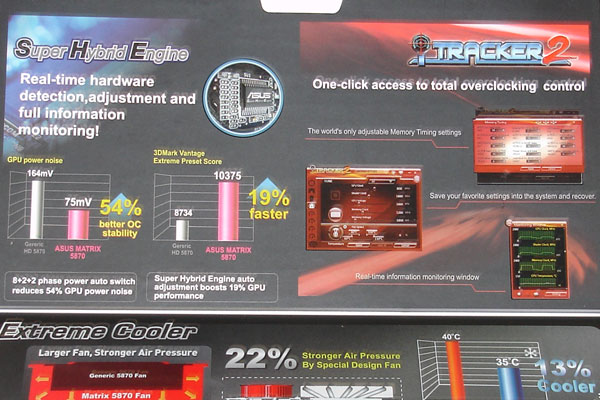 The box features the back shot of a caped super hero that resembles Iron Man. While the graphics on the box has no real indication on how well the card will perform, we love the packaging and the artwork. It makes the product stands out among other boxes on the retail shelves. Flip over the front cover and you get more detail information on the unique features.
FEATURES
GPU Overclocked to 900MHz!!
ASUS Super Hybrid Engine: boost up to 19% GPU performance by reducing 54% power noise
iTracker2: the world's only memory timing adjustment and allow you to save the favorite settings into system and recover!
Extreme Cooler: 13% Cooler and 22% Stronger Air Pressure with special designed fan!
ProbeIt: Easily measure the voltage of GPU, Memory and PCI-E bus with the Multimeter!
Asus lets you take a peek of the card so you can get a sense of how well it is built before you buy it.
As you can see the card boasts lower GPU power noise with the included 8-2-2 phase power auto switch.  The auto power switch is designed to reduce power noise and Asus claims that up to 54% of power noise reduction. While a common issue with many high-end video cards, the current HD 5870 and also the GTX 480 seems to be less plagued by such power noise as the older high-performance card.
Unique to Asus's own card is Super Hybrid Engine. The chip will automatically adjust the card's speed to boost up to 19% of the performance.
Extreme overclockers will be happy to find the VBios burn in option where the overclock settings can be flashed to the video car'ds BIOS. This will be very handy for those who constantly upgrade video card drivers, reinstall Windows, and swappign hardwares as the overclock settings will be saved in the card's BIOS so there is no need to readjust these options again.
Below is a comparison of the clockspeed among the current generation of high-end graphic cards.
| | | | | | | | | |
| --- | --- | --- | --- | --- | --- | --- | --- | --- |
| GPU | GTX-480 | GTX-470 | GTX-285 | 5850 | 5870 | Asus HD 5870 Matrix Platinum | Giga HD5870 SOC | 5970 |
| Shader units | 480 | 448 | 240 | 1440 | 1600 | 1600 | 1600 | 2x 1600 |
| ROPs | 48 | 40 | 32 | 32 | 32 | 32 | 32 | 2x 32 |
| GPU | GF100 | GF100 | GT200b | Cypress | Cypress | Cypress | Cypress | 2x Cypress |
| Transistors | 3200M | 3200M | 1400M | 2154M | 2154M | 2154 | 2154 | 2x 2154M |
| Memory Size | 1536 MB | 1280 MB | 1024 MB | 1024 MB | 1024 MB | 2048 MB | 1024 MB | 2x 1024 MB |
| Memory Bus Width | 384 bit | 320 bit | 512 bit | 256 bit | 256 bit | 256 bit | 256 bit | 2x 256 bit |
| Core Clock | 700 MHz | 607 MHz | 648 MHz | 725 MHz | 850 MHz | 900 MHz | 950 MHz | 725 MHz |
| Memory Clock | 924 MHz | 837 MHz | 1242 MHz | 1000 MHz | 1200 MHz | 1200 MHz | 1250 MHz | 1000 MHz |
| Price | $499 | $349 | $340 | $299 | $399 | ? | ? | $599 |
We can see that while the Asus HD 5870 Matrix Platinum is slightly overclocked than the reference HD 5870, it does not overclock as aggressively as the Gigabyte's HD 5870 SOC. Though, the card does come with 2GB of memory which is more than Gigabyte's card.
PICTURES & IMPRESSIONS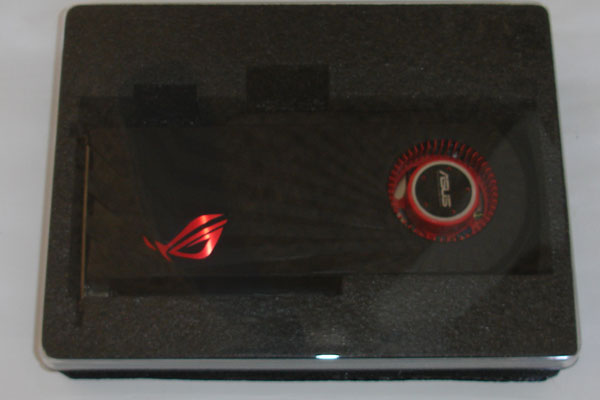 While the reference HD 5870 comes with only 1GB of GDDR5 memory, the Asus HD 5870 Matrix includes 2 GB GDDR5. As far as we know, only the HD 5870 that supports Eyefinity 6 monitors comes with 2GB of memory and Asus is the first one that brings the HD 5870 with 2GB that does not support 6 displays. While the card still supports 3 monitors, it's a shame that you cannot run 6 monitors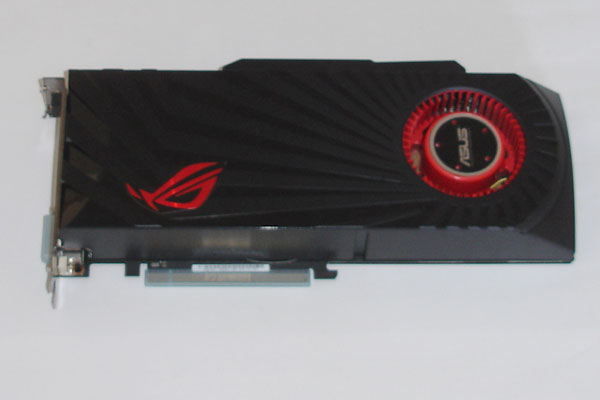 In addition to 1GB of extra memory, the HD 5870 Matrix is also different from the reference card with 900 MHz of clockspeed (vs 850 MHz stock). Its memory speed is still clocked at 1200 MHz like the reference card.  It is no question that the card is capable of higher clockspeed due to the enhanced cooling but Asus is being conservative with the overclock and leave the hardcore overclocking to the end-user. The card comes with 1600 stream processor, 80 Texture units, 32 ROPs, and 256-bit memory bus.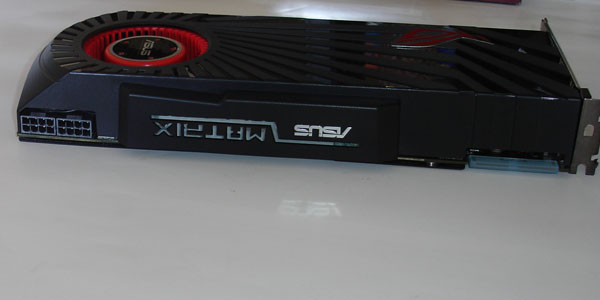 Evem though the card should not have consumed more power than the standard HD 5870, Asus wants to ensure it gets proper power when it comes with overclocking so the card is comes with two 8 pin PCI-Express connectors. This will give the card a maximum of 375 watts of power that should be more than enough for even the most avid overclocker.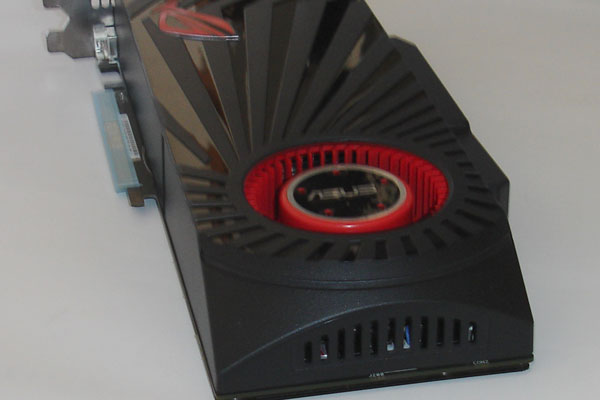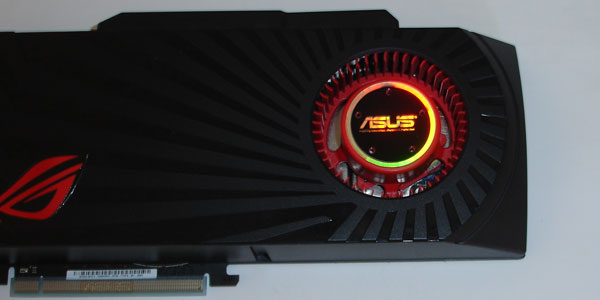 What set the HD 5870 Matrix Platinum apart from the rest of the HD 5870 is its beefed up cooler. While the ATI HD 5870 reference "Batmobile" cooler does a decent job in keeping the card running cool, it never hurts to have better cooling. Asus still maintains the similar look as the reference card with its black and red color scheme. However, a larger fan is used and more importantly, there are five direct contact heatpipes connect to the aluminum heatsink. The combination of the heatpipes and larger fan will reduce the temperature by as much as 13% based on Asus's estimate.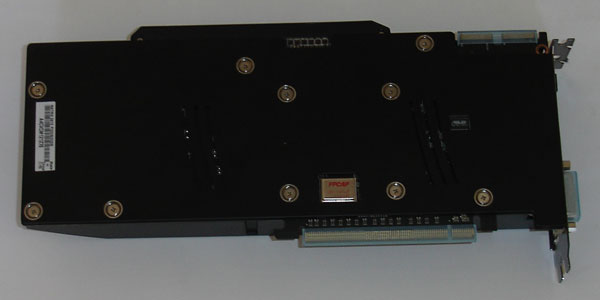 We loved the metal back plate because it offers protection to the back of the PCB board. Despite the metal backplate, the card feels much lighter than we would have expected.
Asus pays special attention to the PCI Express connector and the Crossfire connector. A plastic guard covers these connectors so they will not get scratched while not in use. The card can run CrossFire X with any "Cypress" graphics card in dual, triple, and quad configuration.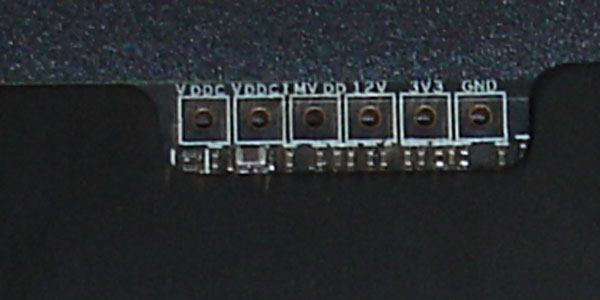 Something that you do not often find on a video card are the contact points where you can check the voltage easily with a multimeter. For hardcore overclockers, these contact points will come in handy to monitor the card's voltage during overclocking. However, the placement on the HD 5870 Matrix is not the most idea place. It is hard to get to them if you have a large CPU heatsink that may block you from accessing these contact points. We would prefer to see the contact point on the top of the card or like MSI that provides cables which holds the multimeter probes for easy access.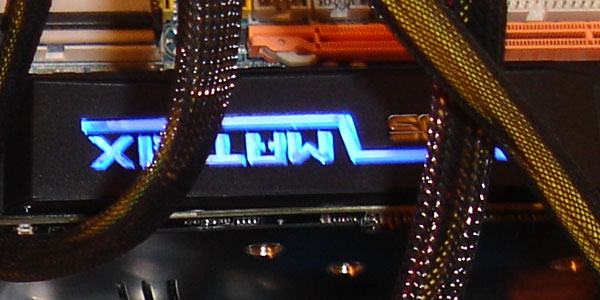 A very pretty LED lights up the Matrix logo when the card is in use. I am not often a big fan of LEDs on the graphic card but I like the mild and non-obstructive look on the card. Depending on the usage of the card, the light will change from green under safe mode to red for extreme loading.
A safe mode button on the back of the card is designed to reboot the system in the event an overclocking goes wrong. Think of this as reset the CMOS of your motherboard where it will return the card to the default setting so you can get the computer booting up normally. The Safe mode button will used the backup bios on the card to restore the factory clock settings and overall parameters in the event the current profile or stored VGA bios is not stable.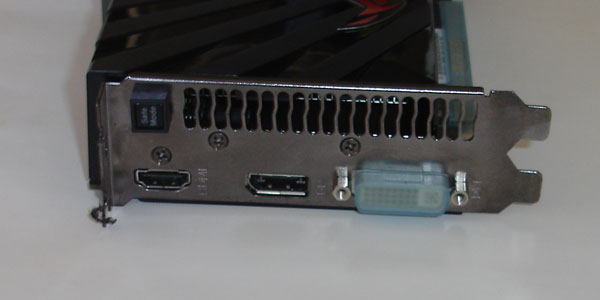 Three ports rounding up the back of the card. You get a native Display Port, HDMI port, and Dual-link DVI/I port. The card will support ATI Eyefinity with three displays but in order to use 3 displays, one of the monitors must connect with a Display Port. The HDMI port on the card is revision 1.3 that supports 7.1 channel surround sound with AC-3, Dolby TrueHD and DTS Master audio format.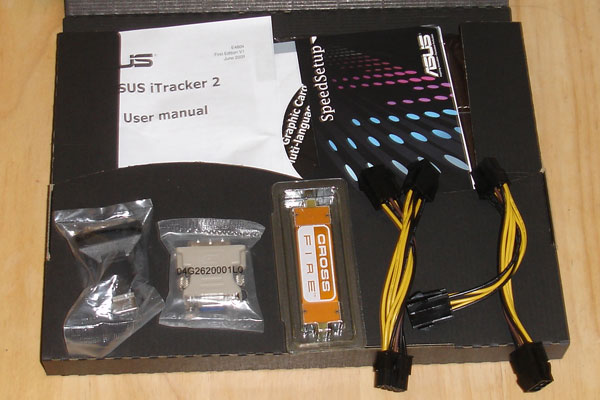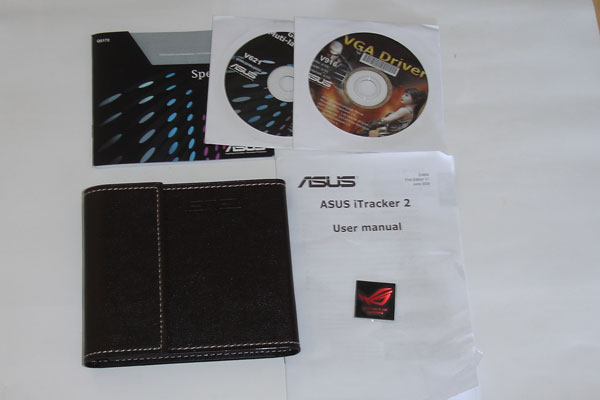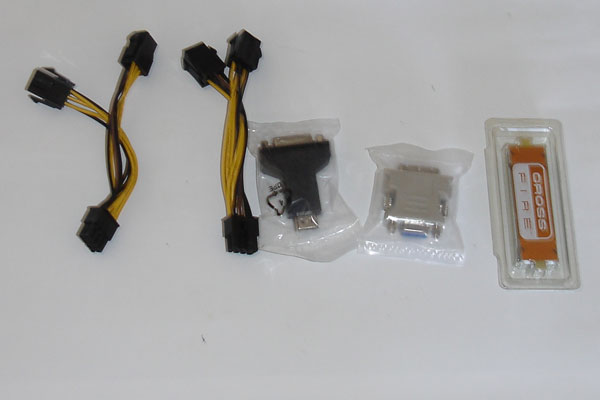 Asus bundles the card with DVI to VGA and HDMI to DVI adapter, two 6 pin to 8 pin PCIE power adapter, and a CrossFire bridge. In addition, a driver disk, multi-language manual disk and iTracker manual are included. No game is included but Asus does include a very nice case badge and a CD holder.
Asus iTracker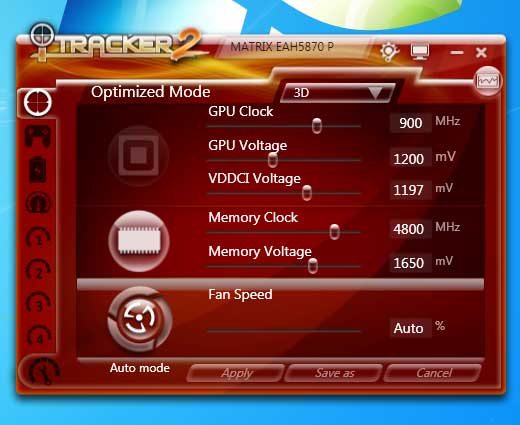 Asus bundles iTracker with the HD 5870 Matrix for monitoring the card's temperature and voltage. The software contains a wide range of adjustments where you can easily overclock your video cards but it may not be the most intuitive to use. Its icon and text can be somewhat small to read. Furthermore, you cannot use your keyboard's left & right arrow keys to move the slider up in 1MHz increments. In order to use the keyboard, you would have to key-in the value. This does not bug me as much as the fact that after you have keyed in the value, you have to click other parts of the software in order to click "Apply" button. The software simply won't let you press Enter to accept the keyed-in value.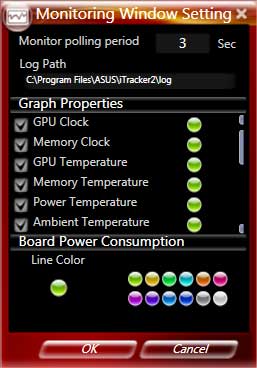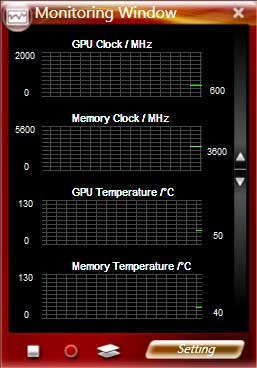 Plenty of settings can be monitored but the monitoring window will not display all of the settings rather you need to scroll up and down.
Another annoyance with the software is the monitoring feature; although there are plenty of settings that can be monitored, the monitoring window is simply too small to show them all. This means that you have to scroll up and down to read them. Furthermore, the log file saves data as a text file instead of CVS or excel so they maybe hard to read.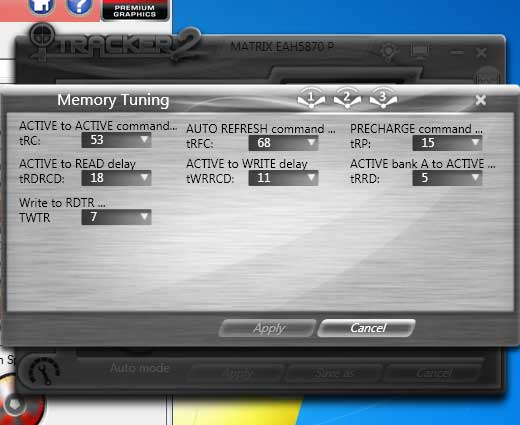 Asus lets customer adjust the memory timings of the HD 5870 Matrix Platinum
In addition to overclocking the clockspeed and the voltage, the Matrix Platinum also lets you adjust the memory timing. We have not seen many graphics cards that allow such option. For those who wish to spend hours overclocking the card, such option would sure come in handy to squeeze that extra little bit of clockspeed.
One thing we wish to find with the overclocking tool is a test option where it at least performs a quick stability test to see if such setting is stable. We realize that one test is never good enough when it comes to overclocking but at least Asus can provides a quick test before we hit the apply button.
Here are the maximum voltage setting available:
GPU: 1600 mV (default 1200)
VDDCI: 1350 mV (default 1197)
Memory: 1800 mV (default 1650)
Not only that the memory speed can be adjusted, hardcore overclockers will also be glad to see the VDDCI voltage adjustment where it will let you increase the power rail voltage to give more power to the card. This option will let hardcore overclocker to push the card further and with the card's dual 8 pin PCI-E power connector, we are sure that it will deliver plenty of juice to the GPU. It will help to stabilize the PCB power and GPU power distribution and maintain signal uniformity when it comes to extreme overclocking.

By default, the card comes with five preset states depending on the load. We can see that during boot, the card runs at the default reference HD 5870 speed of 850 MHz and 1200 MHz (core/memory). The card will reduce its clockspeed to 157MHz and 300 MHz (core/memory) when you are browsing webs and using programs like Word. In games, it throttles to 894MHz and 1200MHz (core/memory) when the demand picks up.
One thing to note is that during movie playback, the card throttles to 400MHz and 800Mhz (core/memory) to decode H.264 and VC-1 codecs. We like the separate profile for the video playback because this will help with power consumption and heat output.
OVERCLOCKING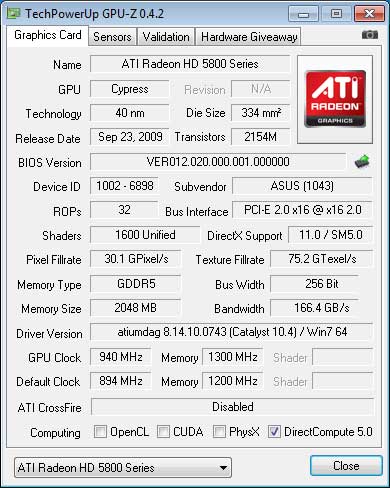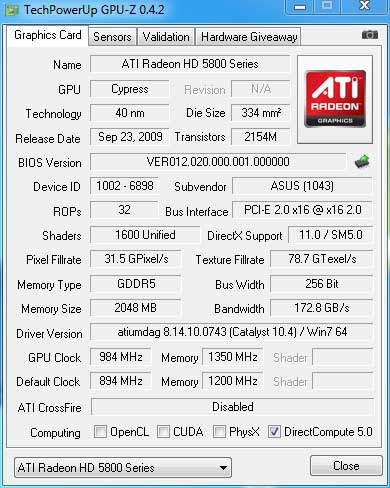 With the default voltage, I was able to overclock the card to 950 MHz core and 1320MHz memory that passed the Furmark stability test for 5 minutes.  While these speeds passed the Furmark test, they were not able to run 3DMark Vantage so I lowered the core and memory speed a tad to 940MHz (core) and 1300MHz (memory) in order to run 3DMark. To see if I can milk out a bit more speed, I raised the GPU voltage to 1.3V and memory voltage to 1.7V and was able to achieve 984 MHz core and 1350 MHz (5400MHz effective).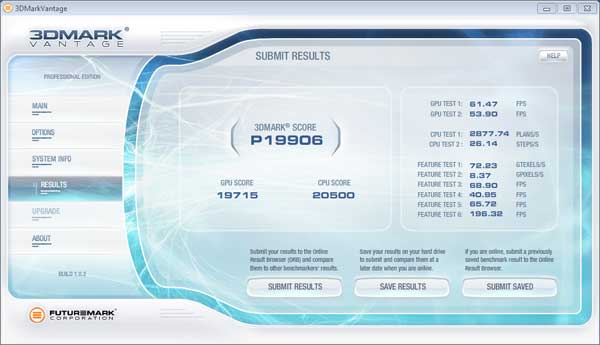 At this speed, we got 832 more points in the 3DMark Vantage overall score and 1123 more points in the GPU score. One thing to note with overclocking is the additional power consumption with the voltage raised. We measured the system consuming 442 watts of power under load, which is 62 watts more than the stock setting.
This result is actually pretty good considering other HD 5870 overclocking result we have seen. While we have seen higher clockspeed with some other HD 5870,  with more time and voltage adjustments we are sure that you can achieve a much higher result.
TESTING & METHODOLOGY
To Test the Asus HD 5870 Matrix Platinum we did a fresh load of Windows 7 Ultimate, applied all the updates we could find, installed the latest motherboard drivers for the Gigabyte EX58-UD4P, updated the BIOS, and loaded our test suite. We didn't load graphic drivers because we wanted to pause to clone the HD with the fresh load of Windows 7 without graphic drivers. That way we have a complete OS load with testing suite and it's not contaminated with GPU drivers. Should we need to switch GPU's or run some Crossfire action later all we have to do is clone our clone and install GPU drivers and we are good to go.
We ran each test a total of 3 times and report the average here. In the case of a screenshot of a benchmark we ran the benchmark 3 times, tossed out the high and low and post the median result from the benchmark. If we got any seriously weird results we kicked out that run and redid the run. Say if we got 55FPS in two benchmark runs, then the third came in at 25FPS we kick out the 25FPS run and repeat the test. That doesn't happen very often but anomalous runs do happen rarely.
Test Rig
Test Rig
"Quadzilla"
Case Type
None
CPU
Intel Core I7 920
Motherboard
Gigabyte EX58-UD4P
Ram
Kingstone HyperX 1600
CPU Cooler
Prolimatech Megahalem
Hard Drives
Seagate 7200.11 1.5 TB
Optical
None
GPU
Asus HD 5870 Matrix Platinum
GIgabyte HD5870 Super Overclock
Asus GTX-470 Voltage Tweak Edition
PNY GTX-470
Nvidia GTX-480
Asus 5970
Visiontek HD Radeon 5870
Gigabyte HD Radeon 5870 Gigabyte HD Radeon 4890 OC
Asus HD Radeon 4890 Voltage Tweak Edition
PNY GTX-285 Performance Edition
XFX GTX-285 XXX
BFG GTX-295
Asus GTX-295
XFX 9800 GTX+ Black Edition
BFG GTX-260 MaxCore
Palit HD Radeon 4870X2
Sapphire HD Radeon 4870 512MB
Diamond HD Radeon 4870 1 GB
Sapphire HD Radeon 4850 Toxic
Drivers for Nvidia GPU's 197.41
Drivers for ATI GPU's 10.3
Case Fans
120mm Fan cooling the mosfet CPU area
Docking Stations
None
Testing PSU
Cooler Master UCP 900W
Legacy
None
Mouse
Microsoft Intellimouse
Keyboard
Logitech Keyboard
Speakers
None
Synthetic Benchmarks & Games
Synthetic Benchmarks & Games
3DMark Vantage
World In Conflict Benchmark
Crysis v. 1.2
Dirt 2
FarCry 2
Stalker COP
 Crysis Warhead
Unigine Heaven v.2.0
FurMark
Metro 2033
You can see we are indeed all over the map, DX9, DX10, DX11, Tessellation, old, new and in between. We wanted as wide a representative sample as possible in the time available.
Crysis v. 1.21

Crysis is the most highly anticipated game to hit the market in the last several years. Crysis is based on the CryENGINE™ 2 developed by Crytek. The CryENGINE™ 2 offers real time editing, bump mapping, dynamic lights, network system, integrated physics system, shaders, shadows, and a dynamic music system, just to name a few of the state-of-the-art features that are incorporated into Crysis. As one might expect with this number of features, the game is extremely demanding of system resources, especially the GPU. We expect Crysis to be a primary gaming benchmark for many years to come.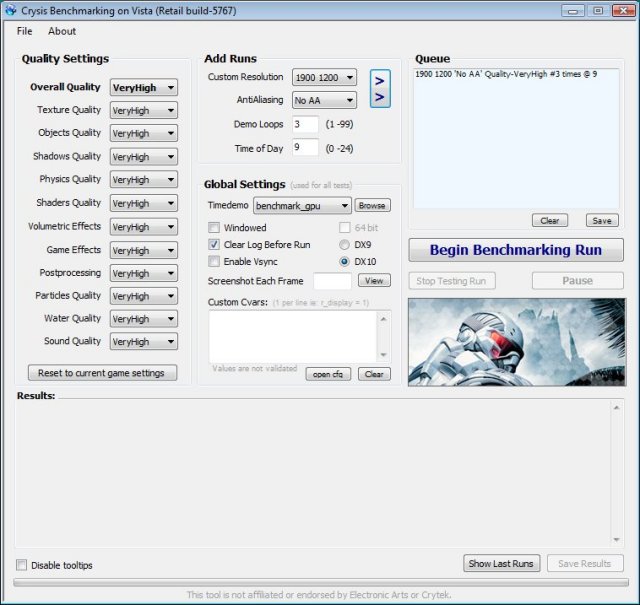 The Settings we use for benchmarking Warhead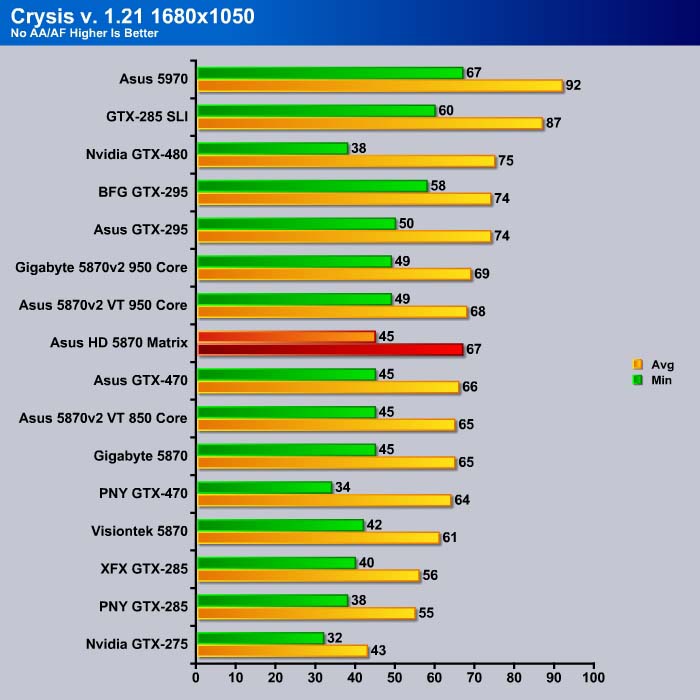 At this resolution, the raw GPU power seems to be the biggest playing factor in Crysis. Here our Asus HD 5870 Matrix Platinum comes behind the 950 MHz GPU clockspeed HD 5870 cards.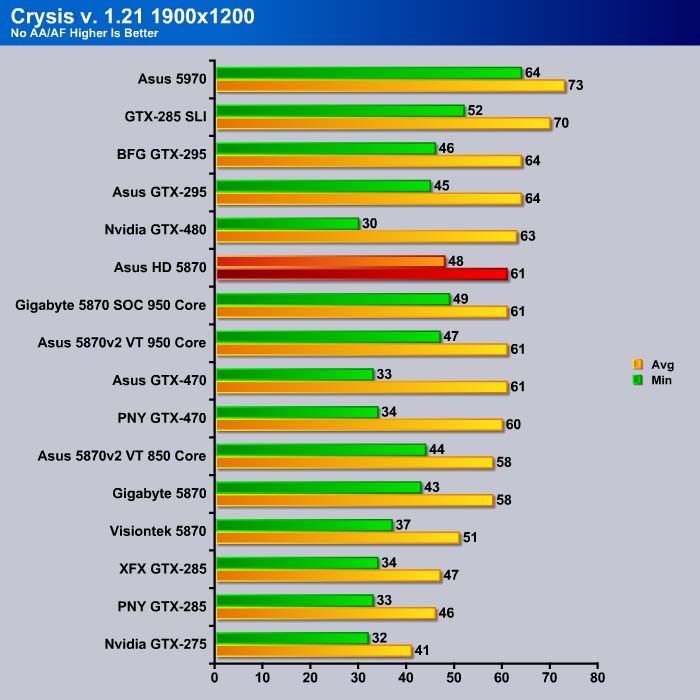 At higher resolution, the extra 1GB memory comes into play where we can see the Asus card is able to yield the same average frame rates as other overclocked HD 5870 despite having 50 MHz lower GPU clockspeed. All of the non-reference HD 5870 is able to yield 4 or 5 higher FPS than the reference card.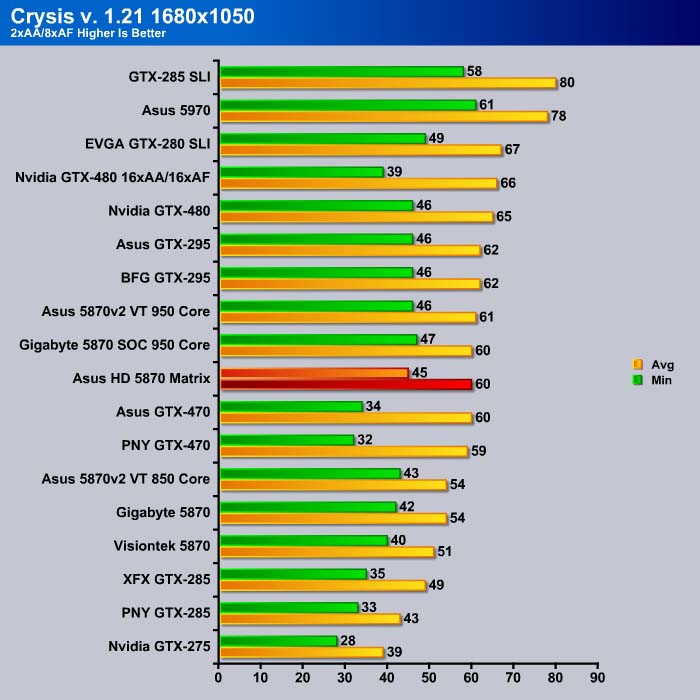 As we crank up the AA and AF, we can see the faster clocked HD 5870 does come handy with 1 higher frame per second than our Asus sample. Although all of the overclocked HD 5870 yields higher frames than the reference HD 5870. Something to note here is that although both the GTX 470 and the HD 5870 produce 60 FPS average, the HD 5870 has higher minimum frames than the GTX 470.
Again, the Asus HD 5870 Matrix Platinum comes in at 50 FPS average and 37 FPS mininmum while the 950 MHz cards comes in 1 frame higher average and 4 frames higher minimum. These frames are perfectly playable and it would be impossible for human eyes to discern the differences. Still having faster clockspeed does when we crank up the resolution and AA/AF setting. With Asus's card being conservative in its overclocking, we are certain that it can reach other HD 5870 with simple tuning.
CRYSIS WARHEAD

Crysis Warhead is the much anticipated sequel of Crysis, featuring an updated CryENGINE™ 2 with better optimization. It was one of the most anticipated titles of 2008.

The Settings we use for benchmarking Warhead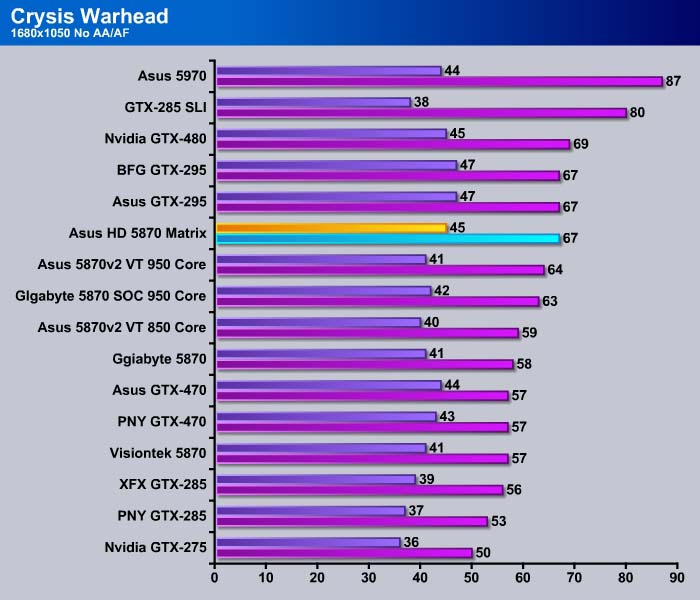 First test shows the Asus HD 5870 Platinum beats other HD 5870 graphics cards by 3 to 4 frames. We believe this is due to the extra 1 GB of memory because even the overclocked HD 5870 is not able to compete with the Asus's card.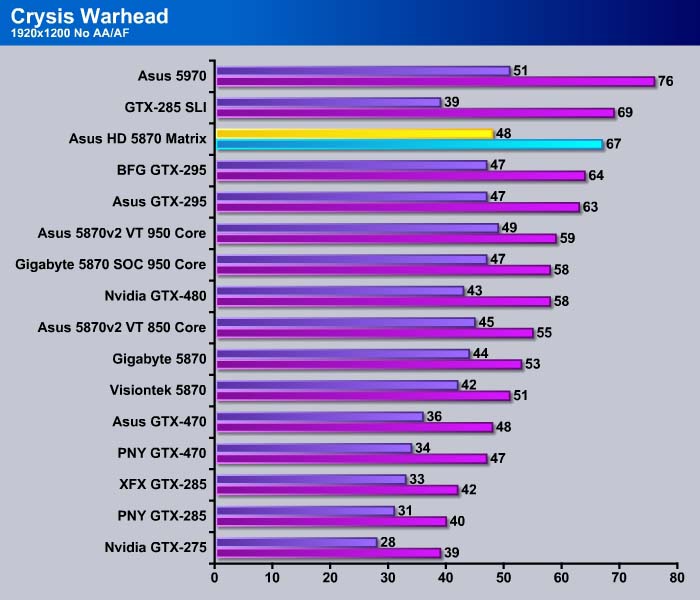 At higher resolution, the extra 1GB of memory shows greater benefits. Here the card yields 8 more frames than the Gigabyte's HD 5870 SOC. The card even overtakes the GTX 295 with its dual GPUs. Looks like Asus may be onto something with its conservative overclocking and larger  memory combination on the HD 5870.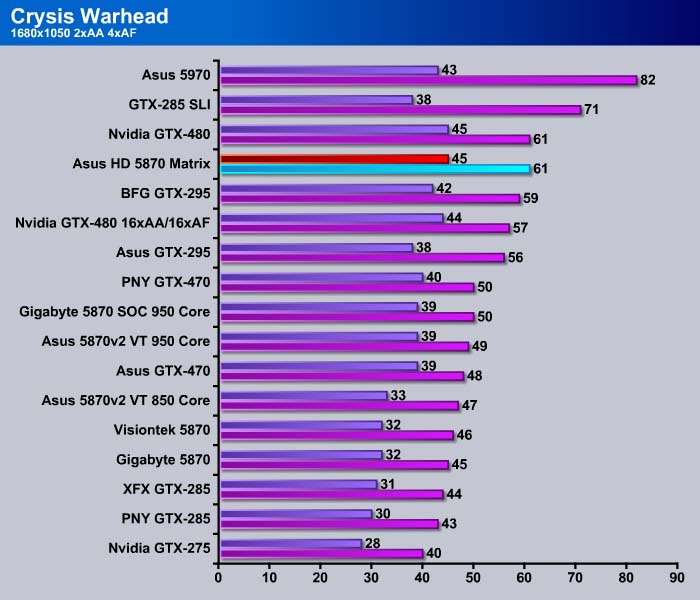 Cranking AA/AF on the Asus HD 5870 Matrix Platinum still shows its performance dominance over other HD 5870 in Crysis benchmark.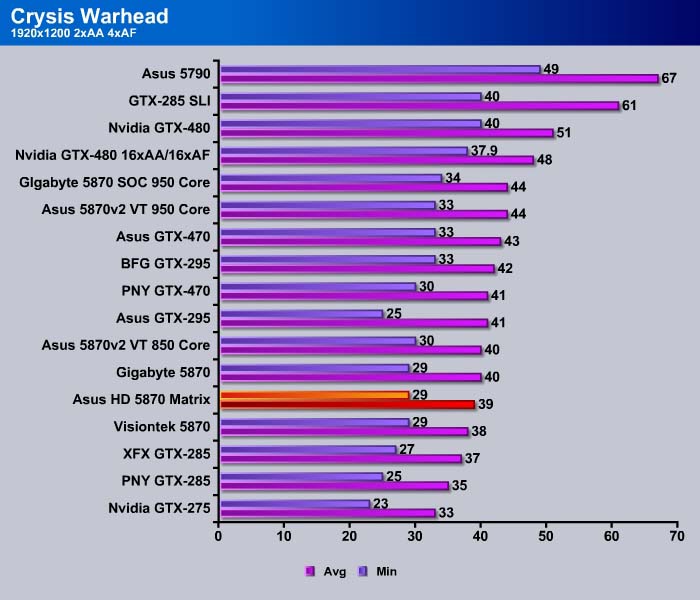 Here at 1920×1200 is where Asus's 900 MHz GPU clockspeed falters slightly. While the 950 MHz GPU clockspeed  HD 5870 is able to get to that magical 30 FPS minimum frame rate, the Asus HD 5870 Matrix Platinum comes in just 1 frame short of that magical number. Asus's card also comes behind other HD 5870 In the aveage frame rate with 39 FPS while the overclocked HD 5870 is capable of 4-5 extra frames.
Far Cry 2

Far Cry 2, released in October 2008 by Ubisoft, was one of the most anticipated titles of the year. It's an engaging state-of-the-art First Person Shooter set in an un-named African country. Caught between two rival factions, you're sent to take out "The Jackal". Far Cry2 ships with a full featured benchmark utility and it is one of the most well designed, well thought out game benchmarks we've ever seen. One big difference between this benchmark and others is that it leaves the game's AI (Artificial Intelligence) running while the benchmark is being performed.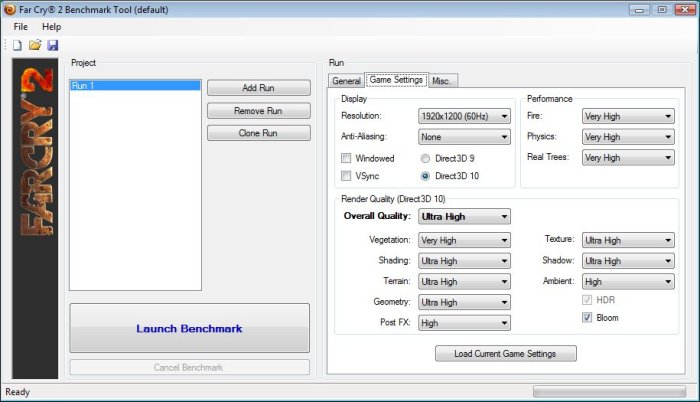 The Settings we use for benchmarking Far Cry 2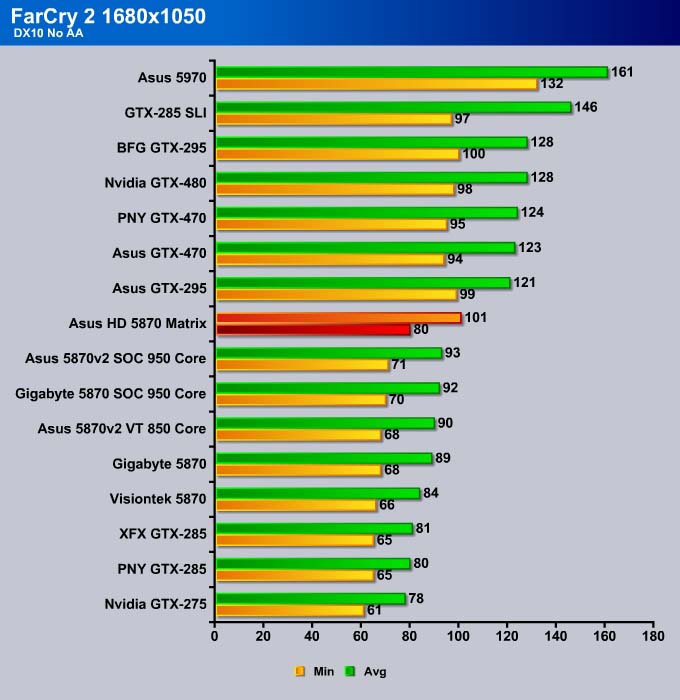 At this level in Far Cry 2 shows a great gain with 2GB of memory. Asus HD 5870 Matrix Platinum once again tops our HD 5870 cards by 8 FPS average and 9 FPS minimum.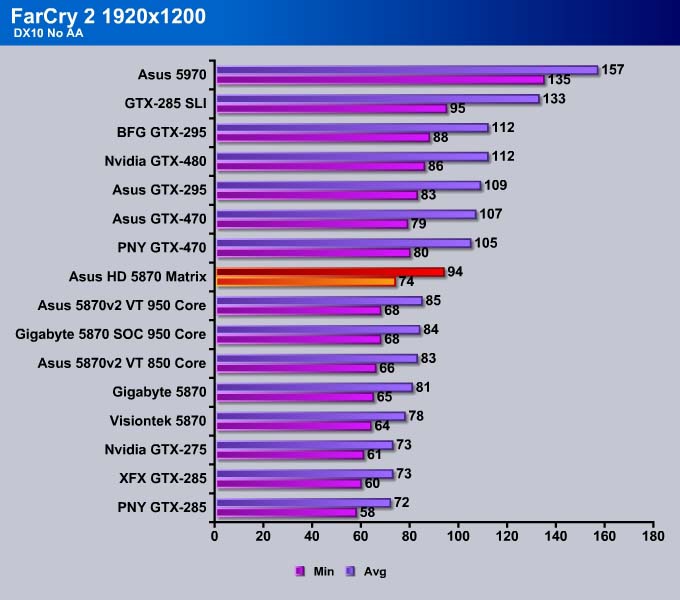 The story continues at 1920×1200 where the Asus card once again takes the lead. The card still averages 9 FPS higher to its nearest competitor, the Asus 5870v2 VT 950 Core, but the minimum frame has been reduced to 6 FPS higher.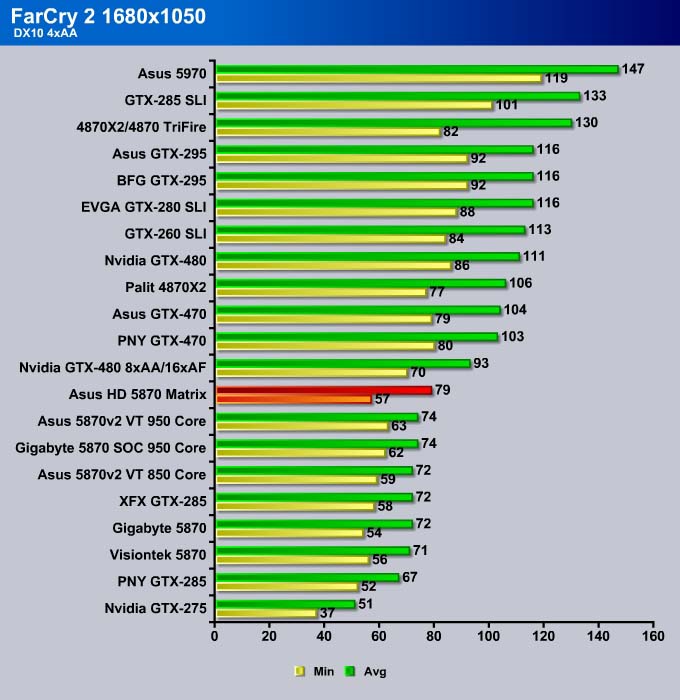 Contrasted to what we have seen with the Crysis, here the Asus card's 2 GB still shows dominance when we crank up AA and AF setting. Its dominance has been narrowed to only 5 FPS average. However, the minimum frame shows the Asus's card actually comes in 1 FPS behind other overclocked HD 5870s.
It has been long enough that a lot of people might not remember, but Far Cry 2 had the advantage of an Nvidia optimization team so it favors Nvidia cards somewhat. Optimization teams are a fact of life so we have no qualms about benching both teams GPU's on Far Cry 2 but prefer to keep the comparisons between ATI to ATI and Nvidia to Nvidia in this epic game.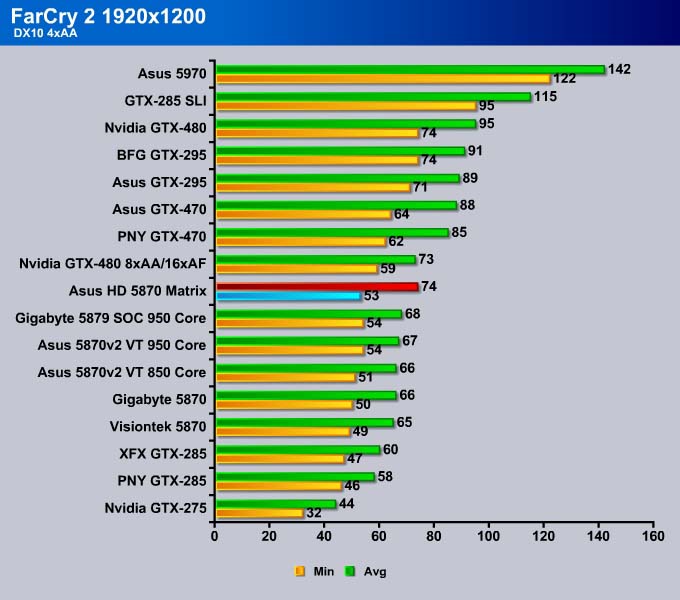 Just like what we have seen at 1680×1050, at 1920×1200, the Asus HD 5870 Matrix Platinum shows a 6 FPS gain in the average frame but 1 FPS loss in the minimum frame.
Unigine Heaven 2.0

Unigine Heaven is a benchmark program based on Unigine Corp's latest engine, Unigine. The engine features DirectX 11, Hardware tessellation, DirectCompute, and Shader Model 5.0. All of these new technologies combined with the ability to run each card through the same exact test means this benchmark should be in our arsenal for a long time.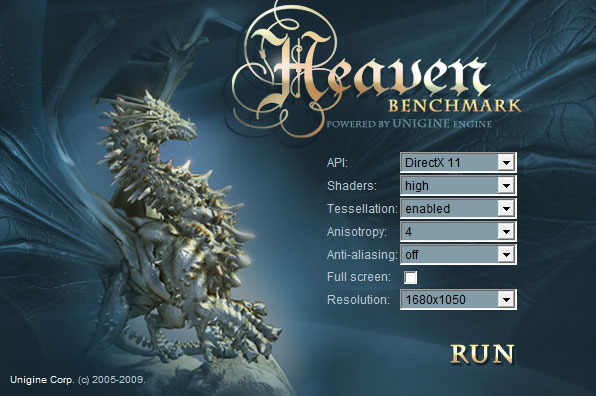 The settings we used in Unigine Heaven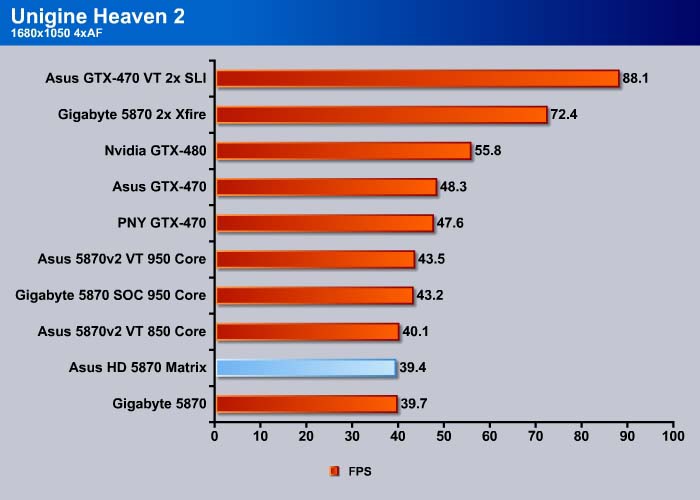 In Heaven 2 the Asus HD 5870 Matrix Platinum comes in a rather surprising result behind the Asus 5870v2 VT that is clocked at 850MHz. We had expect the 900MHz and 2GB of memory to put the card at least ahead of the 850MHz card.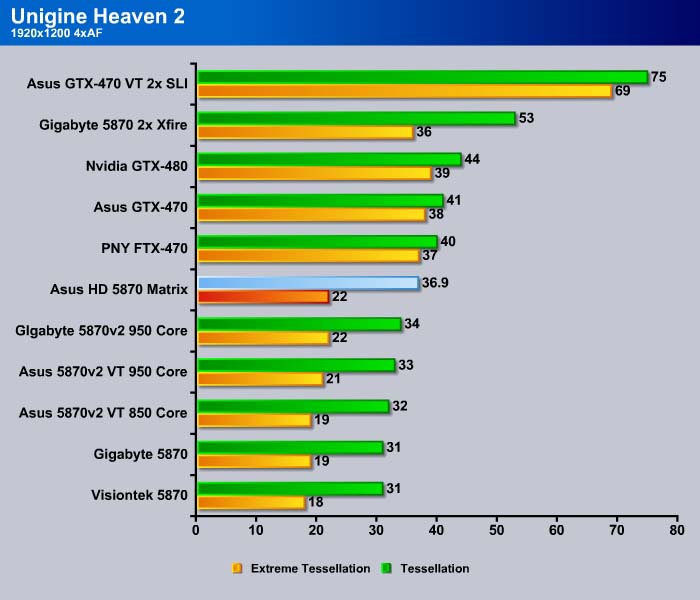 Heaven 2 gets rough on GPU's at 1920×1200 with 4xAF turned on. All of the HD 5870 dropped to the neighborhood of 20 FPS with the Asus HD 5870 Matrix Platinum taking the lead in both Extreme Tessellation and Tessellation among all of the HD 5870 tested. It is clear that this test likes more memory and the 2 GB of memory on the Asus's card helps it to gain 2.9 FPS with Tessellation and 1 FPS with Extreme Tessellation.
Looking at the result, it can be certain that in DirectX 11 games with Tessellation enabled, 2GB of memory will prove to be very beneficial.
Dirt 2

Colin McRae Dirt 2 is the squeal to the popular racing game Colin McRae Dirt. The game is a racing game, but with an off road twist. Instead of racing Bugattis and Porsches your going to be racing trophy trucks and rally cars. The newest addition adds DirectX 11 effects, and modified physics from the original game.
We only tested Dirt 2 with AA/AF and you'll see why in a moment.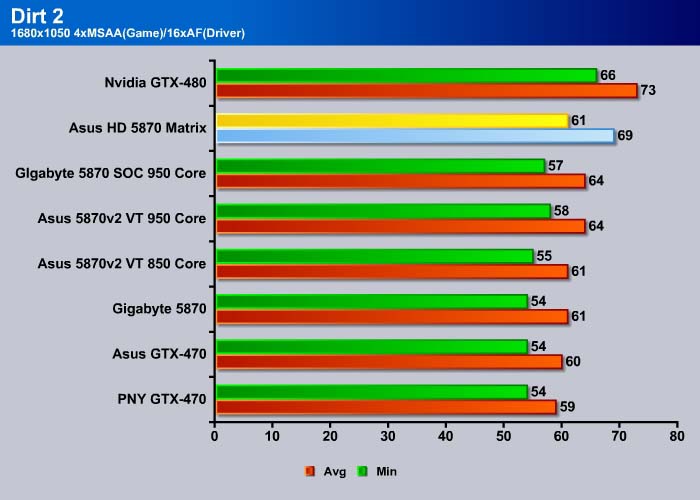 Looks like Dirt 2 likes to have more memory at this setting as our Asus HD 5870 Matrix Platinum tops the chart of all other HD 5870, only the GTX 480 is able to beat it by 4 FPS.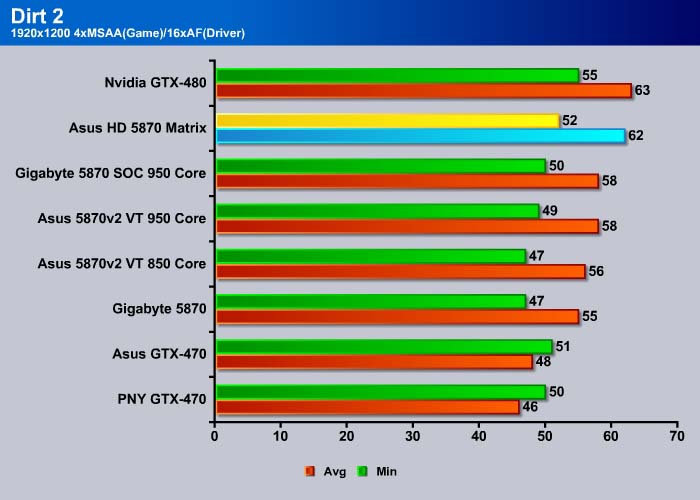 Same result as what we have seen earlier. At 1920×1200, the Asus HD 5870 Matrix Platinum still tops our leaderboard with only the GTX 480 is able to come in at 1 FPS higher average.
S.T.A.L.K.E.R.: Call of Pripyat
Call of Pripyat is the latest addition to the S.T.A.L.K.E.R. franchise. S.T.A.L.K.E.R. has long been considered the thinking man's shooter, because it gives the player many different ways of completing the objectives. The game includes new advanced DirectX 11 effects as well as the continuation of the story from the previous games.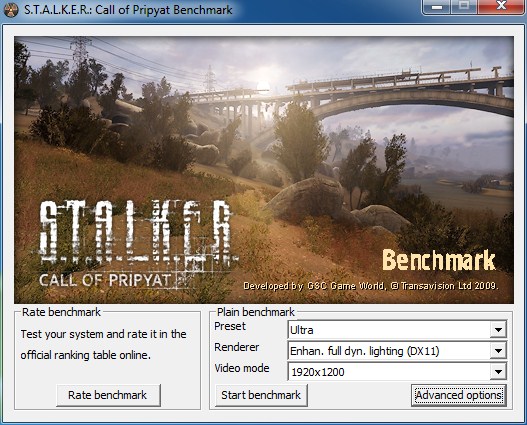 The settings we used benching Stalker

Surprisingly, the Asus HD 5870 Matrix Platinum does not do so well in the Stalker COP test. Here the card comes in dead last. Even the reference 5870 comes ahead of the card.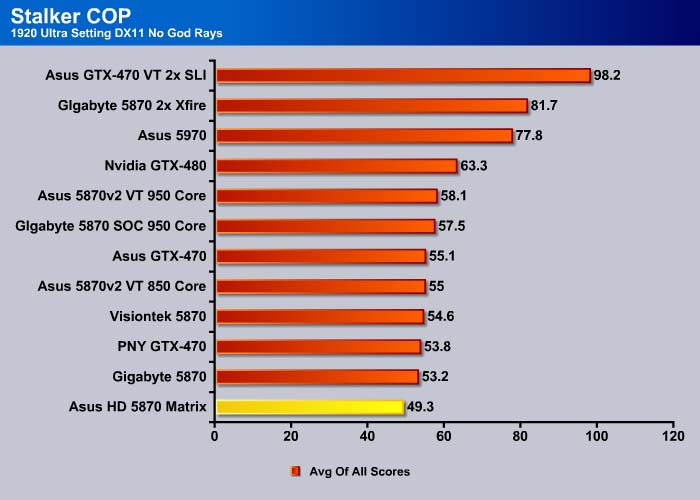 Moving up to 1920×1200 the Asus HD 5870 Matrix Platinum still cannot find any redemption.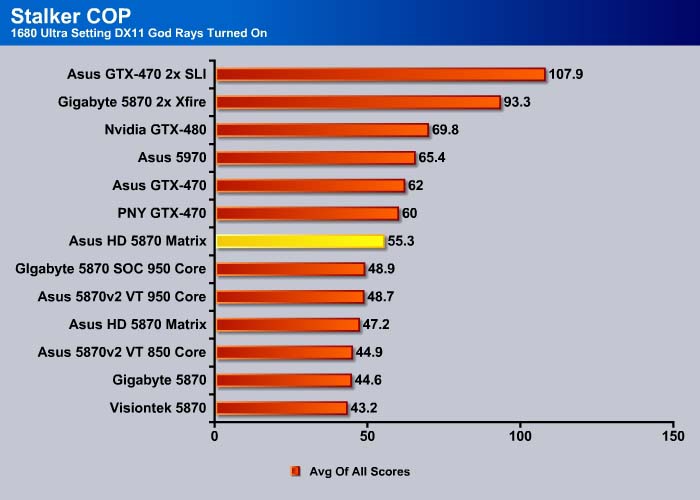 The Asus HD 5870 Matrix Platinum finds redemption as we turn on the Sun Shaft. The card easily tops other HD 5870 with 7 extra FPS. Once again, in modern games that take advantage of DirectX 11, we can true see the benefit of 2 GB of memory.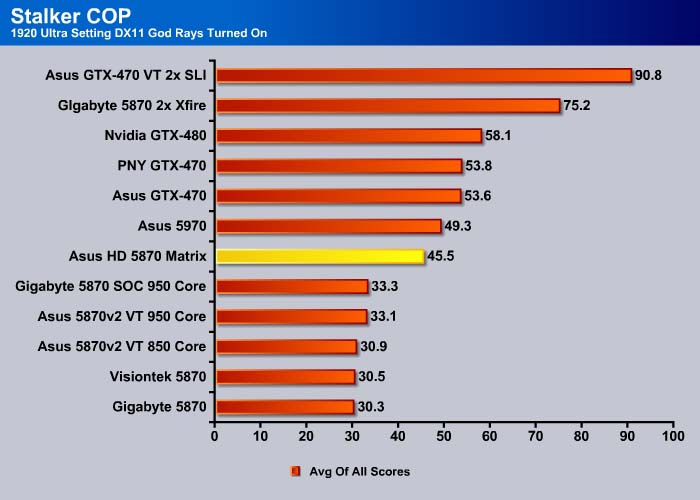 Again, at 1920×1200. the HD 5870 Matrix Platinum takes a big leap with its 2GB memory, leaving other HD 5870 behind with extra 12 FPS.
Furmark
Since Furmark has a built in benchmark we decided to play with that a little bit to evaluate it's benchmark viability. This is a shot of the Furmark results from a previous review so you can see what the results page looks like. We went ahead and built charts for this review.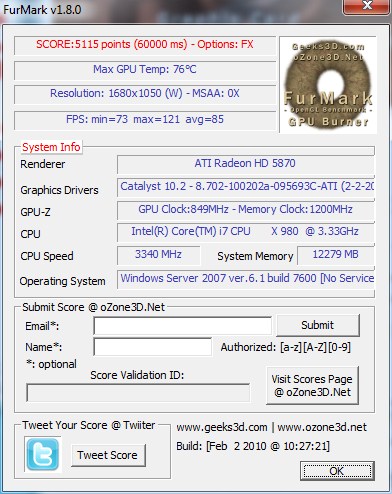 This shot of Furmark benchmark results isn't from this round of testing, it's just there to show you what the results page looks like.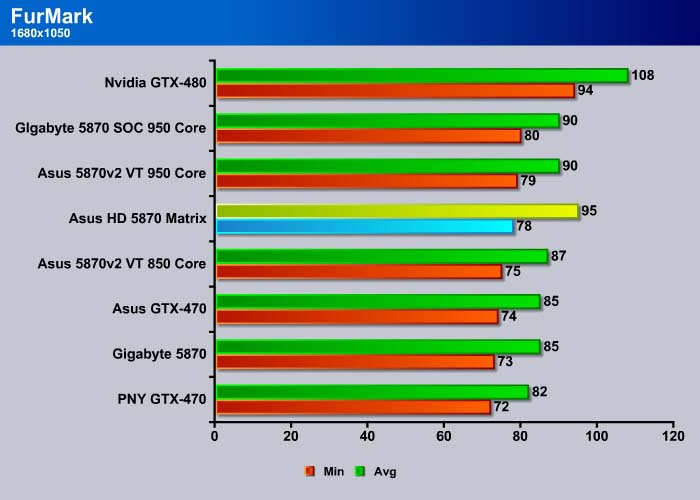 FurMark puts the Asus HD 5870 Matrix Platinum right behind the 950 MHz HD 5870s and above the reference HD 5870 (850MHz) in the minimum frame rates. Despite this, the Asus card actually comes in ahead of other HD 5870 in the average frame with 5 FPS higher than the Gigabyte 5870 SOC that features 950 MHz core speed.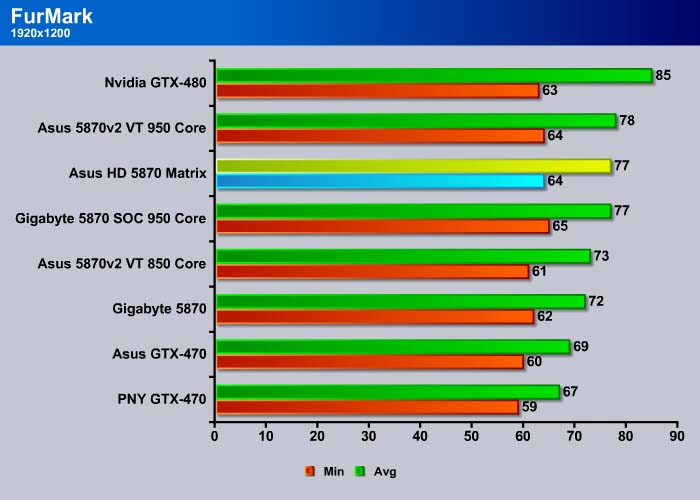 Here at 1920×1200 the Asus HD 5870 Matrix Platinum is being sandwiched between the two 950 MHz core speed HD 5870.
3DMark Vantage

For complete information on 3DMark Vantage Please follow this Link:
www.futuremark.com/benchmarks/3dmarkvantage/features/
The newest video benchmark from the gang at Futuremark. This utility is still a synthetic benchmark, but one that more closely reflects real world gaming performance. While it is not a perfect replacement for actual game benchmarks, it has its uses. We tested our cards at the 'Performance' setting.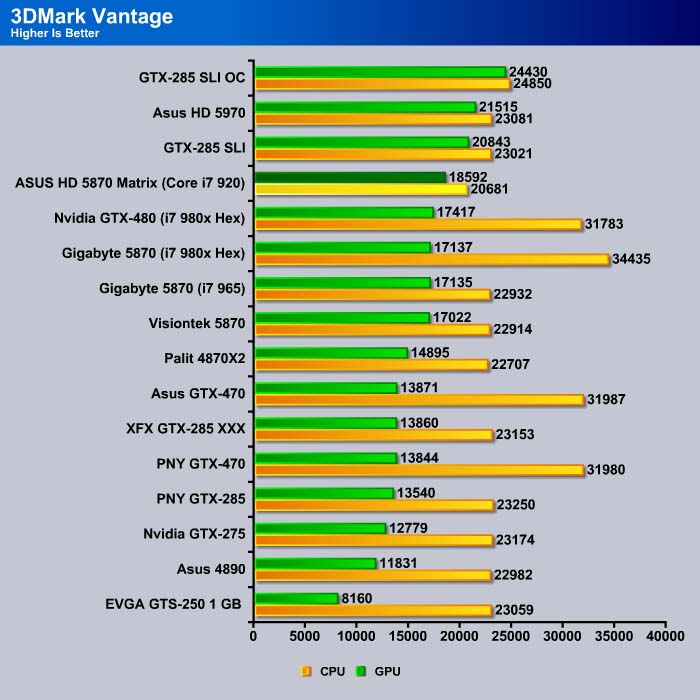 The Asus HD 5870 Matrix scored the highest score in our Vantage GPU test among all HD 5870 we have tested. It even beats out the GTX 480. Looks like Vantage likes the 2GB of memory.
Metro 2033

Metro 2033 is an action-oriented video game with a combination of survival horror, and first-person shooter elements. The game is based on the novel Metro 2033 by Russian author Dmitry Glukhovsky.
The enemies that the player encounters range from human renegades to giant mutated rats and even paranormal forces known only as "The Dark Ones". Players frequently have to defend themselves with makeshift combination's of different weapons, e.g a revolver with a sniper scope attached.
Ammunition is also scarce, and the more rare Military Grade bullets are used as currency (to purchase supplies and guns), or in combat as a last resort, giving an added damage boost, forcing the player to hoard supplies.
The game lacks a health meter, relying on audible heart rate and blood spatters to show the player what state they are in and how much damage was done. A gas mask must be worn at all times when exploring the surface due to the harsh air and radiation. There is no on-screen indicator to tell how long the player has until the gas mask's filters begin to fail, so players must set a wrist watch, and continue to check it every time they wish to know how long they have until their oxygen runs out, requiring the player to replace the filter (found throughout the game). The gas mask also indicates damage in the form of visible cracks, warning the player a new mask is needed. The game does feature traditional HUD elements, however, such as an ammunition indicator and a list of how many gas mask filters and adrenaline shots remain.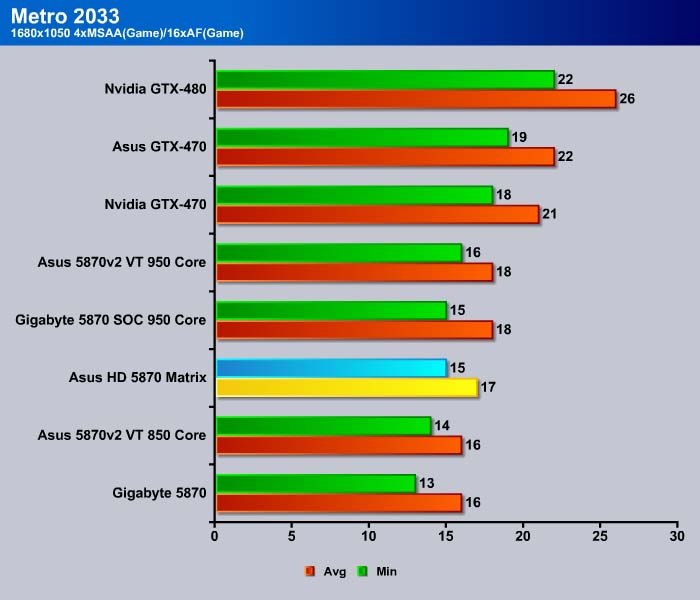 Here at 1680×1050 we had PhysX on which we don't normally do. Since we already had it running and didn't notice we are going to run with it for now. Please keep in mind this isn't typical performance in Metro 2033 it's PhysX performance which gives an unfair advantage to Nvidia cards.
Metro 2033 seems like the game to test with modern graphic cards sa it can be seen that even at 1680×1050 and 4xMSAA/16AF, none of the cards tested is able to break 30 FPS. The Asus HD 5870 Matrix Platinum comes in just as what we expected, right between the reference HD 5870 and 950 MHz overclocked HD 5870.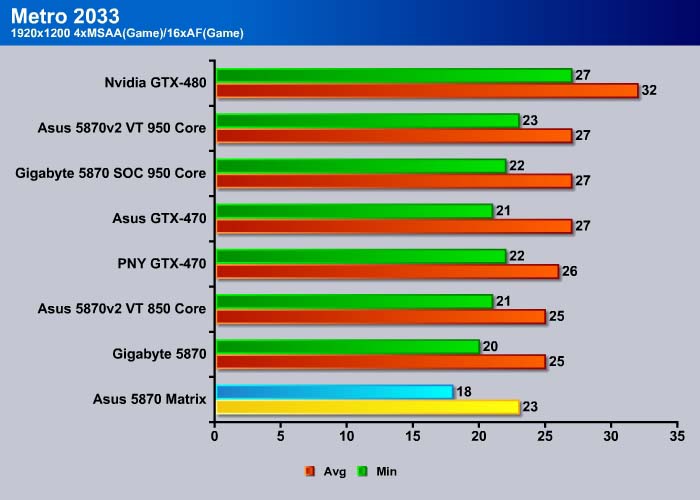 Unexpectedly, the Asus HD 5870 Matrix Platinum falls to the last place at this setting.
World in Conflict Demo

World in Conflict is a real-time tactical video game developed by the Swedish video game company Massive Entertainment, and published by Sierra Entertainment for Windows PC. The game was released in September of 2007. The game is set in 1989 during the social, political, and economic collapse of the Soviet Union. However, the title postulates an alternate history scenario where the Soviet Union pursued a course of war to remain in power. World in Conflict has superb graphics, is extremely GPU intensive, and has built-in benchmarks. Sounds like benchmark material to us!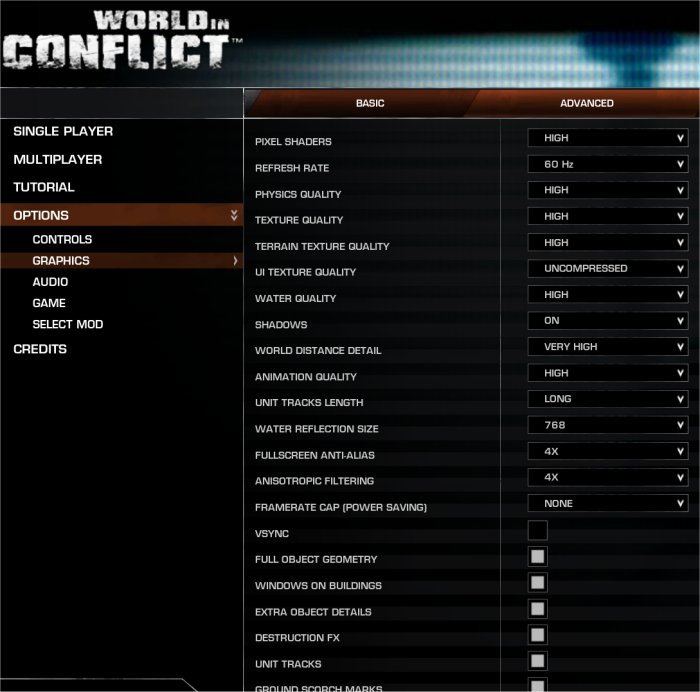 The Settings we use for benchmarking WiC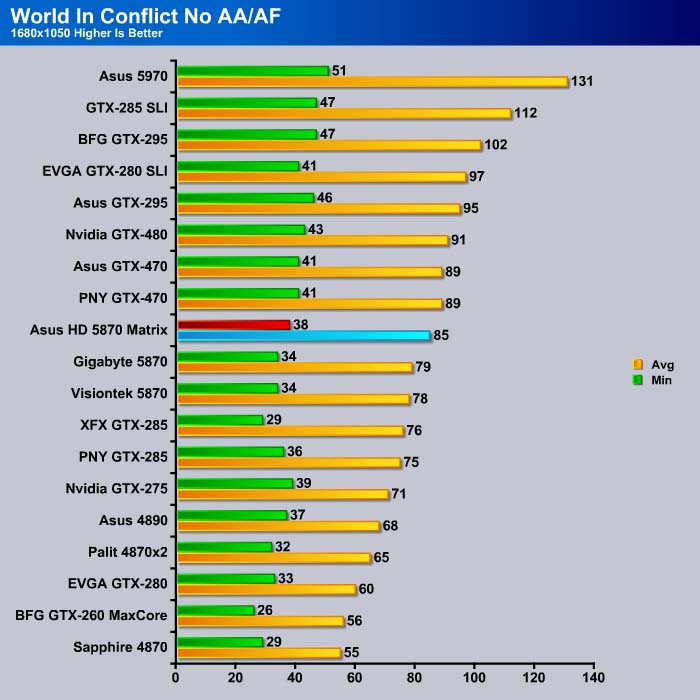 Asus HD 5870 Matrix once again takes the leaderboard at this setting with its 2 GB of memory. We can see the card yields 38 FPS minimum and 85 FPS average.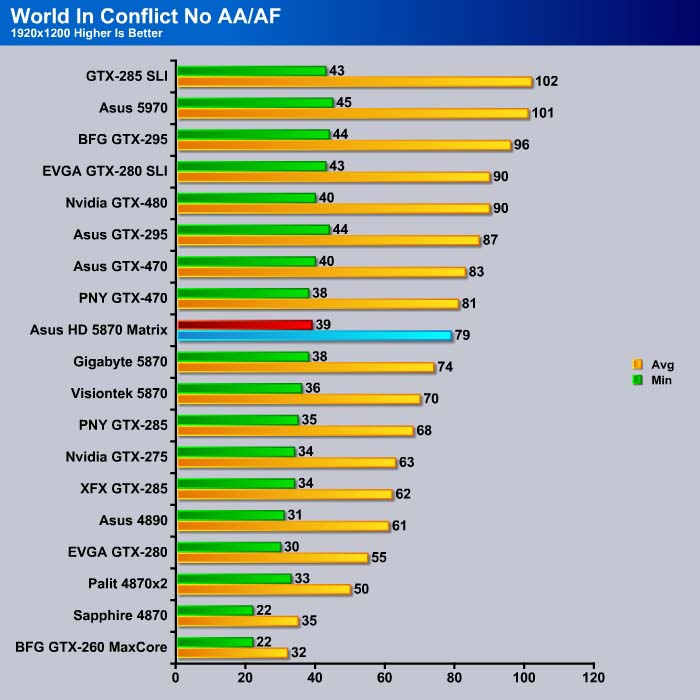 At 1920×1200, the card comes in just 2 FPS shy of the GTX 470 with 79 FPS average but comes ahead of the GTX 470 in minimum frame rate of 39 FPS.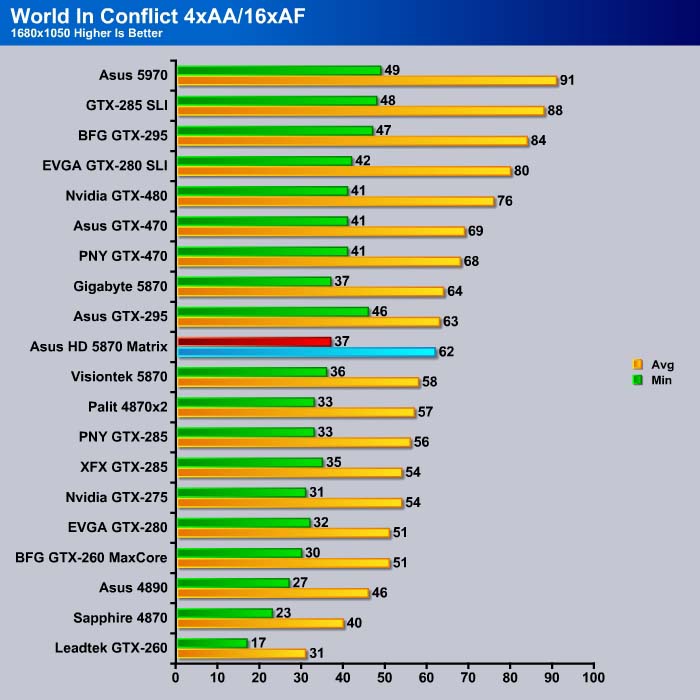 Cranking up the AA and AF does not change the result that much.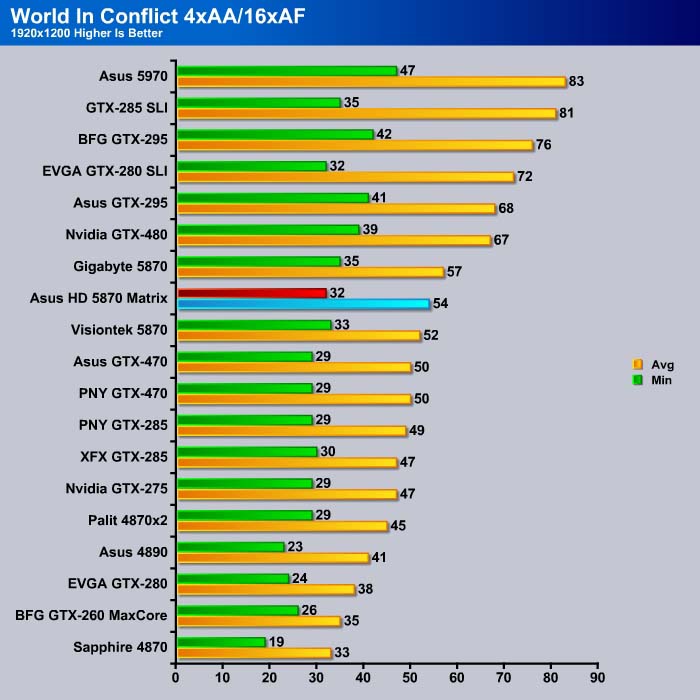 At 1920×1200 with 4AA and 16AF, the HD 5870 actually out-performs the GTX 470 and the Asus HD 5870 Matrix Platinum comes in between two other reference HD 5870 we have tested.
POWER CONSUMPTION

To get our power consumption numbers we plugged in our Kill A Watt power measurement device and took the Idle reading at the desktop during our temperature readings. We left it at the desktop for about 15 minutes and took the idle reading. Then we ran Furmark for 10 minutes and recorded the highest power usage.
GPU Power Consumption

GPU
Idle
Load
Asus HD 5870 Matrix Platinum
164 Watts
385 Watts
Gigabyte HD5870 SOC

169 Watts
391 Watts
Asus GTX-470
181 Watts
488 Watts
PNY GTX-470
178 Watts
487 Watts
Nvidia GTX-480
196 Watts
521 Watts
Gigabyte HD5870
167 Watts
379 Watts
Asus EAH5970
182 Watts
412 Watts
Gigabyte 4890 OC
239 Watts
358 Watts
Asus EAH4770
131 Watts
205 Watts
BFG GTX-275 OC
216 Watts
369 Watts
Nvidia GTX-275 Reference
217 Watts
367 Watts
Asus HD 4890 Voltage Tweak Edition
241 Watts
359 Watts
EVGA GTS-250 1 GB Superclocked
192 Watts
283 Watts
XFX GTX-285 XXX
215 Watts
369 Watts
BFG GTX-295
238 Watts
450 Watts
Asus GTX-295
240 Watts
451 Watts
EVGA GTX-280
217 Watts
345 Watts
EVGA GTX-280 SLI
239 Watts
515 Watts
Sapphire Toxic HD 4850
183 Watts
275 Watts
Sapphire HD 4870
207 Watts
298 Watts
Palit HD 4870×2
267 Watts
447 Watts

Total System Power Consumption
The Asus HD 5870 Matrix Platinum (whole system) power consumption showed it running higher than regular stock clocked HD5870's but lower than overclocked Gigabyte HD 5870 SOC. The card consumes 164 Watts of power under idle that is actually 3 Watts lower than the reference HD 5870 but the load power is 385 watts which is 6 watts higher than the reference card.
TEMPERATURES and noise-level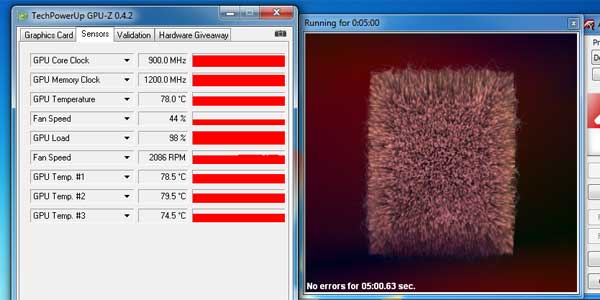 Asus boosts the cooling on the HD 5870 Matrix Platinum so it is not too surprise to find the card runs very cool. Under idle, we get the card operating at 37°C. To see how hot the card will get, I run Furmark to see the worst case scenario and the card gets up to 84°C. Furmark is not too realistic because in general use, the card will never run at 100% all the time. Thus, I also tested the card's temperature with ATITool to see what temperature would be expected. With ATITool, the card reaches to 78°C under load.
I do want to comment a bit on the noise-level of the HD 5870 Matrix. While Asus designs the card with better cooling, the noise of the card is quite loud when it is running at 100% load as in the Furmark test and when the system first boots. However, in our tests, we have not heard the fan going 100% in game benchmarks and 3DMark Vantage. While the card gets really loud running full speed, we do not expect it to run at full speed at all during normal use. Of course, if you overclock it, you probably would need to rev up the fan speed which will certainly add the noise-level
Idling the fan only runs at 30% and during our ATITool test we only saw the fan spins at 60%. Thus, we are fairly pleased with the noise-level of the card under normal use.
Conclusion
Asus HD 5870 Matrix Platinum clocked at 900 MHz core and 1200MHz memory may not be the fastest HD 5870 in terms of clock speed, it certainly holds its ground against other HD 5870. While its clock speed may be slower than the Gigabyte HD 5870 SOC, the 2GB memory often compensate for the clock speed.
What we can see with the card is that Asus is being smart with the HD 5870 Matrix Platinum when they design the card. Realizing that higher clock speed may not always mean better performance, the company takes a slightly different approach with the HD 5870 Matrix Platinum by moderately overclock it to 900 MHz core and splash it with 2 GB of memory. The combination of the slightly overclock and larger memory has a clear advantage in modern games with DirectX 11 and high image quality enabled, such as Tessellation and AA/AF.
What is more impressive besides its performance is the cooling performance and noise-level. We are very pleased to see the Asus HD 5870 Matrix Platinum runs idle at 37°C and load at under 80°C. The noise-level of the card is also something that impresses us. At approximately 60% fan speed under load, the card runs rather quiet. Keep in mind we are not talking about 100% fan speed because at that level, the fan noise is quite loud but if you keep the system well-ventilated, we do not think that it will ever go beyond 80°C which will not trigger the fan to run at 100%.
Other bells and whistles that the card include such as metal contact points for voltage monitoring, iTracker software for easy overclocking, and excellent power regulation are all aimed toward enthusiasts who wishes to push the card to its limit. We managed to overclock the card to 980MHz core and 1350 MHz memory by raising the voltage to 1.3V and 1.7V, core and memory respectively. While not earth shattering, it's decent result with our air cooling setup.
At a retail price of $499, the Asus HD 5870 Matrix Platinum is about $70~$100 more expensive than the cheapest HD 5870 we can find. Having 2GB of memory does ensure the card has plenty of memory in the event that you wish to run Eyefinity to power up to 3 monitors where extra memory will definitely improve the performance. Also, as our tests show, this will ensures you get the best performance in the future when more games support DirectX 11. Unfortunately, price seems to be the card's biggest enemy. While all of the extra features and the 2GB of memory do justify the slightly overhead, they are a bit hard to justify the pricing given to the fact that GTX 480 which clearly performs better is also selling at the same price, although at much higher power consumption and heat output. Furthermore, other HD 5870 with 1GB of memory also performs quite well despite 1GB of memory in current games, so investing extra $100 for future games may not be such a smart idea.
Ultimately, we like the Asus HD 5870 Matrix Platinum with its features and performance and the 2GB of memory. However, for users who are on a budget looking to upgrade to a performance card, we would suggest going with a slightly cheaper model with 1GB instead of 2GB version at the moment because of the extra monetary overhead may be a bit hard to swallow and justify at the moment.
OUR VERDICT: Asus HD 5870 Matrix Platinum
| | |
| --- | --- |
| Performance | 9 |
| Value | 7.5 |
| Quality | 9.5 |
| Features | 9 |
| Innovation | 9.5 |

We are using an addition to our scoring system to provide additional feedback beyond a flat score. Please note that the final score isn't an aggregate average of the rating system.

Pros
Cons
Runs very cool

Native HDMI and DisplayPort support

2GB of GDDR5 memory

Good performance for DirectX 11 games with eyecandies enabled

DirectX 11 support

Dual 8 pin connector

Ample features for extreme overclocking

Price

Does not overclock as high as other HD 5870 out of the box

Fan runs noisy under 100% (hardly ever reach 100% during our test).
Summary: The Asus HD 5870 Matrix Platinum comes with plenty of feature that will satisfy any overclocker who wishes to take the card to the next level of overclocking. With 900MHz out of the box overclocking and 2GB of GDDR5 memory, it is able to provide excellent performance not just for today's games but future games as well.