Gigabyte is showing off their latest motherboards at Computex 2010 with unlocked Intel Core i7 CPUs.
Gigabyte at Computex 2010 – GA-X58A-UD9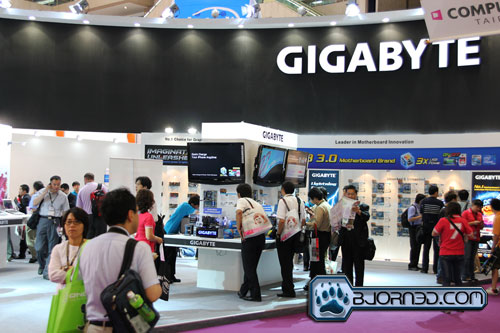 Click Image For a Larger One
Gigabyte put a lot of effort into showcasing some of their latest products at Computex 2010 this year. Starting from one of the latest and most powerful motherboards, the GA-X58A-UD9 motherboard. What's special about this motherboard is that it is able to run up to 4-way nVidia GeForce cards in SLI or 4-way ATI Radeon cards in CrossFireX configuration. The GA-X58A-UD9 motherboard also fully supports USB 3.0 and SATA III 6Gbit/s transfer speeds, as well as Intel's new unlocked Core i7 processors.
Click Image For a Larger One
In these pictures, we see the GA-X58A-UD9 motherboard running 4x nVidia GeForce GTX 480 (Fermi) video cards. This motherboard comes with seven 16x PCIE slots and the user can have up to eight 6Gb/s SATA III hard drives connected in a RAID configuration.
 We were lucky enough to get Rockson Chiang to tells us more about the Gigabyte GA-X58A-UD9 motherboard.
 GA-890FXA-UD7
The Gigabyte GA-890FXA-UD7 is the AMD High-Performance motherboard closely competing with the Intel based GA-X58A-UD9 motherboard. The GA-890FXA-UD7 supports the latest AMD AM3 socket processors, including the latest 6-core processors. The GA-890FXA-UD7 also supports up to 4-way ATI CrossFireX configuration, as well as the new fast charging capability introduced to help us charge our iPads.
Click Image For a Larger One
In the pictures, we can see the new AMD based motherboard running 4-way CrossFireX configuration with 4x ATI HD5870 video cards, and to the left of the system, we see Gigabyte's new HD5870 Super Overclock video card with a newly redesigned cooling solution.
GA-P55A-UD4p and other products
There were many other motherboard configured at Computex 2010 and other products also showcased at the Gigabyte booth, so let's take a look what else we can find.
Click Image For a Larger One
The GA-P55A-UD4P showed us the capability to charge our iPads. Because the iPad requires a higher voltage from the USB connector to charge its battery, Gigabyte developed new USB ports on their motherboards allowing the voltage to bump up to the iPads voltage requirements to fully charge the unit.
Next up, Gigabyte also introduced us to the GA-H55N-USB3. The GA-H55N-USB3 is a Mini-ITX form factor motherboard made especially for the HTPC enthusiasts. This motherboard supports the new USB 3.0 interface and also comes with Intel's integrated HD Graphics, allowing smooth HD footage playback. The GA-H55N-USB3 Mini-ITX motherboard also supports the latest On/Off Charging for the iPod, iPhone and the iPad.
Click Image For a Larger One
Finally, let's take a look at some final pictures taken around the booth. We can see a triple 3D multi-monitor setup using nVidia graphics playing realtime.
Click Image For a Larger One
What is very exciting to know is that all of these Gigabyte motherboards showcased at the show will be able to work with the new unlocked Core i5, and Core i7 processors.
Click Image For a Larger One
We'll have more information coming about newly released products during Computex 2010 in the following days. Stay Tuned!