Here at Bjorn3D we were lucky enough to score AMD's new top of the line Athlon II processor, the 3.0Ghz Athlon II X4 640. Let's see what kind of numbers the X4 640 can crank out.
INTRODUCTION
Last week, AMD released six new Athlon II processors aimed at solidifying their presence in the mid-range market. Included in the release were two new quad-core CPUs, two tri-core CPUs and two dual-core units. Here at Bjorn3D we were lucky enough to score AMD's new top of the line Athlon II processor, the Athlon II X4 640. The 640 is the first Athlon II X4 to clock in at 3.0GHz, a slight increase over the X4 635 that is clocked at 2.9GHz. With a brand new 880-series chipset motherboard now in hand, let's see what kind of numbers the X4 640 can crank out.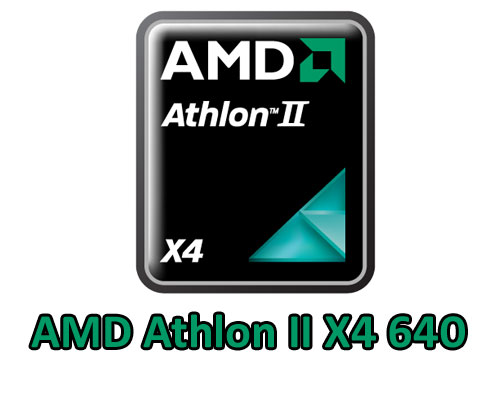 FEATURES
Although we only have the X4 640 in hand, the other five CPUs that AMD released are definitely worth taking note of. Three of the new processors are deemed "Energy Efficient" by AMD and are designated by an "e" at the end of the model name. The three new "e" models are all 45W max TDP designs, whereas the new X4 and X3 are 95W models, and the X2 is of the 65W flavor.
AMD Athlon II X4 640
True multi-core processing
45nm core
95W Thermal Design Power
AMD dedicated multi-cache
AMD Virtualization (AMD-V) technology
AMD PowerNow! 3.0 technology
Cool'n'Quiet technology
HyperTransport 3.0 technology
Simultaneous 32-bit and 64-bit computing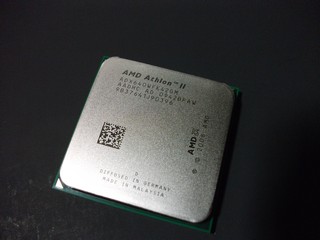 Click image for a larger version.
Just like their siblings, these new CPUs are AM3 and AM2+ compatible. A new 800-series motherboard and one of these new processors will go hand in hand for a nice budget build, but will still fulfill the needs of those looking for great performance. Below you will find a quick run-down of all the new Athlon II processors from AMD.
Athlon II X4 640 – 3.0GHz, 95W max TDP, 4 cores
Athlon II X3 445 – 3.1GHz, 95W max TDP, 3 cores
Athlon II X2 260 – 3.2GHz, 95W max TDP, 2 cores
Athlon II X4 610e – 2.4GHz, 45W max TDP, 4 cores
Athlon II X3 415e – 2.5GHz, 45W max TDP, 3 cores
Athlon II X2 245e – 2.9GHz, 45W max TDP, 2 cores
SPECIFICATIONS

| Specifications | AMD Athlon II X4 640 |
| --- | --- |
| Model Number & Core Frequency | X4 640 / 3.0GHz |
| OPN | ADX640WFK42GM |
| L1 Cache Sizes | 64K of L1 instruction and 64K of L1 data cache per core (512KB total L1 per processor) |
| L2 Cache Sizes | 512MB of L2 data cache per core (2MB total L2 per processor) |
| Memory Controller Type | Integrated 128-bit wide memory controller |
| Memory Controller Speed | Up to 2.0GHz with Dual Dynamic Power Management |
| Types of Memory Supported | Unregistered DIMMs up to PC2-8500 (DDR2-1066MHz) -AND- PC3-10600 (DDR3-1333MHz) |
| HyperTransport 3.0 Specification | One 16-bit/16-bit link @ up to 4.0GHz full duplex (2.0GHz x2) |
| Total Processor-to-System Bandwidth | Up to 37.3GB/s bandwidth |
| Packaging | Socket AM3 938-pin organic micro pin grid array (micro-PGA) |
| Fab location | GLOBALFOUNDRIES Fab 1 Module 1 |
| Process Technology | 45-nanometer DSL SOI (silicon-on-insulator) technology |
| Approximate Die Size | 169 mm2 |
| Approximate Transistor count | ~ 300 million |
| Max Temp | 71 degrees Celsius |
| Nominal Voltage | 1.05-1.4V |
| Max TDP | 95 Watts |
CPU-Z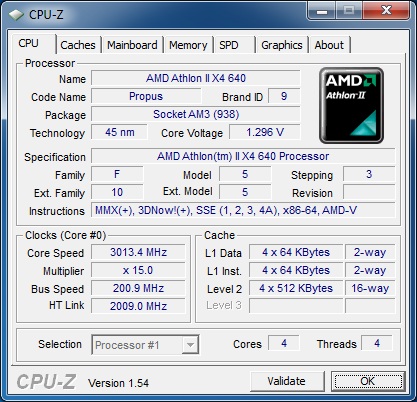 CPU-Z gives us a nice, quick summary for the X4 640. Again, the new batch of processors from AMD are nearly identical to their previous models other than the clock speeds. The bus speed of 200.9 bumps the stock speed of this unit to 3013.4MHz, although this value will most likely be different in every instance depending on the exact components of the build.
TEST SETUP
As mentioned on the first page, we have a brand new 880-series motherboard for this review. ASUS was kind enough to ship us their M4A88TD-V EVO USB3 motherboard featuring the new AMD 880G and SB850 chipsets. Look for a full review of this motherboard in the very near future.
Test Platform

Processors
AMD Athlon II X4 640

AMD Athlon II X4 620

Motherboard
ASUS M4A88TD-V EVO/USB3

ASUS M4A785TD-M EVO (Athlon II X4 620)

Memory
Patriot Viper DDR3 1600 4GB Kit

Kingston HyperX DDR3 1600 4GB Kit

Hard Drive (internal)
250GB Western Digital SATA 3.0Gb/s 16mb cache
Video Card
On-Board ATI Radeon HD4250

BFG GeForce GTX 260 OC MaxCore 55

Power Supply
Thermaltake Toughpower XT 750
Case
Antec P182B
Operating System
Windows 7 Ultimate 64-bit
OVERCLOCKING
I was pretty confident I would be able to squeeze at least 600MHz out of the X4 640 during my overclocking testing due to the fact that the X4 620 I reviewed was able to gain 700+ MHz. After tweaking voltages and bus speeds I wound up with a stable overclock speed of 3.675Ghz. This isn't as high as I would have liked to see, but higher speeds were not stable and caused multiple BSODs. The final settings were a 15x multiplier and 245MHz bus speed. I also increased the core voltage to 1.440V to give it a little extra juice.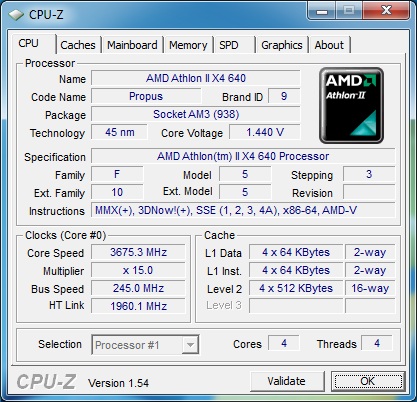 EVEREST ULTIMATE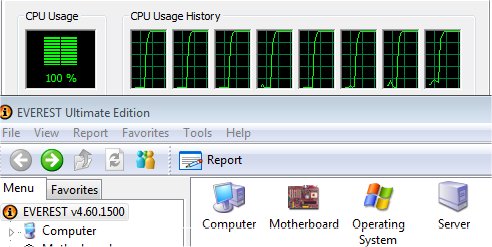 "EVEREST Ultimate Edition is an industry leading system diagnostics and benchmarking solution for enthusiasts PC users, based on the award-winning EVEREST Technology. During system optimizations and tweaking it provides essential system and overclock information, advanced hardware monitoring and diagnostics capabilities to check the effects of the applied settings. CPU, FPU and memory benchmarks are available to measure the actual system performance and compare it to previous states or other systems. Furthermore, complete software, operating system and security information makes EVEREST Ultimate Edition a comprehensive system diagnostics tool that offers a total of 100 pages of information about your PC."
CPU AES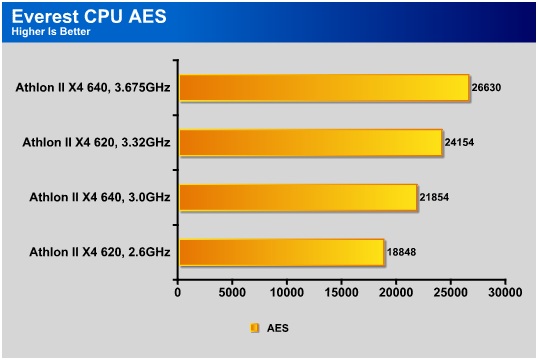 The results we see here are very similar to how the rest of the results turned out for all benchmarks, and this is exactly what you would expect. As the speed of the processor increases, so does the performance in each test. Boost in speed = boost in performance. It's as simple as that.
CPU Photoworxx
This integer benchmark performs different common tasks used during digital photo processing.
It performs the following tasks on a very large RGB image:
• Fill
• Flip
• Rotate90R (rotate 90 degrees CW)
• Rotate90L (rotate 90 degrees CCW)
• Random (fill the image with random colored pixels)
• RGB2BW (color to black & white conversion)
• Difference
• Crop
This benchmark stresses the integer arithmetic and multiplication execution units of the CPU and also the memory subsystem.
CPU PhotoWorxx test uses only the basic x86 instructions, and it is Hyper Threading, multi-processor (SMP) and multi-core (CMP) aware.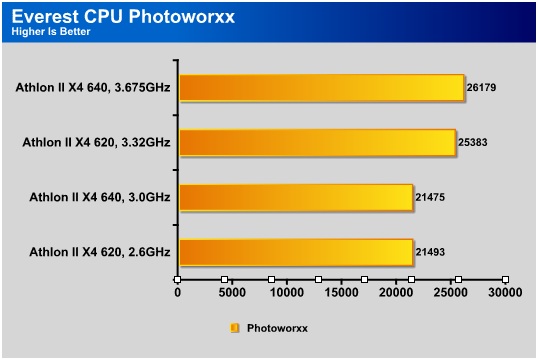 The only anomaly here is that the 620 had a slightly better score than the 640 at stock speeds. This most likely is due to common variances between benchmark runs.
CPU Queen
This simple integer benchmark focuses on the branch prediction capabilities and the misprediction penalties of the CPU. It finds the solutions for the classic "Queens problem" on a 10 by 10 sized chessboard.
CPU Queen test uses integer MMX, SSE2 and SSSE3 optimizations. It consumes less than 1 MB system memory and it is Hyper Threading, multi-processor (SMP) and multi-core (CMP) aware.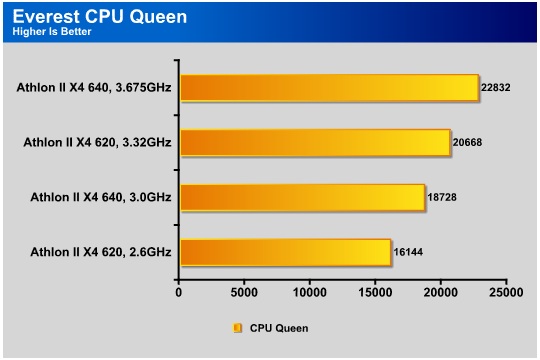 Again, this test brings back results exactly like we would expect; a nice stair step up with each increase in clock speed.
CPU Zlib
This integer benchmark measures combined CPU and memory subsystem performance through the public ZLib compression library Version 1.2.3 (www.zlib.net).
CPU ZLib test uses only the basic x86 instructions, and it is Hyper Threading, multi-processor (SMP) and multi-core (CMP) aware.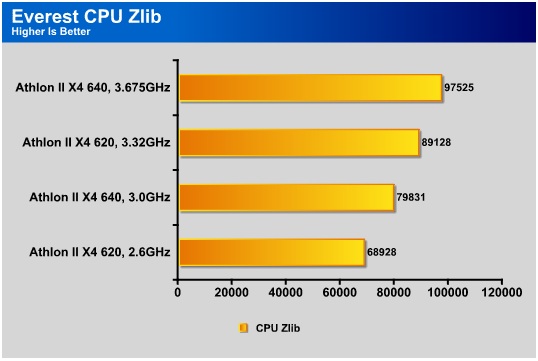 Memory Copy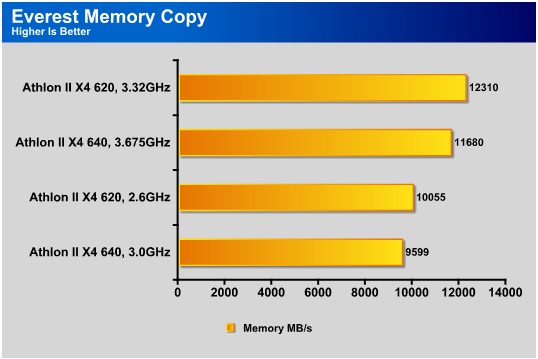 Of interesting note in the Everest memory tests is how often the X4 620 actually beats the X4 640. Since this is a memory test, the results indicated that the Kingston RAM used in the X4 620 build performs slightly better than the Patriot modules used with the X4 640. These results hold true for the remainder of the memory tests in Everest.
Memory Read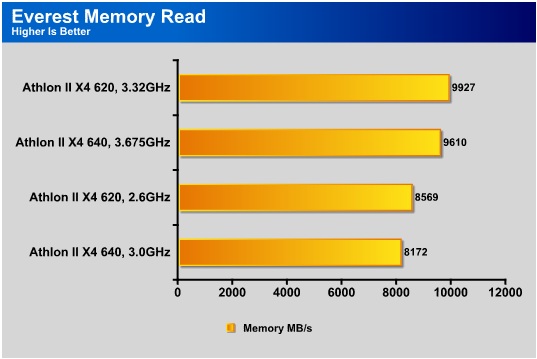 Memory Write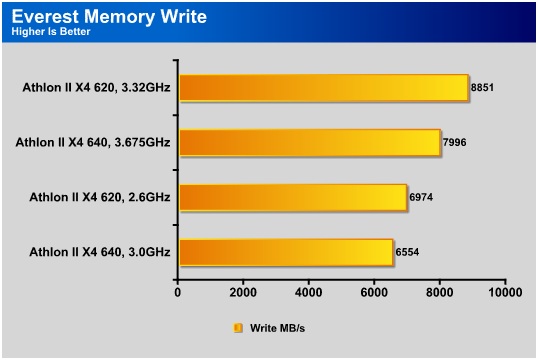 Memory Latency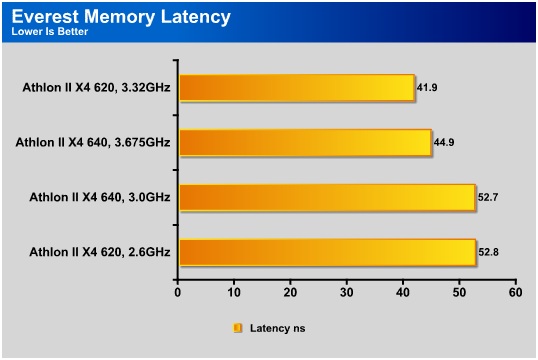 CINEBENCH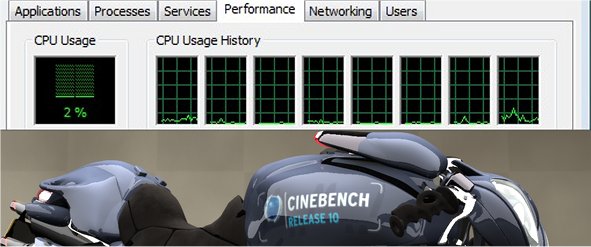 "CINEBENCH is a real-world test suite that assesses your computer's performance capabilities. MAXON CINEBENCH is based on MAXON's award-winning animation software, CINEMA 4D, which is used extensively by studios and production houses worldwide for 3D content creation. MAXON software has been used in blockbuster movies such as Spider-Man, Star Wars, The Chronicles of Narnia and many more. MAXON CINEBENCH runs several tests on your computer to measure the performance of the main processor and the graphics card under real world circumstances. The benchmark application makes use of up to 16 CPUs or CPU cores and is available for Windows (32-bit and 64-Bit) and Macintosh (PPC and Intel-based). The resulting values among different operating systems are 100% comparable and therefore very useful with regard to purchasing decision-making. It can also be used as a marketing tool for hardware vendors or simply to compare hardware among colleagues or friends."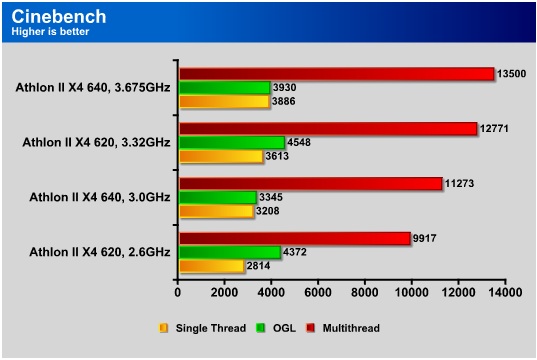 This test really shows of the performance boost that can come from using a multi-core processor with software that can take advantage of it. Once again, the 640 bests its younger brother the 620 at stock speeds and while overclocked.
WINRAR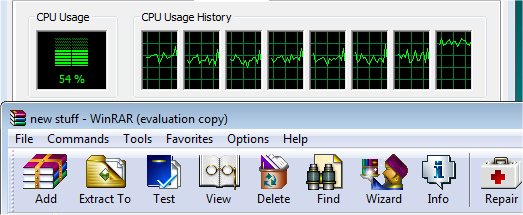 "This module in WinRar generates random data, which contains specially introduced redundancy, increasing the load to both the processor and memory. Data is then passed through RAR compression and decompression algorithms, and the output of the decompression algorithm is compared to the source data. If any differences are found, WinRar then reports "Errors found – Yes" in the command window. WinRar displays a size of processed data and compression speed, current and resulting, in kilobytes per second."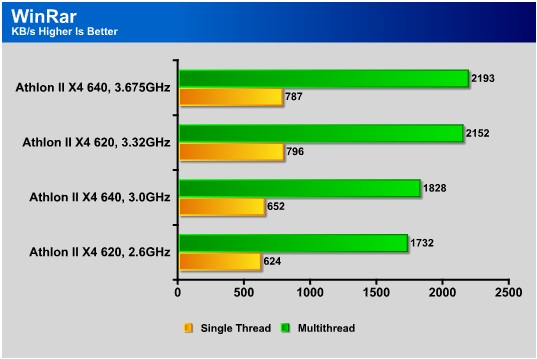 Again we see the real advantage that multi-core processors have over single-core. Performance increases like these can greatly reduce the time needed to perform tasks that would take ages with a single-core CPU.
POVRAY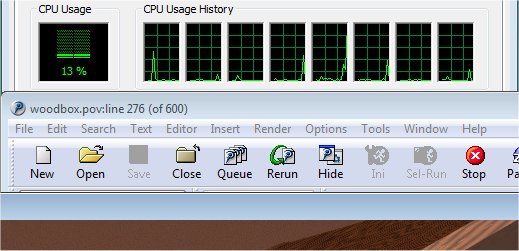 "The Persistence of Vision Ray-Tracer was developed from DKBTrace 2.12 (written by David K. Buck and Aaron A. Collins) by a bunch of people (called the POV-Team) in their spare time. It is a high-quality, totally free tool for creating stunning three-dimensional graphics. It is available in official versions for Windows, Mac OS/Mac OS X and i86 Linux. The POV-Ray package includes detailed instructions on using the ray-tracer and creating scenes. Many stunning scenes are included with POV-Ray so you can start creating images immediately when you get the package. These scenes can be modified so you do not have to start from scratch. In addition to the pre-defined scenes, a large library of pre-defined shapes and materials is provided. You can include these shapes and materials in your own scenes by just including the library file name at the top of your scene file, and by using the shape or material name in your scene. Since this is free software feel free to download this version and try it out on your own."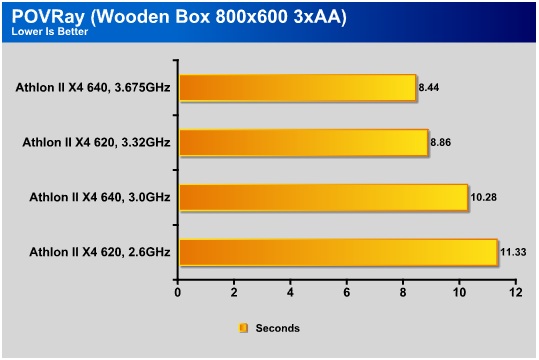 Much like the previous tests, the increased clock speed helps decrease the time needed to perform a render. As the size of the job scales up, so does the amount of time saved.
SISOFT SANDRA
Processor Arithmetic

"SiSoftware Sandra (the System Analyser, Diagnostic and Reporting Assistant) is an information & diagnostic utility. It should provide most of the information (including undocumented) you need to know about your hardware, software and other devices whether hardware or software. It works along the lines of other Windows utilities, however it tries to go beyond them and show you more of what's really going on. Giving the user the ability to draw comparisons at both a high and low-level. You can get information about the CPU, chipset, video adapter, ports, printers, sound card, memory, network, Windows internals, AGP, PCI, PCI-X, PCIe (PCI Express), database, USB, USB2, 1394/Firewire, etc."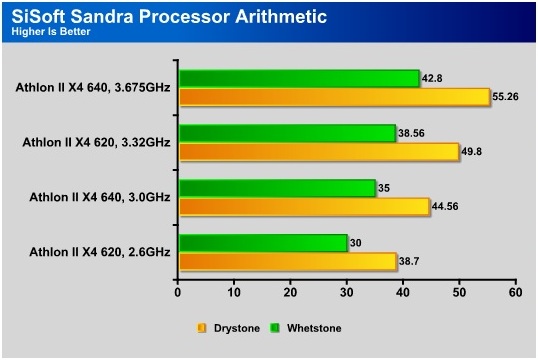 Here it is again, the same stair-step graph that has been dominant throughout the review process of the Athlon II X4 640.
Processor Multimedia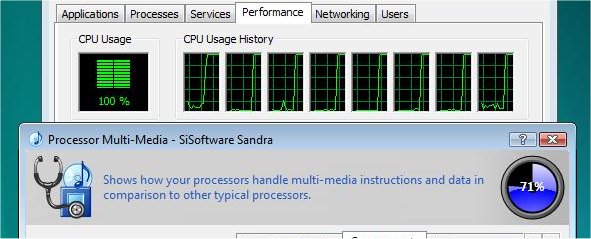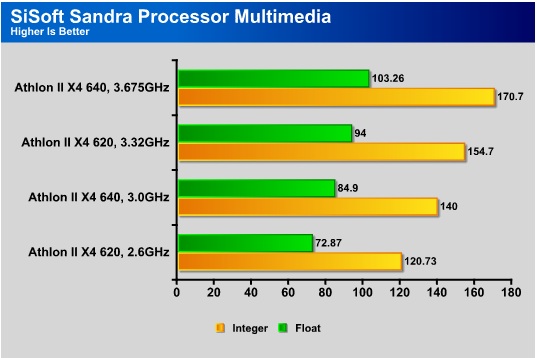 Buffered Memory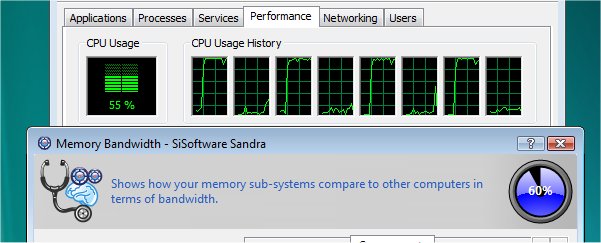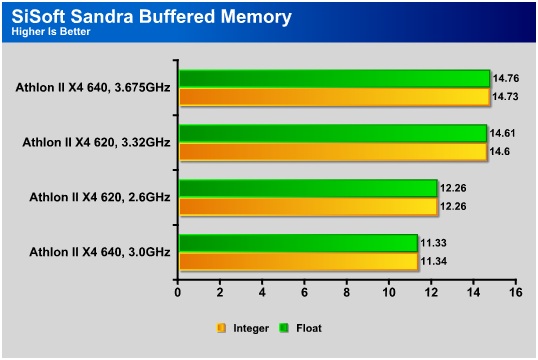 Here we see results similar to the previous memory benchmarks in Everest Ultimate. while the 640 was able to take the lead when overclocked, the 620 still fared slightly better than the stock speed of the 640. Again, this is likely due to the variance in memory modules used in each test setup.
3DMARK VANTAGE

For complete information on 3DMark Vantage Please follow this Link:
www.futuremark.com/benchmarks/3dmarkvantage/features/
The newest video benchmark from the gang at Futuremark. This utility is still a synthetic benchmark, but one that more closely reflects real world gaming performance. While it is not a perfect replacement for actual game benchmarks, it has its uses. We tested our cards at the 'Performance' setting.
Currently, there is a lot of controversy surrounding NVIDIA's use of a PhysX driver for its 9800 GTX and GTX 200 series cards, thereby putting the ATI brand at a disadvantage. Whereby installing the PyhsX driver, 3DMark Vantage uses the GPU to perform PhysX calculations during a CPU test, and this is where things get a bit gray. If you look at the Driver Approval Policy for 3DMark Vantage it states; "Based on the specification and design of the CPU tests, GPU make, type or driver version may not have a significant effect on the results of either of the CPU tests as indicated in Section 7.3 of the 3DMark Vantage specification and white paper." Did NVIDIA cheat by having the GPU handle the PhysX calculations or are they perfectly within their right since they own Ageia and all their IP? I think this point will quickly become moot once Futuremark releases an update to the test.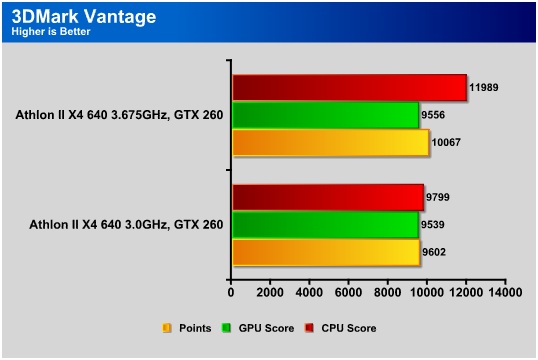 While the scores for the overall test and the GPU stayed nearly the same for both CPU clock speeds, the CPU score sees a definite improvement when overclocked. The GTX 260 is getting a bit long in the tooth, but still puts forth a perfectly acceptable performance.
PCMARK VANTAGE
"PCMark Vantage is a PC benchmark suite designed for Windows Vista offering one-click simplicity for casual users and detailed, professional grade testing for industry, press and enthusiasts. A PCMark score is a measure of your computer's performance across a variety of common tasks such as viewing and editing photos, video, music and other media, gaming, communications, productivity and security. From desktops and laptops to workstations and gaming rigs, by comparing your PCMark Vantage score with other similar systems you can find the hardware and software bottlenecks that stop you getting more from your PC. "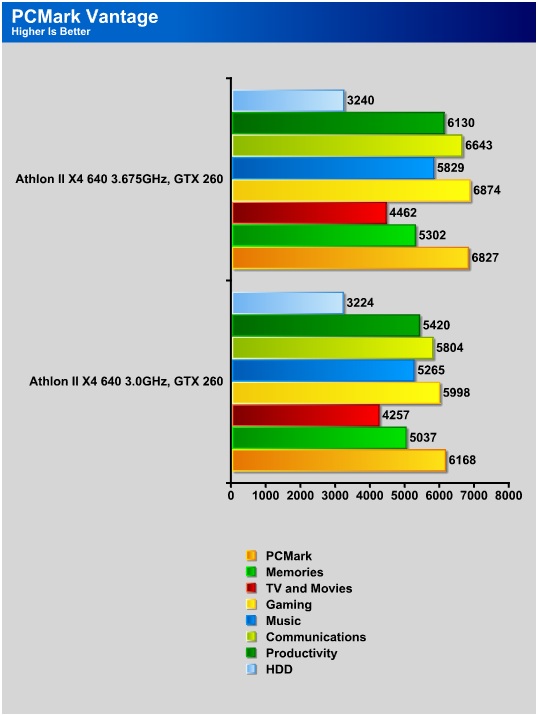 Throughout the entire gamut of PCMark Vantage tests, the overclocking of the Athlon II X4 640 brings about much appreciated performance results. When trying to get the most for your money, overclocking usually becomes a valid procedure.
CONCLUSION
A new model of a CPU series is usually a pretty big deal, but six is phenomenal. Not only is AMD increasing the clock speed on these new models, but they are also keeping the top price points the same. So now you can get the new top-tier Athlon II X4, X3 or X2 for the price of the previous top-tier model. Nice. AMD is also dropping the prices on previously released models. That makes the 2.9GHz Athlon II X4 635 the new sub-$100 quad-core. Once again, it really seems like AMD is looking out for the budget-conscious consumer.
After putting the Athlon II X4 640 through the paces, it is clear that the clock increase from previous models in the same series returns very predictable benchmarking results. With a little overclocking, the performance of the X4 640 is nothing to scoff at. With a suggested retail price of $122, this model is sure to find a home in many new builds. And if the $122 price is higher than you want, remember that the price of the previous Athlon II X4 leader, the 635, has now dropped to sub-$100 prices.
OUR VERDICT: AMD Athlon II X4 640
| | |
| --- | --- |
| Performance | 9 |
| Value | 8 |
| Quality | 8 |
| Features | 8 |
| Innovation | 7 |

We are using a new addition to our scoring system to provide additional feedback beyond a flat score. Please note that the final score isn't an aggregate average of the new rating system.

Pros
Cons
100 extra MHz with no price increase

Brings price of previous models down

Still not L3 cache
Summary: The Athlon II X4 640 brings a welcomed speed bump at no additional cost, while still providing a solid platform to build from. The way AMD is playing their cards right now is a huge benefit to all computer enthusiasts.