When you don't feel like going with a full blown liquid system, but want something a little better than air cooling your options are limited. Today we have the ECO A.L.C. which hopes to be one of the best built in liquid system for an affordable place.
Introduction
Lately there has been a fad of releasing no maintenance liquid systems. This cooling solution provides better cooling than your standard air cooler, but ditches the hassle of maintaining a liquid loop. While large air coolers can put a lot of stress on your motherboard, the way the A.L.C. is designed it takes this weight away from the motherboard and instead puts it on the rear of the case. This ensures that your motherboard will not break or warp, which is definitely a good thing.
The A.L.C. is also extremely versatile. It will fit on the back exhaust vent of just about any mid tower or larger case, and it fits a large variety of different CPU socket types. These include Intel's newest sockets 1156 and 1366 as well as all of the AMD sockets going from 939 to AM3. This will allow you to install the cooler on just about any system that isn't obsolete, and a few that are, but enough talking lets get a closer look at this product.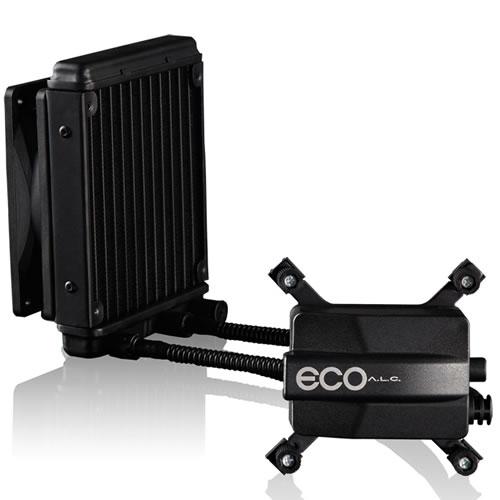 Features
The ECO Advanced Liquid Cooling (A.L.C.) system is an elegantly engineered ultra low profile thermal solution positioned at an economical price point.
CoolIT's engineers have focused on offering a superior propriatary cooling technology that delivers the ultimate performance in a compact design.
The whisper quiet ECO cooler is widely compatible with the majority of PC cases featuring a 120mm fan and can be installed in 3 easy steps.
CoolIT's selection and design of each component has been scrutinized to ensure the ECO provides industry leading performance and reliability resulting in the ultimate maintenance free cooling solution.
CoolIT sure makes this cooler sound excellent right off the bat, lets take a look at some specific stats.
Specifications
CoolIT CPU FHE (Fluid Heat Exchanger)
Copper Micro-Channel
Universal Retention System
Out of the box support provided
for Intel 775, 1156, 1366 and
AMD AM2, AM2+, AM3 sockets.
CoolIT Proprietary Pump
Quiet, compact, long life CFF1 pump
Ceramic bearing
Life Cycle: 50,000 Hours MTTF
CoolIT Coolant
CoolIT Systems low toxicity with anticorrosion/
anti fungal additives
CoolIT Radiator
Custom engineered for low noise high heat dissipation
CoolIT Fan
High reliability, Quiet 12V
Speed: 1800 RPM MAX
CoolIT CPU Thermal Grease
CoolIT Systems Pro A.T.C.
(Advanced Thermal Compound)
CoolIT 2 Year Manufacturer Warranty
As was mentioned earlier, this cooler fits every socket in recent memory. You can also see that the pump is rated for 50 thousand hours MTTF which means it will keep running for a long time. The two year warranty is a nice addition to complete the package.
Pictures & Impressions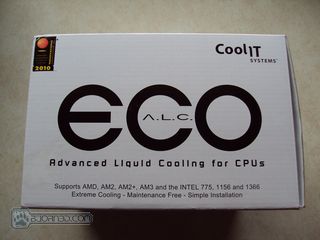 CoolIt went with a pretty plain box design. There are no colors besides the sticker in the top left hand corner. This is fine since we are far more interested in what is inside the box rather than what is on the outside. The outside does tell you some basic information like the sockets this cooler supports.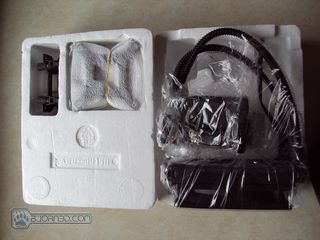 When we open the box we are greeted with the cooler completely encased in styrofoam. This will keep the cooler itself safe from any abuse the box may encounter during shipping. The cooler is further wrapped in a layer of plastic to keep it from getting scratched up before you put it in your case.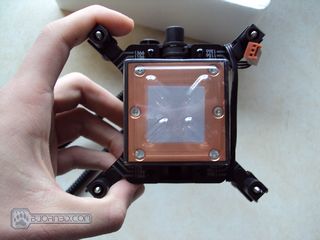 The bottom of the cooler has thermal paste already applied, which will help out anyone new to installing a cooler. The surface is pretty polished, but it is not a mirror shine. The mirror shine really isn't such a big deal. You can see here that the mount is clearly marked so you know which holes to use for what socket.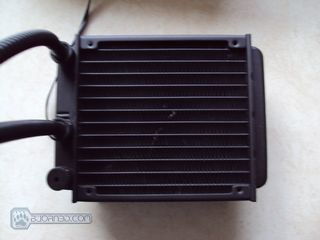 The rad is just your basic 120mm design. As you can see, there is a place to put a second fan on this side of the cooler to turn it into a push/pull setup. This should lower the temperature of the liquid a little bit, and possibly lead to a 1-2° C drop in temperatures.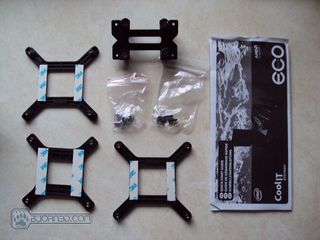 Finally we have all of the mounting hardware. There are back plates for 775, 1156, and 1366 sockets. The other half of the mounting hardware for the Intel sockets comes pre-installed on the liquid block. If you want to use this cooler on an AMD motherboard, you can install the bracket at the top of this picture on the liquid block, and use the stock AMD retention bracket. The cooler also comes ith an instruction manual to further help people new to this, and all of the screws you will need to install the cooler.
Methodology
To properly test the A.L.C. ECO cooler, we used LinX burn in test. LinX puts a tremendous amount of stress on the the processor, which is exactly what is needed when testing for stability and recording stress temperature numbers. Idle temperatures were gathered 30 minutes after the system was booted, and load numbers were gathered after 30 minutes of running LinX. Each core temperature is recorded and averaged per test. The charts below have the average core temperature.
In our testing we used our custom loop to compare too. To give you a quick run down of whats included, we have a D-Tek Fuzion V2 water block, Swiftech MCR320-QP radiator, and a Swiftech MCP655 pump. This liquid loop will cost you a lot more than the ECO, so it is only for comparison purposes.

Test Rig

Case Type
Cooler Master HAF 932
CPU
Intel i7 920
Motherboard

Asus P6X58D

RAM
12 GB DDR3 1600 MHz
CPU Cooler
Cooler Master V10
Noctua SE1366
CoolIT ECO A.L.C.
Custom Liquid Loop
Hard Drives
Corsair P64
(2x) Western Digital 750 GB
Optical
Lite-On DVD R/W
GPU(s)
Sapphire HD 5970 Redline
Testing PSU
Corsair HX1000
Results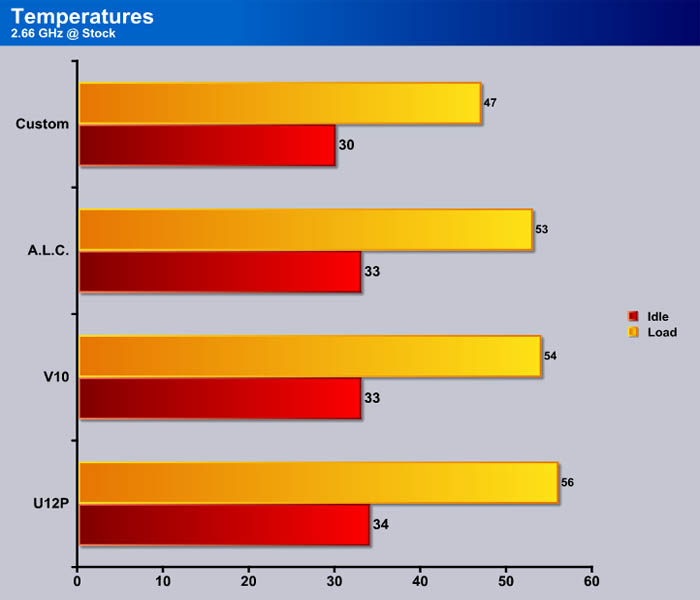 We see here that the A.L.C. gets off to a great start. It just manages to beat out the V10, which is one of the best air coolers to date due to its TEC. It is still a little far away from the custom loop, but in the end the A.L.C. is much cheaper.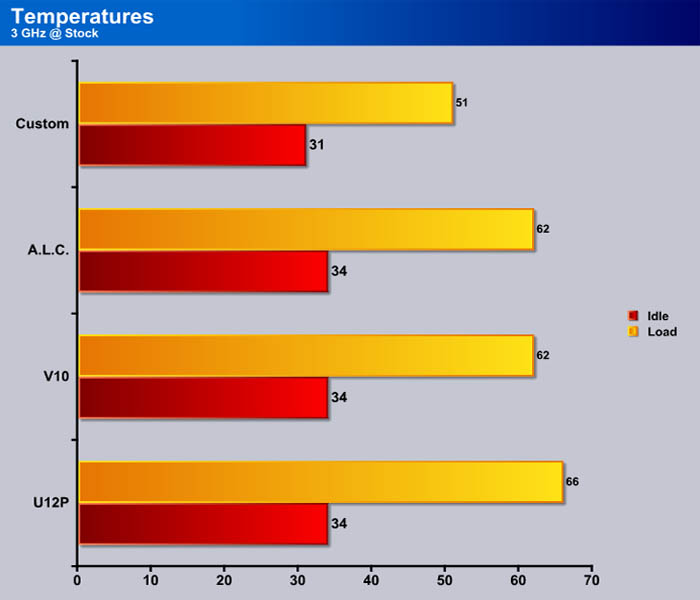 This time the A.L.C. just matches the V10. The custom loop manages to gain some ground on the A.L.C. The U12P is still sitting back just behind the V10 and A.L.C.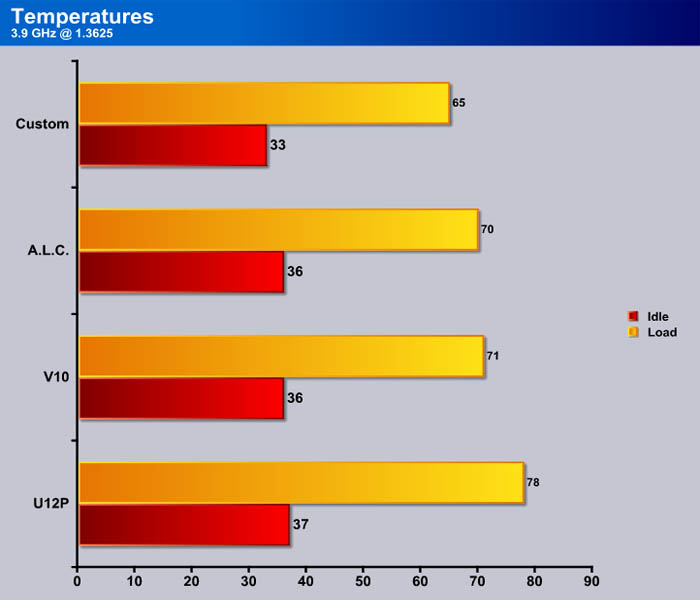 Here we have our highest testing frequency of the tests. This will produce the most heat possible. We see that the A.L.C. comes out slightly ahead of the V10 with the custom loop a fair amount cooler than the A.L.C.
Conclusion
The CoolIT ECO A.L.C. is certainly an amazing cooler that only deepens CoolIT's already amazing line of no maintenance liquid cooling systems. Combine this with the amazingly low price and you have an almost unbeatable combination. You will definitely be hard pressed to find a better bargain as far as CPU coolers go. You will also be pretty hard pressed to find a better cooler period without stepping up to a higher end liquid system. This really puts the A.L.C. in a category of its own. You also have to look at how the cooler is designed.
CoolIT gave the cooler some thought, and designed everything in the small loop to work perfectly as well as including special liquid to help transfer heat and keep bacteria from growing in the loop. Add in the two year warranty, and you have a pretty awesome deal for a cooler.  However there is one issue with the cooler, you can't add another rad into the loop. I think that it would be an awesome idea to be able to add another rad to help cool down the loop since you can see lower temperatures if you add another fan to the included radiator.
OUR VERDICT:  CoolIT ECO A.L.C.

| | |
| --- | --- |
| Performance | 9 |
| Value | 9 |
| Quality | 8 |
| Features | 8 |
| Innovation | 8 |

We are using an addition to our scoring system to provide additional feedback beyond a flat score. Please note that the final score isn't an aggregate average of the rating system.

Pros
Cons

Amazing Cooling

Pretty Cheap

Compatibility

Has No Option To Add Another Radiator
Summary: The CoolIt ECO A.L.C. is a superb addition to CoolIt's line of CPU coolers. It performed very well against a custom liquid loop that will cost you a lot more than the ECO. It also managed to beat out the V10 which is over $40 more than the ECO. This makes the ECO an amazing bargain that will be one of your best computer investments.