The ASUS HDP-R3 O-Play media player, is a perfect solution for anyone needing a small compact HTPC unit.
Introduction
One particular area that computers have grown by leaps and bounds, is in the HTPC (Home Theater Personal Computer) market. These last few years we have seen a plethora of new add-ons, or newer capabilities of specific computer components to accommodate this newer type of personal computing. HTPCs add that bit of flexibility we do not have with our standard DVD/Blue Ray movie players. It is no wonder this area of computing has literally exploded.
A lot of times HTPCs are built using older components we have laying around the house, or we end up purchasing affordable computer components for this task only. But we still end up with a box, that is either way to large to be moved around the house, or that the HTPC is noisy because of the amount of fans we need to use to keep the HTPC cool. Computer manufacturers have come up with Media Players. These are basically a very simplified version of a HTPC. So it is only natural that these type of HTPCs have their limitations.
Over the last year or so, I have played around with various Media Center boxes. And I found these players to be lacking; either it is with the sound, video quality, or the limited number of file formats that can be played on that Media Center. A lot of times, I find it hard for a media player to play a common file type like .MKV. This file type is great for HD home movies or for when you make back ups of your HD (Blue Ray) movies.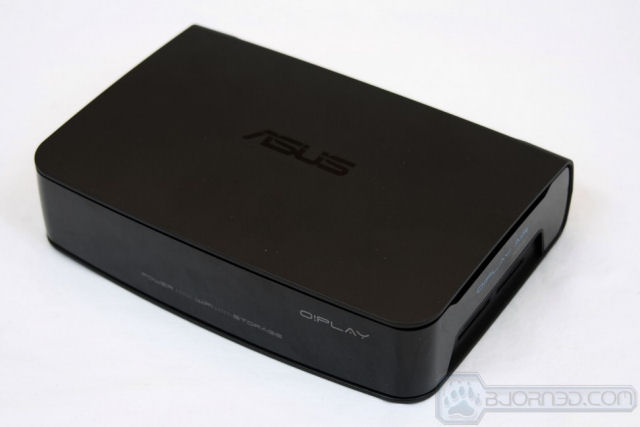 To us, Asus has brought a rather unique Media type player to the market. This little Media Player, can play a plethora of media types from Mpeg1 to MKV file types and anything in between. This little Media Center also allows us to access our personal home network to play movies or music off of our computers. Or we can use just about any type of storage Medium to hook up to this Media Center to play our movies or music. From SD cards (including the other three common types of SD cards), Flash drives, external USB HDD, too external E-Sata HDD. This Media Center can and will read from it. We also have the capability of playing our movies up to a 1080i format, or the standard 4:3 formats, with a 5.1 sound capability.
Specifications
Supported Formats
Video: MPEG1/2/4,RM/RMVB,VC-1,H.264
Video File Extension: .mp4,.mov,.xvid,.avi,.divx,.asf,.wmv,.mkv,.rm,.rmvb,.flv,.ts,.m2ts,.dat,.mpg,.vob
Audio: MP3,WAV,AAC,OGG,FLAC,AIFF
Image: JPEG,BMP,PNG,GIF,TIFF
Subtitle: SRT,SUB,SMI,SSA
I/O Port
Input:
DC Power In
1xUSB 2.0 Port
1xUSB 2.0 / eSATA Combo Port
RJ-45 LAN Port

Output:
Composite Video
Composite Audio L/R
S/PDIF Out
HDMI 1.3
 

Network
LAN:
TCP/IP (DHCP or Static IP Address)
10/100Mbps Wired LAN
Accessories
AC Adapter
Power Cord
Remote Control
Composite A/V Cable
Quick Start Guide
CD (User Manual)
Dimensions
181.0×125.3×47.7mm(W x D x H)
Weight
491g
Power
Power Source: 12V DC, 2A, 24W Power Adapter
Power Consumption: < 10W
Operating Temperature: 5- 35℃ (41- 95 ℉)
As we can see, the ASUS O-Play HDP-R3 supports a wide variety of video/audio media type of formats, as well as some of the most common types of image file types.
Packaging
Let's see how ASUS packaged the O-Play HDP-R3. Like always ASUS gives us plenty of information about their products. A quick thought about this product, it is not all that big. Opening up the top of the package, we can see that ASUS made sure this Media Center would not get damaged during transporting.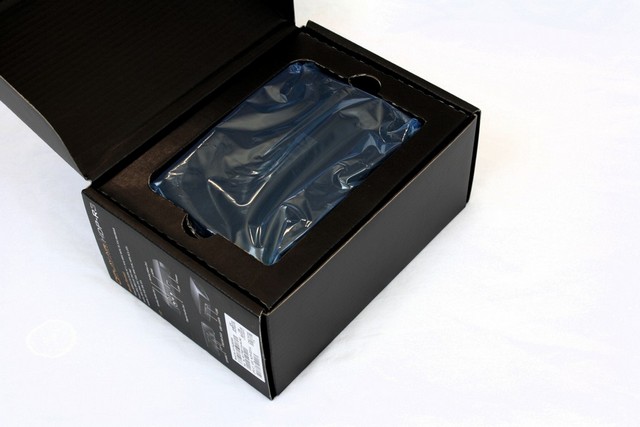 ASUS uses individual compartments, this serves two purposes. Purpose one, it better organizes the interior. And purpose number two, it ensures better protection to all of the included hardware.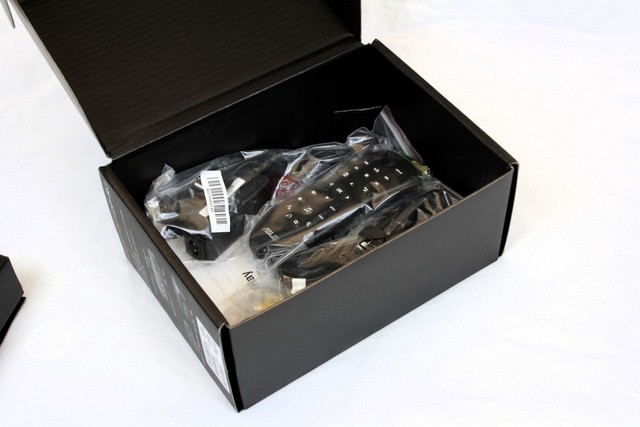 In the bottom portion of the packaging are all of the accessories that get included.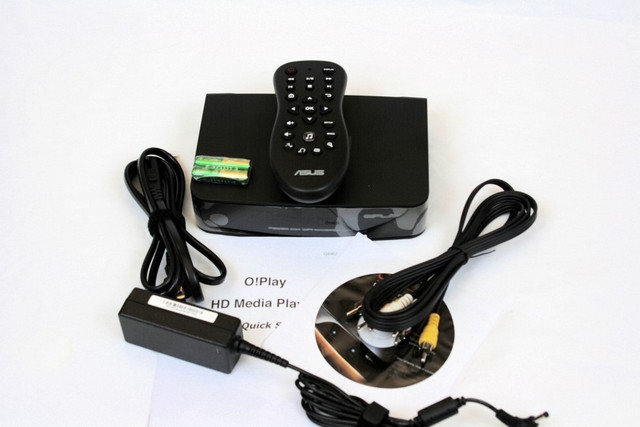 ASUS includes an analog RCA video/audio hook up. We get a remote, two extra batteries, an instruction manual with a disk and finally, we get the power cord that will be powering up this unit.
NOTE: ASUS has just informed us at Bjorn3D.com that they will be including an HDMI cable with the retail version.
Overview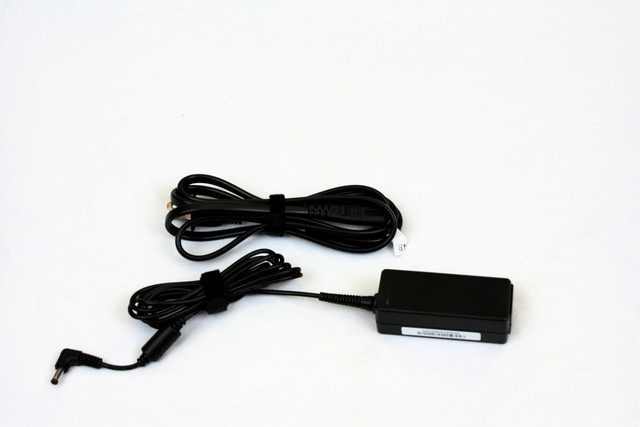 Time for us to give the HDP-R3 media Center a good look over. The power cable, comes in two pieces. The first half goes directly to the ac outlet, the second half gets plugged directly into the media center.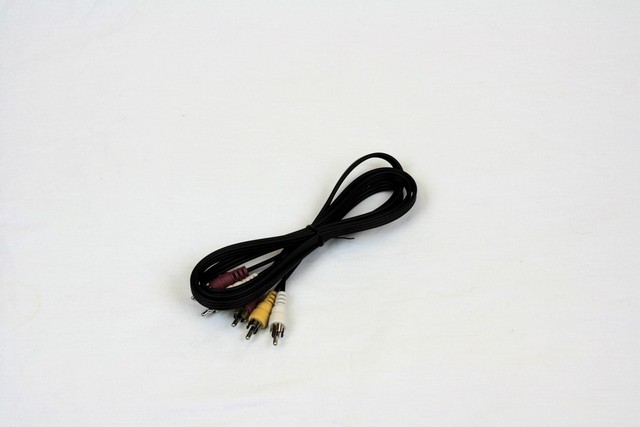 The included analog RCA cables. This media player can be used with our HDTVs or standard 4:3 TVs. This gives a greater amount of flexibility to this little unit.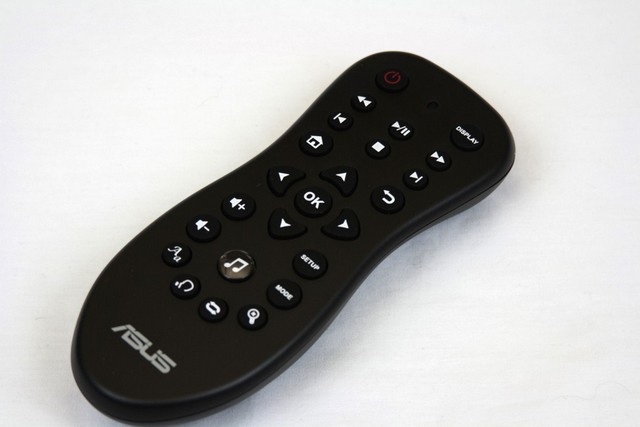 The remote is not all that fancy. It is short, sweet, and to the point.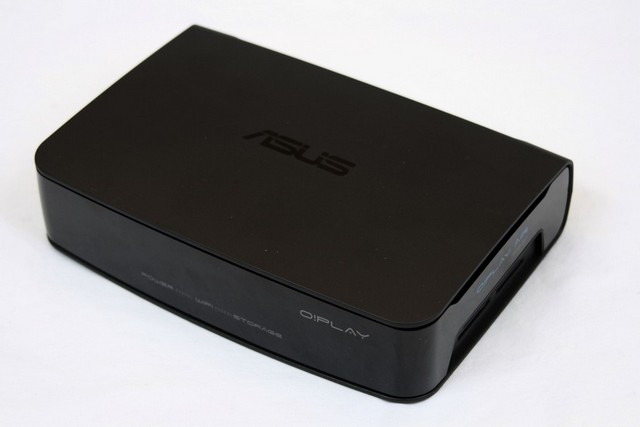 Now it is time for us to get a good look-see at the O-Play HDP-R3 Media Player. This unit is not all that fancy. But in my eyes, it is not how it looks; it is what it can do.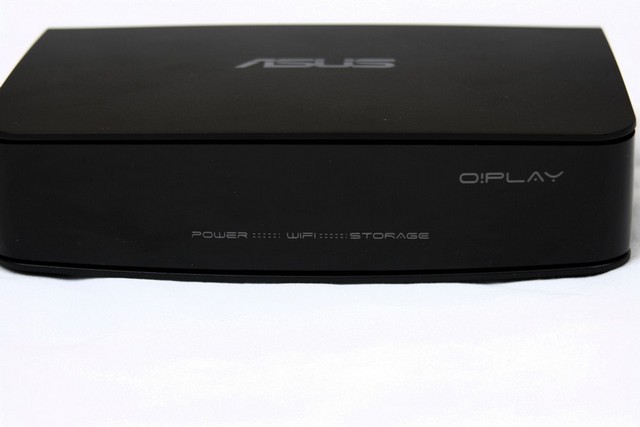 On the front of the unit, we will get power indicator lights. These lights will tell us the status of the unit.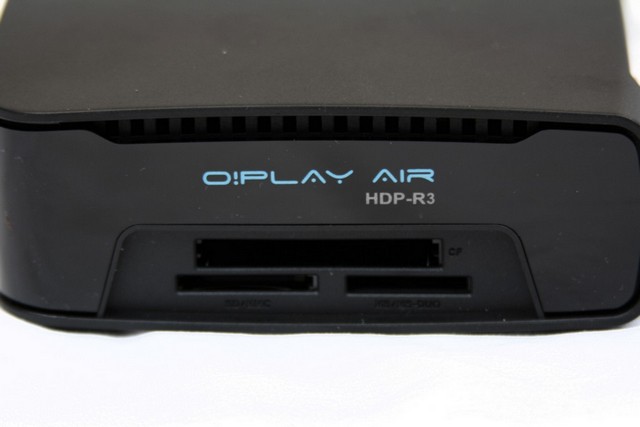 On the right hand of the media player, this is where we can hook up our MMC/SD cards, CF style of cards or  MS/MS duo cards.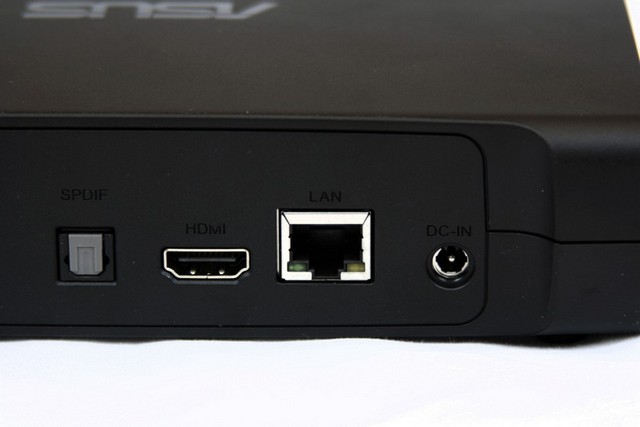 Moving around to the back of the media player, from left to right, are the power connector, 10/100 T Ethernet cable jack, HDMI port and SPDIF Audio Optical connector.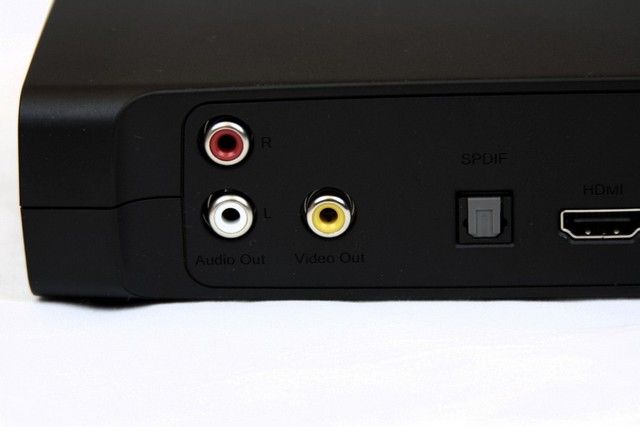 Finally we have the analog RCA hook ups.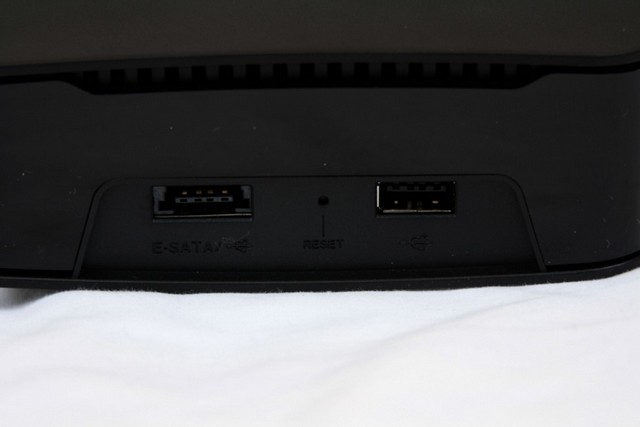 On the left side of this media player, is where we can hook up an E-Sata HDD, we can also use flash drives, or USB types of storage devices. The reset button is located in-between the E-Sata/USB combination port, this allows the user to use two USB ports in the event they wants to use the integrated file manger options (such as copy etc as well as providing multiple ports for connection) and then we have another USB port.
ASUS O-Play Air In Action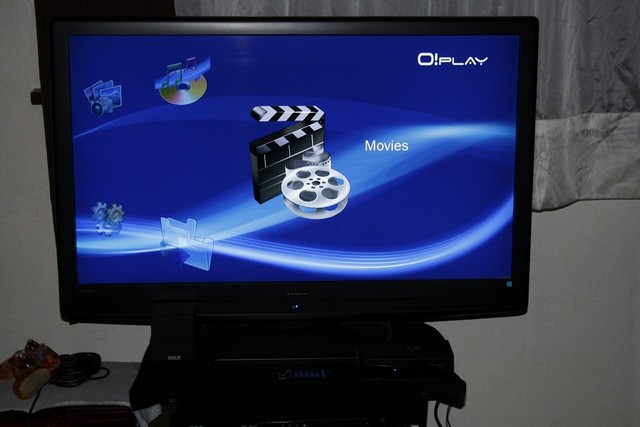 This is how I have the ASUS O-Play Media Player hooked up. The HDTV you see here is a RCA 40" 1080i. To the lower right hand side of the HDTV is where the media player is located.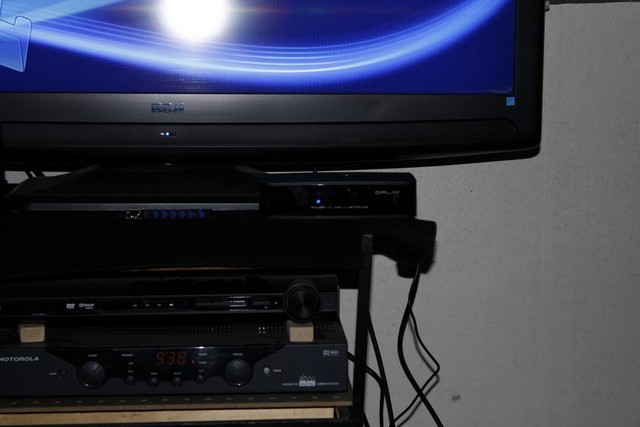 Here is a bit better image of the media center. The O-Play HDP-R3 audio is hooked up via the SPDIF connector to a RCA 5.1 Surround Sound amplifier.
These images are me showing how the O-Play HDP-R3 media player accesses a storage device. This will be identical to any type of storage device you will be using. The current show is an .MKV 720p resolution. The show is Fringe; I have a friend record these shows for me so I can truly see it in high definition, and commercial free. Whenever you are accessing a movie file, you will see a preview window to the right, after that preview starts up, you can full screen the movie.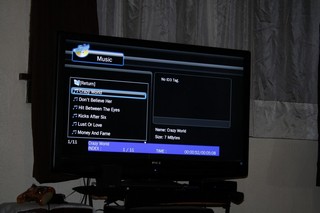 These next few images you see here, is of me accessing my network, to gain access to my music files on "Mini Me" (or Dragon's Computer). This unit can access your network by either Ethernet, or by wireless. I was using the wireless connection type. WIth the O-Play Air we can have it shuffle your music during play back. You can also watch your shows, via network as well. If you happen to have an Xbox/360 this unit can hook up to it as well.
These last few images is of what the set up menu looks like. It is not overly complicated, and extremely easy to navigate through.
This unit was so easy for me too use; I took this media player over to my parents house and allowed them to play with it. My mom fell in love with this unit immediately, in fact she likes it so much, she threatened to cut off my arms, and beat me with them if I even thought about taking this media player. So in her words, this media player thingy is a cool looking little gadget.
Conclusions
The O-Play AIr Media Player is a simple, portable HTPC media Player that just about anyone can use. It did not take my parents long to figure out how to hook this unit up to their HDTV in their bedroom, and get some of their personal TV shows to play on this media player.
During my usage of this media player, I did not have any issues regarding playing my specific file formats. Which include MKV, DIVX, and AVI formats.  I tested all types of portable media storage devices; these include my SD cards, flash drives, miniature USB storage HDDs, and using E-Sata portable drives, and not too exclude the CF types of storage cards. No matter what storage device I used, this media player would play it. I even tried using the wireless connection and wired connection to see if I could hook up to my computer and play movies/music off of it. The sound quality that this player uses is top notch. I would consider the sound quality is close too my Creative X-FI, or the ASUS Xonar 1.3 HDAV.
The only time I had any major issues regarding network movie playing, was when I used the UPnP connection type, whenever I tried using this type of networking connection my movies would play/pause consistently (buffering). But this type of networking is not used very often, so I won't hold this minor issue against this unit.
Which brings me to how much does this unit go for? Looking at Price Grabber.com, this media player goes on for around the 130USD mark. Taking into account the versatility of this media player; from being able to play a plethora of file types, the ease of use, to finally ease of hook up. Makes this an attractive price; now we can have a HTPC that does not take up a lot space, it is virtually quiet, and can be moved to anywhere around the house or to friends house with ease.
OUR VERDICT: ASUS O-Play HDP-R3
| | |
| --- | --- |
| Performance | 9.5 |
| Value | 8 |
| Quality | 10 |
| Features | 9 |
| Innovation | 9 |

We are using a new addition to our scoring system to provide additional feedback beyond a flat score. Please note that the final score isn't an aggregate average of the new rating system.

Pros
Cons

Good Quality

Can play a multi-tude of file types

Easy to understand and usage

Can be configured to play lot of different types of portable media storage devices

Can access your personal network to expand the capabilities even farther.

Nothing

 

 
Summary: This Media Player is for anyone who wants the flexibility of a HTPC, but not have that bulkiness that HTPCs are notorious for.