Achieving the 'Million Dollar PC' look with your build might have just gotten easier. We review NZXT's sleeved premium cables to see if they provide that 'Million Dollar PC' look.
Introduction
When hardcore enthusiasts build a gaming machine, chassis cable management tends to sit on the back burner. Actually, we know of many enthusiasts who do without a chassis altogether. The fact is, performance seems to weigh more than aesthetics with the majority of PC builders. Like many hobbies, there will always be those special participants that outshine the rest of the bunch. In the PC building world, that bunch is displayed on the Million Dollar PC website. What makes the Million Dollar PC rigs stand out is their incredible attention to detail in every area; Cooling, overclocking, color theme, and biggest one of all, cable management.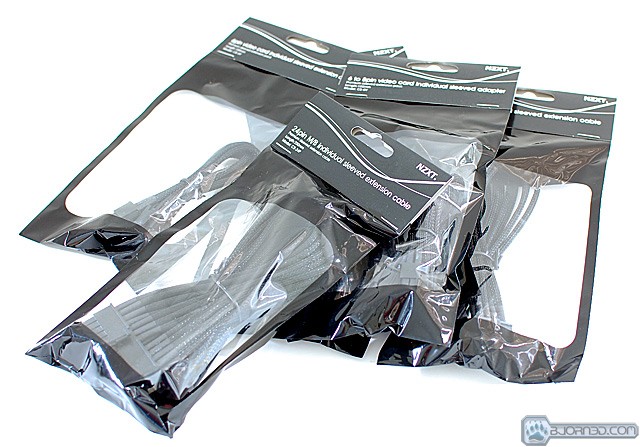 This is where NZXT's Premium Sleeved Extension cables come into the picture. By adding additional length and high quality look, NZXT's premium cables give an enthusiast the ability to change their build completely. Aside from length and color, the cables are sleeved by a tightly threaded sleeving giving the cables a very sleek look. With the right build plan, NZXT's cables can help you achieve that "Million Dollar" look without spending everything in your savings account. 
| | |
| --- | --- |
| NZXT Premium Cables | Price |
| NZXT CB 42SATA – Molex to Two SATA Extension | $5.99 |
| NZXT CB 6V – 6 Pin Video Extension  | $6.99 |
| NZXT CB 8V – 6 Pin to 6+2 Pin Video Extension  | $6.99 |
| NZXT CB 8P – 8 Pin Motherboard Extension | $7.99 |
| NZXT CB 24P – 24 Pin Motherboard Extension | $9.99 |
Features & Specifications
High quality sleeving with neatly heat wrapped pins
Black sleeving, heat wrap, and connections to give an overall sleek look
Adds length to existing cables to help with better cable management
| | | |
| --- | --- | --- |
| Model | Description | Length |
| CB-24P | 24 Pin Motherboard Extension Cable | 250mm (9.8in) |
| CB-3F | 3 Pin Fan Extension Cable | 300mm (11.8in) |
| CB-6V | 6 Pin Video Card Extension Cable | 150mm (5.9in) |
| CB-8V | 6 to 8 Pin Video Card Extension Cable | 150mm (5.9in) |
| CB-8P | 8 Pin Motherboard Extension Cable | 250mm (9.8in) |
| CB-42SATA | Molex to 2 SATA Extension Cable | 200mm (7.8in) |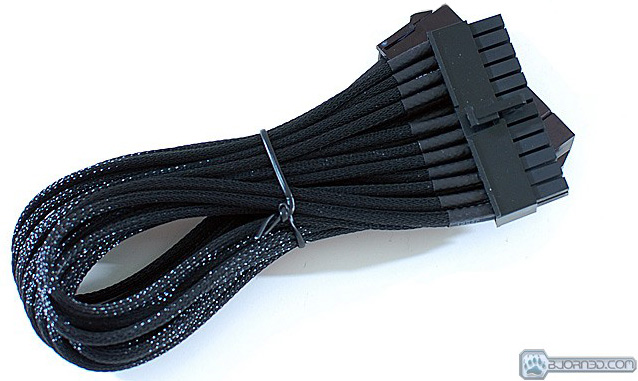 From the high quality sleeving, equally measured and wrapped pins, and finally down to the connections themselves, everything about these cables exudes high class. Let's take a look at them up close.
Pictures & Impressions
When our review samples arrived they came in a zip lock bag wrapped in a bubble envelope. Being cables, there is no real need to resort to a cardboard box. NZXT wrapped their cables in crinkle-like plastic bags which are dressed by a black and white theme.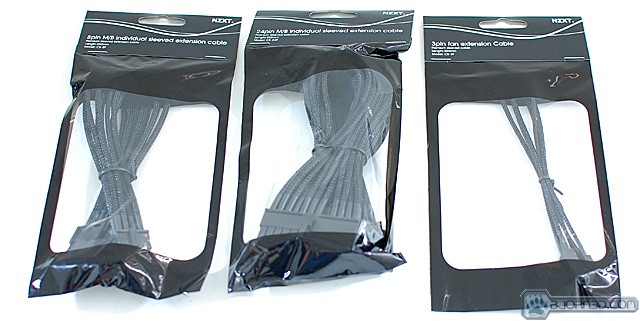 The first three cables we grabbed were the 8 Pin motherboard extension, 24 pin motherboard extension, and the 3 pin fan extension.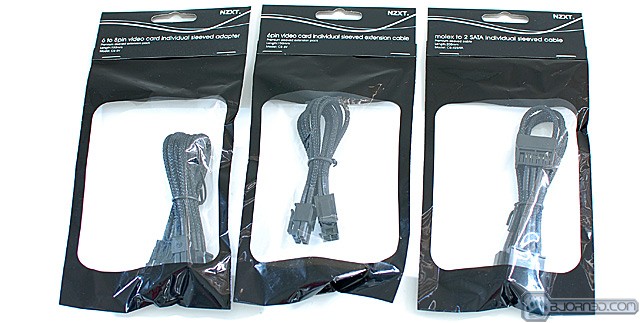 The last three cables in the zip lock bag was the 6 to 8 Pin video card extension, 6 Pin video card extension, and the molex to 2 SATA extensions.
Click Image For a Larger One

After removing the cables from the packaging we were able to feel and see exactly what made the cables so special. The quality of these cables is outstanding. The sleeving job done on these is flawless. If you have ever attempted to sleeve cables, you would know exactly how we felt when we were able to handle these first hand. The weaving used on the sleeving is very tight, tough, but not too tough… just right. The heat wrapping job is very even and certainly feels high quality. The connectors on the cables are typical black connectors as far as we can tell, the same goes for the pins within the connections.
The thought of having a chassis interior that is free of typical ugly power supply cables is very intriguing. The thought of sleeving each individual cable from a power supply is certainly daunting, but achieving a high quality look takes time, effort and patience. Imaging not sleeving every cable, imaging simply plugging in an extension and calling it a day. With these cables, you no longer have to imagine, and this idea tickles our insides. Let's move on to the installation.
Testing & Methodology
To test the NZXT premium cables we did a simple comparison of a before and after installation. Prior to having the cables, the test system was already heavily cable managed. Many zip ties and adhesive mounting bases were used to keep the cables managed and in place.
Test Rig
"i5_alive"
Case Type
NZXT Tempest EVO
CPU
Intel i5 750 2.66GHz @ 4.0GHz (1.36v)
Motherboard
ASUS P7P55D Deluxe
RAM
CPU Cooler
Custom Water Setup
Hard Drive
Seagate Barracuda 320GB 7,200RPM SATA
Optical
ASUS DRW-24B1ST
GPU

Sapphire ATi 5850 1GB (Catalyst 10.2 Drivers) 

Case Fans
Two 120mm (Front and Rear) / Two 140mm (Top)
Testing PSU
Corsair 650W HX
Mouse

Microsoft Wheel Mouse Optical

Mouse Pad
Razer Sphex
Keyboard
Logitech Illuminated
Speakers
Creative 2.1
*** Any attempt copy this system configuration may lead to awesomeness.

Below are two pictures of how the chassis looked prior to the NZXT premium cables.
Click Image For a Larger One

At first glance you might think we are crazy thinking we could improve the look of the chassis with NZXT's cables, the truth is, there is plenty that could be done when comparing a build to any Million Dollar PC build. With plenty of help from Corsair's HX power supply, all the cables coming from the PSU are stealthy black so its easier to miss them, definitely keep that in mind in this review. Most PSU's don't give users the luxury of having all black cables. Now that you've seen the test subject, lets move on to the installation of NZXT's premium cables.
Testing & Methodology
To show what these cables can add to a build we felt it was best to cover each cable one at a time. To start things off, we will cover the biggest cable of them all, the 24 Pin extension.
24 Pin Power Extension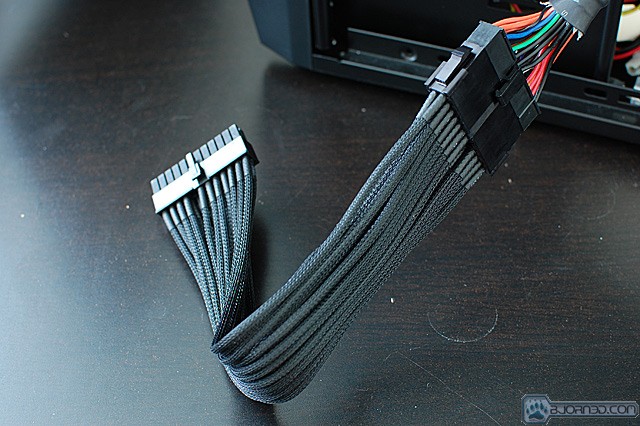 Click Image For a Larger One

Out of all the cables from a power supply, the biggest and baddest one of them all is the 24 pin power cable. This cable can cause havoc on aesthetics because it is bulky, hard to hide, and easily the most colorful cable within a chassis which can lead to it being an eye sore. NZXT's 24 pin extension solves all of those problems and adds a ton of stealth finesse to any build. With the extra 9.8 inches of length, routing the 24 pin cable was a breeze.
8 Pin Motherboard Extension
Click Image For a Larger One

The 8 Pin motherboard power extension is a godsend for the aesthetic builders because of the lack of length from most power supplies. When working on cable management, the 8 or 4 pin motherboard cable tends to be the one that has to be routed over the motherboard. Unfortunately, it will stick out like a sore thumb if everything else is neatly hidden. With the additional 9.8 inches the 8 pin extension gives, it is very easy to route the cable behind the case hiding the long trail it has to take from the power supply. This improves the visual aspect of a build greatly.
3 Pin Fan Extension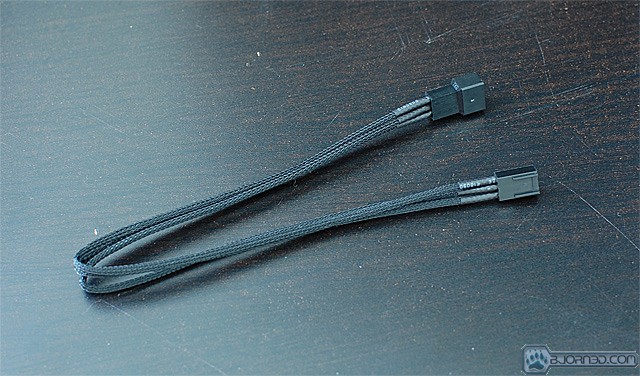 Click Image For a Larger One

The 3 Pin extension seemed to be the least useful cable due to the awesome fan header placement on the ASUS P7P55D Deluxe motherboard. Although the 3 Pin header was within 5 inches from the lower front fan, we went ahead and routed the 3 Pin cable on the backside of the case to add to the stealthy look of the build.
Molex to SATA Extension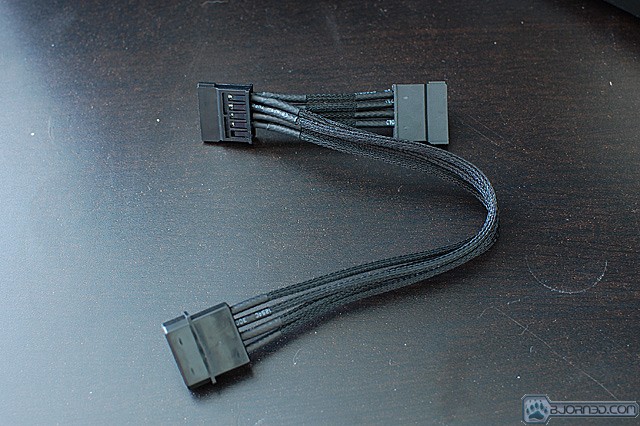 Click Image For a Larger One

The Molex to SATA cable is very useful because there are many instances where fans, hard drives, or optical drives are powered by Molex while newly installed devices happen to have SATA connections. With an additional 7.8 inches thanks this extension, we were able to power the water pump, cathodes, hard drive and optical drive with one single cable.
6 Pin Video Extension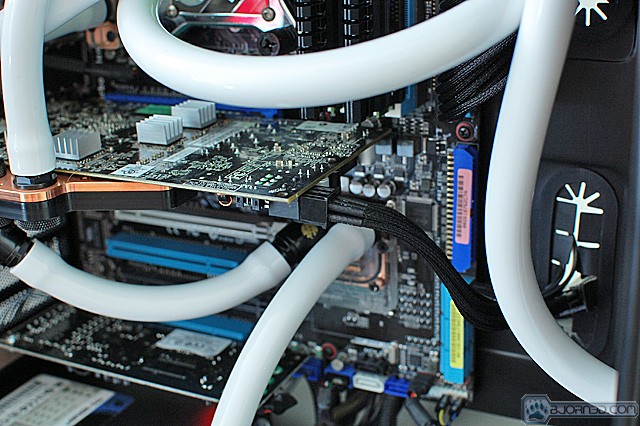 The 6 Pin video extension added an extra 5.9 inches to the already long PCI-E 6 Pin cable. Again, having the extra length to route the cable resulted in improved cable management and aesthetics.
After running our cable management with the help of mounting bases and zip ties, our test rig was looking very nice. With NZXT's sleeved extensions, stealthy cable management and water cooling, our rig was starting to resemble Million Dollar PC status. Obviously our rig is far from Million Dollar PC worthy, but there is no denying that the look is heading in the right direction.
Click Image For a Larger One

CONCLUSION
To put it simple, these cables are awesome. The quality is top notch, the added length these cables add is relieving and the asking price is reasonable. Ranging from $5.09 to $10.99 USD+ shipping, NZXT's premium cables are more than affordable. When you factor in the time, effort, and overall cost that it would take to sleeve your own cables, $5-$10 USD per cable from NewEgg starts to sound very appealing.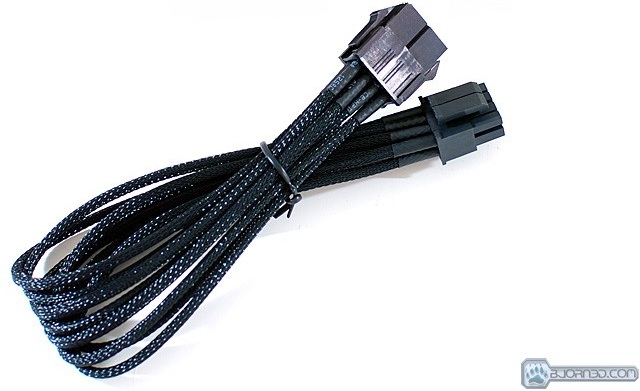 Having built many rigs, we know what it takes achieve the "pharmacy lab" clean build. It takes patience, time, and a lot of money. With NZXT's cables, the most grueling part of that special build is taken care of. All you have to do is imagine sleeving the 24 pin power cable, its not something you'll want to embark on unless you have the time, money, and patience to do the job right. Sleeving is no easy task. NZXT's cables take care of sleeving, aesthetics, and add length for a measly $5-$10 bucks. We absolutely loved them.
OUR VERDICT: NZXT Premium Cables
| | |
| --- | --- |
| Performance | 9 |
| Value | 9 |
| Quality | 9.5 |
| Features | 9 |
| Innovation | 9.5 |

We are using a new addition to our scoring system to provide additional feedback beyond a flat score. Please note that the final score isn't an aggregate average of the new rating system.

Pros

Cons

High Quality

Sleeved cables and even heat wrapping

Black color theme

Helps with cable management due to added length

Adds a high quality look to any build

PCI-E video cable extensions could have used an extra inch or two



Summary:
NZXT's Premium Cables add a high quality look and feel to any build without hurting your wallet. Along with aesthetics, additional length is added to existing cables to improve cable management greatly. If you want the Million Dollar PC look and don't have money or time to sleeve your cables, NZXT's cables should be at the top of your item list.

| | |
| --- | --- |
| NZXT Premium Cables | Price |
| NZXT CB 42SATA – Molex to Two SATA Extension | $5.99 |
| NZXT CB 6V – 6 Pin Video Extension  | $6.99 |
| NZXT CB 8V – 6 Pin to 6+2 Pin Video Extension  | $6.99 |
| NZXT CB 8P – 8 Pin Motherboard Extension | $7.99 |
| NZXT CB 24P – 24 Pin Motherboard Extension | $9.99 |