A great card from MSI with impressive aftermarket cooling allowing it to overclock extremely well.
INTRODUCTION
MSI has introduced into the world the GTX-465 Twin Frozr II and it is most definitely a very appealing card. They really pulled all the stops out with this one as they made sure to have it appeal to a wide range of audiences while not sacrificing performance in the least bit. MSI created a card that is not only a very powerful card but it runs cool and is extremely easy to overclock using MSI Afterburner. Enough with the introduction for this card lets get down to business and check out what really matters.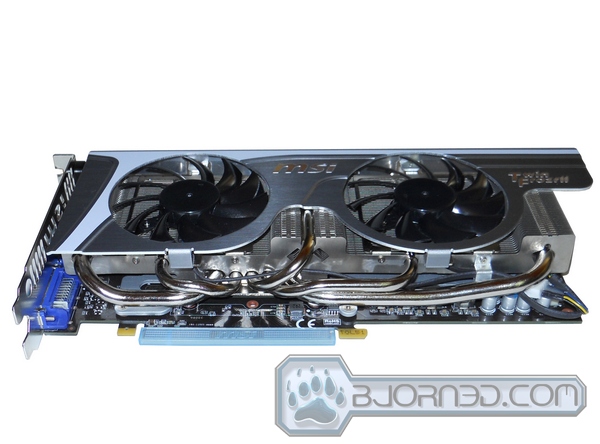 GPU
GTX-480
GTX-470
MSI
GTX-465
TF2
GTX-285
Shader units
480
448
352
240
ROPs
48
40
32
32
GPU
GF100
GF100
GF100
GT200b
Transistors
3000M
3000M
3200M
1400M
Memory Size
1536 MB
1280 MB
1024 MB
1024 MB
Memory Bus Width
384 bit
320 bit
256 bit
512 bit
Core Clock
700 MHz
607 MHz
607 MHz
648 MHz
Memory Clock
924 MHz
837 MHz
802 MHz
1242 MHz
Price
$499
$349
$280
$340
 
FEATURES
Afterburner




co-development by MSI and Rivatuner, MSI releases the ultimate graphics card utility "Afterburner". This utility enables all MSI graphics cards users to boost performance and to monitor all kinds of critical information in real-time. Afterburner is a completely free utility which is compatible with almost all MSI graphics cards.

MSI Solid Capacitor Graphic Card
MSI Graphics Card products utilities high quality solid capacitor. For the gamers and high-end users, this feature not only means that product has better quality components within, but also provide much stronger support while users want to engage in hard-core tuning.

SuperPipe Technology
MSI unique SuperPipe technology uses 8mm heat pipe which is 60% thicker than traditional ones and increase 90% of cooling efficiency. By using SuperPipe technology, MSI graphics cards provides better stability and overclocking ability.

MSI Live Update 4
 is a single utility software that automatically checks BIOS, driver and utility updates and installs for you , which can save your time for searching and lower the risk while updating.

MSI Live Update online

MSI Live Update online is designed to automatically download and update the BIOS and driver when there's a new version online. It helps reduce the risk of getting the wrong file and minimize the trouble of searching the files from MSI website.

Dual-link DVI convertible output supports Video/Audio signal integration through DVI to HDMI interface, which drivers resolution of a digital display up to 1920×1200 or higher.

Designed to run perfectly with new PCI Express 2.0 bus architecture, offering a future proofing bridge to tomorrow's most bandwidth-hungry games and 3D applications by maximizing the 5GT/s PCI Express 2.0 bandwidth (twice that of first generation PCI Express). PCI Express 2.0 products are fully backwards compatible with existing PCI Express motherboards for broadest support.

MSI graphics cards offer the HDMI functionality to provide access to premium digital content. HDMI enables gaming enthusiasts to seamlessly connect to their LCD monitor to bring the ultimate multimedia experience. (Only 1 single HDMI cable is required while streaming audio/video data to flat-panel display devices, such as Plasma/LCD TVs, or projector.)

The HDCP provides a robust, cost-effective and transparent method for transmitting and receiving digital entertainment similar to DVI/HDMI-compliant digital displays. HDCP encrypts the date transmitted between the DVI/HDMI connector on the graphics adapter and the display.

Industry leading 3-way NVIDIA SLI technology offers amazing performance scaling by implementing AFR(Alternate frame Rendering) under Windows Vista with solid, state-of-the-art drivers.

Both support the latest specifications of Blu-ray and HD DVD(High Definition DVD). It comes with the latest GPU and DDRIII superior processing performance in which users can easily enjoy the high-definition video of 1920×1080(1080p/i).

Delivers up to 2x the performance of a single GPU configuration for unequaled gaming experiences by allowing two cards to run in parallel. The must-have feature for performance PCI Express graphics, SLI technology dramatically scales performance on today's hottest games.

Blu-ray and HD DVD movies are bringing a new level of movie-viewing experience; with high-definition image quality far surpassing standard-definition DVDs. NVIDIA PureVideo™ HD2 technology provides unsurpassed Blu-ray and HD DVD movie picture quality.

 

MSI products are the first to be in conformity of the EU's RoHS(Restriction of Hazardous Substances) regulations, reducing heavy metals and toxic materials in the products. This is an effort made for the Earth, and essentially for a clean future.

PhysX™ is designed specifically for hardware acceleration by powerful processors with hundreds of cores. Combined with the tremendous parallel processing capability of the GPU, PhysX™ will provide an exponential increase in physics processing power and will take gaming to a new level delivering rich, immersive physical gaming environments with features such as:

Explosions that cause dust and collateral debris

Characters with complex, jointed geometries for more life-like motion and interaction

Spectacular new weapons with incredible effects

Cloth that drapes and tears naturally

Dense smoke & fog that billow around objects in motion




NVIDIA® CUDA™ technology is the world's only C language environment that enables programmers and developers to write software to solve complex computational problems in a fraction of the time by tapping into the many-core parallel processing power of GPUs. With millions of CUDA™-capable GPUs already deployed, thousands of software programmers are already using the free CUDA™ software tools to accelerate applications—from video and audio encoding to oil and gas exploration, product design, medical imaging, and scientific research.

 
PICTURES & Impressions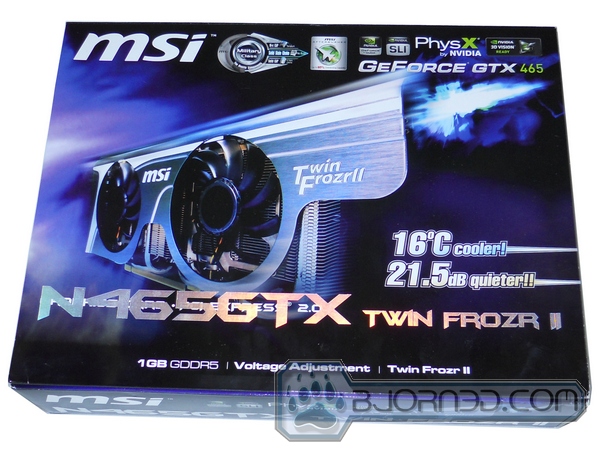 Within moments of receiving your GTX 465 from MSI you get to look at a very eye catching box that is able to get a customers attention.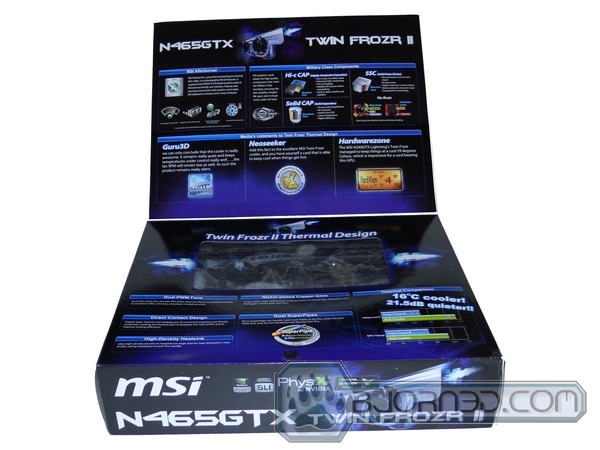 Unlike some things in this world the attractiveness of this box actually has a purpose, to get your attention so you can check out all of the information they provide and get a nice look at the card before you even have to buy it.
MSI didn't stop short on the extra's that come with this card, they managed to put in all of the essentials for any GPU purchase such as the driver disk, 2 molex to 6-pin adapters, and some display port adapters.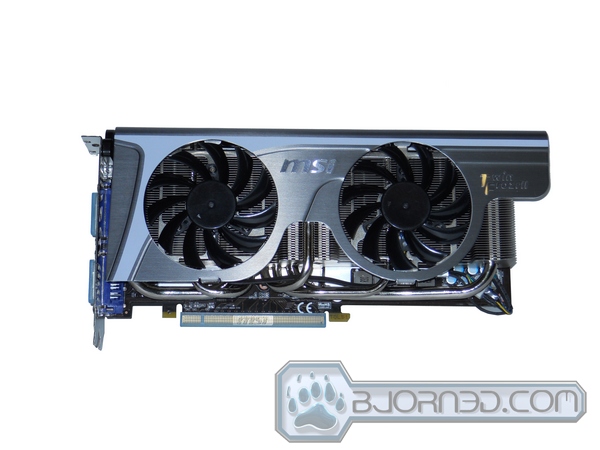 Not only did MSI make sure to have an eye catching box but the card was also very pleasing to the eye, while managing not to sacrifice performance for appearance they made a very well designed cooler look great as well.
This card has 2 DVI ports and 1 mini HDMI port for plugging in all of your monitors in multiple ways. The included adapters allow you to connect your monitor using just about anything.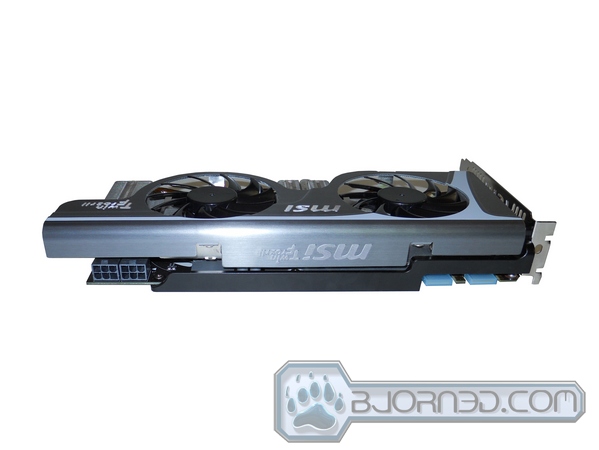 The GTX-465 doesn't stop pleasing quite yet, they have 2 easily accessible 6-pin power ports on the side of the card. I favor the 6-pins being in this location because in some cases it will be a tight or impossible fit if they were located at the end of the card.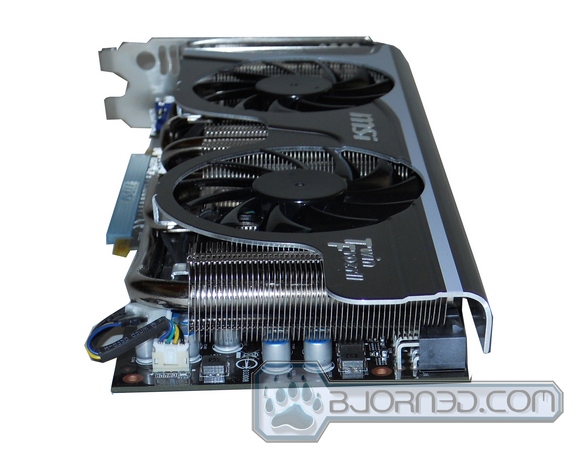 This picture is great at being able to display the design of the cooler. MSI decided to use a dual fan heatsink that covers the entire surface of the 465GTXvideo card.
TESTING & METHODOLOGY
To Test the MSI GTX-465 Twin Frozr II we did a fresh load of Windows 7 Ultimate, applied all the updates we could find, installed the latest motherboard drivers for the Asus P6T6, updated the BIOS, and loaded our test suite. We didn't load graphic drivers because we wanted to pause to clone the HD with the fresh load of Windows 7 without graphic drivers. That way we have a complete OS load with testing suite and it's not contaminated with GPU drivers. Should we need to switch GPU's or run some Crossfire action later all we have to do is clone our clone and install GPU drivers and we are good to go.
We ran each test a total of 3 times and report the average here. In the case of a screenshot of a benchmark we ran the benchmark 3 times, tossed out the high and low and post the median result from the benchmark. If we got any seriously weird results we kicked out that run and redid the run. Say if we got 55FPS in two benchmark runs, then the third came in at 25FPS we kick out the 25FPS run and repeat the test. That doesn't happen very often but anomalous runs do happen rarely.
Test Rig
Test Rig
"Quadzilla"
Case Type
Cooler Master HAF 932
CPU

Intel Core i5-750

Motherboard
Asus P7P55D-E PRO
Ram
Kingston HyperX 4GB 1600 MHz 7-7-7-27
CPU Cooler
OCZ Vendetta II
Hard Drives
WD 750GB Green
Optical
LG Lite-On DVD Burner
GPU Tested

Asus 5970
GTX-285 SLI
Nvidia GTX-480
BFG GTX-295
Asus GTX-295
PNY GTX-470
Gigabyte 5870 SOC
Asus 5870v2 VT
Asus GTX-470
Nvidia GTX-460 1GB
MSI GTX-465 Twin Frozr II
Asus GTX-465
Gigabyte GTX-460
Nvidia GTX-460
Visiontek 5870
Gigabyte 5870
XFX GTX-285
PNY GTX-285
Nvidia GTX-275
Drivers for Nvidia GPU's 257.21
Drivers for ATI GPU's 10.6

Case Fans
3x120mm case fans cooling CPU area
Docking Stations
IcyDock
Testing PSU
In-Win 1200W
Mouse
Cyborg R.A.T. 7
Keyboard
Logitech G15
Gaming Ear Buds

Plantronics 377
Speakers
Logitech X240
Synthetic Benchmarks & Games
Synthetic Benchmarks & Games
3DMark Vantage
Dirt 2
FarCry 2
Stalker COP
 Crysis Warhead
Unigine Heaven v.2.0
Metro 2033
You can see we are indeed all over the map, DX9, DX10, DX11, Tessellation, old, new and in between. We wanted as wide a representative sample as possible in the time available.
CRYSIS V. 1.21
Crysis is the most highly anticipated game to hit the market in the last several years. Crysis is based on the CryENGINE™ 2 developed by Crytek. The CryENGINE™ 2 offers real time editing, bump mapping, dynamic lights, network system, integrated physics system, shaders, shadows, and a dynamic music system, just to name a few of the state-of-the-art features that are incorporated into Crysis. As one might expect with this number of features, the game is extremely demanding of system resources, especially the GPU. We expect Crysis to be a primary gaming benchmark for many years to come.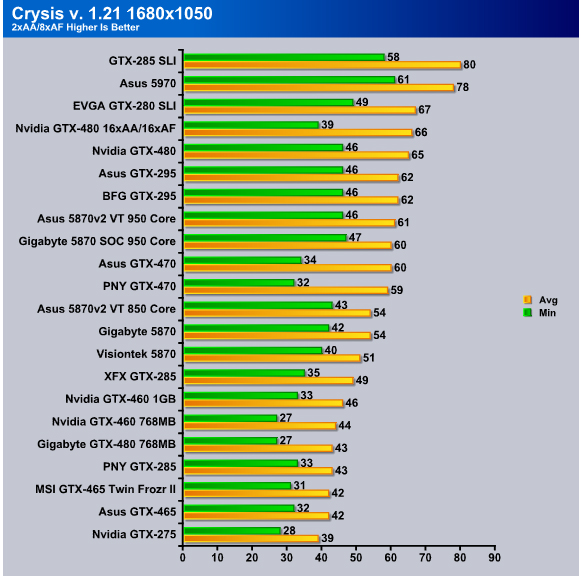 The MSI GTX-465 Twin Frozr II lived up to its expectations and then some in this benchmark and was able to keep up with its competitors.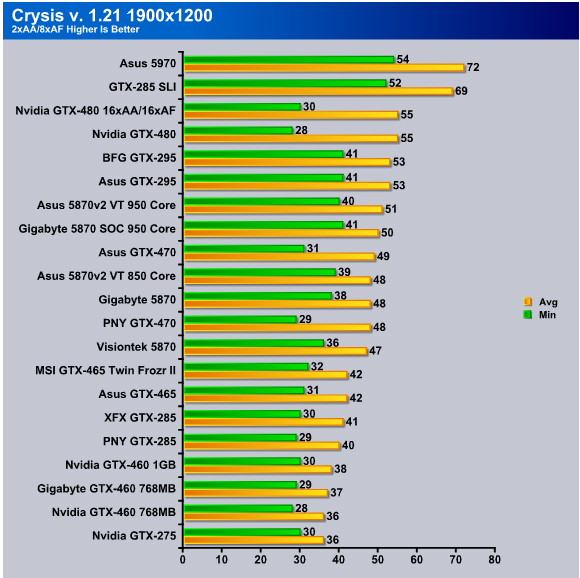 For the most part all of the cards stayed around the same rough performance level even with the jump in resolution as expected.
CRYSIS WARHEAD
Crysis Warhead is the much anticipated sequel of Crysis, featuring an updated CryENGINE™ 2 with better optimization. It was one of the most anticipated titles of 2008.
The Settings we use for benchmarking Warhead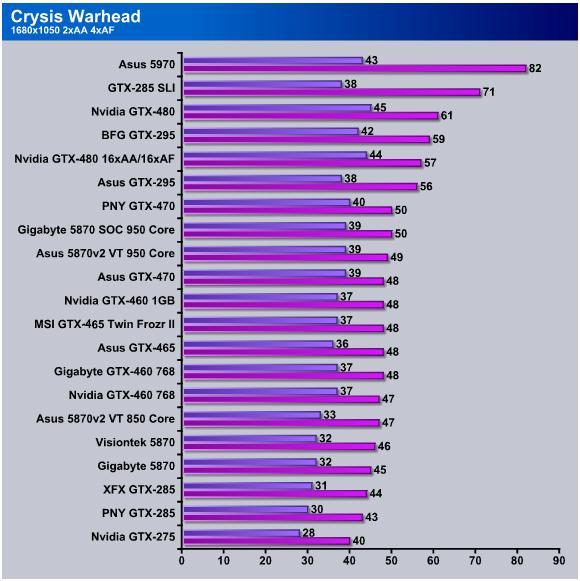 This chart explains perfectly why Crysis Warhead is such a great benchmarking tool because this card was placed exactly where one would expect.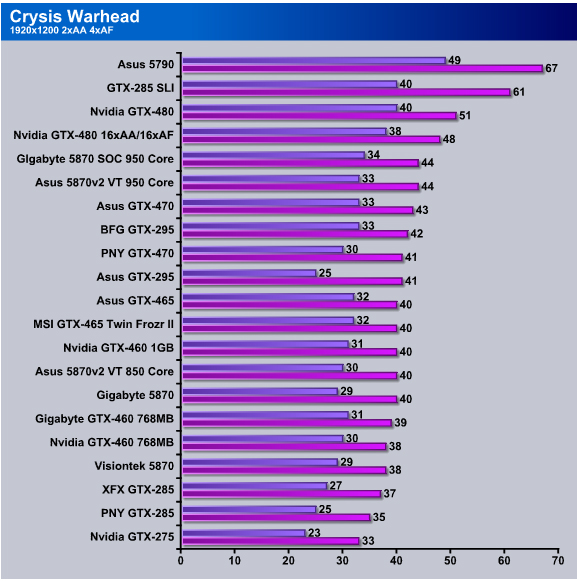 All of the cards scaled up properly as expected with minimal performance decrease.
S.T.A.L.K.E.R.: CALL OF PRIPYAT
Call of Pripyat is the latest addition to the S.T.A.L.K.E.R. franchise. S.T.A.L.K.E.R. has long been considered the thinking man's shooter, because it gives the player many different ways of completing the objectives. The game includes new advanced DirectX 11 effects as well as the continuation of the story from the previous games.

The settings we used benching Stalker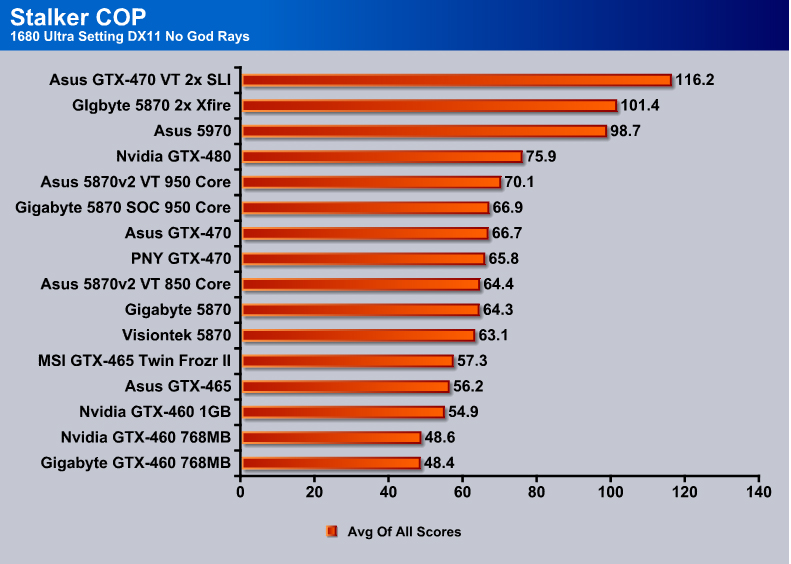 The MSI GTX-465 Twin Frozr II performed quite well in stalker and was able to edge out on top of the ASUS GTX-465.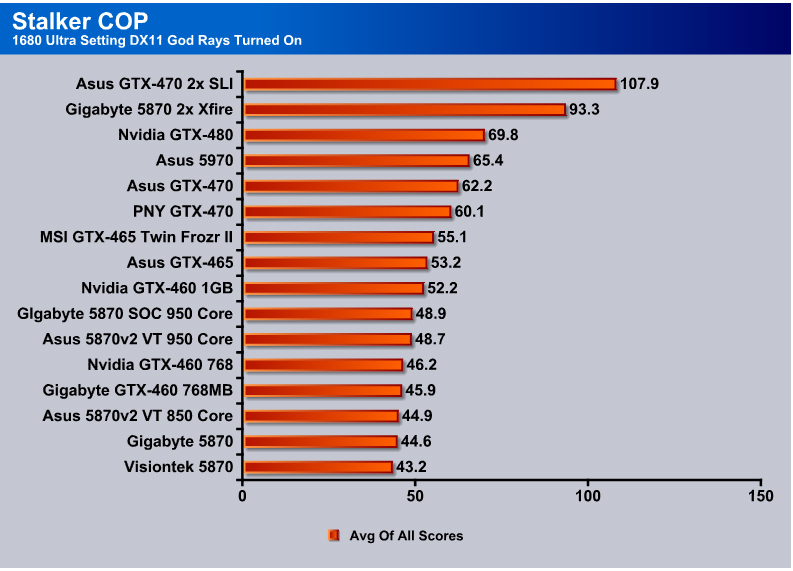 The MSI GTX-465 Twin Frozr II is able to maintain its performance when taking into account the god rays which is where Nvidia starts to pull away from ATI.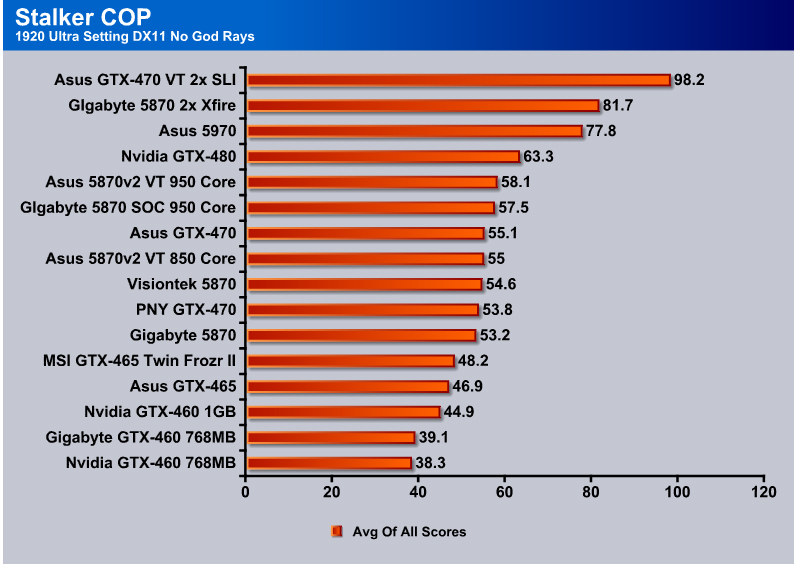 As we up the resolution you start to notice how well the 465 is able to perform even with the added stress of the increase of the resolution.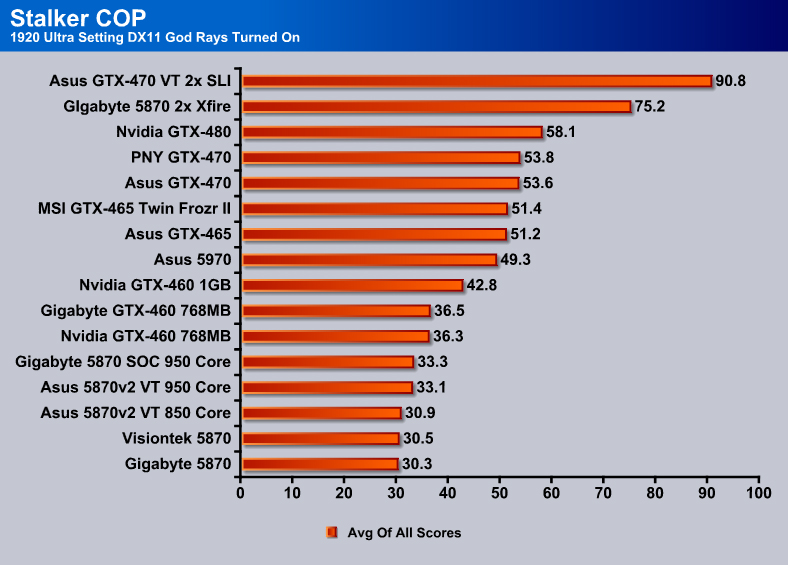 When you take into account god rays the GTX-465 pulls out a WHOPPING 0.2 ahead of the Asus GTX-465.
DIRT 2
Colin McRae: Dirt 2 (known as Dirt 2 outside Europe and stylized, DiRT) is a racing game released in September 2009, and is the sequel to Colin McRae: Dirt. This is the first game in the McRae series since McRae's death in 2007. It was announced on 19 November 2008 and features Ken Block, Travis Pastrana, Tanner Foust, and Dave Mirra. The game includes many new race-events, including stadium events. Along with the player, an RV travels from one event to another, and serves as 'headquarters' for the player. It features a roster of contemporary off-road events, taking players to diverse and challenging real-world environments. The game takes place across four continents: Asia, Europe, Africa and North America. The game includes five different event types: Rally, Rallycross, 'Trailblazer,' 'Land Rush' and 'Raid.' The World Tour mode sees players competing in multi-car and solo races at new locations, and also includes a new multiplayer mode.
Colin McRae: Dirt is the first PC video game to use Blue Ripple Sound's Rapture3D sound engine by default.
A demo of the game was released on the PlayStation Store and Xbox Live Marketplace on 20 August 2009. The demo appeared for the PC on 29 November 2009; it features the same content as the console demo with the addition of higher graphic settings and a benchmark tool.
At the lower resolution the card performed exceedingly well and was able to keep its FPS right above 60 at all times.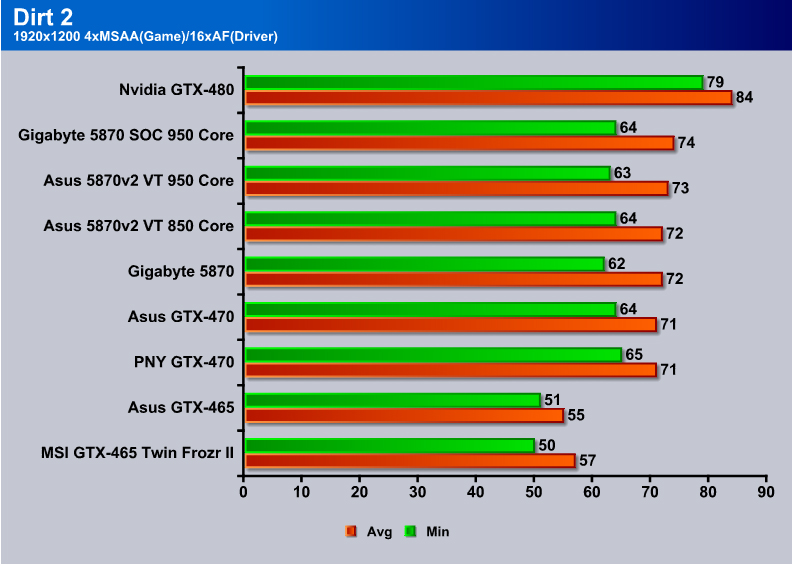 As we move up to the higher resolution you can see that the GTX-465 scaled up extremely well and was able to maintain a great FPS. 
UNIGINE HEAVEN 2.1
Unigine Heaven is a benchmark program based on Unigine Corp's latest engine, Unigine. The engine features DirectX 11, Hardware tessellation, DirectCompute, and Shader Model 5.0. All of these new technologies combined with the ability to run each card through the same exact test means this benchmark should be in our arsenal for a long time.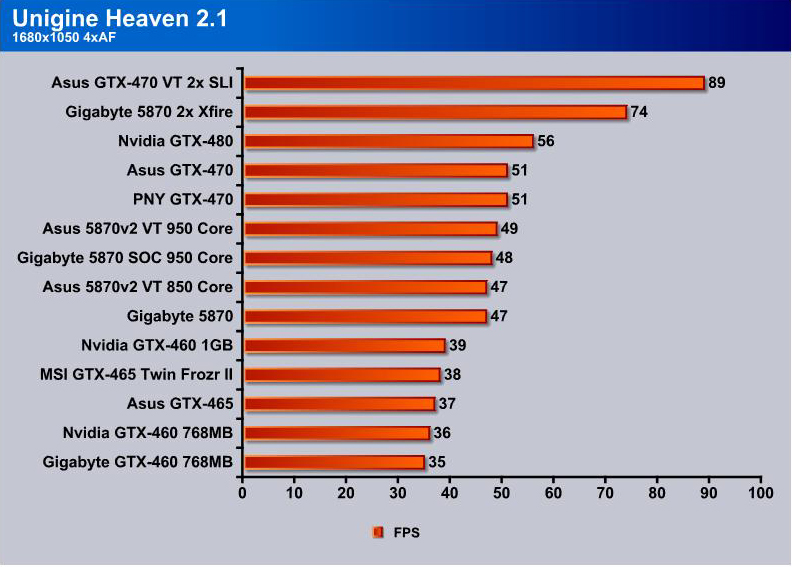 At a lower FPS the MSI GTX-465 was well above the playable FPS range and performed precisely as we expected.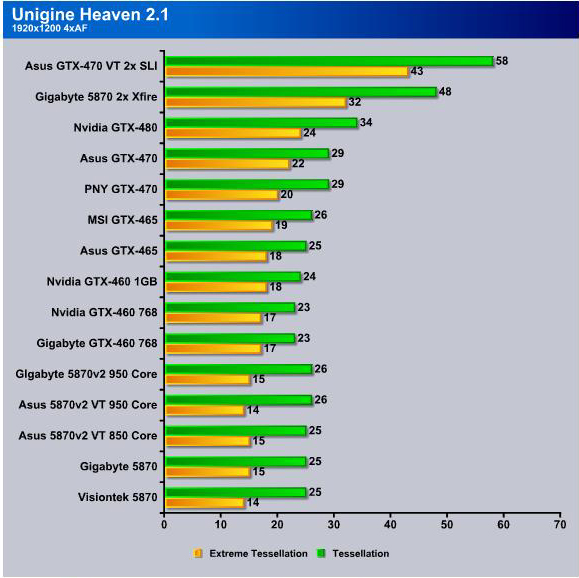 The GTX-465 from MSI performs exceedingly well for its price point especially if you were to compare it to the GTX-480 which would set you back about twice as much.
Far Cry 2

Far Cry 2, released in October 2008 by Ubisoft, was one of the most anticipated titles of the year. It's an engaging state-of-the-art First Person Shooter set in an un-named African country. Caught between two rival factions, you're sent to take out "The Jackal". Far Cry2 ships with a full featured benchmark utility and it is one of the most well designed, well thought out game benchmarks we've ever seen. One big difference between this benchmark and others is that it leaves the game's AI (Artificial Intelligence) running while the benchmark is being performed.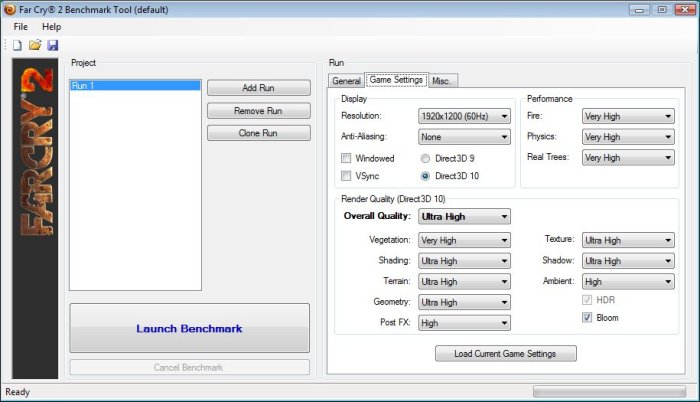 The Settings we use for benchmarking FarCry 2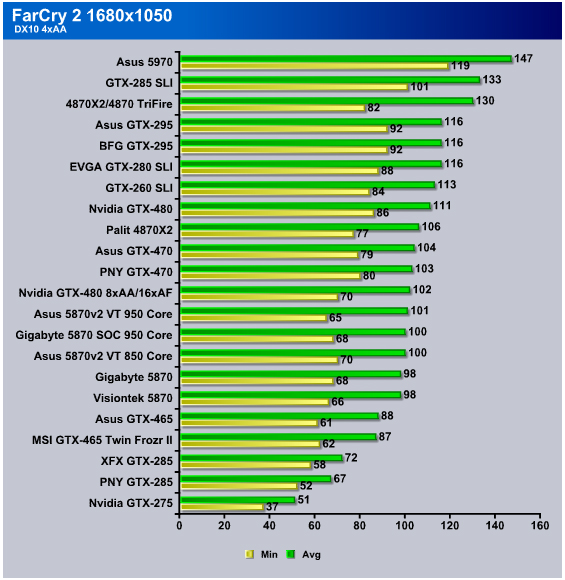 At the lower resolution its clear that the GTX-465 from MSI is performing extremely well and is able to keep pace with its ATI counterparts.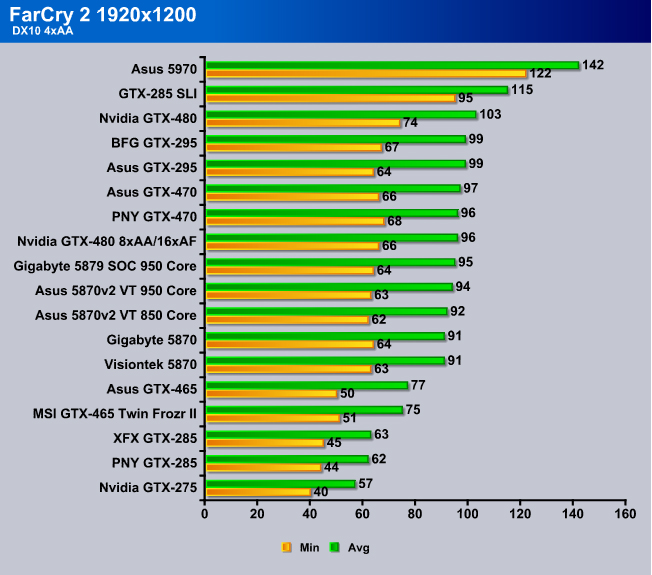 bump up the resolution the GTX-465 keeps on chuggin along and manages to squeeze out 50+ FPS as expected.
METRO 2033
Metro 2033 is an action-oriented video game with a combination of survival horror, and first-person shooter elements. The game is based on the novel Metro 2033 by Russian author Dmitry Glukhovsky. It was developed by 4A Games in Ukraine and released in March 2010 for the Xbox 360 and Microsoft Windows. In March 2009, 4A Games announced a partnership with Glukhovsky to collaborate on the game. The game was announced a few months later at the 2009 Games Convention in Leipzig; a first trailer came along with the announcement. When the game was announced, it had the subtitle The Last Refuge but this subtitle is no longer being used by THQ.
The game is played from the perspective of a character named Artyom. The story takes place in post-apocalyptic Moscow, mostly inside the metro system where the player's character was raised (he was born before the war, in an unharmed city), but occasionally the player has to go above ground on certain missions and scavenge for valuables.
The game's locations reflect the dark atmosphere of real metro tunnels, albeit in a more sinister and bizarre fashion. Strange phenomena and noises are frequent, and mostly the player has to rely only on their flashlight to find their way around in otherwise total darkness. Even more lethal is the surface, as it is severely irradiated and a gas mask must be worn at all times due to the toxic air. Water can often be contaminated as well, and short contacts can damage the player, or even kill outright.
Often, locations have an intricate layout, and the game lacks any form of map, leaving the player to try and find its objectives only through a compass – weapons cannot be used while visualizing it. The game also lacks a health meter, relying on audible heart rate and blood spatters on the screen to show the player what state they are in and how much damage was done. There is no on-screen indicator to tell how long the player has until the gas mask's filters begin to fail, save for a wristwatch that is divided into three zones, signaling how much the filter can endure, so players must continue to check it every time they wish to know how long they have until their oxygen runs out, requiring the player to replace the filter (found throughout the game). The gas mask also indicates damage in the form of visible cracks, warning the player a new mask is needed. The game does feature traditional HUD elements, however, such as an ammunition indicator and a list of how many gas mask filters and adrenaline shots (med kits) remain.
Another important factor is ammunition management. As money lost its value in the game's setting, cartridges are used as currency. There are two kinds of bullets that can be found, those of poor quality made by the metro-dwellers themselves, which are fairly common but less effective against targets, especially mutants, and those made before the nuclear war, which are rare and highly powerful, but are also necessary to purchase gear or items such as filters for the gas mask and med kits. Thus, the player is forced to manage their resources with care.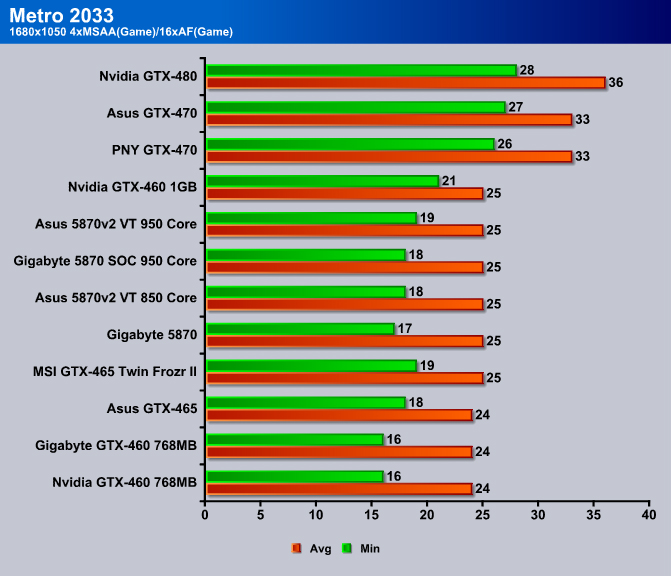 The GTX-465 really shines here and shows its great performance in a DX11 game, this is also when it starts to pull ahead of its ATI counterparts.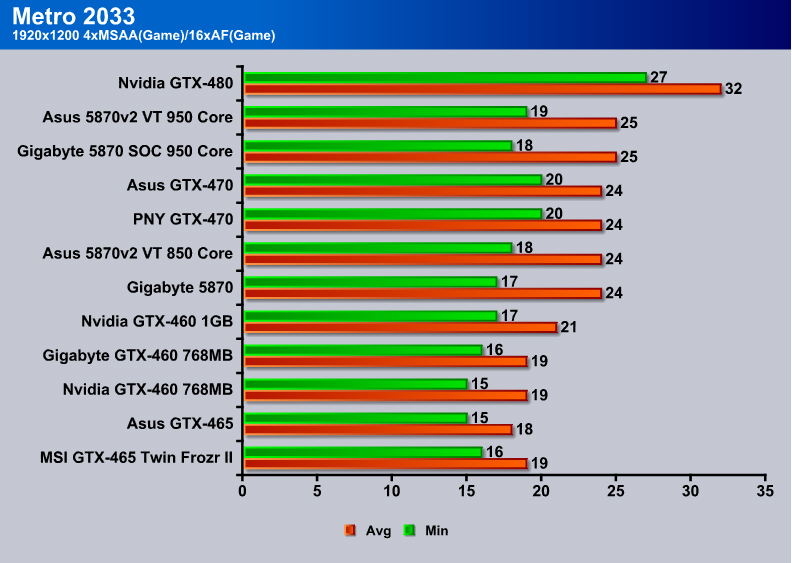 As we bump up the resolution you can really see how the GTX-465 performs so well.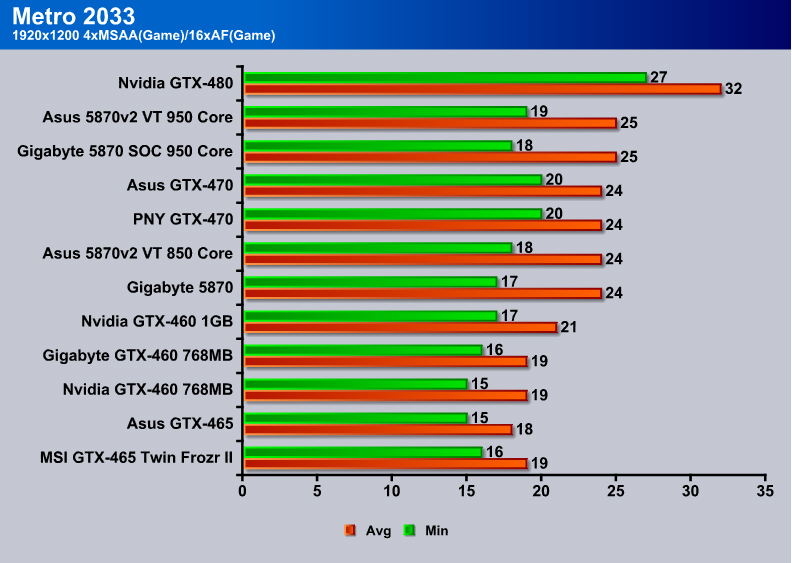 3DMark Vantage

For complete information on 3DMark Vantage Please follow this Link:
www.futuremark.com/benchmarks/3dmarkvantage/features/
The newest video benchmark from the gang at Futuremark. This utility is still a synthetic benchmark, but one that more closely reflects real world gaming performance. While it is not a perfect replacement for actual game benchmarks, it has its uses. We tested our cards at the 'Performance' setting.
Currently, there is a lot of controversy surrounding NVIDIA's use of a PhysX driver for its 9800 GTX and GTX 200 series cards, thereby putting the ATI brand at a disadvantage. Whereby installing the PyhsX driver, 3DMark Vantage uses the GPU to perform PhysX calculations during a CPU test, and this is where things get a bit gray. If you look at the Driver Approval Policy for 3DMark Vantage it states; "Based on the specification and design of the CPU tests, GPU make, type or driver version may not have a significant effect on the results of either of the CPU tests as indicated in Section 7.3 of the 3DMark Vantage specification and white paper." Did NVIDIA cheat by having the GPU handle the PhysX calculations or are they perfectly within their right since they own Ageia and all their IP? I think this point will quickly become moot once Futuremark releases an update to the test.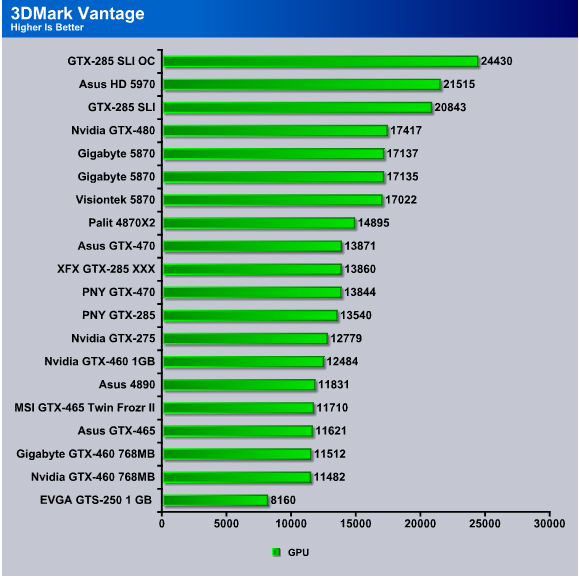 The GTX-465 from MSI performed just as one would expect right in the same range as its close relative from Asus. It was about 100 points off from taking over the 4890.
OVERCLOCKING
Lets get started with a shot of the stock clocks using GPU-Z
The tool used for overclocking the MSI GTX-465 Twin Frozr II was none other than the very prestigious MSI Afterburner. Lets get a little help with the background of Afterburner from MSI.
Afterburner
co-development by MSI and Rivatuner, MSI releases the ultimate graphics card utility "Afterburner". This utility enables all MSI graphics cards users to boost performance and to monitor all kinds of critical information in real-time. Afterburner is a completely free utility which is compatible with almost all MSI graphics cards.
Overclocking with this tool was as easy as 1-2-3 and I worked the sliders until the system became unstable. At that point I worked on finding a stable clock speed.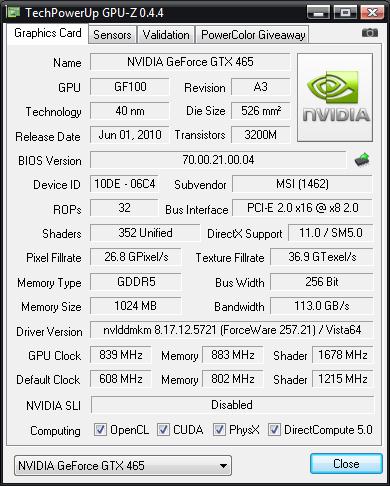 With minimal work put behind the overclocking I was able to reach a rather impressive clock speed.
CONCLUSION
The end has been reached, and we have came to our verdict. The card performs very well for its price point, doing well all around in various games ranging from DX9 all the way up to the latest and greatest DX11. Its only outperformed by its older siblings and a few ATI cards which is a feat all on its own. The quality of the card is apparent from the moment you open the box, you can see the craftsmanship and the design that was put into the card. This card is feature packed and considering MSI has its very own Afterburner for overclocking, I was able to get this card to a very high clock speed. The card is really bringing some great things to the graphics card market which I hope become standard on all of the high-end GPU's.
OUR VERDICT: MSI GTX-465 Twin Frozr II
| | |
| --- | --- |
| Performance | 8 |
| Value | 6 |
| Quality | 9 |
| Features | 9 |
| Innovation | 10 |

We are using an addition to our scoring system to provide additional feedback beyond a flat score. Please note that the final score isn't an aggregate average of the rating system.

Pros
Cons

Overclocks well

DX11

Price

Appearance

Noise is very minimal

 

 

Price for the hardware you lose is hard to swallow

Struggles at higher resolutions

 

 
Summary: This is the kind of card that may not be the biggest and baddest but it will still pack a punch that's above expected for its price point. The only downside to this card is its loss of hardware for the price minimal price difference.