Just how important is the PSU to our computers really is? Lets step inside and found out.
The Power Supply
When we think of power supplies for our computers there are still quite a few people out there that think that a PSU is just something that powers our computers. They also still feel that any ole' PSU will work on our computers. This is not the case A PSU is the most vital component of our computers. The PSU in my opinion is just as important as our CPUs, our video cards, motherboards, memory, HDDs/SSDs and sound cards. You are only as fast as your slowest component, if your PSU cannot properly supply your computer with enough power; then your entire computer is the slowest component.
We all know PC Power and Cooling to be one of the best of best power supply manufacturers out there. We also know PC Power and Cooling to be one of the most reliable PSU manufacturers as well. My computer "Mini Me" has gone through a recent metamorphose which will make it the perfect candidate to test out this PSU. I recently dumped the single Sapphire 5870 Vapor X video card I had and replaced that one video card to not just one PNY 470GTX video card, but with two PNY 470GTX video cards.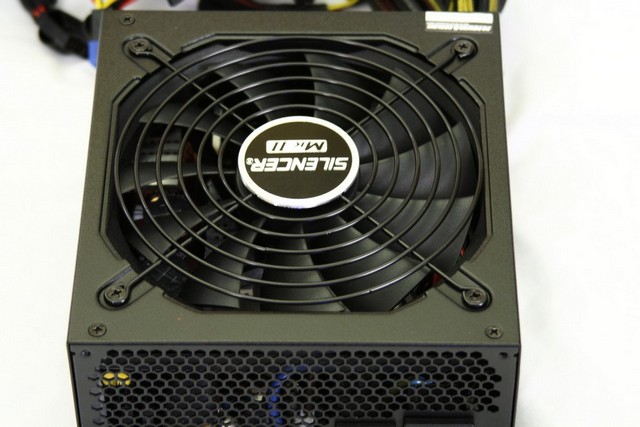 Running two of these video cards recently brought upon the cold harsh reality of one thing, that you are only as good as the PSU that is powering your computer. In typical "Dragon" style let's switch to using the PC Power and Cooling 950 Watt PSU, fire up "Mini Me" and then see how this PSU can handle this computer, while it is being overclocked.
Packaging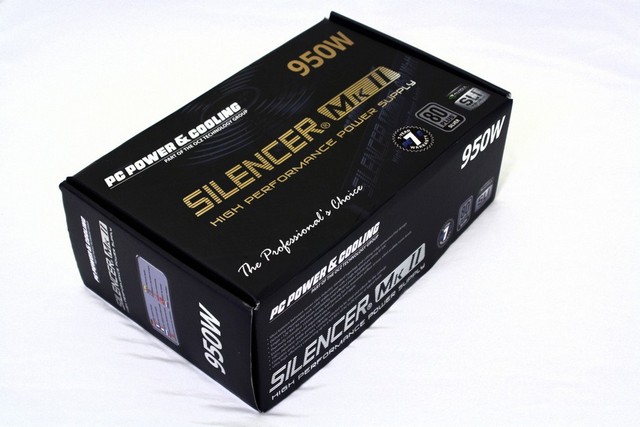 Starting off with how PC Power and Cooling packaged up the 950 Watt Mk II PSU, we can see they ensured us what the capabilities of this PSU are. There is one sticker that grabbed my attention, and that is the 7 year warranty that PC Power and Cooling is offering with this PSU. That is a long time for a warranty.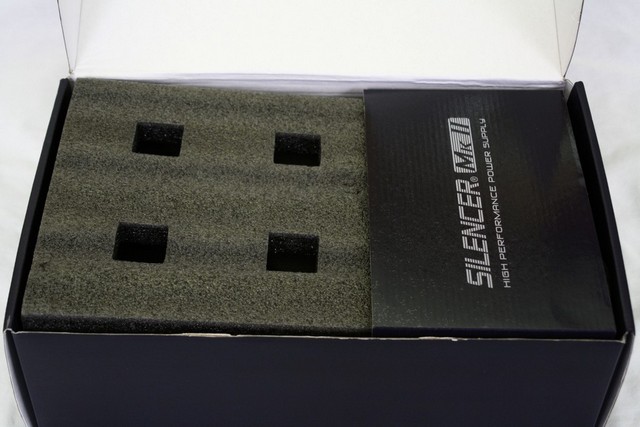 We can see that PC Power and Cooling packaged the interior quite well. This PSU did not move around inside the box.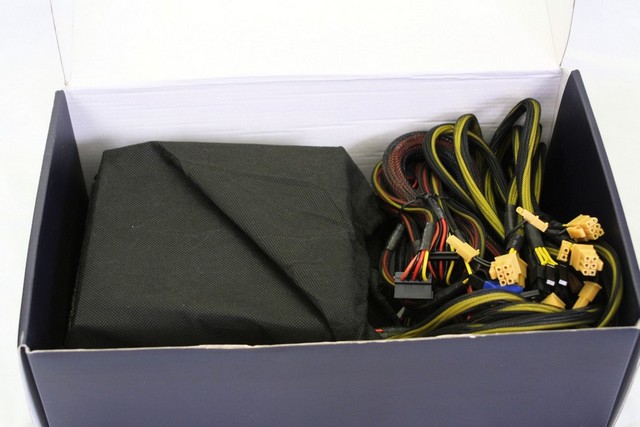 My first thought once I got a look at the PSU was, wow that is a lot of cables. This PSU is not of a modular design, so hiding these cables for some may be a challenge.
Specifications
950W Continuous @ 50C
NVIDIA SLI Certified (Dual-GPU)
80+ Silver Certified (88% Efficiency); .98 Active PFC
135mm double ball-bearing fan
Up to 90% (10dB) Less Noise per Watt
+12VDC @83.4A (Powerful Single Rail)
Rock-Solid, Super-Clean DC Output
6 x PCI-E and complete array of connectors
Automatic Fan Speed Control Circuit
7-Year Warranty and Tech Support
Overview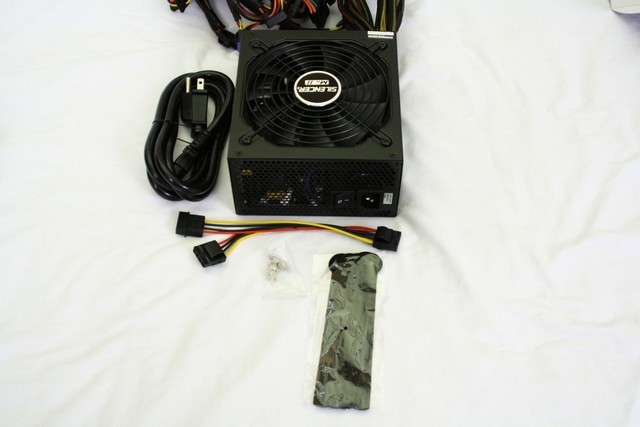 This is what comes with the PC Power and Cooling 950 Watt Mk II PSU, we get a power cable, a Molex splitter, four thumb screws (which I think is a nice added touch, makes installation a lot easier) and some wire ties to help with managing these cables a bit easier.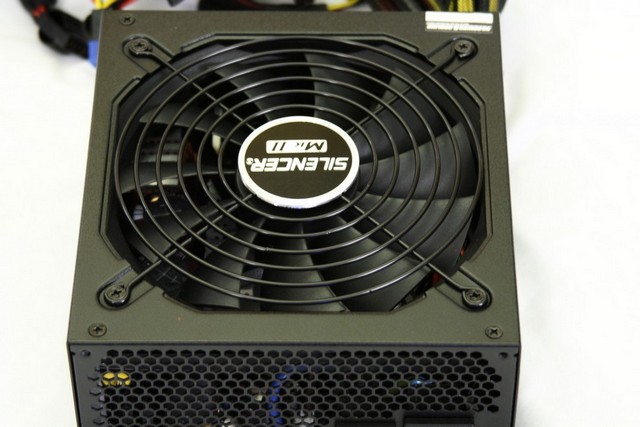 Getting a quick look at the 135mm fan that is included with this PSU. It helps keep things nice and quite as well as cool during operation.
I don't like ripping apart a PSU if I can help it. I am trying to get a closer look at the heat sinks that PC Power and Cooling uses to keep the mosfets cool. It appears this design is being favored among all of the top brand PSU manufacturer. This design gives us good cooling abilities, while not restricting the air flow from the fan.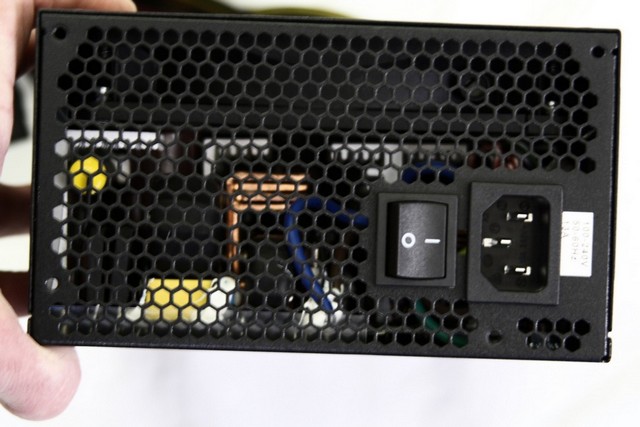 PC Power and Cooling uses a honey comb rear venting system that will allow all of that hot air to escape out of the PSU efficiently. We can see that PC Power and Cooling uses quite a number of heat-sinks inside of this PSU.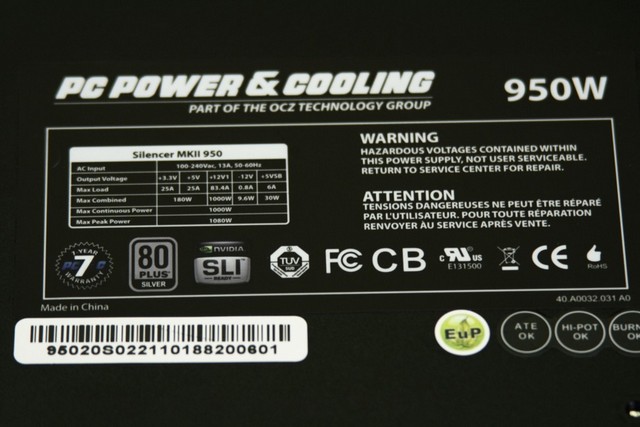 Looking at the Wattage rating of this PSU, like all of PC Power and Cooling PSUs this PSU is no exception. PC Power and Cooling rates their PSUs for continuous wattage and not max wattage.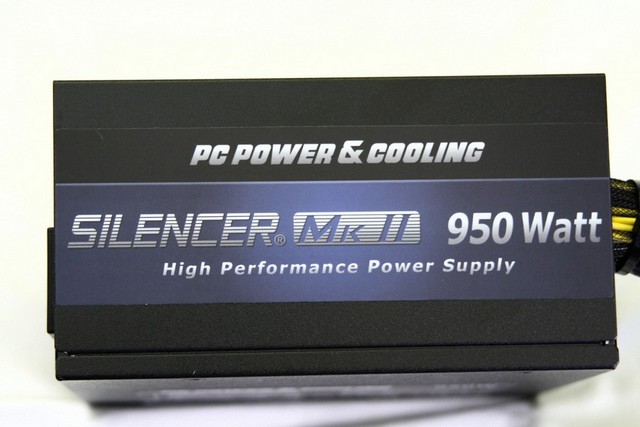 The side sticker is fairly attractive, and lets the user or others know what's exactly powering their computer.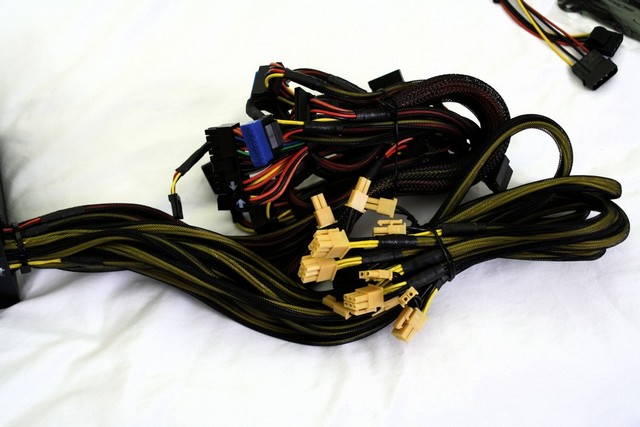 That is a lot of cables.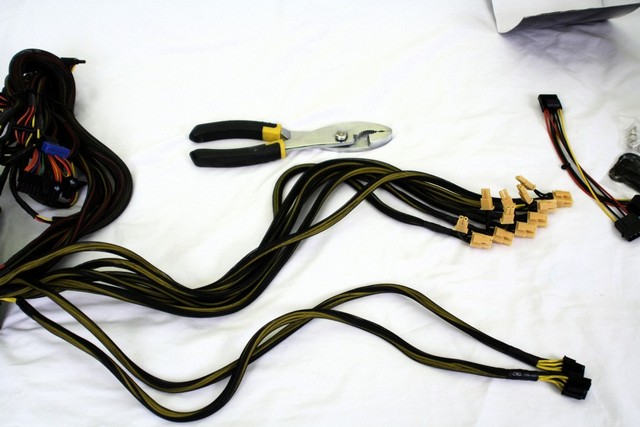 The pair of pliers you see is standard sized 6" pliers. This should give you an idea of the length of the cables. The 950 Mk II PSU uses six 6/8 pin PCI-E power connectors, this time these are easily identifiable by the yellowish connector. This should keep the confusion of the EPS and the PCI-E power cables down to nil.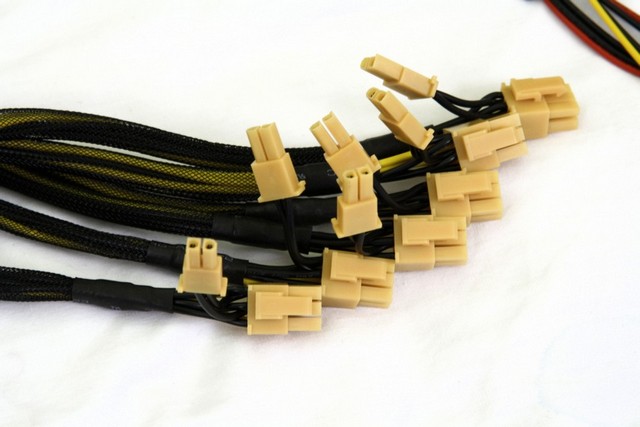 A closer image of the six PCI-E 6/8 pin power cables.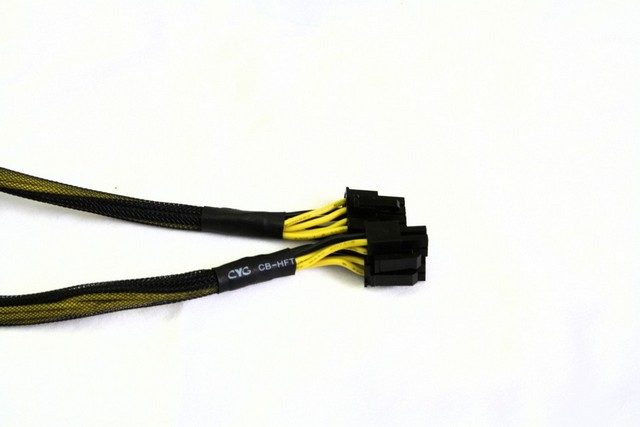 The 950 Mk II PSU has two EPS power cables, one of these is a 4×4 power cable, and the second one is a straight 8 pin EPS power cable.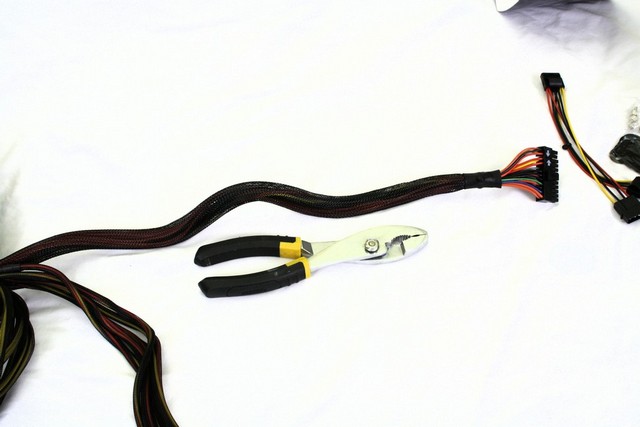 Looking at the length of the main 24 pin power cable, this power cable is fairly long and should accommodate any chassis we use this PSU in. Another area I was impressed with was the flexibility of all of the power cables. These power cables were extremely easy to bend and did not require a lot of force to get them to twist or bend at sharp angles.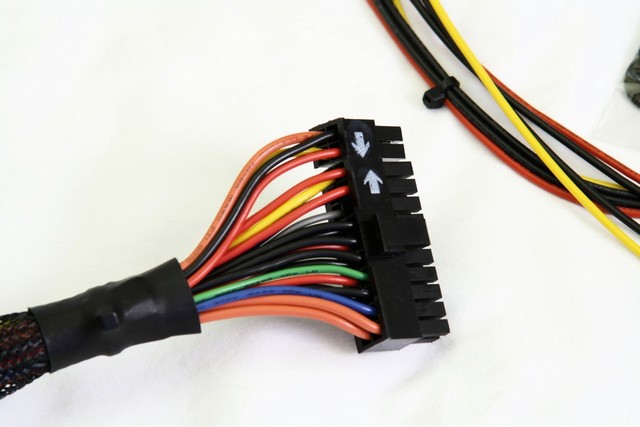 This is the area I wish PSU manufacturers stop doing, is to use the split 20/24 main power plug. PC Power and Cooling does give us arrows to ensure that the extra 4 pin cable gets aligned to that side.
Getting a look at the included six Molex power connectors along with a floppy power cable.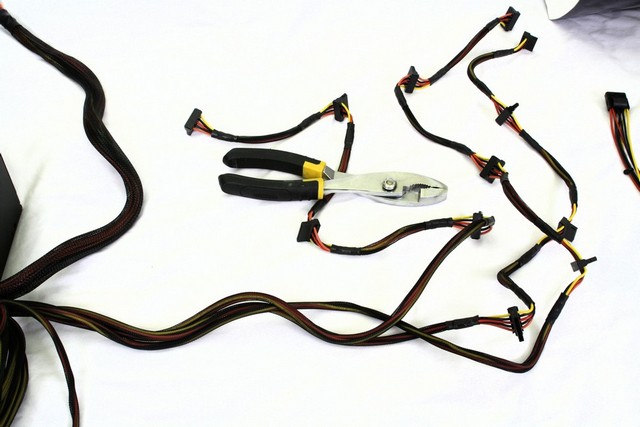 PC Power and Cooling includes not just the standard three SATA power connectors times three power cables, we get four SATA connectors on three power cables giving us a total of 12 SATA power connectors. We should be able to use a lot of SATA devices in our computers.
Installation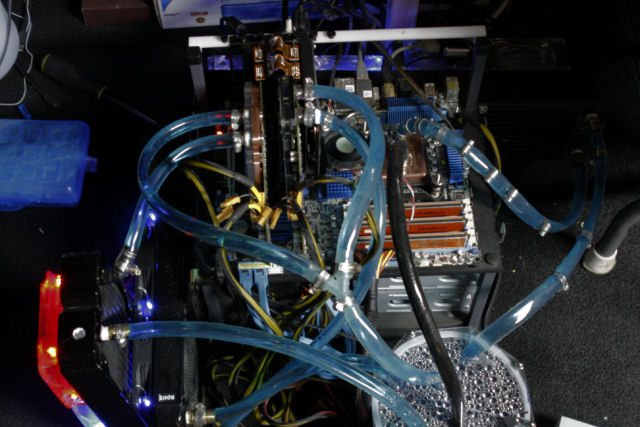 Somewhere underneath all of that hardware is the PSU. This is the system that the PC Power Cooling 950 Mk II PSU is powering. It is not pretty, but it gets the job done.
Testing Methodology
Test Setup &Testing Methodology

"Mini Me"

CPU
Intel Core i7 930 D0
Motherboard
ASUS P6X58D-E
Case
Open Chassis
Memory
Crucial 1600 @ 1720MHz
Video Card
2 PNY 470GTX in SLI
Hard Drives
4x Seagate 320Gig 2.5″ Momentus HDD's RAID-0, WD 1TB green drive Backup
CDRom Drive
Lite On Blue Ray
Power Supply
SilverStone 1200 Watt Zeus, Power and Cooling 950 Mk II
CPU Speeds Used
4.08 GHz
Operating System Used
Microsoft Windows 7
Video Card Cooler

Koolance 470GTX, EK 470GTX water blocks
CPU Cooler

EK Supreme HF CPU with a XSPC Quad 120mm Rad
Unfortunetly, I was unable to use a Kill-A-Watt meter, because I broke the only one I had available, which it belonged to my roommate. There are other ways we can check a PSU, but it leads to one question; "What does all of that mean to you?"  Well I am going to answer that particular question; hopefully it will shed some light on our questions regarding the PSU, and how it applies to our computers.
First things first, I am going to leave all clock speeds of the computer exactly the same. No under-clocking, or overclocking the computer even farther than it is already is. CPU will remain 4.08 GHz, I will be using two PNY 470GTX in SLI, and two monitors will be hooked up, and turned on. The video cards will be overclocked to 1463MHz GPU core speed, memory will be overclocked to 1751MHz. I will be using five HDDs total, four of which will be on a RAID 0 array, one HDD will be used as a backup drive. For my voltage checks, I will be checking all voltage lines both idle and fully loaded. I will refer back to the main 24 pin power cable when making my checks. I will be using Metro 2033 for the VGA cards, LinX for CPU testing, move a 4 Gig file from backup drive to the primary RAID 0 drives (4 total) and back again. I will include something a bit different in this review, this will better demonstrate the purpose of a properly powered computer and how it effects your everyday lives.
Results
Results

Power Rail
SilverStone 1200W ZEUS
PC Power and Cooling 950 Mk II

Idle
Load
Idle
Load
Main 3.3v
3.34V
3.28V
3.33V
3.29V
Main 5v
 5.09V
5.09V 
5.15V
5.10V
Main 12v
12.19V
12.16V
12.28V
12.24V
 EPS 1 12v
12.18V
12.16V
12.27V
12.25V
EPS 2 12v
N/A
N/A
N/A
N/A
PCI-E 1 12v
12.20V
12.17V
12.27V
12.25V
PCI-E 2 12v
12.18V
12.15V
12.28V
12.26V
PCI-E 3 12v
12.19V
12.16V
12.28V
12.26V
PCI-E 4 12v
12.18V
12.15V
12.27V
12.25V
PCI-E 5 12v
12.20
12.18
12.27V
12.26V
PCI-E 6 12v
12.19
12.17
12.28V
12.25V
SATA 12v
12.19V
12.19V
12.27V
12.27V
SATA 5v
5.10V
5.09V
5.14V
5.11V
SATA 3.3v
3.34V
3.28V
3.34V
3.30V
Molex 12v
12.19V
12.19V
12.21V
12.19V
Molex 5v
5.09V
5.09V
5.13V
5.13V
There is always going to be a small margin of error when performing manual voltage checks with a multimeter. The things I look for is large voltage fluctuations between idle mode, and once I fully loaded up the PSU. The tolerance is typically a 5% fluctuation on any voltage line. The PC Power and Cooling 950 Watt Mk II PSU is well within that 5% fluctuation. The voltage output is a tad high, but in my experiences with power supplies they tend to mellow out on the voltages as they get used through the years of our use with them.
The SIlverstone 1200 Watt Zeus PSU, when I first got my second 470GTX video card, ran into a small minor issue. Whenever I would start up 3DMark Vantage my system would reboot itself. At first I considered the possibility that the mighty Silverstone Zeus was going bad on me. I remembered that the SIlverstone Zeus PSU can be switched from a multi-rail mode to single rail mode; which I ended up doing. This passified my computer system, it just resolved a rebooting issue, and crashing I was having before (prior to switching the PSU).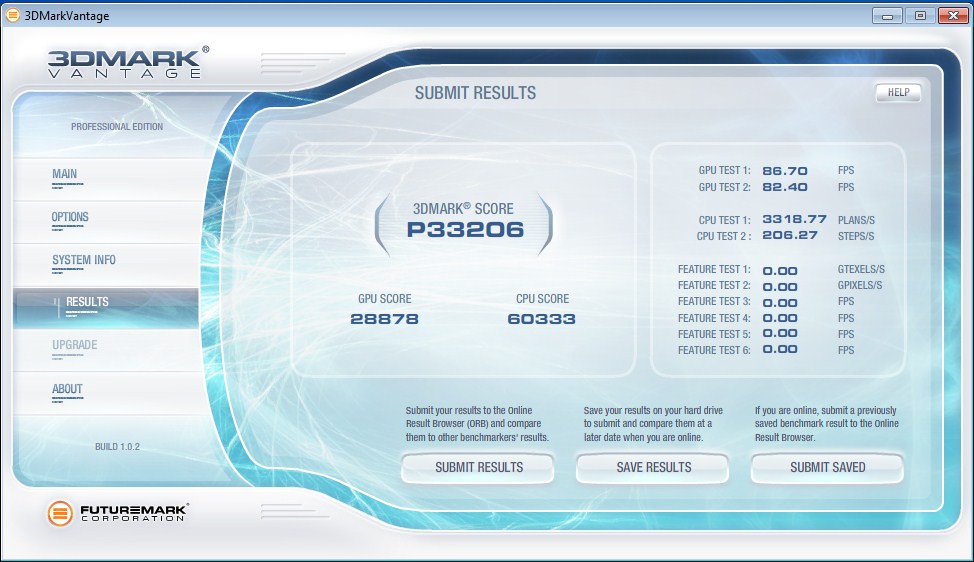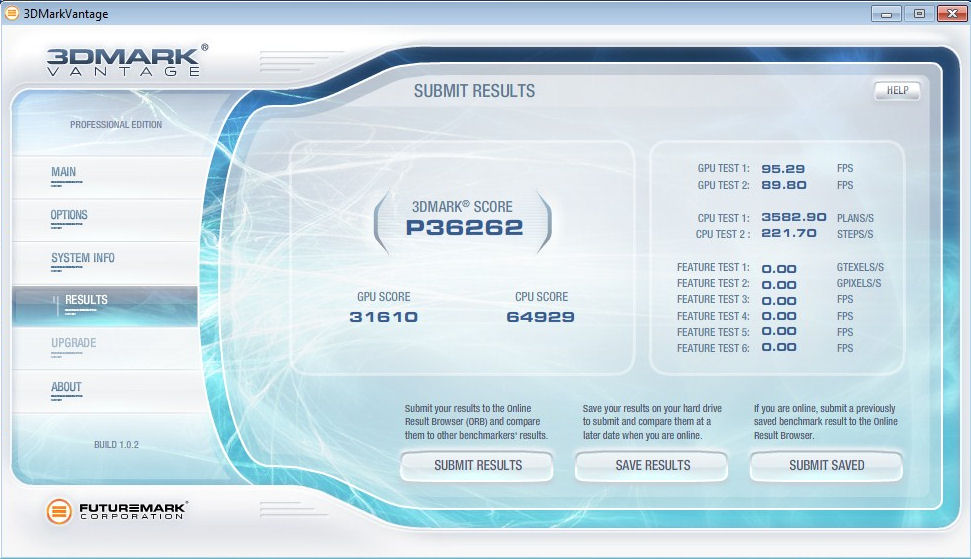 Normally when a PSU is on its way out, we start to see several key things with our computers. One of these areas is the performance. As we can see when I switched from the Silverstone to the PC Power and Cooling 950 watt PSU I got a good performance boost. Reconfirming my suspicions that the mighty Zeus 1200watt PSU might be falling.
Conclusions
I know a lot of you will be saying, "there is no way a 950 Watt PSU can beat a 1200 Watt PSU." Keep in mind that the Silverstone 1200 watt PSU could be going bad. Unfortunately, I cannot verify this because I do not have another Silverstone 1200 watt PSU to reconfirm this. I have owned two Silverstone 1200 Zeus PSUs. The first one was RMA'd due to similar issues this one is giving me now.
The PC Power and Cooling 950 Watt PSU, was exactly what I been needing to properly power my ever growing computer. I like how the cables were flexible enough for me to make some rather sharp radius turns with these cables. The one area that may deter some people from this PSU is the fact that these cables are not modular, if you are using a small chassis, these cables may present a problem for you in wire management.
Looking around the internet for a pricing of this PSU, I can see this can be bought for on or around the 250 USD mark. I will take into consideration that this PSU can power my computer quite easily, the cables are flexible enough not to hinder their usage and also considering the 7 year warranty that this PSU comes with it is more than a fair price to pay.
OUR VERDICT: PC Power and Cooling 950 Watt Mk II
| | |
| --- | --- |
| Performance | 9 |
| Value | 9 |
| Quality | 10 |
| Features | 9 |
| Innovation | 9 |

We are using a new addition to our scoring system to provide additional feedback beyond a flat score. Please note that the final score isn't an aggregate average of the new rating system.

Pros
Cons

Plenty of power output

Gave me a nice performance boost in my games

Cables were flexible enough to make sharp radius turns

More then enough power cables/plugs to accommodate some of the largest computers out there

Great Warranty coverage

Cables may present a problem for cable management

 

 

 
Summary:
The

PC Power and Cooling 950 Watt Mk II PSU is an affordable PSU that can power up some of the largest computers out there today.