Gigabyte HD 5770 Super Overclock features a large heatsink over the GPU to keep the card running cool while it is factory overclocked to 900 MHz (vs 850 MHz). While $179 price tag is a bit higher than other HD 5770, it may worth your consideration when shopping for a factory overclocked mainstream card.
INTRODUCTION
I do not know about you but sometimes when I go shopping for computer hardware, I prefer to find a product that is factory overclocked. Part of the reason for choosing factory overclocked hardware is that it saves me the trouble of spending hours of testing the best overclocking setting that can be attained. Factory overclocked hardware also has advantage of carrying the full warranty at the overclocked setting, and often comes with a better cooling solution.
Overclocking a current graphic card is not too hard but it is just easier to choose an overclocked card if the price difference is not too big. For mainstream users, the AMD Radeon HD 5770 is the best card on the market at approximately $150. The card offers impressive performance at resolution up to 1920×1200 with plenty of features. While the card may not be faster than the older generation HD 4870, it does carries something that the older card does not have: full DirectX 11 and Eyefinity support. There are many factory overclocked HD 5770 cards that are available and we have reviewed a couple of them already: Sapphire 5770 Vapor X and MSI R5770 HAWK. Gigabyte is the latest company that offers an overclocked HD 5770 that the company is putting their Super Overclocked branding on.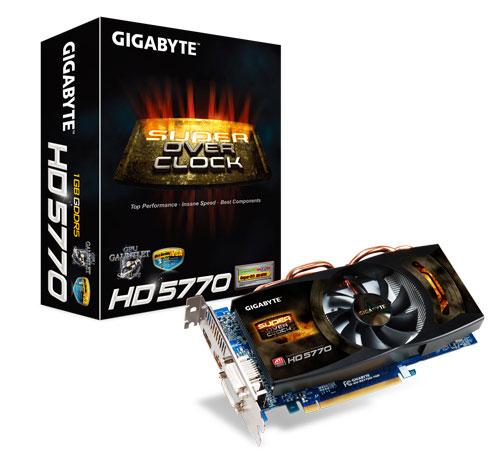 Gigabyte's Super OverClock branding often means a factory overclocked card that the company has cherry-picked the GPUs that passed the extensive testing. It often carries a better heatsink and fan than the factory reference cooler. Gigabyte has given their Super Overclock treatment to the latest HD 5870 and HD 5770 is now  the latest card that gets the same treatment. Our previous experience with the Gigabyte's Super Overclock card is that it is one of the best cards for mainstream buyer because of the better cooling the card offers and the factory overclocking which combine to give the Super Overclock card the best bang for the bucks. Can Gigabyte continue such tradition with the HD 5770 Super Overclock? Let's find out.
FEATURES AND SPECIFICATION
Let's start by looking at how the Gigabyte HD 5770 SOC stacks up against other cards: 
| | | | | | | | | |
| --- | --- | --- | --- | --- | --- | --- | --- | --- |
| GPU | GTX-480 | GTX-470 | GTX-285 | GTX 260 216 core | 5850 | 5870 | Giga HD 5770 SOC | 5770 |
| Shader units | 480 | 448 | 240 | 216 | 1440 | 1600 | 800 | 800 |
| ROPs | 48 | 40 | 32 | 28 | 32 | 32 | 16 | 16 |
| GPU | GF100 | GF100 | GT200b | GT200B | Cypress | Cypress | Juniper | Juniper |
| Transistors | 3200M | 3200M | 1400M | 1400m | 2154M | 2154M | 965M | 965M |
| Memory Size | 1536 MB | 1280 MB | 1024 MB | 896 MB | 1024 MB | 1024 MB | 1024 MB | 1024MB |
| Memory Bus Width | 384 bit | 320 bit | 512 bit | 448 bit | 256 bit | 256 bit | 128 bit | 128 bit |
| Core Clock | 700 MHz | 607 MHz | 648 MHz | 576 MHz | 725 MHz | 850 MHz | 900 MHz | 850 MHz |
| Memory Clock | 924 MHz | 837 MHz | 1242 MHz | 1242 MHz | 1000 MHz | 1200 MHz | 1200 MHz | 1200 MHz |
| Price | $499 | $349 | $340 | $150 | $299 | $399 | $179.99 | $159 |
Putting the HD 5770 SOC next to some of the cards that are currently on the market shows how the card stacks up against others. Here we can see the HD 5770 is virtually a reduced HD 5870 with the numbers of ROPs, shadder units, and memory bus width chopped in half. Gigabyte's HD 5770 SOC is slightly overclocked with the core clock running at 900MHz instead of 850 MHz.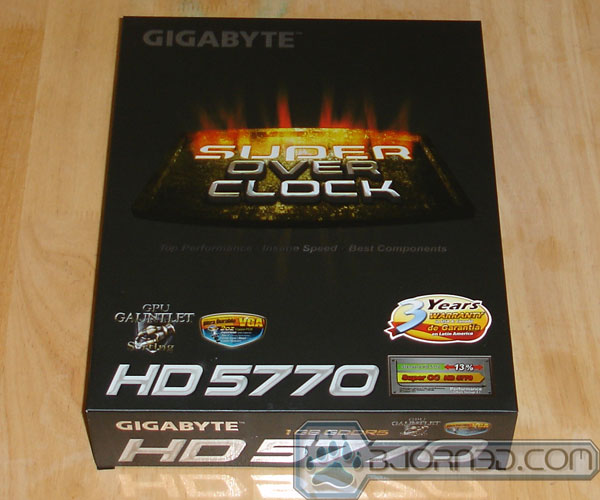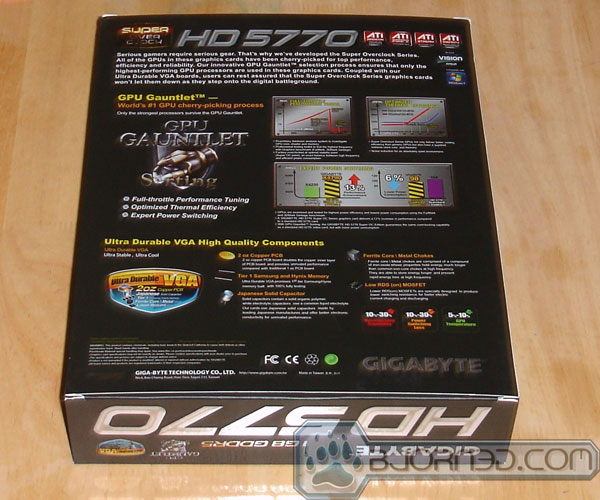 Gigabyte HD 5770 has gone through what the company called "GPU Gauntlet" where the GPU has been thoroughly tested and only "GPUs with the best power efficiency and lowest power consumption are qualified for the Super Overclock Series."
 Features
ATI Radeon HD 5770 GPU
Radeon HD 5770 SOC Edition
GPU GaunletTM Sorting Process Technology
Ultra Durable VGA High Quality Components
Super Overclock Performance 13% Upgrade
Integrated with the 1GB/128-bit GDDR5 memory 
800 Stream Processors
Features Dual-link DVI-I / D-sub / HDMI/ Displayport
Supports Window 7
Microsoft DirectX 11 and OpenGL 3.1 support
Supports CrossFireX™ / Avivo™HD technology
Supports PCI Express 2.1

Gigabyte's HD 5770 SOC is built with many high-end components that the company claims it will help to reduce the GPU temperature by 5~10%, increase overclocking ability by 10~30%, and reduce power switching loss by 10~30%.

High quality components are used that include Samsung and Hynix memory, Japnese solid capacitor, and Ferrite core Chokes.While these components may not reflect the performance of the card, they do prolong the longevity of the card and often helps to reduce heat outputs which further enhance cooling performance and overclocking potential.
2 oz Copper PCB

2 oz copper PCB board doubles the copper inner layer of PCB board and provides unrivaled performance compared with traditional 1 oz PCB board.

Tier 1 Samsung and Hynix Memory

Ultra Durable VGA promises 1st tier Samsung/Hynix memory built with 100% fully testing.

Japanese Solid Capacity

Solid capacitors contain a solid organic polymer, while electrolytic capacitors use a common liquid electrolyte. Our cards use Japanese solid capacitors made by leading Japanese manufactures and offer better electronic conductivity for unrivaled performance. 

Ferrite Core (Metal) Chokes 

Ferrite core chokes are comprised of a compound of iron-oxide whose properties hold energy much longer than common iron-core chokes at high   frequency. They are able to store energy longer and prevent rapid energy loss at high frequency. 

Low RDS (on) MOSFET

Lower RDS (on) MOSFETs are specially designed to produce lower switching resistance for faster electric current charging and  discharging.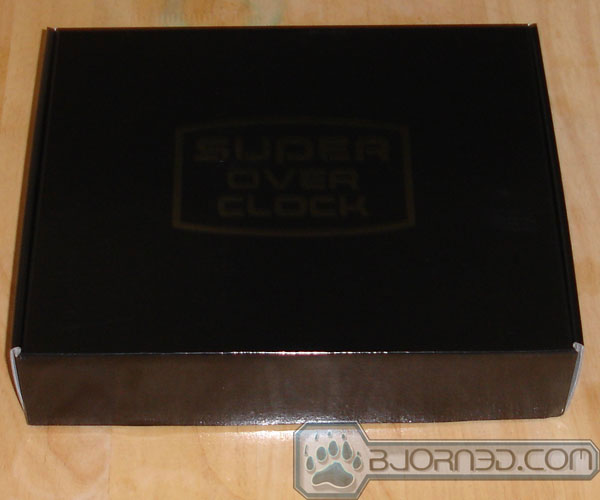 Not to overlook with the packaging, the HD 5770 SOC arrives inside a black cardboard box with enough padding to avoid any physical damage to the hardware.
PICTURES AND IMPRESSIONS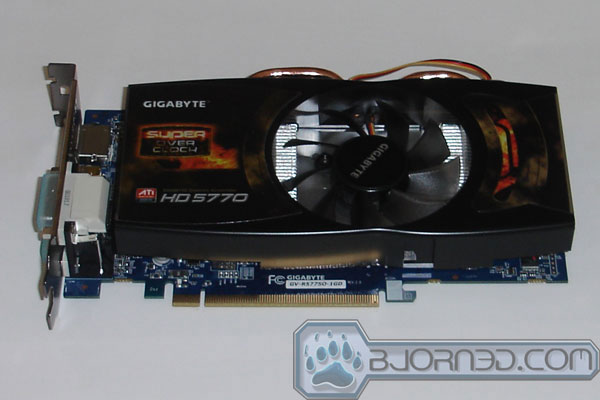 Gigabyte cherry-picked the GPUs for their Super Overclock series of cards. All of the cards in the Super Overclocked have gone through extensive testing and only the GPUs that survived the rigorous tests will be used in the Super OC. The HD 5770 Super OC (SOC) has the core overclocked to 900 MHz compare to 850MHz stock but Gigabyte leaves the memory clockspeed at the reference setting of 1200MHz (4800 MHz effective). With the slightly overclocked core, Gigabyte states that the card will perform with 13% higher performance compare to the standard HD 5770 card.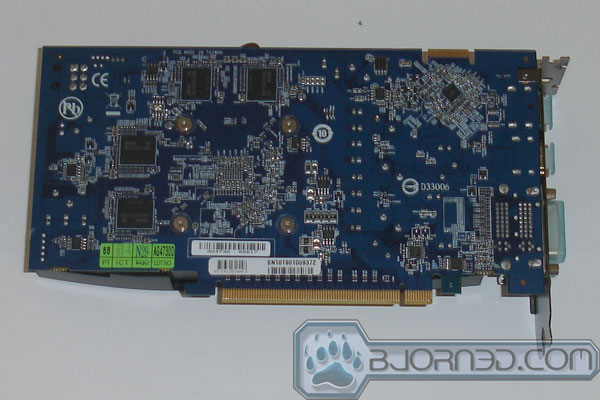 The HD 5770 Super OC is built with a blue PCB which has been a standard with many of Gigabyte's product. The card is rather small. In fact it is quite shorter than the GTX 260 card that is selling at the similar price bracket. It also requires only a single 6-pin PCI Express power connector as oppose to two that is needed by the GTX 260.
The SOC cards all carry good quality components. Gigabyte chooses to use Samsung GDDR5 memory that is located on the back of the card. Gigabyte also builds the card with what the company called "Ultra Durable VGA" where it is made with top notch components. Components that we have come to be familiar with high-end hardware such as 2 oz copper PCB, Japanese Solid Capacitor, Ferrite Core/Metal Chokes, and Low RDS MOSFET.

One of the most noticeable features with the HD 5770 SOC is the after-market heatsink that Gigabyte used. Sitting right underneath the plastic shroud is the heatsink unit. A large heatsink covers the GPU and four copper heat pipes extend out of the GPU core to help effectively dissipate the heat. A single fan sits above the heatsink to keep the card cool. For an overclocked card, the fan on the unit looks rather small. This means either the HD5770 Super OC heatsink is extremely efficient keeping the card running cool or that the fan is going to work extra hard to keep the card cool. Luckily the former is true.
Unfortunately, the heatsink does not cover the memory chips that are located on the back of the card. This is most likely the reason why Gigabyte left the memory at the reference speed. Without any additional cooling on the memory chip, we may have lower overclocking potential for the card which we will see in just a second.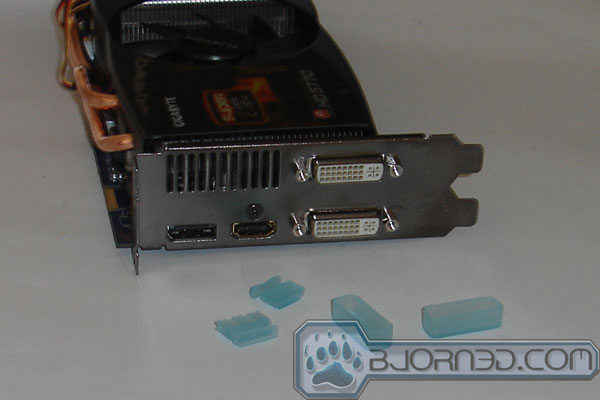 Gigabyte did not skimp on the output ports as the HD 5770 Super OC comes with two Dual-link DVIs, a HDMI port and a DisplayPort. We are so glad that Gigabyte includes the DisplayPort and HDMI port so that the card will work with the future monitors. AMD's HD 5000 series card support HDMI with integrated HD audio for 7.1 channel surround, TrueHD Surround Sound and DTS Master Audio format. Of course, the HD 5770 supports Eyefinity so you can attach three displays to the card with any combination of ports.  A DVI to VGA adapter is also included for those who are still using the old connector. We love the fact Gigabyte includes covers for the connectors so you can prevent dust build up.
We are nitpicking here but we are not happy to see the fan cable dangling above the graphic card. We would expect Gigabyte to tuck the cable away so it does not get ripped off by accident.
The top of the card is where you will find the CrossFire X connector. The card will work with any HD 5700 series card in CrossFire X configuration. Two of HD 5770 in CrossFire configuration could very easily offers a good performance at high resolution setting for less than $300.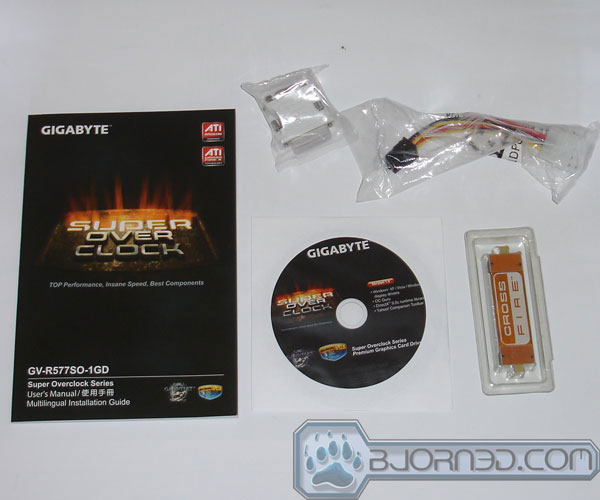 Gigabyte bundles the card with a nice manual, a driver disc, the CrossFire X bridge, a molex to PCI-E power adapter and a DVI to VGA adapter.
Gigabyte OC GURU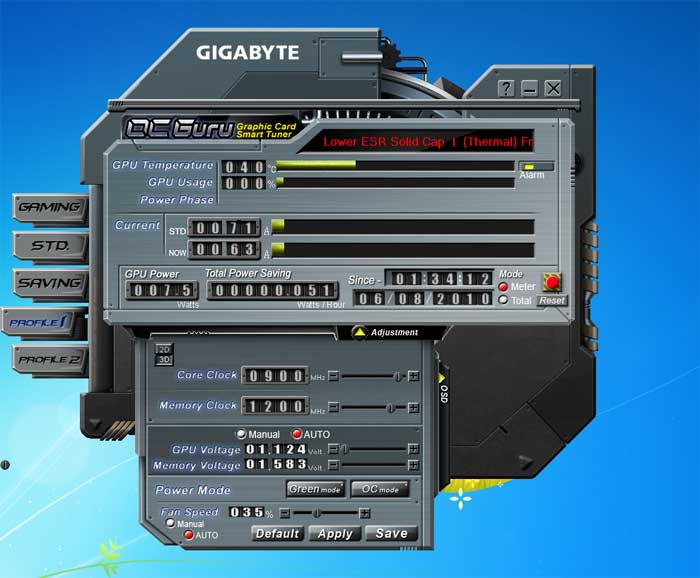 Gigabyte's own OC Guru provides a tool to overclock Gigabyte's own video card. The software lets users adjust the clock speed and voltage. Gigabyte only allows the GPU voltage adjustment for our HD  5770 SOC  and not the memory adjustment. In addition, the software only let us adjust the GPU to 960 MHz and memory to 1220 MHz. This is quite conservative compare to the Asus iTracker that we have tested with the HD 5870 Matrix Platinum. Hopefully the future version will allow more adjustments and wider range of settings.
One thing we absolutely loved about the OC Guru is its large interface. So many overclocking tools on the market has tiny icons and slider that are designed for people with sharp eyes. We love how clean the interface is and its large icons, which make it so much easier to read the numbers. As you can see the software will let you either use the slider to slide the MHz or you can use the – or + button to adjust the speed in 1MHz increments.
Not only can we adjust the clock speeds, the fan speed can also be manually adjusted. Gigabyte also includes a handy reset button to return to the stock setting. One thing we would love to see in many of the overclocking software is a built-in stability/artifact scanner. While we know that with overclocking you cannot rely on just one test, we would nonetheless wish to see one built-in for a quick and dirty test to see if a given overclocking setting is at least pass the stability test.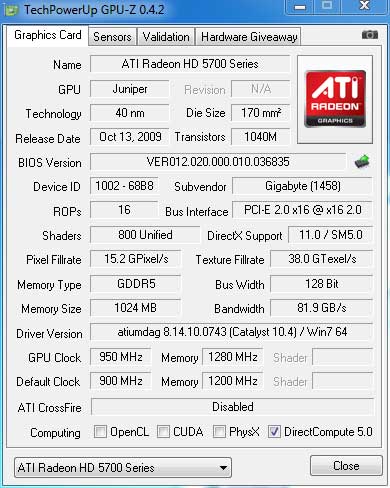 Gigabyte does not leave much room to overclock the card's GPU as previously stated. Since the card is already overclocked to 900 MHz (50 MHz higher than the reference speed), we did not get too far with the GPU clock speed when it comes to overclock. We were only able to raise the GPU core by 50 MHz more to 950 MHz and a raise of the voltage slightly does not seem to have much effect with the result or stability. Looks like Gigabyte's GPU Gauntlet does its homework when it comes to set the card's speed of 900 MHz.
The memory overclocking is slightly different. Without the additional heatsink over the memory, we did not expect to see much overclocking potential with the memory speed. In fact, we were able to overclock the memory to 1300 MHz but cannot run Furmark 5 minutes so we had to back down a bit. We ended up only able to overclock it to 1280 MHz. Again, it shows just why the HD 5770 SOC memory speed stayed with the reference setting instead of overclocked.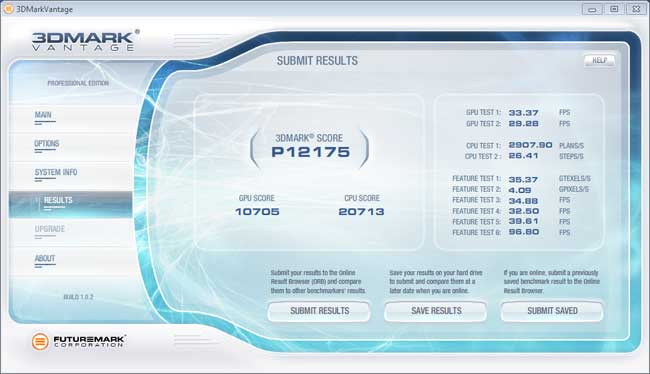 Overall, the overclocking result of the HD 5770 SOC is not particularly exciting. With only 50 MHz core and 80 MHz memory, that is not something to brag about. The good news is that the card runs very cool with the overclocking . Under full load, it cruises through FurMark at under 75°C. At this speed, we were able to score 594 more points in 3DMark Vantage overall and 610 more points in the GPU score.
TESTING & METHODOLOGY
To test the Gigabyte HD 5770 Super Overclock we did a fresh load of Windows 7 Ultimate, applied all the updates we could find, installed the latest motherboard drivers for the Gigabyte EX58-UD4P, updated the BIOS, and loaded our test suite. We didn't load graphic drivers because we wanted to pause to clone the HD with the fresh load of Windows 7 without graphic drivers. That way we have a complete OS load with testing suite and it's not contaminated with GPU drivers. Should we need to switch GPU's or run some Crossfire action later all we have to do is clone our clone and install GPU drivers and we are good to go.
We ran each test a total of 3 times and report the average here. In the case of a screenshot of a benchmark we ran the benchmark 3 times, tossed out the high and low and post the median result from the benchmark. If we got any seriously weird results we kicked out that run and redid the run. Say if we got 55FPS in two benchmark runs, then the third came in at 25FPS we kick out the 25FPS run and repeat the test. That doesn't happen very often but anomalous runs do happen rarely.
Test Rig
Test Rig
"Quadzilla"
Case Type
None
CPU
Intel Core I7 920
Motherboard
Gigabyte EX58-UD4P
Ram
Kingstone HyperX 1600
CPU Cooler
Prolimatech Megahalem
Hard Drives

Seagate 7200.11 1.5 TB

Optical
None
GPU

Gigabyte HD 5770 Super Overclock
Asus HD 5870 Matrix Platinum
GIgabyte HD5870 Super Overclock
Asus GTX-470 Voltage Tweak Edition
PNY GTX-470
Nvidia GTX-480
Asus 5970
Visiontek HD Radeon 5870
Gigabyte HD Radeon 5870 Gigabyte HD Radeon 4890 OC
Asus HD Radeon 4890 Voltage Tweak Edition
PNY GTX-285 Performance Edition
XFX GTX-285 XXX
BFG GTX-295
Asus GTX-295
XFX 9800 GTX+ Black Edition
BFG GTX-260 MaxCore
Palit HD Radeon 4870X2
Sapphire HD Radeon 4870 512MB
Diamond HD Radeon 4870 1 GB
Sapphire HD Radeon 4850 Toxic
Drivers for Nvidia GPU's 197.41
Drivers for ATI GPU's 10.5

Case Fans
120mm Fan cooling the mosfet CPU area
Docking Stations
None
Testing PSU
Cooler Master UCP 900W
Legacy
None
Mouse
Microsoft Intellimouse
Keyboard
Logitech Keyboard
Speakers
None
 
Synthetic Benchmarks & Games
Synthetic Benchmarks & Games
3DMark Vantage
World In Conflict Benchmark
Crysis v. 1.2
Dirt 2
FarCry 2
Stalker COP
 Crysis Warhead
Unigine Heaven v.2.0
FurMark
You can see we are indeed all over the map, DX9, DX10, DX11, Tessellation, old, new and in between. We wanted as wide a representative sample as possible in the time available.
Crysis v. 1.21

Crysis is the most highly anticipated game to hit the market in the last several years. Crysis is based on the CryENGINE™ 2 developed by Crytek. The CryENGINE™ 2 offers real time editing, bump mapping, dynamic lights, network system, integrated physics system, shaders, shadows, and a dynamic music system, just to name a few of the state-of-the-art features that are incorporated into Crysis. As one might expect with this number of features, the game is extremely demanding of system resources, especially the GPU. We expect Crysis to be a primary gaming benchmark for many years to come.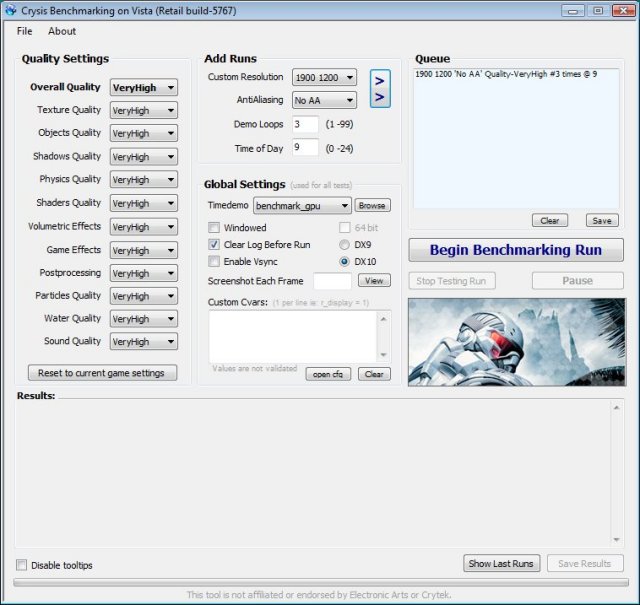 The Settings we use for benchmarking Warhead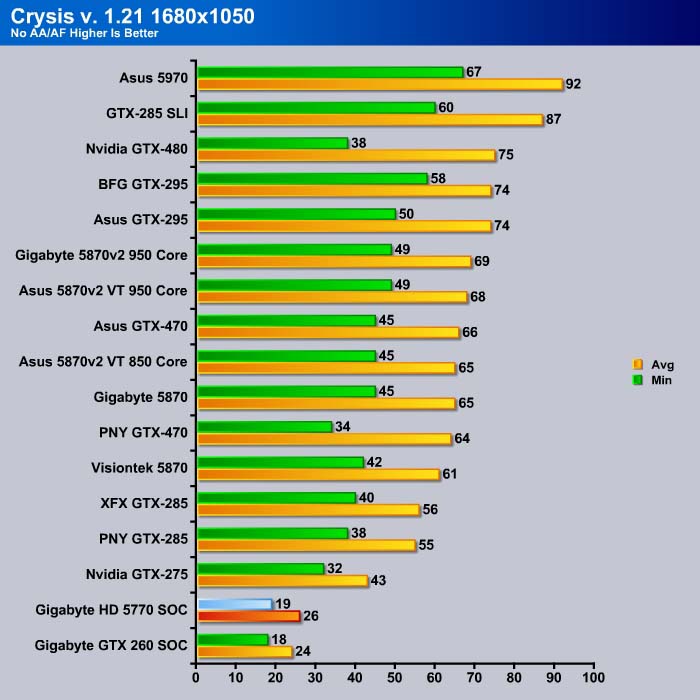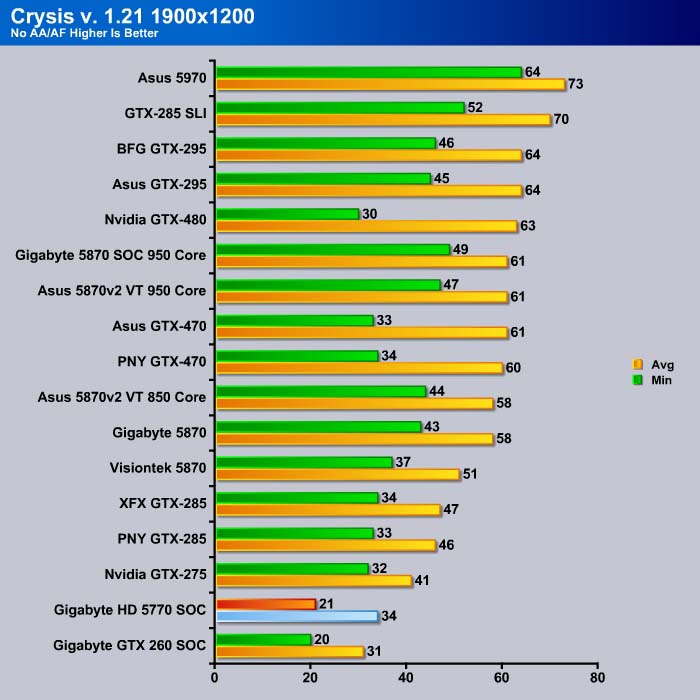 While not being able to hit that magical 30 FPS, the HD 5770 puts out a decent performance in Crysis. We see that the card actually performs better at 1920×1200 than at 1680×1050.The NVIDIA cards seems to fare better with Crysis and the GTX 275 outshines the HD 5770 SOC but considering that the HD 5770 is selling at $150 while the GTX 275 sells almost double of that, the HD 5770 SOC is certainly not a bad choice.
The GTX 260 or the GTS 250 would actually be a better competition to the HD 5770 because the GTX 260 is selling at $50 more while the GTS 250 is $30 less than the HD 5770. Here we can see that without enabling the AA and AF, our HD 5770 SOC takes a couple of frames more than the Gigabyte's own GTX 260 SOC. Not bad for a card that is cheaper than the GTX 260 and also supports DirectX 11. Bare in mind that our GTX 260 is also overclocked so it would yield a bettere result than reference GTX 260.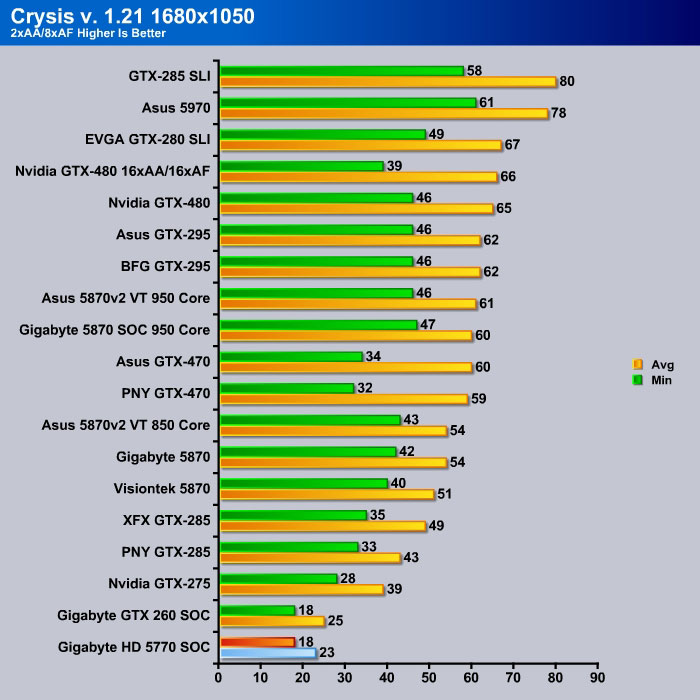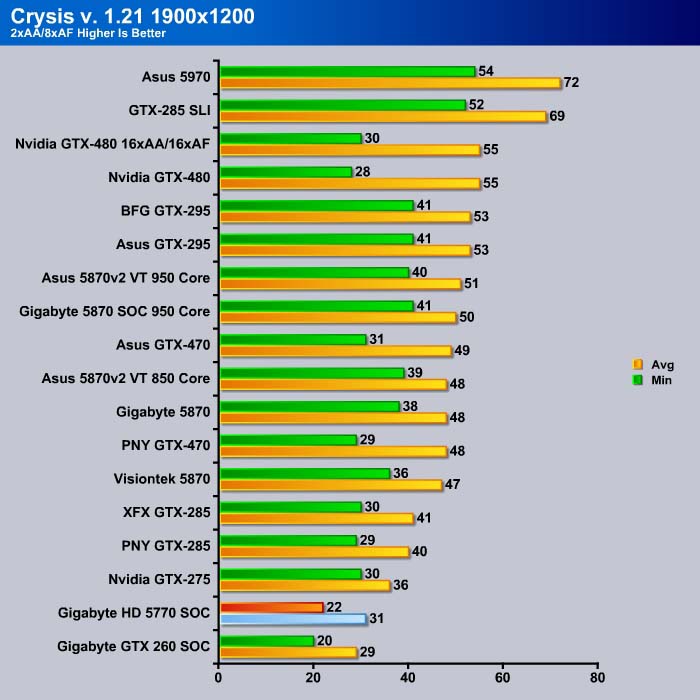 Enabling the AA and AF shows the same result. It is worth noting that the more expensive GTX 275 actually puts out 5 more average frames and 8 more minimum frames compare to our HD 5770 SOC while costing double of that of the HD 5770.
We can see the the performance difference between the GTS 260 and the HD 5770 is fairly close with the GTS 260 taking a slight lead at 1680×1050 but at 1920×1200, the positions are switched.
CRYSIS WARHEAD

Crysis Warhead is the much anticipated sequel of Crysis, featuring an updated CryENGINE™ 2 with better optimization. It was one of the most anticipated titles of 2008.

The Settings we use for benchmarking Warhead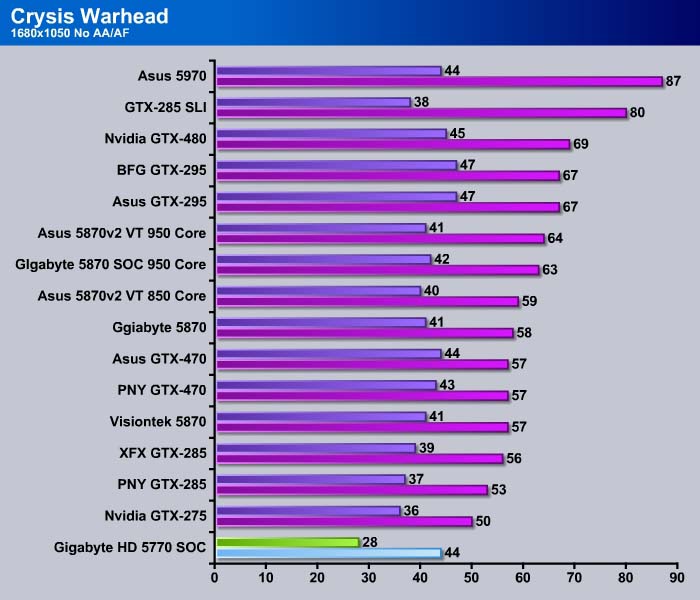 HD 5770 SOC fares much better with Crysis Warhead. Here the game should be playable at 1680×1050 despite it coming in at 2 frames shy of that minimum 30 FPS.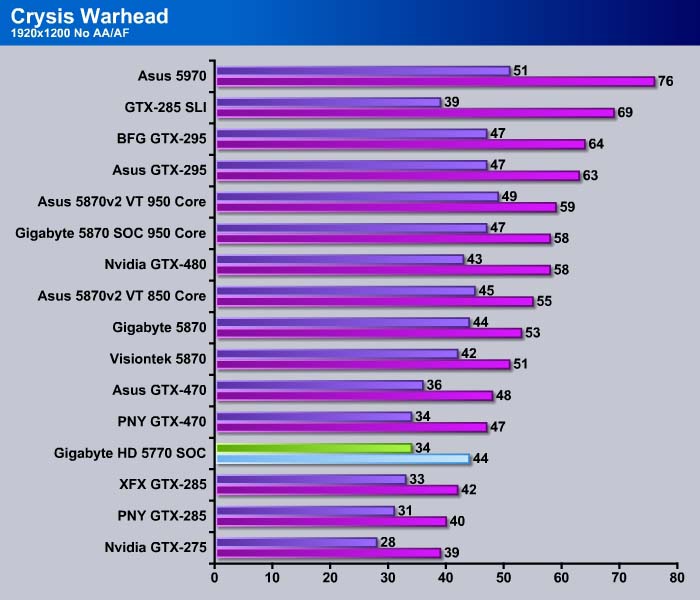 At higher resolution, the HD 5770 SOC puts on a great show when there is no AA/AF enabled. It even beats out the GTX 285 cards.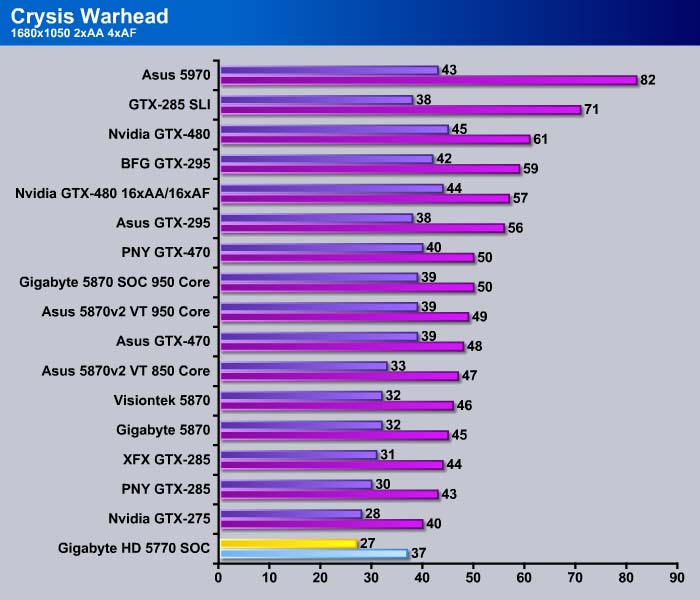 The card takes the last place when we crank up the AA and AF. Still the card is quite playable at this video setting.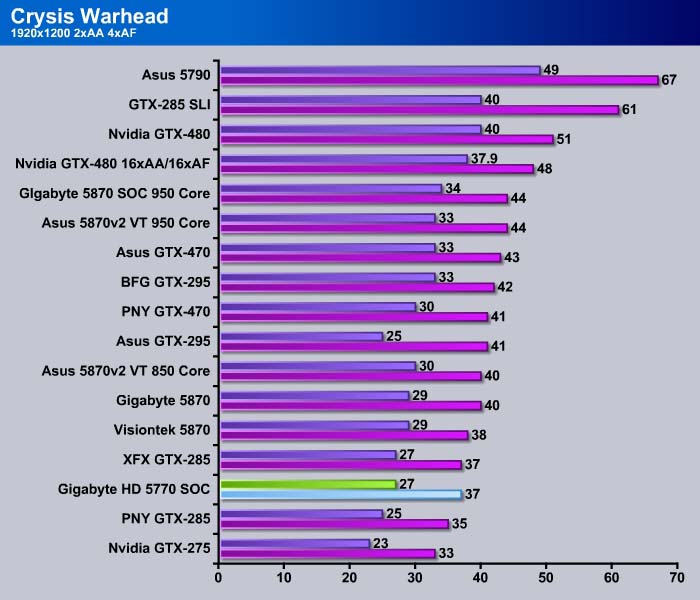 Once again, the HD 5770 SOC shows a great performance at 1920×1200 with AA and AF enabled. It beats out the GTX 275 and even comes close to the GTX 285.
Far Cry 2

Far Cry 2, released in October 2008 by Ubisoft, was one of the most anticipated titles of the year. It's an engaging state-of-the-art First Person Shooter set in an un-named African country. Caught between two rival factions, you're sent to take out "The Jackal". Far Cry2 ships with a full featured benchmark utility and it is one of the most well designed, well thought out game benchmarks we've ever seen. One big difference between this benchmark and others is that it leaves the game's AI (Artificial Intelligence) running while the benchmark is being performed.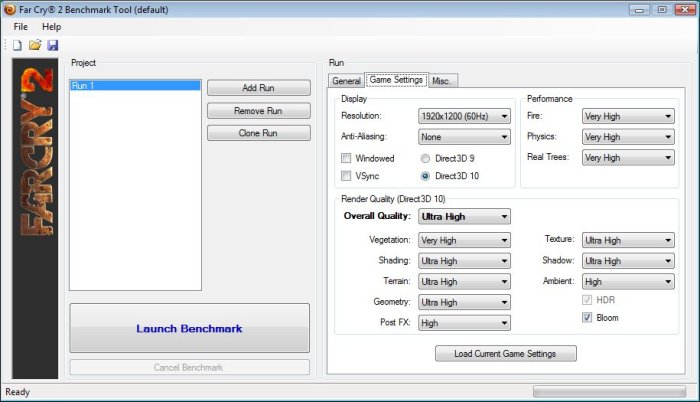 The Settings we use for benchmarking Far Cry 2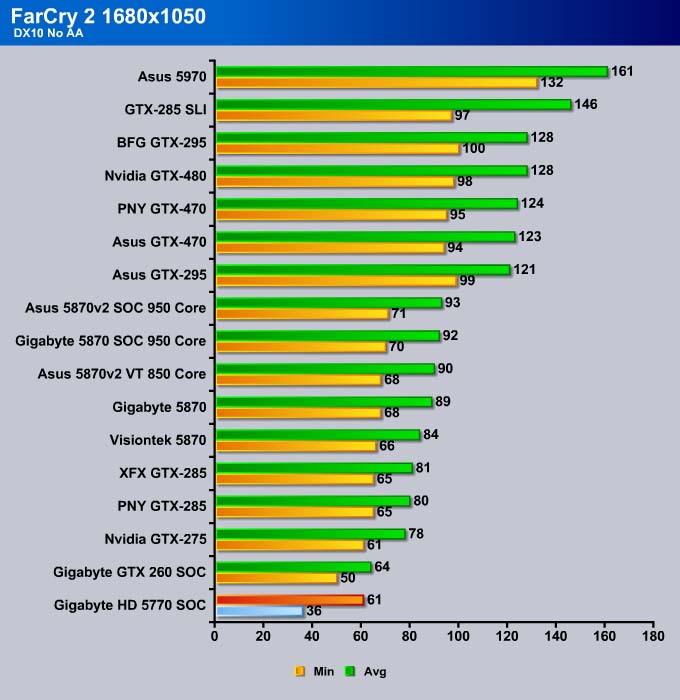 The HD 5770 SOC does not fare as well in the Far Cry at this resolution. While the game is quite playable with 36 FPS minimum and 61 FPS average, it is not as powerful as the GTX 260 with 50 FPS minimum.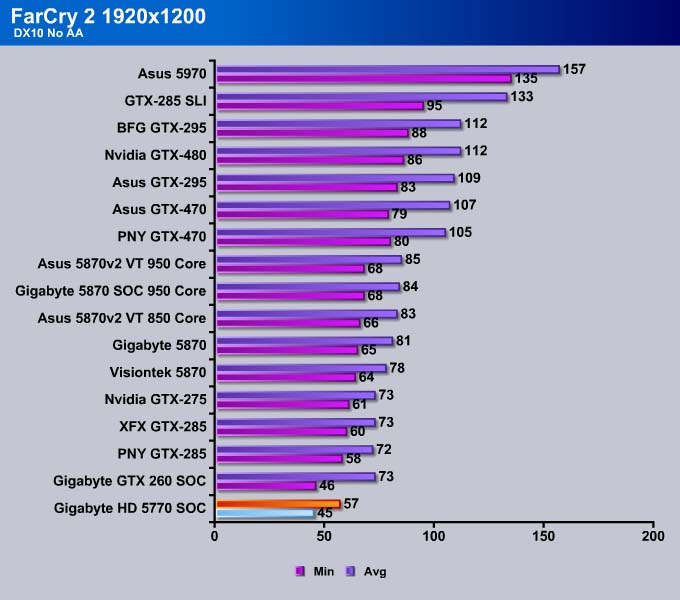 While it is still playable at 45 FPS minimum, its average FPS is only 57 compare to the GTX 260SOC's 73. Not to shabby for a card that is $50 less.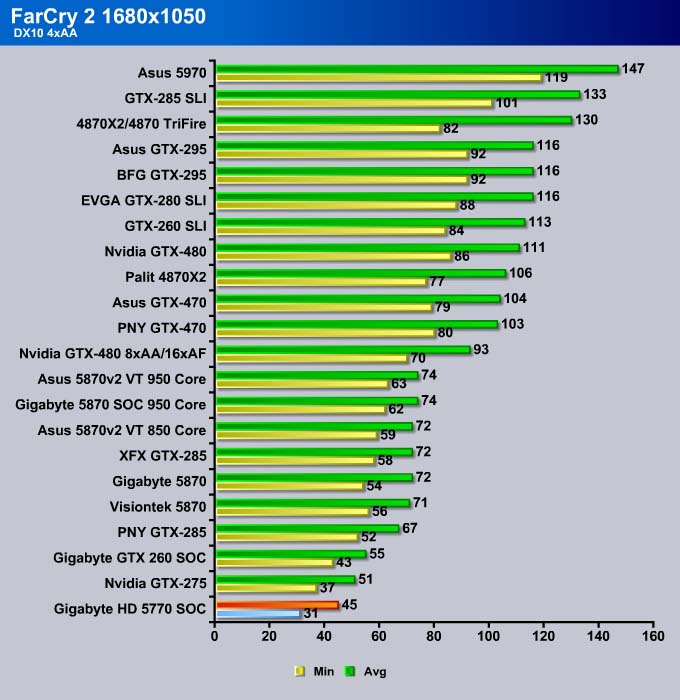 When we turn on the AA, the HD 5770 SOC still holds onto 31 minimum FPS and 45 average FPS at 1680×1050. NVIDIA cards generally performs better for Far Cry 2 so it is expected that the GTX 260 will out-performs the HD 5770.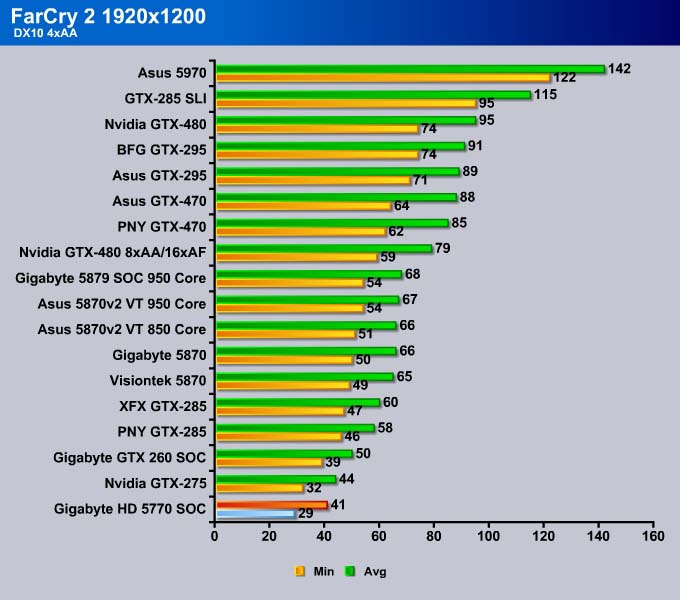 Just like what we have seen at 1680×1050, at 1920×1200, the HD 5770 SOC fall a couple of frames behind the GTX 275. The card dips 1 frame below 30 FPS minimum but we would expect it to yield a playable frames even at this resolution. Looks like the HD 5770 would be a good card at this resolution with mild AA and AF settings enabled.
Unigine Heaven 2.0

Unigine Heaven is a benchmark program based on Unigine Corp's latest engine, Unigine. The engine features DirectX 11, Hardware tessellation, DirectCompute, and Shader Model 5.0. All of these new technologies combined with the ability to run each card through the same exact test means this benchmark should be in our arsenal for a long time.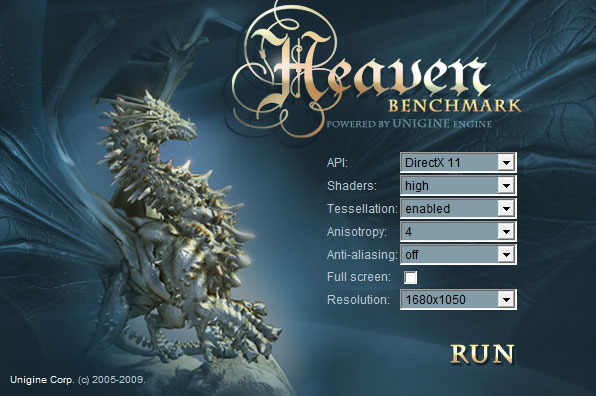 The settings we used in Unigine Heaven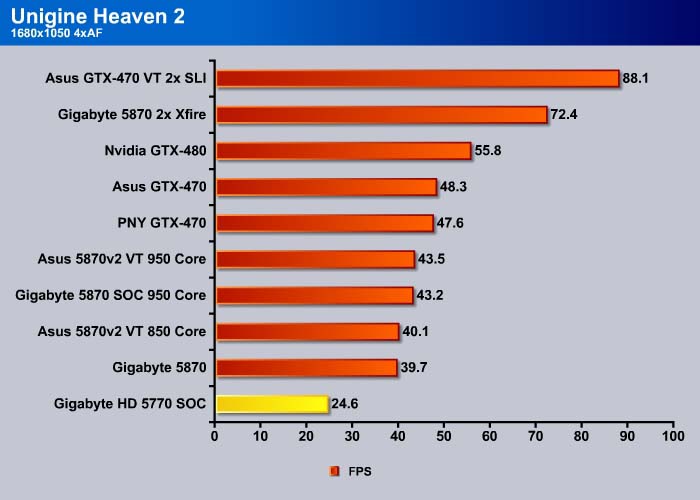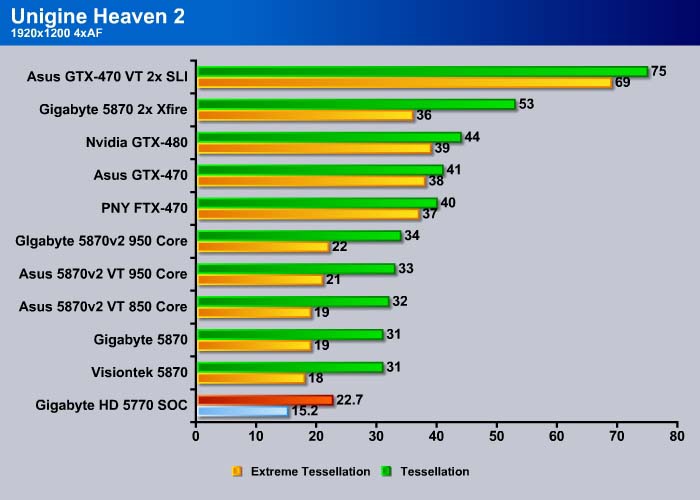 NVIDIA cards show a dominance in this test. The HD 5770 SOC puts out a decent result compare to the HD 5870 with approximately 70% of the HD 5870's score.
Dirt 2

Colin McRae Dirt 2 is the squeal to the popular racing game Colin McRae Dirt. The game is a racing game, but with an off road twist. Instead of racing Bugattis and Porsches your going to be racing trophy trucks and rally cars. The newest addition adds DirectX 11 effects, and modified physics from the original game.
We only tested Dirt 2 with AA/AF and you'll see why in a moment.
Dirt 2 is one of the few benchmarks that currently supports DirectX 11. At this resolution, the HD 5770 SOC cruises through the benchmark without any issue.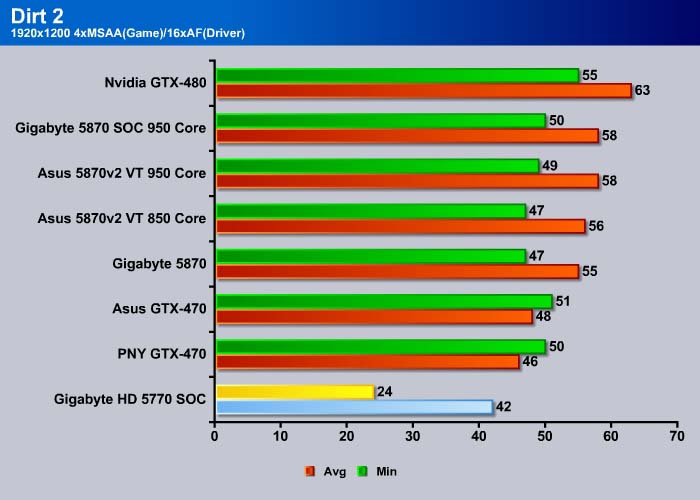 Increasing the resolution starts to put a bit strain on the HD 5770 SOC under DirectX 11 and 4xMSAA and 16 AF setting. Looks like the 128-bit memory interface and the reduction of the numbers of shader cores may have met its match as the card is only able to put out 24 minimum FPS and 42 average FPS. Still not a bad result in our opinion. Lower the eye candies a bit and the card should still be able to yield 30 minimum FPS.
S.T.A.L.K.E.R.: Call of Pripyat
Call of Pripyat is the latest addition to the S.T.A.L.K.E.R. franchise. S.T.A.L.K.E.R. has long been considered the thinking man's shooter, because it gives the player many different ways of completing the objectives. The game includes new advanced DirectX 11 effects as well as the continuation of the story from the previous games.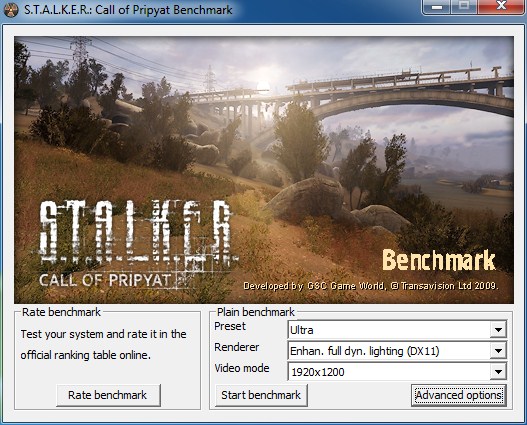 The settings we used benching Stalker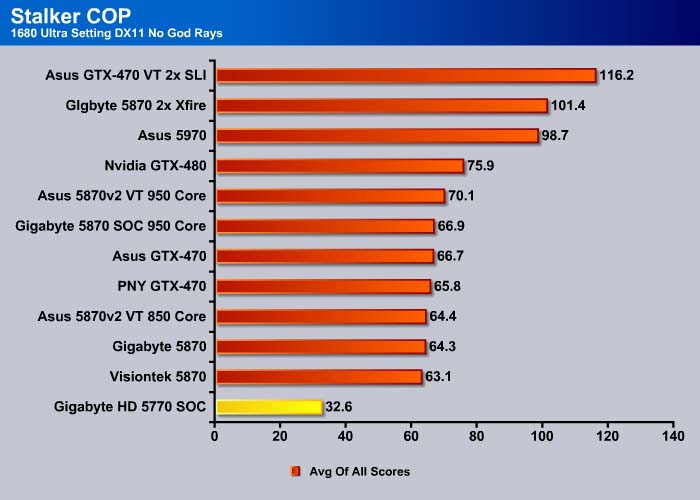 The HD 5770 SOC performs at about 50% of the HD 5870, which is quite expected given to the fact that the HD 5770 is essentially the HD 5870 with processing power being cut in half.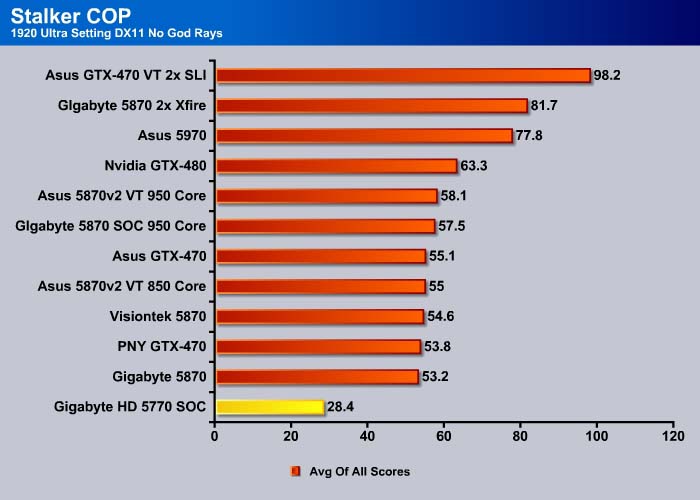 Not much has changed when we move up to 1920×1200.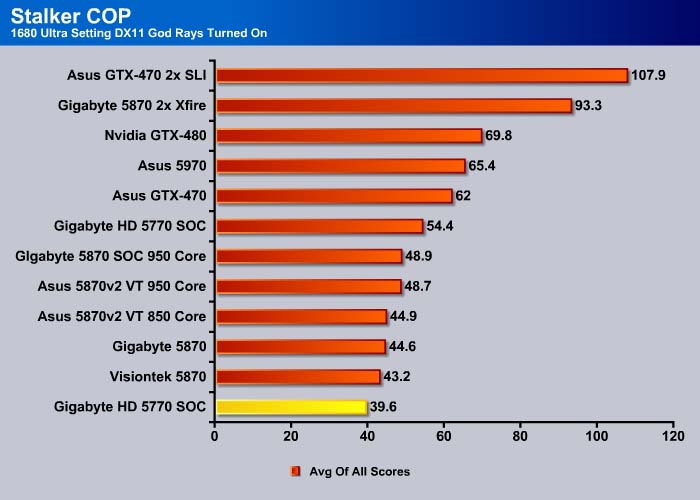 A bit of surprise when we factor in the God Rays benchmark. Here we can see the performance between the HD 5870 and HD 5770 SOC has been narrowed significantly with the HD 5770 SOC comes in at 90% of the HD 5870's score.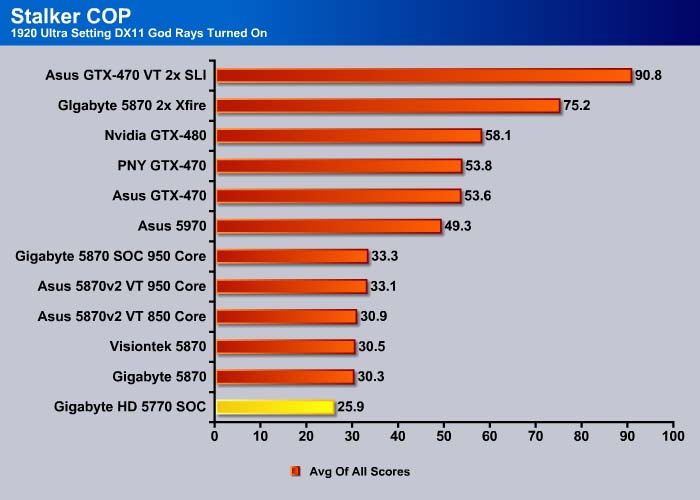 While at 1920×1200 the performance difference has been widened. Here the HD 5770 SOC performs about 80% of that of the HD 5870.
Furmark
Since Furmark has a built in benchmark we decided to play with that a little bit to evaluate it's benchmark viability. This is a shot of the Furmark results from a previous review so you can see what the results page looks like. We went ahead and built charts for this review.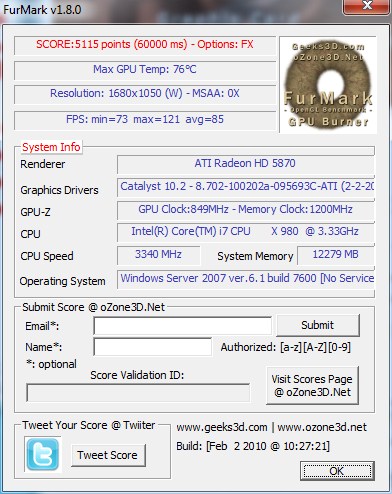 This shot of Furmark benchmark results isn't from this round of testing, it's just there to show you what the results page looks like.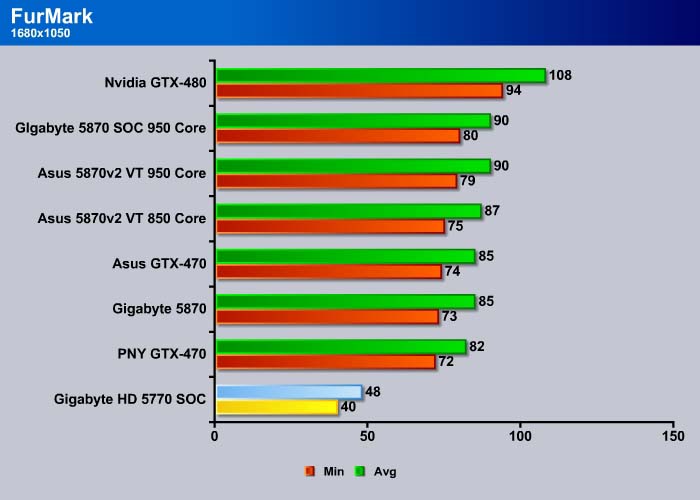 Surprisingly, Furmark does not seem to make a big difference between 1680×1050 and 1920×1200 resolution. We only see a 1~2 frame drop as we increase the resolution. We re-ran the test many times and obtained the same results.
3DMark Vantage

For complete information on 3DMark Vantage Please follow this Link:
www.futuremark.com/benchmarks/3dmarkvantage/features/
The newest video benchmark from the gang at Futuremark. This utility is still a synthetic benchmark, but one that more closely reflects real world gaming performance. While it is not a perfect replacement for actual game benchmarks, it has its uses. We tested our cards at the 'Performance' setting.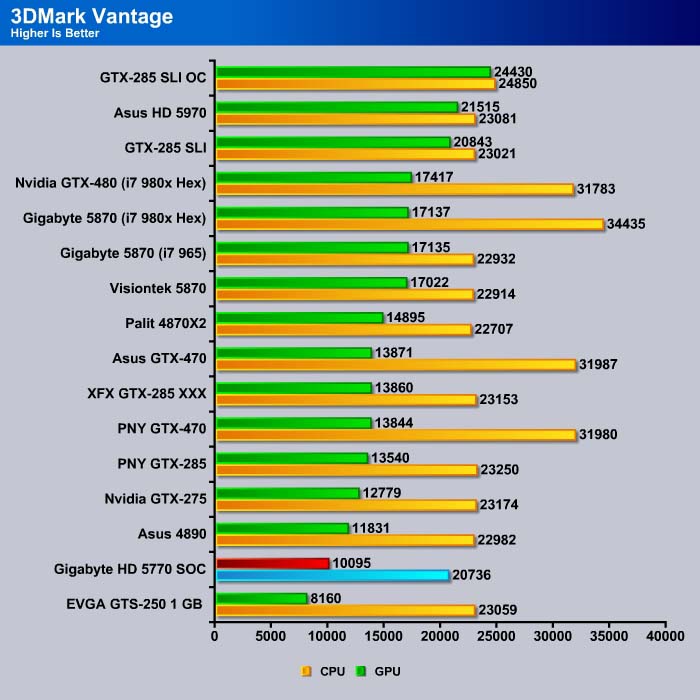 Vantage shows the HD 5770 SOC comes in a tad under the HD 4890 and GTX -275.
POWER CONSUMPTION

To get our power consumption numbers we plugged in our Kill A Watt power measurement device and took the Idle reading at the desktop during our temperature readings. We left it at the desktop for about 15 minutes and took the idle reading. Then we ran Furmark for 10 minutes and recorded the highest power usage.
GPU Power Consumption
GPU
Idle
Load

Gigabyte HD 5770 SOC

157 Watts
269 Watts
Asus HD 5870 Matrix Platinum
164 Watts
385 Watts
Gigabyte HD5870 SOC

169 Watts
391 Watts
Asus GTX-470
181 Watts
488 Watts
PNY GTX-470
178 Watts
487 Watts
Nvidia GTX-480
196 Watts
521 Watts
Gigabyte HD5870
167 Watts
379 Watts
Asus EAH5970
182 Watts
412 Watts
Gigabyte 4890 OC
239 Watts
358 Watts
Asus EAH4770
131 Watts
205 Watts
BFG GTX-275 OC
216 Watts
369 Watts
Nvidia GTX-275 Reference
217 Watts
367 Watts
Asus HD 4890 Voltage Tweak Edition
241 Watts
359 Watts
EVGA GTS-250 1 GB Superclocked
192 Watts
283 Watts
XFX GTX-285 XXX
215 Watts
369 Watts
BFG GTX-295
238 Watts
450 Watts
Asus GTX-295
240 Watts
451 Watts
EVGA GTX-280
217 Watts
345 Watts
EVGA GTX-280 SLI
239 Watts
515 Watts
Sapphire Toxic HD 4850
183 Watts
275 Watts
Sapphire HD 4870
207 Watts
298 Watts
Palit HD 4870×2
267 Watts
447 Watts
Total System Power Consumption
Gigabyte HD 5770 SOC consumes 157 watts idle and 269 watts load. We can see just how power efficient the HD 5770 is as we can see that the GTS 250 consumes 283 watts load and the GTX 275 consumes 367 watts. No doubt the 40nm fabrication process helps out with the power consumption but the current 5000 series AMD cards are simply way much more efficient than NVIDIA's card. For mainstream card, we think this power consumption fits right into the power supply budget and even with two cards running in CrossFire, a 600 watts power supply can very well get the job done.
TEMPERATURES and noise-level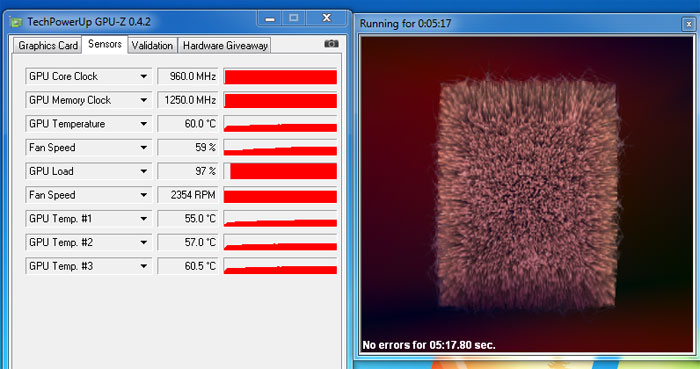 Since we did not get far with overclocking, I decided to simply report the overclocking temperature. At idle, the card runs at 42 and under our overclocking condition, the card run extremely cool of 60 °C with the fan running at 60%. We did notice with Furmark the card gets up to 75°C and that is the worst case scenario where we all konw that Furmark is not really realistic anyhow. The temperature of the HD 5770 SOC is definitely something that we loved.
Unfortunately, the noise level of the HD 5770 SOC is slightly higher than what we would have liked. We can definitely hear the noise of the fan idle but the good news is that we cannot tell much difference with the fan running at idling of 35% and under load of 60%, So, while the card is a tad noisier under idle, it's sure is manageable under load.
CONCLUSION
The Gigabyte HD 5770 SOC is a great performance card in its price bracket of $150. While the card's performance may not be as good as the GTX 260, it certainly makes up by having a slightly lower price point. Furthermore, the card runs cooler and also supports DirectX 11. Yes, we know that DirectX 11 has not taking off so investing it may not pay off right away but at least you would be enjoying current games with DX10 and knowing that the card would be ready when more of the DX11 games are out. AMD HD 5770 is a good card if you are playing games at 1920×1200 with medium to high visual setting. So if you are using 24 inch monitor or smaller, it is definite a great choice of video card to buy.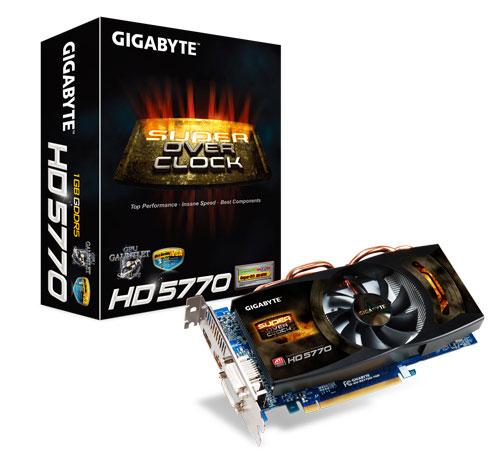 While the HD 5770s generally do not run too hot, we are happy to see Gigabyte's heatsink is able to keep the card running extremely cool. The card runs on the average 10°C less than other HD 5770 that uses reference cooler. In fact, it runs even cooler than some aftermarket cards. Unfortunately, it's overclocking result is a bit a downer and it is a tad noisier under idle condition. But we are not going to be too picky on the noise because it is still within an acceptable range and we did not hear a noticeable higher noise level under load.
Unfortunately for Gigabyte, the pricing of the HD 5770 SOC is slightly higher than other HD 5770.  A quick search over at Newegg shows that many HD 5770s can be purchased for as low as $150. Some companies even have rebate that will bring the price down to $130. The Gigabyte HD 5770 SOC unfortunately is selling at $179.99, which is a whopping $30 more than other cards. While we appreciate the extra cooling and factory overclocking, it may be hard for the card to stand out among the competitors. Asus EA CuCore Series EAH5770 sells at $10 less at $167.99 giving a price advantage and the MSI R5770 HAWK that is selling at the same price runs much cooler  and overclocks better. This makes the Gigabyte HD 5770 SOC a bit hard to stand out among the competitors.
However, as we mentioned in our introduction, if you are those who simply want to buy an overclocked card to enjoy gaming and leave the hard work of overclocking to the experts, the Gigabyte HD 5770 SOC is worth checking out. Taking into account of the high quality components, 3 year warranty, and good cooling performance, it does provide a small piece of mind when you purchase an factory overclocked video card.
OUR VERDICT: Gigabyte HD 5770

(GV-R577SO-1GD)
| | |
| --- | --- |
| Performance | 8 |
| Value | 7.5 |
| Quality | 9 |
| Features | 8 |
| Innovation | 8 |

We are using an addition to our scoring system to provide additional feedback beyond a flat score. Please note that the final score isn't an aggregate average of the rating system.

Pros
Cons

Runs very cool

Two DVI, HDMI, and DisplayPort

1GB of GDDR5 memory

DirectX 11 support 

Price

Does not overclock as high as other HD 5770

Fan is a tad louder under idle

 

 

 
Summary: The Gigabyte HD 5770 SOC deserves your consideration if you simply want a factory overclocked card that runs cool and performs good. While there are other cards that are a bit cheaper and overclocks better, we like the high quality components, 3-year warranty, and relatively quiet fan of the HD 5770 SOC.