HornetTek Phantom is a network media player that let you plaback your digital contents to your TV up to 1080p. A wide range of video, music, and image formats are supported with the ability to seemingless integraetd into your network via wired or wireless connection.
INTRODUCTION
Toss out your old analog video recorder as that is no longer useful in this digital age.  If you, like me, have a huge collection of digital media files in various formats, then you know that finding a good player that can stream this content to your TV could be a challenge.
One of the best ways to stream digital content would be set up a full blown HTPC. However, such setup often requires a certain amount of computer knowledge and the software often requires fine-tuning to get everything to work. And I have got to admit, even for a tech junkie like me, setting up a hassle free HTPC was not an easy task to everything I wanted.  Despite the fact that HTPC offers way more functionality, some people may never care about these extra bells and whistles if all they need is a simple device to play back their digital collections.
Another option would be paying for a subscription based service such as the DVR from your cable service provider or TiVo. Call me cheap but I simply want a device that can play back the digital content that I already have without the monthly fee.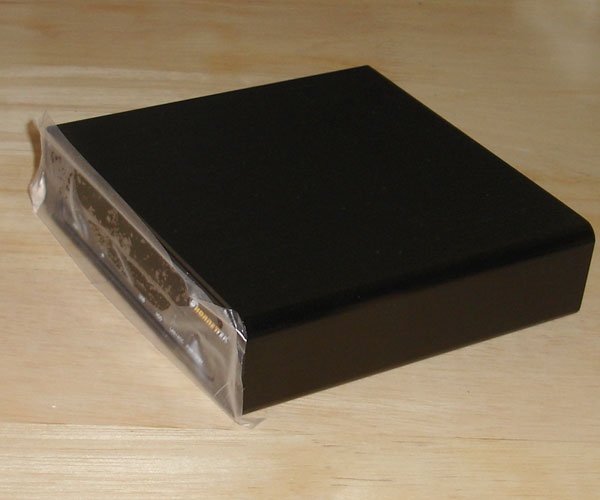 That is why we see an emerging market of multimedia digital players that are designed to hook to your TV for media streaming. These multimedia players come in different shapes and forms. Generally speaking it is always an enclosure with some sort of multimedia connectors such as HDMI, component, and composite connectors. It often has some sort of network capability and you can get it with or without a hard drive pre-installed. Various manufacturers have already gotten their hands on the production of multimedia players, such as Seagate HD Media Player, Western Digital Live TV HD Media Player, and Hauppauge MVP.
HornetTek is yet another player that recently dabbed into the multimedia digital player arena. Their latest product, the Phantom is a 2.5'' high definition wireless media player. This is a very neat little media player that may just be the one too have if you simply care for something that is easy to setup and plays everything you want.
CLOSER LOOK AT HORNETTEK PHANTOM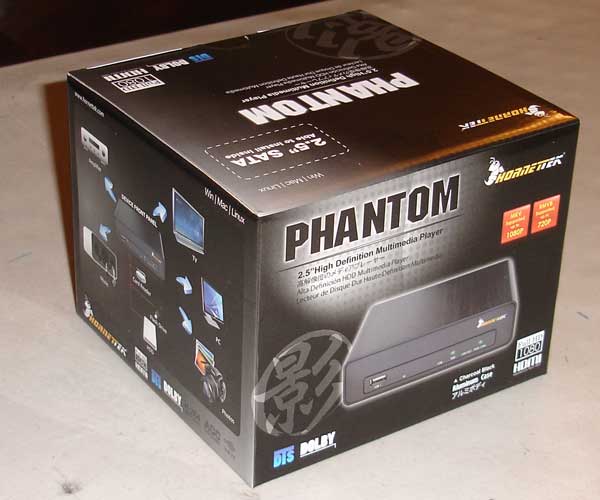 FEATURES
Full-HD 1080P video playback on your TV system
2.5-inches HDD can be easily install into Phantom unit
Browse photo with background music playing
Stream and transfer files through Ethernet and USB 2.0 Host port
Support various multimedia formats such as RMVB, MKV…etc
Equipped with a High Definition Multimedia Interface Connector (HDMI)
Support both NTSC and PAL video out
Play file from USB storage device
Direct connection to TV & HI-FI speakers & Fiber Optical Output
Support Multi Language Subtitle Menu Language: English, Traditional Chinese, Spanish, French, Germany, Italian, Dutch, Polish and Simplified Chinese available.
Support Dolby and DTS decode
BT download available and file sharing on LAN (Transcode Server software needed)
Power Adapter, 100-240 VAC(47Hz~63Hz), 12V/2A output
Dimension: 145mm(L)* 139mm(W)* 380mm(H)
Units per Carton: 8
Unit weight: 2.45 lb
OS support: Windows ME / 2000 / XP/ VISTA
Linux kernel 2.4.1.0 or above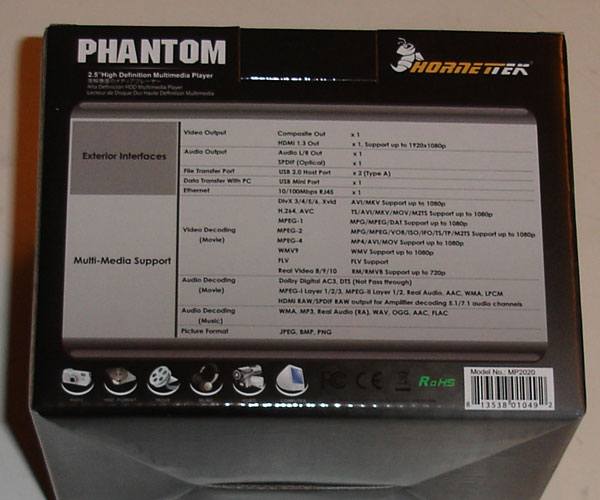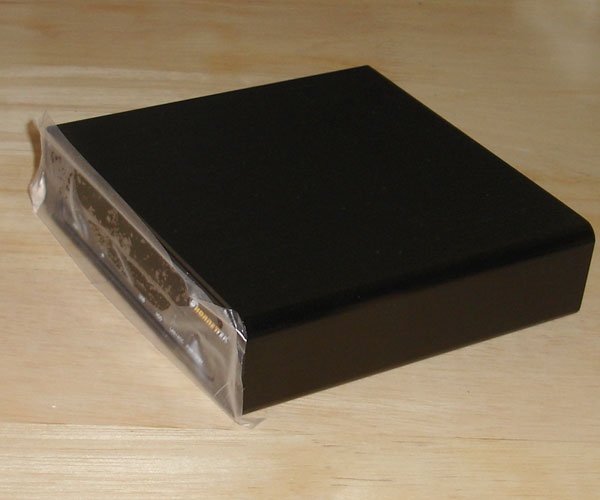 The media player is constructed with brushed aluminum which will help to dissipate the heat.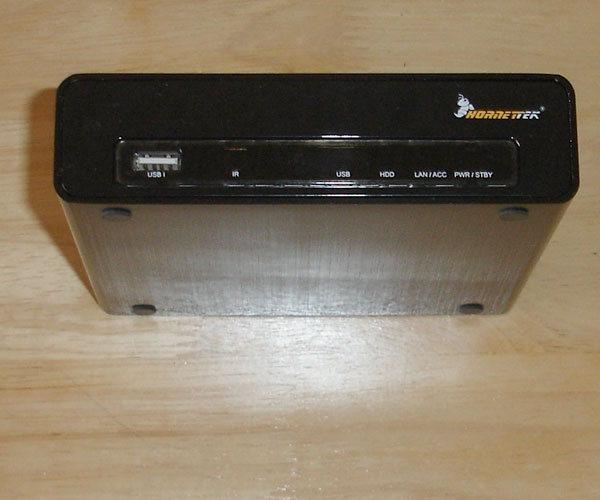 On the front, you get a set of four LED indicators for USB, HDD, LAN/AC, and Power/Standy. In addition, a single USB 2.0 port provides an easy access to your external devices, such as USB flash drive or digital camera.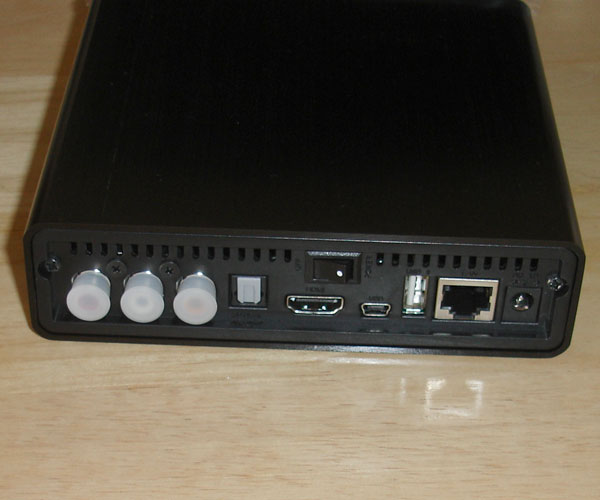 The back of the unit has some ventilation holes on the top edge. In addition, you will find here the composite output, an optical audio out, a HDMI connector, a mini-USB port for transfer data with a PC, an USB 2.0 port and the 10/100 Ethernet port. Of course, you also get the usual power connector and the On/Off switch. HornetTek's manual states that the HDMI supports version 1.3 with maximum resolution of 1920x1080p.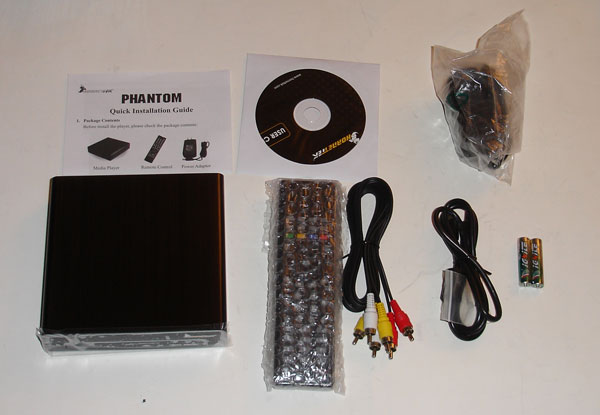 HornetTek ships the unit with the quick installation guide, a remote, composite cables, USB cable, power cable and a set of batteries.
The player supports HDMI and SPDIF audio in either RAW or LPCM format. When it is set as LPCM, the player will decode the audio as Stereo format. If you connect the audio to the dedicated decoder, it will send the RAW data to receiver to decode the audio in 5.1 or 7.1 channels depending on your receiver.
Media Type
Format
Specification
Decoding

MPEG-1

MPG/MPEG/DAT up to 1080p

MPEG-2

MPG/MPEG/VOB/ISO/IFO/TS/
TP/M2TS up to 1080p

MPEG-4

MP4/AVI/MOV support up to 1080p

DivX/XviD 3/4/5/6

AVI/MKV support up to 1080p

H.264, AVC

TS/AVI/MKV/MOV/M2TS support up to 1080p

WMV9

WMV support up to 1080p

Real Video 8/9/10

RM/RMVB support up to 720p

FLV

FLV support up to 1080p

Audio Decoding

WMA

Supported

MP3

Supported

Real Audio (RA)

Supported

Dolby & DTS

Supported (Not Pass through)

Picture Format

JPEG

Supported

BMP

Supported

PNG

Supported
The list of files the player supports is quite impressive. It can play movies up to 1080p. In addition, it supports Dolby and DTS decode. It can also serve as bitTorrent download program if you install the Transcode Server software that is included. This is quite a neat and powerful little device.
The unit also support wireless 802.11 b/g/n USB adapter. However, not all USB adapters are supported. HornetTek was kind enough to send one with the device for us to test out but unfortunately we do not find the list of other supported adapter on the HornetTek's website.
The Phantom also supports BitTorrent downloads if you install the Transcode Server software. Once the software is installed, you can download torrent files and also share files. You would still have to add the file(s) with a computer however.
Despite the fact you can download files off the internet and the ability to access network files through wired and wireless networks, the Phantom does not have web browser ability. I would seriously wish any future product would come with some sort of ability to browse webs, or at least offer support to watch movies or video clips online from sites like Hulu or Youtube.
Remote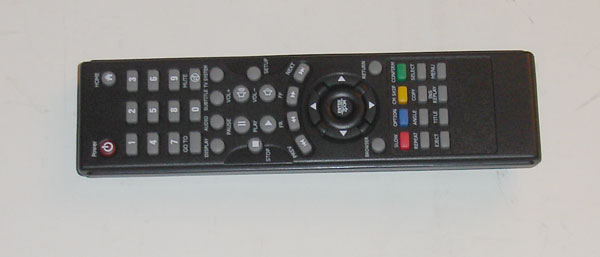 The Phantom comes with a very nice remote with a lot of features. Here you can see that it is divided into three sections. On the top is where the numerical buttons are located. The middle section is where the playback buttons are located and the bottom is where you will find the special functions such as confirm and select. A handy Home button is located on the top right corner that will take you straight to the home screen.
INSTALLATION AND USER INTERFACE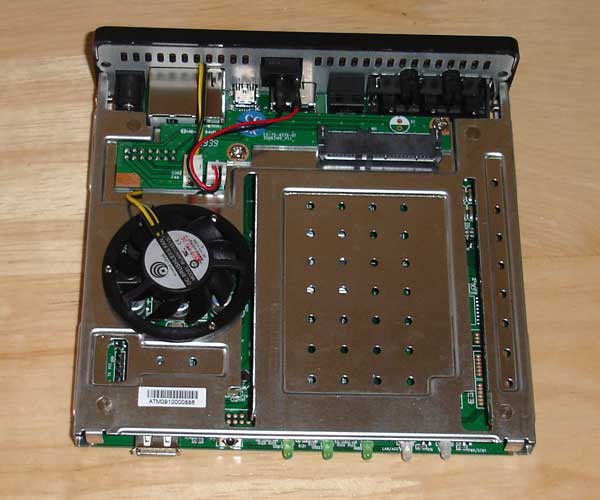 We installed a Seagate Momentus 2.5'' SATA hard drive. If you simply want to use the unit with the network or USB drive, then you do not need to install the internal 2.5'' hard drive. The hard drive installation is pretty simple. All we had to do is remove the screws on the back and the slides out the hard drive tray. Here we can see where the hard drive will be mounted onto the Phantom. Next to the hard drive is where you will find a little fan to keep the processor cool. No additional cooling is provided for the hard drive.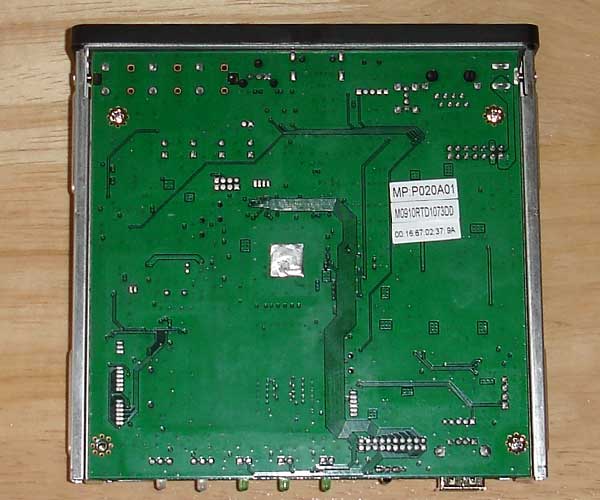 Nothing special on the back of the PCB
User Interface
After installing the hard drive and boot up the Phantom, the step-by-step guide will walk you through setting up the hard drive. A quick format will get you up and running.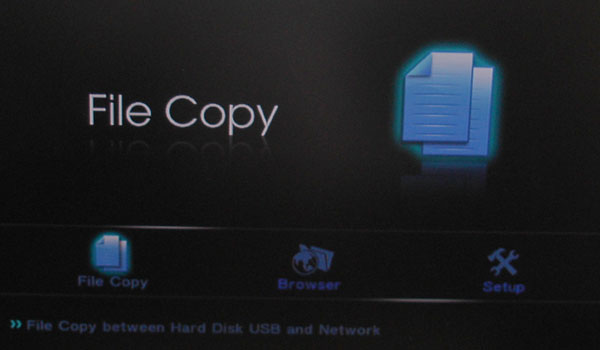 This is what you will see with the main interface. The interface is pretty clean and easy to navigate. You get three Main folders: File Copy, Browser, and Setup.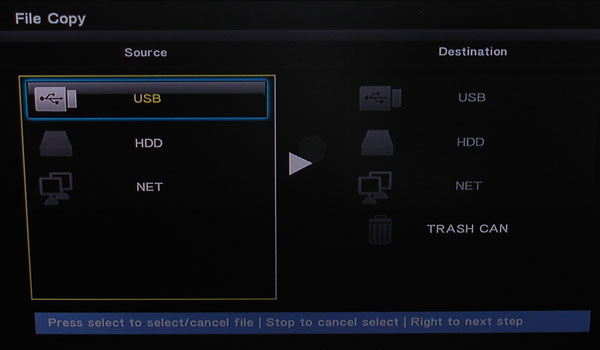 Entering each Menu and you will find the interface is being divided into three sections. On the top is where you will find a set of options. On the left side is where the submenu is located on the right side of the page is where the available options are located.
The File copy menu is pretty straight forward. Here is where you would go to copy files from one place to another. You can copy/move files back and forth between the internal hard drive (HDD), USB drives (USB) and network folders (NET). To copy files you simply select the files or folders to be copied with the "select" button on the remote and choose the destination folder. In order for copy to begin, you have to press the "right button" on the remote control, which I found it to be a bit odd given to the fact that the remote has a "copy" button. It took me a few minutes to finally figure this out. Phantom allows only a maximum of 8 files and folders to be copied at one time and there is no way to highlight a series of files which are quite inconvenient.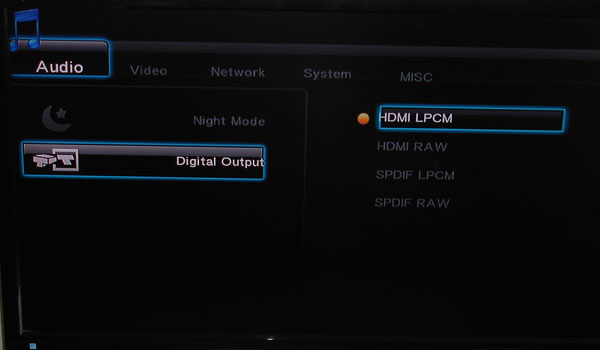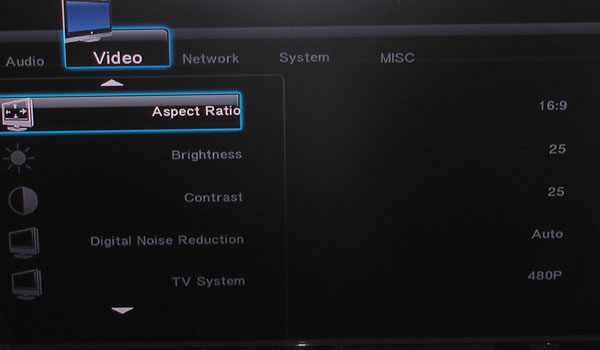 Setup Menu is where you can adjust the audio and video playback. As you can see the device supports HDMI LPCM or RAW format. If you have a good receiver for audio decoding, then keep it in RAW format so you can use the receiver to decode the audio. Video aspect ratio can also be adjusted here. Phantom will auto-detect the supported TV's aspect ratio and resolution. In case of a resolution or aspect ratio that is not supported, it will show a blank screen for a few seconds and revert back to the previous supported resolution. As you can see, you can choose either a 4:3 or 16:9 ratio.
The Phantom does seem to automatically detect the screen resolution when you plug in a new device. When I plug in the USB devices or the wireless dongle, the system sometimes will take a very long time to boot up. In a few instances, it would also revert to a lower resolution of 480p. This seems like a random issue as it does not happen every single time.  
The contrast and brightness can also be adjusted with settings 1~50. There is unfortunately no test pattern or image that helps you with the adjustment. There is also a support for digital noise reduction.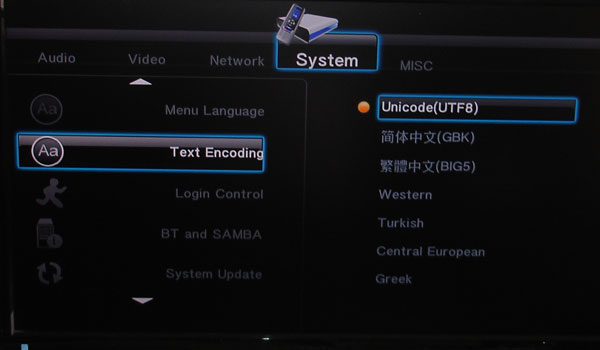 Over at the system is where you can adjust other settings for the player such as the menu interface and time. Here we can see the unit supports a wide range of languages, such as English, Traditional Chinese, French, and Italian among others. I found that the unit's time setting only goes up to year 2037 and there is no daylight-saving feature supported. My feeling is that by the year 2037, no one would still be using the Phantom so it is not such a big deal.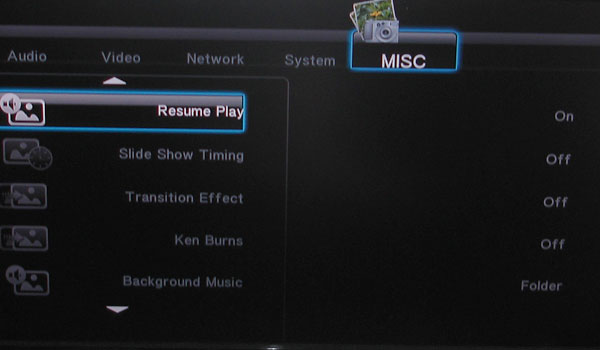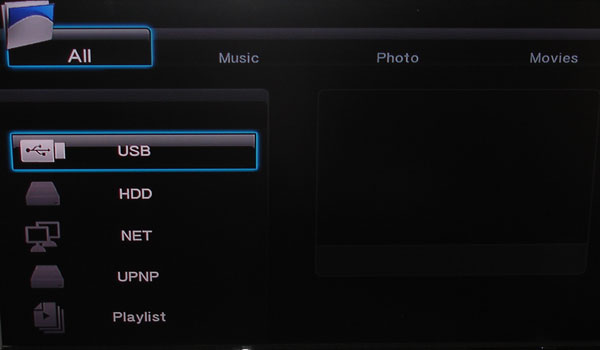 Browser is where the majority of people with the player will spend the time in. Here you can browse through files from USB devices, internal hard drive (HDD), network folder (NET), UPnP devices or playlist. As you can see, you can have the player display all files, music files only, movie files only, or photo files. This is very neat. When a movie file is selected, the right side of the screen will automatically preview if you choose such option under the Setup menu. Unfortunately, I found out that the player does not let you fast-forward the preview.
Pressing the "Enter" button will show the main playback screen where it will let you fast forward the movie. Phantom has a very neat feature where if you watched a clip previously, it will remember where you have left off and ask you if you wish to resume next time you play the clip. This will work with all movie files. Unfortunately, you cannot browse other movie clips while a movie is played. Such feature only works with music files and not movie files.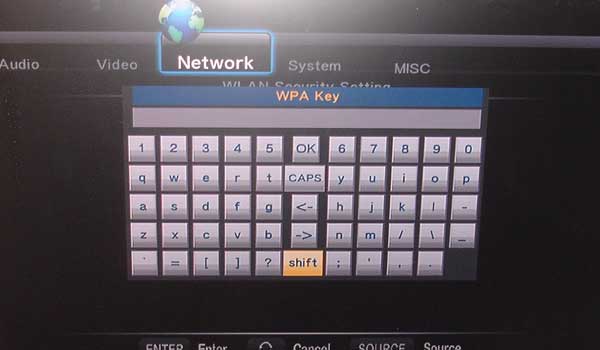 The onboard keyboard has your basic keys and a few extra symbols. You can select the key by moving the arrow buttons on the remote and press enter to choose the letter.
One thing that bugs me about the interface is the lack of a quick search or indexing. As a result, you would have to browse through endless numbers of files and folders if you have a vast collection of multimedia. I did find out that you can skip like 10 files by pressing the "button" but that only helps with the browsing and not quick finding the files. In addition, there is no way to get an overview of pictures or mp3 files in a grid format which I hope HornetTek will be able to include in their future upgrade.
I found the layout is generally intuitive but there are times it is hard to use. For example, I originally had a hard time finding how to copy the files to the Phantom. Apparently, you would have to choose the files on the left menu and then choose the destination folder on the right panel, then press the "Right"button on the remote control to proceed with the copy. This is slightly counterintuitive considering that there is a "Copy" button right on the remote.
Also, the interface is a bit sluggish. It sometimes will take a few seconds before it registers the command.
TESTING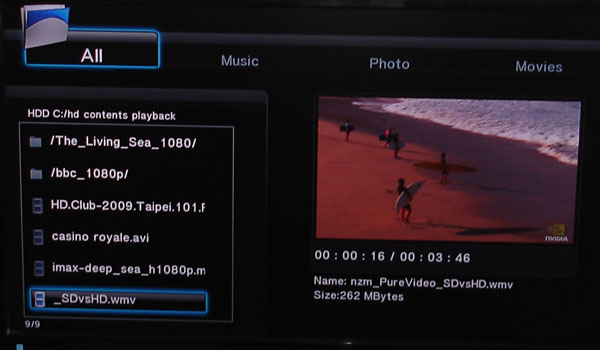 We gathered a few common image files and tossed them to the Phantom. Among the files we have tested are .jpg, .bmp, .gif, .tiff, and .png. With the exception of the .tiff, the Phantom is able to show every other file formats. The official specification does not list .tiff as a supported format so we are not going to hold it against the HornetTek. And despite the fact that the specification does not mention that it supports .gif, we can see the image without any issue.
For the audio files, we tested .mp3, .wav, .wma, .flac, and .ogg. We did not encounter any issue especially with .ogg as it is not listed under the supported format but we could not get the .flac to play. Again, we are not going to hold it against the Phantom as it is not officially supported.
Movies and video clips would probably be the most demanding and the file format where most people would be using the Phantom for so I threw in various movie files I have gathered into the Phantom. They range from .mov, .wmv, .rmvb, .avi, .mkv, .mpeg, mp4, .m4v, .flv. The files are encoded in various bitrates and resolutions. All these files played without any hitches. HornetTek's official specification states that with the exception of the rmvb, the player supports other video formats up to 1080p so it should not have any issue showing these movies at true HD. I am quite pleased to find the support for .rmvb up to 720p because not all of the players on the market support such format. Although, not many people would want to watch shows encoded in such format, I do sometimes have the need for such file format.
I wanted to see how well the Phantom handles the HD playback so I downloaded "The Dark Knight 2008" encoded in VC-1, AC3. The movie is encoded in .mkv format. Once again, the Phantom is able to play the movie without breaking out as much as one drop of sweat. In addition, I threw in a mpeg file encoded at 60 Mbps and the players did not even break a sweat displaying a picture perfect image. I even threw in a copied DVD image in the .iso format to the unit and it reads and display the menu selection without any hitch. It also played a few .vob DVD rips without any problem whatsoever.
All of the movies are played via the internal hard drive as well as via the USB flash drive and neither source caused any stuttering or skip frames. The image playback looks good and clean and the audio quality sound as good as it can get with my crappy TV speakers.  With the theoretical transfer speed of 300 Gbit/sec for SATA-2 and 480 Mbit/sec for USB 2.0, it should be expected that the player does not have any issue playing HD content as the highest Blu-Ray has a maximum bitrate of 48 Mbit/sec.
Wired and Wireless Playback
Wired Network Playback
I am quite impressed with the player's ability to playback any files we threw at it. As long as your source file is in the USB or the internal hard drive. Of course with 2.5'' SATA drive selling just as cheap as internal drive, I do not see it to be any issue. If you need more expansion, you can always go with an external enclosure that can house 4TB of storage space if you picked the 2 bay enclosures. I would personally love to see Phantom come with an eSATA port for a better transfer rate but as we can see even with USB bandwidth, we still are not having any issue with playback.
Let's see how Phantom performs with network playback. You can either use the wired or wireless to setup the network. The player supports DHCP auto or manual configuration. HornetTek shipped the Phantom with HT-2223BK, an USB wireless adapter. The adapter is based on the Realtek RTL8187B chipset that supports 64-bit, 128-bit WEP, WAP, and WPA2 security. The manual states that the unit only works with certain USB dongle but we could not find a list of supported unit on HornetTek's site unfortunately. We also tested a few other wireless adapters and the HT-H10DN that is using Realtek RTL8192SU chipset works but the D-Link DWL-G122 a1 based on the Intersil Prism chipset and the HornetTek HT-H5DN based on Ralink RT2720 chipset do not work.
We setup the Phantom to our DIR-825 router via the automatic DHCP and the player got recognized without any problem. After setting up the player, it automatically detects all of the network folders and computers. It even detects the NAS drive that was setup on the same network.
Playback over network poses some problem. Over the wired playback, we hooked the Phantom to the D-link DIR-825 router through approximately 50 meters of Cat 5e cable. The player's own network transfer test reveals that we got approximately 30Mbit/sec of transfer rate. All of our files played back without any hitch with the exception of the 60 Mbps bitrates mpeg file and the Dark Knight encoded in VC-1.
Most digital content are encoded at bitrates lower than 30Mbps, so they should not post much issue for Phantom to play them back via Ethernet. However, Blu-ray's maximum 48 Mbits can quickly saturate the available bandwidth. Keep in mind that this can be depended on your network setup, such as router and length of cable. We believe if we were using shorter cable, we should be able to stream Blu-Ray movies without any issue given to the fact that the 100 Mb Ethernet's theoretical transfer speed of 100 Mbits/sec. It is unfortunate that the Phantom only comes with faster Ethernet so we are limited to only 100 Mbis/sec.
Also, not all Blu-Ray content will be encoded at maximum bitrates of 48 Mbit. In fact, I did a search online and found that only handful of Blu-Ray movies (http://forum.blu-ray.com/blu-ray-movies-north-america/3338-blu-ray-movie-bitrates-here.html) are encoded at higher than 30 Mbits bitrates, so it is probably not going to be a major issue (If the worst comes, you simply have to transfer the file to the internal hard drive or use an USB storage device).
Wireless Playback
As mentioned, HornetTek recommends pairing the Phantom with the HT-2223BK wireless dongle that is based on the Realtek chipset. We also tested with the HT-H10DN from HornetTek that is based on the Realtek RTL8192SU chipset and have no issue using the 802.11n network connection with the player. We configured the wireless networking to the D-link DIR-825 with the automatic HDCP.
With the Phantom placed at about 10 feet away from the router that is placed in the next room, I was only able to get approximately 3000 Kbit/sec of transfer rate based on the Phantom's own test. This is really not up to the task for the high bitrates HD content and as expected we encounter playback issues. All of our low bitrates content played without any hitch but we had problem playing DVD movies, mpeg, and of course the Blu-Ray content. In addition to stuttering during playback, we also encountered a few instances of system freezes. The wireless network also does not seem to be running too stable either. We experienced a few instances when accessing the network folders, the Phantom will freeze like 10 seconds and occasionally, the Phantom will even lose connection to the network folder completely.
Now, of course, the result is once again depended on your setup. Still we would expect the Phantom to have a better result than 3 Mbit. Considering that we have a fairly typical setup (I don't expect most of us have a wireless router right in the living room next to the TV) so the result is not too encouraging.
NOISY FAN
I did have one issue with the Phantom and it is the noise level of the fan. The fan noise is simply way too loud. The noise-level may not be too loud if you are watching a movie through the player because the noise from the show will drown out the fan noise. However, with the TV off, I can definitely hear a whining noise coming off from the player.
Although I prefer to have the fanless, I do not mind the need for a fan but if HornetTek plans to have a fan to keep the player running cool, a quieter fan is a must. Or at least use a temperature sensor controlled fan so that the fan speed can be adjusted accordingly and throttles up when the temperature of the system is high.
CONCLUSION
Overall, the HornetTek Phanom is a no hassle and easy to setup multimedia player. The box's main feature is its ability to playback almost any media file type. It is also very easy to setup and navigate through the interface. Although, the interface is easy to navigate and fairly intuitive, I would suggest HornetTek improves it a bit and polish it up slightly with the file clips showing as icons rather than lists. This would make it easier to browse through a vast of contents. Furthermore, I would love to see a grid view so it can easily preview a list of files better. Also, having the ability to fast forward during preview would be nice feature to have.
A few suggestions and improvements I wish to see in the future Phantom. First, a quieter fan is definitely a good idea or even better having a fanless player. In addition, it would be nice if the unit could playback web content, such as YouTube and Hulu, as other players do carry such ability. It would be nice to see an eSATA port being included to take advantage of the better throughput (not that we see any problem playing back through the USB connection). Now, if Phantom has the ability to record OTA TV shows, that would even be better, but this is asking a tad too much in our end.
Overall, the Phantom is an excellent media player if you simply are looking for an inexpensive unit that will play most everything. Its wide range of media support ensures that any file format you may wish to throw at it should not pose any problems. However, to best smooth playback of high bitrates HD content you should definitely be using the internal hard drive or an external drive via USB port. You could get by with a wired connection if you do not go above 30Mbps. However, wireless performance needs a lot of improvement before you can ditch the annoying cable.
Given to its price point, we think the Phantom may just be the best media player out there despite its flaws. It is packed with features at less than $100. In fact, some more expensive media players out there may not even come with as much features and be able to handle as much media formats as the Phantom. Therefore, if you simply need an inexpensive and simple player that you want to hook up to your TV to watch your digital content, the Phantom may just the one for you.
OUR VERDICT: HornetTek Phantom

| | |
| --- | --- |
| Performance | 8 |
| Value | 9 |
| Quality | 9 |
| Features | 9.5 |
| Innovation | 8 |

We are using an addition to our scoring system to provide additional feedback beyond a flat score. Please note that the final score isn't an aggregate average of the rating system.

Pro
Cons

Wide range of media files supported

Very smooth playback via internal and USB hard drives

HDMI supports RAW or LPCM format

Wired and Wireless support

BitTorrent support (with the installation of the accompanying software)

 

Cannot play web content directly

No eSATA port

Fan is really loud

Lacks a gigabit port

Network playback can have problem with HD content

Wireless playback will not work with high bitrate content

Interface can be improved

 

 

 

 

 

 
Summary: The HornetTek Phantom may not be the most exciting media player out there, it is nonetheless one of the best player if all you care about  is able to play a wide range of digital content at a budget price. In fact, it even has a few features that you cannot find in other more expensive players.