Asus has done it again, taken a good thing and made it better. They took the GTX-470 and out of the gate released the GTX-470 Voltage Tweak edition.
Introduction
Leave it to Asus to come out strong with the GTX-470, while other vendors settled for hitting the streets with regular GTX-470 that just wasn't good enough for Asus. They brought the Asus ENGTX-470 Voltage Tweak Edition to the table. It's almost unheard of for Asus to field the Voltage Tweak Edition before the Non-Voltage Tweak Edition but they did it this time.
What does that mean for the end user, more voltage for OCing! Yes it should overclock better than any stock reference GTX-470 out there. Now if we could just get them to do a GTX-470 Voltage Tweak Edition with a water block on it (drool).
Seriously though rather than do some twisted voltage mod with a pencil, of wind your way through complicated software tweaks to up the voltage on a GPU all you have to do is load Smart Doctor, grab the voltage slider and overclock your heart out. No hex numbers to mess with, no penciling the card, no headaches, just a few clicks and your on your way to world record overclocks.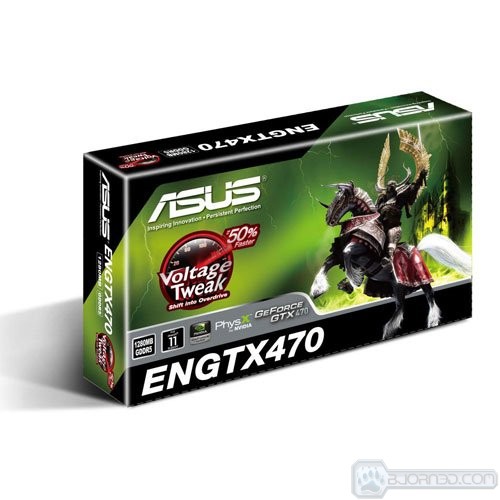 With typical Asus flair they put Voltage Tweak right on the front of the box letting you know that this is the card for OC hungry users. If you decide not to OC, it gives you the option to OC later easily. Generally we run at stock speeds but the Voltage Tweak option is great for that Vantage run where you want to one up your buddy who bought the regular model GTX-470. Great graphics and bragging rights, it doesn't get much better than this!
Features & Specifications
GPU
GTX-480

Asus

GTX-470

GTX-285
5850
5870
GTX-295
5970
Shader units
480
448
240
1440
1600
2x 240
2x 1600
ROPs
48
40
32
32
32
2x 28
2x 32
GPU
GF100
GF100
GT200b
Cypress
Cypress
2x GT200b
2x Cypress
Transistors
3200M
3200M
1400M
2154M
2154M
2x 1400M
2x 2154M
Memory Size
1536 MB
1280 MB
1024 MB
1024 MB
1024 MB
2x 896 MB
2x 1024 MB
Memory Bus Width
384 bit
320 bit
512 bit
256 bit
256 bit
2x 448 bit
2x 256 bit
Core Clock
700 MHz
607 MHz
648 MHz
725 MHz
850 MHz
576 MHz
725 MHz
Memory Clock
924 MHz
837 MHz
1242 MHz
1000 MHz
1200 MHz
999 MHz
1000 MHz
Price
$499
$349
$340
$299
$399
$500
$599
Product Specifications
Core Clock: 607 MHz
Processor Cores: 448
Processor Clock: 1215 MHz
Texture Fill Rate: 34.0 Billion/sec.
Memory Amount: 1280MB GDDR5
Memory Data Rate, effective: 3348 MHz
Memory Interface: 320-bit
Memory Bandwidth: 133.9 GB/sec.
On-board Outputs: DVI-I, DVI-I, and Mini HDMI
Additional Outputs Supported: VGA
Bus Type: PCI Express® 2.0
Voltage Tweak
ASUS Exclusive Innovation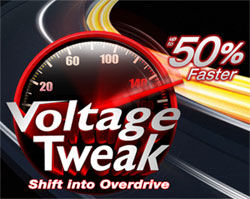 ASUS Exclusive Voltage Tweak Technology for up to 50% performance increase.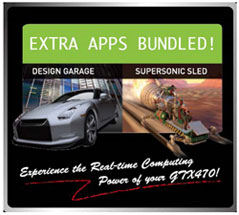 Interactive application "Design Garage" & "Supersonic Sled" bundled for real-time GPU test drive!
ASUS Features
ASUS Splendid

Watching movies on PC is as good as on Top-of-the-line consumer television
ASUS Gamer OSD

Real-time overclocking, benchmarking and video capturing in any PC game!
ASUS Smart Doctor

Your intelligent hardware protection and powerful overclocking tool
Gigantic 1280MB GDDR5 Memory

For the best gaming experience & resolution
PCI Express 2.0 support

GPU Guard

Doubles structural reinforcement. Cracks free!
EMI Shield

Effectively blocks 66% radiations to protect user's health and improve graphics clarity
Nvidia Features

Powered by NVIDIA® GeForce GTX470

GeForce CUDA™ Technology

Microsoft® DirectX® 11 Support
Bring new levels of visual realism to gaming on the PC and get top-notch performance
Microsoft® Windows® 7 Ready
Enable PC users to enjoy an advanced computing experience and to do more with their PC
SLI Support
Multi-GPU technology for extreme performance
Take Your Game Beyond HD
Dual-link DVI able to drive the industry's largest & highest resolution flat-panel displays up to 2560×1600
SmartDoctor & Overclocking
There's a lot to cover when you have SmartDoctor and Voltage Tweak to take into consideration. We also hooked up a little GTX-470 SLI for you to look at. Before we get into it we wanted to tell you that we used a PNY GTX-470 and the Asus GTX-470 Voltage Tweak. Well that wasn't quite what we wanted to do so we flashed the PNY GTX-470 to the Asus GTX-470 Voltage Tweak BIOS and as far as SmartDoctor was concerned it had two Asus GTX-470 Voltage Tweak Editions to deal with. Sorry JJ (our Asus Rep) your Voltage Tweak BIOS is just too good for it's own sake and I had to go for the gusto!
Now for the usual mumbo jumbo: We aren't saying that what we are doing here is safe, we aren't saying that what we are doing here is smart, we aren't saying that if you try and do what we did you won't kill your GPU or machine. What we are saying is that we know what we are doing and have done this hundreds of times. We take precautions, no there was no latex involved, well there was one set of gloves we used while handling the GPU's but those were gloves. If you attempt what we did here Bjorn3D and Asus assume no responsibility for any accidents, destroyed equipment, frustration, failed GPU flashes, loss of use, loss of income, loss of life or limb. Basically if you try this you assume all responsibility. All that being said it was kind of cool.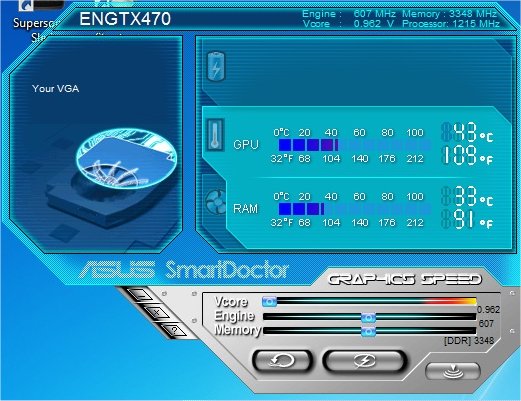 SmartDoctor is a simple to use utility that will let you overclock your Asus GPU and if it's a Voltage Tweak Edition it will let you adjust the voltage fed to your GPU. It has other functions you can explore and it is Multi-GPU aware so if you have multiple Asus Voltage Tweak cards it can handle them.
We found that SmartDoctor only wanted to let us OC the core(s) to 707MHz so all we did with it in this case was grab the voltage slider and push it to 1.05v, notice we still have some voltage left to play with if we like. We try and not encourage to much boneheadedness so we stopped at 1.05v and went no farther.
We also noticed that SmartDoctor didn't want to play with the Memory frequency at all. Moving that slider and clicking apply simply reset the memory to its default speed. So we clicked exit (the little X) and clicked yes to leave the voltage tweak intact when it exited. In short we dumped out of SmartDoctor after tweaking the voltage.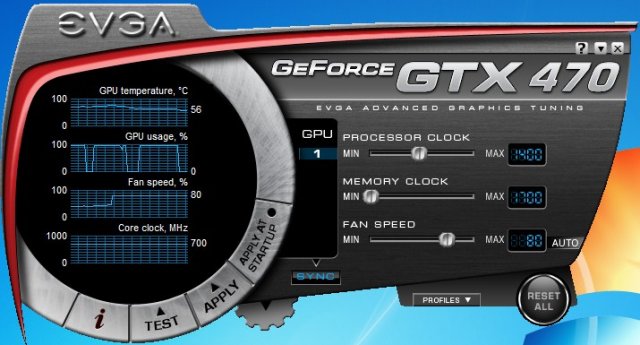 This is the maximum OC we got without a voltage tweak, 700MHz core, 850MHz memory.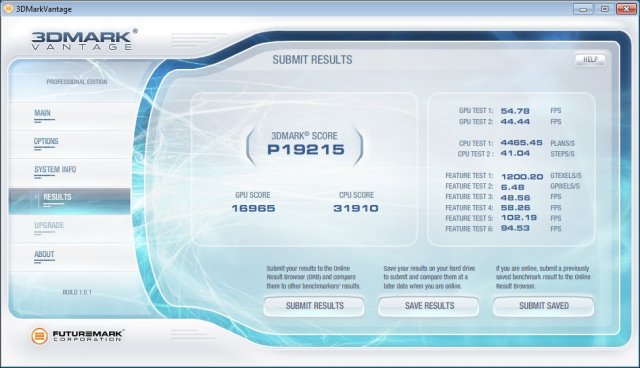 That resulted in a Vantage GPU Score of 16965, if you look ahead at the charts we were hitting 13k(ish) without the OC so we got a nice performance boost. No CPU overclock on the i7 980x was used here.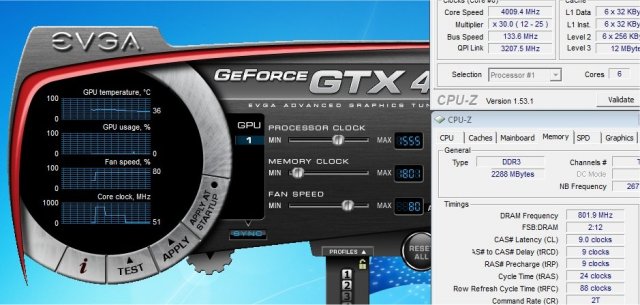 We are still on single GPU here but we cranked HexZilla up to 4 GHz and unleashed the Voltage Tweak like a rabid dog. We managed a core OC of 778 MHz and memory OCed to 900 MHz pretty sweet OC.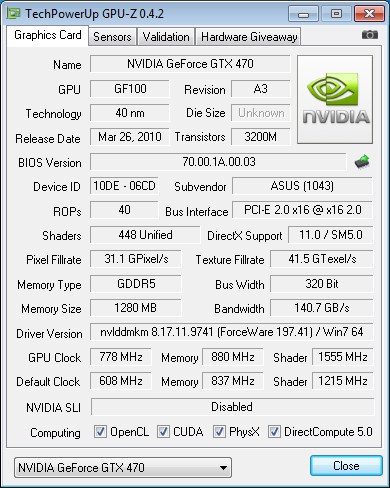 We verified our OC with GPU-Z and tested it with ATITool for 10 minutes before making another Vantage Run.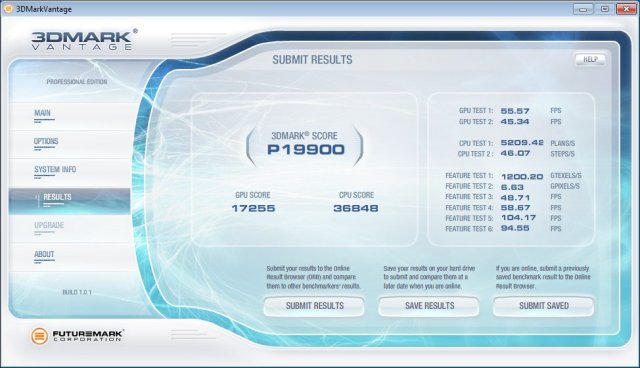 First run no OC we were in the 13k range, Sweet OC to 700/850 MHz we got 16965 (GPU) with the tweak and core OC we got 17255.
In this shot we have a GPU OC 725 Cores and memory at 900MHz and got a 27621 GPU score.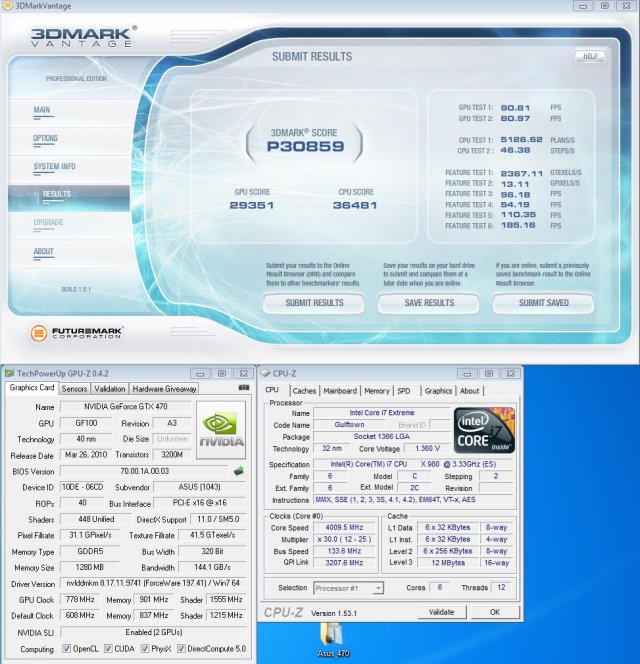 In this run we had both GPU's cranked to 778 MHz or a whopping 171MHz core OC on both GPU's, we had the memory at 901 MHz on both GPU's and that's a little insane. SLI GTX-470's at 778/901MHz with voltage left on SmartDoctor to use if we want more. CPU and GPU cranked in SLI we got 29351 on the GPU and that's a 1730 increase in GPU score and without the Voltage Tweak option that just wouldn't have been possible. Best speed on bot the Asus and PNY model without extra voltage was around 700 MHz core. Did we mention we have headroom on voltage left to play with!
Should you attempt what we did and get some sweet scores feel free to post pictures in the forum, and no I won't send you the Asus Voltage Tweak BIOS no matter how much you beg. If you want a GPU with Voltage Tweak feel free to purchase one from our good friends at Asus.
Pictures & Impressions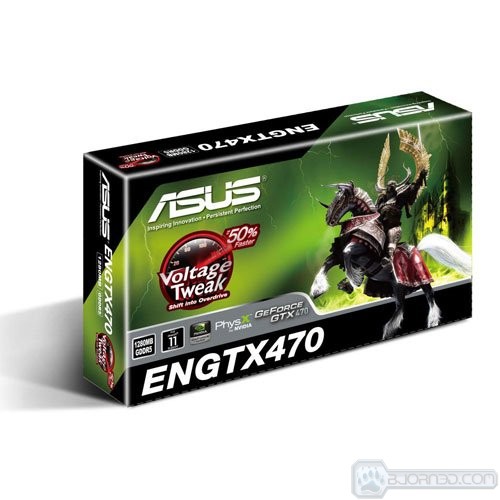 We've always liked Asus packaging from the nice graphics to the card enclosed in an anti-static bag. Asus also uses great foam to protect the card and covers the PCI-E connector, DVI ports, and SLI connector with thick blue plastic sleeves to protect those. We've yet to see any vendor excel at protecting a product like Asus.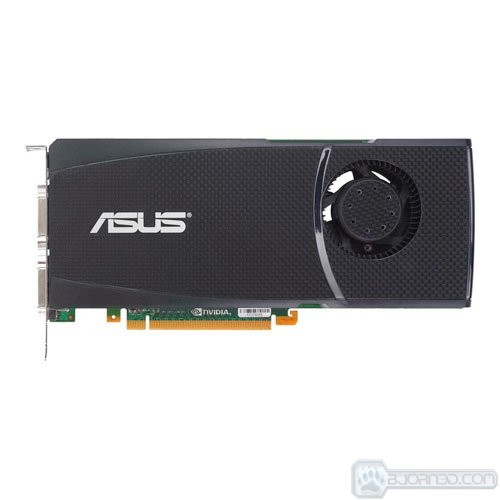 The card itself has a dimpled cowling with no flashy sticker which is unusual for Asus but likely has to do with keeping the card cooler. Plop a sticker on there and you just added a minor bit of insulation that may build up more heat.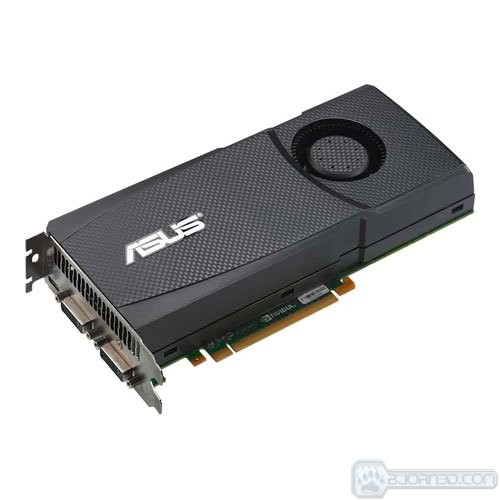 Standard PCI-E 16x connector and if you notice on the left edge, middle and right edge of the card are the clips that hold the cowling on the card.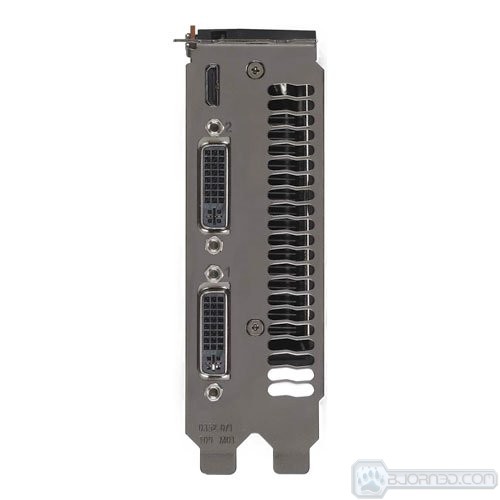 Usual dual slot cooler design with a Mini HDMI and two DVI ports.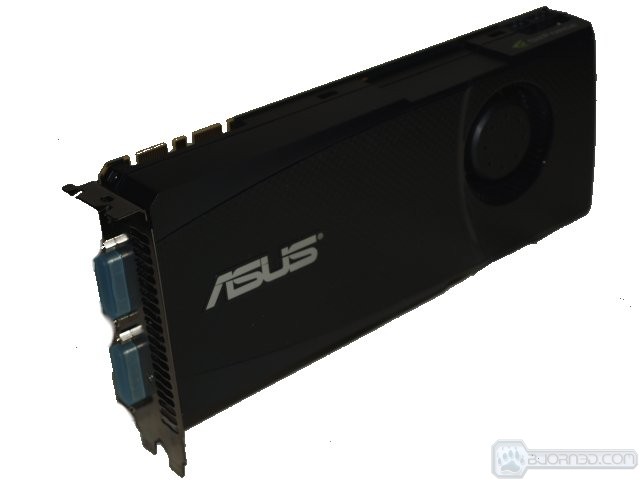 Here's a look at the plastic port protectors, when we are using one monitor we just leave the other connector covered to keep out any pesky dust.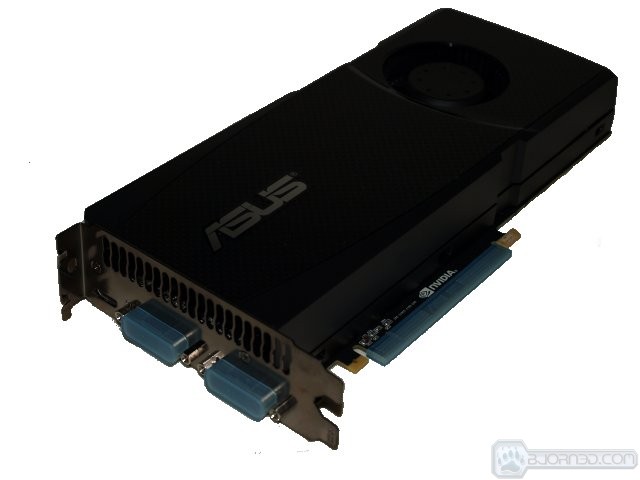 Flipping the card on it's edge you get a look at the PCI-E connector cover and like we mentioned Asus has protecting cards in shipment down to a science. The covers come in really handy when reviewing because you really don't want to handle the connectors or touch them. The oils and dirt from your skin can cause corrosion and that's not a good thing.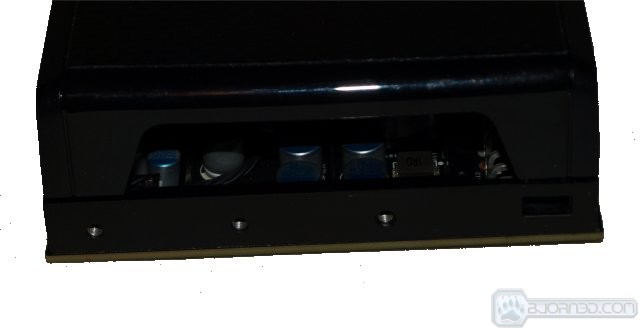 Peeking at the end of the card you get to see the air intake where the squirrel cage fan pulls in cool air to keep the GPU within its operational thermal envelope which Nvidia informs us is 105°C then the card will throttle to protect it.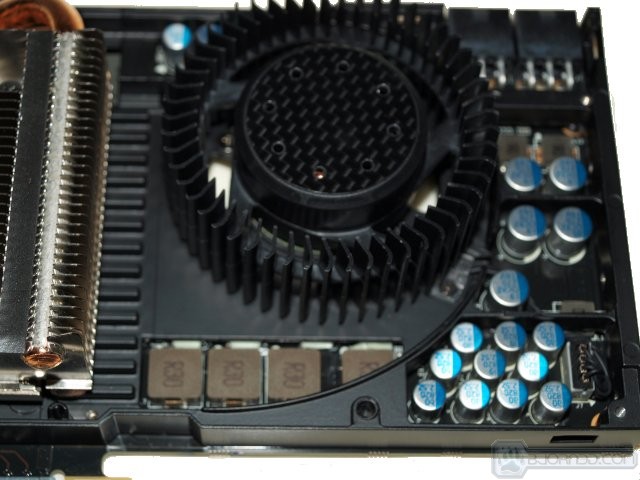 Popping off the cowling reveals the 50mm fan used to cool the GTX-470, it's not Asus's fault but we would have liked to have seen a much larger 92m fan on both the GTX-470 and GTX-480 but Nvidia went with a 50MM screamer. During OCing the fans on the 480/470 set to 100% are quite loud, so we set them to 80% manually and that seems to be plenty of fan to keep the card cool yet maintain a reasonably quiet environment.
Like the GTX-480 which uses 5 heatpipes the GTX-470 also uses 5 heatpipes and they are inside the cowling. The GTX-480 looks a little cooler with the heatpipes sticking out of the cowling and it's a design we would have liked to see on the GTX-470. Nvidia has to hold out something to make the $150 more the GTX-480 is priced at seem worth it. So far from what we have seen from a price performance standpoint the GTX-470 has a better punch in the price/performance arena. Figure $350 for a 470 and $500 for a 480. We have a hard enough time pulling $350 out of our wallets let alone $500.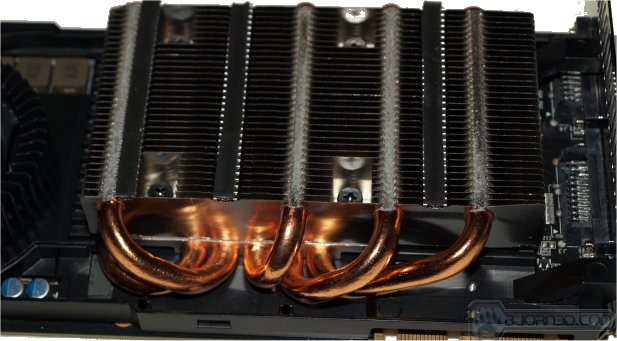 On initial inspection the GTX-470 looks like it has 4 heatpipes but on the left tucked under another pipe you see the 5th heatpipe hiding back there.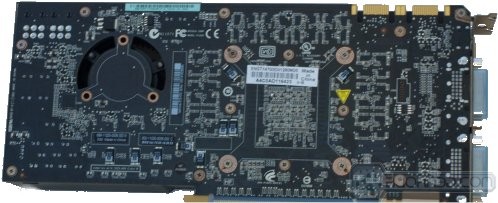 The back of the card shows an opening right behind the fan to allow for a little more cool air to be drawn in.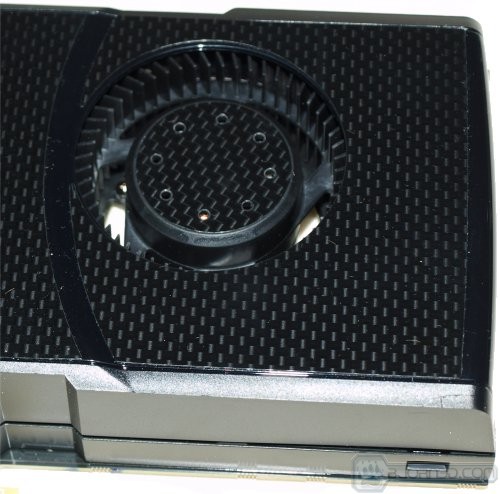 Here's a peek at the 50mm fan Nvidia went with and it does the job but we can't wait for an aftermarket cooled card with ginormous 92mm fans hanging off the card. We don't have a problem with the heatsink itself but that little fan can be a screamer when pushed.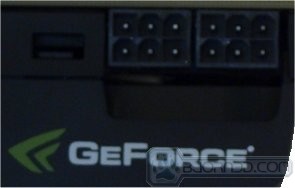 The Asus GTX-470 uses two six pin PCI-E power connectors and even though Asus includes a Molex to PCI-E adapter we don't recommend using those. You should really use a good quality PSU with two native six pin PCI-E Power connectors.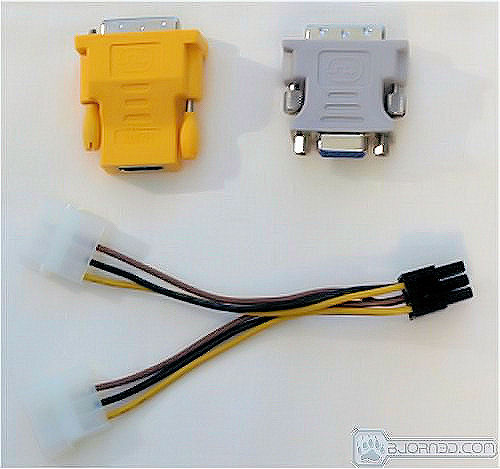 Of late the bundle on GPU's has been a little sparse, on this card you get a DVI to HDMI, DVI to 15 pin D-Sub and the Molex to PCI-E power adapter. (What no bundled game with a $350 bone GPU? We'd pay an extra $10 for a bundled game).
Then lastly you get a Manual disk and a Driver disk which contains the Nvidia Rocket Sled Demo and the Design Garage. You also get a quick start guide.
Testing & Methodology
The Asus GTX-470 Voltage Tweak Edition is a new core design with a lot of innovative features so we are all over the map in testing. We benched the GTX-470 mercilessly for 4 days averaging 12 hours a day then started building charts and checking facts.
The first thing we did after updating the fresh load OS (From a HD clone that had no GPU drivers) was run thermal testing on the GTX-470. Often we end up benching for an hour or so and tend to other matters. Not in this case. We benched in 6 hour sessions without break. When we did have to move it was during a benchmark run. We tested thermals with normal games and Furmark. We want you to realize that Furmark isn't really representative of normal operating temperatures.
We ran a wider variety of tests and each test was ran 3 times and the average reported here. A few tests were run many more than three times but we took the median 3 results and averages those. We'll tell you why we ran some tests many more than 3 times a little later.
Test Rig
Test Rig
"Quadzilla"
Case Type
Top Deck Testing Station
CPU
Intel Core I7 980 Extreme
Motherboard
Asus P6T6
Ram
Kingston HyperX 12GB 1600 MHz 9-9-9-24
CPU Cooler
Thermalright Ultra 120 RT (Dual 120mm Fans)
Hard Drives
Patriot 128 GB SSD
Optical
Sony DVD R/W
GPU Tested

Asus GTX-470 Voltage Tweak Edition
PNY GTX-470
Nvidia GTX-480
Asus 5970
Visiontek HD Radeon 5870
Gigabyte HD Radeon 5870 Gigabyte HD Radeon 4890 OC
Asus HD Radeon 4890 Voltage Tweak Edition
PNY GTX-285 Performance Edition
XFX GTX-285 XXX
BFG GTX-295
Asus GTX-295
XFX 9800 GTX+ Black Edition
BFG GTX-260 MaxCore
Palit HD Radeon 4870X2
Sapphire HD Radeon 4870 512MB
Diamond HD Radeon 4870 1 GB
Sapphire HD Radeon 4850 Toxic
Drivers for Nvidia GPU's 197.41
Drivers for ATI GPU's 10.3

Case Fans
120mm Fan cooling the mosfet CPU area
Docking Stations
Thermaltake VION
Testing PSU
Thermaltake Toughpower 1200 Watt
Legacy
Floppy
Mouse
Razer Lachesis
Keyboard
Razer Lycosa
Gaming Ear Buds

Razer Moray
Speakers
Logitech Dolby 5.1
Any Attempt Copy This System Configuration May Lead to Bankruptcy
Synthetic Benchmarks & Games
Synthetic Benchmarks & Games
3DMark Vantage
World In Conflict Benchmark
Crysis v. 1.2
Dirt 2
FarCry 2
Stalker COP
 Crysis Warhead
Unigine Heaven v.2.0
Just Plain Gaming With it
FurMark
Mass Effect 2
Metro 2033
You can see we are indeed all over the map, DX9, DX10, DX11, Tessellation, old, new and in between. We wanted as wide a representative sample as possible in the time available.
World in Conflict Demo

World in Conflict is a real-time tactical video game developed by the Swedish video game company Massive Entertainment, and published by Sierra Entertainment for Windows PC. The game was released in September of 2007. The game is set in 1989 during the social, political, and economic collapse of the Soviet Union. However, the title postulates an alternate history scenario where the Soviet Union pursued a course of war to remain in power. World in Conflict has superb graphics, is extremely GPU intensive, and has built-in benchmarks. Sounds like benchmark material to us!
Yes World in Conflict is a little, ok a lot, long in the tooth but that's one reason why we fall back to it occasionally. Vendors don't expect us to bench it and we get a candid look at how the new stuff performs on what used to be a GPU crippling game.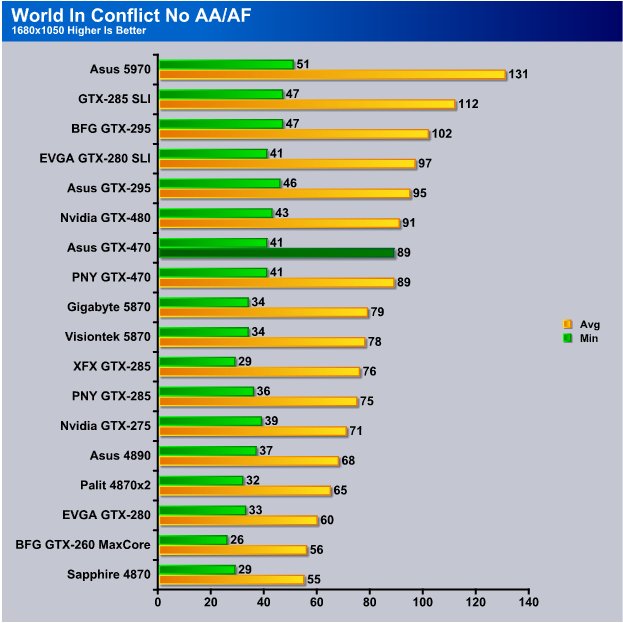 The Asus GTX-470 Voltage Tweak Edition matched the performance of the PNY model and in this game is close to the performance of the GTX-480.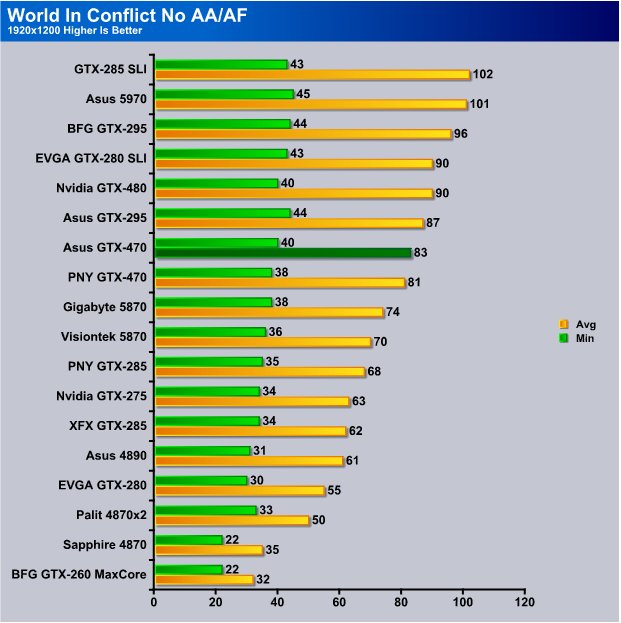 Kick the resolution up and we see the Asus GTX-470 Voltage Tweak Edition a couple of FPS ahead of the PNY model and we can't tell you if it's differences in the benchmark runs, a slightly better Core or just luck of the draw.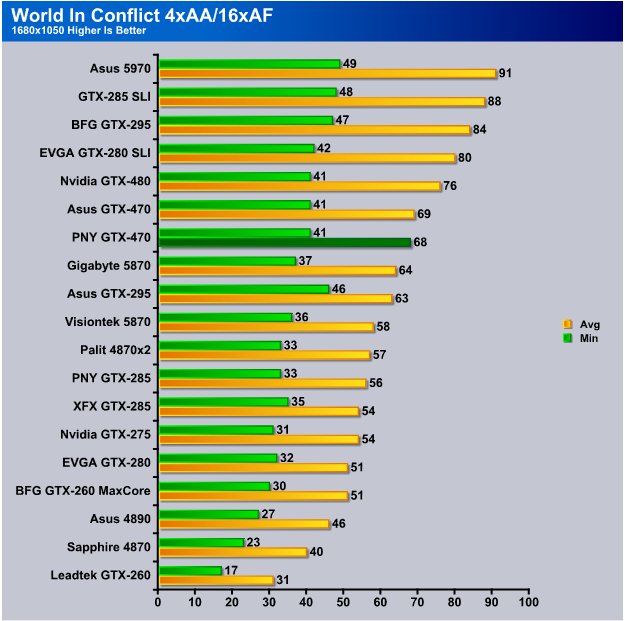 Well in this one we highlighted the PNY model so you can see that right under it is the 5870, the GTX-295 and the other 5870. The Asus GTX-470 Voltage Tweak Editionsits right on top that pack and right behind the GTX-480. The question we ask ourselves at this point; is the GTX-480 worth the extra money for that small a FPS difference when 30 FPS is rock solid to the eye?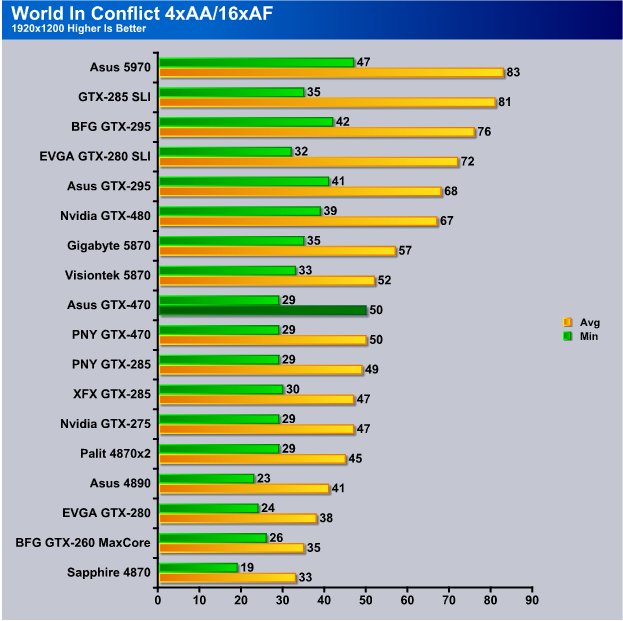 At the highest resolution tested the Asus GTX-470 Voltage Tweak Edition did dip down to 29 FPS like the PNY model did but it was so slight a performance drop the human eye couldn't detect it.
Crysis v. 1.21

Crysis is the most highly anticipated game to hit the market in the last several years. Crysis is based on the CryENGINE™ 2 developed by Crytek. The CryENGINE™ 2 offers real time editing, bump mapping, dynamic lights, network system, integrated physics system, shaders, shadows, and a dynamic music system, just to name a few of the state-of-the-art features that are incorporated into Crysis. As one might expect with this number of features, the game is extremely demanding of system resources, especially the GPU. We expect Crysis to be a primary gaming benchmark for many years to come.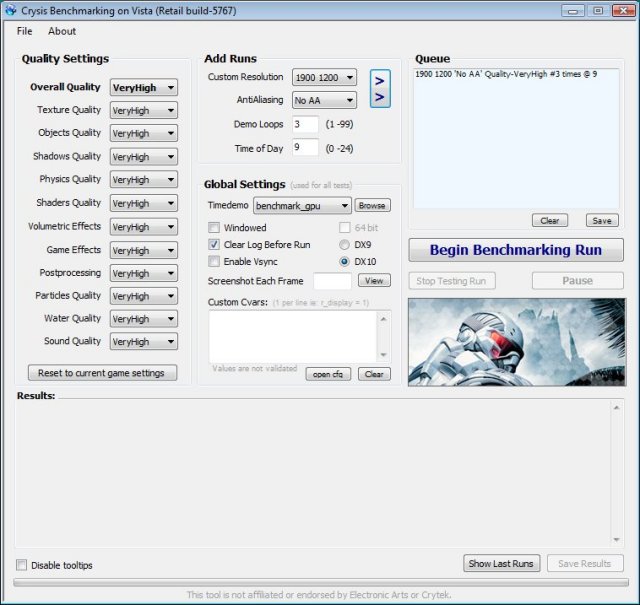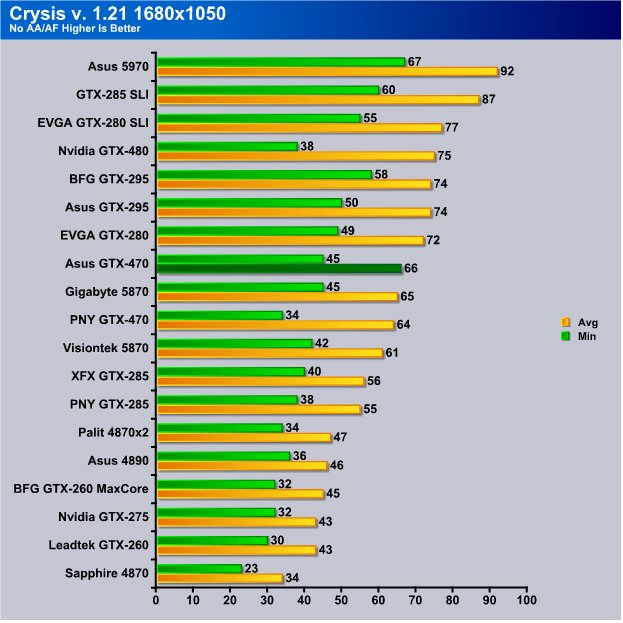 Crysis is still rough on GPU's and we still play it so it's hanging on in the benchmarks because we have so much data on it. This is probably one of the only benches we saw that the Asus GTX-470 Voltage Tweak had a good lead on the PNY model and we retested the Asus model to ensure accuracy, we need to go back and retest the PNY model in this one test to make sure we didn't have some type of anomaly when it was tested. In the mean time though we have one week to publish the Asus GTX-470 so it's full steam ahead.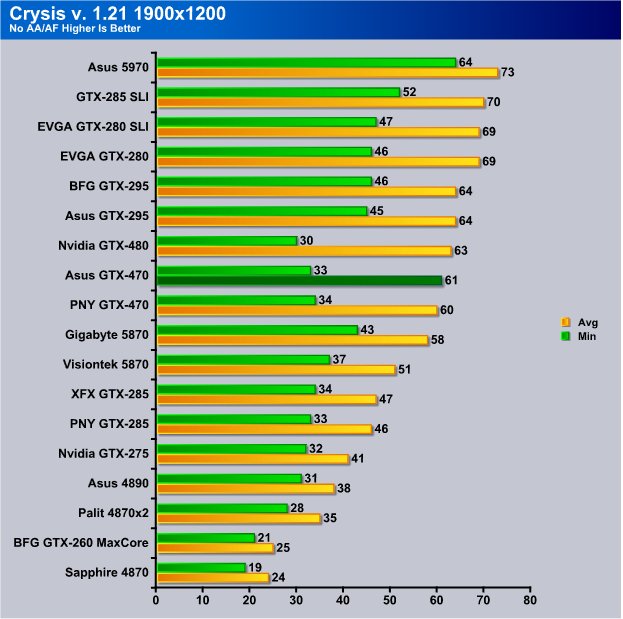 At 1920×1200 we see that both the Asus GTX-470 and PNY 470 perform about the same but it's starting to look like the Asus GTX-470 has a little better core because it seems to be one or two FPS faster than the PNY model. When it comes down to it on these two GTX-470's we expect Voltage Tweak to be the decisive factor because we got a somewhat lackluster OC on the PNY model ( 90(ish) Core and 22 Memory). Previous generations of the stepped down model GPU could OC to the top end GPU's Core speed and often beyond the stock clock of the top end GPU. (Think GTX285/GTX-275). Maybe Nvidia has learned from that and designed the voltage on the 470 to keep us from clocking to the core speed of its big brother, we are betting that Voltage Tweak will foil that little plan.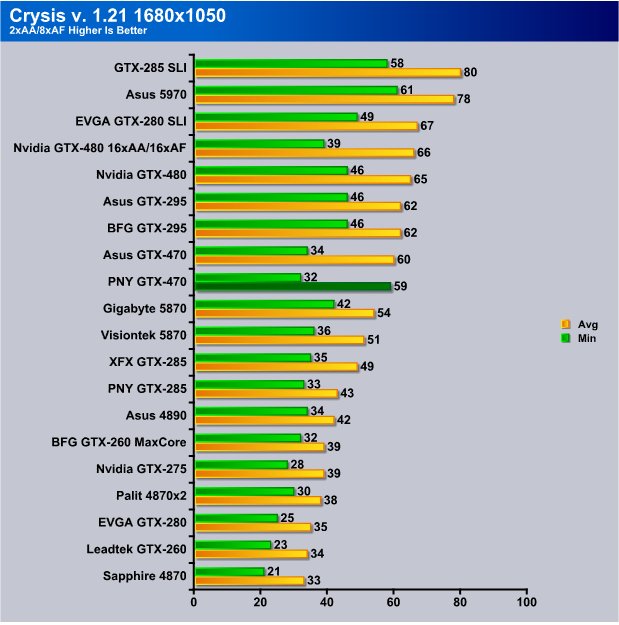 Turning AA/AF on we see the Asus GTX-470 keeps a slight lead on the PNY model but like their bigger brother they seem to have a minimum FPS issue. Here again we highlighted the PNY model so you can see it's sitting on top the 5870 model, the Asus is right above the highlighted PNY,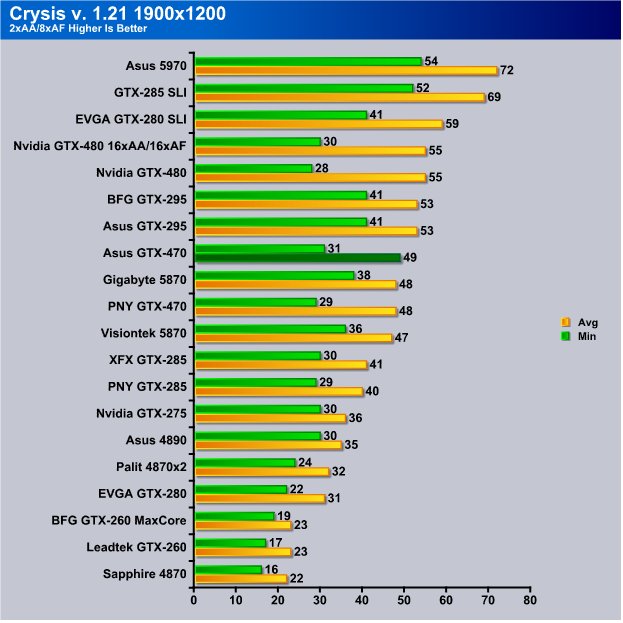 We sort by Average FPS so while the 5870's had a better minimum FPS the Asus GTX-470 Voltage Tweak Edition had a better Average FPS so it sits higher on the chart. The reason we chart like that is Average FPS are where the money is, often the minimum FPS is nothing more than one or two frames that dropped that low. Average FPS gives a good indicator of how a GPU will perform in the game overall.
CRYSIS WARHEAD

Crysis Warhead is the much anticipated sequel of Crysis, featuring an updated CryENGINE™ 2 with better optimization. It was one of the most anticipated titles of 2008.

The Settings we use for benchmarking Warhead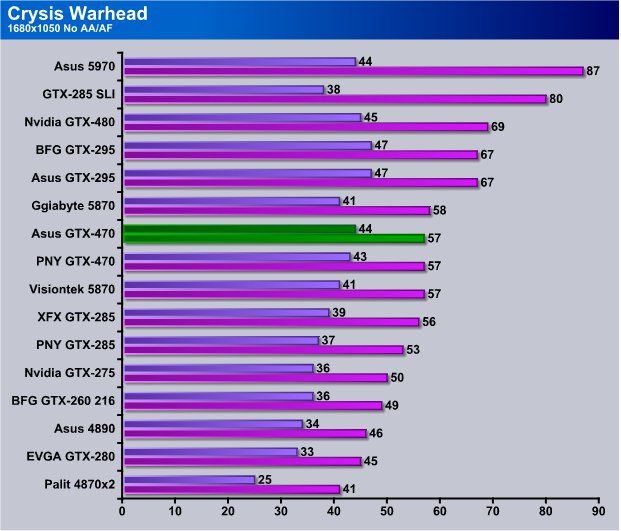 Here's another interesting result, the Gigabyte HD5870 topped the Asus GTX-470 in Avg FPS but the Asus GTX-470 tops it in minimum FPS. Then the Visiontek 5870 sits below both the GTX-470 models.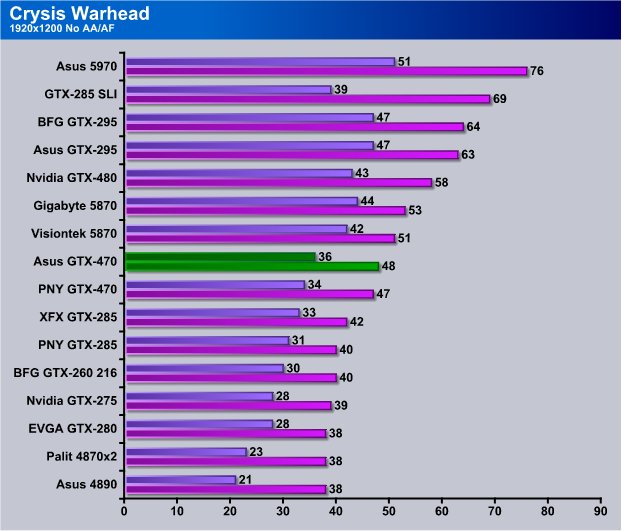 Hitting 1920×1200 we see the 5870 pair on top the GTX-470 pair and we didn't expect that result.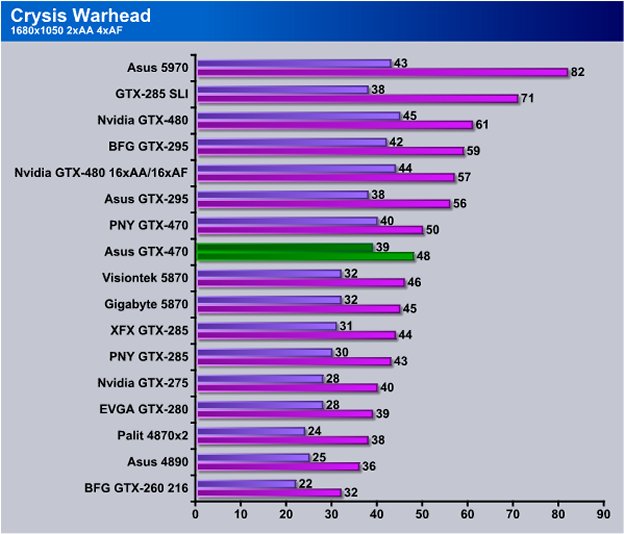 Jump back to 1680×1050 and the Asus GTX-470 didn't outperform the PNY GTX-470 but they both perform exceptionally well.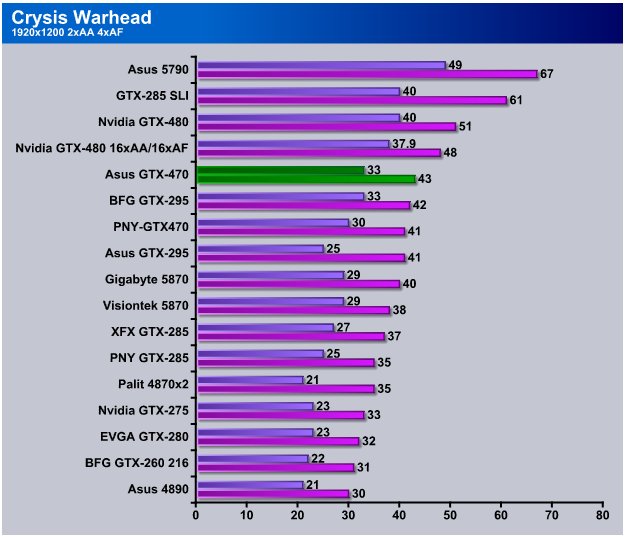 Here at the highest resolution we test the Asus GTX-470 Voltage Tweak Edition jumped a few FPS ahead of the PNY model.
Far Cry 2

Far Cry 2, released in October 2008 by Ubisoft, was one of the most anticipated titles of the year. It's an engaging state-of-the-art First Person Shooter set in an un-named African country. Caught between two rival factions, you're sent to take out "The Jackal". Far Cry2 ships with a full featured benchmark utility and it is one of the most well designed, well thought out game benchmarks we've ever seen. One big difference between this benchmark and others is that it leaves the game's AI (Artificial Intelligence) running while the benchmark is being performed.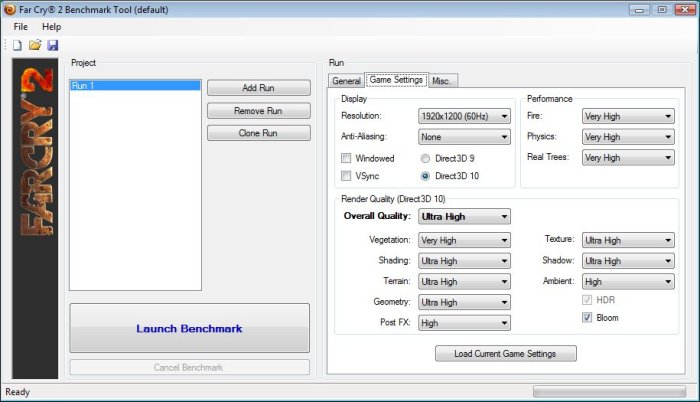 The Settings we use for benchmarking Far Cry 2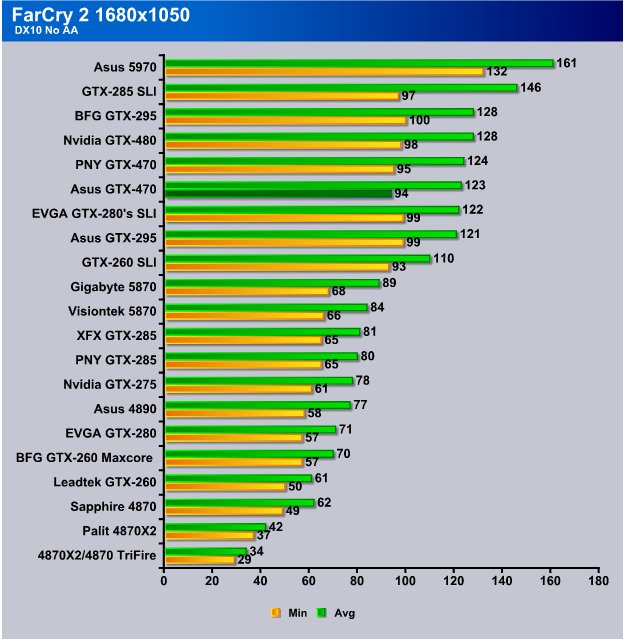 Here at 1680×1050 we see the PNY GTX-470 one FPS ahead of the Asus model but like we mentioned earlier we suspect Voltage Tweak will let us overclock the Asus card higher than the PNY so it will likely be a factor if the Asus Scores higher than the PNY did in its review.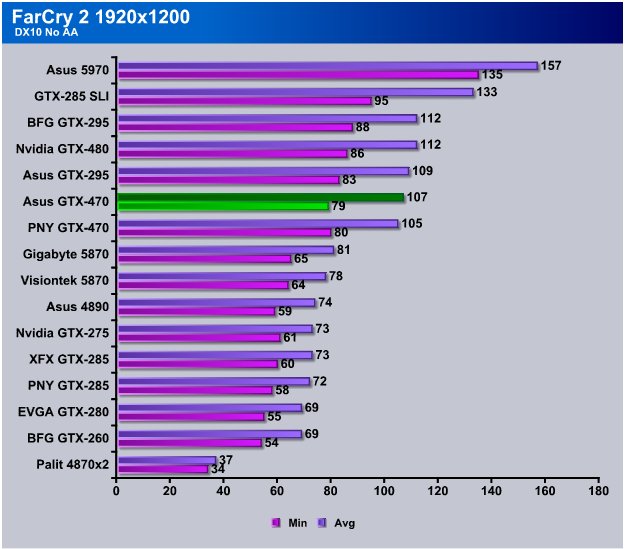 Hitting 1920×1200 the Pny model beat the Asus 470 by 1 FPS minimum but the Asus GTX-470 beat the PNY by 2 FPS on average FPS.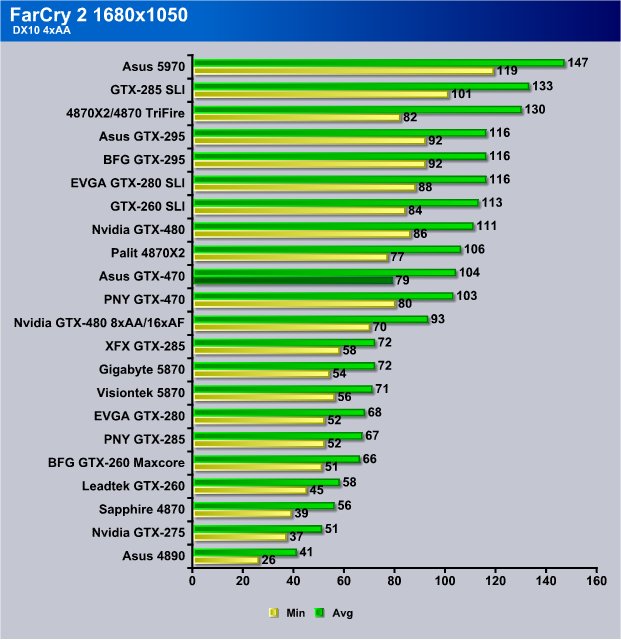 Turning on AA/AF we see the same split performance between the Asus and PNY models with the Asus sitting on top because we sort by average FPS for reasons we gave earlier.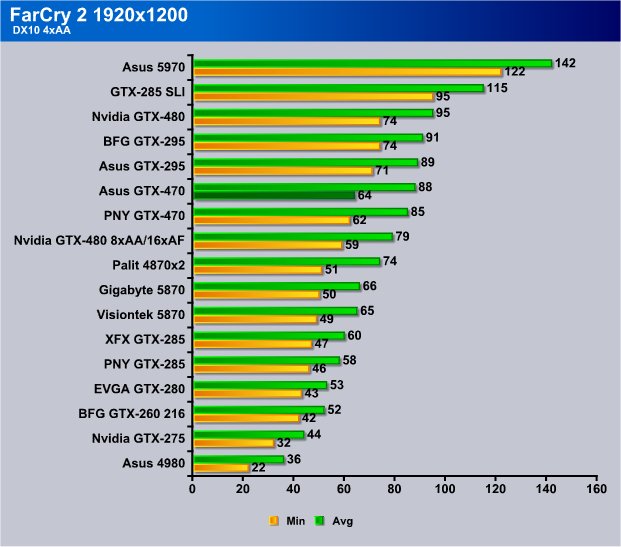 Then at the highest resolution the Asus GTX-470 ekes out a little better performance and beats the PNY model by a couple of FPS.
Dirt 2

Colin McRae Dirt 2 is the squeal to the popular racing game Colin McRae Dirt. The game is a racing game, but with an off road twist. Instead of racing Bugattis and Porsches your going to be racing trophy trucks and rally cars. The newest addition adds DirectX 11 effects, and modified physics from the original game.
We only tested Dirt 2 with AA/AF and you'll see why in a moment.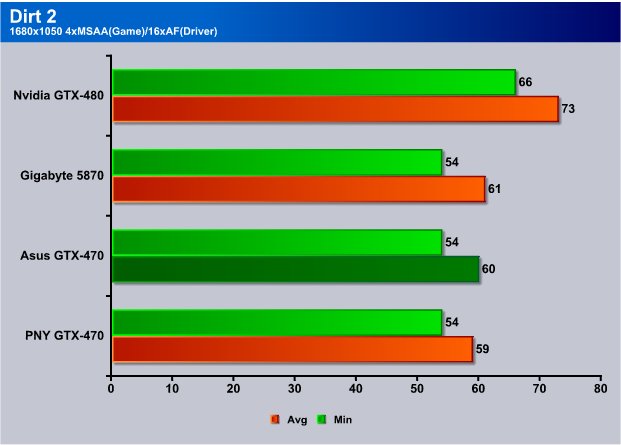 With the Asus GTX-470 Voltage Tweak Edition hitting 54 FPS minimum we didn't see any reason to expand testing to non-AA/AF. If it runs at this resolution with AA/AF you know it will run higher FPS without it.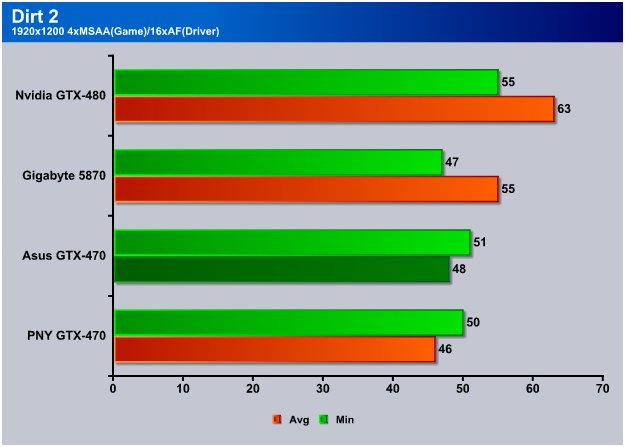 Same thing at 1920×1200 with the Asus GTX-470 hitting 51 FPS Avg and 48 FPS Minimum testing without AA/AF is kind of moot.
Unigine Heaven 2.0

Unigine Heaven is a benchmark program based on Unigine Corp's latest engine, Unigine. The engine features DirectX 11, Hardware tessellation, DirectCompute, and Shader Model 5.0. All of these new technologies combined with the ability to run each card through the same exact test means this benchmark should be in our arsenal for a long time.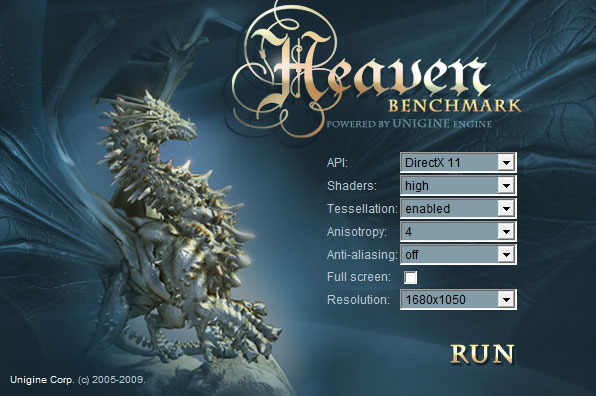 The settings we used in Unigine Heaven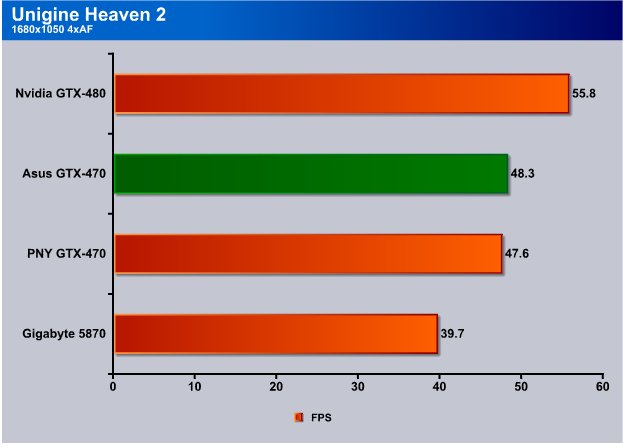 Ungine Heaven 2 didn't pose a problem for any of the GPU's at 1680×1050 so we went with average FPS and the GTX-470 hit 48.3 FPS and you see that the GTX-480 hit 7.5 FPS higher in this DX11 benchmark that uses Tessellation. Perhaps that's the justification for the $150 price difference between the GTX-470 and GTX-480. We know top end GPU's are more expensive but performance wise the GTX-480 would be more competitive with the GTX-470 if it were priced in the $400 price slot.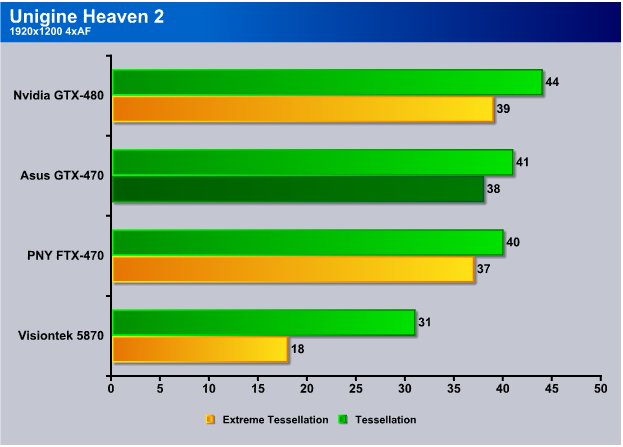 The HD 5870 did have problems at 1920×1200 so we charted both Minimum and Average FPS and the Asus GTX-470 came out on top the PNY model by 1 FPS. You can see the effect of Tessellation on the HD5870 in this test and that seems to be where the ATI lineup falls short of the Nvidia lineup.
S.T.A.L.K.E.R.: Call of Pripyat
Call of Pripyat is the latest addition to the S.T.A.L.K.E.R. franchise. S.T.A.L.K.E.R. has long been considered the thinking man's shooter, because it gives the player many different ways of completing the objectives. The game includes new advanced DirectX 11 effects as well as the continuation of the story from the previous games.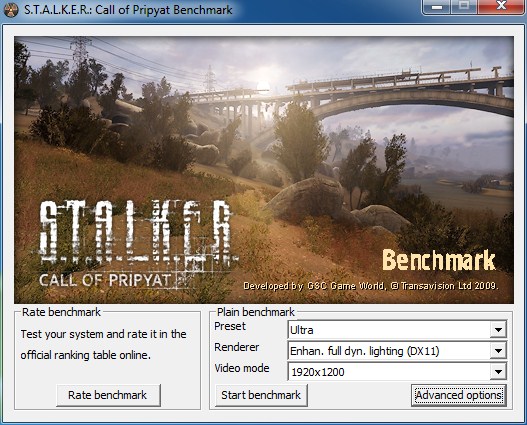 The settings we used benching Stalker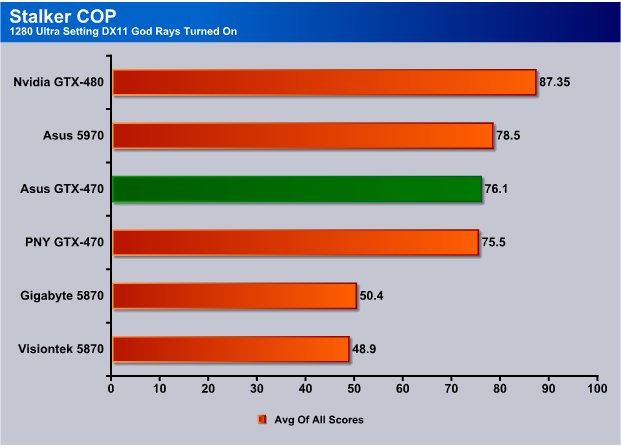 We chart Stalker with and without Sun Shafts, AKA: God Rays, to do that we run each resolution 3 times then add the three runs with and without Sun Shafts and divide that by three.
With Sun Shafts at 1280×1024 the Asus GTX-470 hits 76.1 FPS and is about 1/2 FPS faster than the PNY GTX-470.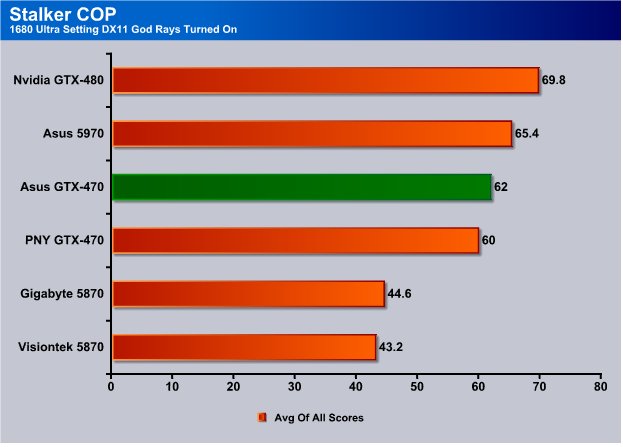 At 1680 with Sun Shafts the Asus GTX-470 got up to 62 FPS and that's 2 FPS ahead of the PNY model. Here again in DX11 we see the 5870 pair lagging behind.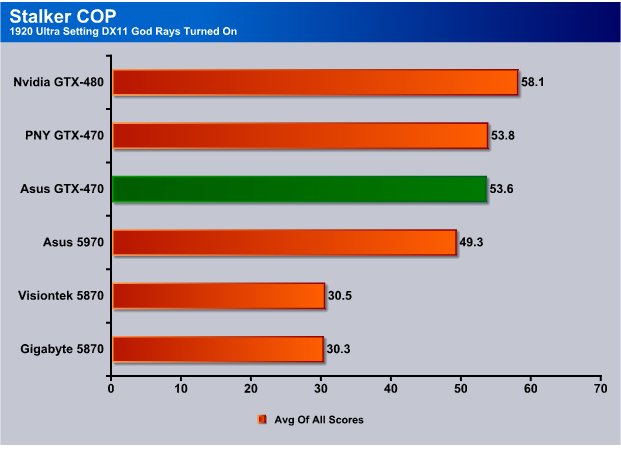 At 1920×1200 we see the 5870's struggling to keep 30 FPS and in some areas of the bench they didn't. The HD 5970 even fell below the Asus GTX-470 by 3.3 FPS and this shows the advantage of the Nvidia GTX-4xx lineup in DX11, Tessellated and Ray Tracing games.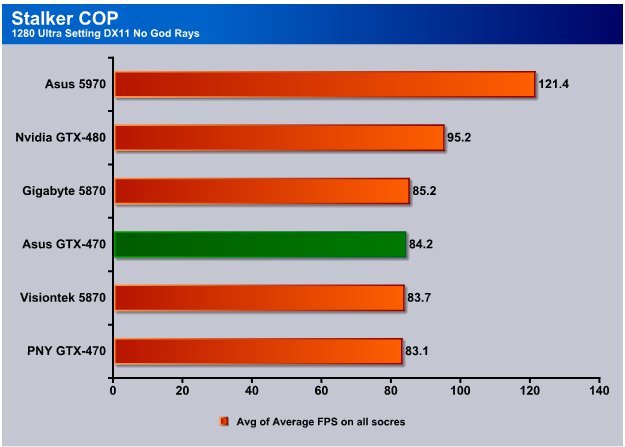 Take Sun Shafts out of the equation and things change and the HD 5870 lineup performs as well as the Nvidia lineup.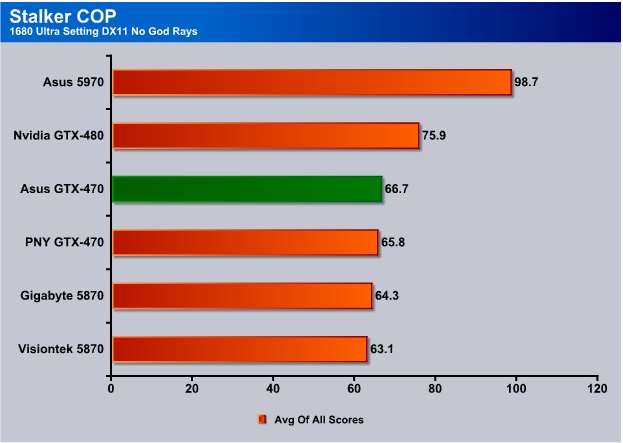 Kick the resolution to 1680 and the HD5870's fall behind again. The Asus GTX-470 Voltage Tweak Edition hit 66.7 FPS and again it's barely ahead of the PNY model.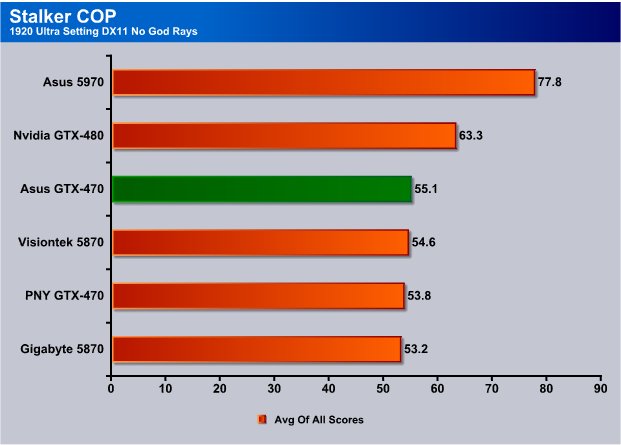 The 1920×1200 resolution sees a split decision between the GTX-470's and the HD5870's with the Asus GTX-470 on top the pileup.
Furmark
Since Furmark has a built in benchmark we decided to play with that a little bit to evaluate it's benchmark viability. This is a shot of the Furmark results from a previous review so you can see what the results page looks like. We went ahead and built charts for this review.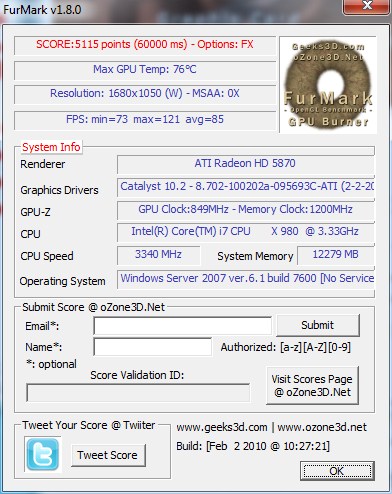 This shot of Furmark benchmark results isn't from this round of testing, it's just there to show you what the results page looks like.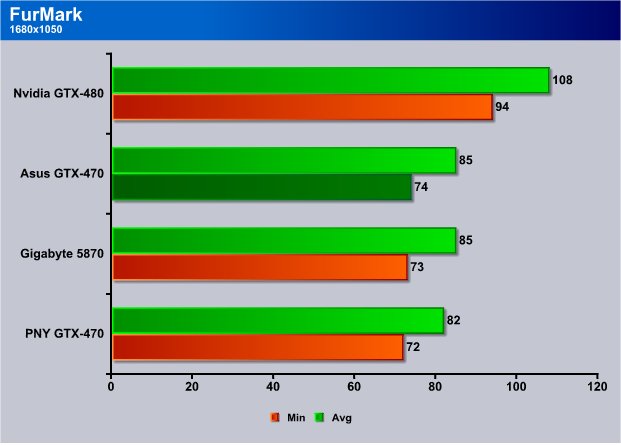 The Asus GTX-470 is 1 FPS ahead of the Giga HD5870 on min FPS and tied at 85 FPS, the PNY GTX-470 was a few FPS behind the Asus model.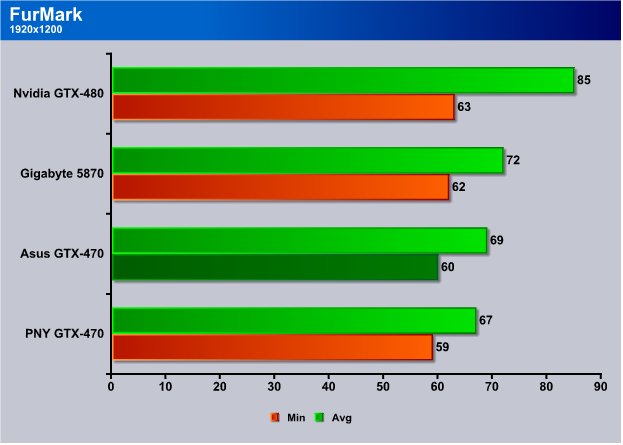 Here's something we found a little strange, the GTX-480 had a good lead in minimum FPS at 1680×1050 but at 1920×1200 all the cards were in the 59 – 63 FPS range. The Asus GTX-470 hit 69 FPS Avg and 60 FPS Min and again manages to stay just ahead of the PNY model.
Mass Effect 2
Two years after Commander Shepard repelled invading Reapers bent on the destruction of organic life, a mysterious new enemy has emerged. On the fringes of known space, something is silently abducting entire human colonies. Now Shepard must work with Cerberus, a ruthless organization devoted to human survival at any cost, to stop the most terrifying threat mankind has ever faced.
To even attempt this perilous mission, Shepard must assemble the galaxy's most elite team and command the most powerful ship ever built. Even then, they say it would be suicide. Commander Shepard intends to prove them wrong.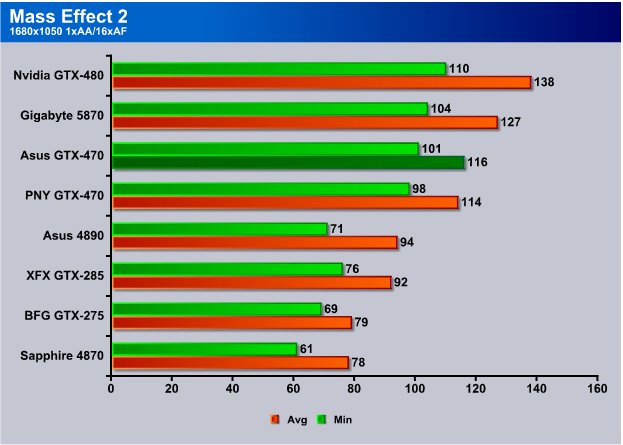 Mass Effect 2 seems better optimized for ATI GPU's and it topped both the GTX-470's, The Asus GTX-470 came out on top the PNY GTX-470 and all the GPU's tested did well in this game.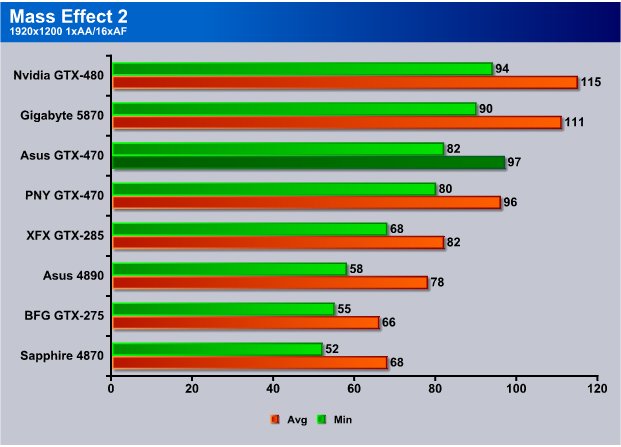 Here at 1920×1200 the Giga HD5870 stays on top the GTX-470 pair and the Asus GTX-470 is still on top the PNY model. The longer we go, the more convinced we are that the Core on the Asus GTX-470 must be a little better than the core on the PNY model but that's probably just luck of the draw.
Metro 2033

Metro 2033 is an action-oriented video game with a combination of survival horror, and first-person shooter elements. The game is based on the novel Metro 2033 by Russian author Dmitry Glukhovsky.
The enemies that the player encounters range from human renegades to giant mutated rats and even paranormal forces known only as "The Dark Ones". Players frequently have to defend themselves with makeshift combination's of different weapons, e.g a revolver with a sniper scope attached.
Ammunition is also scarce, and the more rare Military Grade bullets are used as currency (to purchase supplies and guns), or in combat as a last resort, giving an added damage boost, forcing the player to hoard supplies.
The game lacks a health meter, relying on audible heart rate and blood spatters to show the player what state they are in and how much damage was done. A gas mask must be worn at all times when exploring the surface due to the harsh air and radiation. There is no on-screen indicator to tell how long the player has until the gas mask's filters begin to fail, so players must set a wrist watch, and continue to check it every time they wish to know how long they have until their oxygen runs out, requiring the player to replace the filter (found throughout the game). The gas mask also indicates damage in the form of visible cracks, warning the player a new mask is needed. The game does feature traditional HUD elements, however, such as an ammunition indicator and a list of how many gas mask filters and adrenaline shots remain.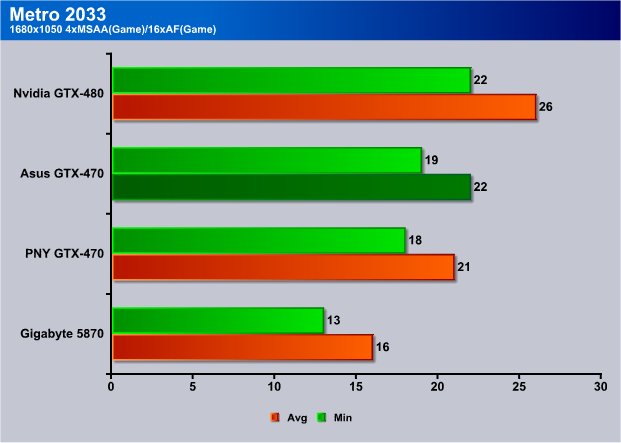 Metro 2033 has so many advanced graphic effects that it's like Crysis used to be, nothing runs it at full resolution with all the eye candy turned on. Forgive us, but we labeled the charts wrong on this one and this is actually the 1920×1200 resolution and when we get time we'll go back and re-label it.
At 1920×1200 none of the GPU's tested provided playable FPS, the Asus GTX-470 hit 19 FPS Min and 22 FPS Avg.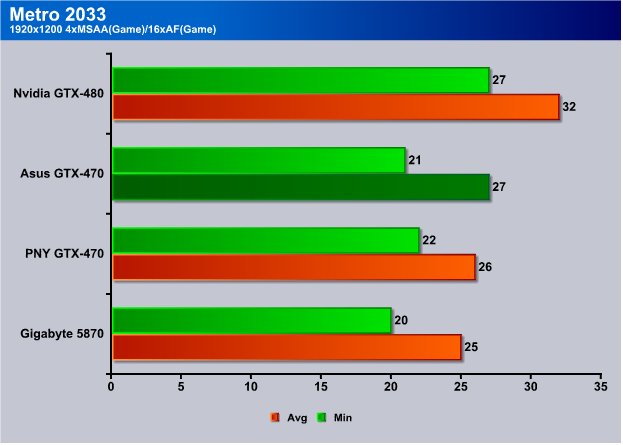 This is actually 1680×1050 and none of the GPU's kept 30 FPS min and the GTX-480 was the only one to break 30 FPS Average. The Asus GTX-470 hit 21 FPS minimum and 27 FPS average. Rest assured we could turn down the eye candy a notch (though we loathe to do that) and the game ran great on the Asus GTX-470.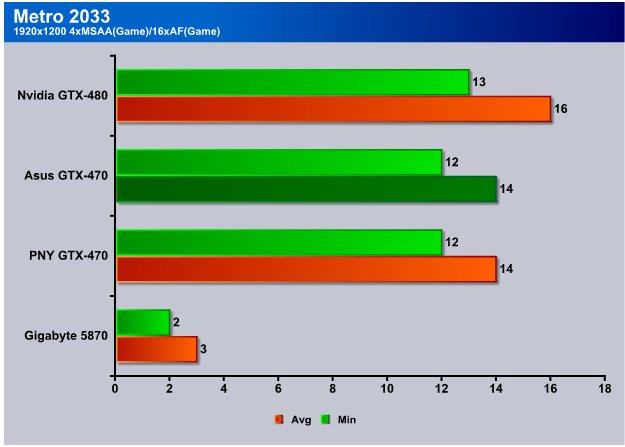 We went one farther and kicked PhysX on at 1920×1200 just to see how ugly it could get and both the Asus and PNY GTX-470 got 12 FPS minimum and 14 FPS average and it was a little like looking at a slide show. Of course PhysX only runs on Nvidia GPU's and any PhysX testing we do is strictly for informational purposes and not used in the final scoring of any product.
3DMark Vantage

For complete information on 3DMark Vantage Please follow this Link:
www.futuremark.com/benchmarks/3dmarkvantage/features/
The newest video benchmark from the gang at Futuremark. This utility is still a synthetic benchmark, but one that more closely reflects real world gaming performance. While it is not a perfect replacement for actual game benchmarks, it has its uses. We tested our cards at the 'Performance' setting.
We don't report the overall score for the GPU we report the GPU score itself. The GPU score isn't affected (Much) by the type of CPU and unless the GPU is CPU bottlenecked the score isn't affected.
The Asus GTX-470 Voltage Tweak Edition hits 13871 and amazingly the HD 5870's are considerably ahead at 17k(ish). Since we've seen in normal games that the GTX-470 pair is ahead of the HD5870's that may force us to reconsider the viability of Vantage for benchmarking.
POWER CONSUMPTION

To get our power consumption numbers we plugged in out Kill A Watt power measurement device and took the Idle reading at the desktop during our temperature readings. We left it at the desktop for about 15 minutes and took the idle reading. Then we ran Furmark for 10 minutes and recorded the highest power usage.
GPU Power Consumption
GPU
Idle
Load
Asus GTX-470
181 Watts
488 Watts
PNY GTX-470
178 Watts
487 Watts
Nvidia GTX-480
196 Watts
521 Watts
Gigabyte HD5870
167 Watts
379 Watts
Asus EAH5970
182 Watts
412 Watts
Gigabyte 4890 OC
239 Watts
358 Watts
Asus EAH4770
131 Watts
205 Watts
BFG GTX-275 OC
216 Watts
369 Watts
Nvidia GTX-275 Reference
217 Watts
367 Watts
Asus HD 4890 Voltage Tweak Edition
241 Watts
359 Watts
EVGA GTS-250 1 GB Superclocked
192 Watts
283 Watts
XFX GTX-285 XXX
215 Watts
369 Watts
BFG GTX-295
238 Watts
450 Watts
Asus GTX-295
240 Watts
451 Watts
EVGA GTX-280
217 Watts
345 Watts
EVGA GTX-280 SLI
239 Watts
515 Watts
Sapphire Toxic HD 4850
183 Watts
275 Watts
Sapphire HD 4870
207 Watts
298 Watts
Palit HD 4870×2
267 Watts
447 Watts
Total System Power Consumption
We already know that the Asus GTX-470 isn't gentle at the power consumption arena and that the HD58xx lineup requires less power. That really isn't an issue for us and we report the power consumption for those that worry about it. In reality (in our case at least) the amount of time the video card is running heavy 3D applications is pretty minimal. Say 14 or 15 hours a week. So take the difference between the HD5870 maximum power consumption and the GTX-470 power consumption and you get 109W. Then take 15 hours times 109W and you get 1.635KW now take that times 4 (one month) and you get 6.540KW per month more power consumption than using a HD5870.
Now looking at the latest Electric bill we used 846KWH (KiloWatt Hours) and it cost us $103.80 USD. so take 103.80 and divide it by 846 and you get 0.122 which is 12.2 Cents a KWH. Now take 6.540 times 12.2 and finally you get how much more it costs to run a GTX-470 for 60 hours than it does to run a HD5870. That turns out to be about 80 Cents.
Now lets get ridiculous and say we run the GTX-470 for 600 hours (maybe folding) so it would be about $8 dollars a month more at 600 hours usage.
By the same token it's not cheap to run a GTX-470 so lets take a look at total system consumption 488W. Same formula 15hours x 488W x 4 gives us 29.280KWH x 12.2 so we are looking at a whopping $3.57 for 60 hours total system consumption. Figure 600 hours $35.70 so for folding it might be a concern but for normal use we spend more at the corner store for bubble gum in a month. Run 24/7 and your looking at $42.80.
Now lets apply the same thing to the HD5870, figure 720 hours in a 30 day month, so 720hours x 379W = 272.88KWH x 12.2 = $33.29 or $9.51 more to run a system with a GTX-470 24 hours a day 7 days a week for a month. Now if you fold for Stanford that may be an issue, for most of us at 60 hours a month it's not much of an issue.
We'll be the first to admit that we aren't math wizards so if you see something wrong with the calculations click my name at the top of the review and let me know what your calculations are and I'll look at them and update if need be.
TEMPERATURES

Well Furmark has gotten unrealistic to use because ATI GPU's automatically throttle when they see it loading. So we went back to ATITool which works equally well on ATI and Nvidia for thermal readings. Keep in mind ATITool drives the GPU continuously at 97 – 100% and these are worst case temperatures. In gaming we were lucky to see anything above 70°C.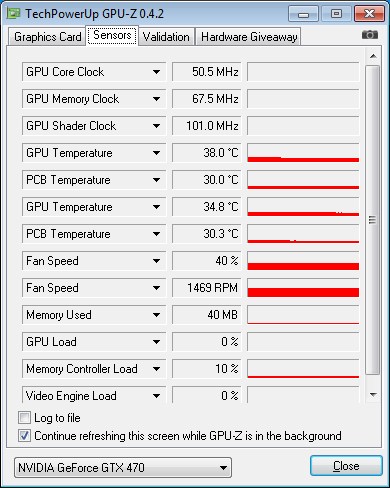 At an idle we got 38°C consistently and on initial load of the rig about 42°C and a minute later it was as cool as it was going to get.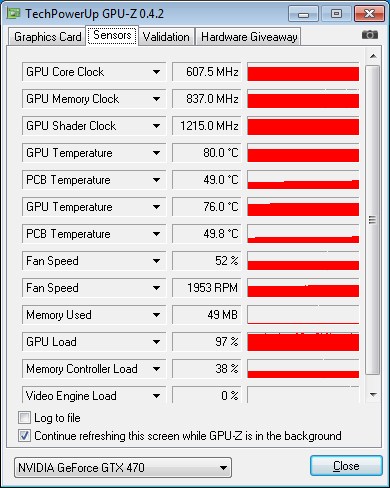 Ten minute run ATITool and we got 80°C on stock fan settings (auto). By kicking the fan to 70% which was almost inaudible it never got over 69°C. At 100% fan (Noisy) it never got over 60°C.
Conclusion
We like the Asus ENGTX-470 a lot, we especially like the Voltage Tweak. It allows us to overclock higher than a non-Voltage Tweak GPU and we get one stop Voltage Tweak and overclocking in Asus Smart Doctor.
Performance was high enough that the only game we had issues with was Metro 2033 and it's the "Crysis of the future". In other words nothing runs well on Metro 2033 because it was deliberately developed to outclass current GPU technology. It worked for Crysis didn't it? By turning down the eye candy we were able to play with good graphics and still keep frame rates high.
In the price/performance arena the Asus GTX-470 isn't as powerful as a GTX-480 but frankly most of us crave the power of a GTX-480 but we don't need that much power. The Asus GTX-470 offers a better price at slightly less performance but OC it with Voltage Tweak and its performance almost matches the GTX-480. Non-Voltage Tweak models we've seen won't OC to the stock speed of a 480 but the Asus ENGTX-470 will and it should clock higher than a stock 480 if you are wiling to push that much voltage. We prefer to take advantage of the Voltage Tweak option in a more responsible manner.
Overall performance was very high on the Asus ENGTX-470 and the $150 less than GTX-480 cost isn't going to hurt anyone's feelings. Figure you can SLI two Asus GTX-470's for around $700 or have one GTX-480 for $500 and when prices drop adding a GTX-470 later makes more sense.
OUR VERDICT: Asus GTX-470 Voltage Tweak Edition
| | |
| --- | --- |
| Performance | 9.5 |
| Value | 9 |
| Quality | 9.5 |
| Features | 9 |
| Innovation | 10 |

We are using an addition to our scoring system to provide additional feedback beyond a flat score. Please note that the final score isn't an aggregate average of the rating system.

Pros
Cons

Overclocks well

High Performance

DX11

Eats Tessellation for lunch

Voltage Tweak

Lifetime Warranty

Eye candy that will make a grown man tear up

Price/performance punch

Runs Hot

Power Consumption

.

 

 
Summary: The Asus ENGTX-470 Voltage Tweak Edition makes sense from a performance and price standpoint. The Voltage Tweak option lets you overclock higher and it almost holds its own against a GTX-480. So spend the extra $150 for a full GTX-480 or enjoy the $150 savings and get an Asus Voltage Tweak GTX-470 and OC a little. We tend to go with save the cash and OC a little and Smart Doctor makes it a snap to OC. We hope to see a GTX-480 Voltage Tweak edition but only Asus knows if that's going to happen.