Today AMD has released their first set of 6-core CPU's: the Phenom II X6 1090T and the AMD Phenom II 1055T. We have of taken a X6 1090T and run a battery of tests with it to see what those extra cores and features means for a normal user. We also have tested the new AMD 890FX chipset on a ASUS Crosshair IV Formula motherboard.
INTRODUCTION
A few months ago in March 2010 we tested Intel's first consumer 6-core CPU, the Intel i7 980x (Extreme), which turned out to be the computer equivalent of a Ferrari; very fast and very expensive. Today it is AMD's turn to launch consumer 6-core CPU's and they take the opportunity to not only release one CPU but two: the AMD Phenom™ II X6 1055T (2.6 GHz) and the AMD Phenom™ II X6 1090T (3.2 GHz). In contrast to Intel's fast and expensive chip AMD has continued its path of delivering performance at an affordable price meaning that you will be able to build a complete system with the the AMD Phenom™ X6 1090T for the same price of a Intel i7 980x.
In addition to adding 2 more cores to the Phenom II CPU's design AMD has added a cool new feature that in effect makes the Phenom X6 CPU's two CPU's in one: Turbo Core. In short the CPU can now turn off 3 cores and at the same time raise the frequency of the remaining 3 cores in effect creating a higher clocked 3-core CPU.
In addition to releasing the the AMD Phenom™ II X6, AMD also today is releasing the new flagship chipset: the AMD 890FX. With support for USB3, SATA6 as well as 4 PCI-E-slots and great overclockability the chipset is aimed at the enthusiasts. In this article we also are doing a short review of the ASUS Crosshair IV Formula, a kick-ass AMD 890FX motherboard which is filled with cool features.
| | | | | | | | |
| --- | --- | --- | --- | --- | --- | --- | --- |
| CPU Name | Cores | Clock | L2/L3 Cache | HT Bus | Socket | TDP | Price |
| AMD Phenom II X4 965 BE | 4 | 3.4GHz | 2+6MB | 4000MHz | AM3 | 140W | $189 |
| AMD Phenom II X4 955 BE | 4 | 3.2GHz | 2+6MB | 4000MHz | AM3 | 125W | $170 |
| AMD Phenom II X4 945 | 4 | 3.0GHz | 2+6MB | 4000MHz | AM3 | 125W | $180 |
| AMD Phenom II X4 925 | 4 | 2.8GHz | 2+6MB | 4000MHz | AM3 | 95W | $170 |
THE AMD PHENOM™ II X6
Our first stop in this article is the new 6-core CPU Phenom X6, codename Thuban. AMD themselves actually calls it Phenom X6 in many places but it does look like the proper name is Phenom II X6. Overall it shares the same architecture as the Phenom II.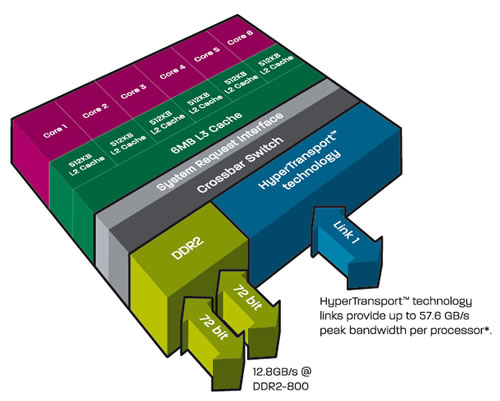 True Six Core Processing
AMD Turbo CORE Technology
L1 Cache: 128KB (64KB Instruction + 64KB Data) x6(six-core)
L2 Cache: 512KB x6(six-core)
L3 Cache: 6MB Shared L3
45-nanometer SOI (silicon-on-insulator) technology
HyperTransport™ 3.0 16-bit/16-bit link at up to 4000MT/s full duplex; or up to 16.0GB/s I/O bandwidth
Up to 21GB/sec dual channel memory bandwidth
Support for unregistered DIMMs up to PC2 8500 (DDR2-1066MHz) and PC3 10600
Direct Connect Architecture
AMD Balanced Smart Cache
AMD Dedicated Multi-cache
AMD Virtualization™ (AMD-V™)Technology
AMD PowerNow™ 3.0 Technology
AMD Dynamic Power Management
Multi-Point Thermal Control
AMD CoolCore™ Technology
Two processors are being released today:
AMD Phenom™ X6 1055T with a TDP at 125W and clocked at 2.8 GHz (Turbo Core at 3.3 GHz)
AMD Phenom™ X6 1090T with a TDP at 125W and clocked at 3.2 GHz (Turbo Core at 3.6 GHz)
As you can see the TDP is still "only" 125W and the processor can be used on any AM2+ and AM3 motherboards after they get an updated bios.
TURBO CORE TECHNOLOGY
One of the more intriguing and exciting new features of the Phenom II X6 is the Turbo Core technology. This technology tries to offer a solution to the issue we have with multi-core processors: that not many games and other software fully support using 3, 4 or more cores and thus we have cores sitting twiddling their thumbs.
A very simple explanation of Turbo Core is that it takes a normally clocked 6-core CPU and turns it into a higher clocked 3-core CPU.
This is how it works.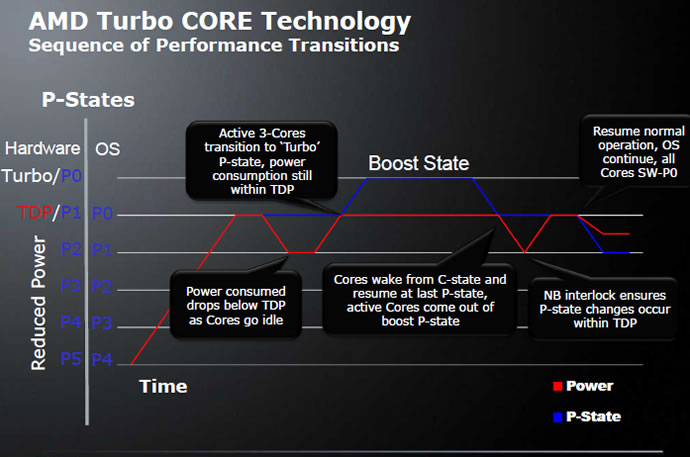 While a device or processor operates it can be in one of several power-performance states. These states are implementation-dependent, but P0 is always the highest-performance state. AMD has added another step "below/above" P0 which kicks in the "Turbo Core" feature. Basically the processor notes when 3 or more cores are not in use (idle) and then clocks them down and turn them into sleep state. At the same time the frequency of the 3 remaining cores are increased. This allows AMD to run the processor at a higher frequency without going over the quoted TDP for the processor.
If you have a game or an application which does not use more than 3 cores you will still benefit from the Thuban CPU's as it overclocks itself to give you more speed to the cores that are being used.
Turbo Core is completely dynamic and uses the cores available at the time meaning it will not always be the same 3 cores that are being overclocked. What this actually means is that every core in the CPU should be able to run at least at the Turbo Core frequency which should be nice to know for overclocking.
AMD 890FX
In addition to the new CPU's AMD today also has unveiled the new AMD 890FX chipset which of course, just as the AMD 790FX, will be the chipset used for the high-end motherboards.
The 890FX is built with the same 65 nm manufacturing process as the AMD 790FX. It contains a lot of optimizations over the 890GX and is geared towards the enthusiast users that want lots of overclocking features.
Some of the highlights of the 890FX are:
Native SATA 6Gb/s support
USB 3.0 support through external chip (Should be present on all available motherboards)
4 PCI-E slots (2×16 or 4×8)
IOMMU 1.2 support (see Wikipedia for an explanation of this feature)
Just as on the 890GX USB3 isn't handled by the southbridge and instead needs a separate chip (the ASUS board we have uses a chip from NEC). AMD has however said that USB3 will eventually find its way into the southbridge.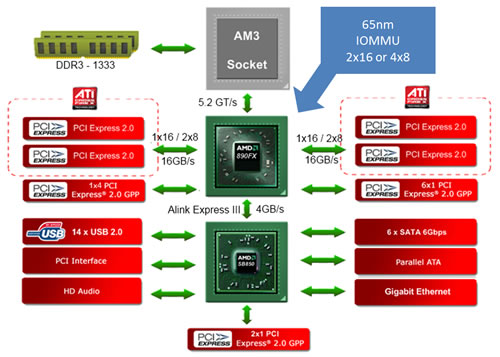 ASUS CROSSHAIR IV FORMULA
The motherboard we received for the testing of the AMD Phenom™ X6 1090T is the newest ROG (Republic of Gamers) motherboard from ASUS, the Crosshair IV Formula. This is a really high-end motherboard with tons of cool features for the serious gamer and overclocker.
Some of the features of the motherboard are:
4 separate 16x PCI-E slots which has 32 lanes to work with meaing we either get 2 x16 slots with 16 lanes each (when using 2 cards) or 4 x8 slots when we have 4 cards.
RoG connect which allows you to connect a separate computer to the motherboard so you can controll bios-settings on-the-fly
GameFirst packet priority software which helps optimize the network traffic depending on what you want to do
Creative SupremeFX now on-board instead of a separate add-on board
Support for Core-unlocking on low-end AMD CPU's as well as auto-overclocking switch.  
Here are a set of images from the motherboards: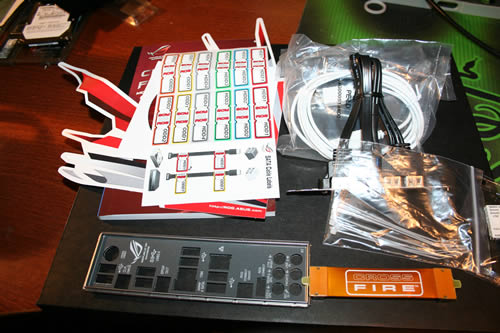 The bundle isn't spectacular but we get everything we need and more for the motherboard. The while USB-cable is for the RoG-connection between the motherboard and a separate computer. ASUS includes a Crossfire bridge even though those usually come with the video cards. We really like the stickers for the cables to help organize the cables better.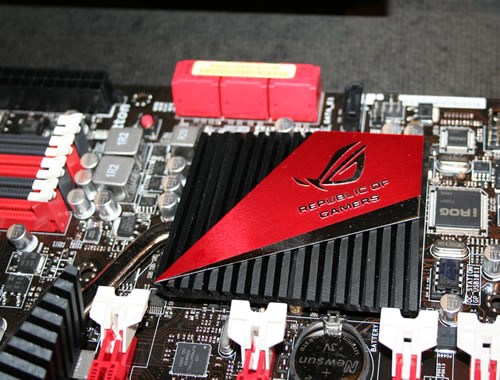 The headsink used are low profile and won't interfere with either a long video card or a big CPU-cooler.
 We find a CMOS-reset button at the back as well as a button to initiate the RoG-connection. WHile usefull we just know any little kids wandering around the computer will definitely push that "Clear CMOS"-button. Other than that we get 6 regular USB2.0 connectors, 2 blue USB3.0 connectors, Firewire, eSATA as well as both analog and optical sound connectors.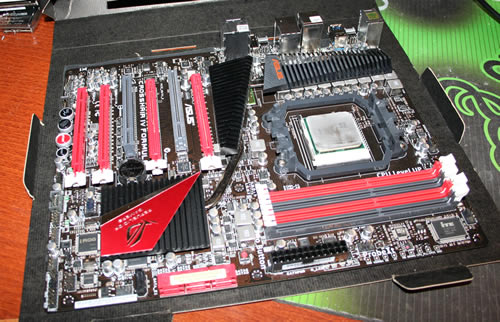 The motherboard has a nice black and red color scheme that looks real nice.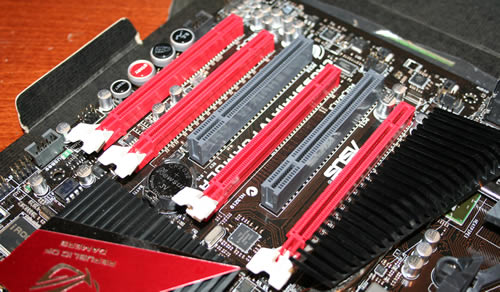 We get 4 16x PCI-E and 2 PCI slots. We do not get any 1x PCI-E slots. While it is possible to use up to three dubles-lot video cards, the fourth slot will be covered by a thick graphics card in the third slot so forget using four HD5870 on this motherboard.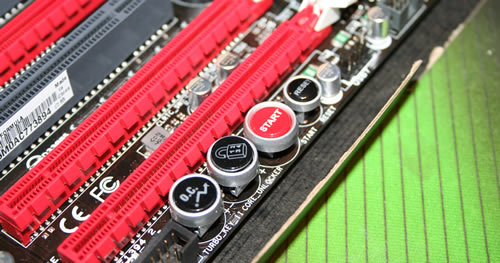 It is easy to start/reset the computer using the buttons. The other buttons controlls the auto-overclocking and the Core unlocking feature.
HOW WE TESTED THE CPU's
While we would have wanted to compare the new Phenom X6 CPU with a Intel i7 980x (Extreme) our only sample of the Intel chip is in the US while this article is being written in Sweden. To some extend comparing the two processors probably also wouldn't be completely fair to AMD as the price difference is so big.
As we also were running short of time to test (a week is not much time to test multiple CPU's on multiple platforms) we decided to limit our testing to these CPU's on these systems.
Intel system:
Intel i7 940 @ 3 GHz
Skythe Ninja Rev B cooling
Intel X58 (DX58SO)
6 GB Corsair DDR3 @ 1333 MHz 
Apacer 64 GB SSD for OS
SATA6 drive specs
Kingston 64 GB V+ SSD in Icy Dock USB3-enclosure
XFX HD5870 Eyefinity Edition 2 GB video card
Cougar 550W PSU
AMD Phenom II X4 system:
AMD Phenom II X4 955 @ 3.2 GHz
Noctua NH-C12 cooler
4 GB OCZ Black Edition DDR3 @ 1033 MHz
ASUS M4A78T-E
Apacer 64 GB SSD for OS
SATA6 drive specs
Kingston 64 GB V+ SSD in Icy Dock USB3-enclosure
XFX HD5870 Eyefinity Edition 2 GB video card
Cougar 550W PSU
AMD Phenom II X6 system:
AMD Phenom II X6 1090T @ 3.2 GHz
Noctua NH-C12 cooler
4 GB OCZ Black Edition DDR3 @ 1600 MHz
ASUS Crosshair IV Formula
Apacer 64 GB SSD for OS
SATA6 drive specs
Kingston 64 GB V+ SSD in Icy Dock USB3-enclosure
XFX HD5870 Eyefinity Edition 2 GB video card
Cougar 550W PSU
The OS for all systems were Windows 7 Professional 64-bit. We used Acronis True Image 11 to set up each system with a fresh install of Windows 7.
In addition to all the drivers we also installed AMD OverDrive on the AMD-systems.
 
OVERCLOCKING
Overclocking the Phenom X6 is a bit different from overclocking other CPU's as it has 2 sets of frequencies you can work with. First of all we have the regular frequency that all the cores run at when there is load on more than 3 cores. Then we have the regular frequency that the CPU itself overclocks 3 cores to when it detects that the software only uses 3 or less cores. One result of this dual-frequency solution is that we for a fact know that the cores should be able to run at the higher frequency.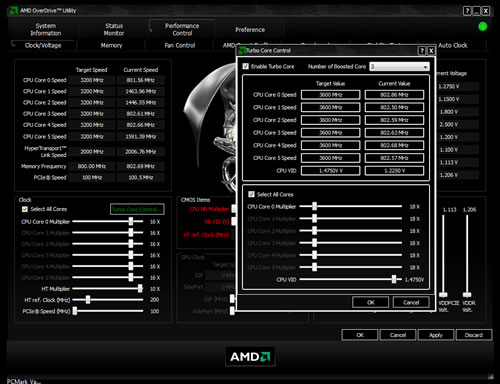 AMD has updated its Overdrive software to give us even more tools to overclock the CPU's. From the software we can for example turn on/off the Turbo Core feature. We did however have some issues where we turned it off just to find that it 5 minutes later was turned on again.
In addition to be able to set the regular as well as the Turbo Core frequency in AMD Overdrive different motherboard will allow you to do the same in the bios. In some cases a change of frequency in the bios will only affect the regular frequency and in other cases both the regular and the Turbo Core frequency.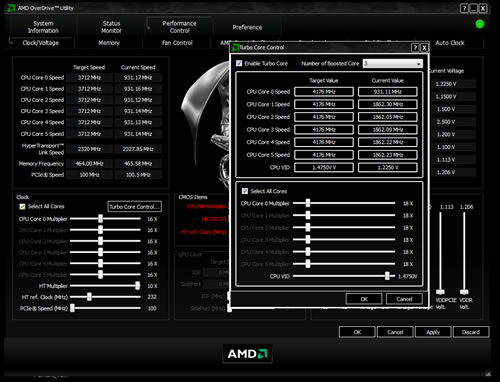 The motherboard we used in this test, the ASUS Crosshair IV Formula, itself has tons of cool overclocking features including a little button on the motherboard which instantly overclocks the system. Since we were a bit pressed for time we let the motherboard take care of the overclock which gave us this result: the regular frequency jumped from 3.2 GHz to 3.7 GHz and the Turbo Core frequency jumped from 3.6 GHz to 4.1 GHz. We ran all sorts of tests including a few hours of the burn-in CPU test in OCCP Perestroja 3.1 and had no stability issues at all, neither when the CPU was running at 3.7 GHz or when some of the cores where running at 4.1 GHz. We are sure we would be able to get even more out of it by starting to tweak various settings but it is impressive that we could get a 15% overclock with just the push of a button.
 
EVEREST ULTIMATE 5.50
"EVEREST Ultimate Edition is an industry leading system diagnostics and benchmarking solution for enthusiasts PC users, based on the award-winning EVEREST Technology. During system optimizations and tweaking it provides essential system and overclock information, advanced hardware monitoring and diagnostics capabilities to check the effects of the applied settings. CPU, FPU and memory benchmarks are available to measure the actual system performance and compare it to previous states or other systems. Furthermore, complete software, operating system and security information makes EVEREST Ultimate Edition a comprehensive system diagnostics tool that offers a total of 100 pages of information about your PC."
CPU AES
This integer benchmark measures CPU performance using AES (a.k.a. Rijndael) data encryption. It utilizes Vincent Rijmen, Antoon Bosselaers and Paulo Barreto's public domain C code in ECB mode.
CPU AES test uses only the basic x86 instructions, the test consumes 48 MB memory, and it is Hyper Threading, multi-processor (SMP) and multi-core (CMP) aware.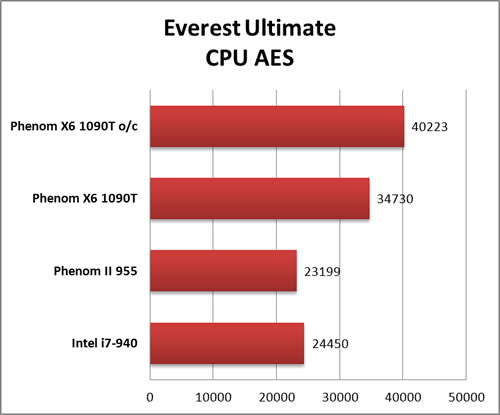 The extra cores are definitely in use here as the Phenom X6 performs 50% better than the similar clocked Phenom II 955.
CPU PhotoWorxx
This integer benchmark performs different common tasks used during digital photo processing.
It performs the following tasks on a very large RGB image:
Fill
Flip
Rotate90R (rotate 90 degrees CW)
Rotate90L (rotate 90 degrees CCW)
Random (fill the image with random colored pixels)
RGB2BW (color to black & white conversion)
Difference
Crop
This benchmark stresses the integer arithmetic and multiplication execution units of the CPU and also the memory subsystem.
CPU PhotoWorxx test uses only the basic x86 instructions, and it is Hyper Threading, multi-processor (SMP) and multi-core (CMP) aware.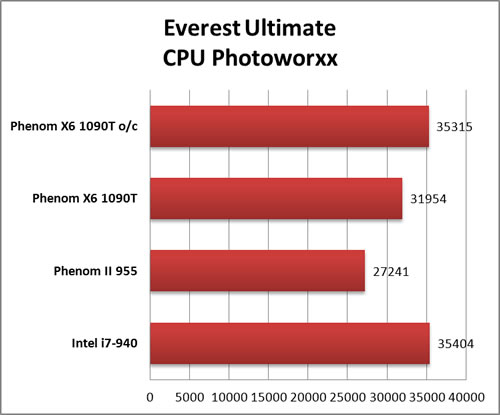 The extra cores also helps in this test. The 4-core Intel i7 940 manages to outperform the overclocked 6-core X6 1090T.
CPU Queen
This simple integer benchmark focuses on the branch prediction capabilities and the misprediction penalties of the CPU. It finds the solutions for the classic "Queens problem" on a 10 by 10 sized chessboard.
CPU Queen test uses integer MMX, SSE2 and SSSE3 optimizations. It consumes less than 1 MB system memory and it is Hyper Threading, multi-processor (SMP) and multi-core (CMP) aware.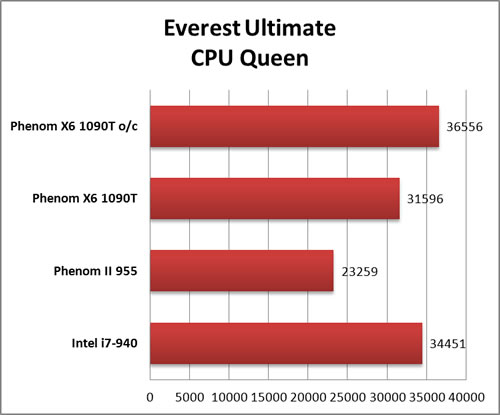 Going from 4 cores on the Phenom II 955 to the 6 cores on the Phenom X6 1090T gives us over 35% more performance. Overclocking helps the X6 1090T to just overtake the Intel CPU.
CPU Zlib
This integer benchmark measures combined CPU and memory subsystem performance through the public ZLib compression library Version 1.2.3 (http://www.zlib.net).
CPU ZLib test uses only the basic x86 instructions, and it is Hyper Threading, multi-processor (SMP) and multi-core (CMP) aware.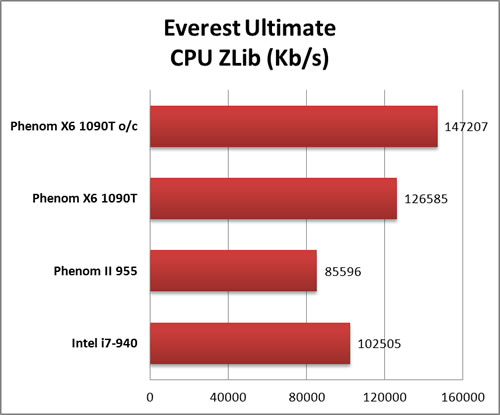 Yet another test which clearly benefits from more cores. The Phenom II 1090T easily beating the other two processors.
Everest Memory
These tests of course are dependant on what memory sticks we use and what speeds we run them at.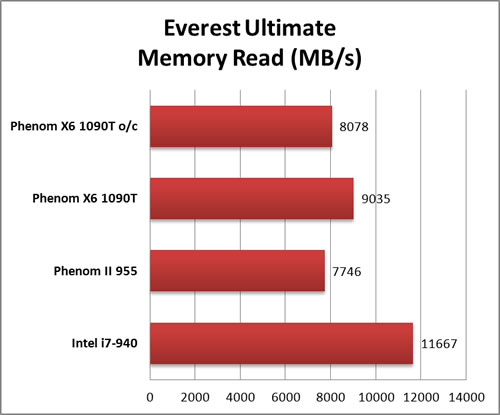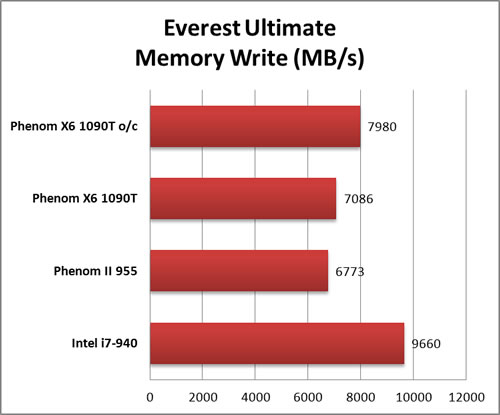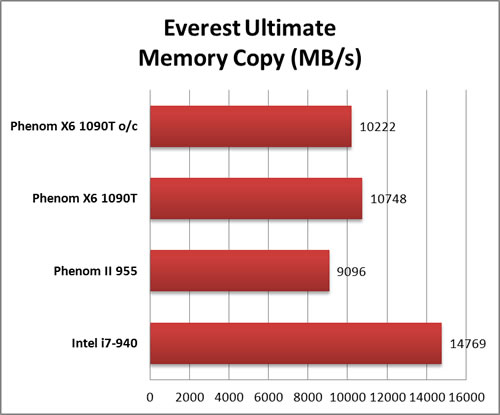 Even though we run the memory at 1600 MHz on together with the X6 1090T it still performs worse than the memory running at 1333 MHz on the Intel system. Everest reported the memory being "un-ganged", meaning not running double channel but at the same time the memory sticks were placed in the corect slots according to the manual so we are not complately sure what is going on here.
AMD Overdrive supports Black Edition memory profiles and we did indeed have some OCZ Black Edition DDR3 memory running at 1600 Mhz but AMD Overdrive still could not find any special profile for it which we find odd. 
X264 HD v3.18
What Is x264 HD Benchmark?
Simply  put, it is a reproducible measure of fast your machine can encode a short HD-quality video clip into a high quality x264 video file. It's nice because everyone running  it will use the same video clip and software. The video encoder (x264.exe)  reports a fairly accurate internal benchmark (in frames per second) for each pass  of the video encode and it also uses multi-core processors very efficiently. All these factors make this an ideal benchmark to compare different processors and systems to each other.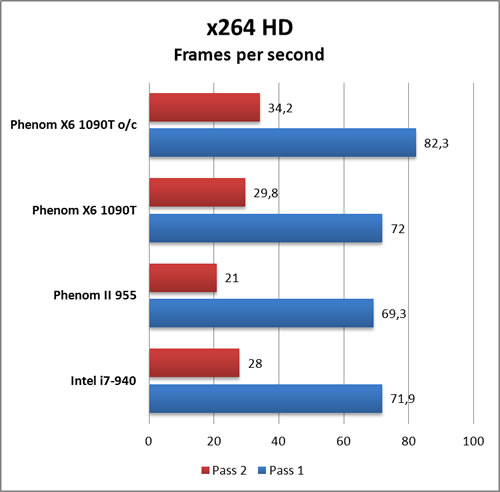 Video encoding is one area where you would expect better use of more cores and we do indeed see that the performance of the encoding increases between the Phenom II 955 and the Phenom X6 1090T, especially on the second pass of the encoding. The Intel i7-940 performs very well in comparison.
WINRAR
This module in WinRar generates random data, which contains specially introduced redundancy, increasing the load to both the processor and memory. Data is then passed through RAR compression and decompression algorithms, and the output of the decompression algorithm is compared to the source data. If any differences are found, WinRar then reports "Errors found – Yes" in the command window. WinRar displays a size of processed data and compression speed, current and resulting, in kilobytes per second.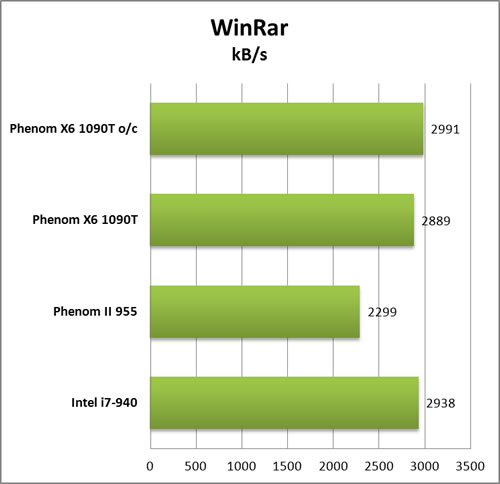 The Phenom X6 1090T-system manages to perform 25% better than the Phenom II 955-system.
TRUECRYPT
This encryption software has a benchmark module which tests the system with different encryption algorithms. We choose a buffer-size of 100 MB.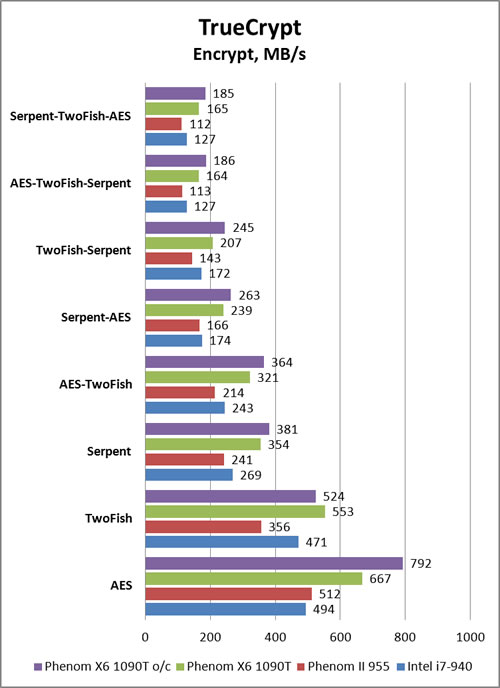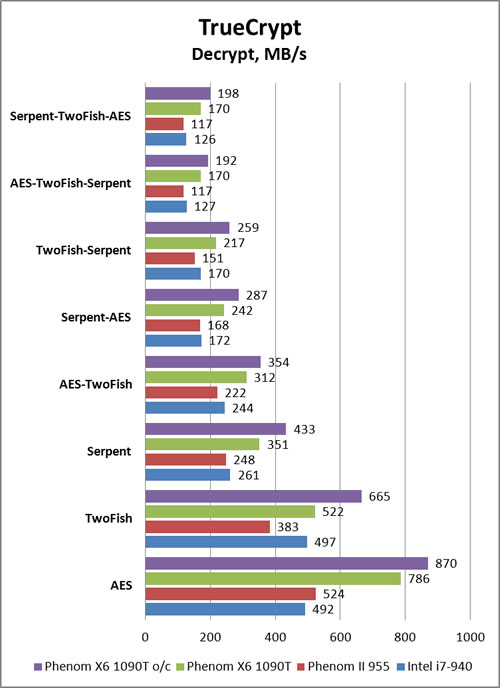 The extra cores on the Phenom X6 1090T really do make a difference in TrueCrypt. 
CINEBENCH 11.5
"CINEBENCH is a real-world test suite that assesses your computer's performance capabilities. MAXON CINEBENCH is based on MAXON's award-winning animation software, CINEMA 4D, which is used extensively by studios and production houses worldwide for 3D content creation. MAXON software has been used in blockbuster movies such as Spider-Man, Star Wars, The Chronicles of Narnia and many more. MAXON CINEBENCH runs several tests on your computer to measure the performance of the main processor and the graphics card under real world circumstances. The benchmark application makes use of up to 16 CPUs or CPU cores and is available for Windows (32-bit and 64-Bit) and Macintosh (PPC and Intel-based). The resulting values among different operating systems are 100% comparable and therefore very useful with regard to purchasing decision-making. It can also be used as a marketing tool for hardware vendors or simply to compare hardware among colleagues or friends."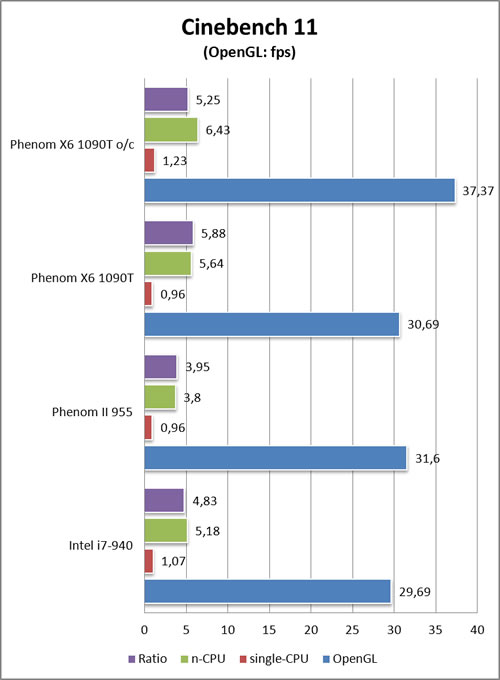 While the CPU-part of the Cinebench benchmark benefits from the extra cores, the OpenGL part benefits from the added frequency on the overclocked CPU.
PCMARK VANTAGE
"PCMark Vantage is a PC benchmark suite designed for Windows Vista offering one-click simplicity for casual users and detailed, professional grade testing for industry, press and enthusiasts. A PCMark score is a measure of your computer's performance across a variety of common tasks such as viewing and editing photos, video, music and other media, gaming, communications, productivity and security. From desktops and laptops to workstations and gaming rigs, by comparing your PCMark Vantage score with other similar systems you can find the hardware and software bottlenecks that stop you getting more from your PC. "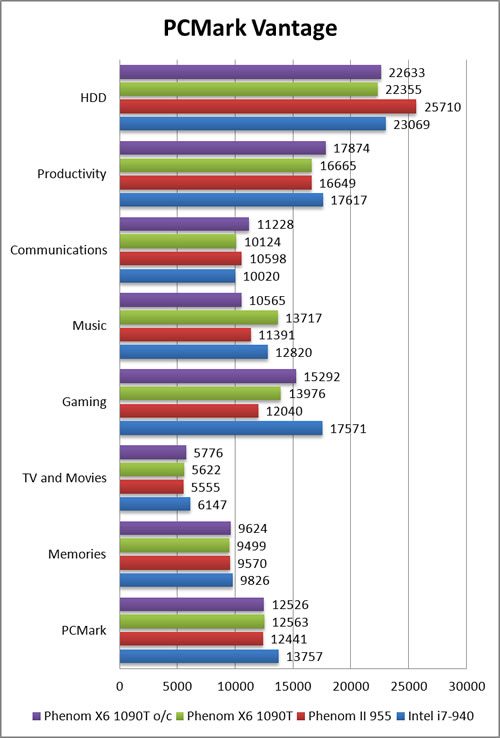 PCMark Vantage tries to test the complete system with a set of tests that mimics the "normal" use of the computer. Each test uses combinations of different parts of the system. Overall the extra cores or extra frequency when overclocking does not affect the overall system performance that much.
USB3.0 AND SATA6-PERFORMANCE
Since the ASUS Crosshair both supports USB3.0 and SATA6 we decided to test the performance with both an external USB3.0 enclosure with a Kingston SSD and a internal 640 GB SATA6 Seagate drive (modellnummer).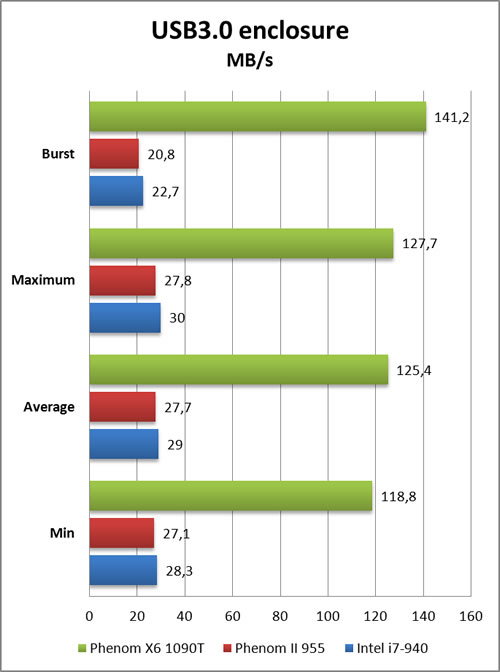 We put an Kingston 64 GB V+ SSD in an externa USB3.0 enclosure and hooked it up to each system. The Intel i7 and the Phenom II 955-system both just use USB2.0 while the Phenom X6 1090T system has support for USB3.0. As you can see there is a huge difference when using USB2.0 and USB3.0.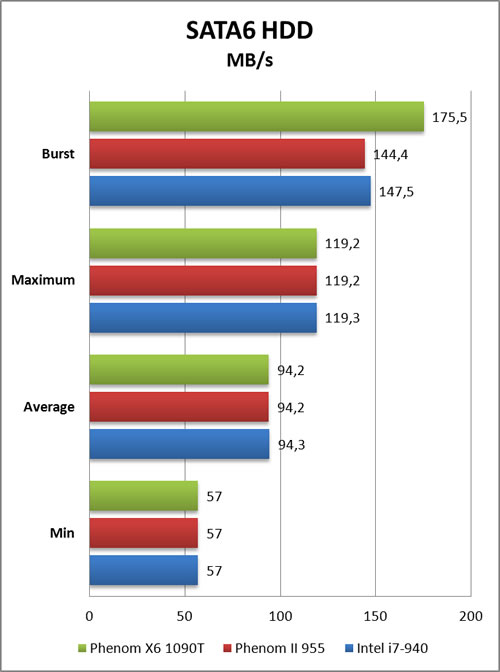 To test the SATA/600 interface we bought a Western Digital Caviar Black 640 GB HDD which has 64 MB cache and uses the SATA/600-interface. On the Intel i7- and the Phenom II 955-systems we used the regular SATAII-interface. As expected there isn't much difference when using a regular harddrive like the one we bought. Merely when lookingat the burst speed could we see a difference.
3DMARK VANTAGE

For complete information on 3DMark Vantage Please follow this Link:
www.futuremark.com/benchmarks/3dmarkvantage/features/
The newest video benchmark from the gang at Futuremark. This utility is still a synthetic benchmark, but one that more closely reflects real world gaming performance. While it is not a perfect replacement for actual game benchmarks, it has its uses. We tested our cards at the 'Performance' setting.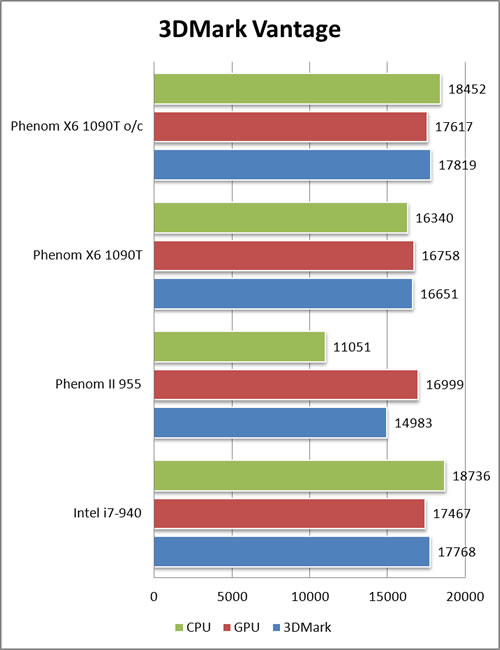 As 3DMark Vantage tests more than just the CPU the benefit of having more cores won't impact the overall score that much. The CPU-subscore does though indeed show that the program can take advantage of multiple cores.
BATTLEFIELD: BAD COMPANY 2
Battlefield: Bad Company 2 is a first person shooter with DirectX11 support. The game does not have an in-built benchmark so we used Fraps and recorded the fps during the beginning of the "Cold War" mission which includes several firefights. All settings were set to the maximum and 4XAA was used.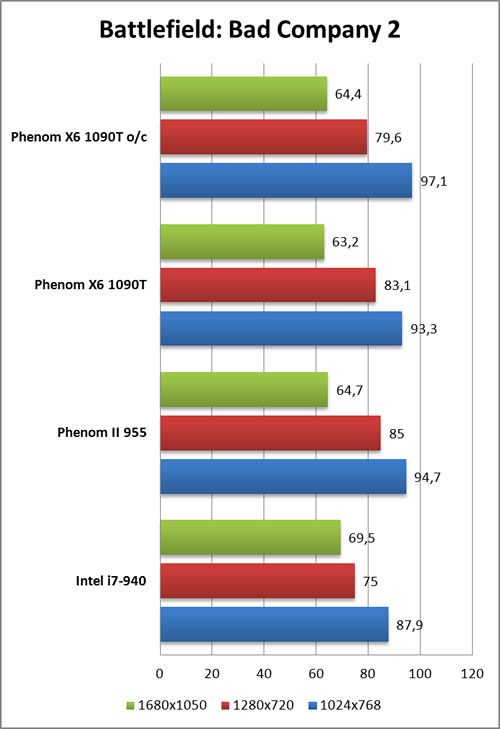 This game does not seem to be able to take advantage of the added cores and the differences between the Phenom II 955 and the Phenom II 1090T are easily explained by the fact that we are using Fraps to get the average fps during a small playthrough.
CRYSIS:WARHEAD
 Crysis Warhead was the much anticipated sequel of Crysis, featuring an updated CryENGINE™ 2 with better optimization. It was one of the most anticipated titles of 2008.
We used the GAMER-setting with DX10 and 4xAA.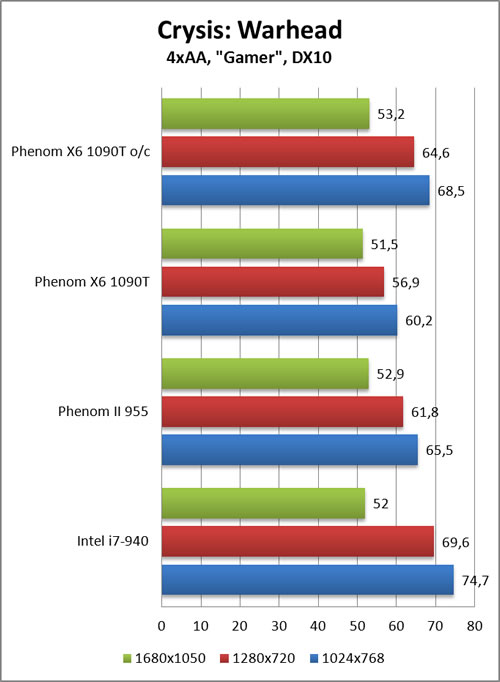 We get an odd result as the regular clocked Phenom X5 1090T performs a bit worse than the Phenom II 955. When overclocking the difference becomes basically non-existent. It seems Crysis:Warhead is another game that can't benefit from the added cores.
DIRT 2
Dirt 2 was one of the first games that supported DirectX11 and was released in late 2009. We used the in-built benchmark with the "High"-setting and 4xAA.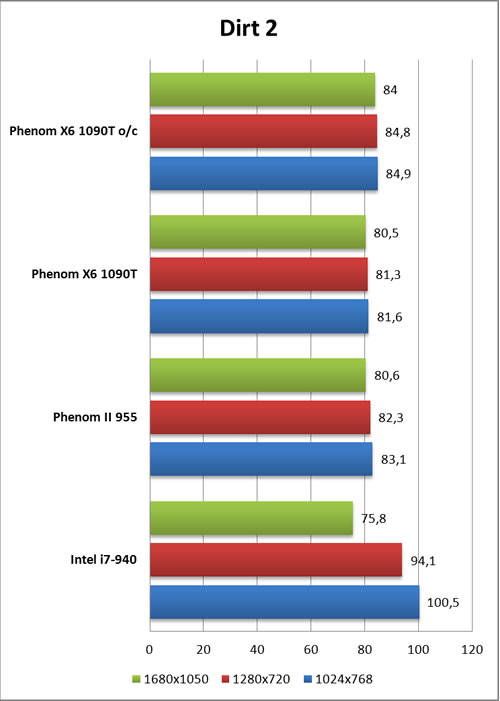 Dirt 2 is yet another game that does not seem to benefit from either the extra cores or the overclocking of the CPU.
CONCLUSION
 AMD Phenom II X6 1055T and AMD Phenom II X6 1090T
While the new 6-core CPU's won't impress us as much as the Intel i7 980x (Extreme) when it comes to speed, it is clear that AMD is continuing on the path of delivering excellent performance at an affordable price. The AMD Phenom II X6 1055T can be found for about 220$ (Amazon) while the AMD Phenom II X6 1090T will set you back around $300 (Amazon) and it certainly is true that you will be able to build a complete computer system with monitor and everything for the same price as the i7 980x.
The addition of Turbo Core is a interesting move by AMD as it does to some extend help make the CPU worthwile even while we still are waiting for more software that can take advantage of more cores. Games won't benefit of the added cores as much as productivity software for video editing and encoding so if you have a fast 4-core CPU and only intend on gaming you probably do not need to jump to the 6-core CPU's just yet.
OUR VERDICT: AMD PHENOM II X6 1090T
| | |
| --- | --- |
| Performance |  8 |
| Value |  9 |
| Quality |  9 |
| Features |  9 |
| Innovation |  9 |

We are using a new addition to our scoring system to provide additional feedback beyond a flat score. Please note that the final score isn't an aggregate average of the new rating system.

Pro

Cons

Great performance for the price

Overclocks very well

Turbo Core helps when software does not use all cores

Works on a wide variety of old and new motherboards (AM2+ and AM3)

Performance still in some caes lagging even some 4-core Core i7 CPU's

 




 

Summary:
 The AMD Phenom II X6 1090T is another excellent CPU from AMD that manages to give us a great performance at an affordable price. 
 ASUS Crosshair IV Formula
There is no doubt that the ASUS Crosshair IV Formula is an high-end AM3-motherboard. ASUS have been mostly concentrating on the Intel-side with their RoG-boards so it is nice to see them release such an nice motherboard for the AMD-plattform. The motherboard is full of nice features and we are sure we haven't even scraped the surface on all the things we can do with it. It is cool to see that ASUS has managed to make it easy both for the novice overclocker to get a good overclock with the push of a button (as well as the oppoirtunity to try to unlock unused cores) while still offering a ton of overclocking options for the expert overclockers. 
We haven't been given any official price info on this motherboard yet but we have seen it surface on some smaller webshops for around $250 which might sound a lot for a motherboard but which isn't that bad considering what you get.
OUR VERDICT: ASUS CROSSHAIR IV FORMULA
| | |
| --- | --- |
| Performance |  9 |
| Value |  8 |
| Quality |  9 |
| Features |  9 |
| Innovation |  9 |

We are using a new addition to our scoring system to provide additional feedback beyond a flat score. Please note that the final score isn't an aggregate average of the new rating system.

Pro

Cons

Great performance for the price

Overclocks very well

Lots of cool features

 

Price is pretty high for a motherboard

 




 

Summary:
 The ASUS Crosshair IV Formula is an great motherboard that offers a lot of features for its price. It makes overclocking easy while still offering more experienced users a lot of control.