ABS SL 1050 is packed with single +12V rail with 87A for a continuous 1040W of power. As a modular power supply it has plenty of connectors for your tri-SLI setup.
INTRODUCTION
If you recently made an upgrade to the Core i7 system you may found that your older power supply may not able to support the C6 power saving feature that is found in the Nahalem processor. The C6 power saving turns of the core clock, PLL, and the caches. As a result, it is able to lower the core voltage even lower than the C4 state. It is estimated that the C6 uses about 300% less power than the C4.
Despite the fact that many of the older power supplies may have enough wattage and connectors for the Core i7, they do not have the necessary engineering to enter the C6 state.  If you enable the C6 state with these power supplies, you may encounter problems such as system constantly restarting. The majority of the power supplies on the market are still catching up with Nahalem so when you shop for a power supply, be sure to look for the one that will support C6 state.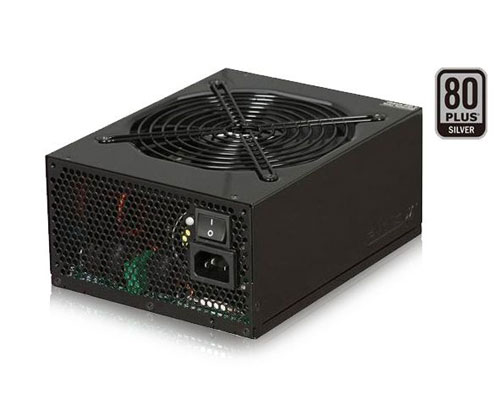 Since the release of Nahalem back in November of 2008, we have seen many high-end power supply manufacturers, Corsair, Enermax, ThermalTake are the name of the few, released power supplies that support C6. Today, we have received another power supply courtesy of ABS that support the C6 state. The unit we have received is the ABS SL Series 1050W power supply that is aiming at the gamers and enthusiasts with its massive single +12V rail.
SPECIFICATION 
The SL Series is ABS's latest power supply targets the hardcore gamers and computer enthusiasts. Two models are available, a 850W and a 1050W model. The SL Series power supply features modular cable design, under voltage protection, short circuit protection to safeguard your expensive gaming machine.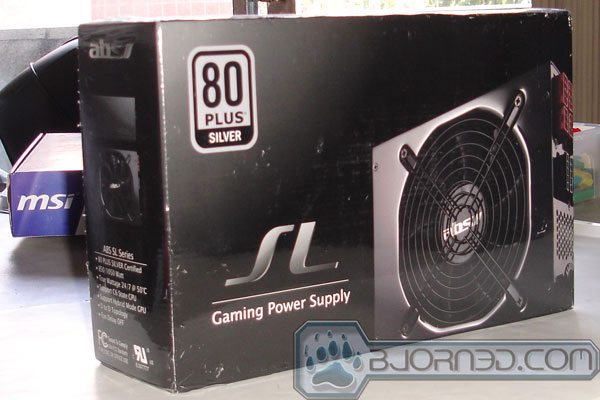 Our review sample, ABS SL1050, is shipped in a large cardboard box with a shot of the bottom of the PSU on the front of the box. The black box is attractive and has plenty of information to help you make your purchasing decision.  A big 80 Plus Silver sticker can be found on the front to emphasize that the fact the power supply passes the 80Plus Silver certification. In addition,  the side of the box has a picture showcasing the modular connector.
 Specifications
SPECIFICATIONS
Type

ATX12V v2.3/ EPS12V v2.92

Maximum Power

1050 Watts

Fans
135mm Dual-ball-bearing
PFC

Active

Main Connector

20+4Pin

+12V Rails

1

PCI-E Connectors

3 x 6Pin, 3 x 6+2Pin

Crossfire

Ready

Modular Cabling Support

Ready

Efficiency

Yes

Energy Efficient

>85% Efficiency

Over Voltage Protection

80 PLUS SILVER Certified

Input Voltage

Yes

Overload Protection

115 – 240 V

Input Frequency Range

50/60 Hz

Output

[email protected], [email protected], [email protected],[email protected], [email protected]

Input Current

11/5.5A

Approvals

UL, CUL, FCC, ROHS
Fixed Cables :
1x 20+4-Pin Main Connector
1x 4+4-Pin ATX12V/EPS12V Connector
1x 6-Pin PCI-E Connector
1x 6+2-Pin PCI-E Connector
1x Fan RPM
Modular Cables :
2x 6-Pin PCI-E Connector
2x 6+2-Pin PCI-E Connector
1x 8-pin EPS12V Connector
16x 5-Pin SATA Connector
6x 4-Pin Peripheral Connector
1x 4-Pin Floppy Connector
Features
Supports ATX12V v2.3 & EPS12V v2.92 standards
Single Strong 12V Design – Great idea for Gaming System
99.4% 12V Power – 1044 Watts of 1050 Watts
Active power Factor Correction(PFC) provides clean and reliable power to your system
Universal AC input 115~240V (tolerance 90~264V) automatically scans and detects the correct voltage
Modular Cable Design
SLI Ready – 3x 6pin & 3x 6+2pin Connectors
Support C6 State CPU
Support Hybrid Mode GPU
D to D Topology
Power Monitor LED
Fan Delay Off
12pin Sockets for Future Use
1x 135mm Dual-ball-bearing Fan with Auto Fan Speed Control for better silence
Comprehensive Protections – Over Temperature/Current/Voltage/Power Protection, Under Voltage protection, and Short Circuit Protection provide maximum safety to your critical system components
Safety & EMI Approval: UL, CUL, FCC, ROHS
ABS SL 1050 CLOSER LOOK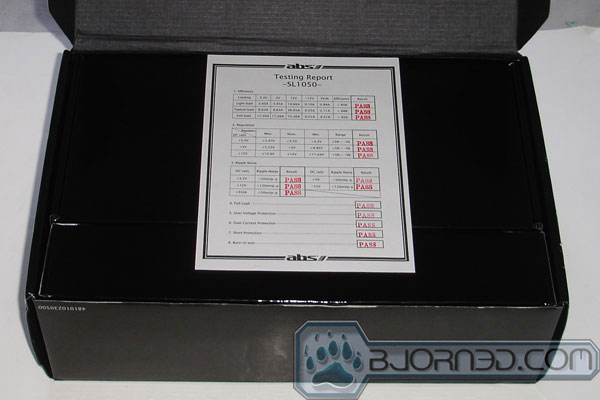 Open up the box and you will be greeted with a testing report showing that the unit has passed all necessary tests. The PSU was tested for its efficiency, regulation, ripple noise, full load, over voltage, over current, short protection, and burn-in test. These tests would guarantee that you receive a working unit without any problem. We can see that ABS packages the power supply in its own compartment, away from the accessories to prevent any potential damages during shipping.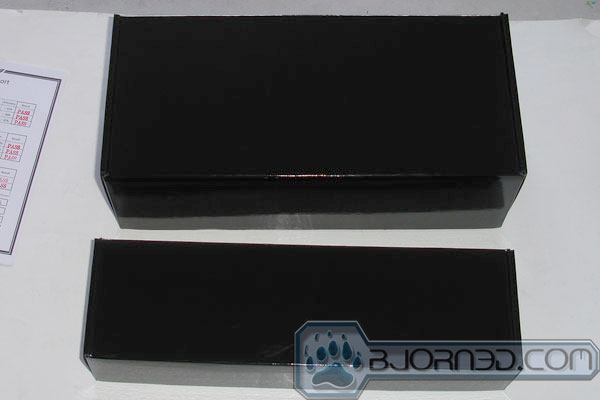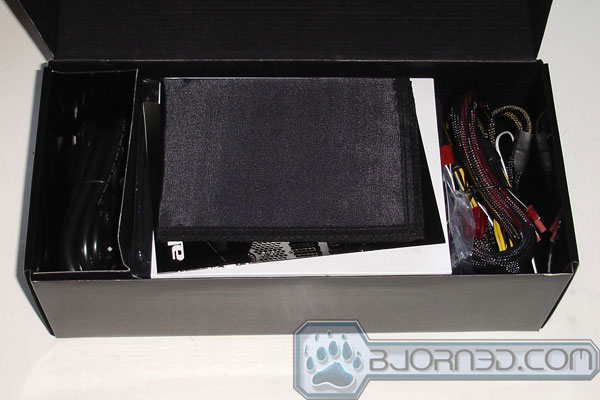 The SL 1050 has a massive single +12v rail of 87A to satisfy any enthusiasts out there with multiple graphic cards. The power supply complies with ATX 12V v2.3, EPS 12V v2.92 standards. Just because the power supply is designed for gamer in mind, it does not mean that it is not energy efficient. In today's environmental conscious consumer market, it would be hard to sell a piece of computer hardware without a splash of "green". The SL1050 has passed the 80Plus Silver certification, which means that it will achieve 85% efficiency at 20% load, 88% efficiency at 50% load, and 85% efficiency at 100% load.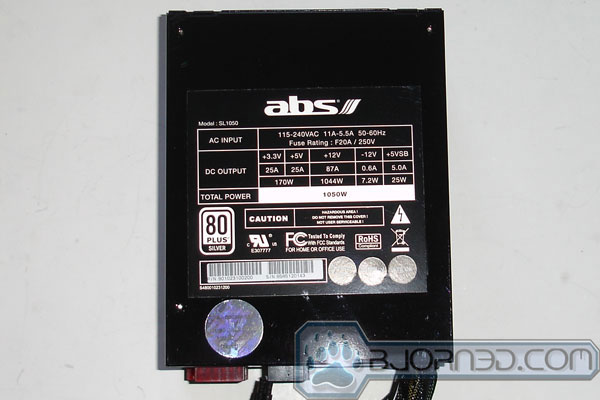 The all black exterior of the power supply looks quite elegant with its nice mirror finish. The unit is slightly longer at 19cm long but it is not as long as the Enermax Galaxy that we have reviewed. We do not see a major issue in terms of clearance if the unit is installed in a slightly smaller case.
On both the front and the back, you will find plenty of ventilation holes. A single 135mm dual-ball-bearing fan is located on the bottom of the power supply. The fan features a Fan Delay Off where it will stay on for approximately 1 minute after the computer has been shut down to further cool the components. According to ABS, this will help to extend the lifespan of the components. It also features auto fan speed control for better silence.
It is quite common nowadays to find PSUs with the universal AC input 115~240V auto-switch. No longer would you need to worry about forgot to flip the switch in different country that could result in a damaged PSU. A single LED on the back to indicate the PSU's operation state. It will flash different color depending on the power supply's condition.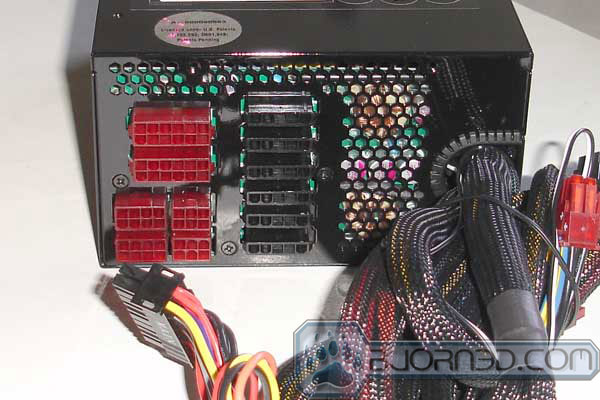 You will see two 12 pin red connector for the 8 pin +12V ATX auxiliary connector. Oddly enough, the power supply only comes with a single cable for it. Underneath it is where the PCIE power connectors are located. There are two 8 pin connector and two 6 pin connector. The unit comes with 3x 6 pin and 3x 6+2pin PCIE power connectors. It will be enough to power four GTX 285 or three GTX 295 without any issue. With a massive 87A on the +12V, it should not be any issue running these cards.
Here are the cables included:
1x 20+4-Pin Main Connector
1x 4+4-Pin ATX12V/EPS12V Connector
1x 6-Pin PCI-E Connector
1x 6+2-Pin PCI-E Connector
1x Fan RPM
Modular Cables :
2x 6-Pin PCI-E Connector
2x 6+2-Pin PCI-E Connector
1x 8-pin EPS12V Connector
16x 5-Pin SATA Connector
6x 4-Pin Peripheral Connector
1x 4-Pin Floppy Connector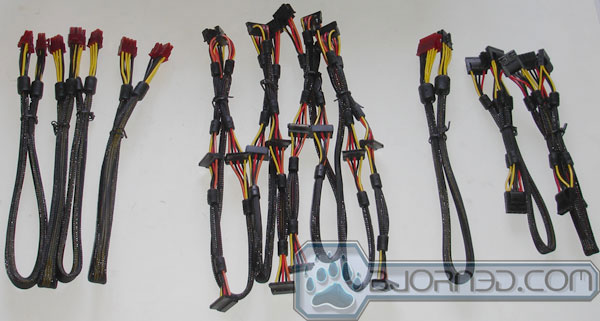 We also find six black connectors for the peripherals. Up to 16 SATA devices, 6 IDE devices, and 1 floppy can be used with the included cables. ABS puts the connectors tab facing the open space and away from the adjacent connector. As a result, it is easier to uninstall the cable. For the peripheral connector, we see that ABS actually uses a clip that holds onto the left and right of the connector, which again, helps the removal and inserting of the modular cables.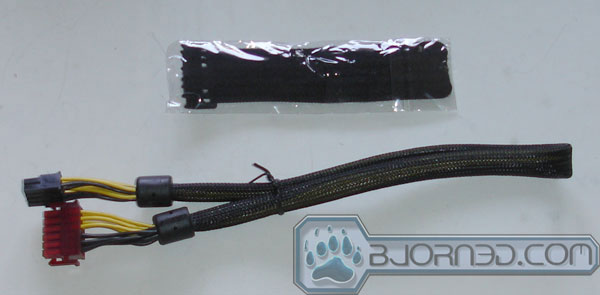 All the single connector cables are 55cm long. This includes the PCI express cables and the additional ATX 12V cable. The length of the auxiliary ATX power cable is a tad too short for those with full case and have the power supply installed on the bottom of the case. The cables for the peripheral devices are long enough. The three connector cable have connector located at 45cm, 60cm, and 75cm from the power supply while the 4 connector cables have the fourth connector at 90cm away from the power supply. All of the cables are fully sleeved to provide good airflow and cable management. ABS also includes a very handy pouch for cable storage.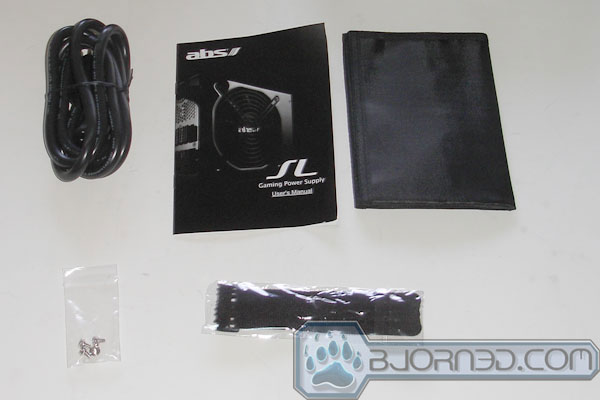 ABS bundles the power supply with a simple manual, a cable pouch, four screws and a bag of cable ties.
TEST CONFIGURATION
Since Bjorn3D does not yet own a dedicated power supply load tester, we are not able to test the power supply to its fullest wattage.  However, we do strive best to load each power supply with the components and power demands that a potential buyer will use.  For this particular power supply, I will be installing these following components at the given condition:
Intel Core i7 920 (OC to 3.2GHz)
Gigabyte X58-UD4P
3x2GB OCZ DDR3 PC3-10666 Gold Edition 
Three SATA hard drives
Two GTX 260 and one 9800 GTX+
ThermalRight XI-128 with Scythe S-FLEX SFF21F
DVDRW: NEC 3520AW
CoolIT Freezone and CoolIT Eliminator
Various peripherals that includes PS/2 keyboard, USB mouse, and other USB devices and storage.
With all these components, I was able push the power demand to 740W under a load. This represents approximately 70% of the power supply's maximum output of 1050W. We believe that this represents a typical system setup any potential buyer who maybe interested in this PSU. This should give our readers a sense as to what this power supply is capable of.
We will test the power supply in four different configurations: with one, two and three graphic cards. In addition, a maximum power consumption reading is obtained with the addition of the CoolIT Freezone and Eliminator. The voltage reading of each rail will be carried out with the Kill-A-Watt P4400. The test system is connected to an UPS to reduce any power spikes. The idle power is taken with the system booted into Windows for 15 minutes. The load is taken with the system running with Prime95 to stress the GPU and 3DMark Vantage GPU test to stress the GPUs.
TEST RESULTS
Power Output Results(V)

Power Rail
1 GPU
2 GPUs
3 GPU's
Max
Idle
Load
Idle
Load
Idle
Load
Idle
Load
Power Consumption (W)
164
430
210
560
255
630
340
740
3.3v
3.38
3.39
3.38
3.38
3.38
3.38
3.39
3.39
5v
5.10
5.11
5.11
5.11
5.11
5.11
5.10
5.10
12v
12.33
12.32
12.32
12.32
12.32
12.29
12.33
12.29
The +3.3V and the +5V rails are within 2% of ATX specification while the +12V is within the 3% of the ATX specification. Very good result. As we load the power supply, we can see that the +3.3V and the +5.0V rails are rock solid. The +12V rail dropped only 0.04V under our maximum load of 750W.
Results

 
Power Rail
ABS 1050W
Cooler Master UCP 900W
Idle
Load
Idle
Load
1 GPU
+3.3 V
3.38
3.39
3.41
3.41
 
+5.0 V
5.10
5.11
5.09
5.10
 
+12 V
12.33
12.30
12.21
12.13
2 GPUs
+3.3 V
3.38
3.38
3.41
3.41
 
+5.0 V
5.11
5.11
5.09
5.10
 
+12 V
12.32
12.30
12.20
12.15
3 GPUs
+3.3 V
3.38
3.38
3.39
3.37
 
+5.0 V
5.11
5.11
5.08
5.06
 
+12 V
12.32
12.29
12.18
12.13
Compare the rails to the Cooler Master UCP 900W, we can see that the ABS's +12V, +3.3, and +5V rails are rock solid. While the Cooler Master's power supply shows 0.05~0.08V drop in the +12V under load, the ABS only shows 0.03 to 0.04V drop. Furthermore, we can see that the Cooler Master's +5V rail starts to show some drop with 3 GPUs while the ABS unit stays rock solid at 5.11V.
The Cooler Master unit does shows a tighter +12V (1.6%) than the ABS unit (2.6%). Although both are well within the ATX 5% tolerance, we prefer the tighter number from the Cooler Master.
Let's take a look at the power efficiency of both power supplies: 
Power Supply

 1GPU

2 GPUs

3 GPUs
 
Idle
Load
Idle
Load
Idle
Load

ABS SL 1050


164
430
210
560
255
630
172
440
217
567
263
645
Both the Cooler Master UCP  900W and the ABS SL 1050 are rated 80Plus Silver certification. Thus, it gives a direct comparison of the power efficiency of both power supplies. As we can see, the ABS SL 1050 is more efficient than the Cooler Master UCP 900W where on the average, the ABS unit consumes 2~5% less power than the Cooler Master unit. If you want a green power supply, we think that the ABS SL 1050 is sure a very good choice. 
CONCLUSION
ABS SL series power supply is a bit of a surprise. ABS generally is better known for their gaming systems and cases than for the power supply but the latest SL series proves that it is a force to be reckon with. The SL 1050 that we have tested passed our load test with flying color and excellent results. Even under heavy loads of three graphic cards setup and our overclocked Core i7 system, the power supply still holds its ground with only a tiny 0.05V drop on its +12V rail. Its single +12V rail with massive 87A for a total 1044W of continuous power should provide enough power for anything you wish to throw at it.
 
We love the modular system and the way ABS designs their connectors that makes installation of the modular cables an easy task. We also love the fact that the power supply is certified for 80Plus Silver certification and our tests shown that it is even more efficient than the Cooler Master unit that was also certified for 80Plus Silver.
We do hope that the unit would come with slightly longer warranty because for the price of $249.99 (NEWEGG), it is often expected to see 5 year warranty from other manufacturers, such as Antec, Enermax, and Corsair. The price is a tad pricey than some other manufacturers which may deter some potential buyer. Then again, as the saying goes, you get what you paid for so if you want a good quality single-rail PSU with enough power, we think that you probably won't go wrong with the ABS 1050W.
OUR VERDICT: ABS SL1050W

| | |
| --- | --- |
| Performance | 9 |
| Value | 7.5 |
| Quality | 9 |
| Features | 9 |
| Innovation | 8 |

We are using an addition to our scoring system to provide additional feedback beyond a flat score. Please note that the final score isn't an aggregate average of the rating system.

Pro
Cons

87A single +12V with 1044W continuous power

Excellent result

Plenty of expansion connectors

 Quiet operation

Well designed modular cables

3 year warranty

Price

 

 
Summary: The ABS 1050W power supply will receive a score of 8.5 for its excellent performance and features. It will also receive Bjorn3D's coveted Seal of Approval.