Feser has brought us a fluid that cools very well without the worry of that fluid torching our computer components if we happen to spring a leak.
Water Cooling Fluids
When most people inexperienced with water cooling they are both amazed and frightened at the same time by the thought of water being in close proximity to their computers. We all know water conducts electricity quite easily, which is a constant fear that even hardcore water cooling users have. There is no question of what will happen if we spring a leak in our cooling loop, we know things will get fried.
There are six major components to a water cooling setup, each just as important as the other. Also, each component can influence how well the computer component are cooled. The six major components needed are; a reservoir, water block (North bridge, South Bridge, CPU, GPU, MOSFETs fall in this category), pump, radiator, tubing/hosing, and finally, fluid.
For this review, we are going to pay attention to the fluid portion of a water cooling setup. Today we have Feser One's Non Conductive fluid to look at. Feser also has 10 different colors of fluid for users to really customize the look of their water cooling setups even more. We are going to do a comparison to our ever faithful winterized washer fluid, and compare the Feser One fluid to distilled water. Finally, the mad scientist in me will push things to the absolute limit. We are going to verify if the Feser One fluid is actually non-conductive.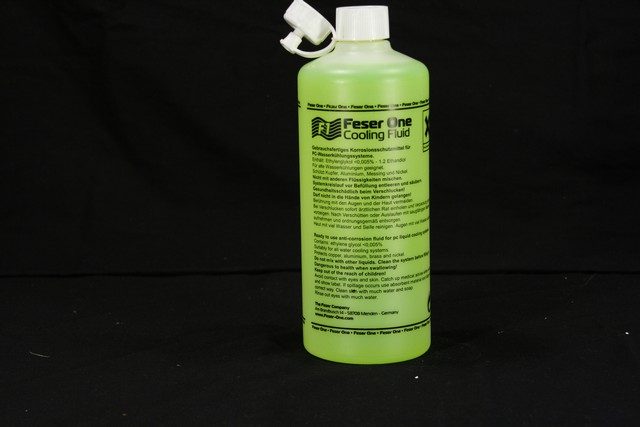 Lets get the test bed (Mini me) setup for an all out torture session with the Feser One cooling fluid and of course offer a sacrificial offering to the "Gods Of Overclocking".
Specifications
  Corrosion protection
For longer lifetime of your system …
Our priority for the liquids is to improve the corrosion protection. Different manufacturers of liquid cooling systems use different metals in their systems. To protect all these kinds of metals we developed a cooling agent, which protects the different metals including COPPER, ALUMINUM, BRASS and NICKEL.
The characteristic is here with the inhibitors, which prevents the corrosion of all metal parts in the cooling circuit at the same time.
With this new development it is compatible with each system.
  UV reactive
And it glows …
By the additive of different coloring materials the liquid gets the appropriate color. With addition of UV active materials, so-called artificial tracers, the liquid begins to glow when ultraviolet light hits the material in the liquid.
For the UV effects, you only need a CCFL / UV Cold Cathode light tube which is already on the market and available from different third party manufacturers (e.g. Sharkoon, Revoltec, etc.).
  Features
– Non Conductive
– UV Reactive properties
– Stable HDPE upright bottle
– Conductivity < 10 µS/cm (20°C)
– Dropper Cap – no funnel needed
– Ready for use – no mixing needed
– Corrosion protection for copper, brass,aluminum and nickel
– Prevents algae growth within your water cooling system
– Compatible with all available PC liquid-cooling systems
– Unopened shelf life of 3 years maximum
Testing Methods
Test Setup &Testing Methodology
CPU
Intel Core i7 920 C0 2.66GHz, @ 3.8GHz
Motherboard
MSI X58 Eclipse
Case
Cooler Master Cosmos 1000
Memory
GSkill trident 2000MHz
Video Card's
HD4870, HD4870X2
Hard Drives
2x Seagate 320Gig 2.5″ Momentus HDD's
CDRom Drive
Lite On Blue Ray
Power Supply
SilverStone 1200 Watt Zeus
CPU Speeds Used
3800MHz
Operating System Used
Microsoft Windows 7
Video Card Cooler

Stock cooled
CPU Cooler

Koolance 340CPU water block
To test the Feser One cooling fluid, firstly I am going to see if the fluid is indeed, non-conductive. For that portion of testing, you will have to turn the page and find out how I did this test. To see how well it cools the lapped Core i7 920 CPU, I used this fluid in my water cooling loop. This is not your average everyday water cooling loop, as one of my fellow reviewers stated "Are you out of your Freaking mind?", my answer was a simple one, "Yep".
This is the water cooling loop and how I have it setup:
Koolance 340 CPU water block
Swiftech MCR320 radiator
Rubbermade square 3 quart reservoir
Penquin 300 GPH Aquarium Power head
1/2″ ID x 5/8″OD tubing
Fluids tested Distilled Water (water wetter added), Feser One, Winterized Washer fluid
I am going to downclock the Core i7 920 CPU to 3.8GHz and do my comparison based at that CPU speed to keep temperature within 60°C on the CPU. The thermal paste I am using during this portion of testing is Arctic Cooling's MX3. I completely flushed & cleaned the entire water cooling loop as best as I possibly can when switching from one coolant to another. I allowed each fluid to set in 12 Hours prior to testing. I will also be using LynX to load the CPU to 100% usage and monitor the temperatures with Real Temp. The ambient room temperature was 18°C (Just gotta Love Winter Time). Your results may vary greatly from my own depending on your ambient temperature.
Packaging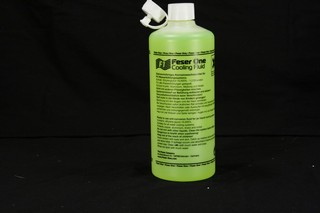 Lets start off on the backside of the Feser One cooling fluid. (Or is it the front?, how can you have a front side, and back side on a round bottle? LOL) Feser gives us the active ingredients, and a warning label, in both English and in German.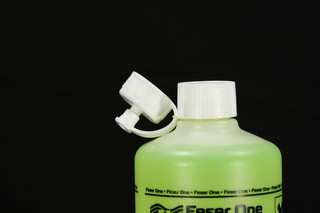 Feser includes two tops. One is for storage of the fluid and the other will be used to fill up the reservoir.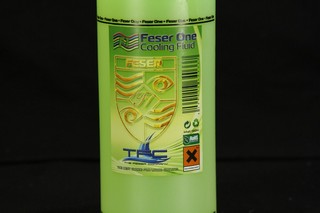 On the other side of bottle, Feser states that the fluid is non conductive is ROHS compliant. Looking at the fluid with just the ambient lighting, you can see that the fluid glows.
Torture Session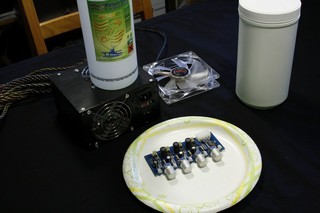 For the torturing testing session, I will be using an older MSI 500 Watt PSU, a Rosewill 120mm Blue/White LED fan (modded), a Vantec fan controller (better known as the victim or sacrificial lamb to the Gods Of Overclocking), then finally a white container that will hold the Feser One cooling fluid. The included bottle developed a small leak after it was dropped, so I had to use another container.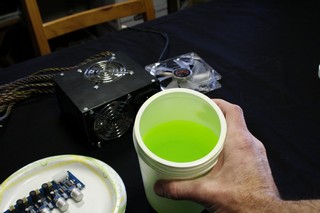 Looking at the Feser One fluid in the white container.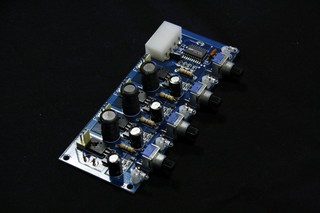 The Victim (Sacrifice). If you are thinking I am going to dunk the fan controller into the container with Feser One cooling fluid….well, you are correct.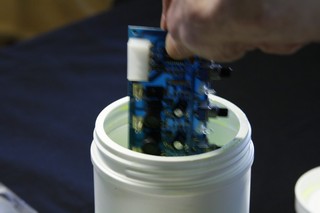 Time for the dunk test. I just dropped the fan controller into the white container.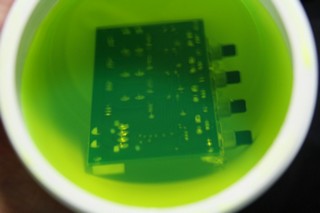 That should ensure there is plenty of fluid on the fan controller.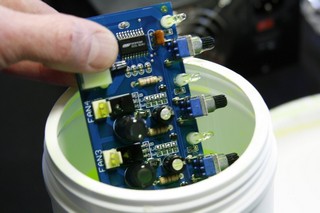 Oh nice, fluid is all over the fan controller.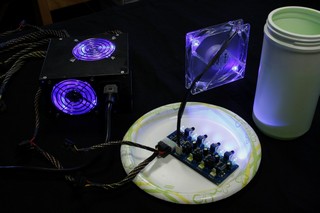 Everything hooked up and I have no issues. The fluid is indeed non conductive.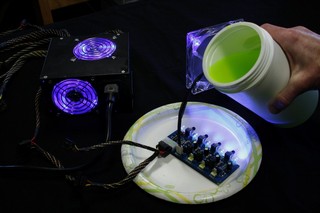 Just in case you may think I dried off the fan controller before hooking up the power. I am going to do another torture session. In case you are wondering, yes, I am going to pour the Feser One Fluid over the powered on fan controller.
I poured the Feser One cooling fluid over the fan controller while it was being powered up. I did not see any sparks, flames, or flickering lights, which is a good sign. This reiterates that the Feser One cooling fluid is indeed, non-conductive.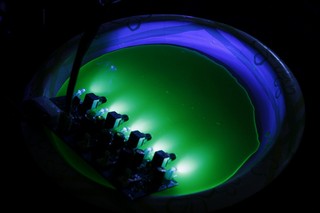 The fluid is UV reactive, even the blue lights from the fan controller activates it.
Here is a YouTube video of my torturing session, for the 3rd time.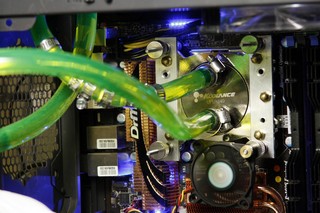 Here is the Feser One cooling fluid being run on Mini Me. Mini Me is my Core i7 920 CPU computer.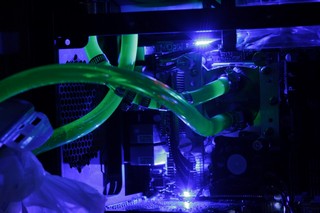 Night time shot, the green coloring jumps right out at ya.
Results
SInce I tormented my poor old Vantec fan controller, it was time to see how well the Feser One cooling fluid stacked up against distilled water (water wetter added) and my windshield washer fluid. I will be using 3.8GHz to test Idle and Load speeds, theres no point in doing a default CPU run. It would insult "Mini Me".
Idle
| | |
| --- | --- |
|  Lapped Core i7 920 3.8GHz | Idle |
| Feser One Cooling Fluid | 24°C |
| Distilled Water (Water Wetter) | 26°C |
| Windshield Washer Fluid | 22°C |
Starting with the Idle temperatures, the Feser One fluid comes in second place @ 24°C in between the washer fluid and the distilled water. Keep in mind, its not the idle temperatures we are worried about, let's heat up the CPU and see how things fare.
Load
| | |
| --- | --- |
|  Lapped Core i7 920 3.8GHz | Load |
| Feser One Cooling Fluid | 57°C |
| Distilled Water (Water Wetter) | 64°C |
| Windshield Washer Fluid | 55°C |
After running  LynX to load up all 8 Threads of the Core i7 920, the distilled water does not stand a chance against the Feser One cooling or the washer fluid. The Feser One fluid manages only to be 2°C hotter then the windshield washer fluid. I was expecting a much higher temperature from the Feser One fluid.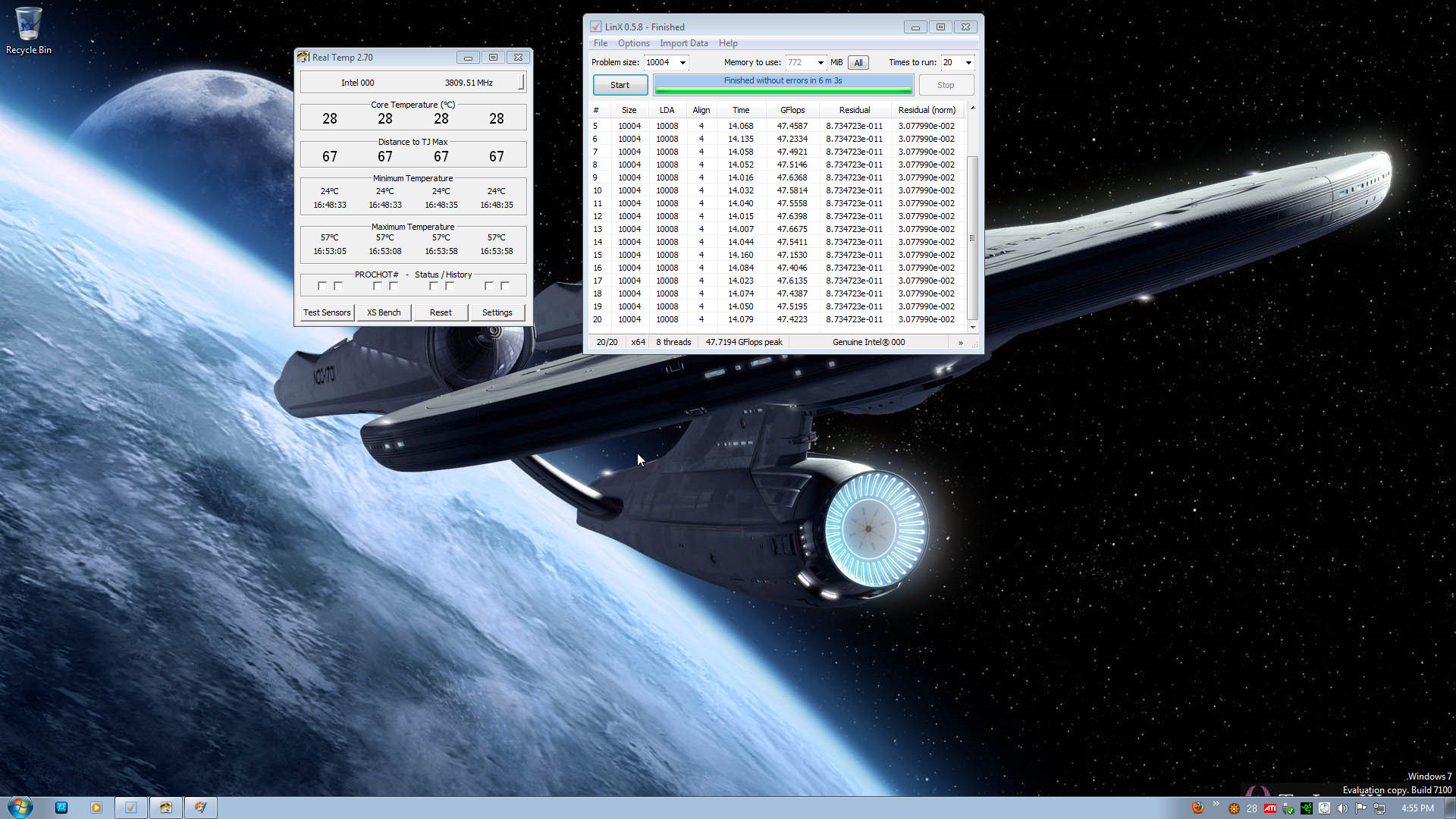 The final result Of the Feser One Cooling Fluid.
Conclusions
The Feser One cooling fluid manages to hold a Core i7 920 @ 3.8GHz at decent temperatures quite nicely. It even manages to keep up with the winterized washer fluid. Now we know for sure that the Feser One fluid is non conductive and competes with some of the best fluids I have used. The next question is, how much is this fluid? The only place I can find the Feser One fluid is over at FrozenCPU.com, the going price is 20 USD per Liter.
Now knowing the price of this cooling fluid asks us another question, is it worth the 20USD? Well, that greatly depends on you. If having the piece of mind that "IF" you ever happen to spring a leak in your computers water cooling loop, your computer won't be going up in flames, then this fluid is for you.
OUR VERDICT: Feser One Cooling Fluid

| | |
| --- | --- |
| Performance | 9 |
| Value | 8 |
| Quality | 9 |
| Features | 8 |
| Innovation | 8 |

We are using a new addition to our scoring system to provide additional feedback beyond a flat score. Please note that the final score isn't an aggregate average of the new rating system.

Pro
Cons

Non Conductive

Cools very well

Glows brightly

Comes in 10 different colors

20USD for a single Liter bottle is expensive, especially when we need 2-4 bottles.

 
Summary: The Feser One Cooling Fluid lives up to its promise of being non-conductive and its abiltity to cool better than distilled water is worth noting.