Sapphire not only built upon a powerful video card, Sapphire made this video card virtually silent, and able to keep this video card cool at all times. By utilizing their very own Vapor X coolers.
It Has Begun
Every so often it is inevitable that computer manufacturers start to already improve upon their products. This past year we have seen a lot of new computer components hit the shelves, a lot of times these new products come in so fast and so furious that we as consumers can barely keep up.
Last November we were all amazed at the shear raw power of the Intel Core i7 1366 CPU's had to offer us, and with this newer CPU came newer capabilities. Then we saw the Introduction of SSD's (Solid State Drives). These new devices were brought upon consumers, again raising the level of performance we could get from our computers another notch.
Just as things seemed to quiet down a little bit, Microsoft threw us a new OS named Windows 7. This OS quickly became extremely popular among users, because it offered us the stability, and a unique user interfacing that we all been longing for in an OS. As always with a new OS comes newer capabilities, the one capability in specific is Direct X 11. Like its predecessors Direct X 11 promises, a completely new way of interaction with our games (environment). The time between February and September was a dead season. Mostly during this time the major computer manufacturers were re-optimizing their already proving hardware. There's been a lot of discussions and or speculation, on who would come out with what first, who would be the most powerful.
Then Intel Introduced the Core i5/i7 1156 socket CPU, with this new CPU type pretty much ended the reign of the old Intel Socket 775 CPUs life. Just recently on October 22nd Microsoft released Windows 7 to the public. Around this same time, ATI released the very first Direct X 11 video card, the 5870.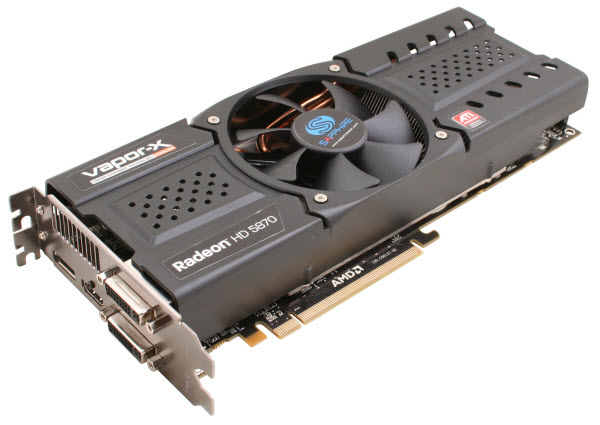 Like always we were all amazed at the shear raw power this single core video card offered us. Being able to compete with the mighty 4870X2 video card, and being able to challenge the reigning performance king, the 295GTX video card. Sapphire has brought us another 5870 video card, but this time its not the reference design we have all seen around the web, this time Sapphire brings us the 5870 Vapor X.
Without further ado, lets hide out in the Dragons Lair, break out "Mini Me" from moth balls, stick in the most powerful single core video card, heat things up a bit and lets see what the Sapphire 5870 Vapor X has to offer us.
Specifications
| Feature/Specification | Visiontek HD 5870 (Full HD 1080p) Native HDMI 1GB (256bit) GDDR5 Dual DL-DVI / Display Port / HDMI |
| --- | --- |
| Chipset | Radeon HD 5870 PCIe Series |
| ASIC | Radeon HD 5870 GPU |
| Pixel Pipelines | 1600 stream processing units* (Unified) |
| Vertex Engines | 1600 stream processing units* (Unified) |
| Manu. Process (Micron) | 40nm |
| Memory Size (MB) | 1024 |
| Memory Type | GDDR5 |
| Engine CLK (MHz) | 850 |
| Memory CLK (Gbps) | 4.8Gbps |
| Memory Interface (bit) | 256 |
| Display Interfaces | DisplayPort (1x), DVI (2x), HDMI (1x) |
Features
Lets start off with a bit about Vapor X that Sapphire uses to cool the 5870 video card.
About Vapor-X
Vapor-X is a Vapor Chamber Technology based on the same principles as heatpipe technology.  A liquid coolant is vaporised at a hot surface, the resulting vapor is condensed at a cold surface then the liquid is returned to the hot surface. The recirculation process takes place inside an evacuated chamber and is controlled by a complex wick system. In SAPPHIRE Vapor-X systems, the whole chamber is very slim and is mounted in contact with the surface of the graphics chip.
SAPPHIRE was the first company to introduce Vapor Chamber Technology to its cooling solutions for graphics. The Vapor-X cooler was first seen on the SAPPHIRE HD 3870 ATOMIC and TOXIC Editions over a year ago and has since been in volume production on the HD 4870 512MB and 1GB TOXIC Editions and several Vapor-X series cards.
More details are available at Catch the Vapors
Vapor-X Cooling Technology
Microsoft DirectX® 11 Support
ATI Eyefinity Technology(B.C.)
ATI Stream Technology(A.E.)
Designed for DirectCompute 5.0 and OpenCL
Accelerate Video Transcoding
Advanced GDDR5 Memory Technology
2nd Generation TeraScale Engine
Microsoft Windows 7® Support(F.)
ATI CrossFireX™ Technology(D.)
Enhanced Anisotropic Filtering
Accelerated Video Transcoding
Display Flexibility, Supports DL-DVI, DP, HDMI and D-Sub
Dolby® TrueHD and DTS-HD Master Audio™ Support
ATI PowerPlay™ Technology8 – Enhanced Support for GDDR5 memory(E.)
ATI Avivo™ Technology Enhanced Unified Video Decoder 2 (UVD 2)(E.)
Remarks

A. ATI Stream Technology Requires Application Support
B. Driver version 8.66 (Catalyst 9.10) or above is required to support ATI Eyfinity technology and to enable a third display you require one panel with a DisplayPort connector
The 5870 video card comes jam packed with a lot of newer features and capabilities. Including Direct X 11 and ATI's very own multiple monitor support, Eyefinity.
Packaging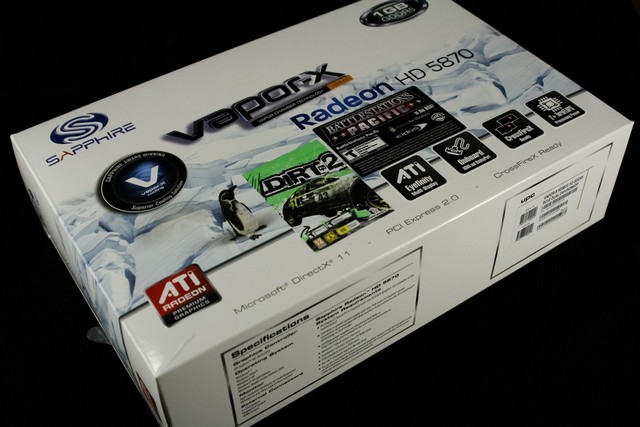 Sapphire normally uses a black and red look on their video cards. The white packaging that Sapphire uses really jumps right out at you. The Vapor X 5870 video card comes with bundled with a couple of games, Battle Stations Pacific (DVD Disc), and a voucher for Dirt 2 which is going to fully support Direct X 11. Also notice that this video card can also be used in a Crossfire X Multi GPU platform, this video card also supports a multi monitor display called Eyefinty. Finally the 5870 video card has a massive 2 Teraflop processing power.
I thought it was rather unique that Sapphire has made the packaging from recycled paper. This particular 5870 video card contains Sapphires very own Vapor X cooling solution.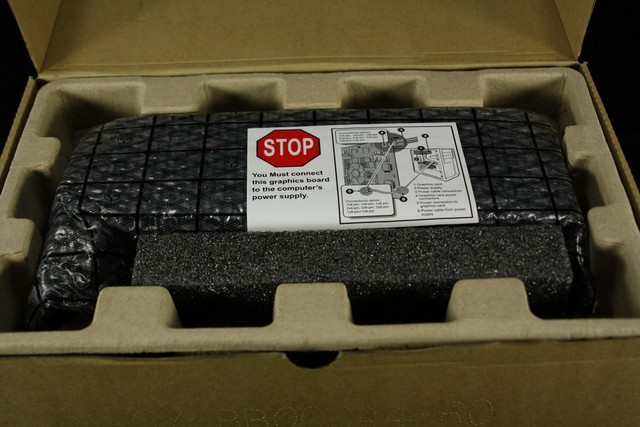 As soon as we open the package up, you will be greeted with a anti-static bag. Inside this anti-static bag is the 5870 Vapor X video card. Sapphire did a good job on making sure this video card would not flop around inside the packaging during transporting.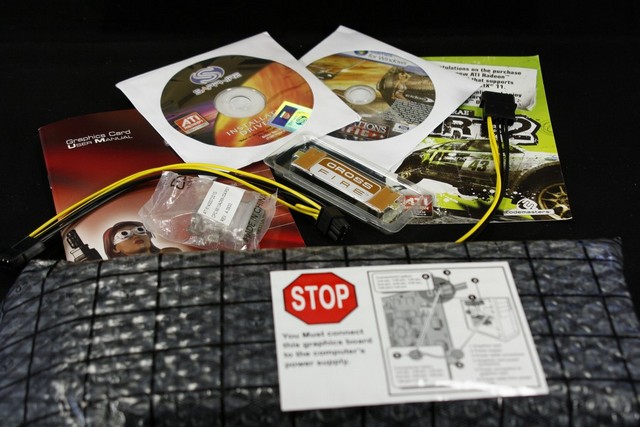 Looks like you going to have to wait on what the 5870 Vapor X video card looks like. This is what comes bundled with the packaging. A driver Disc, Battle Stations Pacific game, Dirt 2 voucher (steam), an installation manual, 2 molex to PCI-E 6 pin power adapters, and finally a Crossfire ribbon that will be needed for Multi GPU configurations.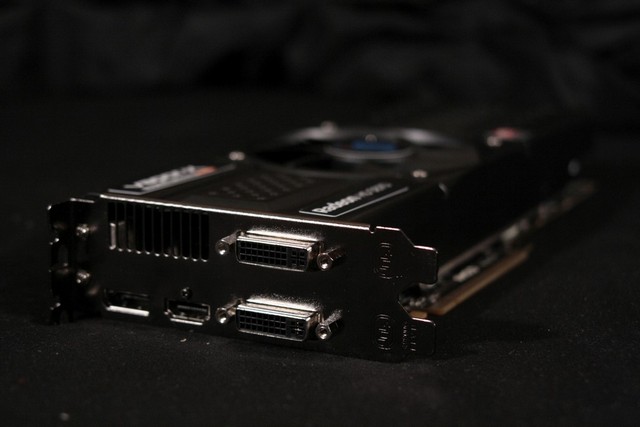 The Sapphire 5870 Vapor X money shot.
Overview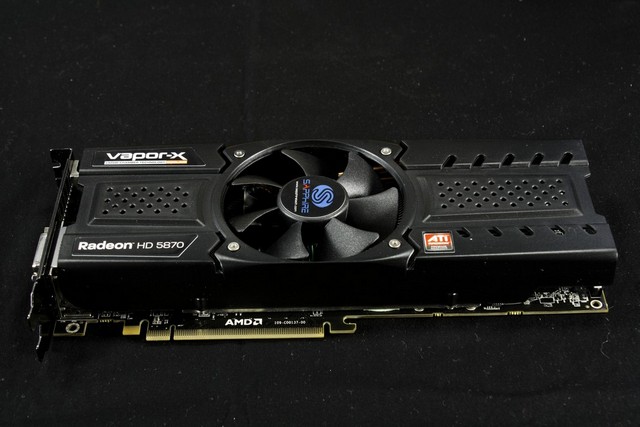 Time to show you how Sapphire put together the 5870 Vapor X. Looking form the top of the video card we can see that Sapphire put the fan right in the middle of the video cards cooler, and also that this fan is 92mm. Looking at the top cover that Sapphire used, it has small holes and vents to help keep this card cool during operation.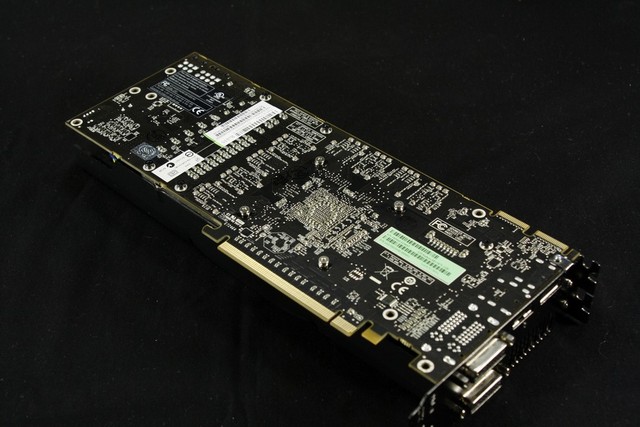 Turning the 5870 video card over to its back, Sapphire did not use a cross brace like they have on previous video cards. Looking up towards the PCI-E power plugs, we can see there is a spot for a 8 pin PCI-E and a 6 pin PCI-E power plugs. Also that ATI did not include any warning lights on the 5870 video card. These include low power warning, over heating LEDs, etc.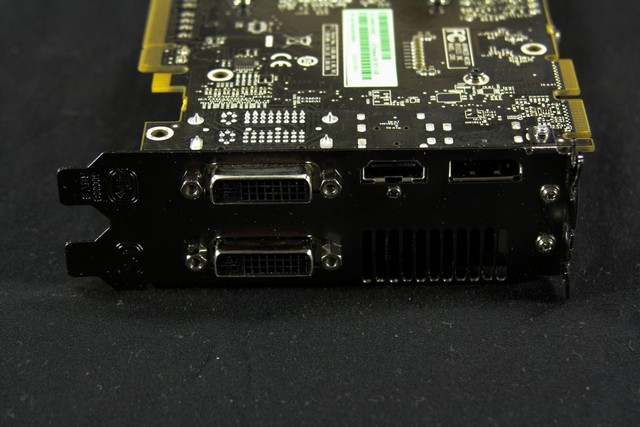 Time to turn our attention over the rear IO back plate of the 5870 video card. Like all other 5870 video cards this video card has 2 DVI ports, 1 HDMI port and a Display port. For more information about how to hook up your monitors for Eyefinity please look at this article presented by Bjorn himself HERE. There is a rather small vent placed on the rear ward IO back plate.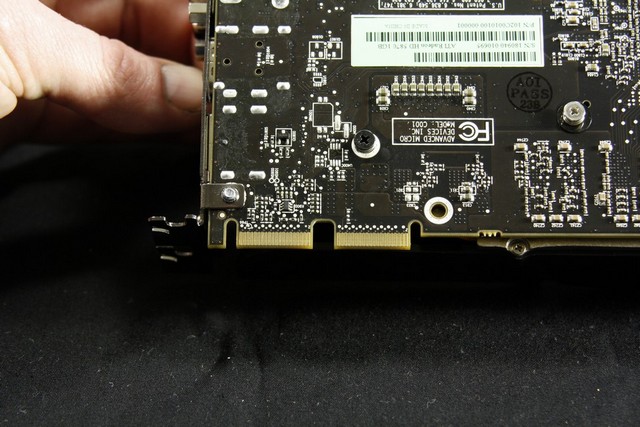 Looking at the Crossfire Interconnects on the 5870 video card. In order to use Crossfire X you will need both ribbons hooked up to these connectors.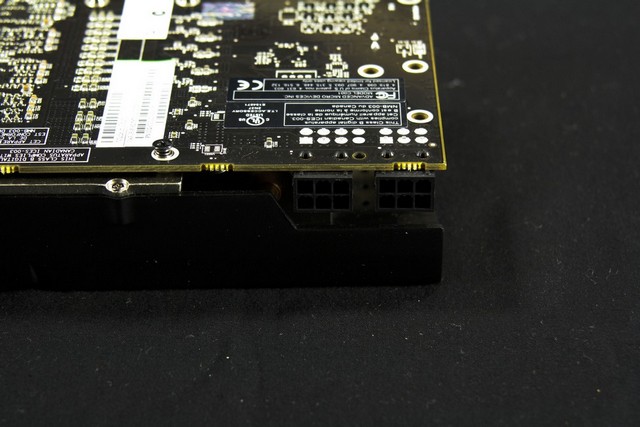 Now lets look at the PCI-E power plugs, the 5870 video card only needs to use 2 x PCI-E 6 pin power cables. The PCB looks like it can handle a 8 pin PCI-E power cable and a 6 pin PCI-E power cable. Things that make you go hmm.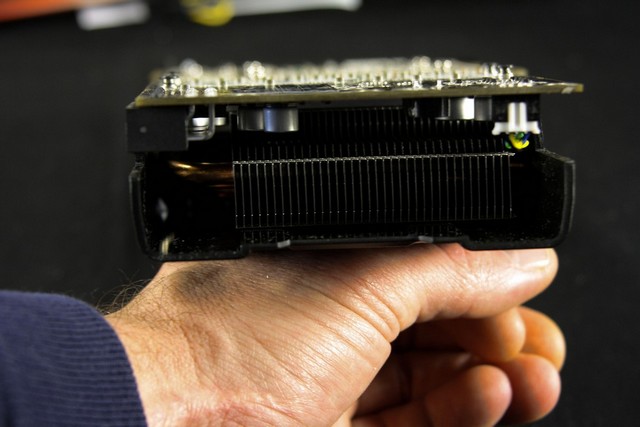 The Vapor X cooler is open at the front end of the video card. The fins of the Vapor X cooler are evenly spaced and there are a good amount of fins to keep the 5870 video card cool. Looking to the left side we can make out a single 4mm heat pipe.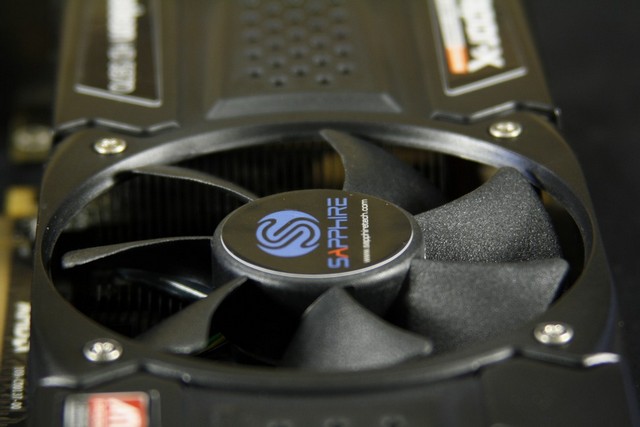 Looking through the blades of the fan in towards the rear of the heatsink. Same evenly spaced fins we seen through the front side of the heatsink.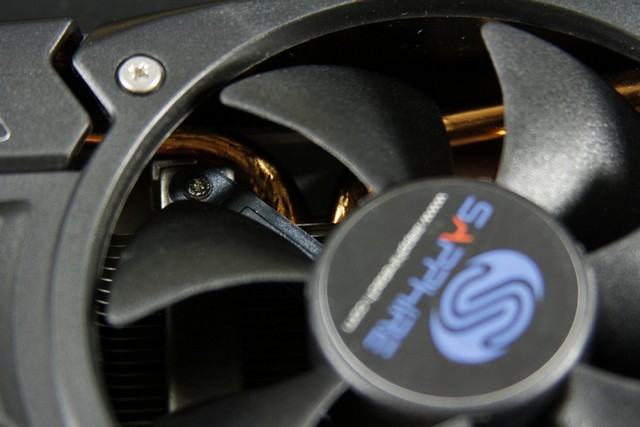 Trying to get a good view of the three heatpipes that Sapphire uses for the Vapor X cooler. Looking more closely we can make out the fins that sit right below the fan itself.
Looking at the top cover of the 5870 Vapor X cooler. Both front and rear of the cover that Sapphire uses has small holes or vents in it.
Installation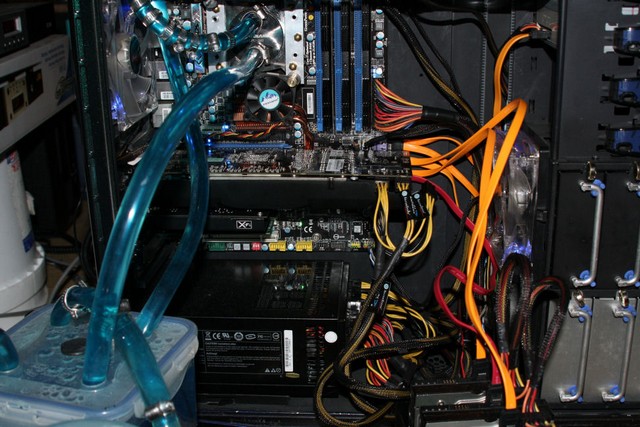 Installation is pretty straight forward, so no real need to get into an in depth how to. I will say this, the Sapphire 5870 Vapor X video card feels right at home in Mini Me.
Testing Methodology
Test Setup &Testing Methodology
CPU
Intel Core i7 920 C0 2.66GHz, @ 3.99GHz
Motherboard
MSI X58 Platinum
Case
Cooler Master Cosmos 1000
Memory
GSkill trident 2000MHz
Video Card's
HD4870, HD4870X2, EVGA 275GTX, 5870 Vapor X
Hard Drives
2x Seagate 320Gig 2.5″ Momentus HDD's
CDRom Drive
Lite On Blue Ray
Power Supply
SilverStone 1200 Watt Zeus
CPU Speeds Used
3990MHz
Operating System Used
Microsoft Windows 7
Video Card Cooler

Water cooled 4870's, Standard Air Cooler for 275GTX, 5870
CPU Cooler

Koolance 340CPU water block
For testing the 5870 Vapor X video card, I ran each benchmark (listed below) three times per setting to ensure that my results where consistent. The operating system during testing, is Windows 7 retail, Driver version used for ATI video cards was 9-10 Catalyst, Nvidia I used 191.07 Forceware. For comparison video cards I used are, an HIS 4870,an XFX 4870X2, EVGA 275GTX, and of coarse the Sapphire 5870 Vapor X. The 5870 video card set the pace on how the benchmarks would be ran, since the 5870 Vapor X had no issues running at a high resolution of 1920×1080, this is the only resolution I used during testing, I will include a no AA runs and a x4AA/x16AF ( application specific) per benchmark. On the Nvidia 275GTX video card I turned off Physx, so no Physx numbers will be used. All testing will be done in Direct x 10 mode unless other wise stated, on the few games where Direct X 10.1 or Direct X 11 was used the Nvidia 275GTX video card was dropped completely (as this is an ATI specific handling). Stalker Clear Sky will not be written up with charts, I will include screen shots of each video cards run with this benchmark (Direct X 10.1 mode was used) on the ATI set of video cards.
Overclocking the 5870 Vapor X did not get included, mainly because the only thing I had available that would overclock the 5870 video card, was ATI's very own Overdrive, this overclocking utility is seriously limiting to how far one could go on the 5870 video card (as this video card easily maxed out the sliders), this small overclock did not provide a significant increase of frame rates to even be worth mentioning. I was so hoping on cranking the Sapphire 5870 Vapor X video card too. For Unigine Heaven benchmark I will do both a Direct X 10 and Direct X 11 runs (video card specific), during the Direct X 11 runs I will include both a Direct X 10 and Direct X 11 screen shots to give you a better idea the difference between these two types of APIs.
Far Cry 2: Direct X 10, Ultra High Settings
Batman Arkham Asylum: Direct X 9 Maxed Visual Quality
Hawx: Direct X 10 Max Visual Quality
World In Conflict : Direct X 10 Max Visual Quality
Darkest Of Days: Direct X 10, Max Visual quality
Resident Evil 5: Direct X 10, Max Visual Quality
3DMark Vantage: Direct X 10, Default Performance Run
3Dmark06: Direct X 9, Default Run
Unigine Heaven: Direct X 10 Max Visual Quality
Direct X 10.1 Runs were only performed with ATI Video cards Only these are, Hawx, and Stalker Clear Sky.
Direct X 11 Runs was with only with the 5870 Vapor X video card.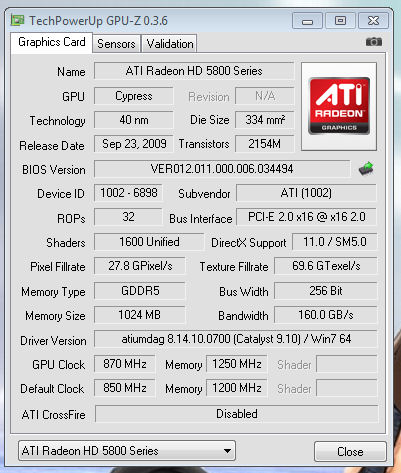 Temperature

| | | |
| --- | --- | --- |
| Temperature | Idle | Load |
| Sapphire Vapor X 5870 | 33°C | 56°C |
For temperatures, I looped Resident Evil 5 for over an hour to properly heat up the video card. I then allowed the video card to cool down for 30 minutes to get a idle temperature. I repeated this test 3 times to make sure my results were consistent with one another. The video card fan was left at its default speed BIOS speed, also the ambient room temperature is around 19°C. (which is a rarity I allow the BIOS control the fan) As we can see the Vapor X cooler has the ability on keeping the 5870 video card extremely cool. I like to try and keep the video card below 70°C myself and seeing I am only at a max temp of 56°C, so I have lots of room left.
The only area we should be paying attention to is the minimum and average frames rates, as these two frame rate points will greatly tell us if that game is even remotely enjoyable. Target frame rate to have is anything above 30FPS on the Minimum.
Far Cry 2

Far Cry 2, released in October 2008 by Ubisoft, was one of the most anticipated titles of the year. It's an engaging state-of-the-art First Person Shooter set in an un-named African country. Caught between two rival factions, you're sent to take out "The Jackal". Far Cry2 ships with a full featured benchmark utility and it is one of the most well designed, well thought out game benchmarks we've ever seen. One big difference between this benchmark and others is that it leaves the game's AI (Artificial Intelligence) running while the benchmark is being performed.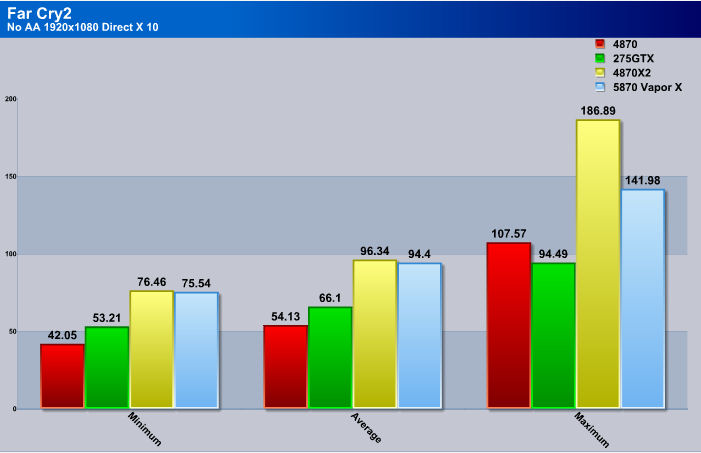 Far Cry 2 has proven to be a good starting point for any video card to guage its performance. As we can see the 5870 Vapor X video card can easily match the 4870X2 video card in all out performance. The difference of only a frame or two at most is not enough to declare a winner here. We just got started and we can already tell this is going to be a battle of the Titans (4870X2 vs the 5870 Vapor X).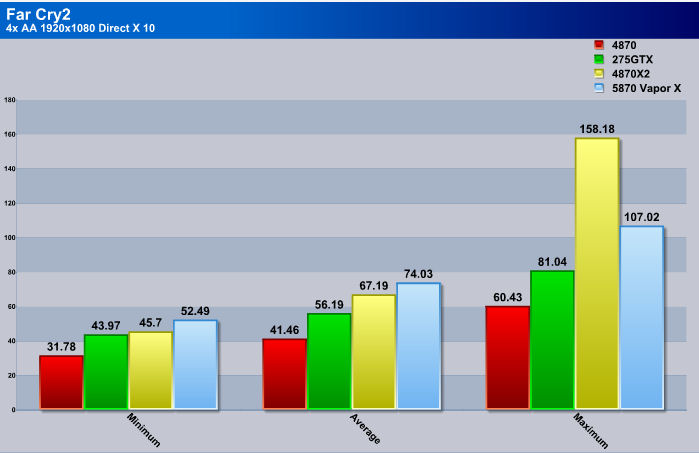 Yikes! The 5870 Vapor X clearly decimates the mighty 4870X2 video card once we applied 4xAA to Far Cry 2.
Batman Arkham Asylum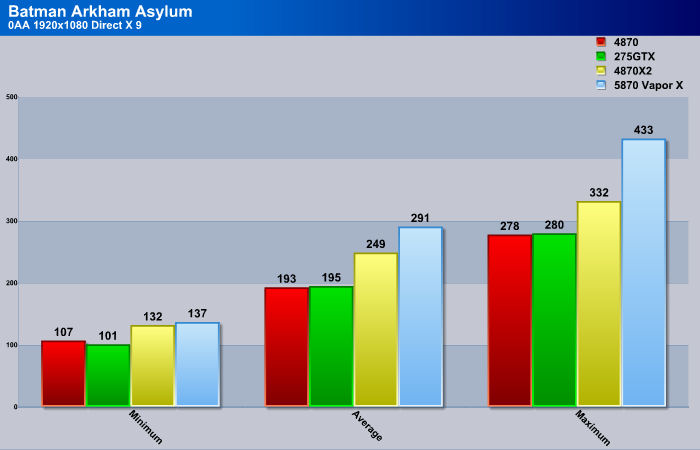 During our first Direct X 9 game, we again see that the 5870 Vapor X is not showing any signs of stopping the beating towards the 4870X2 video card. Lets see how this turns out once AA and AF gets applied.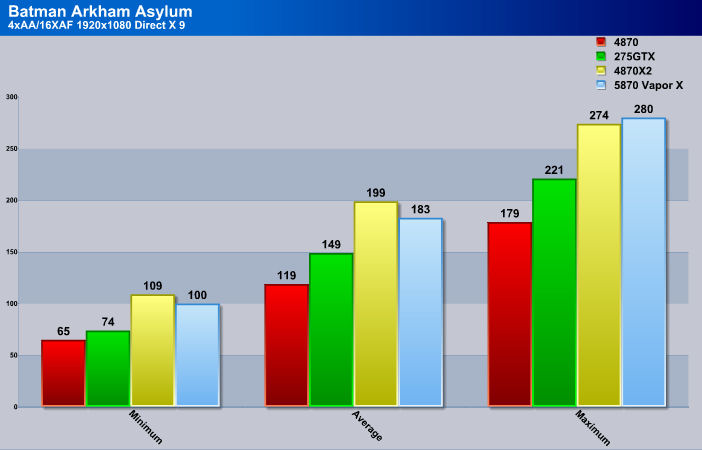 Wow, the 4870X2 does have teeth after all, after appling 4xAA and 16xAF we see the 4870×2 taking a serious lead over the 5870 Vapor X. Consider this though, the 5870 Vapor X is a single core video card and uses half the power the 4870X2 does, not only that the 5870 Vapor X runs cooler.
Hawx

The story begins in the year 2012. As the era of the nation–state draws quickly to a close, the rules of warfare evolve even more rapidly. More and more nations become increasingly dependent on private military companies (PMCs), elite mercenaries with a lax view of the law. The Reykjavik Accords further legitimize their existence by authorizing their right to serve in every aspect of military operations. While the benefits of such PMCs are apparent, growing concerns surrounding giving them too much power begin to mount.
Tom Clancy's HAWX is the first air combat game set in the world–renowned Tom Clancy's video game universe. Cutting–edge technology, devastating firepower, and intense dogfights bestow this new title a deserving place in the prestigious Tom Clancy franchise. Soon, flying at Mach 3 becomes a right, not a privilege.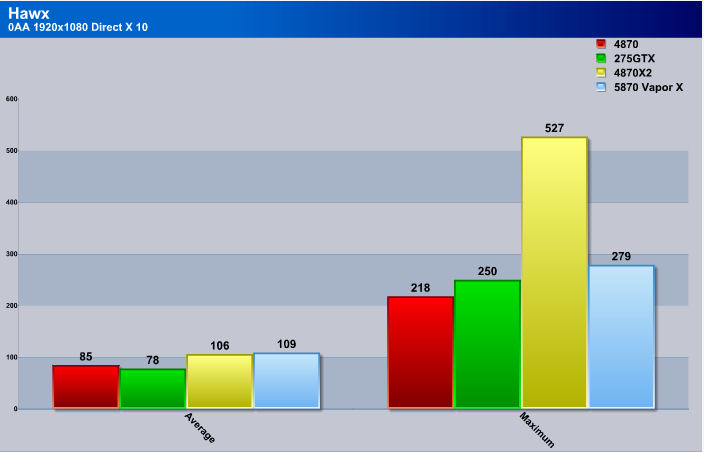 Looking at the average frame rates of Hawx, we see the 5870 Vapor X can easily match the 4870X2 stroke for stroke performance wise. Hawx still prefers the use of multiple video cards vs single video cards.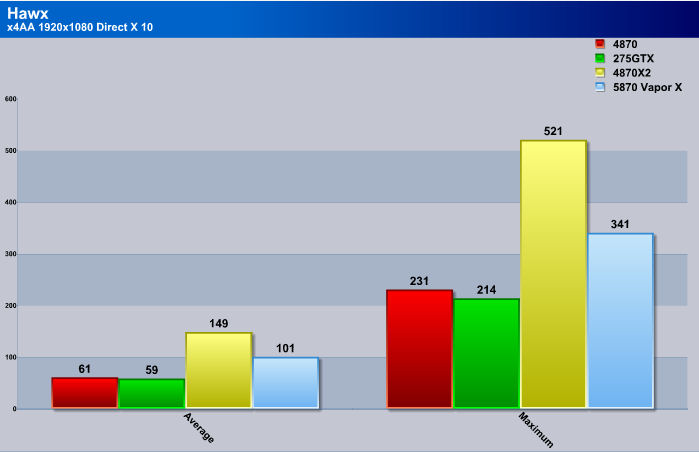 We see that the 4870X2 gets a slight performance boost once 4xAA is applied, the 5870 Vapor loses a couple of frames but still manages to hold its own during this run.
The only area we should be paying attention to is the minimum and average frames rates, as these two frame rate points will greatly tell us if that game is even remotely enjoyable. Target frame rate to have is anything above 30FPS on the Minimum.
World in conflict

World in Conflict is a real-time tactical video game developed by the Swedish video game company Massive Entertainment, and published by Sierra Entertainment for Windows PC. The game was released in September of 2007. The game is set in 1989 during the social, political, and economic collapse of the Soviet Union. However, the title postulates an alternate history scenario where the Soviet Union pursued a course of war to remain in power. World in Conflict has superb graphics, is extremely GPU intensive, and has built-in benchmarks. Sounds like benchmark material to us!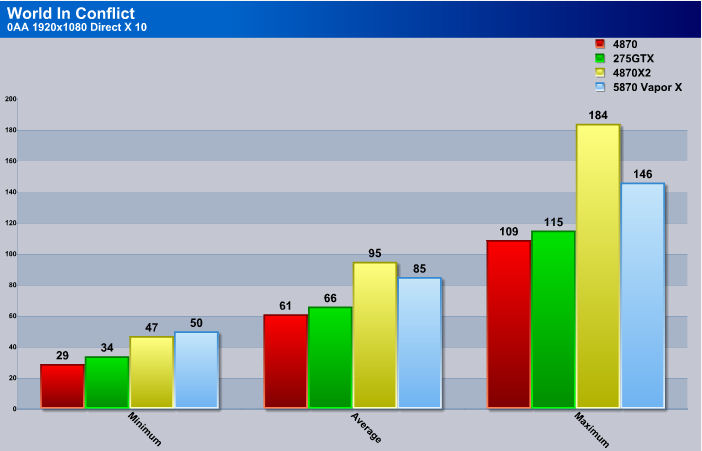 Working our way through the benchmarks we make it to World In Conflict. On the low side of the frame rates the 5870 manages to hold the lead, but during the Average frame rates the 4870X2 takes the lead.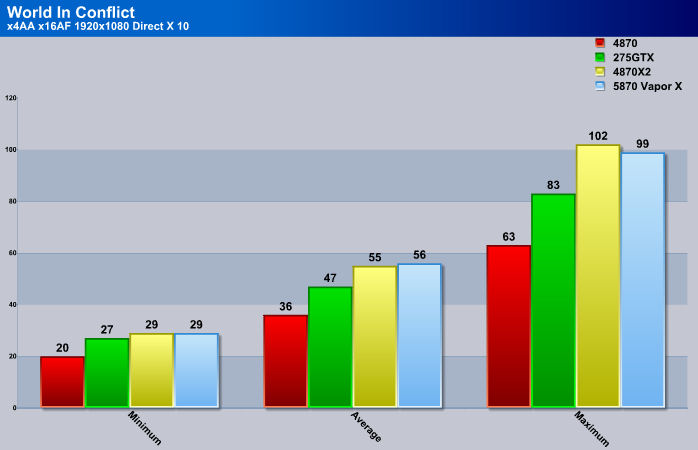 Now by turning on the AA and the AF, the 5870 Vapor X again is keeping up with the mighty 4870X2.
Darkest of days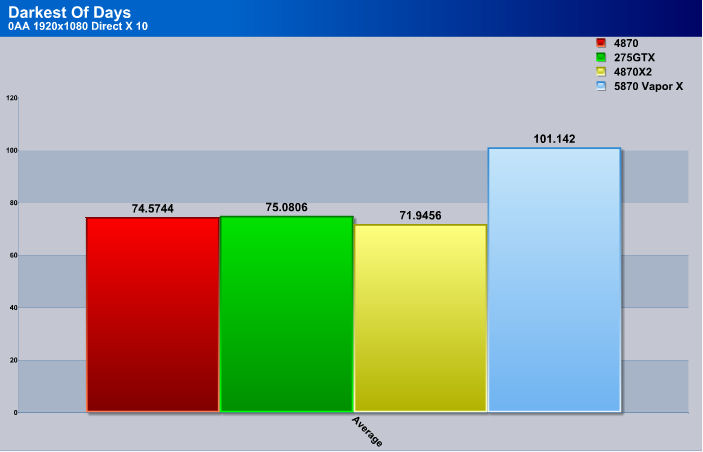 In Darkest of Days testing the 5870 Vapor X video clearly shows who is the boss. The 4870X2 did not even stand a chance.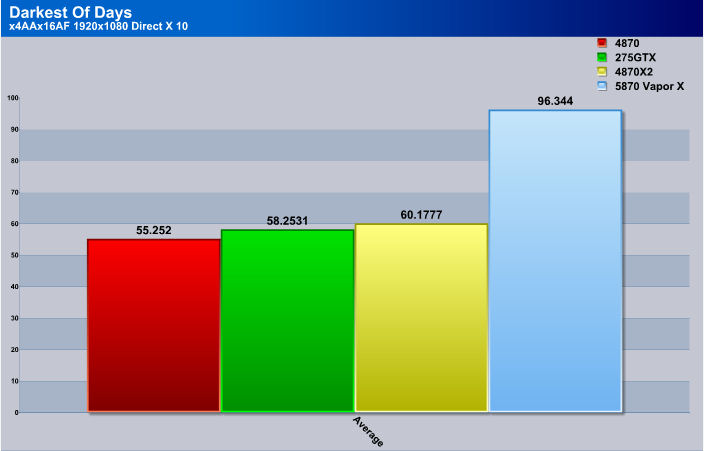 Turn on the AA and AF, the 5870 Vapor X barely shows any signs of struggling.
Resident Evil 5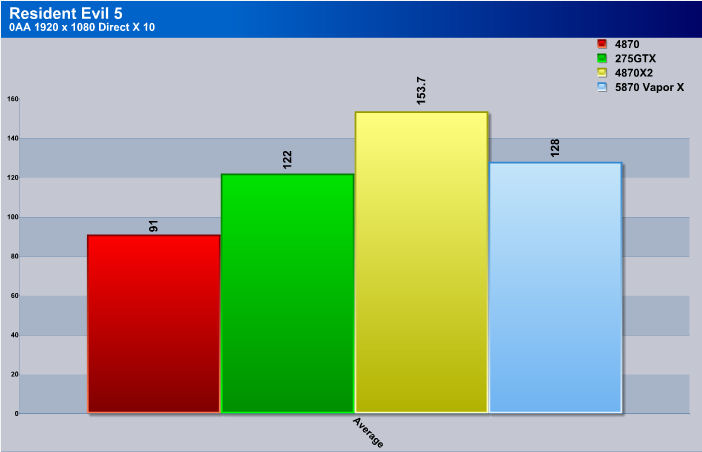 Resident Evil 5 is a new addition to our bencharking arsenal. This game scales pretty well across multi GPU configurations. Finally some signs of recovering from the 4870X2, as we can see once again Resident Evil 5 likes the multi GPU configurations.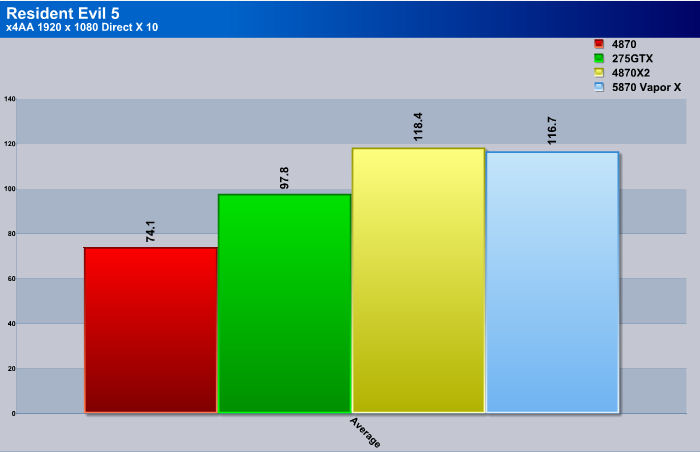 But like most other games once AA is applied the 5870 Vapor X closes this gap, and catches right up to the 4870X2 video card.
The only area we should be paying attention to is the minimum and average frames rates, as these two frame rate points will greatly tell us if that game is even remotely enjoyable. Target frame rate to have is anything above 30FPS on the Minimum.
Unigine Heaven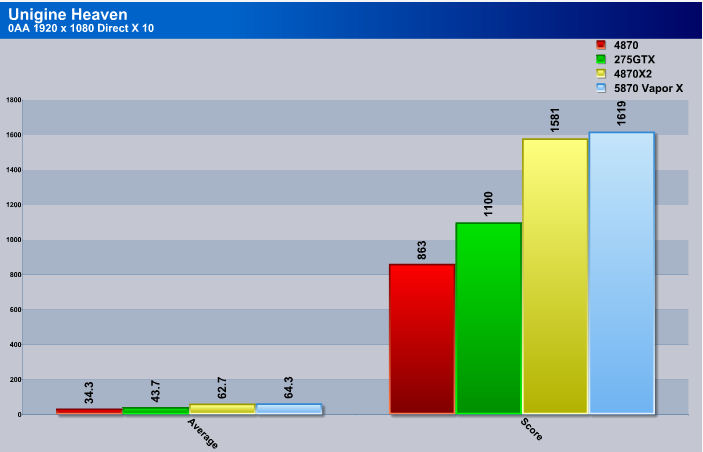 This is another one of the new additions to our suite of benchmarking programs. I can see why, it is flat out brutal to our video cards. The 5870 Vapor X video card still shows its supremacy when it comes to gaming, as it still manages to keep the 4870X2 video card at bay.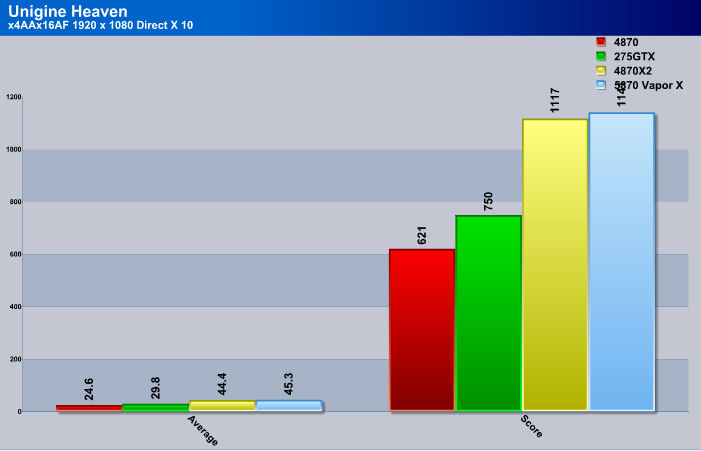 Same story once we turn on AA and AF, the 5870 Vapor X still manages to keep up with the 4870X2 and de-throaning it from its pedestal.
3dmark Vantage

For complete information on 3DMark Vantage Please follow this Link:
www.futuremark.com/benchmarks/3dmarkvantage/features/
The newest video benchmark from the gang at Futuremark. This utility is still a synthetic benchmark, but one that more closely reflects real world gaming performance. While it is not a perfect replacement for actual game benchmarks, it has its uses. We tested our cards at the 'Performance' setting.
Currently, there is a lot of controversy surrounding NVIDIA's use of a PhysX driver for its 9800 GTX and GTX 200 series cards, thereby putting the ATI brand at a disadvantage. Whereby installing the PyhsX driver, 3DMark Vantage uses the GPU to perform PhysX calculations during a CPU test, and this is where things get a bit gray. If you look at the Driver Approval Policy for 3DMark Vantage it states; "Based on the specification and design of the CPU tests, GPU make, type or driver version may not have a significant effect on the results of either of the CPU tests as indicated in Section 7.3 of the 3DMark Vantage specification and white paper." Did NVIDIA cheat by having the GPU handle the PhysX calculations or are they perfectly within their right since they own Ageia and all their IP? I think this point will quickly become moot once Futuremark releases an update to the test.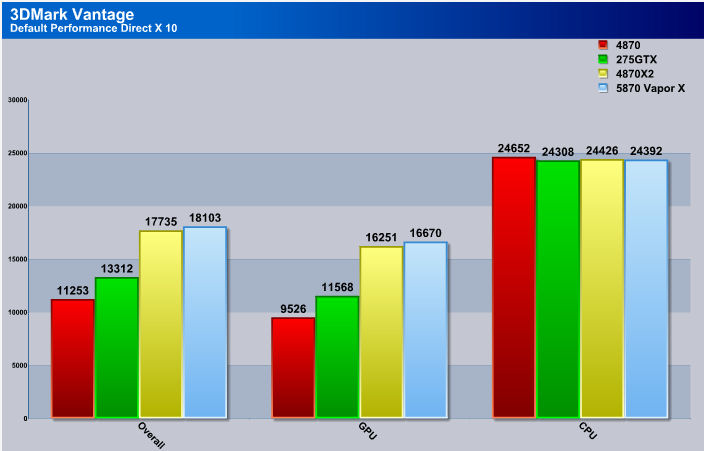 During our synthetic benchmarks, the 5870 Vapor X still shows no signs of slowing down on its all out assault.
3dmark06

3DMark06 developed by Futuremark, is a synthetic benchmark used for universal testing of all graphics solutions. 3DMark06 features HDR rendering, complex HDR post processing, dynamic soft shadows for all objects, water shader with HDR refraction, HDR reflection, depth fog and Gerstner wave functions, realistic sky model with cloud blending, and approximately 5.4 million triangles and 8.8 million vertices; to name just a few. The measurement unit "3DMark" is intended to give a normalized mean for comparing different GPU/VPUs. It has been accepted as both a standard and a mandatory benchmark throughout the gaming world for measuring performance.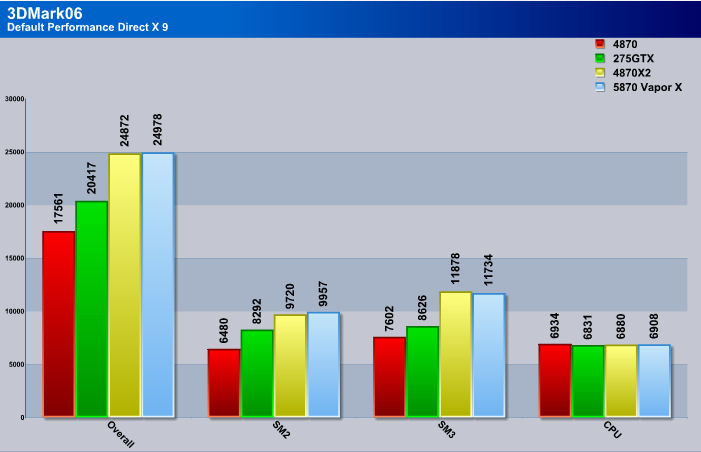 In 3DMark06, both the 4870X2 and the 5870 Vapor X are about dead even with each other.
Direct X 10.1 Testing
Hawx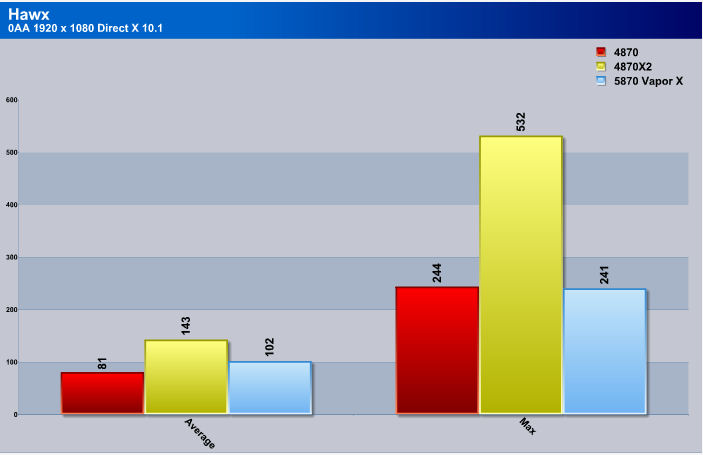 A few times the 4870X2 takes a commanding lead over the 5870 Vapor X video card here.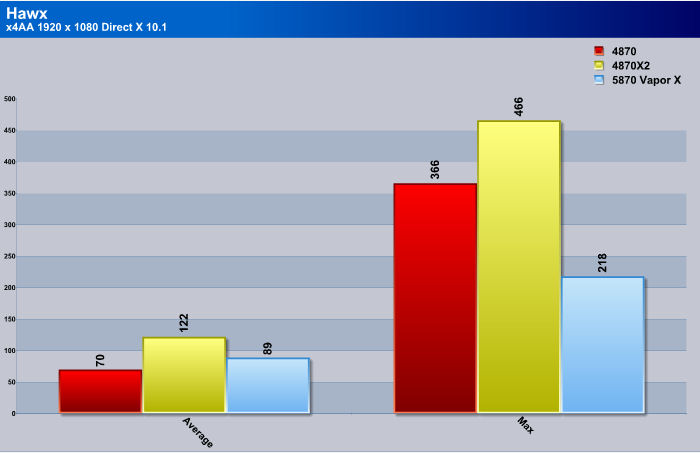 Once again the 4870X2 takes the lead once AA is turned on. Hawx is one of those games that prefer to have a multi GPU set up vs having a single video card.
Stalker Clear Sky

S.T.A.L.K.E.R. Clear Sky is the latest game from the Ukrainian developer, GSC Game World. The game is a prologue to the award winning S.T.A.L.K.E.R. Shadow of Chernoble, and expands on the idea of a thinking man's shooter. There are many ways you can accomplish your mission, but each requires a meticulous plan, and some thinking on your feet if that plan makes a turn for the worst. S.T.A.L.K.E.R. is a game that will challenge you with intelligent AI, and reward you for beating those challenges. Recently GSC Game World has made an automatic tester for the game, making it easier than ever to obtain an accurate benchmark of Clear Skie's performance.
| | |
| --- | --- |
| | |
| 4870X2 No AA | 4870X2 x4 AA |
| | |
| 4870 No AA | 4870 x4 AA |
| | |
| 5870 No AA | 5870 x4 AA |
The Sapphire 5870 Vapor X has no issues running Stalker Clear Sky, in fact I have never seen a single core video card ever be able to keep the frame rates above 20FPS during the Sun Shafts testing, let alone pull 21FPS once AA has been applied.
Direct X 11 Testing
This portion of the review is all about the 5870 Vapor X and its ability to render Direct X 11. Also to give you an idea on what to expect from Direct X 11.
The images on the left are in Direct X 10 mode, and the images on the right are in Direct X 11 mode. both of these types of images were taking off the 5870 Vapor X. As we can see that Direct X 11 is definitely going to improve our gaming experience. The brick work has a lot more definition to it, the stone walk ways literally look like they will break your leg if you even attempt on walking on it, the Dragon statue looks even more fiercer then it did while rendering in Direct X 10 mode, finally looking at the shingles of the roofs, actually look like real shingles and not just painted over paper roofs.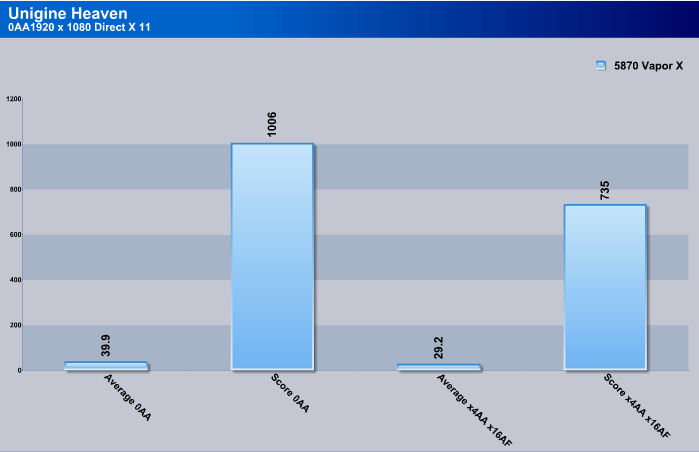 Just a quick run with the 5870 Vapor X while rendering the Unigine Heaven Benchmark in Direct X 11 mode. I've got a feeling that the need to have 2 gigs of on board video memory may become necessary to properly render Direct X 11.
COnclusions
Once again the 5870 Vapor X video card shows its supremacy when it comes to our games. During my testing and playing with this video card not once did this video card ever hiccup, studder, or even slow down. By Sapphire adding their unique cooler Vapor X design to this video card ensures that we will get years of life out of this product, while at the same time run extremely quiet.
Having a price point on or around the 400USD mark is a fair price to pay, to have the most powerful single core video card on the market. While looking at the other offerings, other video cards that are in the 400USD+ range make the 5870 Vapor X an even more sweeter deal. The only thing I can possibly see that may become an issue is having a limited memory of 1 Gigabyte. This may hinder the all out performance of this video card while trying to render Direct X 11, but until we see more Direct X 11 games one can only hypothesize this the limitation.
OUR VERDICT: Sapphire 5870 Vapor X

| | |
| --- | --- |
| Performance | 9 |
| Value | 8 |
| Quality | 9 |
| Features | 9.5 |
| Innovation | 9.5 |

We are using an addition to our scoring system to provide additional feedback beyond a flat score. Please note that the final score isn't an aggregate average of the rating system.

Pro
Cons

Retains on being the most powerful single core video card on the planet

Quiet operation

Runs extremely cool

Direct X 11 Capabilities

Not having two of these for some crossfire action. (one can wish can't he LOL)

 
Summary: The Sapphire Vapor X 5870 is still the video card to have in our computers, as it is still the undisputed champion for single core video cards.