MSI has brought us a program that utilizes RivaTuners abiltiy to overclock our video cards, but made this much easier of an interfacing to do so.
Introduction
Since the introduction of RivaTuner, which is a very common video card overclocking utility for Nvidia and ATI based video cards, a lot of computer manufacturers have been trying to come up with their own special program that gives us users the same abilities that RivaTuner does. A lot of times these special programs fail miserably, and one of the reasons for this is because they will only work on that manufacturers components, or they are still very limited on overclocking options.
Then EVGA came out with an overclocking program that works on a multitude of video cards and has no boundaries. Lets face it, EVGA's precision is based off the ever popular RivaTuner. But there is a draw back to this program. Sure it works perfectly on all manufacturers Nvidia based video cards, this program does not work on ATI cards at all. Being it is based on RivaTuners programming capabilties, one would think that EVGA Precision would be.
Now MSI came out with another RivaTuner spin off, but this time we have even more flexibility than RivaTuner could ever have. What is that extra that RivaTuner does not have? What we do get is the ability to add voltages to our video cards, giving us even more overclocking head room to snuff out our opponents in all out overclocking endeavors.
Lets see what the MSI Afterburner can do on a few different types of video cards. The ones we at Bjorn3D.com will be testing this program on are, ATI HD4870, ATI HD4870X2 video cards, these will be used in a crossfire configuration, and an Nvidia 275GTX.
1. Overclocking
ü  Up to 85% overclocking capability
ü  Over voltage function to significantly increase overclocking potential
ü  Core/Shader/Memory clock adjustment
ü  Core/Shader clock Link/Unlink capability
2. Monitor
ü  Clock/Voltage/Temperature/Fan Speed/Frame rate real-time monitor
ü  Maximum/minimum value for easy record of system condition
ü  Real-time On-Screen-Display information in games
ü  Real-time information in Windows Tray Icon
ü  Detach mode for hardcore monitor style
3. Profile
ü  5 Profile to easy save/load user customized setting
ü  Profile hot-key for easy and quick switch in games
ü  2D/3D automatic profile switching for difference scenario
4.Special Function
ü  Advanced fan speed control for different speed under different temperature trigger points
ü  Mutil-GPU independent or synchronous control for clock/voltage/fan speed
ü  Information button for graphics card driver version, BIOS version, identification, OSD status and update link
ü  User Customized skin function
ü  Apply overclocking setting at system startup
Competitors Comparison
| | | | | |
| --- | --- | --- | --- | --- |
| Feature | ASUS Voltage Tweak | Gigabyte Gamer HUD | EVGA Precision | MSI Afterburner |
| GPU Over Voltage | ● | ● |   | ● |
| GPU Clock | ● | ● | ● | ● |
| Shader Clock |   |   | ● | ● |
| Core/Shader Link & Unlink |   |   | ● | ● |
| Memory Clock | ● | ● | ● | ● |
| GPU Temperature Display | ● | ● | ● | ● |
| GPU/Shader/Memory/Temperature Monitor |   |   | ● | ● |
| GPU loading Monitor |   | ● |   | ● |
| Max/Min value in Monitor window |   |   |   | ● |
| In-game OSD information |   |   | ● | ● |
| Tray Icon Display |   |   | ● | ● |
| Advanced Fan Control |   |   |   | ● |
| Profile |   |   | ● | ● |
| Device information |   |   | ● | ● |
| Multi-GPU support |   |   | ● | ● |
Over voltage supported cards

N275GTX Lightning

N260GTX Lightning

N295GTX-M2D1792

N280GTX-T2D1G

N260GTX-T2D896

R4870X2-T2D1G

R4870-T2D1G

R4890-T2D1G
Let The Overclocking begin
Once again I am going to show you how MSI's Afterburner works on both ATI video cards, and Nvidia videocards.
RivaTuner
As we can see this is RivaTuner, I just gave you the basics of RivaTuner. There are multiple places we can go to make a multitude of adjustments. We can also monitor a multitude of things, but RivaTuner is quite overwhelming for anyone not accustomed to the interface.
Nvidia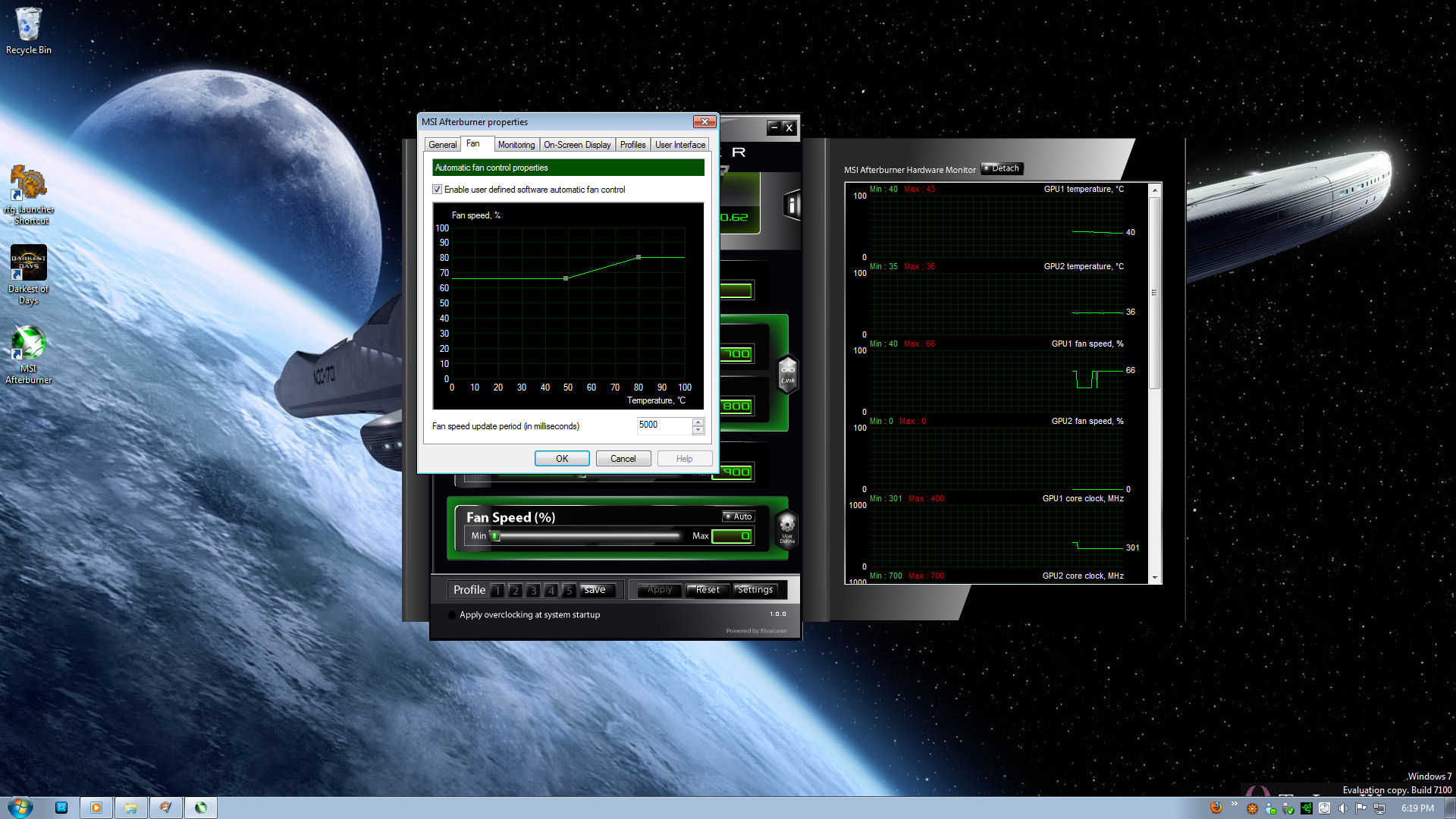 This is the MSI Afterburner program, As we can see most of the adjustments are pretty simple, and since this program is based off RivaTuner it still retains some of its feel.
MSI includes the use of voltage control, but while I was using the Nvidia 275GTX/9600GT video cards this was grayed out. Officially MSI Afterburner supports only voltage adjustment capable MSI cards so the fact that it adjusted the voltage on some of my ATI cards is a plus, Nvidia cards MSI Afterburner wouldn't touch the voltage setting but then it's not designed to.
The fan control in MSI's Afterburner is rather unique, we can either allow the BIOS of the video card control the speed, or we can adjust the fan speed manually. There is another feature we can use, by entering the Settings, in the Fan tab, we can customize the on how the fan speed will change with the video cards temperature.
ATI
Now since I have two ATI video cards I had to see how this program works on these bad boys. This is strange my 4870's are not listed in the supported cards listing but I have complete control over these video cards and there voltages. I did not up the voltages that much because I am on stock cooling currently. But for those needing that little bit extra out of their video cards and if they have plenty of cooling on their cards they can up the volts a bit more.
To switch between the two cards individually, in the Settings (properties) on the first tab we can select which video card/core we want to tweak. This applies to all video cards not just ATI. Or you can have MSI Afterburner set all clock speeds identical to one another.
Final Thoughts
As we can see, MSI's Afterburner overclocking utility takes the guess work out of RIvaTuners complicated interfacing, and makes it easy enough for anyone to use it. If you happen to have the ability to up the voltages on your video card that is just another plus for us. None of these video cards tested here today are MSI video cards, so this tweaking utility is not MSI specific, nor is it GPU "Brand Specific" like some of the other overclocking utilities out there.
MSI has pulled one out of the hat with MSI Afterburner, they designed a full featured easy to use OCing utility that overcomes the Nvidia/ATI brand barrier and so far has handled every card we've thrown at it. The ease of use and ability to link and sync multiple cards to a single speed on core and memory make it the best choice for overclocking GPU's we've seen so far.
Production copies of MSI Afterburner will keep the ability to overvolt Non-MSI cards (Reference Models) and it's a feature we'd like to keep. With the ability to add a touch of voltage to ATI reference cards you should be able to avoid the higher priced overclocked versions and save a few bucks. Since MSI Afterburner is a free utility we highly recommend downloading it and firing it up immediately. Happy overclocking.