HornetTek has designed a cool looking external enclosure that contains both style and functionality. The Hover is a 3.5" external enclosure with USB and eSATA ports. Check it out. It maybe the best looking external enclosure you can find on the market today.
INTRODUCTION
Many computer enthusiasts prefer to buy or build products which showcase their own personal taste. They often choose the best looking case with enough features yet it also has a hint of their own personality. They would hate to go with the masses with an ugly looking beige case and would definitely not want a case that is bland and boring. The same thing would go with their peripherals. Enthusiasts often want a product that not only provides great functionality but also has a great look.
External enclosures are probably one of the most boring pieces of hardware one would see. Almost every enclosure looks more or less the same. They are all rectangular and have a boxy look, and are made with metal or plastic and are used to house the hard drive. Some enclosures have a fan which would add a bit of cooling to the hard drives and some even come with a cool looking light show. Still, they are pretty much the same no matter how you look at it.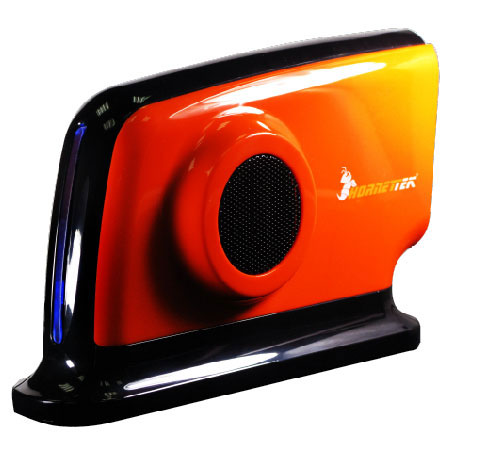 Manufactures are trying to break out the mold of the external enclosure by incorporating more stylish looks and designs. If you have read Bjorn3D's review on the In Win's "Na", you would appreciate a good design enclosure. Today, we have yet another external enclosure that is specially designed to fit the gamers/enthusiasts looks. The HornetTek's Hover is the 3.5'' external enclosure that we will take a closer look today.
ABOUT HORNETTEK
As one of the leading peripheral enclosure solution provider, HornetTek specializes in Storage and Multimedia External Enclosure solutions and we constantly offers state-of-the-art design of hard disk enclosure to provide user-friendly peripherals to consumers at all ranges.
HornetTek is a global peripheral enclosure provider with manufacturing facility located in China since 1999. We deliver high quality standard products at competitive price in which provide our customers has an excellent opportunity to be successful in the competitive International Enclosure marketplace.
Our reputation, experience, keen industry insight and power of direct manufacturing allowed us to surpass OEM and ODM requirements and provide our customers with superb value, high-quality-in-demand products.
Our R&D engineering team is accustomed to form a standard yet efficient new product development procedure to satisfy timely requirement from the market and with our experts on delivering the freshest technologies available. We are always in tune to what is hot in the market place by creating innovation product with competitive price value.
Overall, we will achieve our mission through excellence in product design, factory manufacturing and customer service.
FEATURES
Universal fitting for 3.5″ SATA I / II HDD
Back panel Power ON/OFF switch
Complies with SATA I / II, speed up to 3G/sec
Complies with the USB-IF specifications for USB 2.0
Operates at High (480Mbps) or Full (12Mbps) speed.
Power: 24W AC Adapter UL/CSA/TUV/CE
AC input: 100-240 VAC. (47Hz~63Hz)
DC output: 12V / 2A
Material: ABS 94V0 shell (Aluminum Cover and internal metal Shielding)
Dimension (L x W x H): 225x 144.5 x 68 mm
OS Supports Win 2000/ME/XP/Vista, Mac OS 9.x/10.x and above, Linux 2.4.1.0 or above
SPECIFICATION
Feature/Specification

 Hover (USB & eSATA)

Interface

eSATA+USB 2.0

File Transfer 

eSATA at 3.0 Gbps max

USB 2.0 at 480 Mbps max

Plug and Play 

Yes

Fan 

50mm x 2

HDD Support 

3.5" SATA I/II

Material 

Front and back ABS panel

OS System Support 

Winodws ME/2000/XP/Vista, Macintosh OS 9.X or above and Linux 2.4 or above

CD/FCC

CE/FCC Approved

RoHS Compliancy 

RoHS Approved
HORNETTEK HOVER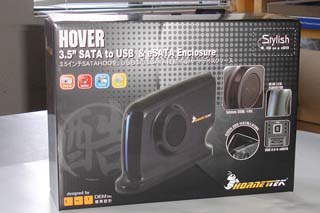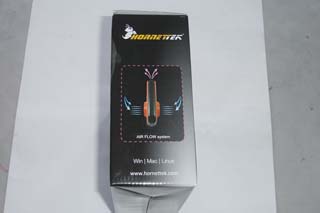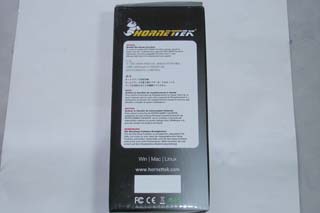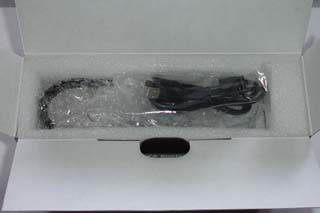 The Hover is packed in a very informative box. You will find the box highlights the enclosure's features, function, and cooling ability. Once we open the box, we will find that the accessory is being placed inside a Styrofoam cutout sitting on the top. The enclosure is being placed underneath of the accessory and again is being protected by Styrofoam as well. So there is no way the enclosure will be damaged during shipping.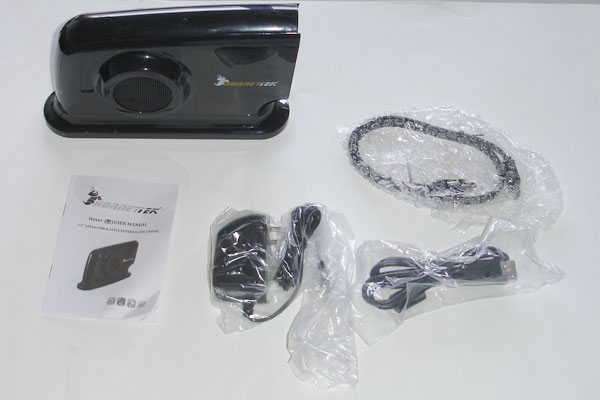 Here is what you will get:
The Hover Unit
AC Power Adapter
USB Cable
eSATA Cable
User's Manual
Screw Pack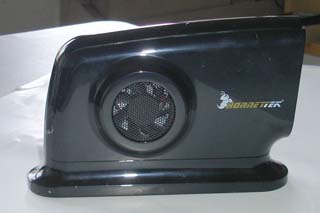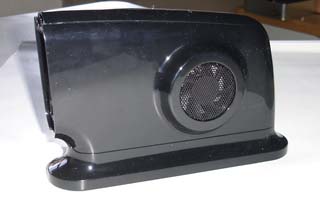 The Hover is designed by DEM Inc, a Taiwanese designing company specialized in pairing Chinese culture with Western branding and design experience. By merging Western and Eastern culture, DEM is able to come up with a futuristic, race-car or spaceship look for the 3.5'' external enclosure that we are looking today.
Don't get us wrong, an enclosure is an enclosure that it should houses the hard drive and provides enough ports to satisfy any user. But one would also appreciate the exotic design and look of an enclosure that give is a bit of pizzazz. Although beauty is always in the eyes of the beholder, I would say that many gamers/enthusiasts probably would liked the race-car looks of the Hover.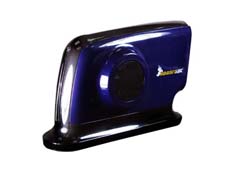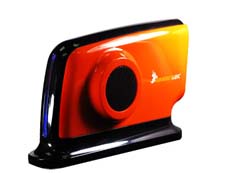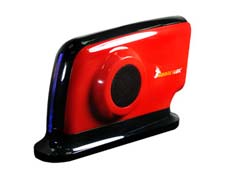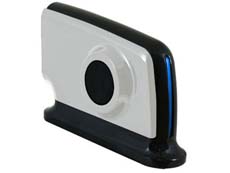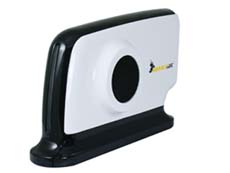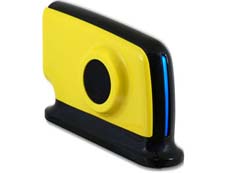 The exterior of the Hover is made with plastic where on the front you get a blue LED indicator which blinks when the hard drive is in use. We actually appreciate the fact that the LED is not too bright so it won't be too distracting when it's in use. The surface of the enclosure is coated and is highly reflective which can be prone to finger prints. There are six colors available to choose: black, blue, yellow, orange, red, and white. We received the black version. In addition, the unit we received comes with both USB and eSATA ports but you can also buy the unit with only a USB port.
The fan placement is where you will see where the designers at DEM are not only designing a cool looking enclosure but also designing an enclosure that will fight against one of the biggest enemies of the external enclosure—heat. Many external enclosures either place a small fan on the back or are completely fanless. Although most of these designs are be able to keep the hard drive running cool enough, they sometimes have a limitation to efficiently dissipate the heat built-up inside the enclosure. The Hover has two fans strategically placed on either side of the hard drive that are placed directly underneath the hard drive chipset. So, the fan will be able to chill the hottest component on the hard drive. Because the two fans also offers a stream of cool air on both top and the bottom of the case, they will also be able to provide a steadily flow of cool air to efficiently and effectively cool the hard drive. We shall see its performance when we measure the hard drive's temperature. Unfortunately, the fans are not removable or there is no easy way to take the side apart to clean the fans. So if it gets too dirty, just use a vacuum cleaner to suck the dust out of the fans.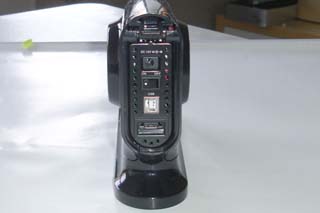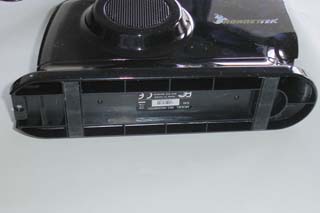 Moving onto the back and we will find the power connector, On/Off switch, USB port, and the eSATA port. What is found here is pretty much a standard. We would have appreciated finding an anti-theft key-lock and/or some sort of cable management but we will not hold it against the HornetTek for omitting these features.
The base of the Hover is made with plastic but it feels firm enough to withhold any vibration or jolt when the hard drive is placed on the desk sideway. Two strips of rubber are placed on the bottom to avoid any scratches. Because of the way the stand is designed, the enclosure is only able to be placed sideway and cannot be stacked. It can pose somewhat of an inconvenience for some people.
Although the enclosure is fairly small with 225×144.5×68 mm (LxWxH), it is a tad larger than some more portable enclosures due to its design and two fans. It would probably serve best to have the Hover standing on your desktop next to other high-end techs for any passer to admire in awe than carrying it around.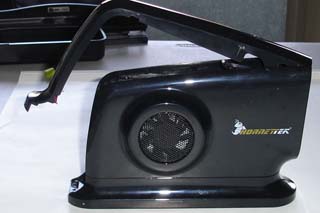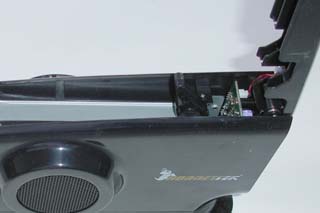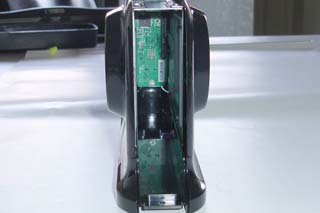 The Hover's side handle can be lifted to reveal the internal compartment. The side panel is being held by a little screw that is underneath the enclosure. Oddly enough, I am not sure why the designer of the DEM could not come up with a way to have the handle clip or locks onto the base without the screw. It seems to me that it is quite easy to simply put a lock or a spring tab so that the whole installation can be completely tool-less.
Once the side handle is lifted, we can see that the hard drive cage is actually made with metal which is great as it would help to conduct heat much better than plastic. A little plastic tab is found on the top of the enclosure which will serve as an eject button to release the hard drive from the enclosure.
I do have a small complaint about the Hover. The included power cable is only about 145 cm long. This is tad shorter than most enclosures we have reviewed which usually comes with a 2~2.5m power cable. It is probably not going to be a major issue for most of us but it just mean that you should have a power jack fairly close to where the enclosure will be placed.
INSTALLATION
Installation is very easy with the Hover. Simply align the hard drive's SATA port with the enclosure and slide the hard drive into the enclosure. Then, screw the side handle to the base and the whole installation is done.
RESULT
I had a big issue to get the ICY Dock enclosure to run HD Tach with the Western Digital hard drive on my Intel X38 based motherboard (Gigabyte EX38-DS4). So, I switched the system EVGA 790i board which has onboard eSATA port using JMICRON JMB362 controller.
HD Tach 3.0.1.0
| | | |
| --- | --- | --- |
|   | HornetTek Hover (USB) | ICY Dock (USB) |
| Random Access  | 12.6 ms | 12.6 ms |
| Burst Speed  | 35.3 MB/s | 35.3 MB/s |
| Average Read  | 34.0 MB/s | 33.8 MB/s |
| Average Write | 31.7 MB/s | 29.8 MB/s |
| | 2 % | 3 % |
USB performance is up to what we would expect with any external enclosure. The Hover seems to have a slightly better average read and write than the ICY Dock enclosure.
| | | | |
| --- | --- | --- | --- |
|   | Internal | HornetTek Hover (eSATA) | ICY Dock (eSATA) |
| Random Access  | 12.8 ms | 12.8 ms | 12.9 |
| Burst Speed  | 131.3 MB/s | 124.8 MB/s | 133.2 |
| Average Read  | 64.9 MB/s | 64.9 MB/s | 65.0 |
| Average Write | 50.3 | 51.6 MB/s | 50.7 |
| | 18% | 17 % | 14 |
Although the JMICROM controller officially supports SATA II, it seems that with eSATA the port only runs at 150MB/s as oppose to the 300MB/s. Looking at the two enclosures and with the hard drive connected directly to the motherboard's SATA port (again using the JMICRON controller), we can see that that HornetTek's enclosure has a tad slower burst rate. However, its average write is higher than the ICY Dock enclosure and also when the hard drive is connected to the onboard SATA port.
| | | |
| --- | --- | --- |
|   | HornetTek Hover | ICY Dock |
| Idle | 29°C | 33°C |
| Load | 34°C | 40°C |
Clearly, the two 50mm fans on either side of the enclosure for the Hover work very efficiently in keeping the hard drive running cool. They are able to keep the hard drive running at 34°C under load, which is an excellent temperature for hard drives, especially if you consider that often the external enclosure usually lacks an efficient way in keeping the drive cool.
NOISE LEVEL
The noise level for the Hover is a bit loud unfortunately. Because the enclosure lacks any fan speed control there is no way to turn down the noise. You won't be able to turn the fan off either. The noise will definitely bother some people. I feel that it is, in fact, louder than my system running at idle. This can easily be fixed by a simple fan switch or by providing a fan controller. It's not that we do not appreciate the superior cooling of the fans, we would still prefer to have a tad quieter drive, especially if it may be placed in a quiet environment.
CONCLUSION
The HornetTek Hover is a well thought and well designed external 3.5 enclosure. Let us forget about its futuristic looks and simply look at the basics first. In my opinion, external enclosures should be constructed with strong material to protect the hard drive. The enclosure should also stand firmly on a desktop without any wobbling. Finally, it should have enough ports and be able to keep the hard drive running cool. The HornetTek Hover has achieved all of these basic requirements for an external hard drive enclosure.
Our most favorite feature of the Hover is the cleverness of its fans placement. By having two fans at the top and the bottom of the hard drive blowing cool air directly to the hard drive, it is able to keep the hard drive running cooler than what we have seen in many external enclosures. Although the fan placement makes the enclosure slightly bulkier and also prevents users from stack them up, it is nonetheless a much appreciated design.
We would appreciate if HornetTek would make the installation completely tool-less by incorporating a lock mechanism for the side bar. Also, a slightly longer power cable would have been nice. We would also like to see the enclosure to have a key lock and maybe a cable management feature as well.
What the HornetTek is able to with the Hover is to maintain meet and exceed the basic requirement of an enclosure but also adds a touch of flare with the futuristic race-car look design. The exterior aesthetic is the added bonus for those who may enjoy an enclosure with more personality and looks.
The HornetTek Hover can currently be purchased as bare enclosure from goHardDrive.com at $39.99 or Performance-PC at $129.95 with 1TB hard drive. Its price is comparable to other manufacturer's 3.5 eSATA enclosures. I am sure that if you do decide to purchase this unit, you would sure come to appreciate it's stylish looks and excellent cooling performance.
We are trying out a new addition to our scoring system to provide additional feedback beyond a flat score. Please note that the final score isn't an aggregate average of the new rating system.
Performance 9
Value  9
Quality 9
Warranty 9
Features 9
Innovation 10
Pros:
+ Great looking
+ Excellent Cooling Performance 
+ Good build quality
+ Easy installation
+ 500GB platters
+ Great performance in multi-tasking environment
+ Fast turn around time
Cons:
–  Power cable is a bit short
–  Fan is a tad loud
–  Cannot be stacked
–  Not completely tool-less 
 
Final Score: 9.0 out of 10 and the Bjorn3d.com coveted Bjorn3D's Seal of Approval.