Bjorn3D is here to show you guys the top offering in cases from NZXT. Their Khaos chassis comes with 3mm thick aluminum, water cooling support, a fold-out motherboard tray and more fan placements then ever before. The question is; Does it look as good in real life as it does on paper? Click through to find out.
INTRODUCTION
As PCs found their way into more homes, they quickly became a staple of modern life. And like most things in modern life, what worked yesterday won't work today. This not only includes components like faster CPUs and video cards, but also fancier cases and enclosures. People grew tired of the cookie cutter beige box and wanted to express themselves through radical looking cases. Once manufacturers began to take notice and it was only a matter of time before every enthusiast was given a sea of choices when it came to picking a suitable chassis. Whether you wanted a full tower, mid-tower, or HTPC, you had plenty to pick from. Side-panel or no side panel? It's all good. Even color was no longer restricted to just beige, black or silver.
Without further ado, I present you the NZXT Khaos. A full size tower chassis that is determined to take its own path. Read on to see if this case is worthy of your next build.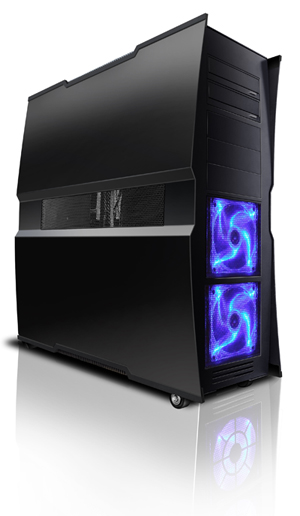 SPECIFICATIONS
Looking at the specs of the NZXT Khaos gives us our first hint that this may not be your ordinary full tower chassis. With more fan placements than you can shake a stick at, the least of your worries will be keeping your precious components cool.
NZXT Khaos

Model
Khaos Series
Case Type
Full Tower
Front Panel Material
3mm Aluminum
Dimensions
(W x H x D)
225 x 612 x 597 mm
(9 x 24 x 23.5 in.)
Cooling System
FRONT: 2 x 120mm Blue LED fan (included)
REAR: 1 x 120mm fan (included)
MID: 3 x 120mm fan
TOP: 1 x 140mm fan (included)
Drive bays
11 Total
5 – External 5.25″ DRIVE BAYS ( up to 11 5.25″ )
1 – 3.5″ External bracket
8 – Internal 3.5″ DRIVE BAYS
Material(s)
Aluminum construction
Expansion Slots
7
Weight
15.7 KG (34.6 lbs)
Motherboard Support
ATX, MICRO-ATX, BABY AT
EXTERNAL VIEW
With most products we review here at Bjorn3D, we start with the packaging. This may seem trivial to most of you until you stop and think about it. What good would the fastest video card be if it consistently arrived with broken capacitors or some other damage from shipping? Thankfully, most of the companies we deal with take this aspect seriously and employ measures to ensure the safe delivery of your new item. NZXT is no different, boxing up this behemoth in the stiffest styrofoam padding after wrapping it in a protective plastic cover.
These are the sort of measures I like to see when I am purchasing any piece of expensive computer hardware, and it starts off this review on the right foot.
Click a picture to see a larger view
---
---
Turning our attention to the outside of the Khaos we clearly see a case that is designed to stand out. Whether you like the design or not, credit must be given to NZXT for going with a non-traditional design for this case.
Looking a bit more closely, we can see the two top drive bays have optical covers, which are intended to conceal the actual drive. This serves to keep the look of the case consistent, which would otherwise be broken if you inserted an optical drive of a different color.
The rear of the case is where the fun starts. The Khaos has the usual assortment of outlets for tubing should you go the route of water cooling; it has a placement for a 120mm fan, which is thankfully included, and then at the bottom we see something we are not used to seeing: an accommodation for an extra PSU. That's right, this case can support two ATX power supplies. Some of the typical scenarios included having redundant PSUs if you run a server or if you decide to use a second, lesser power supply to power your video cards with the main unit powering everything else. If you are wondering how running two power supplies would work, NZXT is one step ahead and included a special 24-pin cable that allows you to run two PSUs in tandem from one motherboard.
Click a picture to see a larger view
---
---
Looking at the side of the case gives us a better picture of its shape. The side panel is curved, with a bevel in the middle that houses a grill. This grill serves to let in fresh air right where your video card would sit. Given how hot modern day GPUs have gotten, this is a very thoughtful inclusion.
The top of the Khaos continues the sleek, non-traditional design of the case. We also see the 140mm fan grill at the rear of the case. This fan pushed a lot of air without a lot of noise. Just be sure you don't block this area by accident, or temperatures inside the case will suffer.
Mouse over a picture to see a larger view
---
---
INTERNAL VIEW
Our first look inside the Khaos shows us how NZXT created different thermal zones for the various components of your PC. This is a very thoughtful design since most people who would own a case like this would likely install high-end equipment in it sooner or later. Also, because of this high-end equipment, you could expect a larger than normal amount of heat output, and the Khaos' design serves to separate one area's heat output from the next.
In our next image we see a unique method for dealing with airflow inside a case. NZXT includes a triple 120mm fan bracket that allows you to install any fan of your choosing. This allows for increased cooling without the need for a lot of noise by using quiet mid-flow fans. It is an interesting approach and one I intend to investigate further.
Click a picture to see a larger view
---
---
Looking closer at the main area of the chassis, we see a cutout for routing cables from the PSU and an axle to rotate the motherboard tray downward. Though not entirely removable, this design should still serve to ease the process of installing a system inside the Khaos.
Our next picture shows us the motherboard tray in its folded position. To open the tray you are required to remove a number of screws from the rear of the case as well as the side of the case above the tray. Also shown are the holes for water cooling tubes should you prefer to go the wet route.
Click a picture to see a larger view
---
---
Overall, I would say the inside of the NZXT Khaos looks and feels a bit cramped even before I start installing parts. Also, if you look closely at the interior images, you'll notice a large lack of cutouts around the inside of the case to help with cable routing. Lian Li is legendary for including these sorts of details that really come in handy to keep cable clutter to a minimum. Let's install a system in this thing and see where we get. Next page please.
INSTALLATION
To test how easy it is to install a system inside the Khaos, we are using basic components found in an enthusiast's PC.
We begin our installation with the drive cage. There are two drive cages included with the Khaos, and each cage can hold a maximum of four standard 3.5″ HDDs. I would not recommend this configuration though, as each hard drive would be very close to the others, and the increased levels of heat would shorten the life span of the drives. Even though each cage has a fan attached to it for cooling, a better design would have each cage hold three HDDs, which would provide ample room for airflow and reduce temperatures inside the cage.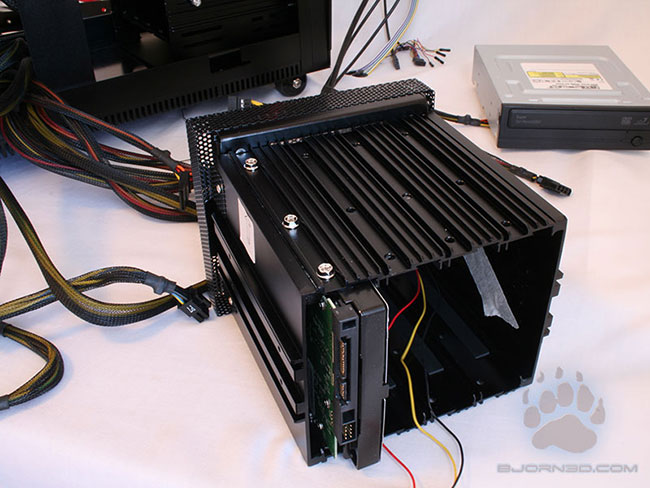 The hard drive cage contains four rubber strips on the inside wall on either side of the cage. This makes a total of eight strips (two per drive) that are designed to help dampen vibration from the disk drives. The major issue I had with the cage was reinstalling it after I loaded a hard drive into it. The rails on the inside of the Khaos allow for lots of wiggle room and I spent countless attempts trying to slip the cage back in, only to find out it was crooked by a fraction of an inch. NZXT needs to take a very close look at their method for lining up this disk cage and come up with something better.
Next we turn our attention to the triple fan bracket. This is one of those features that looks cool on the surface and may even provide some usefulness, but in the end is more trouble than it's worth, at least in its current design. The problem comes from the thin metal used in combination with the fittings designed to latch onto the mounting screws. Allow me to explain:
In the picture below we see the three holes that are used to mount the bracket to the frame of the case. The metal itself is too thin to be threaded for a screw, so inserts are used to provide something for the screws to latch onto. As you can see in the picture, the problem arises when you try to re-install the bracket after installing fans. The inserts fall out with such ease that I was unable to get them to stay in long enough to tighten the mounting screw.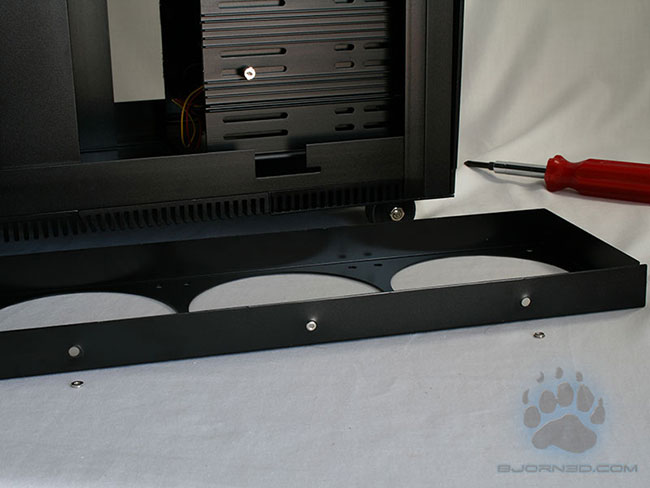 In the end only one insert stayed in long enough to have a screw tightened for installation. It is a very poor design and one that should not exist on a case costing as much as the Khaos. Worse yet, even after struggling to get all the inserts and screws installed in the bracket, it still wobbles with three fans installed. It rocks back and forth and further reinforces its cheap design. It also sits so close to the rear of the hard drive cage that I had to severely bend the power and data cables from the back of the drive to avoid hitting the fan blades (Shown in below image). In the end, this bracket does far more harm then good and should be thrown away.
Finally we come to the complete installation of our test system. The cabling situation is a problem in the Khaos due to its lack of cutouts on either side, and throughout the case, that would allow hiding of the cables. Here are two images to illustrate my point. These are taken from a Tagan A+ Black Pearl, which is a clone of a Lian-Li design.
These cut-outs provide a discrete location to route cables and keep the inside of your case clean, which ultimately provides better airflow.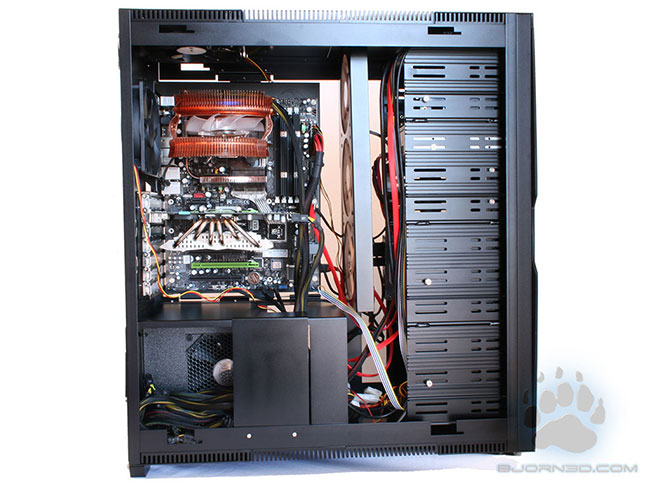 After installing a system inside the Khaos, the cable clutter and cramped space makes the inside look, well… like its in chaos. For $400 at the time of writing I would expect more – a lot more – for my money. The heavy duty aluminum used for construction is nice, giving the case a solid feel, but I can't help but think this is the only redeeming quality here.
Let's wrap this all up.
CONCLUSION
Today we took a look at the NZXT Khaos and its attempt to position itself as a high-end chassis for enthusiasts. This is not an easy undertaking by any means. Any time a component costs as much as this case does it demands a higher level of scrutiny. What am I getting for my money? Can this case outperform other cases for the additional cost? Does the case deserve its price premium? These are some of the questions you should ask yourself when looking at a high-end case like the Khaos. And while everyone will answer these questions a little differently, you must decide if you're getting your money's worth.
The NZXT Khaos does some things very well, like provide loads of fan placements and a system enclosure that keeps your PC quiet. The catch is that while nobody likes an overly noisy PC, this is not a case for a living room setting. Most enthusiasts will have a solid speaker setup where PC noise is less of a concern. This is where the case starts to lose its identity. As an expensive case I would expect more attention to details like cutouts for cable management, and generally more room inside the box. Installing disk drives should be a much smoother process than it currently is. The support for an extra power supply is nice, but I have to wonder how many people will find use in this feature. In the end I can't help but feel like the Khaos is a great mid-range case priced way out of its league. The case has lots of potential, and I certainly hope NZXT continues to tweak it, but as it stands right now, this is a hard sell.
Pros:
+  Included fans
+  Handle and wheels for easy transport
+  Motherboard tray folds out
+  Good sound dampening features
Cons:
–  Too expensive
–  Too small inside
–  Triple fan bracket feels cheap
–  HDD cage clumsy to work with
–  Radical design not for everyone
–  No cable management features.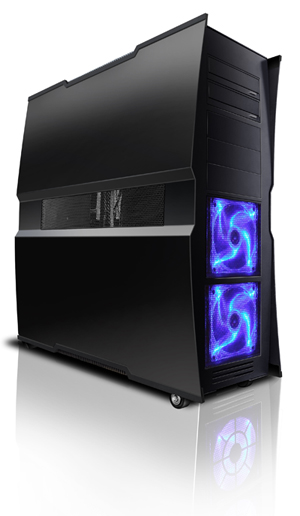 Final score: The KHAOS from NZXT scores an 6.0 (Pretty Good) out of 10