This article includes a brief overview and some benchmarks for Intel's latest desktop offerings – the 945G Express chipset, Pentium 4 Processor 670 (3.8GHz, 2MB L2), and dual-core Pentium D Processor 820. Check it out!
INTRODUCTION
---
Focusing on the enthusiast and high-end workstation markets, Intel started its multi-core desktop campaign last month by introducing the 955X Express chipset and Pentium Processor Extreme Edition dual-core CPU. Today's release is aimed at the mainstream market, though. The new mainstream chipsets are the 945G Express Chipset and 945P Express Chipset (the 'G' variant providing onboard graphics), and the three new mainstream dual-core processors are the Pentium D Processor 820, 830 and 840, which run at 2.8GHz, 3.0GHz and 3.2GHz, respectively. One of the big differences between the Pentium D line and the Pentium Extreme Edition dual-core CPU is that the Pentium D processors do not support Hyper-Threading.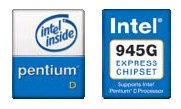 The single core Pentium 4 Processor line is also getting attention today with the release of the Pentium 4 Processor 670, the fastest (at 3.8GHz) and latest in the 600 sequence of processors. This is an 800MHz FSB processor with 2MB L2 cache and Hyper-Threading support.

"Why do we have these two new platforms (945 and 955X)?" you ask. Well, even though Intel's first generation dual-core processors are designed for the current LGA775 socket, they are not compatible with the current LGA775 Intel chipsets — 915 and 925. Therefore, they are necessary. It is also worth noting that the 945 Express chipsets do not support the aforementioned dual-core Pentium Processor Extreme Edition.
Those of you who are skeptical about the need or usefulness of multiple cores on one processor should know that Intel is working hard to get more application programmers to write or update code so that software will fully take advantage of multi-core CPUs. In this article, I will not spend a lot of time on the multi-threaded type of benchmarks/applications that multi-core processors really like. Instead, I'm going to run through the usual set of benchmarks I use to see what kind of performance we can expect from the 2.8GHz Pentium D 820 and 3.8GHz Pentium 4 670 on the 945G platform.
FEATURES & SPECIFICATIONS – 945G EXPRESS
---
Intel® D945GTPLR Motherboard – 945G Express Chipset with ICH7R
I/O Controller Hub 7 (ICH7R)
Intel LGA775 socket processors, including the new Pentium® D processors (Intel® 945G Express chipset does not support the dual-core Pentium® processor Extreme Edition)
1066, 800, and 533 MHz Front Side Bus speeds
DDR2-667 / -533 / -400 main memory
Delivers up to 10.7 GB/s of bandwidth and 4 GB memory addressability for faster system responsiveness and support of 64-bit computing.
Intel® Flex Memory Technology
Facilitates easier upgrades by allowing different memory sizes to be populated and remain in dual-channel mode.
PCI Express* x16 graphics connection
4 GB total dual channel main memory
Serial ATA ports (3 Gbps)
High-speed storage interface supports faster transfer rate for improved data access.
Intel® Matrix Storage Technology supporting Advanced Host Controller Interface (AHCI)
Provides quicker access to digital photo, video and business files with RAID 0, 5, and 10, and protection against data loss from a hard disk drive failure with RAID 1, 5, and 10.
PCI Express x1 connection
PCI connections
Intel® Pro/1000 PM Network Connection
Intel® Graphics Media Acclerator 950
Delivers richer visual color and picture clarity without the need for additional discrete graphics cards.
Intel® High Definition Audio
Integrated audio support enables premium home theater sound and delivers advanced features such as multiple audio streams and jack re-tasking. The Dolby* PC Entertainment Experience6 is available exclusively on systems with Intel® High Definition Audio.
Intel® Active Management Technology
Enables remote, down-the-wire management of out-of-band networked systems regardless of system state. Helps improve IT efficiency, asset management and system security and availability.
With DDR2-667 and second generation SATA support, the 945 chipsets are definitely built with the future in mind. The 945G Express Chipset features the improved Graphics Media Accelerator 950, which very well could make this chipset a home theater PC favorite with its improved DirectX 9.0 3D performance and support for high-definition video playback and output to either 720p or 1080i resolutions. The argument for a good media platform is strengthened by the Intel High Definition Audio offered on this platform. Intel's HD Audio promises to deliver top-notch home theater sound with advanced features like multiple audio streams and jack re-tasking.
Other features of note include the gigabit Intel Pro onboard network connection, Intel Matrix Storage Technology and Intel Flex Memory Technology. Fortunately, Matrix Storage now supports RAID 5, which requires three hard drives and provides redundancy and excellent performance. Gone are the days that you had to use same-size memory modules for dual-channel operation thanks to Intel's Flex Memory Technology, which allows different sized DIMMs to be populated and still remain in dual-channel mode.
In case, you are wondering how the enthusiast-oriented 955X Express Chipset compares to the new, mainstream-targeted 945G Express and 945P Express Chipsets, I prepared a table that show you. I highlighted the key differences with red boxes.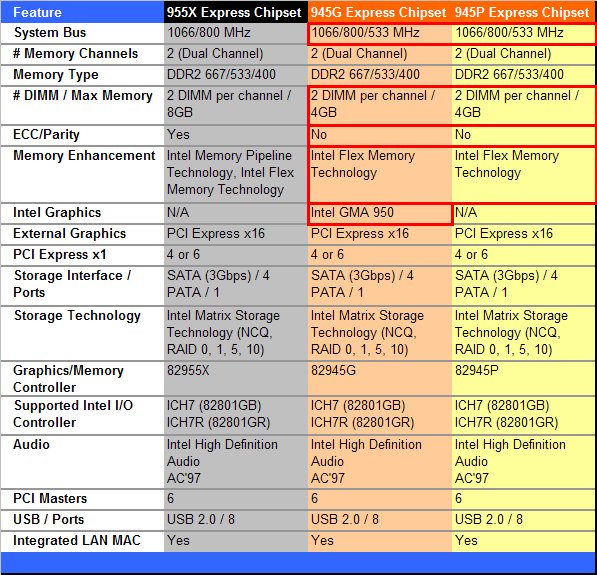 You can see that the only way the 945G differs from the 945P is the inclusion of onboard graphics in the form of Intel GMA 950. Based on that fact, you can assume that the two chipsets will perform relatively the same.
FEATURES & SPECIFICATIONS – PENTIUM D 820 & PENTIUM 4 670 
---
Intel® Pentium® D Processor 820
The Pentium D Processor 820 a 2.80GHz dual execution core processor that supports an 800 MHz FSB and features two 1MB L2 caches – one per core. You probably noted in the introduction that this is the slowest processor in the Pentium D line. The 830 and 840 are clocked at 3.0GHz and 3.2GHz, respectively. Here's a little blurb from Intel about the Pentium D line of CPUs.
Intel's new digital home platform couples the Intel® Pentium® D processor with the Intel® 945G Express Chipset to enhance the digital experience in the home and make the most of consumers' digital lifestyles. The Intel Pentium D Processor 840, 830, and 820 are Intel's first mainstream dual core processors for desktop PC market segments and bring new capabilities allowing consumers the flexibility and performance to run multiple demanding applications simultaneously. Intel Pentium D processors with two processing cores also bring new computing capabilities to the desktop by allowing multiple users to enjoy a simultaneous computing experience, even from different rooms in the house.

Intel continues to work with the software industry to expand the number of applications that are multi-threaded or work well in multitasking environments.
Here is a quick look at the specs of the Pentium D line of processors.
 
Intel® Pentium® D Processor
Processor Name
Architecture
Cache
Clock Speed
Front Side Bus
Intel® Pentium® D processor 820
90 nm, LGA775
2x1MB L2
2.80 GHz
800 MHz
Intel® Pentium® D processor 830
90 nm, LGA775
2x1MB L2
3.00 GHz
800 MHz
Intel® Pentium® D processor 840
90 nm, LGA775
2x1MB L2
3.20 GHz
800 MHz
Intel® Pentium® 4 Processor 670
The Pentium 4 670 is the new king of the P4 lineup with its 3.80GHz single execution core processor that features Hyper-Threading Technology, an 800 MHz FSB, and a 2MB L2 cache. Clawing at the 4.0GHz mark, the 670 will initially have a very large price tag since it will be the new top P4 chip. Several noteworthy features of the 6xx processors are 2MB L2 cache, Intel® Extended Memory 64 Technology (EM64T) (64-bit computing support), and Enhanced Intel SpeedStep® technology (EIST). Here's a little info from Intel regardin the Pentium 4 670.
The Intel Pentium 4 Processor 670 is the newest processor in the 600 sequence, bringing the highest frequency with a robust 2MB of L2 cache memory for the mainstream user. The 2MB of L2 cache provides the performance and responsiveness for users' demanding creation needs. The Intel 945 Express Chipset family delivers new levels of performance and advanced features for mainstream desktop market segments. Also, the 64-bit computing gives headroom for the future.

Enhanced Intel SpeedStep® technology (EIST) is not supported in the Intel Pentium D processor 820 but is supported for the Intel Pentium 4 processor 670. (Note: The Pentium D 830 and 840 do support EIST.)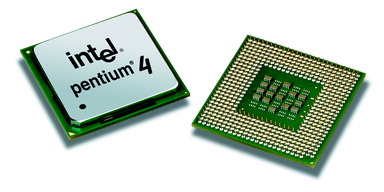 Intel® Pentium® 4 Processor supporting Hyper-Threading Technology
Processor Name
Architecture
Cache
Clock Speed
Front Side Bus
Intel® Pentium® 4 processor 670 supporting Hyper-Threading Technology
90 nm, LGA775
2MB L2
3.80 GHz
800 MHz
The Enhanced Intel SpeedStep® technology (EIST) was first introduced in Intel's mobile and server platforms. The purpose of EIST to reduce power consumption and decrease heat production, and this is accomplished by allowing the system to dynamically adjust processor voltage and frequency. The Pentium 4 6xx series are the first desktop processors to feature EIST. You can read more about it here
Comparison – Features
With both of these lines of processors you will see two CPU graphs if you go into Windows Task Manager and look at the Performance tab. The Pentium D shows up as two because of its two cores while the Pentium 4 with HT Technology shows up as two because of HyperThreading, which basically adds a "virtual processor."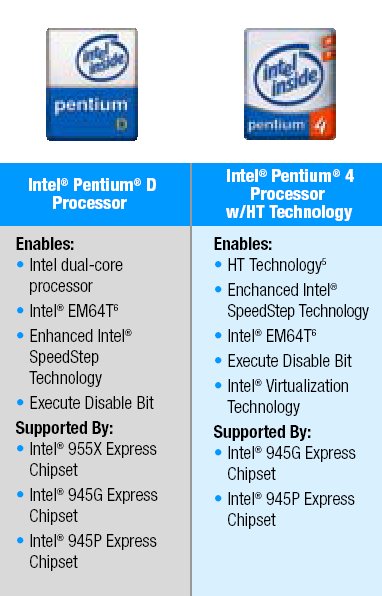 TEST SYSTEMS & BENCHMARKS
---
For article, I decided to add my 945G, P4 670 and PD 820 results to the results I recently obtained for our NVIDIA nForce4 SLI Intel Edition article. It is important to note that all of the Intel products (the D945GTPLR 945G Express motherboard, P4 670 CPU and PD 820 CPU) tested are pre-production samples, which means the actual retail performance may vary slightly.
You can see all of the test systems below. I think you'll see that the comparison between the four main setups (945G + P4 670, 945G + PD 820, NF4 SLI Intel + P4 560, and 925X + P4 560) proves to be an interesting one.
Test Systems
Intel 945G Express (D945GTPLR) Reference Configuration

CPU 1: Intel Pentium 4 670 (3.8GHz)
CPU 2: Intel Pentium D 820 (2.8GHz dual core)
Reference 945G Express (D945GTPLR)
1GB Corsair 675MHz DDR2 (Twin2X1024-5400C4PRO)
Video 1: NVIDIA Reference PCI Express GeForce 6800 GT – DirectX 9.0c, ForceWare 71.89
Video 2: Onboard Intel GMA 950 – DirectX 9.0c
120GB DiamondMax9+ SATA Hard Drive w/ 8MB Buffer
Windows XP with Service Pack 2
FSB = 800MHz (QDR)
Memory = 667MHz (DDR)

nForce4 SLI Intel Edition Reference Configuration

Intel Pentium 4 560 (3.6GHz)
Reference nForce4 SLI Intel Edition – 7.02 nForce driver package
1GB 675MHz Corsair DDR2 (2 x CM2X512A-5400UL)
2 x NVIDIA Reference PCI Express GeForce 6800 GT – DirectX 9.0c, ForceWare 71.84
74GB Western Digital 10k Raptor SATA Hard Drive
Windows XP with Service Pack 2
FSB = 800MHz (QDR)
Memory = 667MHz (DDR)

ABIT AA8 DuraMAX 925X Configuration

Intel Pentium 4 560 (3.6GHz )
ABIT AA8 DuraMAX
1GB Corsair Twin2X1024-5400 PRO DDR2
NVIDIA Reference PCI Express GeForce 6800 GT – DirectX 9.0c, ForceWare 66.93
2 x 120GB DiamondMax9+ SATA Hard Drive w/ 8MB Buffer
Windows XP with Service Pack 2
FSB = 800MHz (QDR)
Memory = 533MHz (DDR)
Benchmarks
FutureMark PCMark2004 v130
SiSoftware Sandra 2005 SR1

CPU Arithmetic
CPU Multi-Media
Memory Bandwidth
File System

Super PI
POV-Ray 3.6
HD Tach 3
ABBYY FineReader 7.0 Professional
FutureMark 3DMark03 v360
FutureMark 3DMark05 v120
AquaMark3
BENCHMARKS – PCMARK04, SANDRA 2005
---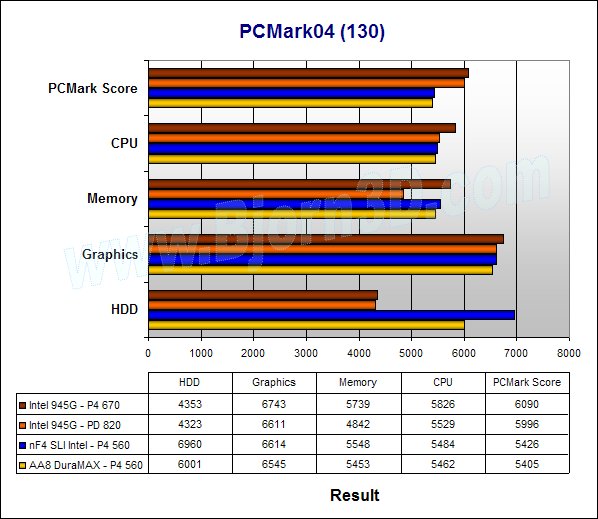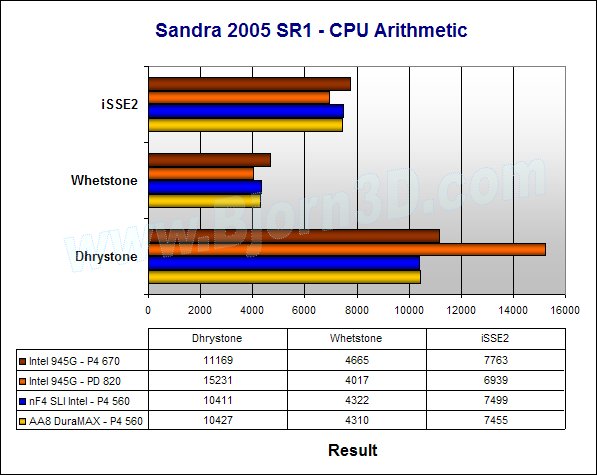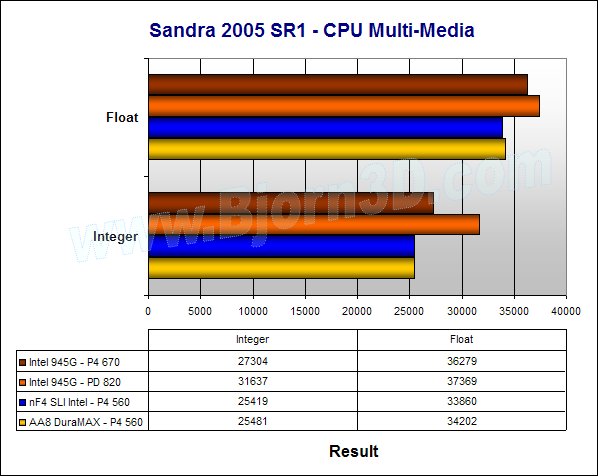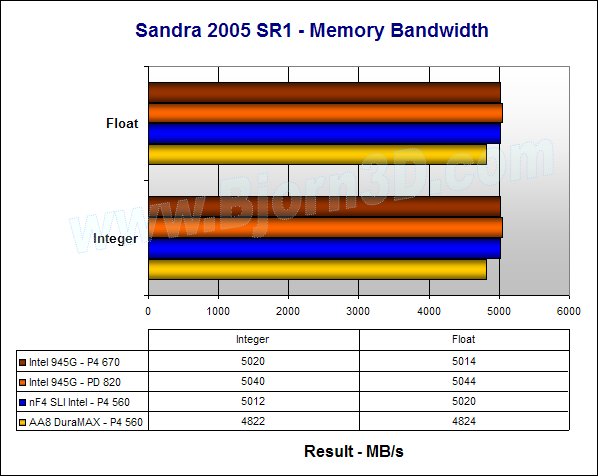 BENCHMARKS – SUPER PI, POV-RAY, ABBYY FINEREADER, FILE SYSTEM
---
Super PI and POV-Ray
The Super PI benchmark calculates the number pi out to a specified number of digits. I selected the highest option, 32 million. This benchmark really tests the CPU more than anything, but it doesn't seem to take advantage of the second core on the Pentium D 820. Lower time is better.
Super PI – 32M

Mobo – CPU
Result

Intel 945G – PD 820

37 min 56 sec

Intel 945G – P4 670

29 min 47 sec

nF4 SLI Intel – P4 560

30 min 13 sec

AA8 DuraMAX – P4 560

30 min 14 sec
Another CPU-intensive benchmark that I ran is POV-Ray 3.6 (Persistence of Vision Ray-Tracer). POV-Ray is a freely available tool that can be used for ray-tracing, and it has a built-in benchmark capability, which is what I used for this comparison. You can see from the results that it isn't designed to take advantage of a dual-core CPU. Higher score is better.
POV-Ray 3.6

Mobo – CPU
Result

Intel 945G – PD 820

69.66 PPS

Intel 945G – P4 670

92.39 PPS

nF4 SLI Intel – P4 560

102.79 PPS

AA8 DuraMAX – P4 560

94.80 PPS
ABBYY FineReader 7.0
The tests with ABBYY FineReader 7.0 were performed to see the benefits of multi-core processors versus single core silicon. In a software evaluation guide, Intel describes FineReader as such:
"ABBYY FineReader 7.0 software is an industry leading application used for document recognition and conversion. This optical character recogntion (OCR) product delivers the capability to convert static documents and images into editable and searchable electronic files. As a demanding processor intensive program, FineReader 7.0 achieves an exceptional level of performance and responsiveness when run on a multiple core processor. This heightened level of productivity is ideal for people needing to repurpose, convert, and edit a variety of paper and electronic files – including magazines, newsprint, faxes, copies, and any document with textured backgrounds, complex layouts, or degraded quality. The FineReader 7.0 application powered by a multiple core processor delivers blazing productivity for all your document recognition needs."
A typical use of FineReader is to scan a PDF document and convert it into a fully editable and searchable document. I used two different PDFs in my testing and manually timed how long it took for FineReader to read each page of the document. Test 1 was a 22-page 700KB technical brief while Test 2 consisted of a 54-page 1.2MB technical article. Here are the results in seconds (lower is of course better).
ABBYY FineReader 7.0

Mobo – CPU
Test 1
Test 2

Intel 945G – PD 820

26.04 sec

120.25 sec

Intel 945G – P4 670

40.84 sec

139.49 sec
Here you can see that the dual-core design of the Pentium D 820 more than makes up for its lower 2.8GHz frequency compared to the 3.8GHz of the Pentium 4 670.
File System – Sandra 2005 and HD Tach
Because the systems are using totally different hard drives, I'm only including the Intel 945G results here since the comparison isn't relevant or appropriate. Recall that with setup I only used a single SATA drive.
Sandra 2005 File System

Result

44 MB/s
HD Tach 3

Average Read

48.7 MB/s

Burst Speed

120.1 MB/s

Access Time

14.6 ms
BENCHMARKS – 3DMARK03, 3DMARK05, AQUAMARK3
---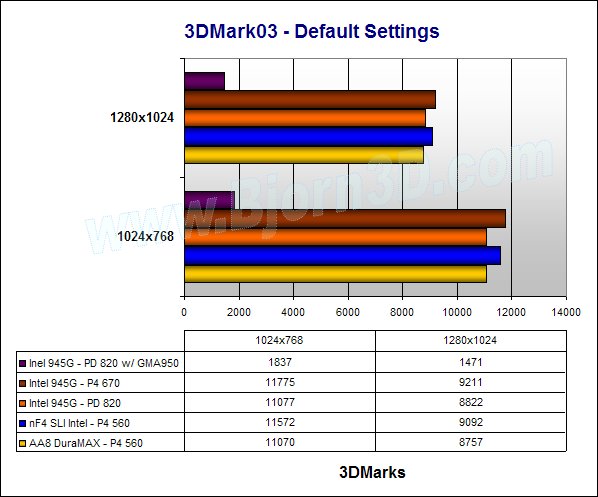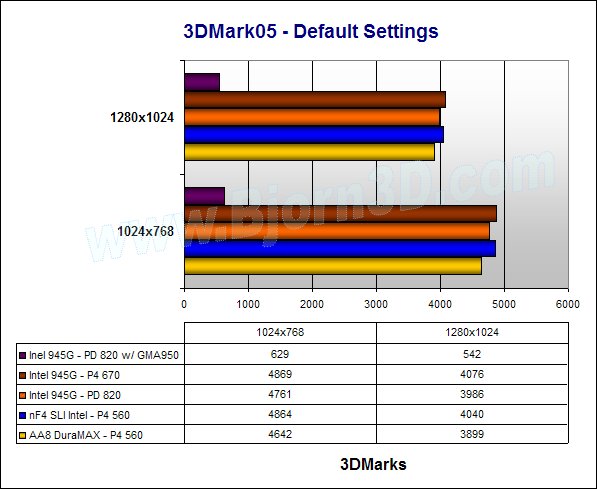 PRICING
---
Here are the initial pricing numbers. These are from Intel so you can trust them.
Pricing (per chip in 1000-unit quantities)

Pentium D Processor 840

$530

Pentium D Processor 830

$316

Pentium D Processor 820

$241

Pentium 4 Processor 670

$851

945G Express Chipset

$42

945P Express Chipset

$38
Considering the 200MHz difference between the 840 and 830, many people will be scratching their heads at the huge price gap in between these two CPUs. This is always the case though – the top processor in a sequence is always considerably higher than the next processor down. It's the same with the P4 670, which will cost much more than the 660.
CONCLUSION
---
With great features like Matrix Storage Technology with support for RAID 5, Flex Memory Technology, High Definition Audio and Graphics Media Acclerator 950 in the case of the 945G, the 945 Express chipsets have a lot of potential. It's quite easy to see how a 945G Express board could become the foundation of a media PC build, and with support for dual-core processors, it's exciting to think about the ability to support a multi-room media PC environment. I think the system builders are going to love this all-in-one high quality solution.
More benchmarks are in order to really see how well these new processors perform, but from the tests I ran, I was surprised by the Pentium D 820. I thought that it would fall behind in many of the benchmarks because of its lower frequency, but it held pretty solid ground and put up some impressive numbers more than a couple times. It was especially interesting for me to see just how much better the Pentium D 820 performed than the Pentium 4 670 in the ABBYY FineReader 7.0 tests. To some, 15-20 seconds might not seem like a lot, but if you used applications like that day-in and day-out, then I'm sure you could really appreciate the increase in productivity and efficiency offered by the dual-core processors. Thankfully, the 820 comes in at an affordable price level.
In the week and a half that I've been testing the 945G platform and these two processors, I've grown very intrigued by the performance differences and the situations where dual-core is a better choice than a single-core processor. Like many of you, I am also quite curious about the gaming performance of the dual-core chips. I am still surprised that the 820 performed so well compared to the 670. With that said, you can bet I'll be doing some more testing, and when I get it done, you can read about it right here.