Considering the tremendous success and popularity of nForce4 SLI motherboards in the AMD world and NVIDIA's November announcement of partnering with Intel, it's no surprise to see the launch of the nForce4 SLI Intel Edition. Check out our look into the technology and preview of the performance.
INTRODUCTION
---
For a long time, it looked like NVIDIA was only going to have AMD chipsets, but last November, NVIDIA and Intel announced a partnership that enabled NVIDIA to release a motherboard chipset that supports Intel processors. For Intel fans wanting the great performance of nForce, the wait is now over. So what is the name of this new chipset? It is the nForce4 SLI Intel Edition.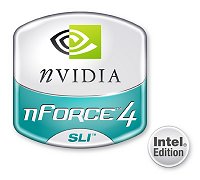 "Why not call it nForce5?" you ask. Well, NVIDIA feels that this set of platform processors (or chipset) are not different enough from the AMD version to warrant a new name. Once you start looking at the details, it's easy to understand why NVIDIA made this decision. There are only several major differences in the AMD and Intel nForce4 platforms. One of these differences is the use of two chips, an MCP and an SPP (much like nForce2 and synonymous with a traditional northbridge and southbridge), for the Intel Edition instead of a single chip as seen on the nForce3 and nForce4 AMD boards. Unlike AMD Athlon 64 processors, Intel's latest LGA775 Prescott processors do not feature an integrated memory controller. Hence, the need for a second platform processor, the SPP, with a memory controller.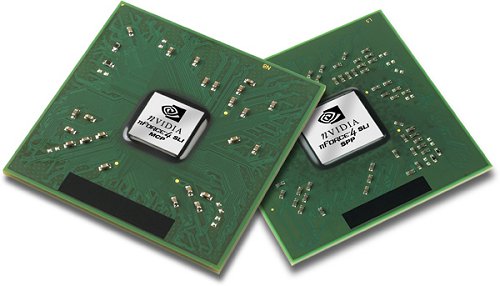 Like the Intel 925XE chipset, the nForce4 SLI Intel Edition will support a 1066MHz front side bus (FSB) and dual channel DDR2. As you would expect, the socket is Intel's latest, the LGA775. Additionally, the board supports NVIDIA's RAID and ActiveArmor firewall. One of the biggest impacts of this announcement and launch is the availability of SLI to Intel users. Now, AMD and Intel fans can enjoy the highest gaming performance available.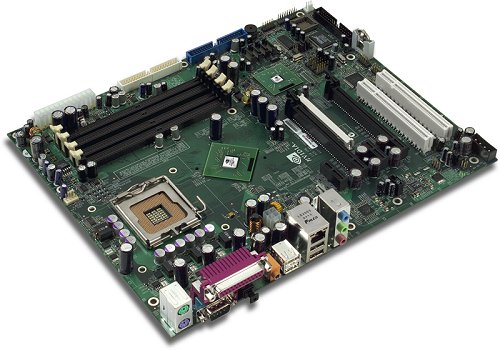 A couple of other nForce improvements that NVIDIA is promoting with this launch are MediaShield and the new version of nTune. MediaShield basically refers to NVIDIA's RAID storage solutions and its ease of use. Version 2.5 of nTune is aimed at making consumers' lives a little easier by automating some system tweaking. I'll go into more detail on all of this stuff in the following pages so be sure to read on to learn more about nForce4 SLI Intel Edition.
SPECIFICATIONS
---
Technical Specifications
NVIDIA nForce4 SLI Intel Edition
PERFORMANCE
Frontside Bus: Pentium 4 CPU Interface
2× address and 4× data

QDR (Quad Data Rate) support for 400 MT/s – 1066 MT/s (100MHz –266MHz FSB)
Theoretical maximum burst bandwidth of 8.5GB/s

Standard bus speeds up to 266MHz supported
36-bit addressing for access to 64GB of memory space
Dynamic Bus Inversion
Frontside bus (FSB) pipeline depth of 12 in-order queue depth
Hyper-Threading Technology support
Dual Channel DDR2 128-Bit Memory Interface
Two independent 64-bit memory controllers
Can also operate in ganged mode (as one 128-bit controller)
Support for 400 MT/s (200MHz), 533 MT/s (266MHz), and 667 MT/s (333 MHz) for a theoretical maximum bandwidth of 10.6 GB/s
Up to eight internal banks per DDR2 chip
Up to two DIMMs per controller for a maximum of four DIMM support

Separate 64-bit data bus per controller
Separate address and control bus per DIMM
Up to 16 GB using four 4-GB DIMMs

Supports synchronous and pseudo-synchronous operation with FSB
Supports un-buffered non-ECC DIMMs
Low power suspend-to-RAM (S3) support
Active and pre-charge power down
Support for SPD (Serial Presence Detect) scheme for DIMM detection and configuration
Power Management
Internal clock generator
Support for Pentium 4 performance states
Support for HyperTransport link lower power disconnected state
PCI Express L0s and L1 active link power management support and L2/L3 low power state support
Full ACPI 2.0 and PCI PM 1.1 support, including C2/C3, Power on Suspend,
Suspend to RAM, Suspend to Disk, and Soft-Off CPU power state support.
NETWORKING
Native Gigabit Ethernet technology
The fastest Gigabit Ethernet solution in the market
Supports 10/100/1000Base-T Ethernet
Advanced networking features
TCP segmentation offloads
Jumbo frames
Checksum offloads
Interrupt moderation
Traffic prioritization
Remote wake-up
Network management for easy set up, configuration, and monitoring
SECURITY
NVIDIA ActiveArmor™ Secure Networking Engine
Dedicated hardware engine
Enhances network security
Reduces CPU overhead
Powers and accelerates ActiveArmor Firewall
ActiveArmor™ Firewall technology
Industry's first true hardware-based firewall
Unmatched performance and protection

'instant-on' and tamper resistant

Advanced management features through user friendly interface

Remote access, configuration, monitoring
Command line interface (CLI)
Intelligent application management
STORAGE
NVIDIA MediaShield™ Storage
RAID 5 faster disk access with fault tolerance and optimized capacity
RAID 0 disk striping support for highest system and application performance
RAID 1 disk mirroring support for fault tolerance
RAID 0+1 disk striping and mirroring support for highest performance with fault tolerance
NVIDIA Disk Alert System provides a visual indication so users know exactly which SATA hard drive to replace during an array failure
Converting allows users to change the current state of an array to another using one single step without reboot of the PC
Cross Controller RAID uniquely supports both SATA and PATA disk devices within a single array
Serial ATA
Support for SATAII 3Gb/s and SATA 1.5Gb/s disk controller standards
Supports full Tagged Command Queuing (TCQ) and Native Command Queuing (NCQ)
Dual controller architecture
Two separate and independent controllers. Results in up to twice the bandwidth to disks
Four (4) integrated SATA 3Gb/s ports
Fast Ultra ATA-133 Disk Drive Controller
5V-tolerant primary and secondary channels, with support for up to four devices
Supports Ultra-DMA modes 6-0, DMA modes 2-0, and PIO modes 4-0
Industry-standard PCI bus master IDE register set
Separate independent IDE connections for 5V-tolerant primary and secondary interfaces
CONNECTIVITY
PCI Express Interface – SLI™
PCI Express high-performance, scalable interconnect. Rapidly being adopted by the PC industry; designed to replace the AGP and PCI interconnects currently in use.
A x16 PCI Express link has 4 times the total bandwidth of today's AGP 8X interface
x16 PCI Express link for high performance graphics cards featuring the latest Graphics Processors with DirectX 9.0 and Shader Model 3.0 support
Additional x1 PCI Express links for other add-in cards
Five independent PCI Express controllers with 20 total lanes that can be configured as follows:

One ×16 and four ×1 PCI Express lanes
Two ×8 and three ×1 PCI Express lanes (SLI Mode)

x16 controller can support isochronous data channel
Supports PME messages for power management
2.5 GHz support for a theoretical maximum bandwidth of 2.5Gb/s per lane per direction
USB 2.0
USB 2.0 Enhanced Host Controller Interface (EHCI) / USB 1.1 Open Host Controller Interface (OHCI)
Support for up to 10 ports
Supports transfer rates at high speed (480Mbps), full speed (12Mbps), and low speed (1.2Mbps)
Dynamically configures slower devices for best utilization of bandwidth
Allows USB concurrency
PCI Interface
Includes an arbiter that supports six external master PCI slots.
Features of the PCI interface include:

PCI 2.3-compliant, 5 V tolerant
Supports six external PCI slots at 33MHz
Supports five bus master arbitration
PCI master and slave interfaces
Supports both master-initiated and slave-initiated terminations
Bidirectional write posting support for concurrency
Flexible routing of all four PCI interrupts
Supports read ahead: memory read line (MRL) and memory read multiple (MRM)
AUDIO
AC '97 2.3 compliant interface
Supports 2, 4, 6, or 8-channel audio
Dual AC-Link – supports up to two codecs
Dual SPDIF – supports two simultaneous digital outputs; handles stereo PCM or AC-3 output
16-bit or 20-bit stereo, 48kHz output and 16-bit input streams across AC-Link
24-bit, 96kHz stereo output on the secondary SPDIF output
Supports input, output, and general purpose input/output channels for host-based modems
Separate independent functions for audio and modem
ARCHITECTURE and FEATURES
---
The nForce4 SLI Intel Edition utilizes two platform processors – the SPP (system platform processor) and the MCP (media and communications processor). The MCP is much like the single chip found on the AMD version of nForce4 Ultra/SLI boards. As I mentioned before, the common feature set shared by the AMD and now Intel nForce4 solution is what motivated NVIDIA to simply utilize the nForce4 name for this launch. The SPP is where NVIDIA really spent the most time and effort to optimize performance for the Intel nForce4. The SPP takes on the memory controller and PCI Express duties, as you can see in the diagram below. In between the MCP and SPP, we find the HyperTransport link.
NVIDIA nForce4 SLI Intel Edition Architecture Diagram
nForce4 SLI MCP

Support for 10 USB 2.0 ports
Support for 7.1 audio with S/PDIF
Support for 5 PCI slots
Support for 1 Gigabit Ethernet port
NVIDIA ActiveArmor

Full Gigabit Ethernet performance with NVIDIA Firewall protection
Dedicated hardware engine enhances networking security while reducing CPU overhead
Protects your PC from malicious spyware and hacker attacks
User-friendly interface offers advanced management features
Supports new Microsoft Longhorn TCP architecture

NVIDIA MediaShield Storage

Intelligent Disk Alert system simplifies troubleshooting
Dual-controller architecture delivers unmatched scalability and performance
Supports SATA 3Gb/s hard drives
Supports up to 4 SATA and 4 PATA drives simultaneously – RAID can span across SATA and PATA
Support for RAID 0, 1, 0+1, 5 & JBOD




nForce4 SLI SPP

Support for 1066MHz FSB and beyond
NVIDIA DualDDR2 architecture

High bandwidth, low latency interface for faster data access, up to 10.6GB/s memory bandwidth
128-bit Dual Channel DDR2-667MHz, designed to operate in 128-bit mode independent of DIMM configuration
Dedicated address bus for each DIMM reduces memory latency and provides extensive overclockability

High-performance PCI Express design
You can see that the nForce4 SLI MCP and SPP combine to create a very capable and feature-rich chipset. A welcome addition to the MCP is support for RAID 5. Some of you might be wondering about the audio. NVIDIA went with the same 7.1 audio as on the AMD nForce4 Ultra/SLI. Apparently, the demand for high definition audio (i.e. Azalia) is low, so adding to the cost of the board for something not high in demand made little sense to NVIDIA. Additionally, many hardcore enthusiasts will opt to install a dedicated PCI sound card and just disable any onboard sound.
MEDIASHIELD STORAGE
---
With its MediaShield storage solution, NVIDIA is looking to bring sophisticated storage features and capabilities to the average consumer while still offering robust performance and options for enthusiasts. The focus right now seems to be consumerizing the concepts of RAID and backing up data. In a nutshell, MediaShield is all about RAID and making RAID solutions easier to use and manage.
You might be wondering why NVIDIA feels this is necessary. Well, the fact is that more and more consumers are storing music, photos, videos and other personal files on their computers. Most people realize how important these files are to them, but they may not realize how easily they can be lost. Imagine losing $200 worth of MP3s or four years worth of digital photos of your baby growing up. MediaShield's goal is to allow the average consumer to take advantage of RAID, improved performance and data backups without ever having to understand any of the concepts. Can't you just imagine your mom running RAID 5 and not even knowing she's doing it!?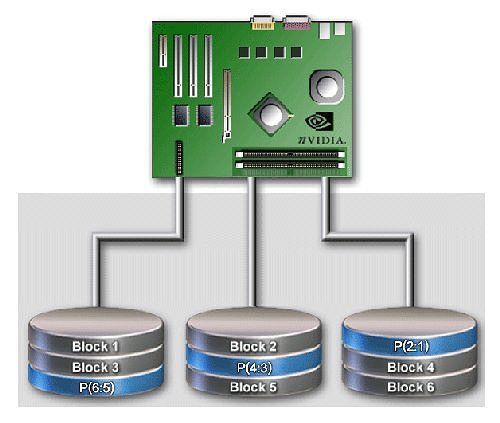 The most common RAID levels are RAID 0 (striping), RAID 1 (mirroring) and RAID 5 (striping with parity – see above image). I think it's important to note that while many people will loosely talk about RAID 1, RAID 0+1 and RAID 5 as providing a backup of data, this isn't the whole story. A separate and independent copy of important data, whether on tape, CD, disk or other media, is always preferable. Just imagine if you have a RAID 1 configuration, assuming that you are getting an "automatic backup" of your data all the time because of the mirroring that the controller is doing. While it is true that if one of your disks fails, your data is still safe because it is mirrored on the other disk in the RAID 1 array; it is also true that if you get a virus or suffer some sort of data corruption, this event will mirror across both disks. If files were destroyed, you really have no backup since the virus or corruption would have written to both disks. On the other hand, if you had a separate backup of the lost files, such as on a USB drive or external hard drive, then you could easily get those over to your main system after cleaning or fixing the problem. So, in short, don't let someone sell RAID to you as an end-all backup solution. It's really more for performance and/or fault tolerance.
With that said, let's briefly discuss the benefits of RAID 5, newly supported on the nForce4 SLI MCP. Until recently, RAID 5 was utilized almost exclusively in servers, massive storage arrays and high-end workstations, and it was not affordable at the consumer level. With storage being relatively cheap these days and considering that its one of the most popular RAID levels in the industry, it really does make a lot of sense to bring RAID 5 to the consumer level. While RAID 0 provides increased performance and RAID 1 provides a copy, RAID 5 improves disk performance and provides fault tolerance. This level of RAID requires a minimum of three hard drives.
In addition to RAID 5 support, MediaShield features a dual-controller architecture instead of the industry-standard single-controller architecture. As you might expect, the advantage of a dual-controller architecture is that it provides two separate and indepedent transfer paths to and from system memory, which can result in twice the bandwidth to disk. We'll have to explore this in more depth in the near future to see how much real-world benefit we really see from this architecture design.

NVIDIA's MediaShield Storage solution also boasts the following features:
Serial ATA 3Gb/s (SATA2) Support
Support for up to four native SATA2 3Gb/s devices.
Hot-swap capability, allowing disks to be changed without powering down the system.
Optimization for the high-performance MediaShield storage RAID technology.
Native Command Queuing (NCQ) Support
NCQ is a SATA command protocol that allows multiple commands to be simultaneously outstanding within a drive.
Helps overcome mechanical limitations and increases storage performance on random workloads by allowing the drive to internally optimize the order of commands.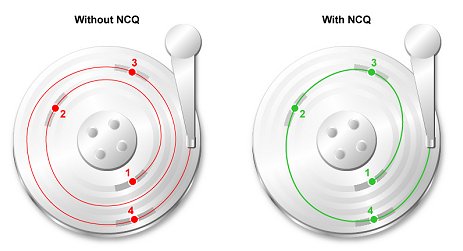 Disk Alert System
Facilitates identification of failed disks in an array.
An alert displays an image of the system motherboard and highlights the failing port so you know exactly which drive to replace.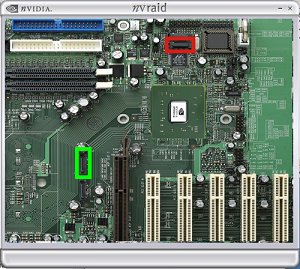 Spare Disk Allocation
Offers even more protection for your data.
A dedicated spare drive can be configured as a hot standby and can take over for a failed disk until the repair is completed.
Morphing
Allows users to change the current state of the disk or array to another with a one-step process.
Lets users upgrade their current disk or array for more performance, higher security and higher capacity.
Cross-Controller RAID
Supports Serial ATA and parallel ATA disk devices within a single multidisk (RAID) array.
Single setup procedure applies to all drives.
Intuitive User Interface
Point-and-click operations lead users through the steps to specifiy which disks to configure in an array, turn on striping and build mirroring volumes.
Configuration changes can be quickly and easily carried out at any time, using the same interface.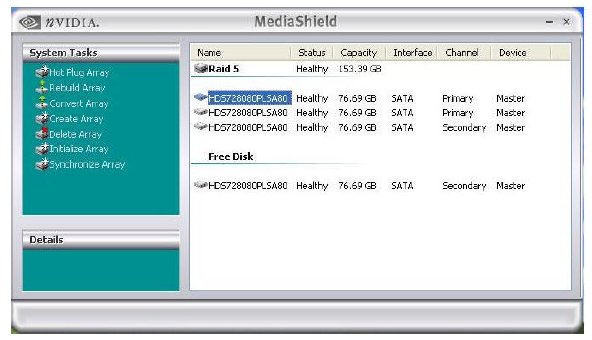 DUALDDR2 MEMORY CONTROLLER
---
As you already know and unlike AMD's Athlon 64 CPUs, Intel's Pentium 4 Prescott processors do not feature an integrated memory controller. Because of this, NVIDIA's engineers were required to design a memory controller for the nForce4 SLI Intel Edition mainboards. With their focus on maximizing system performance, the designers developed a number of innovative features for the DDR2 memory controller, which resides in the SPP chip.
Memory Controller Features
DualDDR2 memory architecture
High-speed DDR2 memory support
Dedicated address and command bus per DIMM
Efficient bus utilization
NVIDIA dynamic adaptive speculative preprocessor (DASP) 3.0
NVIDIA QuickSync™ technology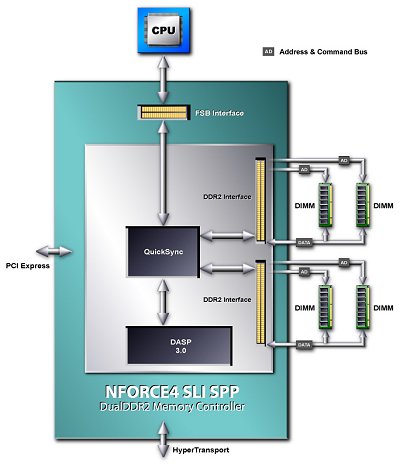 NVIDIA introduced its dynamic adaptive speculative preprocessor (DASP) when it launched the original nForce IGP and SPP. Then, the more sophisticated DASP 2.0 was introduced with nForce2. Now, with the nForce4 SLI Intel Edition, NVIDIA overhauled the prefetcher to create DASP 3.0. I don't want to get too technical in this article, so I won't get into the details about the technology. Basically, the DASP 3.0 is an integrated preprocessor that reduces system latency and helps to maximize performance. DASP is one of the many extra steps that NVIDIA takes to offer the best performance possible.
Another step NVIDIA has taken to maximize performance is the development of its patent-pending QuickSync synchronization technology, which transfers memory requests and data between the FSB (front-side bus) and memory clock domains in the shortest amount of time. In other words, QuickSync is designed to minimize memory latency. According to NVIDIA's "Memory Controller Technology" technical brief, "QuickSync accomplishes this by speeding up the internal paths between the FSB clock domain and the memory clock domain as the FSB bus speed and/or the memory bus speed increases."
NVIDIA really put a lot of time and effort into trying to create the best and most sophisticated memory controller in the industry. With all the focus on performance and attention towards squeezing every last drop of performance out of current DDR2 capability and with nForce's excellent track record on the AMD side of things, it's not too hard to imagine that NVIDIA will be a forced to be reckoned with when it comes to memory performance in the Intel world.
TEST SYSTEM and BENCHMARKS
---
We are fortunate enough to have an actual nForce4 SLI Intel Edition motherboard and test system for testing so that we can show you some actual performance numbers rather than only talking about theoretical results. The test system and the comparison system are different in several ways, so please take a look at the test system configurations listed below. I decided to compare the Intel nForce4 system to one of the best performing LGA775 boards I had on hand – the ABIT AA8 DuraMAX. I haven't had the chance to run an AMD nForce4 SLI system with a pair of 6800 GTs, so that's the main reason I'm not comparing an Athlon 64 nForce4 system to the Intel nForce4 SLI.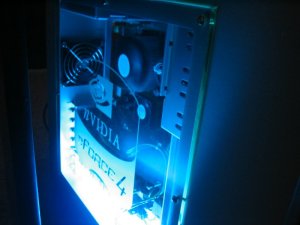 Corsair's new CM2X512A-5400UL
nForce4 SLI Intel Edition Reference Configuration

Intel Pentium 4 560 (3.6GHz)
Reference nForce4 SLI Intel Edition – 7.02 nForce driver package
1GB 675MHz Corsair DDR2 (2 x CM2X512A-5400UL)
2 x NVIDIA Reference PCI Express GeForce 6800 GT – DirectX 9.0c, ForceWare 71.84
74GB Western Digital 10k Raptor SATA Hard Drive
Windows XP with Service Pack 2
FSB = 800MHz (QDR)
Memory = 667MHz (DDR)

ABIT AA8 DuraMAX 925X Configuration

Intel Pentium 4 560 (3.6GHz )
ABIT AA8 DuraMAX
1GB Corsair Twin2X1024-5400 PRO DDR2
NVIDIA Reference PCI Express GeForce 6800 GT – DirectX 9.0c, ForceWare 66.93
2 x 120GB DiamondMax9+ SATA Hard Drive w/ 8MB Buffer
Windows XP with Service Pack 2
FSB = 800MHz (QDR)
Memory = 533MHz (DDR)
Benchmarks
FutureMark PCMark2004 v130
SiSoftware Sandra 2005 SR1

CPU Arithmetic
CPU Multi-Media
Memory Bandwidth
File System

SYSMark2004 SP2
Super PI
POV-Ray 3.6
HD Tach 3
FutureMark 3DMark03 v360
FutureMark 3DMark05 v120
AquaMark3
Due to the limited amount of time I had to complete this article before the deadline, I was unable to complete an extensive number of gaming benchmarks. I'll try to make up for that when we get our first retail nForce4 SLI Intel Edition samples.
BENCHMARK RESULTS – PCMARK04, SANDRA 2005
---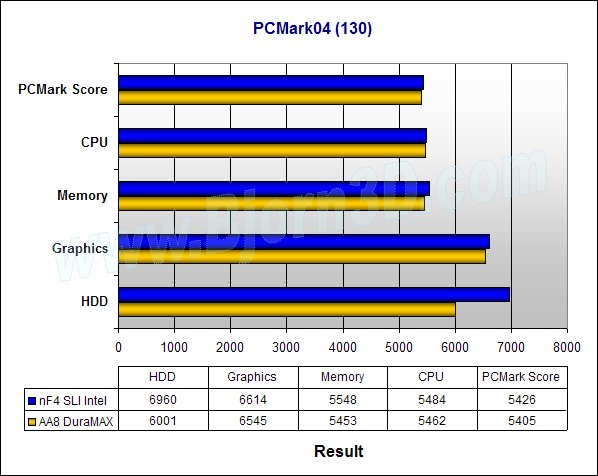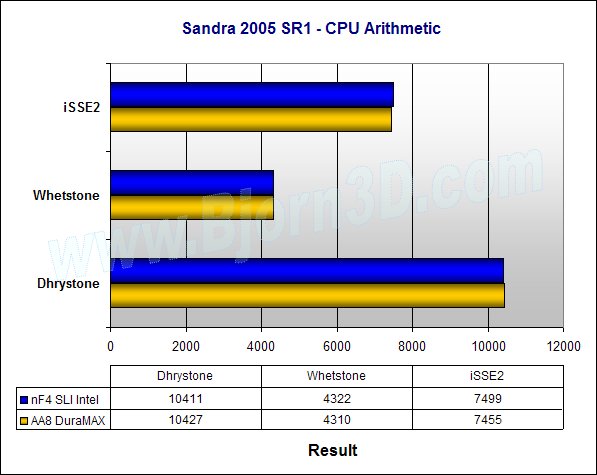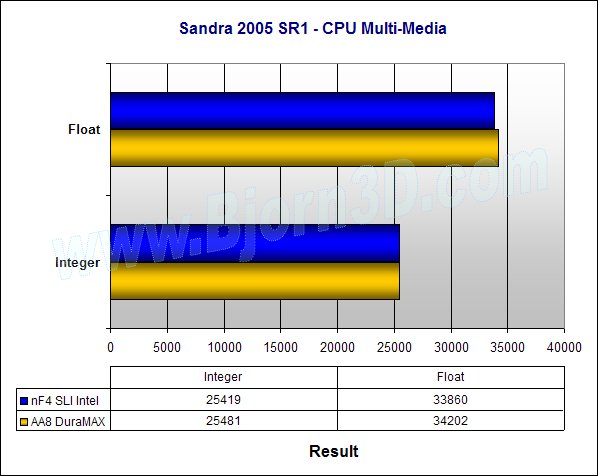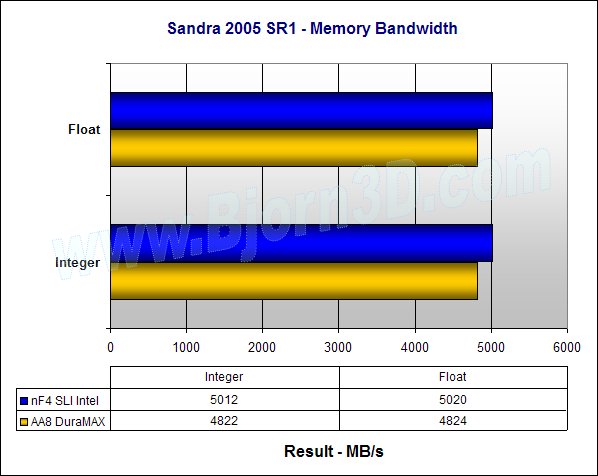 BENCHMARK RESULTS – SYSMARK2004, SUPER PI, POV-RAY, FILE SYSTEM
---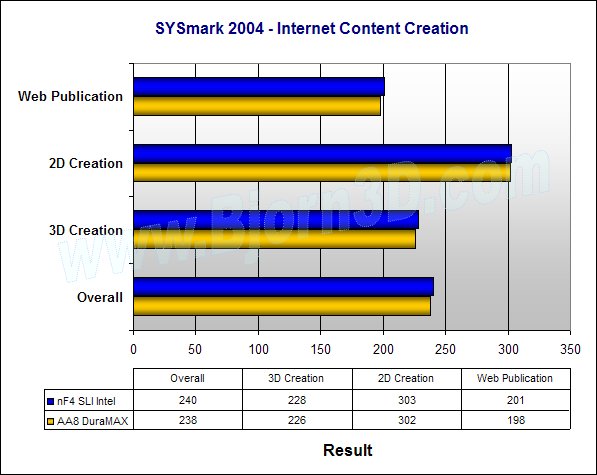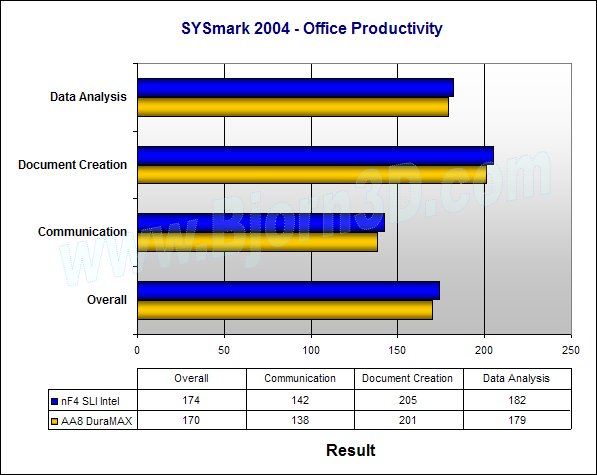 Super PI and POV-Ray
The Super PI benchmark calculates the number pi out to a specified number of digits. I selected the highest option, 32 million. This benchmark really tests the CPU more than anything, so close results should be expected, and that's exactly what we see. The two boards put up almost identical numbers. Lower time is better.
Super PI – 32M

Mobo
Result

nF4 SLI Intel

30 min 13 sec

AA8 DuraMAX

30 min 14 sec
Another CPU-intensive benchmark that I ran is POV-Ray 3.6 (Persistence of Vision Ray-Tracer). POV-Ray is a freely available tool that can be used for ray-tracing, and it has a built-in benchmark capability, which is what I used for this comparison. Higher score is better.
POV-Ray 3.6

Mobo
Result

nF4 SLI Intel

102.79 PPS

AA8 DuraMAX

94.80 PPS
File System – Sandra 2005 and HD Tach
Because the systems are using totally different hard drives, I'm only including the nForce4 SLI Intel Edition results here since the comparison isn't relevant or appropriate.
Sandra 2005 File System

Result

57 MB/s
HD Tach 3

Average Read

65.1 MB/s

Burst Speed

127.3 MB/s

Access Time

7.7 ms
BENCHMARK RESULTS – 3DMARK03, 3DMARK05, AQUAMARK3
---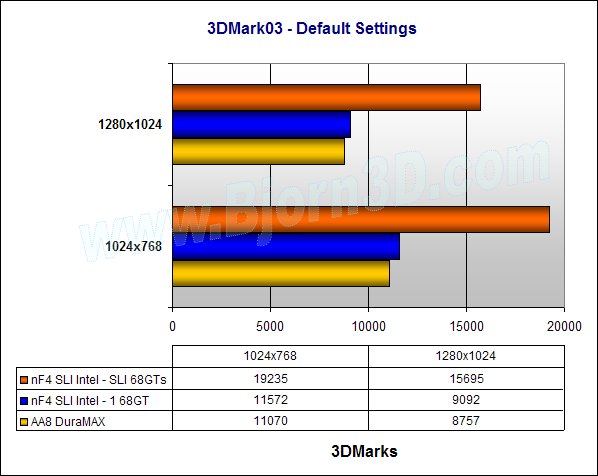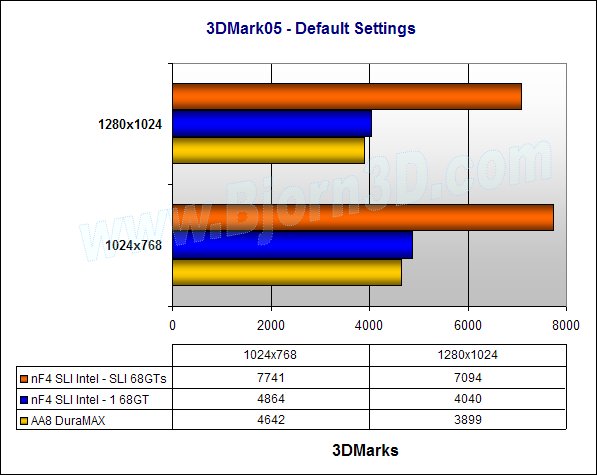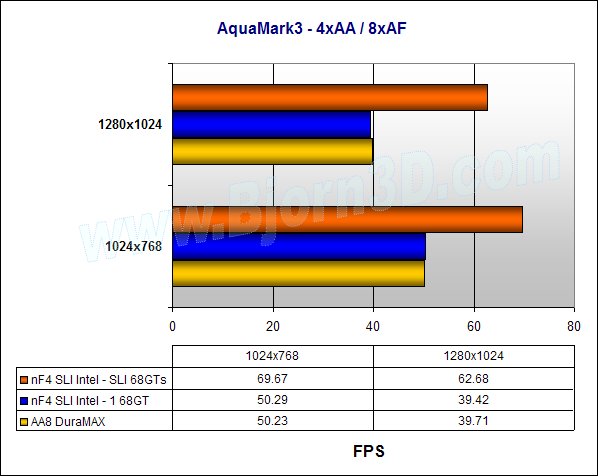 CLOSING COMMENTS
---
Without a doubt, NVIDIA has created a very promising and feature-rich Intel platform, and I think the company can capture a nice chunk of the Intel motherboard market in a relatively small amount of time. nForce's high reputation and standards are only extended and built upon with this launch. And to the hardcore doubters, this is not a paper launch. NVIDIA is proud to have met its Q1 promise. Look for retail boards from all the major players by the end of this month. You'll probably start seeing reviews of them in the next week or two.
This is of course the first NVIDIA nForce solution for the Intel market, and I think it's exciting to see how it will change the Intel chipset landscape in the coming months. The impact could be minimal of course, but I seriously doubt that since NVIDIA offers a variety of innovative and progressive features for enthusiasts and average consumers alike.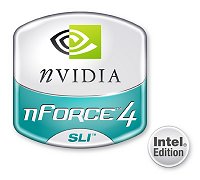 nForce4 SLI Intel Edition is only the start of NVIDIA's entrance into the world of Intel. There will be a plethora of other Intel-based NVIDIA products coming to the market soon. How about media PCs, laptops, servers and workstations? Sure! For now though, NVIDIA is focused on the enthusiast market because demand is particularly strong right now, thanks in big part to NVIDIA's own SLI technology.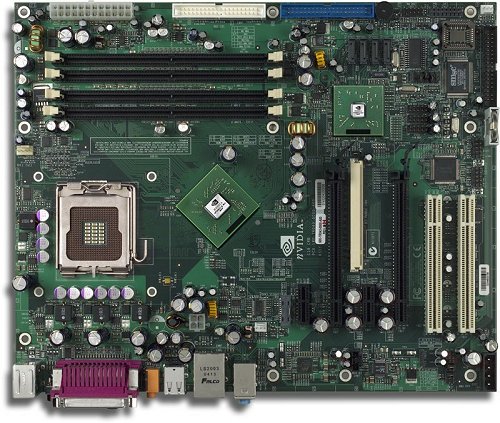 According to NVIDIA, more than 350,000 nForce4 SLI chips have already shipped, and this is before an Intel SLI platform has even entered the retail picture. So, you can easily imagine how broadening its user base to Intel fans is going to lead to even greater success for NVIDIA. No matter what you think of this launch, you must admit that it's damn good business sense. Dual core Intel processors are right around the corner, and this chipset will support them. You have to make sure the manufacturer claims to support dual cores, though, because some might opt not to include the support for whatever reason.
For more info, you can of course visit nvidia.com. Be sure to check out the latest version of nTune, which now includes Dynamic Application Sensing. And be sure to check back here in the coming months for retail board reviews.