The HIS X850 XT IceQ II Dual DVI VIVO 256MB PCIe is yet another high-end ATI-powered card from HIS that costs a premium but delivers a lot of horsepower to your computer.
Introduction

A couple of weeks ago, I reviewed a card using the top-of-the line ATI chipset, the HIS X850XT PE. Today we are looking at a very similar card, the HIS X850 XT (but no PE), a card that is almost a duplicate of the X850XT PE but clocked a bit lower.
Features & Specifications

There isn't much difference between the X850XT PE and the X850XT. They both use the same GPU and the memory on them is the same. The biggest difference is the slight slower GPU and memory speeds as well as being less overclockable (which I will talk about later).
Let's look at how the X850XT compares to some of the other HIS ATI cards:
Model Name
HIS X850XT PE IceQ II Dual DVI VIVO 256MB PCIe
HIS X850XT IceQ II Turbo Dual DVI VIVO 256MB PCIe
HIS X800XL IceQ II Turbo Dual DVI VIVO 256MB PCIe
HIS Excalibur X800XT PE IceQII VIVO 256MB AGP
Chipset
Radeon X850 PCIe Series
Radeon X850 PCIe Series
Radeon X800 PCIe Series
Radeon X800 AGP Series
ASIC
R480
R480
R430
R420
Pixel Pipelines
16
16
16
16
Vertex Engines
6
6
6
6
Manu. Process (Micron)
130nm
130nm
130nm
130nm
Transistor
160M
160M
160M
160M
Fill Rate
8640MTexel/s
8640MTexel/s or
8528MTexels/s 
6912MTexel/s
8320MTexel/s
Memory Size(MB)
256
256
256
256
Memory Type
GDDR3
GDDR3
GDDR3
GDDR3
RAMDAC (MHz)
400 Dual
400 Dual
400 Dual
400 Dual
Engine CLK (MHz)
540
540 (Turbo)
533 Normal 
432 (Turbo)
520
Memory CLK (MHz)
1180
1180 (Turbo)
1148 (Normal)
1000 (Turbo)
1120
Memory Interface (bit)
256
256
256
256
Memory Bandwidth
37.8GB/s
37.8GB/s or
36.8GB/s
32.0GB/s
35.8GB/s
Maximum Resolution
2048×1536
2048×1536
2048×1536
2048×1536
Bus Interface
PCIe
PCIe
PCIe
AGP
VGA
Yes
Yes
Yes
Yes
2nd VGA
Yes
Yes
Yes
Yes
DVI
Yes
Yes
Yes
Yes
2nd DVI
Yes
Yes
Yes
No
TV-out
Yes
Yes
Yes
Yes
HDTV (YPrPb component output)
Yes
Yes
Yes
Yes
Video-in
Yes
Yes
Yes
Yes
TV Tuner
No
No
No
No
FM Tuner
No
No
No
No
The HIS X850XT also supports a feature called iTurbo wich allows you to overclock it to X850XT PE speeds with a mouseclick.
The bundle and the card

HIS has found a successful formula when it comes to package and bundle. The HIS X850Xt comes with the exact same bundle as the HIS X850XT PE.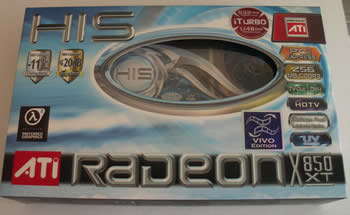 Opening up the box we find the following things:
• HIS C850XT video card
• Adapter for molex-to-PCI-E power
• Two DVI-to-VGA adapters
• S-video Cable
• Video In/Out cable
• Component Video cable
• Composit Video cable
• Installation/User Guide
• Installation driver CD plus iTurbo application
• PowerDVD 6 (version 5 was included in my bundle but the HIS website says version 6 now)
• PowerDirector 3 SE Plus
• Power2Go 4
• PowerDVD Copy (trial)
• [email protected] 3 (trial)
• PowerBackup (trial)
• 3D Album Picture Pro
• ATI Demos
• Dungeon Siege 1.1 (full game)
• Flatout (full game)
The only addition to the bundle is the iTurbo software used to overclock the card.
As you can see HIS includes a lot of goodies in the box. This card supports both Video In and Video Out and you get software both for taking care of the media you are capturing as well as software to watch it afterwards.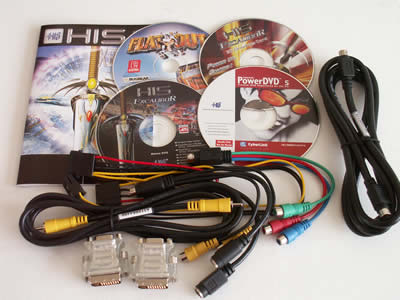 While Dungeon Siege is an old game Flatout is a pretty new, and unfortunately largely overlooked, game that both features great graphics and is fun to play.
Just as the previous HIS cards I reviewed this one uses the ICEQII cooling system from Artic Cooling. In contrast to the X800XT and X800Pro cards though the X850XT already was a two-slot design straight from ATI so you won't loose any additional slots due to the cooling. The cooling system extends to the back of the card where it cools the memory chips.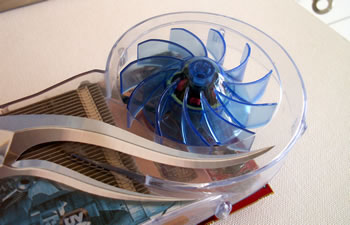 Since this card needs more juice than the PCI-Express slot can provide there also is a power connector on the card. Since not many older power supplies come with the correct PCI-Express power connector HIS includes an adapter. Unfortunately the power connector is placed below the end of the fan housing and I had a hard time removing the power cable. I simply couldn't reach in and hook it off from the connector. I had to use a small screwdriver to reach.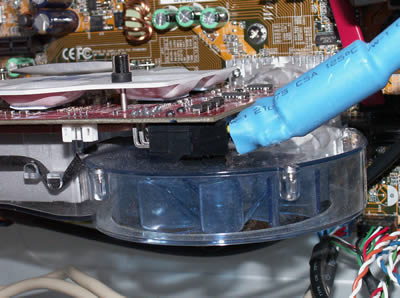 It is hard to reach and remove the connector
Instead of providing both a VGA and a DVI connector, the X850 XT has two DVI connectors. HIS of course has included two DVI-to-VGA adapters if you have to use VGA anyway. Since this is a VIVO (Video In/Video Out) capable card, there isn't a normal S-VIDEO connector directly on the card. Instead you use a special cable that has both the S-VIDEO In and S-VIDEO Out (as well as composite In and Out) cables.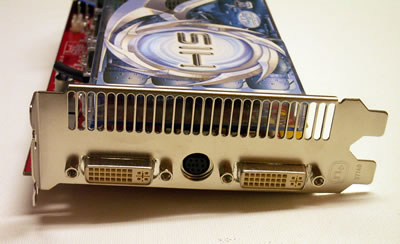 2 DVI connectors as well as a connector for the SVIDEO adapter cable.
Performance – Test System and Settings

Since this is a PCI-Express card, I no longer could use my old AMD64 system. Instead I used a Foxconn nForce4 motherboard (review) together with a new Socket 939 AMD64 3200+ CPU.  I chose to compare the HIS X850 XT with two other HIS cards, the  X850 XT PE I reviewed a few weeks ago and an X800 XL, as well as my old HIS X800 XT PE (AGP). The drivers used were the latest available at the time of the test (Catalyst 5.2).
Test system (PCI-Express)
AMD Athlon 64 3200+
Foxconn nForce4 WinFast NF4K8MC-ERS (review)
Corsair XMS 512 MB PC4000 DDR RAM (running at 333 MHz)
HIS X850XT PE – DirectX 9.0c, Catalyst 5.2
HIS X850XT – DirectX 9.0c, Catalyst 5.2
HIS X800XL – DirectX 9.0c, Catalyst 5.2
Maxtor 80GB Serial ATA 7200RPM Hard Drive
Windows XP with Service Pack 2
Test system (AGP)
AMD Athlon 64 3000+
MSI K8N Neo nForce3
Corsair XMS 1 GB PC3200 DDR RAM
HIS X800XT PE – DirectX 9.0c, Catalyst 5.2
Maxtor 36GB Serial ATA 10000RPM Hard Drive
Maxtor 160GB EIDE 7200RPM Hard Drive
Windows XP with Service Pack 2
Benchmarks
For this review I chose these benchmarks:
3DMark05 v1.2.0 – default settings
Counter-Strike: Source – Video Stress Test – NoAA / 2xAF and 4xAA / 8xAF, both with highest details set in game with drivers set to application controlled
Half Life 2 – No AA/ No AF and 4xAA/8xAF, all with highest quality details set in game. The demo used is the benchemall-demo
Doom 3 1.1 (demo1) – NoAA / High Quality and 4xAA / High Quality, both with highest details set in game with drivers set to application controlled
Far Cry 1.3 – NoAA / 1xAF and 4xAA / 4xAF, both with highest details set in game with drivers set to application controlled
To make the benchmarking as painless as possible, I used the excellent program Benchemall (v2.645) to run through all the programs/games except CS: Source, which I had to run manually, and Far Cry, which I benched using the HardwareOC Far Cry benchmarking utility.
Performance – 3Dmark 05

Our first benchmark is the synthetic benchmark from Futuremark, 3DMark05.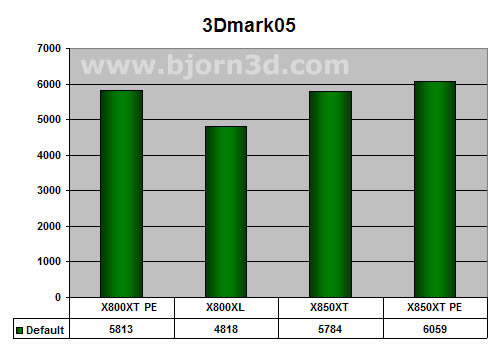 The X850XT PE wins with just 5% ahead of the X800XT PE and the X850XT. It's interesting to see that the X800XT PE (AGP) actually beats the X850XT. 
Performance – Half-Life 2 and CS: Source

The CS:Source benchmark features a small video stresstest that as expected tests the vidoe subsystem more than the whole system.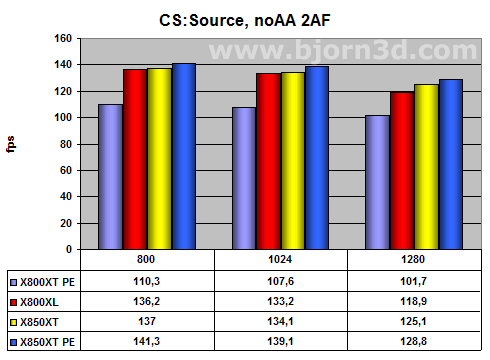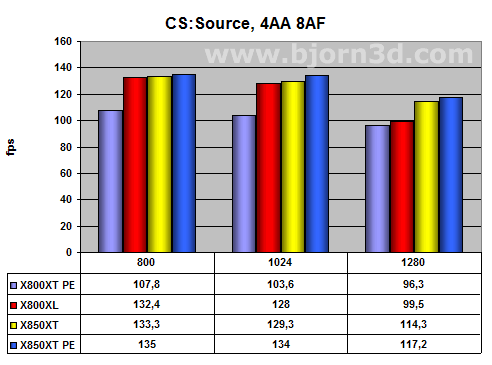 The X800XT PE is in a system with a slight slower CPU (but on the other hand more memory) which could affect the scores a bit. The X850XT is closely trailing the X850XT PE.
Performance – Doom 3

id's games always have been favorites for benchmarking, and Doom 3 is no exception.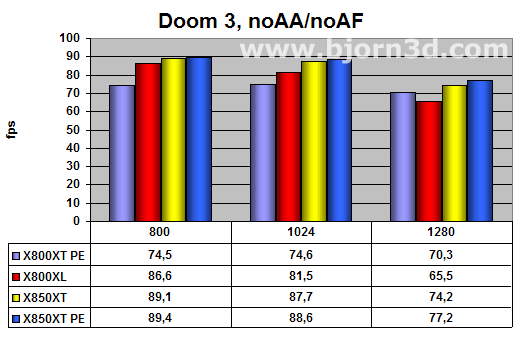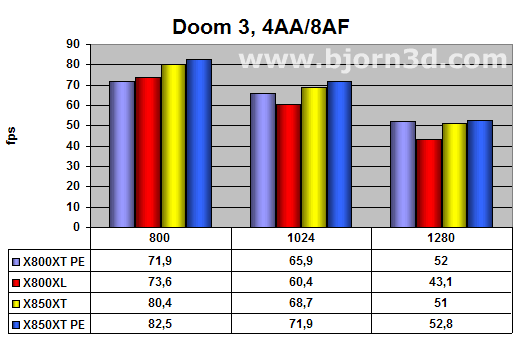 Once again the X850XT closely trails the X850XT PE.  
Performance – Far Cry

Last but not least, it is time for Far Cry, a very cool first-person shooter with stunning graphics. The demo used is the PCGH_VGA Timedemo from 3dcenter.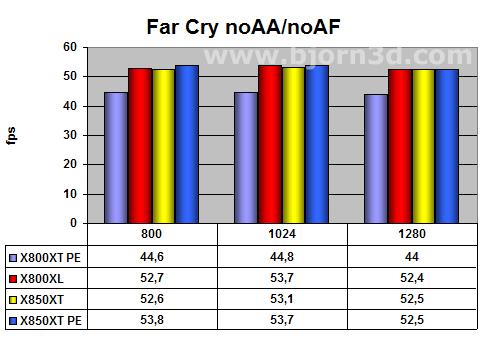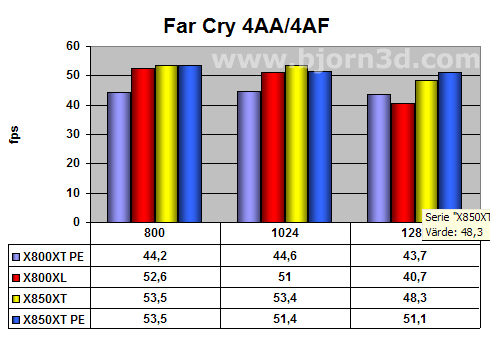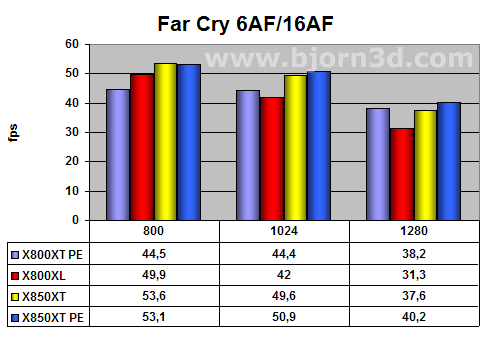 The X850XT PE manages to gaing a slighty bigger lead when AA and AF is turned on than in other benchmarks but the difference isn't more than 7%. The X800XT Pe really does well at higher AA/AF.
Performance – Overclocking

This HIS card supports their overclocking utility iTurbo. It's a pretty basic utility that lets you overclock both the core and memory as well as put the fans on auto or manual speed.
The card comes with the same type of memory you find on the X850XT PE; Samsung's K4J55323QF-GC16. They ahve a maximum frequency of 600 MHz which means you would expect to at least get 1.2 GHz out of them.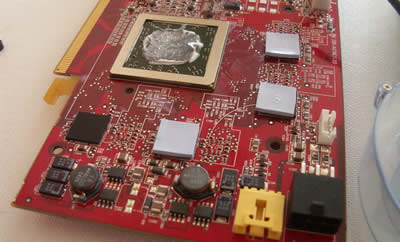 The default overclock with iTurbo is up to X850XT PE levels: 540 and 1180 MHz. This is a very modest overclock (~1% for the core and ~2.5% for the memory). I of course could not accept that and decided to overclock it even further. I had to use the utility ATI Tool since iTurbo wouldn't allow me to overclock the core higher than 540 Mhz. ATI Tool lets you run a test where it looks for the highest possible overclock both on the core and memory. It does that by displaying a advanced 3D image of a furry cube and look for image errors (white blinking pxiels etc). The highest I reached keeping the machine stable was 575 Mhz for the core and 1180 MHz for the memory. This is not as high as the X850XT PE could go, especially the memory.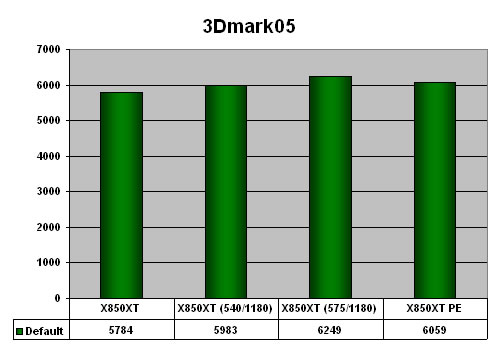 The X850XT scores almost the same as the X850XT Pe when overclocked with iTurbo. Overclocking it a bit further yields even better scores.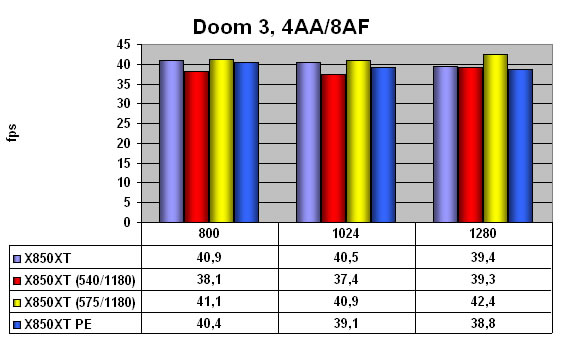 The scores fluctuate quite a bit this time and the only real clear increase we see is when the X850XT is max overclocked.
Conclusion

Just as the HIS X850XT PE, this is not a cheap card. The best price I could find was  $605 at Newegg, which is about $50 less than the HIS X850XT PE. Here in Sweden the difference is even slimmer at $30. It's not discussion that this is a very good card that offers a lot for the money. You get a great cooling system that makes the card much quieter than ordinary X850XT's, you get a great bundle and full VIVO functionality.  Compared to the HIS X850XT PE it does however overclock a lot less  and thus I probably would get the X850XT PE myself if I had to choose between them.
Pros
+ Blazing fast
+ Great cooling system
+ Silent
+ Video In/out
+ Good bundle
+ Overclock it to X850XT PE speeds with a push on a button.
Cons
– Expensive
– One more good game would have been nice
– X850XT PE still can overclock even further than this card.
– No PS3.0 support which can be more important this year than last year
If you are out for the best possible performance at any cost, the HIS X850 XT PE IceQ II Dual DVI VIVO 256MB PCIe is the card for you. 
The HIS X850 XT  IceQ II Dual DVI VIVO 256MB PCIe gets 7 out of 10 from me and a Seal of Approval.