In this article, we look to see how an nForce4 SLI system with all our day-to-day software installed performs. This means no clean hard drive install to see just how fast it is under "real world" conditions. So let's look the nForce4 system and see how it does.
INTRODUCTION

---
Usually once a year in the December-February time frame, I build a new machine that I will use for the next year.  On this machine, I do all my gaming, bookwork and day-in day-out computing.  Last year this machine was based on NVIDIA's nForce3 150PRO chipset; this year I am building the machine on NVIDIA's nForce4 SLI chipset.
 
The first thing I want to point out is this is not just a review of SLI; I am going to look at several aspects of the nForce4 chipset.  Also this is not a clean install machine being looked at.  This is a REAL WORLD machine. It is loaded with all the tools I use for work and things that most computer users would have installed and running.  So the performance numbers you see on things should show you how your machine would perform if you had the same system I have built.
 
Below is a list of all the parts I used to build this machine. 
Asus A8N-SLI
AMD Athlon 64 FX-55 (get it at MonarchComputer)
Thermaltake K450 (AMD Approved for FX 55)
2x Corsair TWINX1024-440025
2x NVIDIA 6800GT PCI-E Cards
2x Maxtor DiamondMax 10 250GB SATA with NCQ
Lite-ON DVD SOHD-167T
Lite-ON DVDRW SOHO 1633S
Antec TruePower 550EPS12V
Antec P-160 Case
SoundBlaster Audigy 2 ZS
Samsung 957MB 19" CRT
Windows XP PRO SP2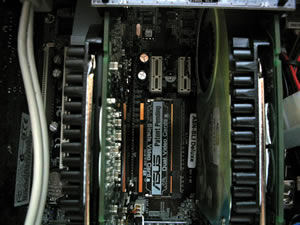 The Asus A8N-SLI Deluxe

---
Asus was the first vendor to have an SLI board in reviewers' hands that was not an NVIDIA reference board.   This also means they are the first ones to have a retail board in stock at vendors.   Asus has also really made this the most feature-loaded motherboard we have seen at Bjorn3D.  Let's look at the specifications.
CPU
– Socket 939 for AMD Athlon 64FX / Athlon 64
– AMD64 architecture enables simultaneous 32- and 64-bit computing
– Supports AMD Cool 'n' Quiet Technology
Chipset
NVIDIA nForce®4 SLI™
Front Side Bus
2000 MT/s, 1600MT/s
Memory
– 4 x 184-pin DIMM Sockets support max. 4GB DDR400/DDR333/DDR266 ECC/ non-ECC un-buffered DDR SDRAM memory
– Dual Channel Memory Architecture
Expansion Slots
– 2 x PCI Express x16 slot
*SLI mode : x8 , x8
*Default(Single VGA) mode : x16, x1
– 2 x PCI Express x1
– 3 x PCI
SLI
– Under SLI mode : support two identical SLI-ready graphics cards
– Under Default(Single VGA) mode: supports all PCI Express graphics cards
– ASUS EZ Plug
– ASUS SLI Warning LED
– ASUS EZ Selector
– ASUS two-slot thermal design
– ASUS PEG Link for dual PCIe graphic cards – ASUS PEG Link for dual PCIe graphic cards
Storage/ RAID
nForce4 Storage:
– 4 x SATA 3Gb/s
– 2 x UltraDMA 133/100/66/33
– NVRAID : RAID0, RAID1, RAID 0+1 and JBOD span cross SATA and PATA
Silicon Image 3114R RAID controller:
– 4 x Serial ATA with RAID0, 1, 0+1, and RAID5
LAN
nForce4 built-in Gbit MAC with external Marvell PHY :
– NV ActiveArmor
– NV Firewall
– AI NET2
MARVELL PCI Gbit LAN controller :
– AI NET2
Audio
Realtek ALC850, 8-channel CODEC
Audio Sensing and Enumeration Technology
Coaxial/Optical S/PDIF out ports on back I/O
IEEE 1394
TI 1394 controller supports 2 x 1394 ports
USB
Max. 10 USB2.0 ports
ASUS AI Proactive Features
AI NOS(Non-delay Overclocking System)
AI NET2 network diagnosis before entering OS
Overclocking Features
AI NOS? (Non-delay Overclocking System)
AI Overclocking (intelligent CPU frequency tuner)
ASUS PEG Link for single/dual graphics cards

Precision Tweaker:
– vDIMM: 9-step DRAM voltage control
– vCore: Adjustable CPU voltage at 0.0125 increment
– SFS (Stepless Frequency Selection): allowing FSB tuning from 200MHz up to 400MHz at 1MHz increment
– PCIe Frequency: allowing PCIe frequency from 100MHz up to 200MHz at 1MHz increment

Adjustable FSB/DDR ratio. Fixed PCIe/PCI/SATA frequencies.
ASUS PEG Link for single/dual graphics cards
ASUS C.P.R.(CPU Parameter Recall)

ASUS Special Features
Post Reporter
ASUS EZFlash
ASUS CrashFree BIOS 2
ASUS Q-Fan
ASUS MyLogo2
ASUS Multilanguage BIOS
ASUS Instant Music
ASUS SLI warning LED
ASUS EZ Selector
ASUS EZ Plug
BIOS
4 Mb Flash ROM, AWARD BIOS, PnP, DMI2.0, WfM2.0, SM BIOS 2.3
Back Panel I/O Ports
1 x Optical + 1 x Coaxial S/PDIF Output
1 x PS/2 Keyboard
1 x PS/2 Mouse
1 x Parallel
2 x RJ45
1 x 1394
4 x USB 2.0/1.1
8-Channel Audio I/O
Internal I/O Connectors
– 1 x SLI selector card connector
– 3 x USB 2.0 connector supports additional 6 USB 2.0 ports
– 1 x IEEE1394 connectors
– 1 x Paraller connector
– 1 x COM connector
– 1 x GAME/MIDI connector
– CPU Fan / 2x Chassis Fan/ Power Fan/ Chipset Fan connectors
– Front panel audio connector
– Chassis Intrusion connector
– CD audio-in connector
– 24-pin ATX Power connector
– 4-pin ATX 12V Power connector
Support CD
Drivers
ASUS PC Probe – PC Health Monitoring Software
ASUS LiveUpdate Utility
ASUS AI Booster
ASUS Cool ' n' Quiet Utility
NVIDIA nTune Utility
Anti-virus software (OEM version)
Accessories
SLI connector
1 x 1-port IEEE1394 module
1 x SLI retention bracket
8 x Serial ATA cables
1 x SATA Extension module for external devices
4 x 2-port SATA power cable
1 x 2-port USB2.0 / Game module
1 x 2-port USB2.0 module
1 x COM Port module
1 x UltraDMA 133/100/66 cable
1 x IDE cable
1 x FDD cable
1 x I/O Shield
User's manual
Instant Music
Setting Sticker
WinDVD Suite
Form Factor

ATX Form Factor, 12″x 9.6″(30.5cm x 24.5cm)
As you can see, this is a very feature-loaded motherboard.    I am using all the features except the second NIC and the Silicon Image RAID Controller.
TEST SYSTEM
---
Since I only have the one nForce4 system and my only socket-939 CPU at this time is the FX-55, I am going to compare my basic system tests to the scores Shane had from his Foxconn nForce4 review.
Foxconn nForce4
Socket 939 System
Chaintech nForce3-150
Socket 754 System 
ASUS nForce4
Socket 939 System 
AMD Athlon 64 3200+
AMD Athlon 64 3400+ (review)
AMD Athlon 64 FX 55
Foxconn NF4UK8AA-8EKRS (review)
Chaintech ZNF3-150 Zenith nForce3 (review)
Asus A8N SLI Deluxe
Corsair XMS 1 GB PC4000 (running as PC3200)
Corsair XMS 1 GB PC4000 (running as PC3200)
Corsair XMS 1GB PC 4400 (running as PC3200)
NVIDIA Reference PCI-Express GeForce 6800 GT – DirectX 9.0c, ForceWare 66.93
BFG Tech GeForce 6800 GT OC – DirectX 9.0c, ForceWare 66.93 (downclocked to regular 6800 GT speed) (review)
2x NVIDIA Reference PCI-Express GeForce 6800GT – DirectX 9.0c,
Forceware 66.93
Maxtor 120GB Serial ATA 7200RPM Hard Drive w/ 8MB Buffer
Maxtor 200GB DiamondMax9+ Hard Drive w/ 8MB Buffer
2x Maxtor 250GB SATA 7200RPM Hard Drive w/16MB Buffer in RAID 0
Windows XP with Service Pack 2
Windows XP with Service Pack 2
Windows XP with Service Pack 2
PERFORMANCE – SISOFT SANDRA 2004 and PCMark04
---
For the basic system testing, we used the following test suites.
• SiSoftware's Sandra 2004 SP2b (CPU Arithmetic, CPU Multi-Media, Memory Bandwidth and File System)
• Futuremark's PCMark04 v1.3.0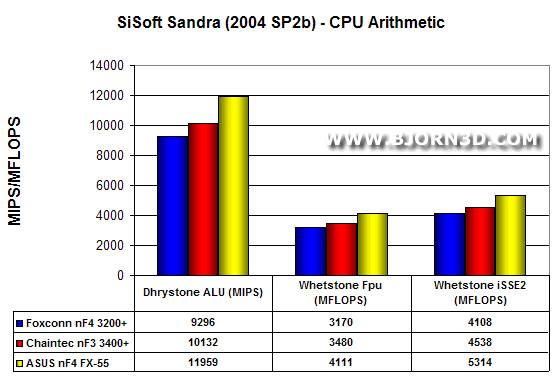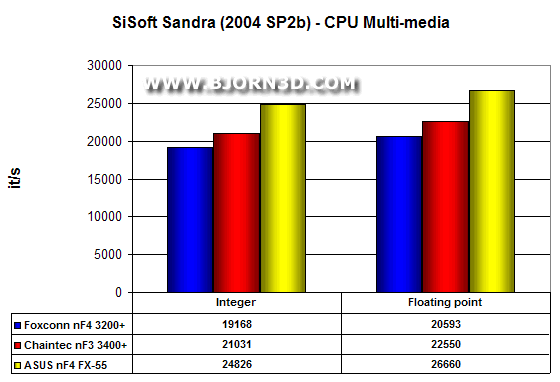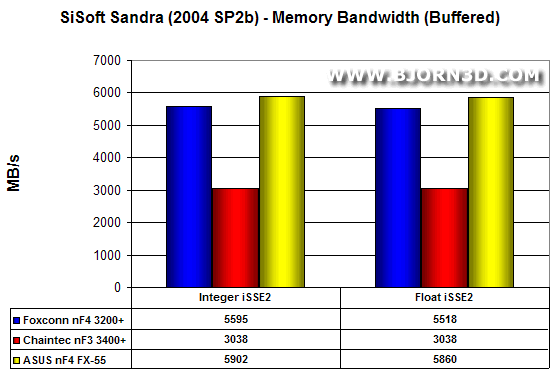 As you can see, the FX-55 with the ASUS board is of course faster in the CPU scores, but you must overclock the FSB on the nForce4 with the AMD 64 3200 in the nForce4 system to 220MHz to pass the FX-55 in memory scores.
PERFORMANCE – RAID
---
nForce4 is using NVIDIA's second generation of RAID controller in the MCP.  The RAID controller can run RAID 0, RAID 1 and RAID 0+1.  The controller also supports SATA 3Gbps Drives and NCQ (Native Command Queuing).  Since my machine is set up with RAID 0, we will be looking at those benchmark scores.  The Maxtor DiamondMax 10 SATA drives do support NCQ so that is turned on in these tests.  I have configured my system with RAID 0 for the fastest performance.  Also I did NOT defrag the drives before the test.  I wanted them to perform how a real world system would in the test.
Software used for testing:
HD TACH 3
SiSoftware Sandra File System
HD TACH 3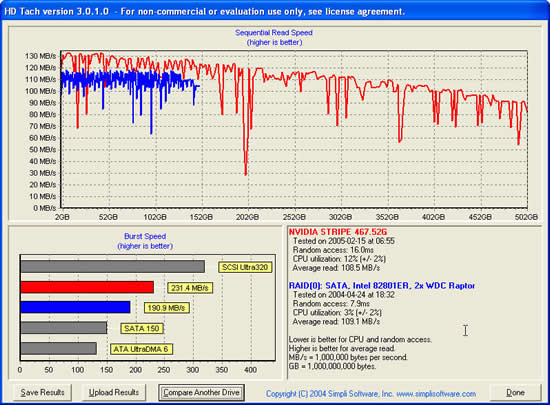 Here we can see that the two Maxtor DiamondMax 10's on the nForce4 RAID 0 outperform the Western Digital 74GB Raptors on the Intel RAID Controller.
SiSoft Sandra 2004 SP2b – File System
Here we can see it take four Western Digital 36GB Raptors in a RAID 0 to pass the Maxtor DiamondMax 10's in their RAID 0.
So you can see, I am very pleased with the Maxtor drives running of the nForce4 RAID in the RAID 0 configuration.
For more info on nForce4 RAID you can read about it in our nForce4 preview.
PERFORMANCE – nFORCE4 FIREWALL
---
In my everyday use of the nForce4 system, it sits behind a router before going out to my Internet connection.  So in my day-in day-out use, the firewall asked me if it is okay for an application to broadcast to the Internet (much like ZoneAlarm and other software firewalls).  But with today's adware on the Internet, this is a very important part of a good firewall.  To test the nForce4 firewall versus Symantec's and the Windows XP firewall, I hooked the machine right to the Internet directly.  I then used Broadbandreports.com Port Scan to test my CPU load against the machine.  Here is what I found after three runs and averaging them.
| | |
| --- | --- |
|  Symantec Firewall CPU Load during Probe: |  32% |
|  Windows Firewall CPU Load during Probe: |  45% |
|  nForce4 Firewall CPU Load during Probe: |  12% |
As you can see, the hardware-based solution built into the nForce4 MCP is more efficient than just a plain software based firewall.  This goes to confirm what we saw when Robert met with NVIDIA for the nForce4 preview briefing.  If you look at the nForce4 preview on these two pages you can see some more testing that was done with the firewall (read the preview).
PERFORMANCE – SLI
---
Since a GeForce 6800 GT can play any game out at this moment with all the setting set to high at 1280×1024 without problems, we ran all three of our tests at 1600×1200 with 4xAA and 8xAF.   Also, the game settings are set too have all the settings set to highest detail. This should give you an idea how the cards can handle high stress.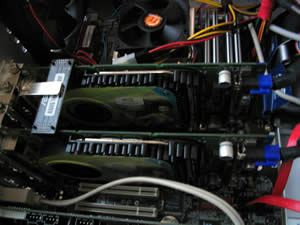 3DMark05
The first test is the synthetic benchmark 3DMark05.
| | |
| --- | --- |
|  SLI 6800GT's: |  6078 |
|  Single 6800GT: |  3191 |
Performance increase: 90%
   
Here we find that the SLI system almost doubles the single 6800 GT performance.  But I did not build this machine to play benchmarks.
Counter-Strike: Source Video Stress Test
| | |
| --- | --- |
|  SLI 6800GT's: |  136.81FPS |
|  Single 6800GT: |  77.98FPS |
Performance increase: 75%
Counter-Strike: Source Stress Test is the test that ATI used when Valve was showing off the Half-Life 2 engine.  We can see that SLI works well with this engine.  If you have read many of SLI reviews around the 'net, you will also find that SLI systems work well with the Doom 3 engine.
Pacific Fighters
Kamikaze Replay.
| | |
| --- | --- |
|  SLI 6800GT's: |  34FPS Average |
|  Single 6800GT: |  33FPS Average |
Performance increase: ~3%  
Here is a game where SLI has no effect at all.  Pacific Fighters is based of the IL-Sturmovik Engine.  So IL-2 has the same issue.  I have seen some hacking in the forums about this game and drivers to get it to use SLI.  I will be looking into those since I play this game often. 
Thoughts About SLI
SLI that has been introduced by NVIDIA is kind of a mixed bag at the moment.  The drivers have to know about the game to get the most out of an SLI system.  So there will be some games that see great performance from SLI, and others that will not at this time.  NVIDIA though says that future drivers will support more and more games.
You can read more about SLI in our preview.
CONCLUSION

---
With an AMD FX-55, you can see the Asus A8N-SLI Deluxe with the nForce4 chipset is a good performing machine.  You can also see the nForce4 chipset scores from Shane's review outperforms the nForce3 chipset quite well.
The most important thing to remember about this system is that it is a REAL WORLD system.  It is in a case where heat can become an issue.  It is also running antivirus software, anti-spyware software, Trillian, InCD and many other little utilities I use.  So these performance numbers should actually be slower or the same that you would get if you purchased a similar system.
I am very impressed with the nForce4 MCP, and knowing NVIDIA they will get the kinks worked out of SLI over time.  With the heat and cooling solutions that it takes on a single card to keep performance increasing, we may see SLI in some form become a necessity in the future and not just a luxury as it is now.
PRICING
---
Here are the PriceGrabber Links for Key Parts of this system: