Ultra Products takes advantage of the apparent abundance of Samsung TCCD ICs and releases some new low latency DDR. The PC3200 XL memory offers great performance and excellent overclocking. Ultra is set to make a name for itself in the memory industry if it can keep releasing RAM this good.
INTRODUCTION
---
Before releasing the X-Connect power supply and becoming a household name virtually over night, Ultra Products was slowly releasing more and more products and hitting the retail shelves at CompUSA and Fry's. Before the big Samsung TCCD IC boom, Ultra had already released some memory modules and had proven that the company can provide a decent stick of RAM. Now, Ultra is the latest company to jump on the Samsung TCCD memory chip bandwagon, which is actually a good thing to be on.
The Samsung TCCD ICs have really leveled the playing field like never before it seems. Now, any company that can get ahold of some of these chips and create some memory modules is able to compete with the big boys, like Corsair, Kingston and OCZ, because the Samsung TCCD chips are just that good. Of course, the companies are still trying to distinguish themselves from each other by adding blinking lights or using superior PCB for even better overclocking, but who would have guessed a couple months ago that you could compare Ultra memory to Corsair, and it actually be a fair fight? Ultra obviously has a long way to go before it will be listed in the enthusiasts' top five, but its new PC3200 XL modules are definitely a step in the right direction.

FEATURES and SPECIFICATIONS
---
Ultra sent me a 1GB XL kit, which consists of two 512MB modules. You can find more information about this kit here. Ultra doesn't provide very much information about these modules, but I can tell you that they use a 6-layer PCB and the Samsung TCCD ICs (rated at 500MHz). Here is a brief look at some features and specifications.
Features
Aluminum heat spreader
Extreme low latency – 2-2-2-5 at 400MHz
Limited Lifetime Warranty
Exhaustive triple testing ensures a quality product
100% compatibility guaranteed
Shipped in anti-static packaging
Free technical support
Specifications
Part #: ULT31720 (1024MB PC3200 XL dual channel kit)
Memory size: 1024MB (2x512MB)
Memory speed: 400MHz (PC3200)
Memory type: Dual Channel XL
| | | |
| --- | --- | --- |
| Speed | Memory Timings | Voltage |
| PC3200 (400MHz) | 2-2-2-5-1T | 2.6-2.7v |
| PC3500 (436MHz) | 2-3-3-6-1T | 2.6-2.7v |
| PC3700 (466MHz) | 2-3-3-6-1T | 2.7-2.8v |
| PC4000 (500MHz) | 2.5-3-3-7-1T | 2.75-2.85v |
| PC4200 (533MHZ) | 3-4-4-8-1T | 2.85-2.95v |
Note: Maximum Overclocking Speed PC4200 (533Mhz)
Ultra is one of the few companies that is outwardly stating what type of overclocking you can expect from this type of memory. The table listed above shows the speeds that Ultra claims this kit can run at along with memory timings and voltages for each speed.
PERFORMANCE
---
For testing, I ran SiSoftware Sandra 2004 SP2, PCMark04 and 3DMark2001SE, and I'm comparing this kit to the recently reviewed Corsair TWINX1024-3200XL (revision 2) kit. I used the same test system from the Corsair XL review. This DFI LANParty Pro875B-based system is the best overclocking system that I currently have. You can take a look at its specs below.
Test System
While testing the Ultra XL memory, I wanted to make sure that it could run at all of the claimed speeds, timings and voltage levels (listed on the previous page). I checked these all one at a time while testing how well the modules overclock. I'm happy to report that the modules can hit all the levels listed in the table, and this kit can actually do better than what is claimed. I'll get to that in a minute though. First, let's look at a basic comparison to the Corsair 3200XL kit at DDR400 2-2-2-5. I threw in scores of the Ultra at 2-3-3-6 as well so that you can see the benefit from the more aggressive 2-2-2-5 timings.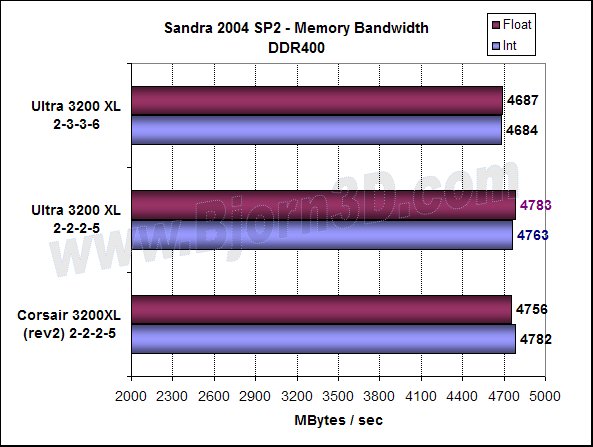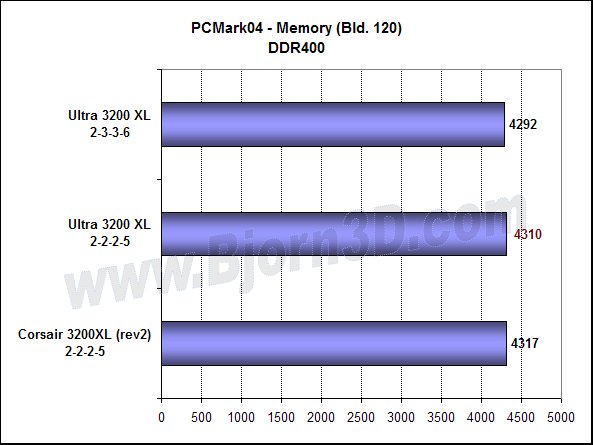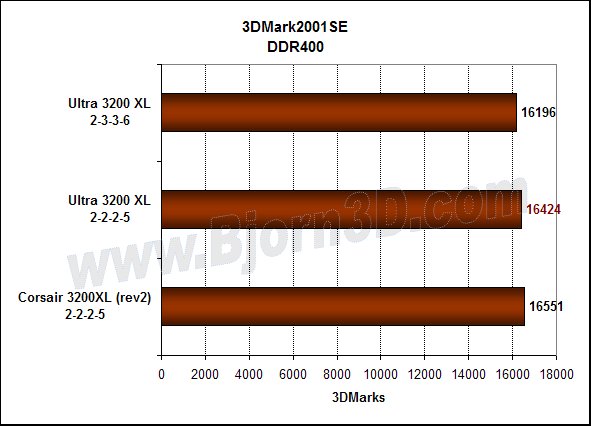 Overclocking
Since I had already seen that the Ultra XL will hit all the claimed speeds at the claimed timings, I decided to see if the modules could do even better. My gut feeling, based on my experience with modules using Samsung TCCD ICs, was telling me that these modules should be even better than Ultra's claims. Take a look at the table and graph below, and you can see that my gut was right.
Note: When I reviewed the Corsair 3200XL rev2 modules, I worked for the highest overclock at the following memory timings: 2-2-2-5, 2-4-4-7 and 2.5-4-4-7. Therefore, I did the same thing with the Ultra 3200 XL kit. 1:1 is the CPU to memory clock ratio used during all testing.
Ultra PC3200 XL Overclocking

Timings
Max Mem Clock
Mem Voltage
CPU Clock

2-2-2-5

215MHz (DDR430)

2.7V

2.58GHz

2-4-4-7

245MHz (DDR490)

2.8V

2.94GHz

2.5-4-4-7

275MHz (DDR550)

2.9V

3.30GHz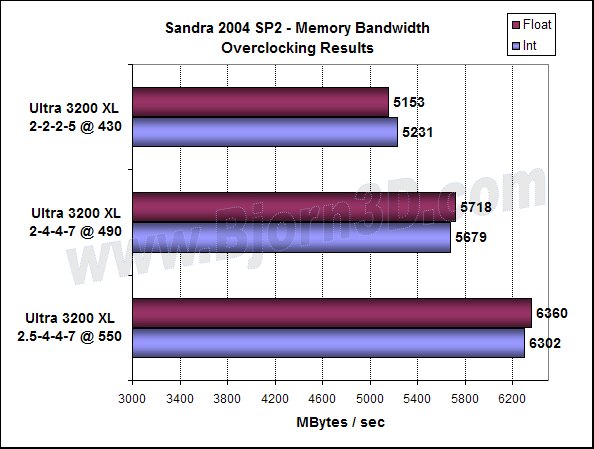 These Ultra XL modules turned out to be great overclockers. I was really impressed with the fact that I reached 245MHz at CAS 2 (2-4-4-7). I compared the overclocking I did with the Corsair memory to that of the Ultra, and the Ultra actually posted higher Sandra memory bandwidth results at DDR430 (2-2-2-5) and DDR460 (2-4-4-7), but at DDR550 (2.5-4-4-7), the Corsair 3200XL modules perform slightly better than the Ultra PC3200 XL kit.
Conclusion
---
Ultra can proudly boast that its new PC3200 XL RAM can hang with the best and put up impressive performance and overclocking numbers. This RAM laid my skepticism about Ultra-brand memory to rest. In the end, it's all about those lovely Samsung TCCD ICs. Those bad boys rock, and I hope they are here to stay for a long time.
A couple of things taint this excellent product, and those are the presentation and limited availability. I think Ultra could provide better and more clear information about the modules. I think it's nice to see a company being upfront about the overclocking capabilities, but I think it should be labeled as more of a "guide" than a "guarantee" perhaps, because it can be misleading to consumers who don't quite understand that all overclocking experiences are different. Each memory module, each motherboard, and each processor will offer different levels of overclocking goodness. I can see buyers being upset at Ultra for not being able to reach a claimed speed even though it might not be the fault of Ultra's PC3200 XL memory. Finally, the current availability is a little questionable right now. While Corsair, Kingston and OCZ RAM can be found in multiple major online retailers, like Newegg and ZipZoomFly, I can only find Ultra's PC3200 XL at TigerDirect.
There is some light at the end of the tunnel right now though. You can get this kit for $200 after a $50 rebate at TigerDirect throught the rest of February. I typically stick with Newegg, ZipZoomFly and MonarchComputers when ordering PC components online, so I can't comment on TigerDirect's level of service. I also don't know how reliable Ultra is on fulfilling rebates, but if you really want some great RAM, then it might be worth a shot.
Pros:
+ Great performance
+ Good price (really good through Feb. w/ rebate)
+ Excellent overclocking
+ Lifetime warranty
+ Free tech support
Cons:
– Limited availability
– More info would be nice
Final Score: 9 out of 10 and the Bjorn3D Seal of Approval