As we know Notebooks are becoming more powerful and flexible. Robust graphics solutions, better portability and longer battery life have been in demand ever since first 3D games were introduced on Laptops.
Introduction
---
Today NVIDIA will be unveiling the new GeForce FX Go5700 mobile GPU. Since the introduction of Go5650 solution (September 14th, 2003), most of us were a bit skeptical if NVIDIA can really keep their performance crown in the mobile market. The obvious reason for that is ATI's aggressive position with a recently introduced Mobility Radeon 9600 GPU which beat NVIDIAs last offering in terms of performance. Ever since NVIDIA entered the mobile market (almost four years ago), they've always pushed for better visuals and exceptional flexibility. That aside, let's look at what Go5700 GPU brings in to the table.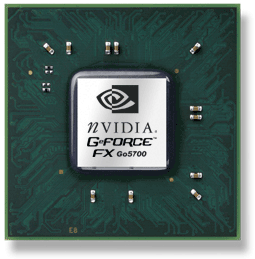 Naming Confusion
---
GPU naming scheme can be very baffling, especially when you have more than two similarly named GPUs being introduced within six to eight months.
GeForce FX Go5600 (NV31M), wire-bond packaging.
Performance Mode: 270MHz Core / 300MHz RAM.
GeForce FX Go5650 (NV31M refresh), flip-chip BGA packaging.
Performance Mode: 325MHz Core / 300MHz RAM.
GeForce FX Go5700 (NV36M), flip-chip BGA packaging.
Performance Mode: 350MHz Core / 300MHz RAM
Desktop Replacement Mode: 450MHz Core / 300MHz RAM
Note that Go5200 parts are based on totally different core, codenamed NV34M.
Basically both Go5600 and Go5650 are based on the same design (NV31M), but Go5650 being a revision with a slight speed bump.
Next-Level Cinematic 3D Graphics
---
NVIDIA's new mobile unit (built on 0.13u) is referenced on a recently introduced desktop GeForce FX 5700 (NV36). One of the most intersting features will have to be clock frequencies which can scale depending on operating environment. For less power-demanding work Performance mode (350MHz Core / 300MHz RAM) should be enough to capture your favorite TV show or watch a DVD. If you do not own a desktop PC but want to play latest DirectX 9 games, Desktop Replacement Mode comes to the rescue. At this point the GPU will operate at its highest frequencies (450MHz Core / 300MHz RAM). Obviously power consumption will go through the roof so your wall outlet is best suited here.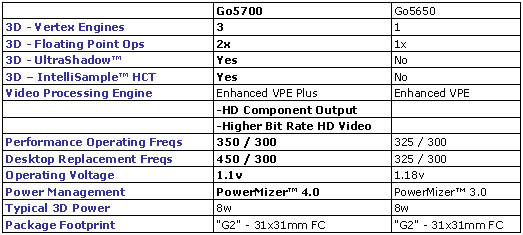 As its predecessor and desktop brother, the new mobile unit sports 128MB of RAM which sits on 128-bit wide memory bus. The GPU itself is fully DirectX 9 capable, so running the hottest games which utilize newest pixel and vertex shaders (2.0) shouldn't give you headaches. Additionally As for the improvements we have CineFX 2.0 Engine (formerly 1.0) and Intellisample (base antialiasing technology for all FX GPUs) with HCT addition (High-resolution Compression Technology). As with desktop NV35 / NV36, the new mobile GPU will also support UltraShadow technology (more accurate and real life looking shadows).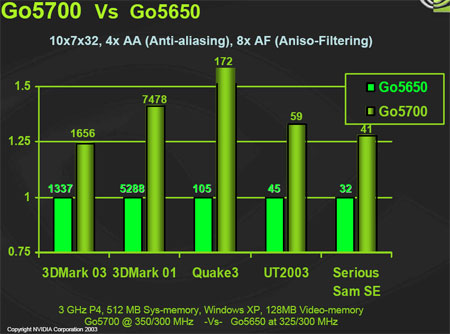 Albeit the Go5700 will be targeting enthusiasts and gamers, it can only do 4 pixels per clock (4 pipelines with two texture units per pixel pipeline, up to 16 textures per pass), so do not count on super pixel shader performance. NVIDIA also claims their new unit can do three times more vertex operations and two times more floating point operations, but looking back at NV35 I would take that with a grain of salt.
Enhanced Video Processing Engine
---
Let's put gaming aside and look at something more productive. What was a plus for mainstream GeForce 4 MX / GeForce FX 5200 series is now being introduced in flagship Go5700 based notebooks. The race for highest quality video output will never end. Digital content creation and mobile entertainment centers is what's driving our market today. We are obviously seeing a step in the right direction, however the technology must evolve.
GeForce FX Go5700 VPE 3.0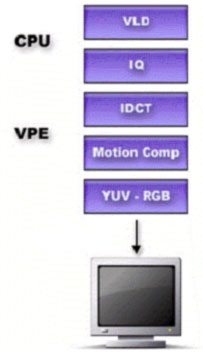 High-definition TVOut & Component-TVOut
The improved TV encoder includes support for integrated HDTV-out which produces much higher quality video.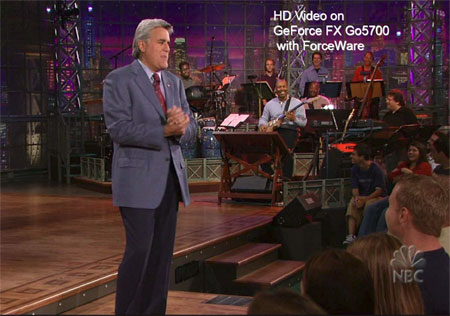 Advanced Motion Adaptive Deinterlacing
Provides highest-quality playback for interlaced content.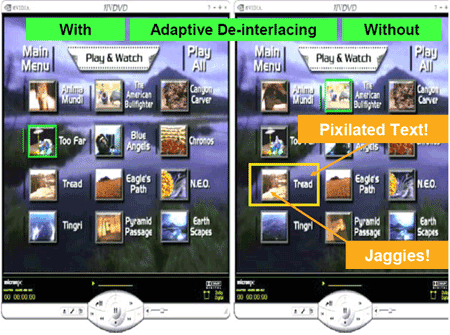 Display-quality enhancements
The technology built into GeForce FX Go mobile GPUs ehnances deblocking, scaling, flitering and sharpening filters as well as Digital Vibrance which is controllable through ForceWare drivers.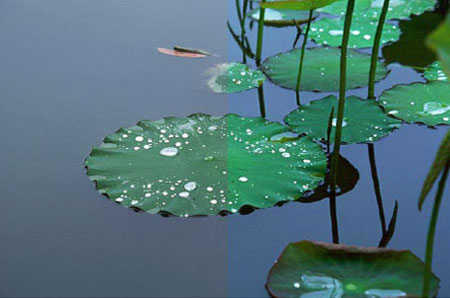 Lowest DVD CPU Utilization in the Industry
Since the introduction of mobile Go5600, major part of DVD processing has been handled by the GPU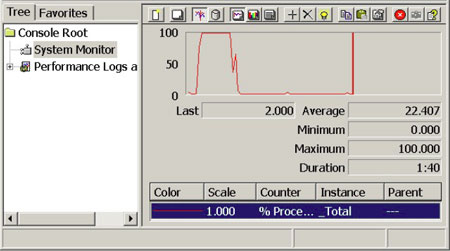 Support for TV decode, HD Displays
DVD and HDTV-ready MPEG-2 decoding up to 1920×1080 resolutions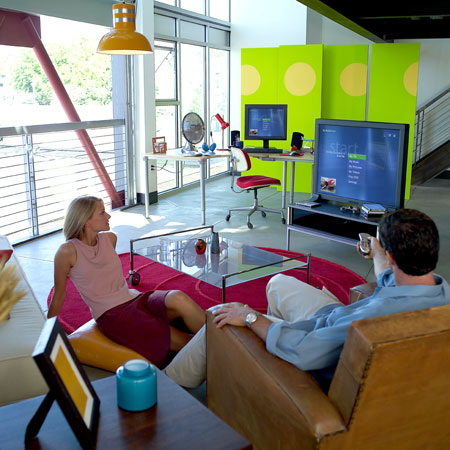 Unsurpassed software quality and compatibility
---
So what is controlling all this great technology? NVIDIAs effort to provide the end user with portable yet full fledged media center has paid off. Additionally, easy to use and capable software will get the most out of your Go5700 equipped notebook, if not exceed your expectations. With Unified Driver Architecture, ForceWare suit delivers rock-solid and reliable experience. NVIDIA's mobile productivity software includes improved:

nView™ technology allows for multi-display increased screen real estate
-Gridlines allows a user to divide up the monitor into separate regions and quickly reposition and resize application windows.


-Profiles let you easily save and restore multiple desktops that allow you to customize display settings for different environments depending on what you are using your mobile PC for (gaming, watching a DVD, document viewing, etc).


NVRotate™ display technology allows a user to pivot the display from landscape to portrait mode for easier information
and application viewing.


NVKeystone™ technology allows a user to project and adjust images onto any surface with lossless picture quality.
Note that those technologies are not available for Linux platform. NVIDIA does support Linux, however only OpenGL API is exploited and no additional software is provided by the company. This does not mean Go5700 solution is not for you. You can still get 3rd party software which will (or already does) support this type of hardware.
Advanced Power Management Technology
---
PowerMizer 4.0
What could be more frustrating than a battery die while working on something important? The fourth generation of PowerMizer comes to the rescue. There are many ways to reduce power usage on laptops, however the best way would be through hardware support. PowerMizer allows the user to tinker with power settings depending on the environment.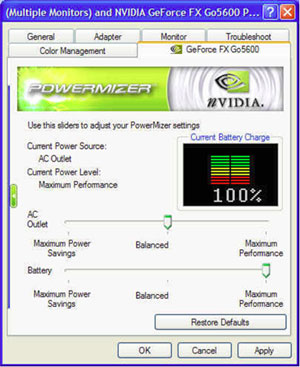 As you can see, there are two main sliders for adjusting power consumption. AC Outlet (Used with AC adapters) and Battery. Here you can set your desired performance mode which should reflect the current working conditions. Each slider has three distinct options which are self explanatory: Maximum Power Savings, Balanced and Maximum Performance. On the top-right, we have a constantly updated Battery Charge indicator.
SmartDimmer
Since displays are the most power-hungry devices, another way to extend your battery life would be to use SmartDimmer Technology. This is a new addition to the PowerMizer 4.0.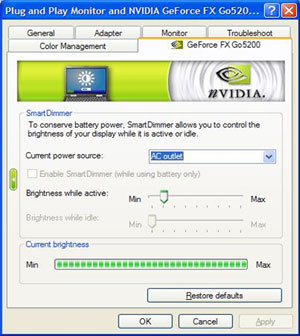 SmartDimmer allows for controlling brightness-related preferences which helps reduce power consumption.
Dynamic Clock Scaling
Mobile GPUs do not need to run at full speed all the time. There are applications which simply do not require highest clock frequencies. Dynamic Clock Scaling can lower the speed of the GPU to even 16MHz. Once the performance is needed the clocks adjust accordingly.
Dynamic Clock Gating
Another excellent idea which zeros-out power usage for parts of the GPU that do not need to run.
Voltage Scaling
GeForce FX Go mobile GPUs can automatically adjust voltage depending on the performance mode. Using the AC adapter will increase the clock frequencies as well as the voltage. While on battery, we will get just the opposite: lower frequencies and lower voltage.
AC Power Auto Detect
This part of PowerMizer 4.0 technology detects whether your notebook is running on AC adapter or a battery. Once you pull that plug, PowerMizer will automatically switch to your prefered battery performance mode.
Conclusion
---
It is inevitable that in the near future, notebooks will be replacing our high-end desktop PCs. It's only a matter of time since this particular sector does not slow down. NVIDIAs flagship Go5700 GPU is definitely a good competitor for ATI's M10 part – feature wise and performance wise. It will be interesting to see which will be chosen by the majority. There are customers who want best portability and there are those who want to play latest games. There is a solution for everyone, it all depends on preferences and tastes however.