Aerocool is now offering quad UV LED fans with UV sensitive frames and blades. If you want to add a nice glow to your case, then UV LEDs and UV sensitive material is a good way to do it. And if you can get that all in a fan, then you can usually get it relatively cheap and it still looks good. But, do these fans from Aerocool have what you are looking for? Check out this review to find out.
Introduction
---
Aerocool has only been in the business since 2001, but they have plenty of cool, or Aerocool (just a little poke at their marketing slogan "Be cool! Be Aerocool!"), products to offer the modding community. Aerocool offers products ranging from PSUs with windows and acrylic cases to case fans and electroluminescent cable. Today, I'm taking a look at one of their latest case fans. It's a quad UV LED fan with UV sensitive frames and blades.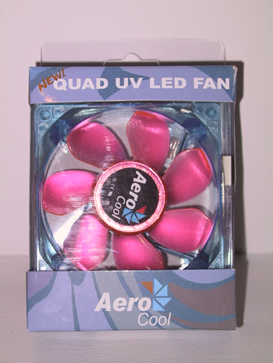 Specifications & Features
---
Specifications:
Dimension: 80x80x25 mm
Bearing: Sleeve
RPM: 2000
Air Flow: 22.9 CFM
Noise Level: 21.8 dBA
I don't normally like noise, but I like that noise level! This fan is part of their "Silence Solution" series, so it ought to be quiet.
Features:
Package Contents:
Fan
Mounting screws
3-pin to 4-pin (molex) adapter
Impressions
---
After plugging this fan in and hearing very little noise, I believe the "Silence Solution" label on these fans is accurate. However, it is only running at 2000 RPM, so there is no reason for it to be loud really. Also, the four UV LEDs shine very bright. I'm sure it would only take a couple of these to fully light up a mid-tower case. Or using only one, assuming it's in the right place, could provide enough light in a case to make a lot of people happy.
This fan is supposed to be orange with a blue frame. Well, the orange looks a little more like pink to me. Actually, I think my digital camera is usually a little overzeolous with magenta hues, so that may be partly culpable. However, the fan definitely had a pink glow when I looked at it from the front (where the sticker is), but the fan appeared orange when I looked at the back. Unfortunately, I was unable to take a good picture to demonstrate this.
Conclusion
---
The modest 22.9 CFM of air flow may not be enough to meet some people's needs, but for others, the bright quad-LED design might be worth the trade off. I was able to find these fans at newegg.com for about $6. If you are looking for a fan that looks good and is quiet, then this may be worth considering, unless you want to push a lot of air.
Pros:
Four UV LEDs
Bright
Quiet

Cons:
Modest air flow

The Aerocool UV LED case fans should be available at the following retailers: www.outpost.com, all Fry's Electronics store, www.tigerdirect.com, and www.zipzoomfly.com.