As more and more people are accumulating more and more files, external backup solutions are becoming more popular. Eumax makes several very stylish and high quality external HDD enclosures. This review covers the Metal Gear Box that offers both USB 2.0 and SATA interfaces. Read the review to find out more…
Introduction
---
Want an easy way to quickly back up important files? Want to keep this storage separate from your main PC? Have an extra hard drive laying around? If you answered yes to all (or any) of these questions, then an external hard drive enclosure might be a logical solution for you.
I don't think it's even necessary for me to stress the importance of backing up important files. Most of you have heard a horror story or two about hard drives crashing and important files being lost and unrecoverable. "Unrecoverable" – is there a more dreadful word in the world of data? Losing cherished data is definitely one of the most stressful experiences related to this technology that we all enjoy so much. Consistently maintaining backups of important files on an external hard drive is just one way to prevent that stress from ever affecting you (or at least minimize the risk). Trust me; it's not worth thinking, "It will never happen to me." This is especially true for laptop users because their data is even more vulnerable. Not only can your laptop hard drive crash, but laptops also can easily be lost, stolen or dropped. Bye bye data.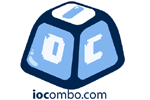 So, it's time to get that data backed up! Thanks to iocombo.com, I'm going to be doing just that with a stylish external enclosure called the Metal Gear Box, a 3.5″ USB 2.0 and SATA hard drive case from Eumax Inc.

Features and Package Contents
---
General Features:
USB 2.0 interface (backwards compatible)
Serial ATA interface
Fits any 3.5-inch hard drive
E-IDE/ATAPI interface (supports ATA PIO modes 0-4, UDMA 2 and 4) (UDMA 2 = ATA/33; UDMA 4 = ATA/66)
480 Mbps maximum data transfer
Hot swappable
PC and Macintosh compatible
Stylish design
Aluminum mesh side keeps drive cool
1 year warranty
One feature that you will no doubt notice right away when looking at the Metal Gear Box is the stylish design. The MGB is built from aluminum and punch metal. No flimsy, cheap plastic here! Not only does the design look great, but it also feels very solid and seems to be of high quality. Everything you'd want in an external HDD enclosure.
The USB 2.0 interface is of course no surprise, but the inclusion of a Serial ATA (SATA) interface may raise an eyebrow or two. External SATA connections aren't really common yet, but I think we will see more of them soon. With SATA's small connection and cable, it's as convenient and easy as USB or FireWire to hook up.
Retail Package Includes:
Metal Gear Box USB 2.0 and SATA
Plastic stand
USB A to B cable
18 inch SATA Cable
AC adapter (100-240V, 50-60 Hz)
Driver disc
Installation instructions
Drive mounting screws
The package comes with everything you need except a hard drive. The MGB supports high capacity drives, so all you have to do is determine just how much external storage you want and then add it. You can of course stand the MGB horizontally to use it, or you can set it up vertically using the included plastic stand. Check the next page to take a closer look at the MGB and see how well it performs.
Closer Look and Installation
---
I of course haven't seen every external enclosure available on the market, but I think the MGB is one of the coolest looking ones around. The two metal plates that the hard drive sits between constitute the bulk of the MGB, and they are what help make the MGB look so good. They aren't just for looks though. Because they are made from aluminum, they act as big heatsinks that help keep the hard drive as cool as possible. The black 'walls' in between the two metal plates are actually thin mesh metal screens that allow air to flow naturally away from the hard drive.
Good looks. Good cooling potential. Two ingredients essential to long-term use of a device like this. Good looks will help you tolerate it taking up space on your desk, and good cooling will help prolong the life of the hard drive contained within the enclosure.
| | | | |
| --- | --- | --- | --- |
| The Stylish Metal Gear Box | The MGB Gets Vertical | Closer Look at the Mesh Sides | L to R: Power Switch, Power Connection, USB 2.0, SATA |
Opening up the MGB and installing a hard drive in it is fairly simple. In the pictures you've seen so far, you may have noticed the silver circles in each corner of the MGB. Those are actually the screws holding the unit together. Each side of the MGB has four screws, and they are all easy to unscrew by hand and remove. Another nice design choice. So, you just unscrew four screws and take off the metal cover. Now, the unit is open and ready to have a hard drive installed.
| | | | |
| --- | --- | --- | --- |
| IDE and Power Connectors Inside the MGB | IDE and Power Cables Are Removable | Remove the Cables and Plug Them Into Your HDD | Insert the HDD, Plug the Cables Back In |
The pictures above show the basic steps involved in installing a drive in the MGB. After removing the cover, I removed the IDE and power cables that were connected to the small PCB in the MGB and hooked them up to my hard drive. Then, I placed the hard drive in the MGB and reconnected the two cables. Finally, I replaced the top cover and then installed the two screws that hold the hard drive in place (see second pic below).
That's all there is to the physical installation of the MGB and hard drive you choose to use. Before using the MGB, you of course have to hook up the power and either the USB 2.0 or SATA cable. Once you get everything hooked up properly, this is how the MGB will show up in Windows Explorer (your capacity listed will obviously be different if you don't use a 200GB drive as I did).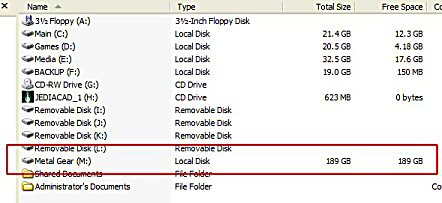 Performance and Benchmarks
---
All the good looks in the world and easy installation don't mean anything if performance is wack as crack. I know you want to know how well the MGB performs, especially when hooked up to the SATA interface. I did some brief testing with Sandra 2004. I admit I was eager to see just how much better the unit would perform hooked up to SATA versus USB 2.0. Before I reveal the test results, take a look at my test system.
Test System:
AMD Athlon XP 2500+ @ 3200+
Leadtek GeForce FX 5950 Ultra
Western Digital 80GB SE 8MB Buffer HDD
Pioneer 16X Slot DVD
Windows XP Pro SP1
Maxtor DiamondMax Plus 9 200GB 8MB Buffer — Used in MGB (available here @ iocombo)
First, let's take a look at the performance based on Sandra 2004's File System Benchmark. Keep in mind that this is a synthetic benchmark and doesn't necessarily reflect real-world performance. Also, the hard drive installed in the MGB and used for testing was a Maxtor DiamondMax Plus 9 200GB drive.
As you can see, the performance in Sandra is quite impressive for both interfaces. I was very pleased with the 20,124kB/s score with the USB 2.0 interface, but I was pleasantly surprised by the SATA performance of 38,918kB/s, nearly twice that of the USB 2.0 interface. Once again, I have to stress the fact that these are synthetic benchmark results, which leads me to do a couple real-world tests.
To see how the MGB really performs, I just timed the same file transfer using both interfaces. I simply copied files from my local hard drive and pasted them to the MGB. The transfer included over 3,700 files of various types and was approximately 450MB. When hooked up via USB 2.0, the transfer took about 130 seconds (3.46MB/s). The SATA interface was slightly faster and only took 110 seconds, which is a transfer rate of 4.09MB/s. This is why I was stressing the synthetic nature of Sandra. SATA does offer superior performance as Sandra suggested, but not at quite the advantage it showed. The 18% faster performance offered by SATA over USB 2.0 is still worth noting though. Either way you go, you will get impressive performance with the MGB, especially if you pair it with a great performing drive, like one from Maxtor's DiamondMax Plus 9 series.
Conclusion and Final Score
---
The USB 2.0 and SATA Metal Gear Box surprised me in a couple ways. First, for an external enclosure, it's quite stylish and should compliment your desk rather than 'uglify' it. Second, the Sandra 2004 SATA performance was quite impressive. Unfortunately, real-world performance showed a slightly different story. While Sandra showed that SATA was around twice as fast as USB 2.0, I found it to be only 18% faster when actually transferring files to the MGB.
Regardless of the interface used, I think the MGB is an impressive product. The biggest drawback that I can think of that will affect some users is the lack of a FireWire (IEEE1394) interface. Eumax does offer a MGB without the SATA interface, but this one still only offers USB 2.0 support. I'm not sure why Eumax isn't offering FireWire on these products, but I am sure it will be an issue for some.
The final aspect of the MGB to discuss is the price. Iocombo is currently selling the MGB reviewed here for about $70. That might seem a little pricey to some. If that's the case, then you can check out the USB 2.0 only version for $25 less ($45 in other words) here.
Pros:
USB 2.0 and SATA interface
Stylish looks
Good performance
Practical design helps draw heat away from the hard drive
Cons:
No FireWire interface
You might need longer cables than the included ones
USB 2.0 / SATA combo MGB is $25 more than the USB 2.0 only one
For its practical design, good looks and good performance, I'm awarding the Eumax Metal Gear Box 3.5-inch USB 2.0 & SATA Aluminum HDD Enclosure an 9 and the Bjorn3d Seal of Approval.
Thanks to the generous folks at iocombo.com for supplying the MGB for review. If you're interested in purchasing the MGB (which is also available in just a USB 2.0 version), click here. You can actually buy the USB 2.0 MGB bundled along with the same 200GB Maxtor hard drive tested in this review for about $220 (as of 11/19/03) by clicking here.