Western Digital Blue 4TB SSHD
Combining a 8GB Solid State Drive with a 4TB platter drive, the Western Digital 4TB SSHD is a hybrid drive designed to give tons of storage space and that little extra go power of an 8TB SSD. The drives electronics decide what programs and files you use most often and store them on the SSD portion of the drive then pushes the remainder of your files onto the more than adequate 4TB platter space. This arrangement allows for flexibility in a lot of applications where room for one hard drive is all you get. HTPC, game consoles, and just plain can't afford the luxury of a dedicated SSD.
The drive itself sports a Sata 6 Gb/s connector in a 3.5 inch form factor with a 4TB storage capacity and generous 64 MB of cache. Spinning at 5400 RPM and leveraging the 8 GB of Nand flash results in the combination of speed and capacity you don't see in traditional platter drives or SSD's
Our 4TB Western Digital SSHD is from the Western Digital Blue family and follows the standard 3.5 in form factor we have become accustomed to over the years. Utilizing an evolved set of algorithms the drive tracks SSHD usage and prioritizes frequently used data for fast access on the SSD portion of the drive. The data that is placed on the SSD 8GB Nand Flash portion isn't static as the drive optimizes as conditions and usage change so it's an ever learning lightning fast 8GB Cache that has been shown to run up to 5x faster than traditional 5400 RPM drives. (According to WD). The advanced algorithms reside in the smart portion of the SSHD independent of storage drivers or host controller allowing it the independence to direct which data is stored on the Flash portion of the drive.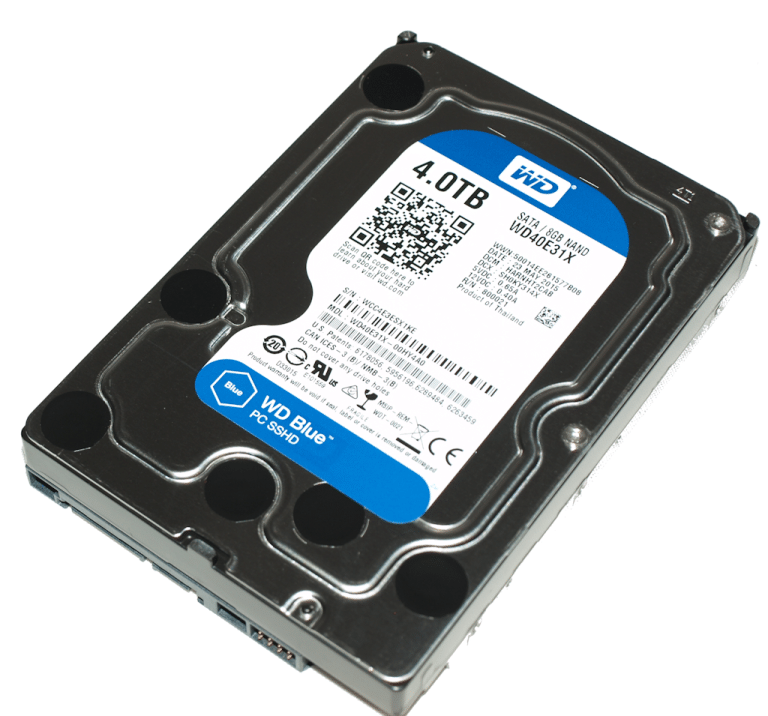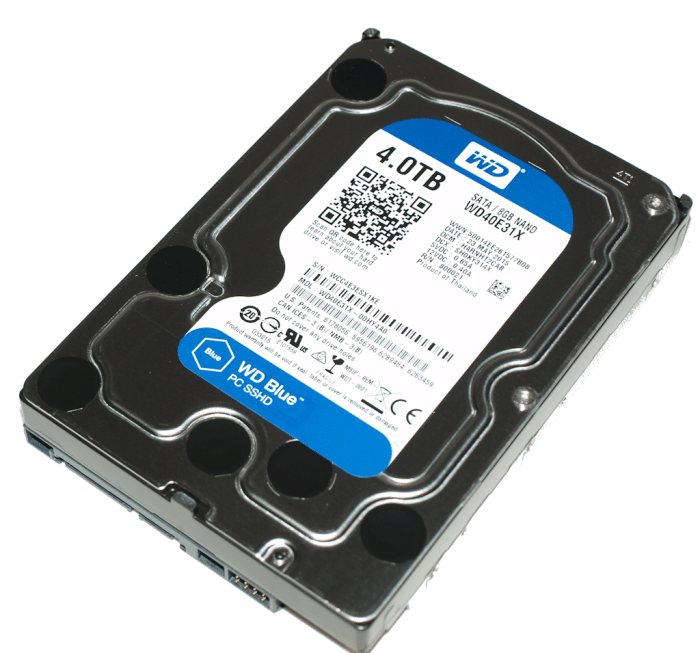 Power storage users will appreciate the economic speed of the Western Digital when it comes to Digital Photography, Digital Artistry and the speed provided by the Western DIgital 4TB SSHD. The ultra fast speeds and storage capacity are conducive to large multimedia files and the creation of digital art. If you look at a single 1 TB SSD currently they are in the $1000 range making large storage arrays prohibitively expensive in most cases. We would expect that even when SSD's drop in price the reliability and native improvements to speed in the platter segment will still make them an attractive reliable storage solution for mega storage needs.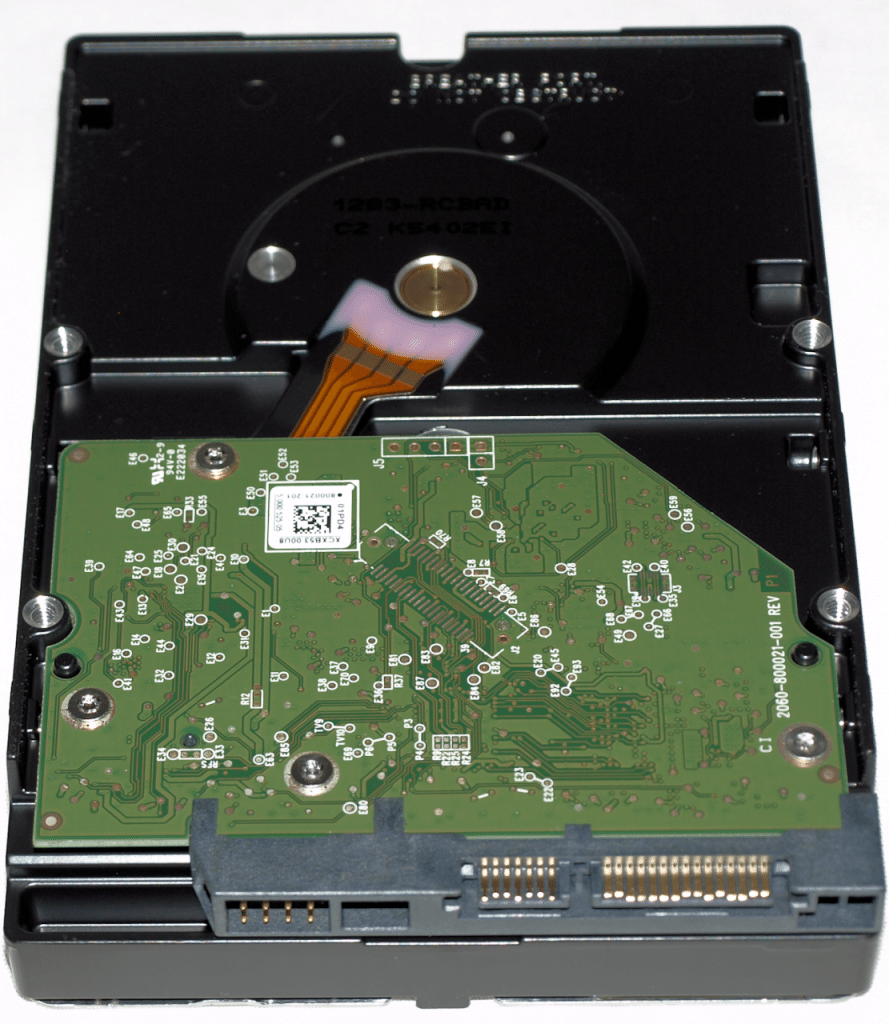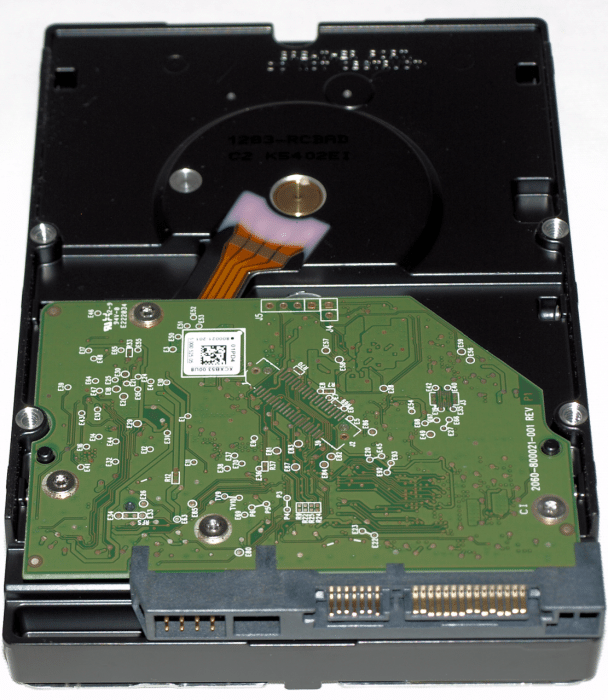 Now as you can see Western Digital didn't just tape a SSD to the bottom of the drive string a few wires and call it good. You find the Sata 6 Gb/s storage interface and a pretty standard looking controller card for a platter drive. Now we've run the drive across benchmark after benchmark and coming from the generation that was amazed at the increase in speed moving from a 5 1/4 inch floppy to a 3 1/3 floppy then the awe-inspiring speed of a 30MB MFM (Modulated Frequency Modulation) HD we can tell you there is nothing about the Western Digital 4TB SSHD that is standard except the form factor.
SPECS
WD BLUE SSHD
Ideal for:

High-performance PC systems
Notebooks
Desktops
All-In-One PCs
Gaming PCs
Home Media PCs

Specifications:

1 TB 2.5-inch and  4 TB 3.5-inch capacities
8 GB of NAND flash for blazing SSD-like performance
Up to 5x faster than traditional 5400 rpm HDDs
Designed for power PC users, creative professionals, gamers and system builders
3-year limited warranty (worldwide)*
Test Rig & Benchmarks
There's really no big need to go into the entire test rig we used, we used an Asus Maximus VIII Extreme motherboard with a 6700K Skylake processor under triple radiator water cooling to prevent any throttling. We set a 550MB/s SSD as the boot drive using Windows !0 fully updated with the latest drivers and all updated software. We ran the Rig at stock speed as well as the GPU at stock speed for all the WD SSHD testing. You can scrape a little more speed out of the drive in some instances OC'd but since you don't OC the drive itself we went with a stock speed system.
For those that absolutely must have the extreme lowdown on the Test Rig:
Test Rig
"Quadzilla"
Case Type
CPU
Motherboard
CPU Cooler
Hard Drives
Optical
Liteon DVD Burner
GPU
 
Case Fans
1 x 180mm Mosfet / CPU / RAM cooling fan
1 x 120mm PCI-E Cooling Fan
Docking Stations
None
Testing PSU
Legacy
None
Mouse
Keyboard
Any Attempt Copy This System Configuration May Lead to Bankruptcy
Benchmarks
Anvils Storage Utilities
Anvil's Storage Utilities is a powerful tool that was designed in order to provide you with a simple means of assessing the read and writer performance of your Solid State Drive or Hard Disk Drive.
The benchmark tool helps you monitor and check the response time of your unit as well as view the system information collected using Windows Management Instrumentation (WMI).
Anvil's Storage Utilities has been designed to be the most comprehensive benchmark tool for Solid State Drives on the market. That does not mean that you can't use it for conventional platter based drives as well, but you do get the most out of the program when you test the speed and performance of SSDs with it. The program has gone through a series of beta and release candidate builds already, and is currently available as Release Candidate 3. It is usually linked from this forum thread, which currently is not the case for the RC build which you can download here directly. You can't use previous builds as they are set to expire automatically.
You can run a benchmark right away by selecting a drive from the menu at the top right, or check out the settings first to make sure everything is configured correctly here. Here you can simulate a compression level of the test file, e.g. database, application or uncompressed, and whether you'd like to use the same test file on consecutive runs or generate a new one every time. As far as benchmarks go, you can run a standard SSD benchmark that is testing read, write, or both performances of the drive, or run threaded IO benchmarks only.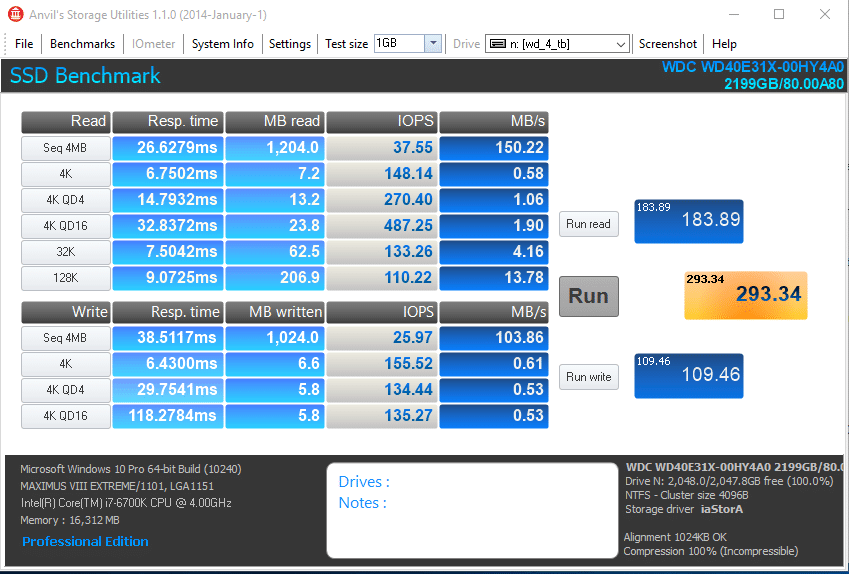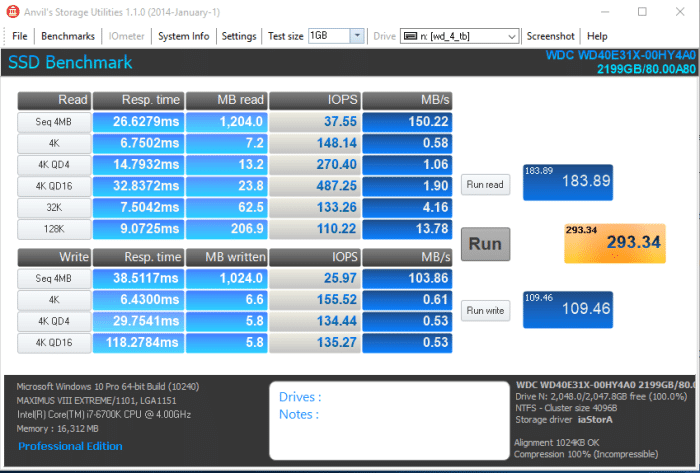 Anvils Storage Utilities provides a massive amount of data across a wide range of different sized tests and starting with the Sequential 4MB read test you can see the Western Digital 4TB SSHD isn't any slouch running a 150.22MB/s at 37.55 IOPS having read 1,204.0MB with an overall response time of 26.62ms. Drop the testing block to the brutal 4K test more common in server data storage than desktop use we get a 0.58 MB/s at 148.14 IOPS and 7.2 MB read and a response time of 6.75ms.
Dropping to the write end of things you get 103.86 MB/s with 25.97 IOPS writing 1024.0 MB with a response time of 38.51ms. Run that down the 4K test and we get 0.61 MB/s at 155.52 IOPS with 6.6 MB written and a response time of 6.43ms.
ATTO
Assess the performance of your HDD and run thorough hard disk drive tests to determine read and write speeds by using this powerful application
In case you notice it takes a considerable amount of time to read or write data, you might want to put it to the test and see if everything is in order. ATTO Disk Benchmark is a software solution designed to help you measure the performance of your system, by running a series of tests to determine hard disk speed.
ATTO is almost the industry standard for reporting drive speed from the manufacturer and we will be running multiple passes of ATTO to check on the learning portion of the SSD.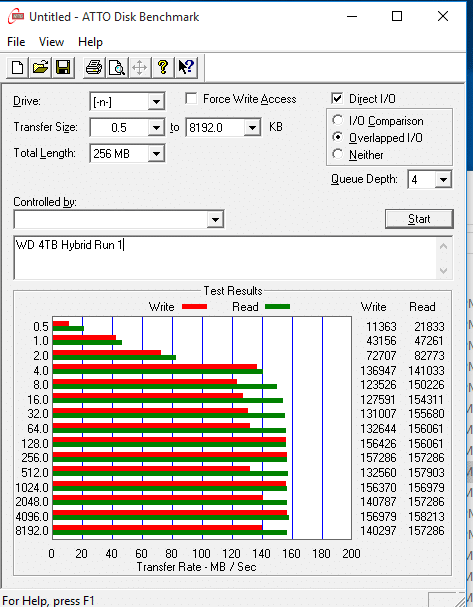 Here in our first run of ATTO 0.5 KB we hit 11.363 MB/s write and 21.833 read and the drive hits it's stride at about 256KB jumping to the 157 range which is entirely respectable for a modern hard drive. In the infancy of SSD's we saw much slower speeds than these and some "Extreme drives" ran at 30 MB/s sustained and at that time platter drives were considered "The Bottleneck" in computing. It looks like that bottleneck must have gotten a lot larger if you consider the speeds we are seeing on the Western Digital SSHD.
ATTO Run 2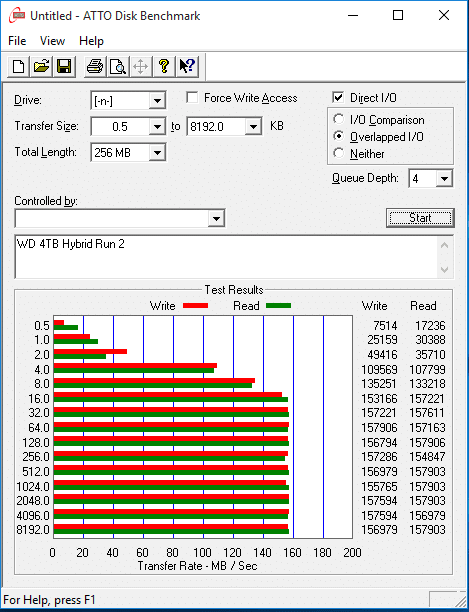 The second run of ATTO the SSHD hasn't really had time to push it to the SSD portion so lets look at run 3.
ATTO Run 3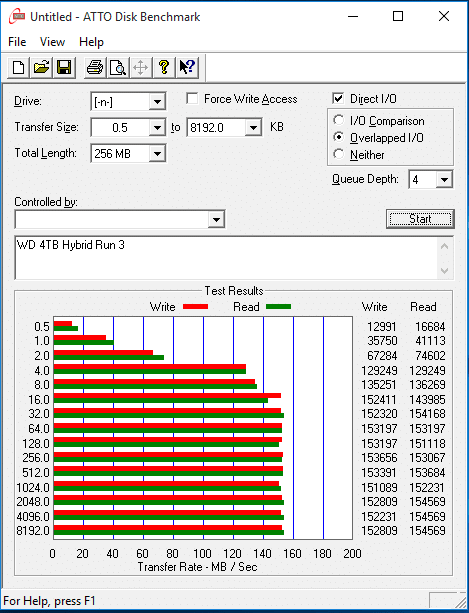 Ok here on the third run we are seeing some improvement on the initial 0/5KB and jumped to 12.99 MB write from the initial 11.36 initial run giving us an indication the drive is starting to learn. The top end speeds didn't vary much but honestly it takes time for the drive to learn and 4 runs is barely enough for it to make a difference in the learning curve.
ATTO Run 4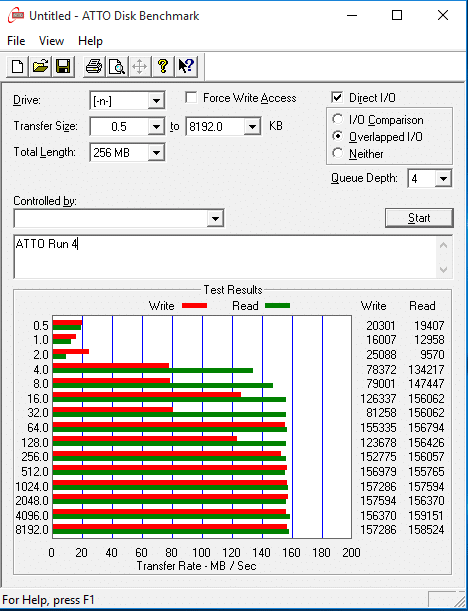 Now looking at the numbers on ATTO run 4 we are seeing the learning portion of the drive wake up and say hey ATTO is being run a lot so lets cache into the NAND Flash. The initial 0.5KB has jumped to 20.31 write and 19.40 read from an initial 7.51 MB/s write and 17.23 read. We've seen some improvement and the longer you use your favorite programs the more they will cache onto the 8GB Nand Flash section of the drive.
CrystalDiskInfo
CrystalDiskInfo gives you a complete readout of all your computer's SMART information, as well as a current temperature and health status. From its dashboard, you can quickly see a long list of up-to-date system data, so you know when things are going well, and if it seems like something is going wrong.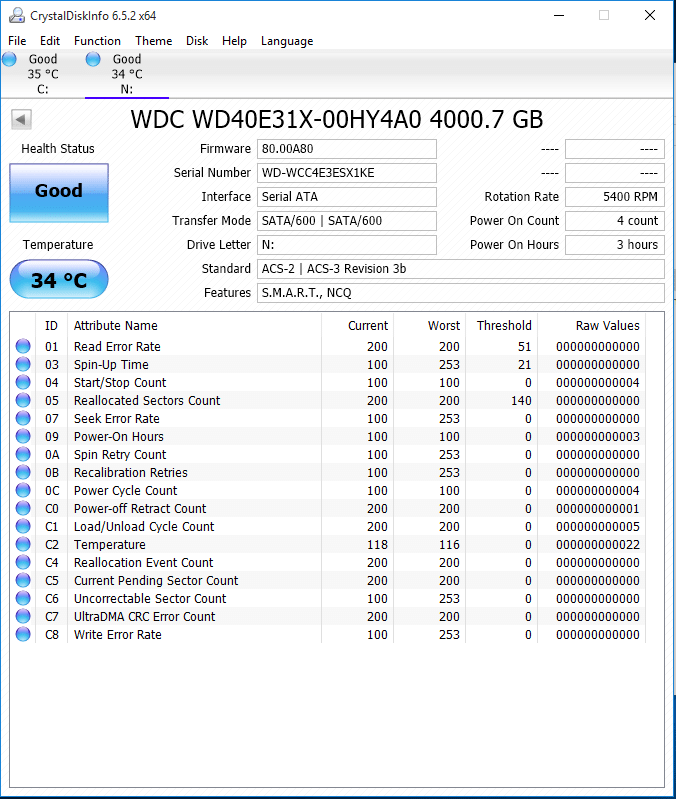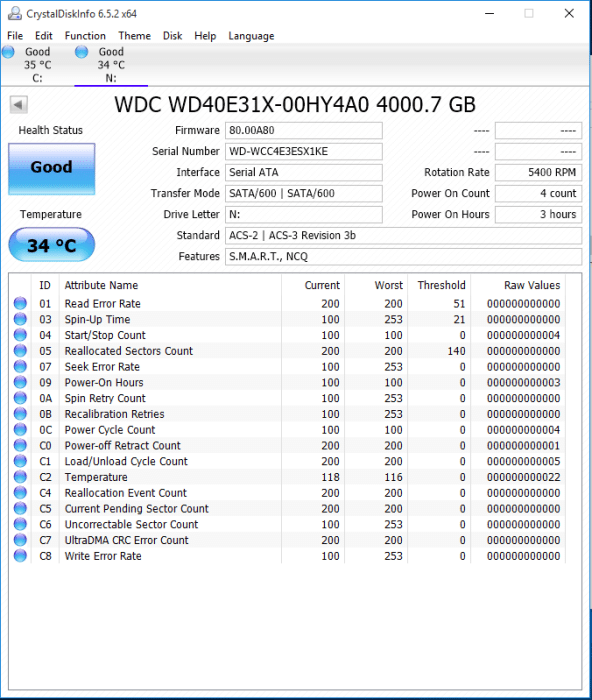 We like to run CrystalDiskInfo to get a look at the internals of the drive and as you can see everything is as specified by Western Digital but even this time-tested well trusted utility isn't quite up to snuff to gie us the straight scoop on the hybrid drives nature. CDMI gives the model of the drive but isn't ready to handle hybrids elegantly.
CrystalDiskMark
From Crystal Dew World CrystalDiskMark is a disk benchmark software.It measure sequential reads/writes speed,measure random 512KB, 4KB, 4KB (Queue Depth=32) reads/writes speed,select test data (Random, 0Fill, 1Fill),provide theme support and Multi-Language support.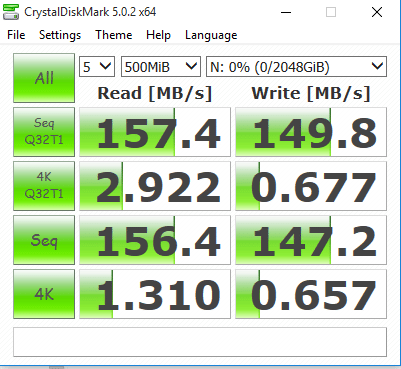 CrystalDIskMark shows us pretty much the same thing previous benchmarks are showing and top end read is 157.4 and write is 149.8 leaving us to wonder how fast the drive would be if it were running at 7200RPM and not 5400RPM. You have to admit for a 5400 RPM drive the WD 4TB SSHD is cranking out some data pretty fast.
HD Tune Pro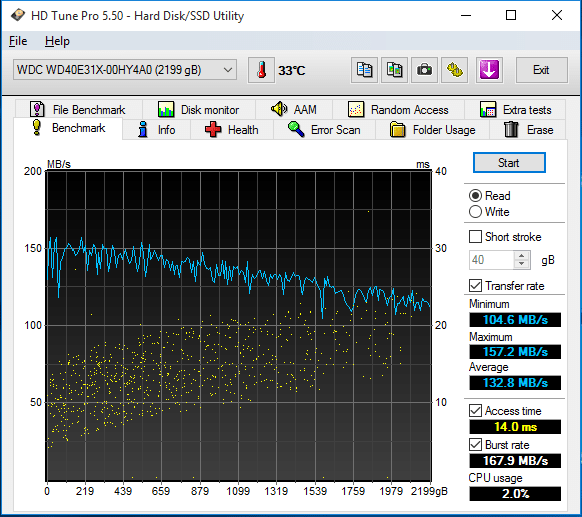 HD Tune Pro doesn't throw any wrenches into the testing of the Western Digital Drive and shows a max of 157.2 MB/s and an average of 132.8 MB/s with an access time of 14 ms and low 2% CPU usage.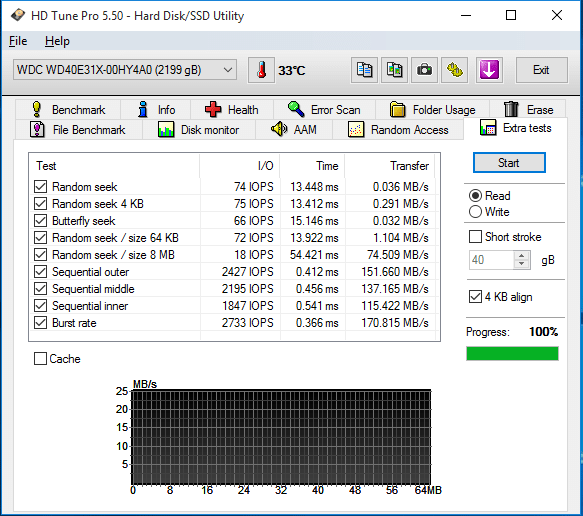 We ran the Extra Tests Portion of HD Tune Pro because it expands past just raw speed. We got speeds ranging from 0.036 MB/swith 74 IOPS on random seek to outer platter sequential of 151MB/s 0.456ms and 2427 IOPS.
PCMARK 8
Real-world relevance
What makes PCMark 8 different from other benchmarks? Real-world relevance.
With PCMark 8 you measure and compare PC performance using real-world tasks and applications. We've grouped these applications into scenarios that reflect typical PC use in the home and at the office.
This approach ensures that PCMark measures the things that matter, highlighting performance differences that will be apparent to end users and consumers.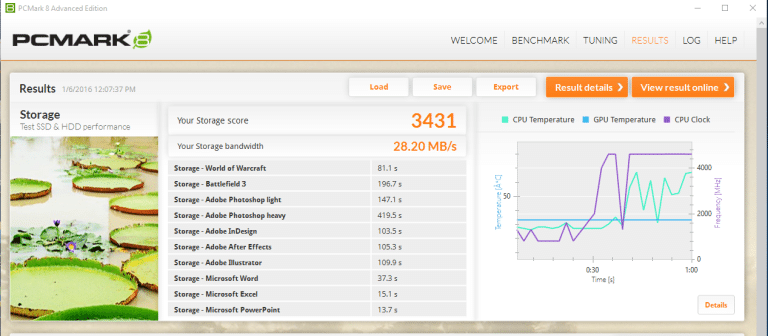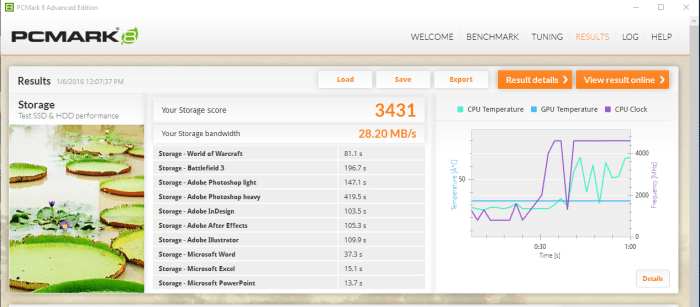 We like PCMARK 8 for its real world testing but it needs more than a raw score of 3431 and 28.20 MB/s to satisfy our needs. Considering they claim Real World Relevance I don't know many people who sit around all day and Adobe. Most data is about half and half compressed and uncompressed in the internet world we live in today. So Take PCMARK 8 for what it is, worst case scenario for real world relevance.
Final Thoughts & Conclusion
We like the Western Digital 4TB SSHD for its speed and innovation as well as its massive storage space. Like most we aren't going to go out and grab four 1TB SSD's

any time soon. Now we can see springing $100 bucks for a fast SSD and stacking the Western Digital 4TB SSHD behind it giving you the best of both worlds. When it comes down to it platter drives still rule the mass storage world and SSD's in their evolving forms rule the fast lane. The problem is you can't live in the narrow space the fast lane gives so your sports card SSD leaves you stranded for massive storage. THe Western Digital 4 TB SSHD gives you the massive storage and an extra 8GB SSD to kick up the speeds a bit. The 5400 RPM design was whisper quiet and barely sips at power as it quietly delivers its massive 4TB storage punch and does it in the $180  – $190 range.
For limited space situations like HTPC, Game consoles, DVRs and first build budget systems the Western DIgital 4 TB SSDH makes great sense. We would rather have this massive storage out of the gate then add a zippy small storage SSD later.
When it comes down to it platter drives still rule the mass storage market and we would expect them to do so for quite some time. Like SSD's platter drives are evolving and speeding up and it's time to ditch that 5-year-old drive and invest in todays platter drives. It's common to see the Hybrids at a bargain price and some of Western Digitals other offerings might catch your eye as well.
Pros
Cons

Price
Ease Of Installation
Balance Of Speed & Storage Space
Top Of The Charts Performance
Intelligent Independent SSHD Algorithms
3 Year Warranty

Larger SSD Portion Would Be Nice