Test Rig & Overclocking
Our testing has changed a bit with Windows 10, as we disable automatic updates so that the machine isn't downloading updates while we test. We clear the cache and prefetch before test runs, and disable the firewall and virus scanner. Windows 10 is updated as much as possible and we manually go on and select updates applying all patches and updates prior to beginning the testing. We run a single SSD or multiple SSD's so there's no drive indexing going on. We shut down the Internet to insure no background task is checking for updated virus vefinitions. All non-mandatory system-tray icons are closed.
The Windows install is done fresh for every review, and we install all the latest drivers and utilities for the motherboard. We leave the system at the normal overclock (in this case 4600MHz) but the RAM is left at factory speed for benchmarks. We do run a picture of the stock speed benchmark on one benchmark, then run an overclocked benchmark to show the boost you get from the overclocking.
Test Rig
"Roger"
Case Type
DIYPC Open Test Bench
CPU
Intel Core I7 6700K 4.0 – 4.2GHz
Motherboard
ASUS SABERTOOTH Z170 Mark 1
RAM
Mushkin Redline Ridgeback 2666MHZ (997192T)
CPU Cooler
Corsair H110i GTX AIO
Hard Drives
Kingston v300 SSD 120GB
Optical
GPU
EVGA TITAN X SC
Case Fans
1 x 180mm Mosfet / CPU / RAM cooling fan
1 x 120mm PCI-E Cooling Fan
Docking Stations
None
Testing PSU
SilverStone 1500W ST-1500-GS
Legacy
None
Mouse
Razer Diamondback Chroma
Keyboard
Razer Deathstalker Chroma
Any Attempt To Copy This System Configuration May Lead Pure Joy
We had high faith in the Redline Ridgeback's overclocking ability. In the past we have had great overclocking success with Mushkin RAM. We felt confident we wouldn't have any troubles hitting our goals.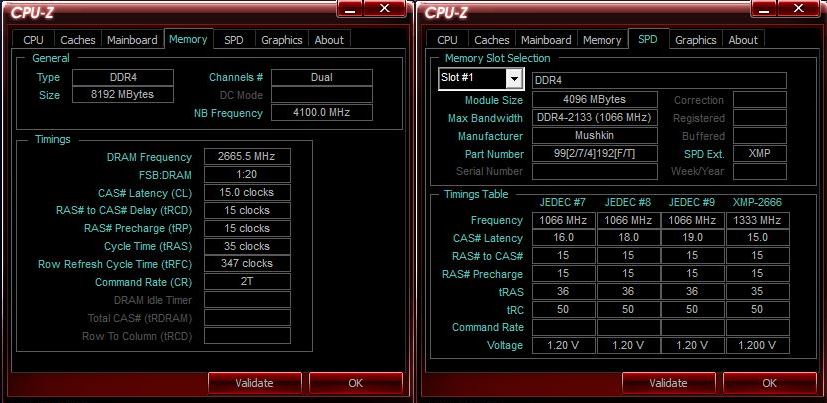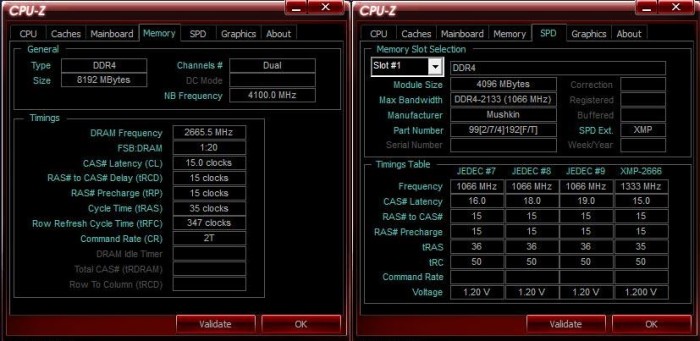 Out of the gate we see the The Redline Ridgeback 8GB 2666MHz (15-15-15-35) XMP profile in effect. The kit operates as it should and is ready to rock & roll.  Nice tight timings to start, let's crank it up a bit.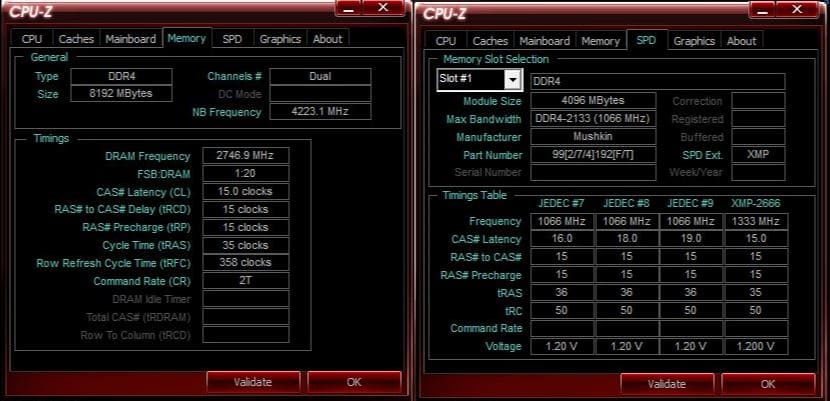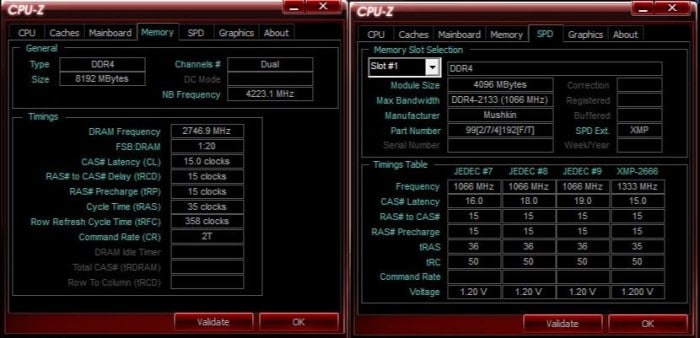 We are able to bump our Redline Ridgeback kit to >2740MHz while still keeping the original timings and just a small bump to the Voltage. Great start for the new Ridgeback Redline. Instant value increase.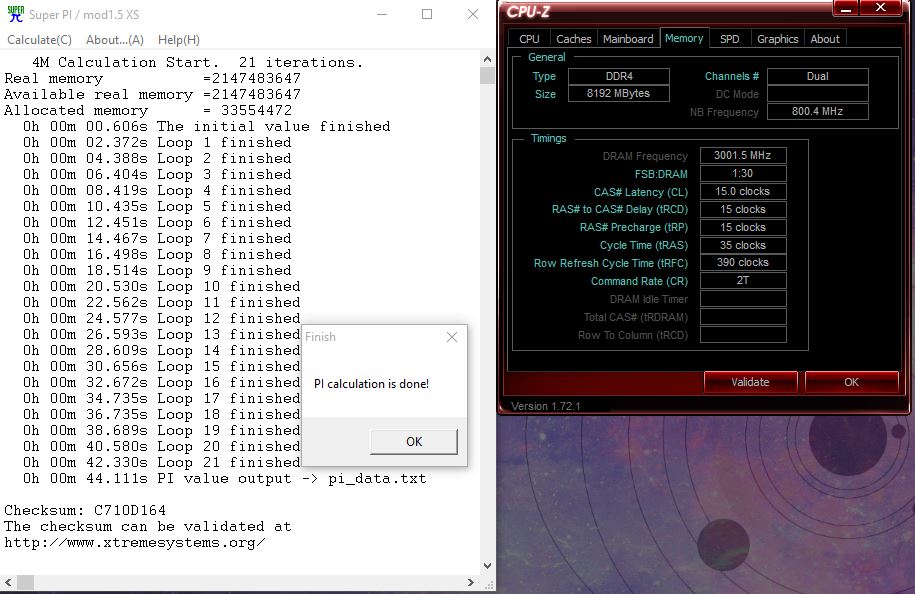 And for our final push, we wanted to see if we could get our RedLine Ridgeback kit to 3000MHz and still run at 15's on timings, no small feat for a budget kit of RAM, but we felt strong about our Redline kit as it's been a surprising performer.  We were amazed when the Redline booted up with only another slight bump to voltage and nominal tuning in BIOS. This kit is on fire ! We can't attest to the 100% stress test stability of this OC but it made it through some benches and a light gaming session as usual. For a 2666MHz, approx $50 kit of ram these are amazing results.