Testing
Testing we turn off any internet connection and reboot the machine to ensure Windows 10 pesky updates don't skew numbers. Once rebooted we disable the internet open the task manager and wait about 10 minutes for any background tasks to finish. Once the CPU usage is at or below 1% we proceed with our tests. Each test is ran three times, we then average the three tests and report that score here. Should we run into any anomalous tests we toss the abortion test and run the test again.
Test Rig
"Roger"
Case Type
DIYPC Open Test Bench
CPU
Intel Core I7 6700K 4.0 – 4.2GHz
Motherboard
ASUS SABERTOOTH Z170 MARK 1
Ram
Mushkin Redline 2666Mhz
CPU Cooler
Corsair H110i GTX
Hard Drives
Kingston 120GB SSD
Optical
none
GPU
EVGA GTX 960 SSC
Case Fans
1 x 180mm Mosfet / CPU / Ram cooling fan
1 x 120mm PCI-E Cooling Fan
Docking Stations
None
Testing PSU
SilverStone 1500W ST-1500
Legacy
None
Mouse
Razer Diamondback Chroma
Keyboard
Razer Deathstalker Chroma
Any Attempt Copy This System Configuration May Lead to Pure Joy 
OVERCLOCKING

For overclocking we decided to put the hardware\BIOS to the test, posing the question: Is the hardware\BIOS team effective at producing hearty overclocks that are stable when given a defined goal (4.7Ghz Core/3000Mhz Ram) and left to it's own devices? The answer we quickly found is, yes.
ASUS EZ TUNING WIZARD
We have including a walk through the OC portion of ASUS's EZ Tuning wizard to show the simplicity and what kind of results it will produce. The process took less than a minute, we have included screens of each option and what we chose, as well as the end result of those choices.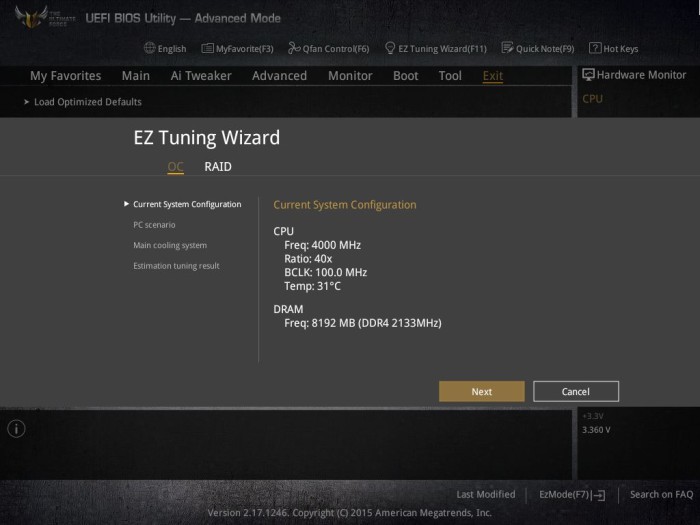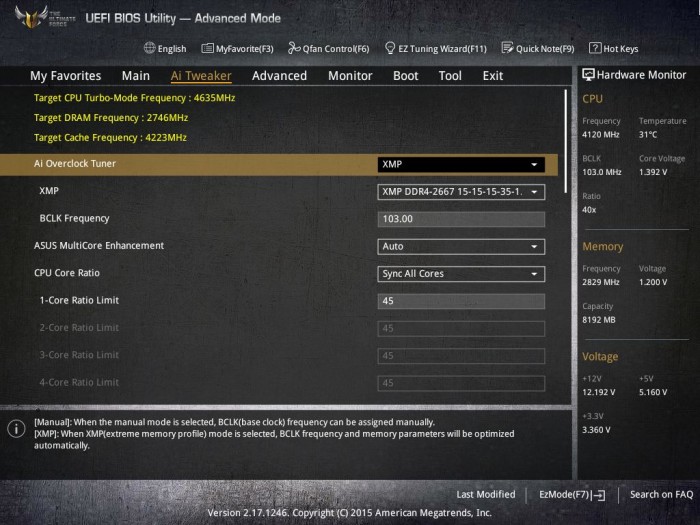 We had no stability troubles with the choices the EZ tuner decided. We think this is brilliant, we chose the "highest" options available producing an OC of >4.6GHz on core and >2700MHz on Memory with no hassle at all.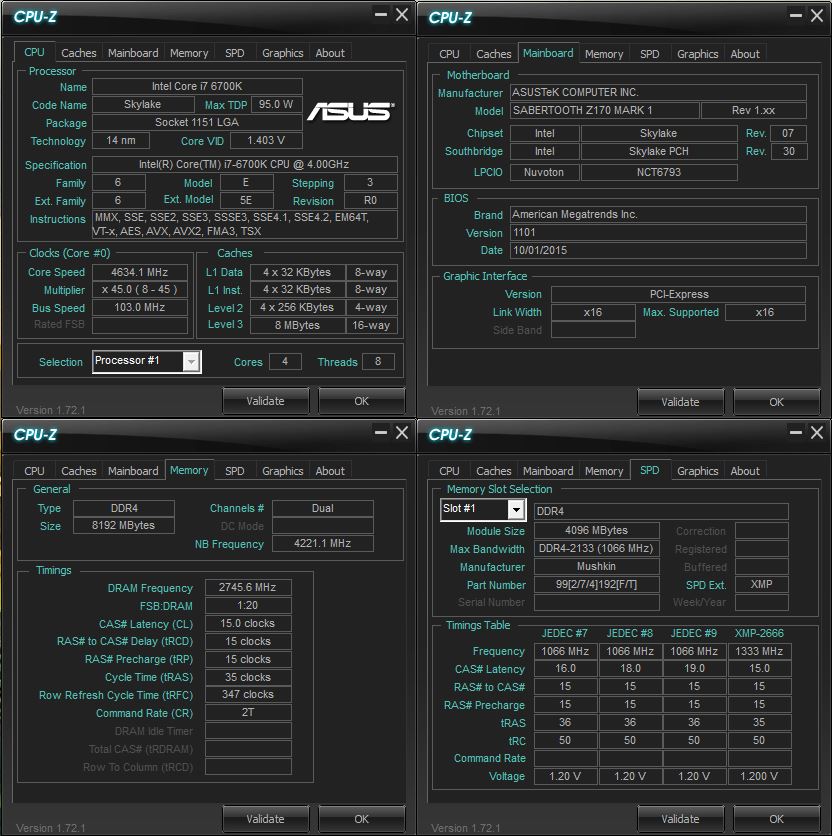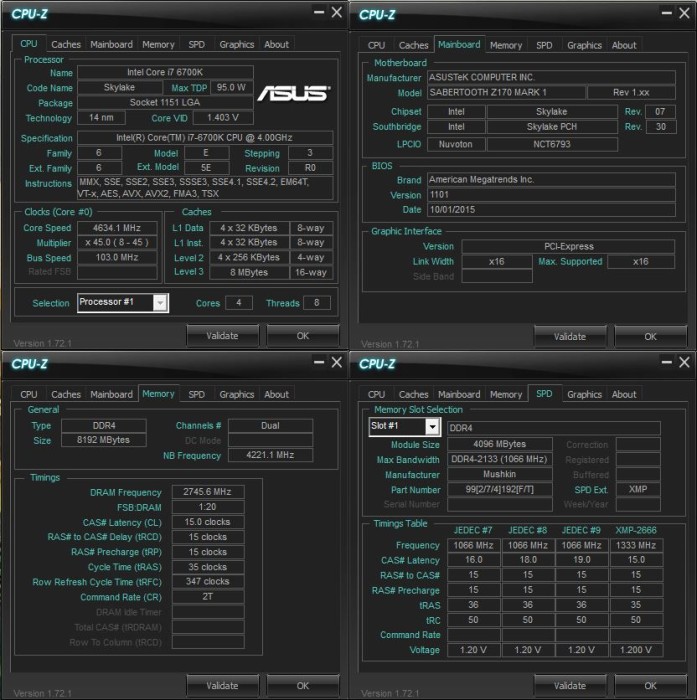 ASUS EZ Tuning Wizard results, CPU-Z.
After seeing the SABERTOOTH Z170 MARK 1 bump itself up to >4.6Ghz core and >2700Mhz Ram we knew it would have no troubles going the extra little bit further to our goal. We didn't think however it would be so easy. The SABERTOOTH Z170 MARK 1 knew just what to do to when asked to go higher.   If Billy Mays were here with us he'd be partying like it's 19.99$ yelling at the rooftops about this set it and forget it, hassle free,  SABERTOOTH with it's UEFI make your life a breeze BIOS.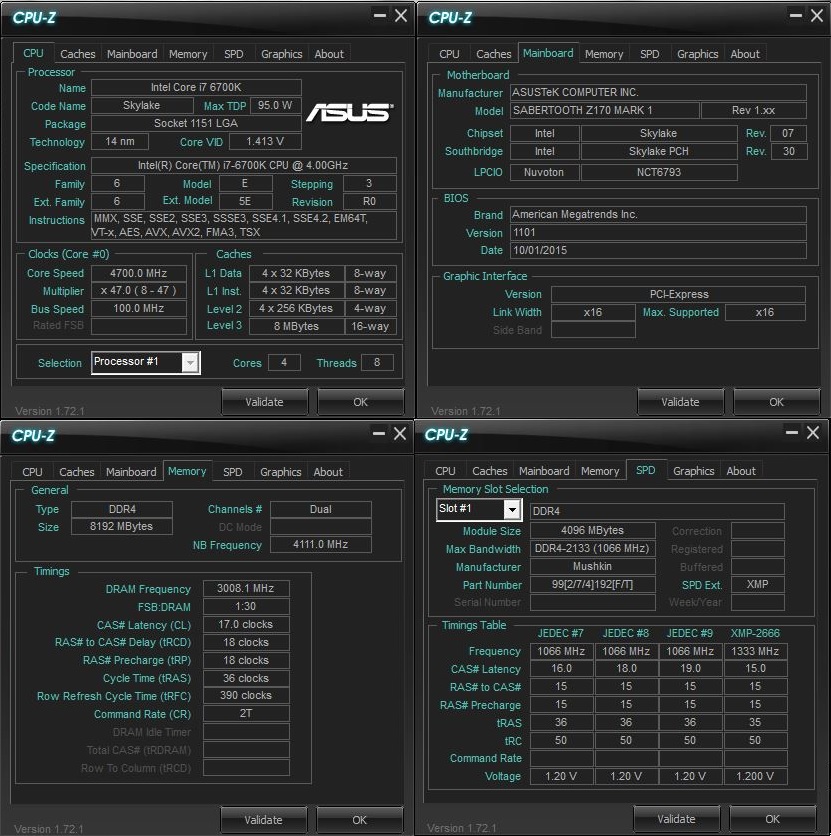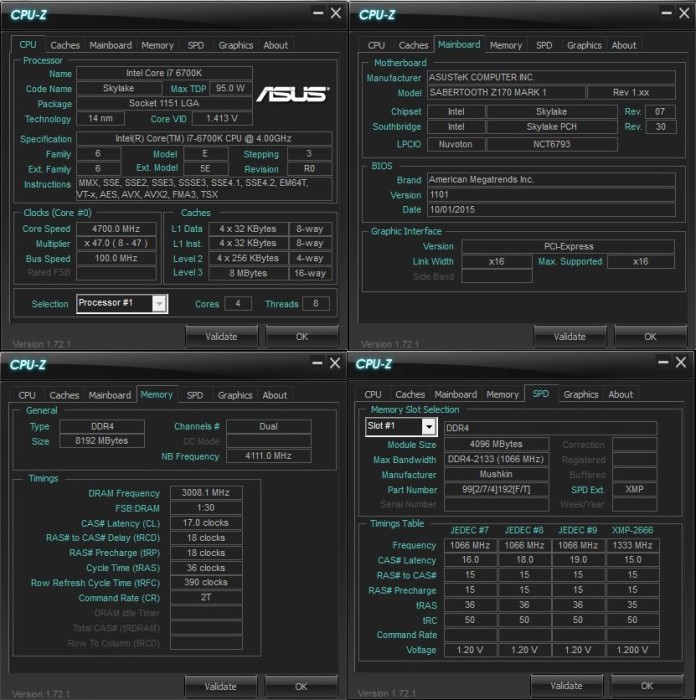 No problems hitting our mark on the SABERTOOTH Z170 MARK 1.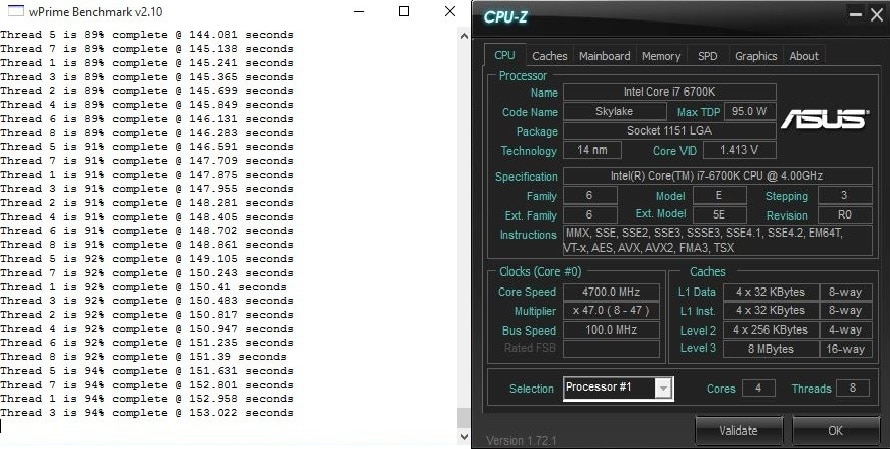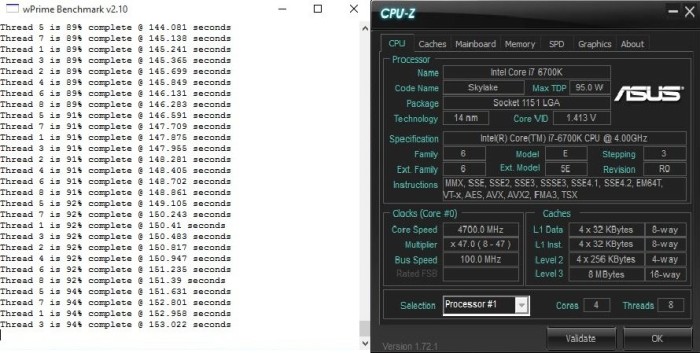 The clock was stable enough to make it through some benches and a pretty heavy COD session. Thumbs up.
MEMORY OVERCLOCKING
We are using Mushkin Redline 2666MHz and wanted to continue the theme of seeing what the SABERTOOTH Z170 MARK 1 will do when primarily left in charge.  While we can easily tighten down the timings the SABERTOOTH Z170 MARK 1 chose @3000Mhz, the board did choose stability with no hassles.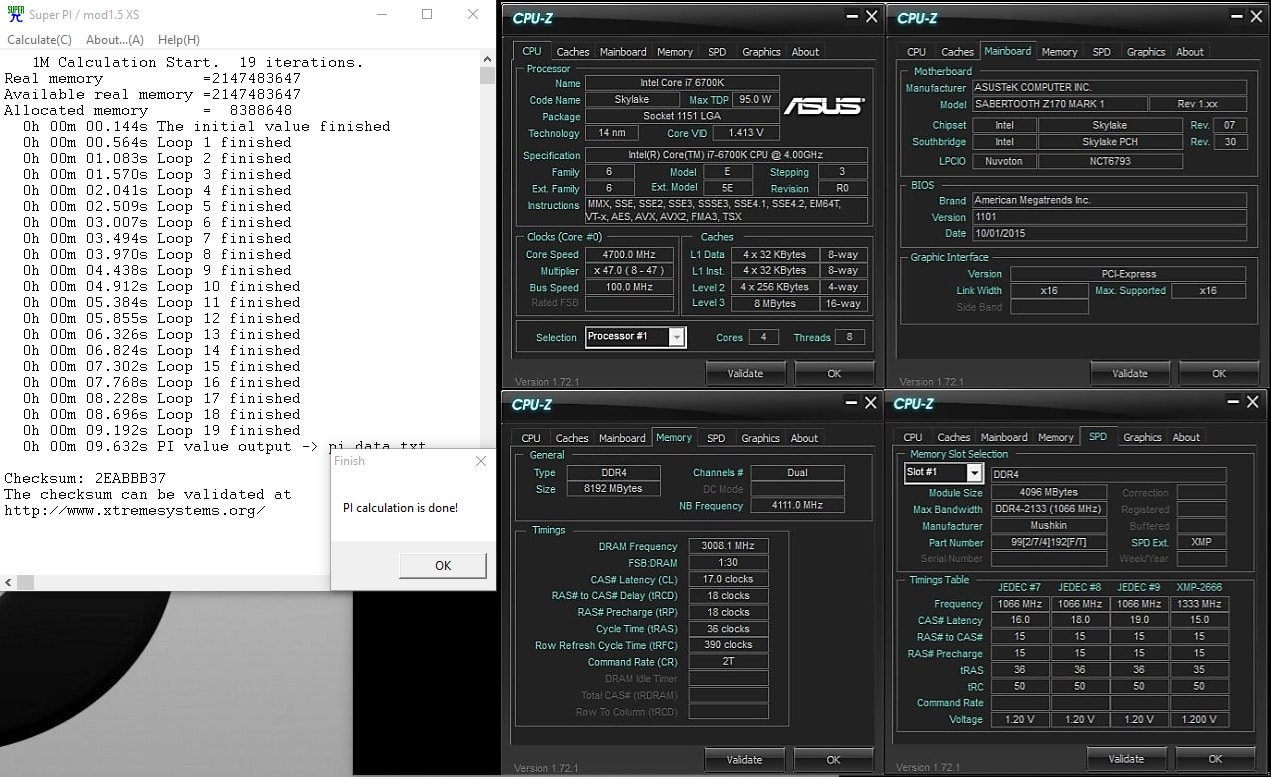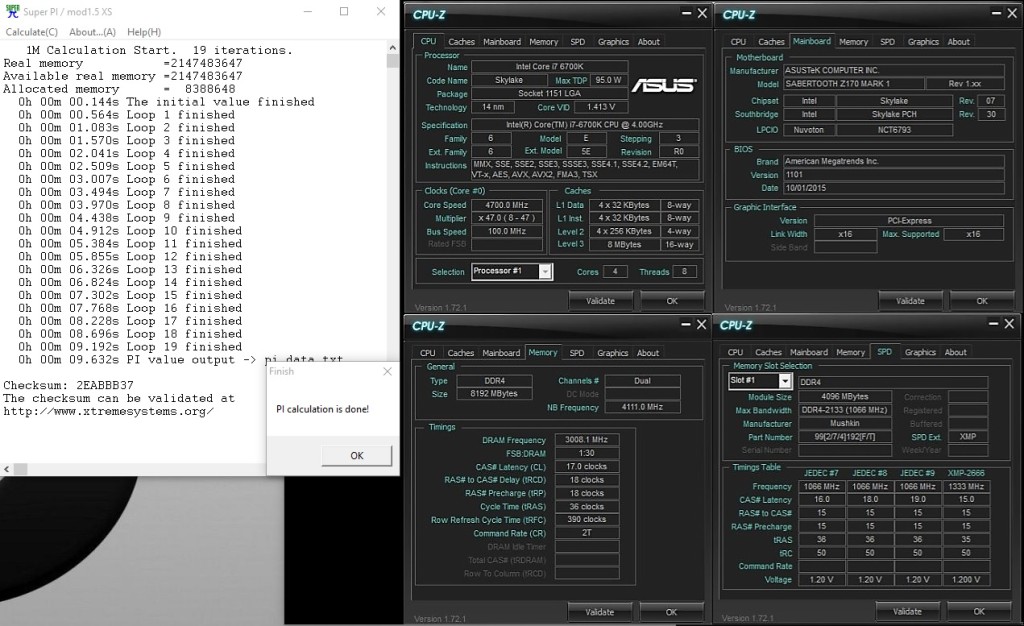 Will the SABERTOOTH Z170 MARK 1 auto adjust itself to the absolutely optimal settings like some piece of meticulous black magic? Not quite. Will it provide stability and a hassle free experience to help get users going down the path of overclocking with a little bit of peace of mind? Yes.
TEMPERATURES

For Thermal readings we run a series of benchmarks and put a solid load on our CPU to start making some heat. Below we see our i7-6700K processor under a 90% load @4.7GHz. The OC held stable throughout testing.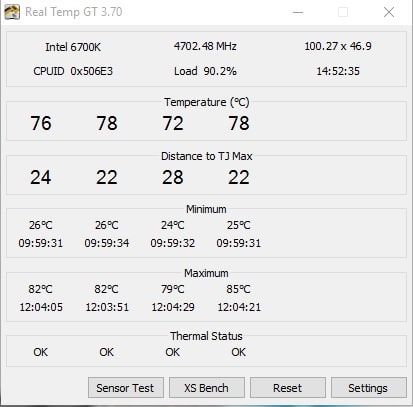 We were running a Corsair H110i GTX AIO cooler that was able to keep us within our acceptable temperatures with a pretty modest fan curve.  Keep in mind you aren't going to hit stable 4.7 with a $40 dollar air cooler, well not for long anyway till the CPU fries itself. You can never go wrong investing a bit extra in a solid CPU cooler, be it air, AIO, or full LCS, treat your CPU to the best cooling within your means.