Closer Look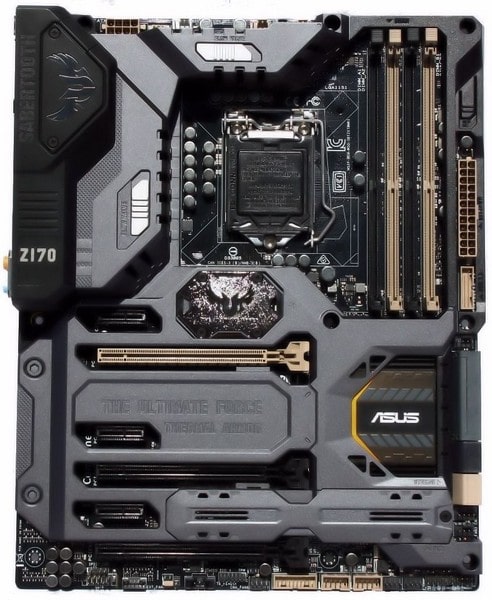 Here we see the ASUS SABERTOOTH Z170 MARK 1 as it comes out of the box. The optional TUF metallic badge comes pre-installed. The TUF Thermal Armor is in a class all of it's own. Not just a design gimmick, the Thermal Armor not only protects your hardware from physical intrusion, the innovative design beneath the armor strengthens the PCIe slots to minimize the risk of damage, also helps to keep temps low and dust out with the optional TUF armor fans installed. To make sure you can keep a close eye on your investment's operational health ASUS implements a TUF ICe, a dedicated processor that monitors onboard temperatures and fan speeds. At your preference all settings can be manually adjusted or set automatically with the aid of Thermal Radar 2 and TUF detective 2 software.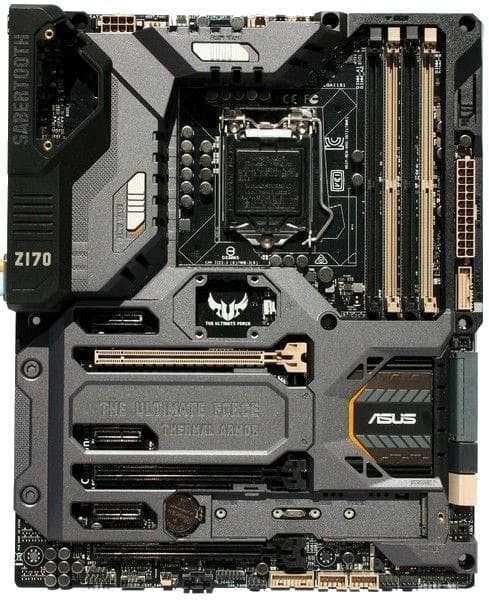 Removal of two screws from the I/O shield portion of the board allows the cover/fan mount to be removed, this is where you will install your 40 mm TUF fan mounted vertically. Removing the TUF badge the location doubles as your 35mm TUF fan horizontal mount. We particularly like this little feature as it allows the TUF armor to add another degree of utilization and function. Reversible-airflow technology blows dust up and away from the heatsink VRM, while the exclusive flow-valve design controls the heat-pipe's air contact.  The 32 GB/s M.2 slot cover is also removed and ready to accept up to a 110mm drive. The cover goes back on keeping your M.2 drive safe. A new interior shunt design boosts air cooling to the M.2 slot.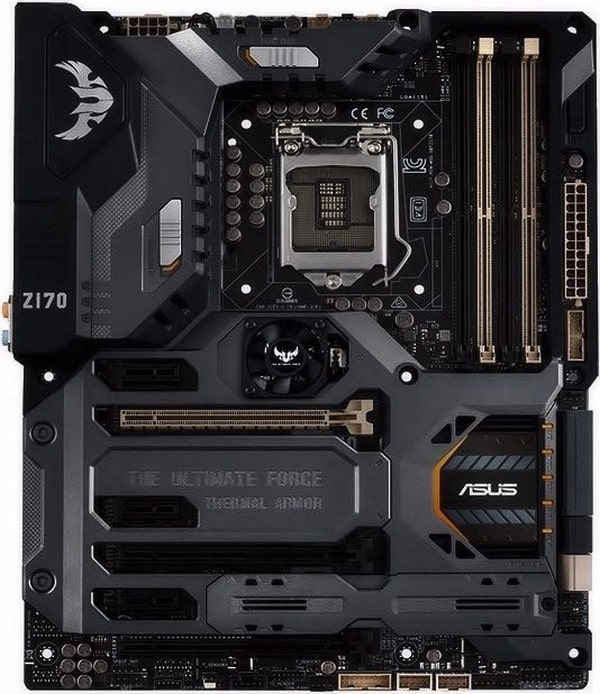 Scavenger Hunt ! Find the thirteen fan headers located on the SABERTOOTH Z170 MARK 1. Yes that's right 13! At that amount you should never have troubles finding a spot to hook up all the goodies your heart could desire, of course for the cleanest wiring jobs you'll want to run a controller tucked away somewhere keeping all the wire madness out of sight. For testing we used an EVGA GTX 960 SSC and note that with the position of the Q-LED indicators direct line of site was impeded by the GPU, we could still get eyes on the indicators, actually they shined through our GPU's heat sink slightly giving the impression that it was burning which was good for a laugh. Depending on the dimensions of your GPU of choice you may not experience this "problem".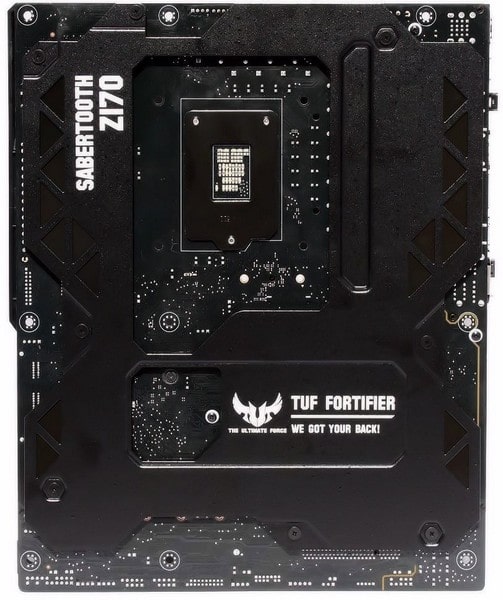 Turning the motherboard around reveals the TUF Fortifier, A reinforced backplate that, like other components on the SABERTOOTH Z170 MARK 1, is not just for show. Ensuring the motherboard does not buckle under the load weight of heavier GPU's and CPU coolers, the TUF Fortifier reduces the risk of damage to circuitry. The TUF Fortifier also helps with cooling as there is thermal compound to help with heat dissipation from the VRMs.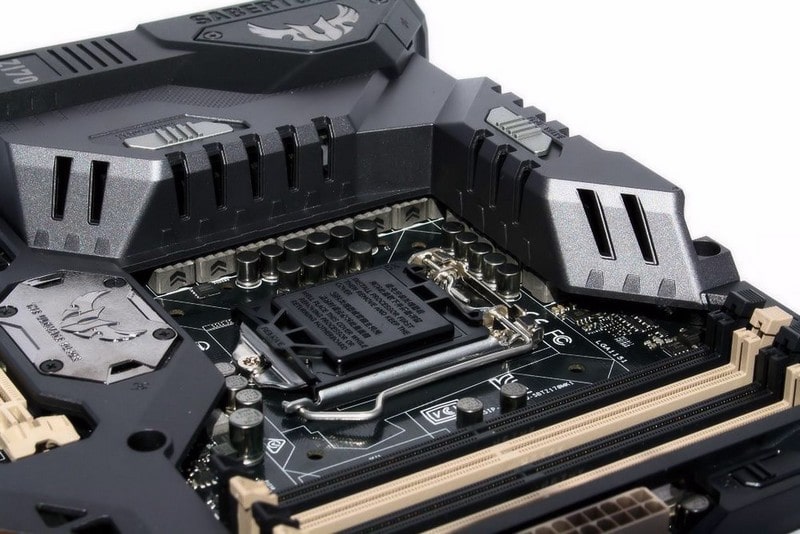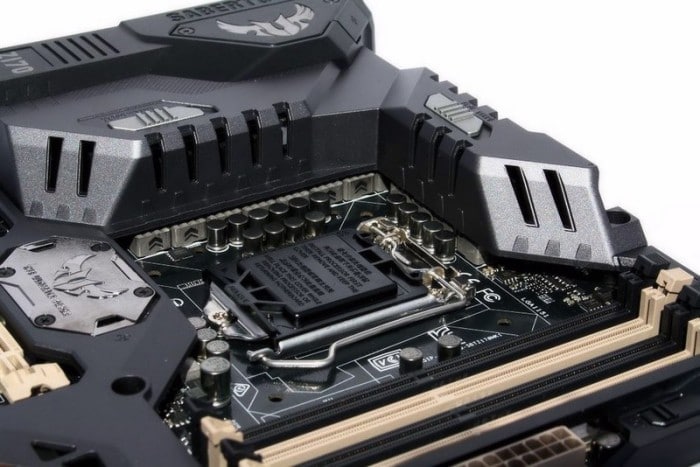 Getting closer to the CPU bay area we see the two TUF Thermal Armor Flow Valve vents, each adjacent to the CPU.  These can be opened or closed at your will and give you options of where you would like air to flow. If using an air cooler, especially a down firing one, you may want to open them to allow maximum airflow or keep them closed to allow the TUF fans to cool the VRM's. If you are using a liquid cooling solution, open may be a good idea allowing more flow in the CPU bay area and help reduce a possibly stagnant thermal zone.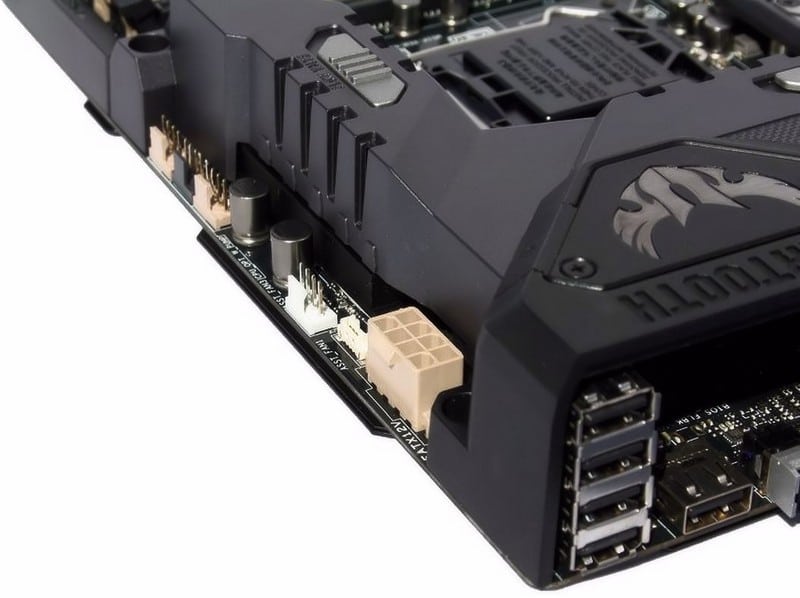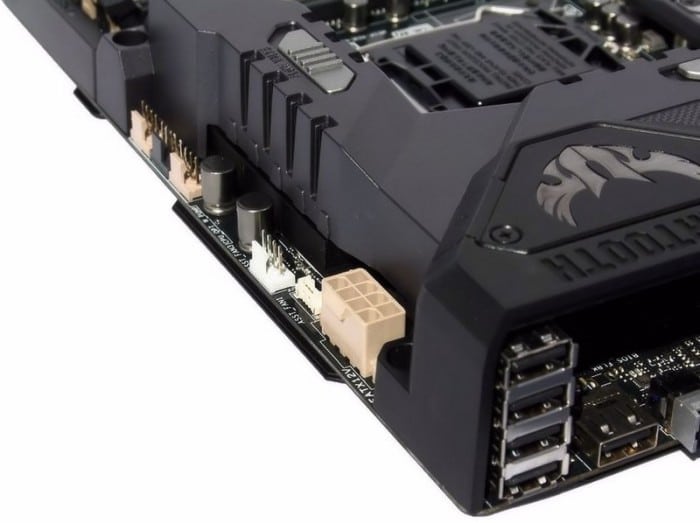 ASUS did a great job with the design placement of headers on the SABERTOOTH Z170 MARK 1 even  with the TUF armor taking up a lot of real estate across the board, they have managed to put an appropriate header in all the appropriate positions. Above the CPU area they have provided three headers for your CPU cooling needs, one specifically for powering a pump. Moving along you also get another auxiliary fan header, and another for powering your 40mm TUF optional fan. The SABERTOOTH Z170 MARK 1 requires 8 pin power for the CPU.





On the Back I\O panel we find four USB 2.0 ports, one TUF Detective USB port, BIOS Flashback button, one DisplayPort, one HDMI, Intel NIC, two USB 3.0 ports (one port can be switched to USB BIOS Flashback), Realtek NIC, one USB 3.1 (teal blue)Type-A port, one USB 3.1 Type-C port followed by a standard audio stack and Optical S/PDIF out. Note the open area above the BIOS flashback button, this is where your 40mm TUF fan will draw fresh air for VRM cooling, the included I\O shield has an integrated dust shield to minimize internal buildup. Internal bottom I\O has your expected plethora of headers including USB 3.0. The SABERTOOTH Z170 MARK 1 has eight SATA and two SATAe ports. The chipset handles the gray SATA ports while an ASMedia chip handles the light tan.


Here we see the SABERTOOTH Z170 MARK 1 with the TUF Defenders in place. Another degree of protection for the back I/O ports, expansion slots, and memory slots can be chosen to fit your needs upon usage. Dust Defenders guard against dust build up, helping your PC perform in an optimal and stable state for longer. Utilize the ports you need and protect the ones you don't.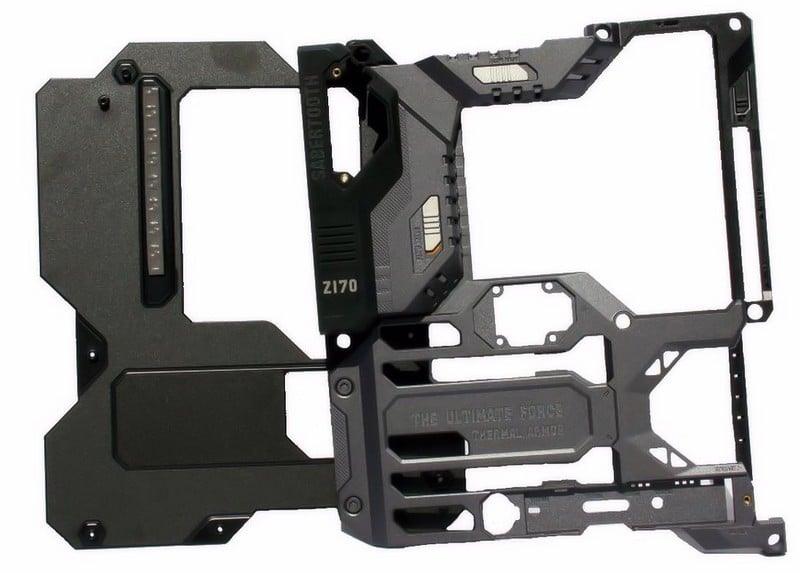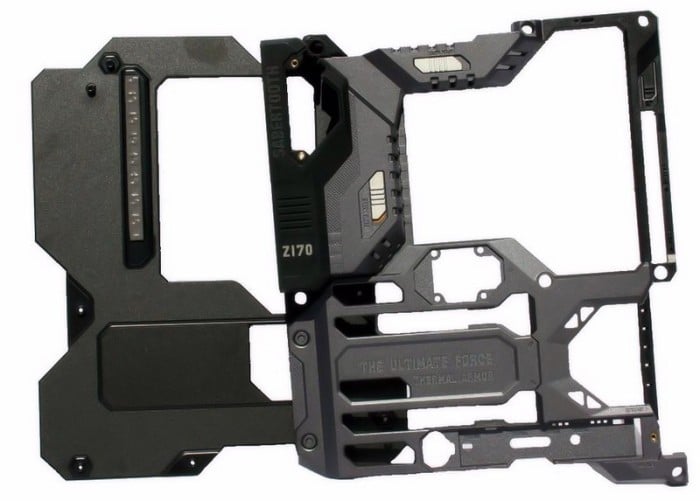 With the TUF Fortifier and Thermal Armor off and with the help of an Identify scroll we see the TUF engineers have imbued them with +10 Forftification, +18% Cooling, and +10 AC. The Thermal Armor can also use "Cool Motherboard" and "Dust defender" abilities at will, no saving throws.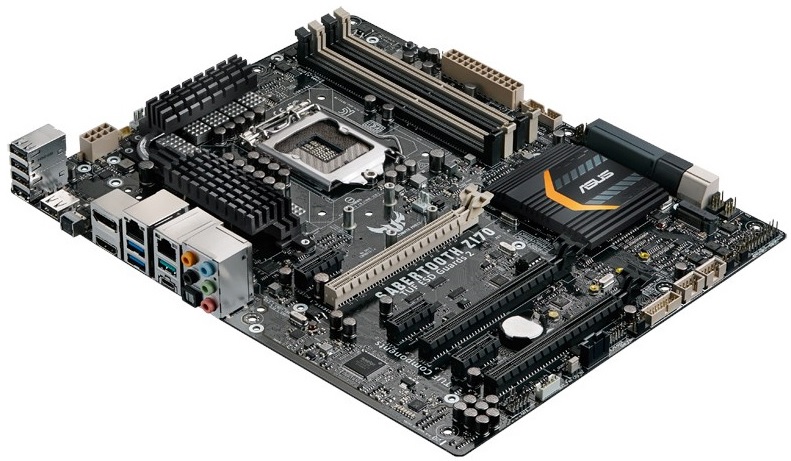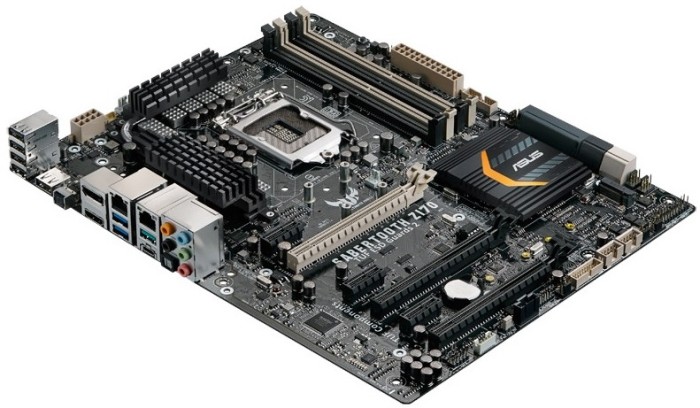 With the SABERTOOTH Z170 MARK 1 exposed we get a look at the IC's ASUS has chosen and the 8+4 Digi+ VRM. You will find an ASMedia 1142 USB3.1 Controller, TUF ICe dedicated onboard sensor monitor/controller, ASMedia 1442 high speed TMDS for High Definition Multimedia Interface (HDMI), Nuvoton Super I\O Controller, a DIGI EPU power controller, and for audio a Realtek ALC1150 Codec complimented with Texas Instruments amps. Closing in on the bay area with the TUF armor off we see ASUS the solid state TUF 10K Ti capacitors, TUF Alloy Chokes, and TUF 52A MOSFET's, all certified by Military-standard.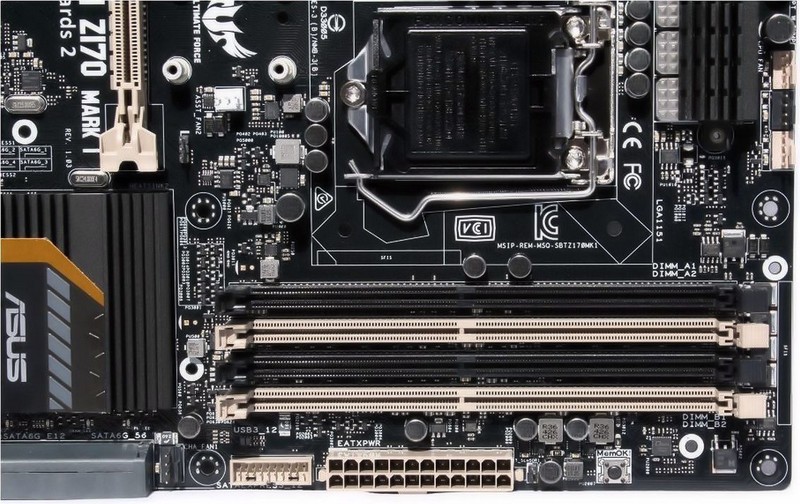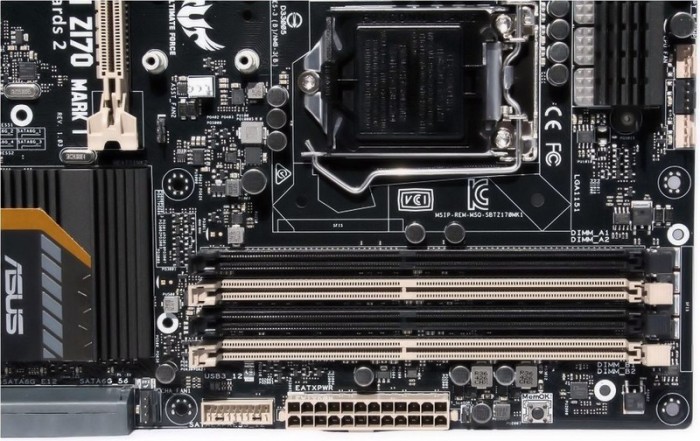 The SABERTOOTH Z170 MARK 1 has 4 x DIMM supporting 64GB Dual Channel DDR4 2400/2133 MHz RAM and yes of course you can go much higher overclocking. Supporting Intel Extreme Memory Profile (XMP) there is also a MemOK button to help out if things get unstable on your ventures.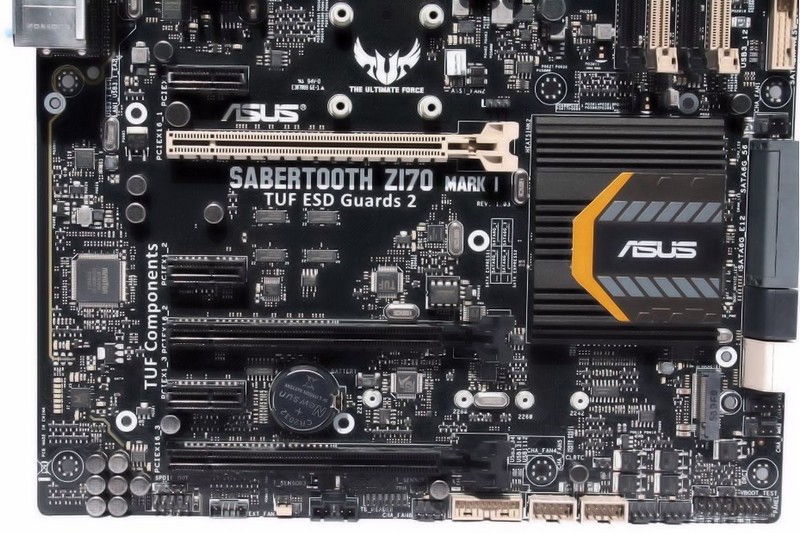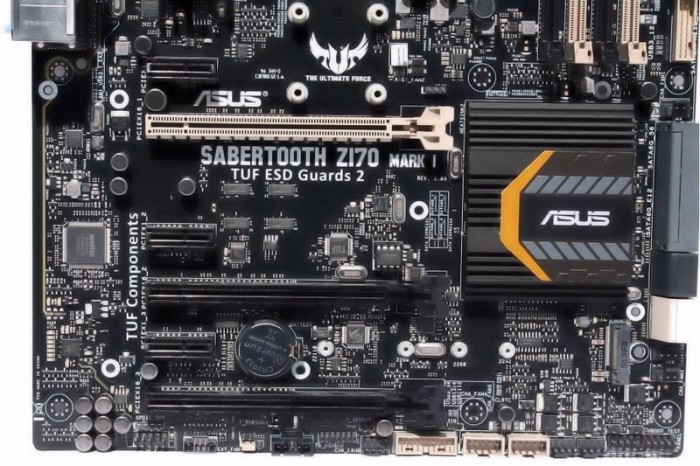 The SABERTOOTH Z170 MARK 1 has three full length PCIe slots and 3x -x1slots. Note the top PCIe slot is tan, It is the only x16 capable slot, the other two black full length PCIe slots support a max of 8x. This is par for the course unless you get lucky and find a Z170 motherboard with a PLX chip. GPU configuration options include Quad Crossfire or SLI with dual GPU cards, 3x Crossfire, or SLI +PhysX. We enjoy the spacing ASUS has chosen for the PCIe layout, if using SLI/XFire we like to have a slot of space between our cards for cooling and aesthetic, triple slot GPU SLI\XFire could also be achieved with this spacing.
Manufacturer Feature Spotlight
Q-LED indicators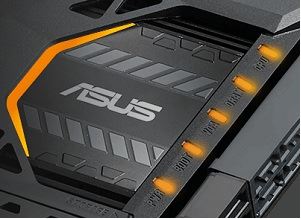 With a design Inspired by an armored cockpit, see the power and act on the alerts, with a clear indication of five key boot actions.
Thermal Armor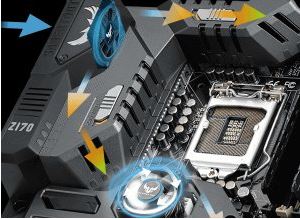 Strengthen your ability. Totally boosted airflow. TUF Thermal Armor is more than a futuristic shield: it employs dual fans to provide maximum airflow and rapid cooling board-wide, and a new interior shunt design to boost air cooling to the M.2 slot. Reversible-airflow technology blows dust up and away from the heatsink VRM, while the exclusive flow-valve design controls the heat-pipe's air contact — great for liquid-cooling setups.
TUF ICe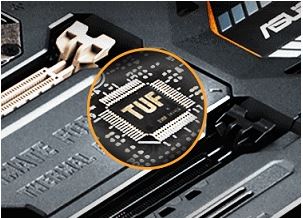 The total cooling commander. ASUS TUF engineers have forged TUF ICe, a dedicated processor that monitors onboard temperature sensors and fan speeds for ultra-accurate cooling — whether you're adjusting settings manually or using the automatic one-click optimization via Thermal Radar 2 and TUF Detective 2.
5 Years Warranty Guaranteed Reliability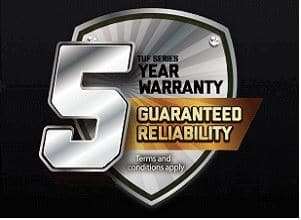 You demand 24/7 durability, so we've delivered! TUF motherboards undergo the industry's most-punishing tests to ensure they're ready for permanent duty in all scenarios. In our development labs we heat them, chill them, bend them, shock them and drop them — so you know that your TUF motherboard is certified for 24/7 durability!
Ultimate-speed 10Gb/s with USB 3.1 onboard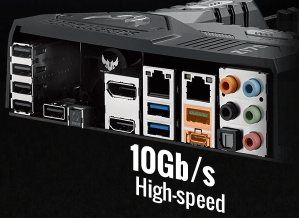 With one USB 3.1 Type-A port and one reversible USB 3.1 Type-C for the very fastest USB connections, you'll experience data-transfer speeds of up to 10 Gbit/s — or twice as fast USB 3.0. USB 3.1 is completely backward-compatible with your existing USB devices, and you'll be all set for USB 3.1's breakneck speeds. And ASUS-exclusive USB 3.1 Boost technology automatically accelerates USB 3.1 performance even further!
SATA Express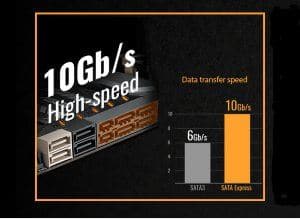 Evolve your storage speed with SATA Express – 10Gb/s
M.2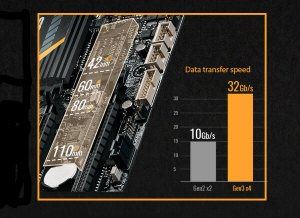 Speed up with onboard M.2 up to 32 Gb/s
TUF Audio Design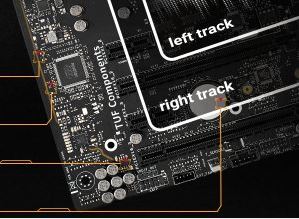 TUF Audio Design makes short work of optimizing audio settings for the way you want to listen, chatting, watching movies or relaxing to your favorite music. Onboard physical shielding, professional engineered design and premium components result in sound output that has exceptional clarity and fidelity.
Includes:
Audio Shielding – ensures precision analog/digital separation and greatly reduced multi=lateral interference
Unique de-pop circuit – Reduces start-up popping noise to all audio outputs
Audio amplifiers – Enhance the highest quality sound for headphone and speakers
Special layout design – Separate layers for left and right channels to guard the quality of the sensitive audio signals
TUF Fortifier
SABERTOOTH Z170 MARK 1 delivers great strength and cooling via exclusive TUF Fortifier. A reinforced backplate ensures that the motherboard doesn't buckle under the weight of heavy graphics cards and CPU coolers, minimizing the risk of damaged circuitry from bowing and bending. TUF Fortier even reduces internal temperatures by up to 13°C — an 18% improvement on the previous design!

ASUS PRO Clock Technology
A dedicated base-clock (BCLK) generator designed for 6th-generation Intel® processors that allows overclocked base clock frequencies up to 400MHz*. This custom solution works in tandem with the ASUS Turbo Processor Unit (TPU), to enhance voltage and base-clock overclocking control — granting an exciting new way to boost performance to extreme heights.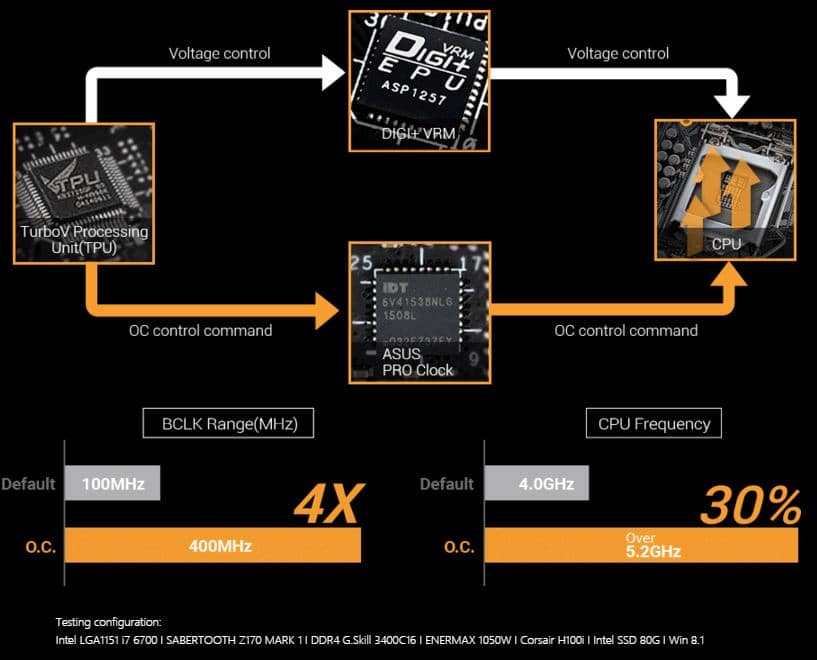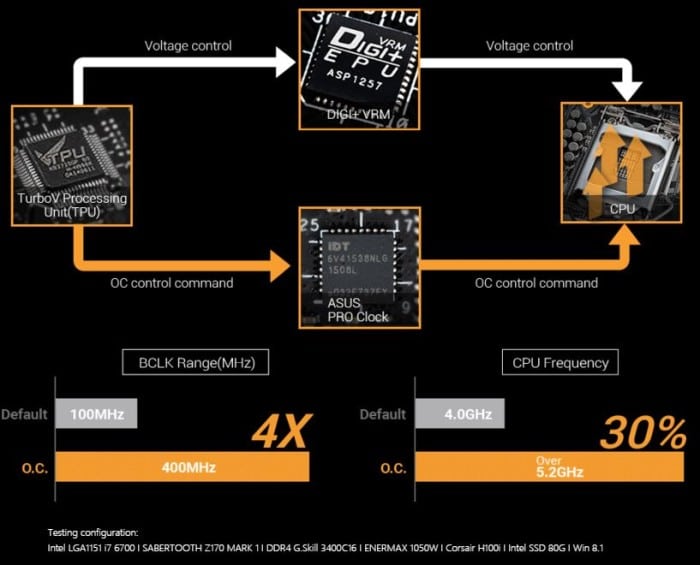 Thermal Radar 2
Thermal Radar 2 now has 13 fan connectors and is able to connect with TUF Detective 2 wirelessly for fan control via your smartphone or tablet. Moreover, multiple onboard sensors and the bundled thermistor cable let you monitor graphics card temperatures and other key components in real time, so you can adjust manually or optimize automatically with one click.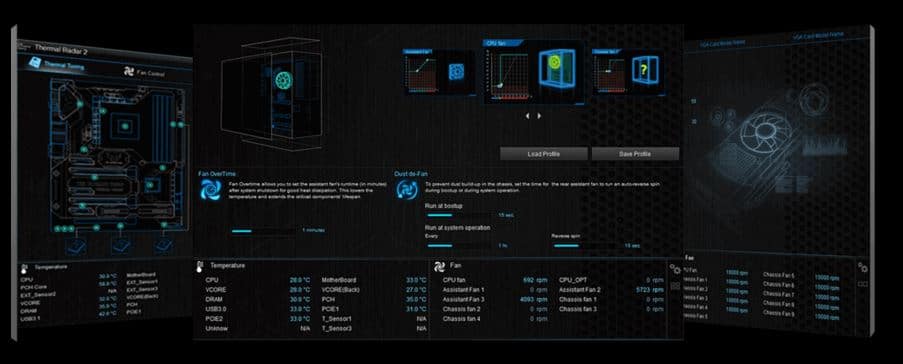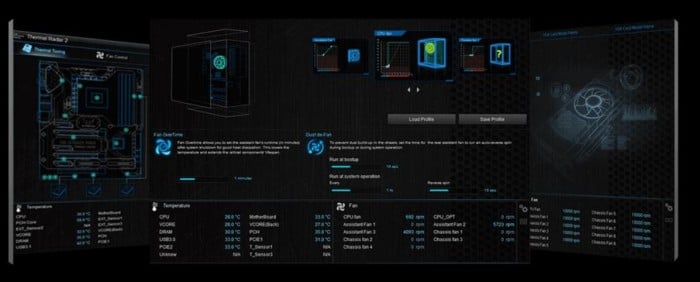 TUF Detective 2
A free companion app puts detailed system information and a user-friendly interface at your fingertips – right on your smartphone or tablet. You're able to detect and diagnose errors and adjust your system operation with touchscreen ease. Moreover, you can control your fan and monitor your system wirelessly via the app. Your PC doesn't even need to be switched on for you to make use of the app!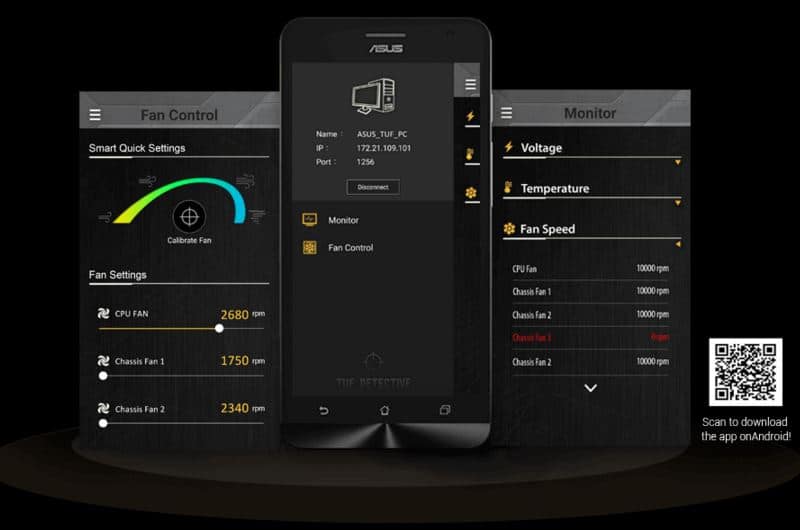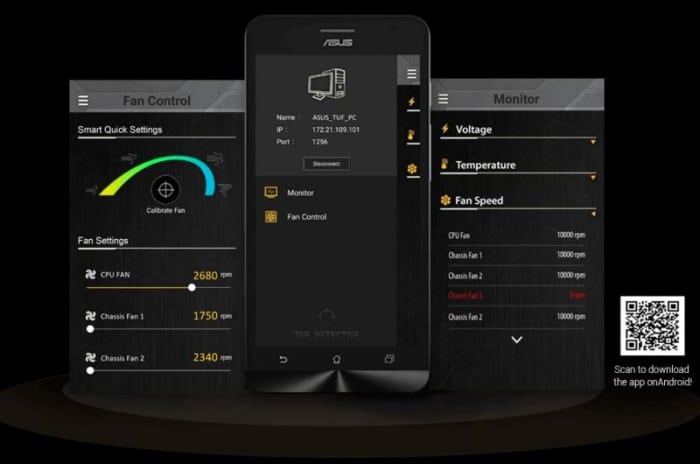 TUF Defenders
TUF design protects back I/O ports, expansion and memory slots, and prevents dust and other airborne particles from entering critical connectors. Dust Defenders guards against dust build up, helping your PC perform in an optimal and stable state for longer.


TUF Components
TUF Alloy Chokes
13.6% Cooler for extra-unbeatable durability
TUF 10K Ti-Caps
+20% temp. tolerance and 5X longer lifetime usage.
TUF MOSFETs
Military-grade certified MOSFETs with lower RDS(on)*
*Low RDS means more power efficient and will thus produce slightly less heat as a by-product of the MOSFET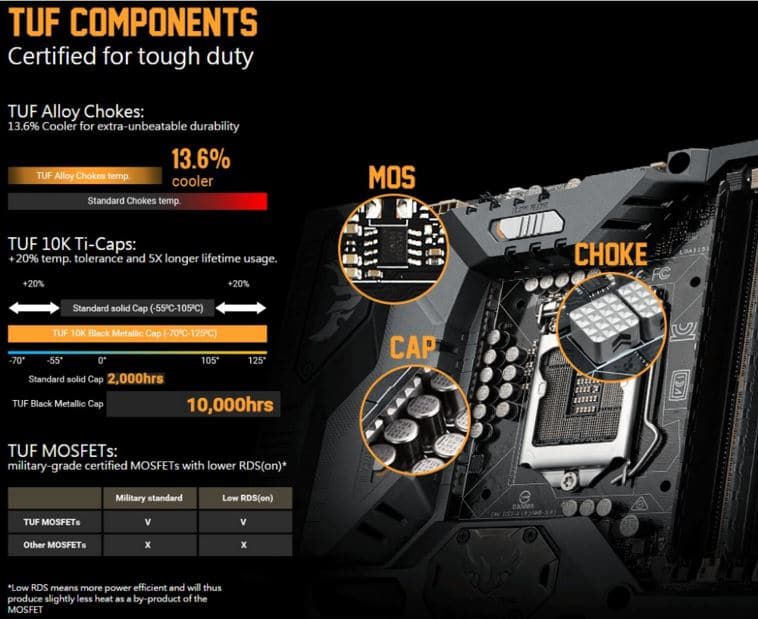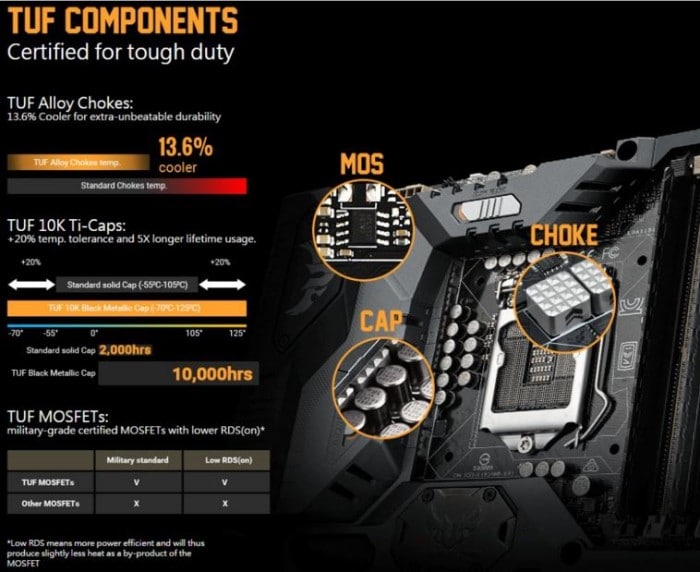 TUF ESD Guards 2
Electrostatic discharge (ESD) can happen suddenly, and its damaging effects are easily underestimated. TUF ESD Guards 2 technology is tested to standards that are 2X higher than industry standards and exclusive pin-level on specific rear IO connectors* testing is 30% higher than previous TUF standard, ensuring electrostatic discharges are properly grounded from all onboard connectivity — and that means greater component longevity.