CoolerMaster V850 A Closer Look & Specifications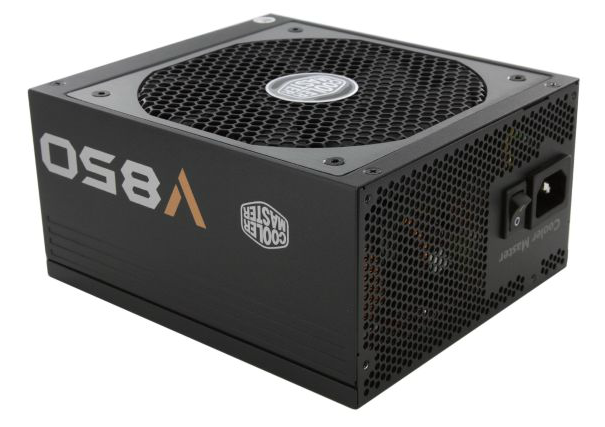 Seen from the back and branding side the matte black finish of the CoolerMaster V850 shows the more than adequate cooling and vents through the rear with a large vent are bordered by the power switch and AC connector.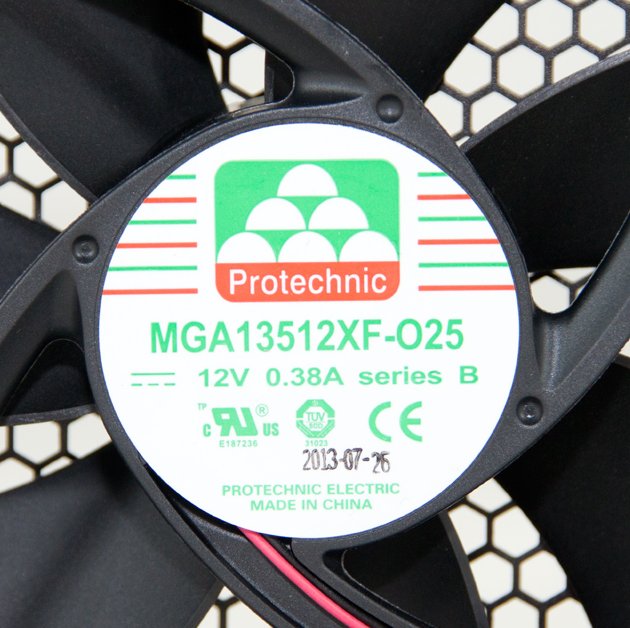 Since we mentioned fan, the fan inside the CoolerMaster V850 is a ProTechnic MGA13512XF-025 12v 0.38A and is the 135mm type giving more airflow and a more silent operation than models with a 120mm Fan.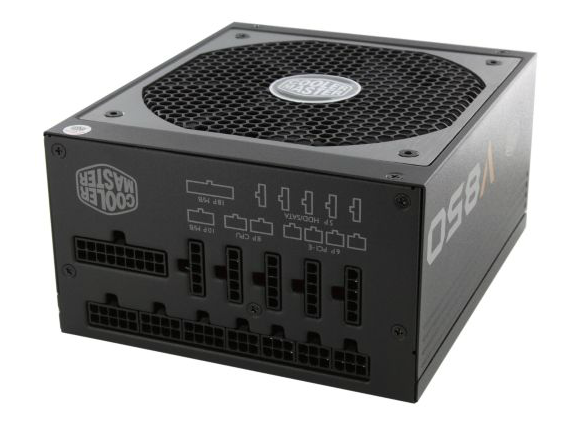 Getting to the business end of the CoolerMaster V850 you have the (motherboard side) 24 pin power connector which is split into two connectors on the V850. The 20 pin connector and the 10 pin connector below it leads to the 24 pin motherboard side connector a design we are seeing for the first time. With a vertical orientation you have the 5 sata / Molex connector slots, two 8 pin (both are 4×4) CPU power connectors and 6 PCI-E. Six PCI-E should be plenty if your running small two connector cards you can run up to 3 cards, watt monster GPU's you should probably stick to two or go for a 1000w or higher PSU. We generally prefer to leave one cable per GPU connector to avoid potential under volts on our usually large GPU's.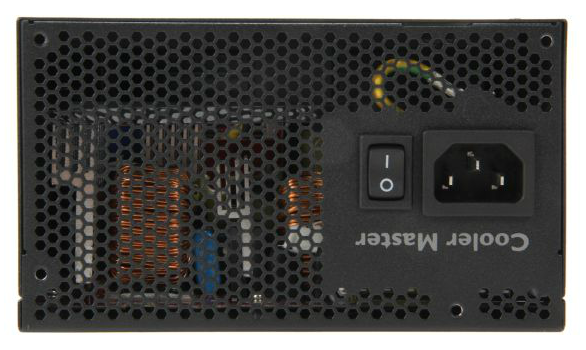 Full back picture shows the hidden circuitry and honeycomb shaped heat vents. Like all modern well constructed power supplies it is an active PFC power supply. Look at the back of your power supply and if you see a 115 / 230 orange slide switch quietly but quickly turn off your machine and buy a real PFC power supply. Generally power supplies with the 115 / 230 switch are old stockpile non Active PFC and you have to select the input voltage manually.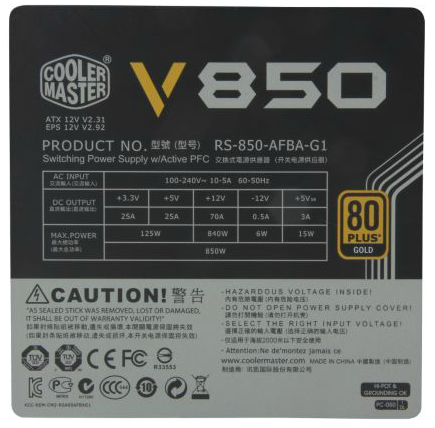 Here's the specifications sticker and you can see that there's a single large 70A +12v rail capable of pumping 840W of highly filtered power into your gaming shrine.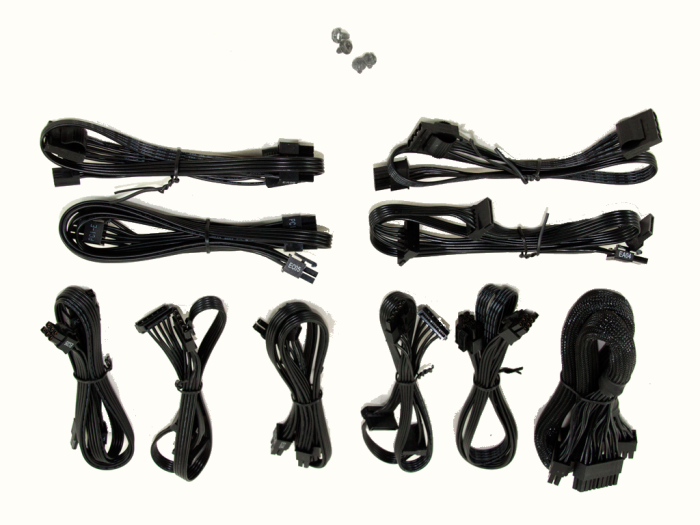 Cables
Modular Cables
ATX connector (600mm)
20+4 pin
4+4 pin EPS12V (680mm)
2
6+2 pin PCIe (600mm+100mm)
6
SATA (450mm+100mm+100mm)
9
4 pin Molex (450mm+100mm)
2
4 pin Molex (450mm+100mm) / FDD (+100mm)
1
So now that we have the prerequisite table to talk about we have a 600mm long 20+4pin mainboard power cable nicely shielded in a cloth / synthetic material as are all the wires. Then we have two 4×4 CPU power connectors 680mm long (an extra 80mm on the 24 pin power connector wouldn't hurt our feelings for super towers). There's a generous 6 PCI-E cables but at this wattage two large cards and maybe a physics card are the limit. Small cards have one connector but usually limited to 2x SLI for Nvidia for Xfire you should be able to run 3 cards if they aren't Watt monsters.  There are 9 sata connectors, 2 molex and a 4 pin floppy.
Specifications
Cooler Master V850 Features & Specs
Max. DC Output
850W
PFC
Active PFC
Efficiency
80 PLUS Gold
Modular
Yes
Intel Haswell Ready
Yes
Operating temperature
0°C – 40°C
Protections
Over Voltage Protection
Under Voltage Protection
Over Power Protection
Over Temperature Protection
Short Circuit Protection
Cooling
135 mm FDB Fan (MGA13512XF-025)
Semi-passive operation
No
Dimensions
150 mm (W) x 86 mm (H) x 170 mm (D)
Weight
1.9 kg
Compliance
ATX12V v2.30, EPS 2.92
Warranty
5 years
Price
$174.99
The specifications table on this one is pretty standard as it's an active PFC power supply, fully modular and Haswell ready. The operating temps are a little low from 0°C to 40°C and CoolerMaster probably dropped the operating temp from 50°C to allow for lower noise operations within those specifications.
For protections you get:
Over Volt
Under Volt
Over Power
Over Temp
Short Circuit
The rest is pretty normal except for the 5 year warranty which is the longest Warranty we've seen to date.
Cooler Master V850 Power Specs
Rail
3.3V
5V
12V
5VSB
-12V
Max. Power
25A
25A
70A
3A
0.5A
125W
840W
15W
6W
Total Max. Power
850W
The most important rail is the 12v and it runs as a single large rail with a 70A capacity and pushing 840w.