Cooler Master V750 A Closer Look & Specifications
On the outside of the V750 we get a matte black finish with subtle but effective branding. The top fan shroud portion has what looks to be brushed aluminum, a nice touch. A perforated honey comb back panel allows for more effective cooling. Like all modern well constructed power supplies the V750 is an active PFC power supply. Look at the back of your power supply and if you see a 115 / 230 orange slide switch quietly but quickly turn off your machine and buy a real PFC power supply. Generally power supplies with the 115 / 230 switch are old stockpile non Active PFC and you have to select the input voltage manually.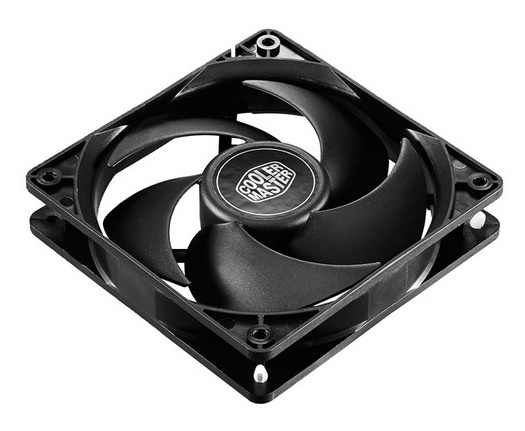 Speaking of cooling, on the inside of the CoolerMaster V750 we get a high performance 120mm Silencio FP fan with sickle blade design generating as much as 25% higher air pressure to reduce thermal de-rating on power components. All this is accomplished with near silent operation.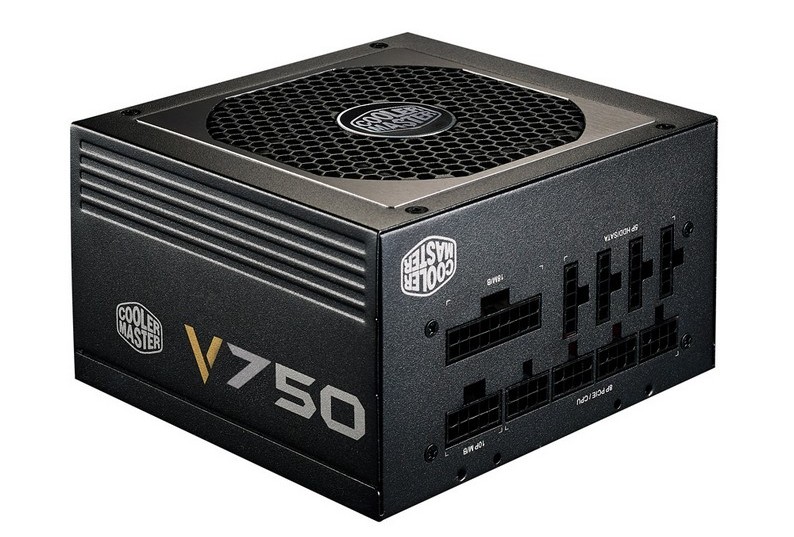 Now you're playing with power. The CoolerMaster V750 has you covered as far as cable availability. For cable options we have included a diagram which shows the lengths and amount of included cables. Want to add an extra GPU or a few SSD/HDD later? All good to go there. Fully modulated design allows you to use cables you need and store those you don't, which allows for cleaner wiring jobs and more open space for airflow inside your case.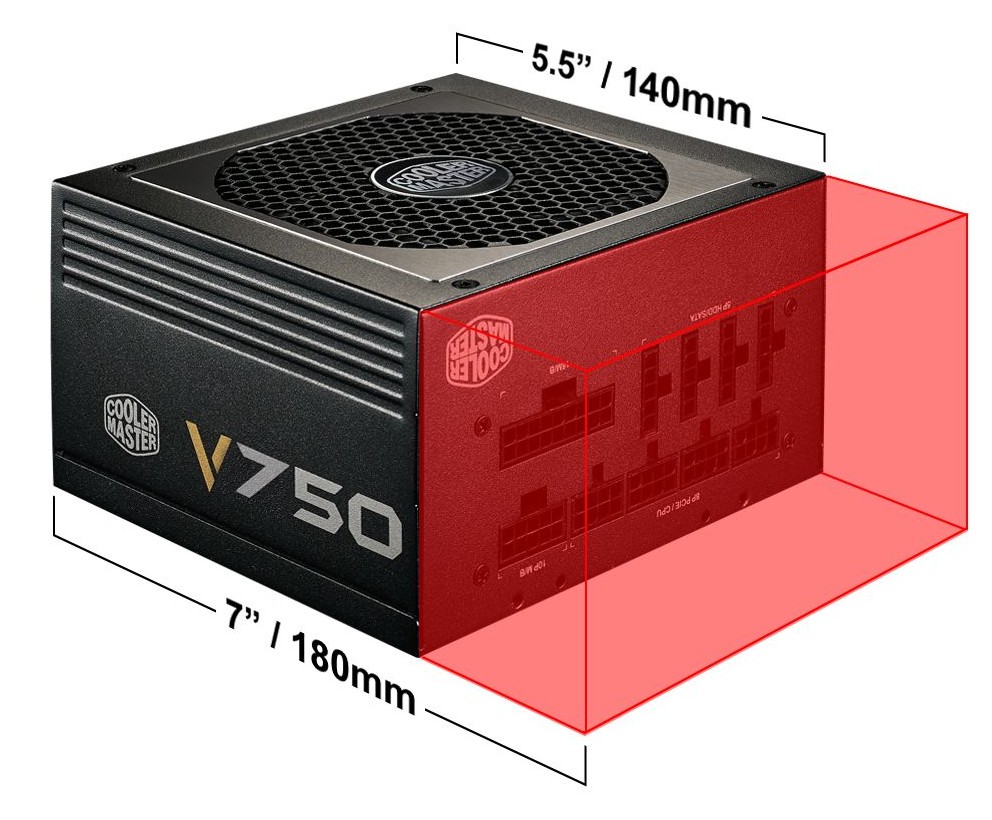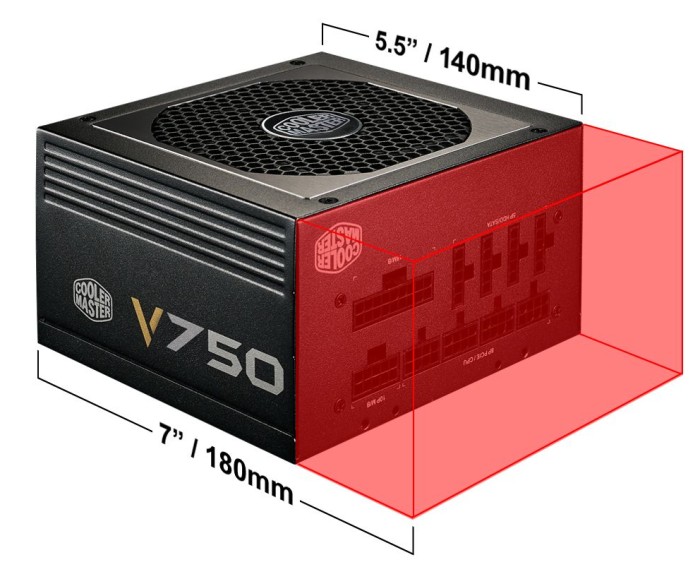 One huge thing that appealed to us with the V750 was it's compact size, Only 5.5 inches in length it's ready to go into nearly any enclosure and pump out 80+ gold power with the effectiveness of a determined soldier. 7″ / 180mm is a standard size of PSUs at this level of performance.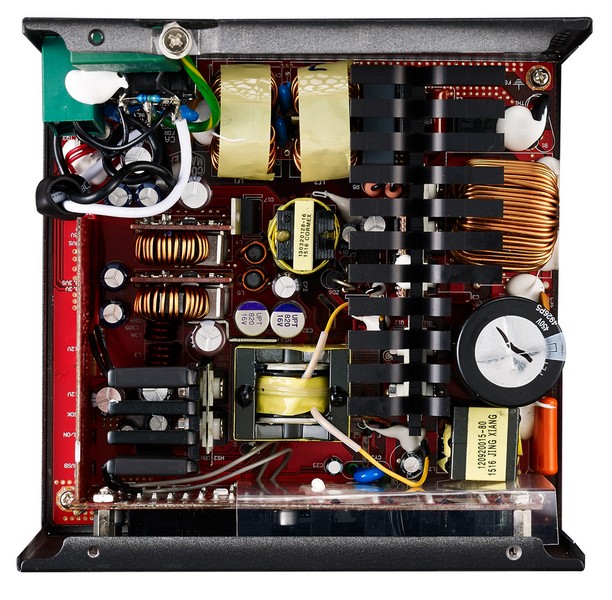 Taking a look inside we see CoolerMaster's exclusive 3D circuit design in all it's glory. 3D circuit design delivers more power in a smaller package. Clean stable voltages contribute to less stress on valuable components extending system life and reducing system instability. The design is modular from the inside to the outside. On the inside revolutionary design combines with fully modular, flat ribbon cables.
Included with that exclusive design we see the 100% Japanese Capacitors and DC-DC circuit design to enhance voltage stability and transient response.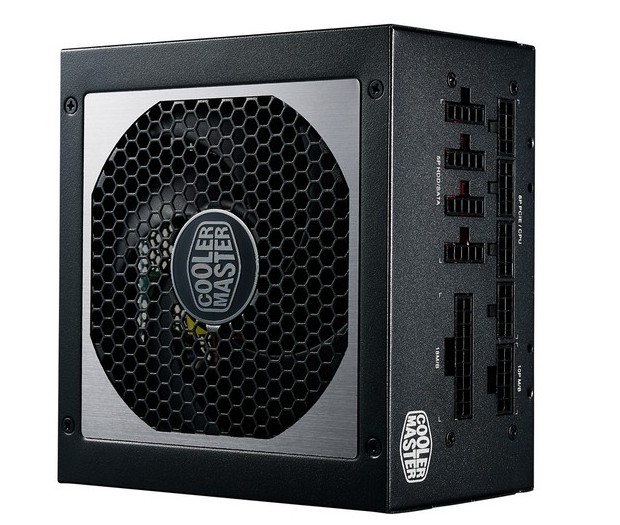 Inside and out the V750 is well designed and well executed. As we have come to expect from CoolerMaster.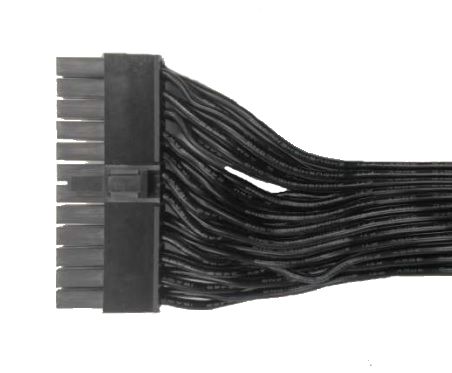 Cables for the 750V are all black flat cable for easier cable management.
Cables
Modular Cables
ATX connector (550mm)
20+4 pin
4+4 pin EPS12V (600mm)
2
6+2 pin PCIe (500/120mm)(600/120mm)
4
SATA (450/120/120/120mm)
8
4 pin Molex (450/120/120/120mm)
6
Floppy (450/120/120mm)
1
There's 4 6 + 2 pin cables ready to power two large cards. Small cards have one connector but are usually limited to 2x SLI for Nvidia for Xfire. You should be able to run 3 cards, one for PhysX, if they aren't too Watt heavy.
Specifications
Cooler Master V750 Features & Specs
Max. DC Output
750W
PFC
Active PFC
Efficiency
80 PLUS Gold
Modular
Yes
Intel Haswell Ready
Yes
Operating temperature
0°C – 40°C
Protections
Over Voltage Protection
Under Voltage Protection
Over Power Protection
Over Temperature Protection
Short Circuit Protection
Cooling
120 mm Silencio FP
Semi-passive operation
No
Dimensions
150 x 140 x 86mm / 5.9 x 5.5 x 3.4 inch
Weight
1.4 kg
Compliance
ATX12V v2.30, EPS 2.92
Warranty
5 years
Price
<179$
The specifications table on the V750 is pretty standard as it's an active PFC power supply, fully modular and Haswell ready.
For protections you get:
Over Volt
Under Volt
Over Power
Over Temp
Short Circuit
The rest is pretty normal except for the 5 year warranty which is the longest Warranty we've seen to date.
Cooler Master V750 Power Specs
Rail
3.3V
5V
12V
5VSB
-12V
Max. Power
25A
22A
62A
2.5A
0.3A
120W
744W
12.5W
3.6W
Total Max. Power
750W
A single powerful 12V rail is the way to go for clean consistent power.