Test Rig, Water Cooling & Results, OverClocking & Power Consumption
The OS we use is Windows 10 Pro 64bit with all patches and updates applied. We also use the latest drivers available for the motherboard and any devices attached to the computer. We do not disable background tasks or tweak the OS or system in any way. We turn off drive indexing and daily defragging. We also turn off Prefetch and Superfetch. This is not an attempt to produce bigger benchmark numbers. Drive indexing and defragging can interfere with testing and produce confusing numbers. If a test were to be run while a drive was being indexed or defragged, and then the same test was later run when these processes were off, the two results would be contradictory and erroneous. As we cannot control when defragging and indexing occur precisely enough to guarantee that they won't interfere with testing, we opt to disable the features entirely.
Prefetch tries to predict what users will load the next time they boot the machine by caching the relevant files and storing them for later use. We want to learn how the program runs without any of the files being cached, and we disable it so that each test run we do not have to clear pre-fetch to get accurate numbers. Lastly we disable Superfetch. Superfetch loads often-used programs into the memory. It is one of the reasons that Windows Vista occupies so much memory. Vista fills the memory in an attempt to predict what users will load. Having one test run with files cached, and another test run with the files un-cached would result in inaccurate numbers. Again, since we can't control its timings so precisely, it we turn it off. Because these four features can potentially interfere with benchmarking, and are out of our control, we disable them. We do not disable anything else.
We ran each test a total of 3 times, and reported the average score from all three scores. 
Test Rig
Test Rig
"Hexzilla"
Case Type
CPU
Motherboard
Ram
CPU Cooler
Hard Drives
Optical
Liteon DVD Burner
GPU
Asus ROG Poseidon Platinum GTX 980 Ti
Case Fans
1 x 180mm Mosfet / CPU / Ram cooling fan
1 x 120mm PCI-E Cooling Fan
Docking Stations
None
Testing PSU
Legacy
None
Mouse
Keyboard
Any Attempt Copy This System Configuration May Lead to Bankruptcy
GPU Water Cooling
We are using a Swiftech DIY cooling solution for the Asus Poseidon and the best way to describe Pumpzilla is to give you the image then talk a little about it.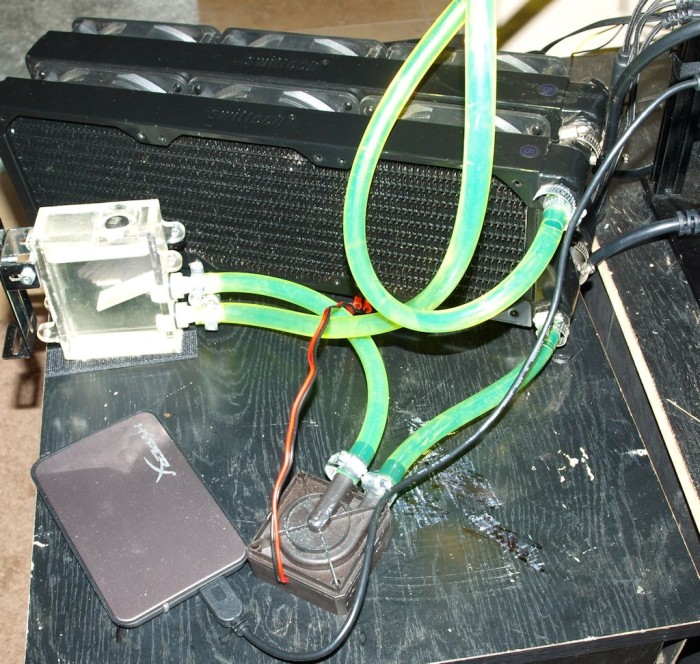 Pumpzilla has been around the lab for a number of years and the pump we normally use on it is a Swiftech MCP655 1200L/HR adjustable pump and 1/2 inch barbs and hose all the way around. After opening the Water Channel ports on the Asus Poseidon Platinum GTX 980 Ti we quickly realized that 1/2 inch hose was too much for the smaller water channels so we did a quick switch on Pumpzilla and switched out for a MCP350 440 L/hr pump with G1/4 inch threaded barbs but with 3/8 inch nozzles and 3/8 inch (ID) tubing. The tubing itself is green and the coolant used is nothing more than distilled water laced with EK-EKoolant concentrate which is anti-corrosion, anti-biological growth and non-toxic. The use of dyes in coolant loops isn't something we recommend but colored tubing gets the thumbs up.
The Radiators we use are two Swiftech MCR320-QP Stack which sadly is an end of life product because the special short barbs are no longer available but you can use a short 1/4″ BSPP to half inch barb available on the Swiftech Webby. Paired with a set of 47$ Swiftech MCR320-QP-Stack radiators for 114$ you have a pretty powerful start on a stacked dual radiator system. You can pair up with a combination Reservoir / pump if you like but we had the MCP350 and Swiftech Mini-Res handy so we went old school.
You can scrounge around over on FrozenCPU's webby and pick up Yate Loon Fans for $6.99 plain or LED and cross connect the Molex connectors and easily stack six (or 9) D12SH-12 88CFM fans and end up with one of the most effective low cost water cooling setups on the market. To give you an idea of longevity on the equipment as a whole we've been running it for 5 years ongoing without a failure (despite the spare pump we have cached away).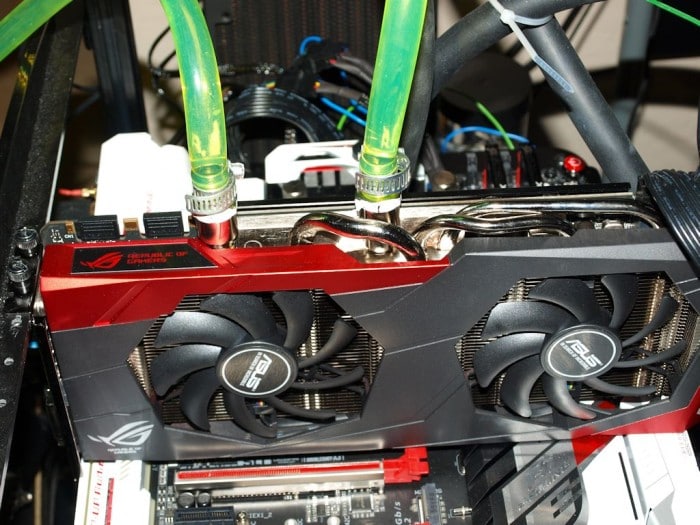 We did our testing on the Asus X99 Pro with the 5820K but it's Skylake season so as soon as we finished we moved the GPU over to the Skylake test bed to save a little time breaking down the water cooling system.
Sure PumpZilla is total overkill but we've seen similar results with other cooling setups and that's one of the beauties of DIY, pick it, build it, and enjoy a one-off DIY cooling setup.
Cooling Results
We were quite amazed and pleased with the Water Cooling results on the Asus ROG Poseidon Platinum GTX 980 Ti and words won't cover the results so we went to graph city and took some screen shots. We used several non-destructive methods of gathering information on the thermal properties but generally we settle on Unigine Heaven 4.0 or Kombusters built-in tests. In this case it didn't matter what we threw at the Poseidon the results were much the same across the board.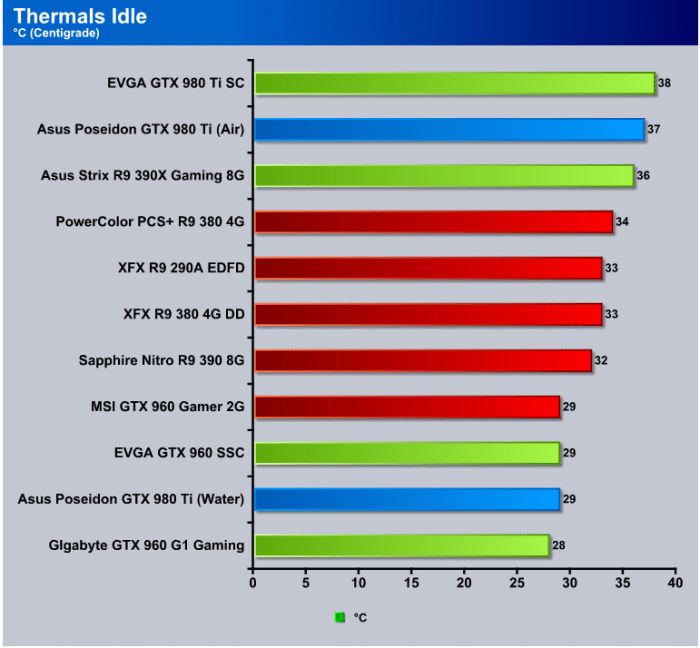 Running on Air the Poseidon GTX980 Ti was cruising at a comfy 37°C then when we hosed it down with Pumpzilla the idle lowered to 29°C which was close to the after market GTX 960's we have tested. Running that close to a considerably less powerful Maxwell is a good indication the water cooling solution is quite effective but let's get at the Thermal Load Chart.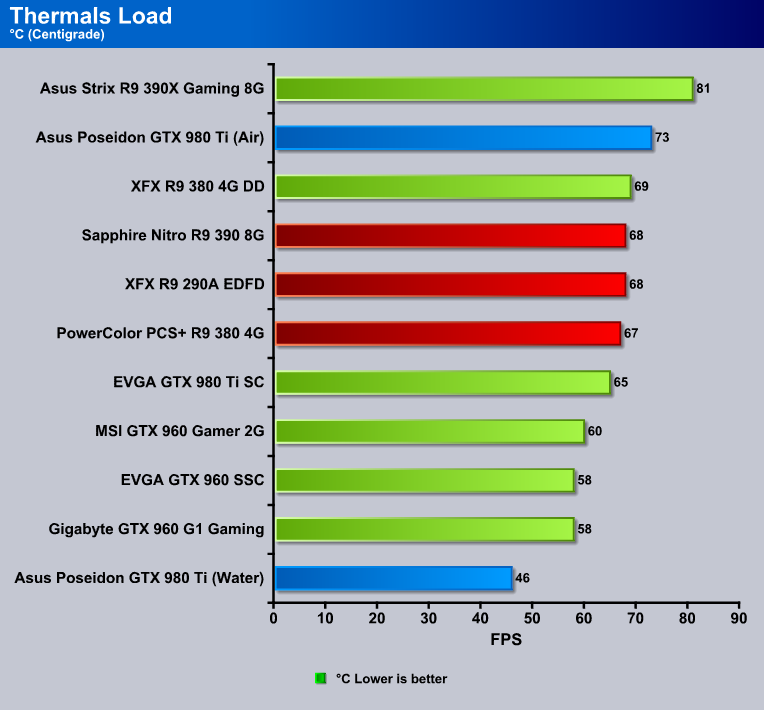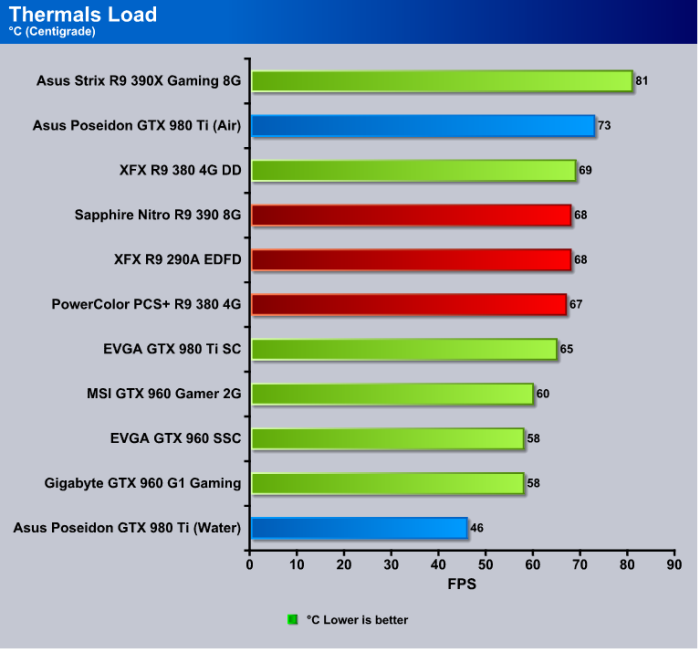 Full load on air we hit 73°C as top recorded temp which isn't bad but remember we are reading core temp here and the thermal armor on the Poseidon covers more than the core so we should get a OCing boost. We slap the water to the Poseidon GTX 980 Ti and run up the GPU core to 100% and it didn't matter whether it was 10 minutes or an hour the top reading we got was 46°C and it might have been a momentary spike but the sensor may have popped a 47°C for a moment or two but nothing we could even screenshot and both GPU-Z and GPU Tweak II were reporting 46°C as max so we went with the software and not the tired set of eyes behind the benchmarks.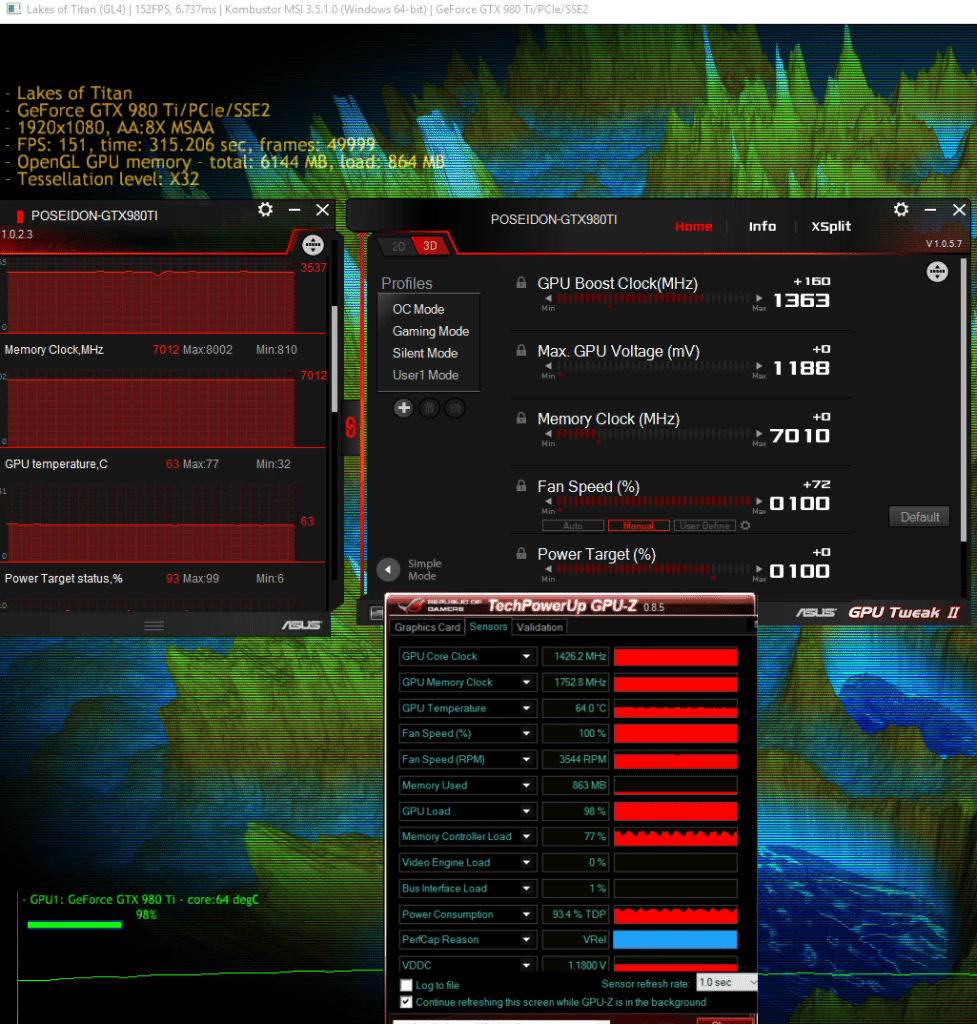 Running max fan with no water we got a core reading of 64°C but we aren't big fans (pun intended) of max speed on our cooling fans both for longevity and noise reasons. Max fan is for benchmark glory runs on air cooled GPUs stretched to the max then back to auto fan.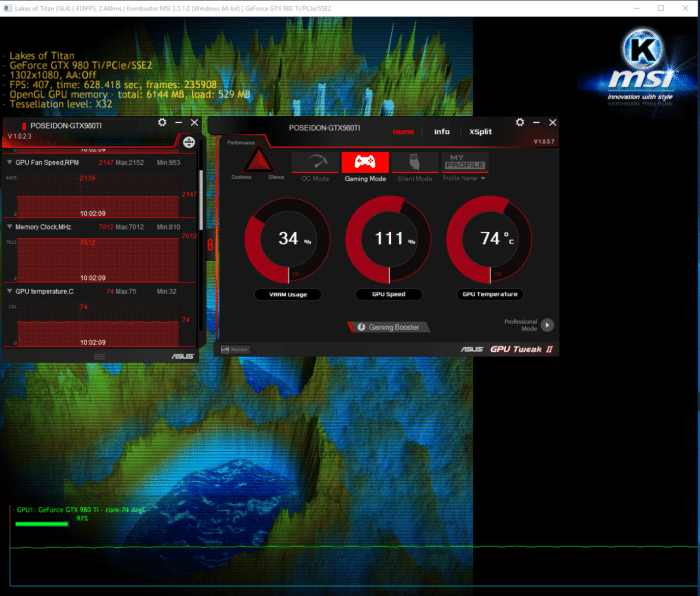 We ran a 10 Minute Kombuster on the Asus ROG Poseidon Platinum GTX 980 Ti and on Auto Fan we hit 74°C consistent across 3 runs, and yes 30 minutes of Kombuster with 10 minute cool down breaks does get a tad boring but that's what the other test rig is for.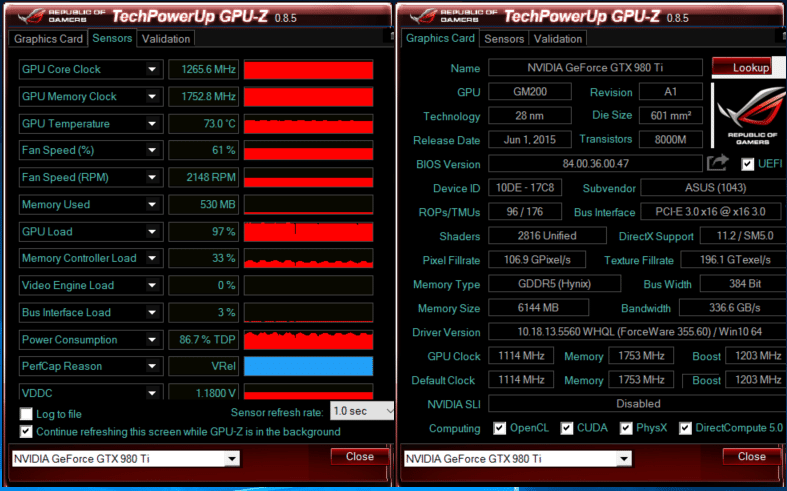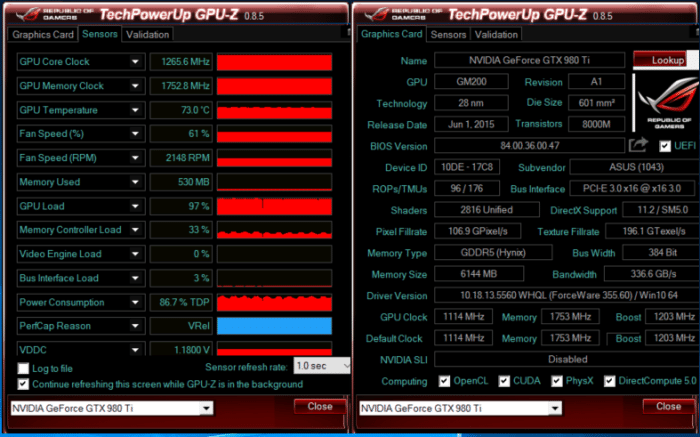 We re-ran the thermal Load test with GPU-Z on thermal and Info and it shows the core at stock factory OC 1114MHz and the memory at stock 1753MHz with a resulting temp of 73°C on air.
OverClocking

We really couldn't give out all the Thermal info without spilling the beans on the overclock runs. Lets look at the Stock GPU-Z shot and move along from there.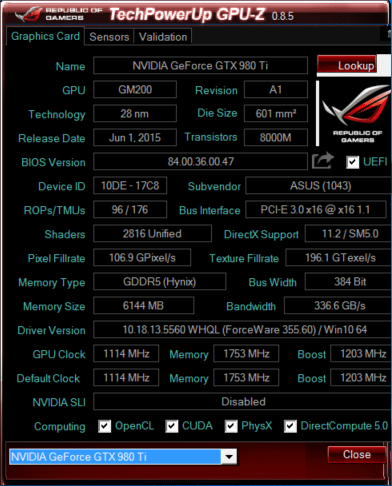 We've touched on it but the Core speed of the Factory overclocked Asus ROG Poseidon is 1114 and the boost clock is 1203 which means the Boost is 89MHz and we have to factor that into our overclocking. The Memory Speed is 1753 Real GDDR5 7012MHz effective with no boost factor.
We also need to keep in mind this is an Asus ROG product and we've seen some pretty wild well binned cores.
This is just one of many runs we made on 3DMark it's the FireStrike Extreme and we hit 1363MHz Core, 7998MHz Memory and it was completely benchable and Stable. This was at 100% Target Power and moving to 110% didn't help us at this point. Of course 1363MHz is the Boost Clock but when loading the Poseidon it stayed on the Boost clock so we are calling 1363MHz our effective clock on air.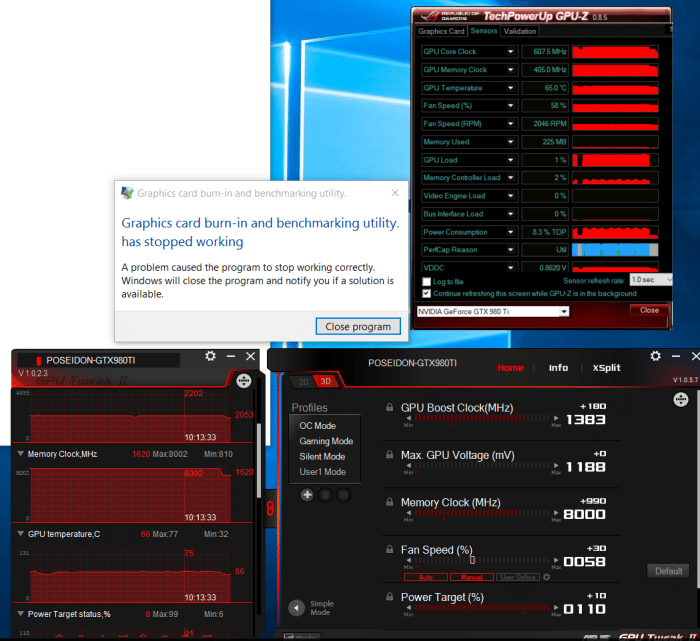 We Kicked to 1383MHz with 110% Target and got driver lockups or screen freeze and these overclockes were before the water cooling system was installed. We see a couple of inherent problem and that's Asus has done such a fine job on the Air cooling that even in a faulty run we hit 77°C which is really higher than we like to run on an ongoing long-term basis. Hot chips Core and otherwise mean shorter life span and if you look at GTX 980 Ti reference speeds the core is at 1002MHz so we are running this core 361MHz over reference which is a great OC in anyones book.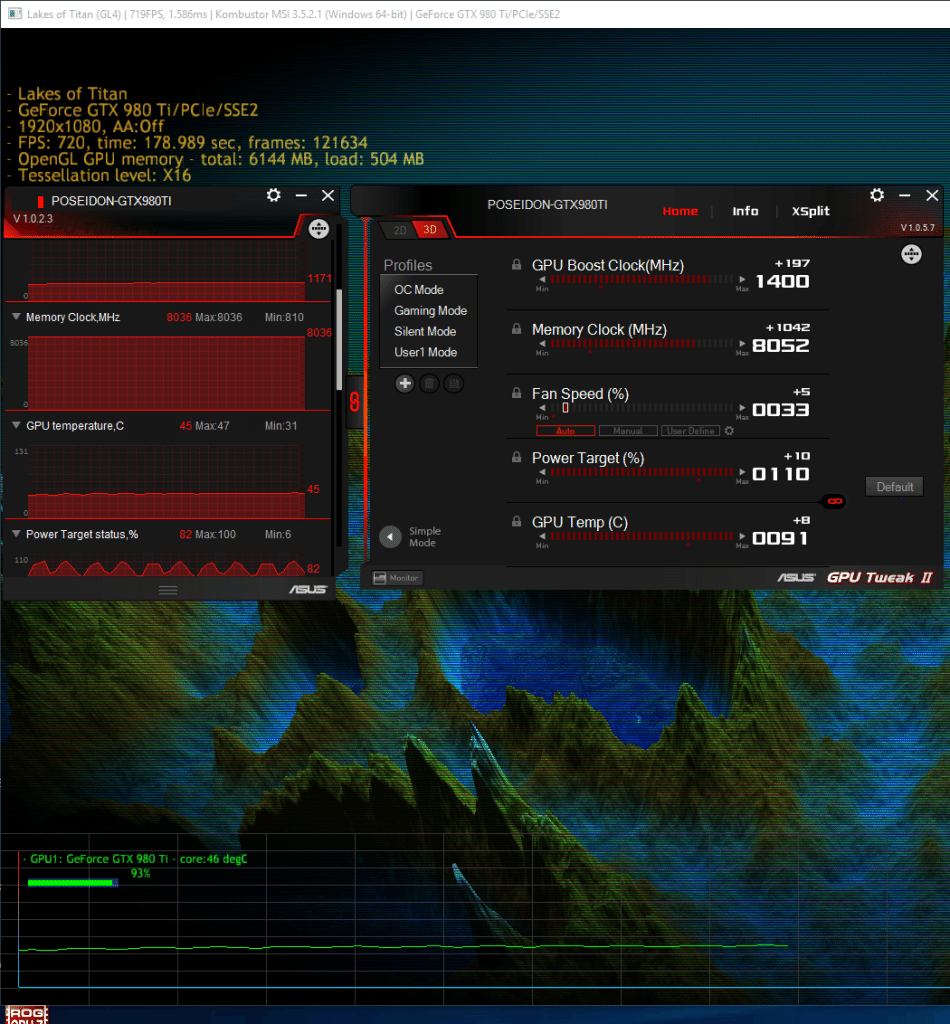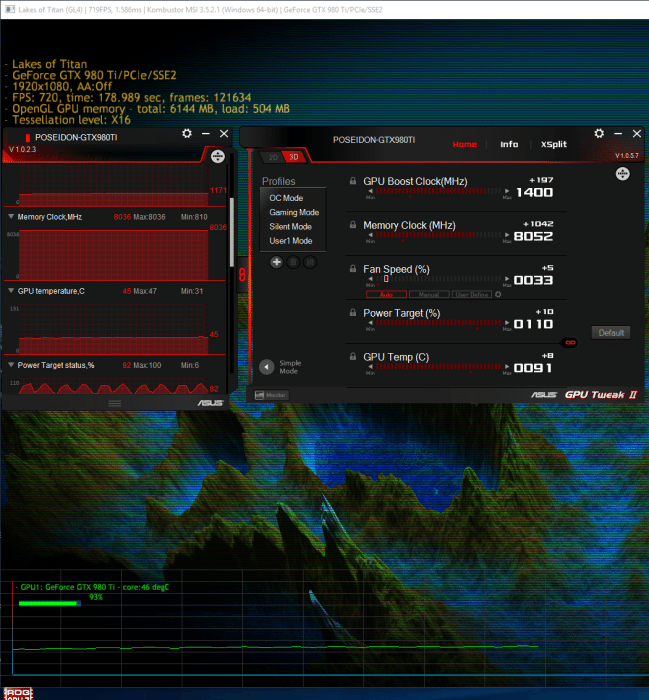 Here we are in Kombuster with the water cooling system and Pumpzilla and the Asus ROG Poseidon GTX 980 Ti giving us a thermal reading of 45°C at a core speed of 1400MHz and a memory clock of 8050MHz. We ran several benches in Kombuster, Several in 3DMark and all the tests we rad were stable non-artifact tests. Kick the Core up to 1420MHz and it would bench but not without artifacts.
Some might say that the water cooling isn't providing much more overhead but the way we see it is Asus refused to compromise on the excellent Air Cooling and the card turned in an excellent 1363MHz OC but at a slightly higher temp than we like, slap the water on the Poseidon as it was designed for we got both the excellent OC and the thermal threshold we wanted.
All that being said the Asus ROG Poseidon Platinum GTX 980 Ti is such a powerful card the only reason you need an OC is for glory runs or you just enjoy pushing your equipment to the max. We prefer expensive GPU's on water for longevity and OCing and the Poseidon gives us both. We can tell you this is one of the cores a world record setter would crave so no matter how you stack it the ROG Poseidon GTX 980 Ti is a great choice for OCing, water Cooling and everyday operation.