Introduction
As gamers go, we seek any competitive advantage we can get and when it comes to keyboards, we love our Mechanical Switches.  Some of the finest and most sought after Mechanical Keyboards feature switches made by Cherry and more specifically Cherry MX Switches. Now there is a wide range of Cherry MX Switches. The most common Cherry MX switches are Black, Brown, Clear, Blue and Red.  The Rosewill RK-9000V2 features Cherry MX Blues and I can't really say one type of switch is better. Every gamer has a special preference when it comes to Cherry MX Switches.
Rosewill was founded back in 2004 with the endeavor to   bring quality hardware and lower cost together to expand the quality gaming products market to entry level gamers and enthusiasts.  To achieve this lofty goal Rosewill competes not only when it comes to lower cost solutions, but also on product quality, customer service and satisfaction.  Rosewill is also Newegg's computer peripheral brand and also sells household items in addition to the core business which is computer hardware.
Special thanks to Rosewill for having us review the RK-9000V2
Packaging
Rosewill went with pressed laminated cardboard that on the exterior is semi gloss black with red and white print and product picture.  The example we have is the Black version and there is also a White version. The box shows both pictures for the white and black and I am assuming that it is the same packaging based on the fact that on the back side of the box by the UPC, there is a box for white and black and this one has a orange round sticker in the box for the black one.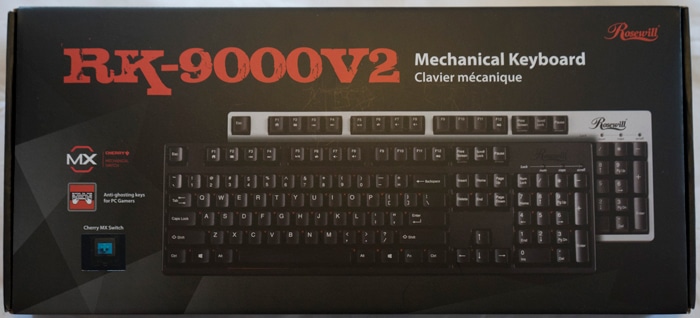 I like what Rosewill did with the front of the box; it is very simple with the model name in a menacing red with Mechanical Keyboard in white. This is followed up with Rosewill in the top right corner and images of both colors of RK-9000V2, followed by the Cherry MX logo, Anti -ghosting for gaming, and a Cherry MX Blue Sticker.

On the top of the box you find general specifications in white that stand out nicely from the black box.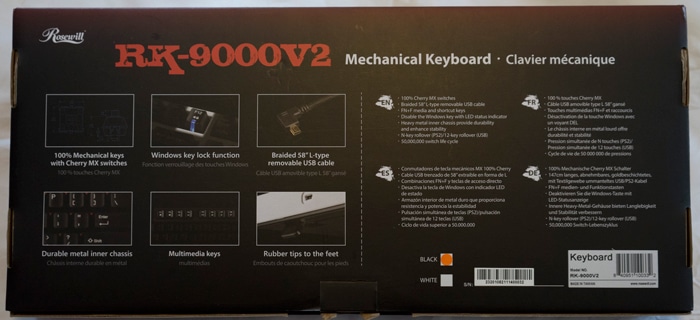 On the back is where the major features and details of the Rosewill RK-9000V2 are found. This keyboard features 100% mechanical switches by Cherry, Windows Key lock function, braided 58″ L-type cable removable USB cable, Inner metal chassis, multimedia keys and rubber tips on the foldable feet.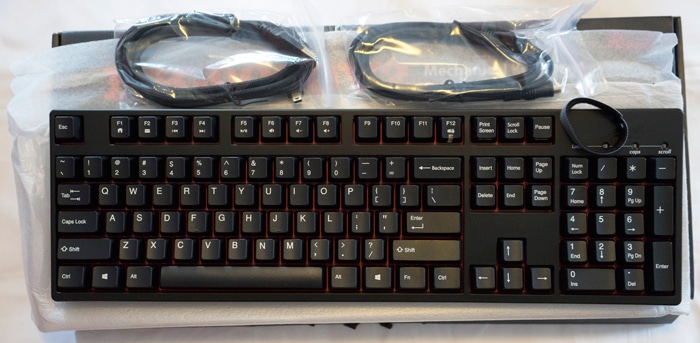 When opening the box and removing the contents, you have the Mechanical Keyboard, two cables and a nice Velcro strap and Rosewill logo.
Features
| | |
| --- | --- |
| Gaming Grade LifetimeCherry MX switches rated to 50 million clicks | Gamer Grade DurabilityMade with a high strength inner metal chassis |
| Roll-OverN-key Roll-over(PS2)- 12 Key Roll-Over (USB) | Multifunction KeysMultimedia and shortcut key's |
| Precision Designed KeysLaser Printed Keys | Heavy Duty Braided L-Type CableVia built in Mini-USB, the user can interchange PS2 and USB cable to suit their needs |
| Gold Plated USB and PS2 ConnectorEnhanced Corrosion Resistance and Lower Latency | Responsive and ErgonomicResponsive and Comfortable for hours of gaming |
Specifications.
Advanced anti-ghosting with N-key(PS2) and 6-Key rollover(USB)
Cherry MX Blue Switches
Multifunction keys for Multimedia and shortcut's
58 Inch heavy duty braded L-Type cable's for PS2 and USB connectivity
Lifespan of 50 million keystrokes
Rosewill RK-9000V2
The RK-9000V2 is second generation and with it comes several improvements over the old RK-9000.  The RK-9000 was already a wonderful keyboard, but the RK-9000V2 continues its legacy and takes it to a whole new level.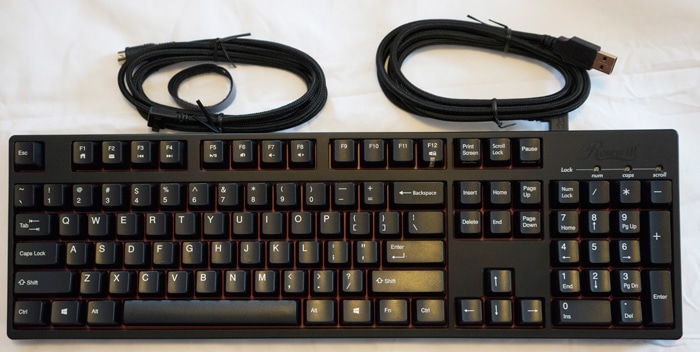 While the keyboard is designed for gaming, its design and layout with its Ten Key also makes it a wonderful keyboard for everyday tasks like Excel .
The Rosewill RK-9000V2 is offered in several different variants. The differentiating factor lies in the switches allowing the user to get it with Cherry MX Red, Brown, Black or Blue like the one in this review. As mentioned before, different users have their own favorite Cherry MX switch.  The different variants of the RK-9000V2 allow it to cover the wide range of user preferences.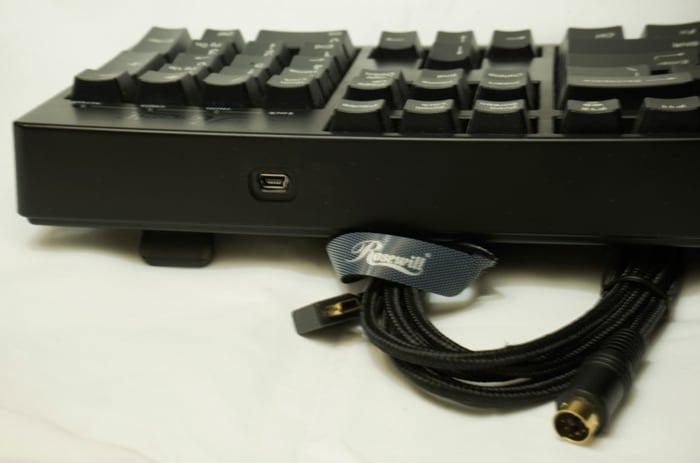 One major aspect that sets the Rosewill RK-9000V2 apart from the majority of Mechanical Keyboards is the Mini-USB port on the top right of the keyboard.  This feature allows Rosewill to offer the user two connectivity options, giving users the choice between PS2 and USB.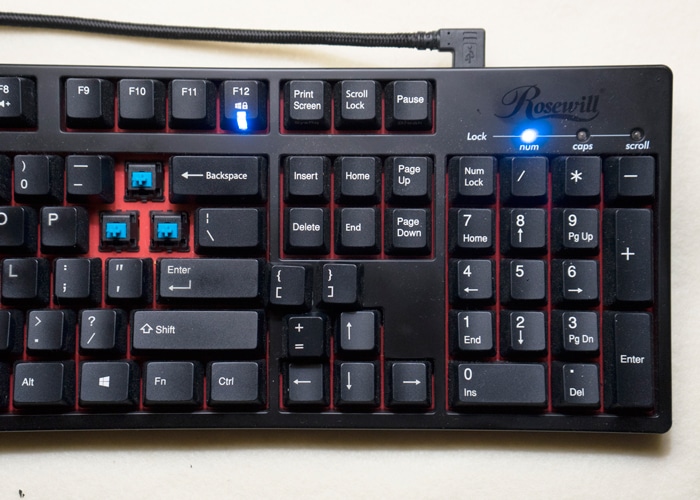 This keyboard also features a Windows key lock function that is activated by pressing Fn+F12 and once activated it lights up blue.  This is also the only key that has a LED built into the switch; also visible are the Cherry MX blue switches.
When viewing the keyboard from the side, you can see how the keys are arranged ergonomically to ensure hours or comfortable use. You can also see that the first three rows of keys are tilted back and the fourth row is slightly tilted, with the top two tilted forward.  Also visible from this angle is a good perspective of the generous key spacing that adds to the tactile sensation when searching for your next key and helps prevent users from hitting multiple keys. The pitch of the keyboard is also adjustable through two pop-out feet.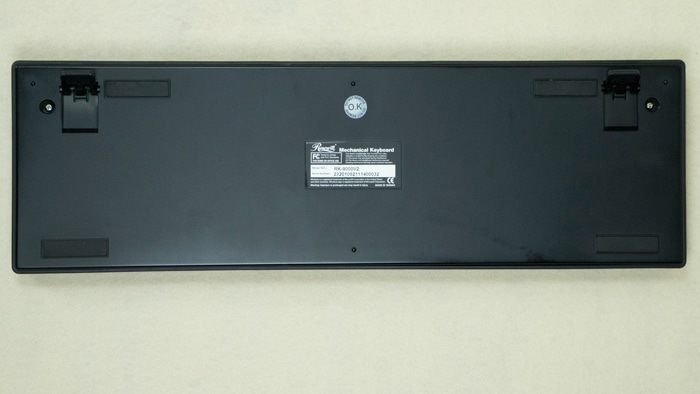 Flipping over the keyboard we get a good view of these pop-up feet and the four large rubber strips on the bottom that prevent it from sliding around and keep it planted.  Also visible is the Rosewill logo, Mechanical Keyboard and model name.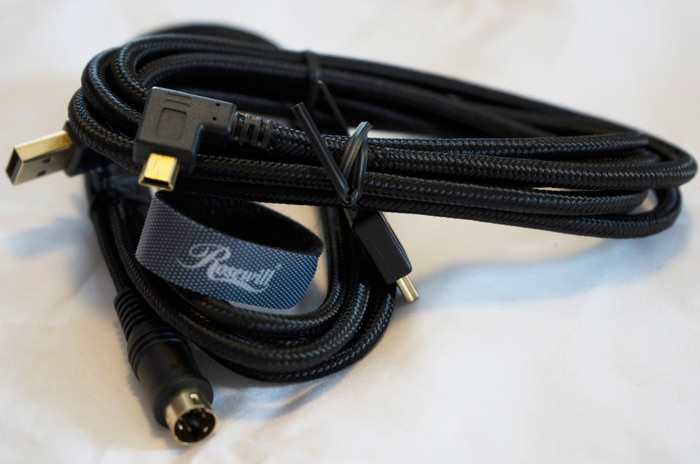 Included with the keyboard is not one but two different cables; now you might ask why two.  There is one that is Mini-USB to PS2 and another that is Mini-USB to USB.  Both cables are heavy gauge construction that is also braided.
Usage & Final Thoughts
I have been using the Rosewill RK-9000V2 for close to a month now and I have really grown attached to it and enjoyed it immensely. Previously I was using the Logitech G110 gaming keyboard and as much as I enjoyed it, the RK-9000V2 has replaced it as my standard keyboard and won my admiration.  This keyboard is a bit on the heavy side, but that is due to its heavy duty inner metal construction. I enjoyed the build quality and craftsmanship. In addition, the interchangeable cables are an interesting touch. They allow users to choose their desired method of input.  During testing I tried both cables and they worked flawlessly. The only issue with the detachable cables was that when I lifted the keyboard from my desk to use on my lap, occasionally the cable would loosen from the Mini-USB port.  In this regard, I would recommend to Rosewill something as simple as a clip system where you would have to push down on the clip on the cable to remove it from the keyboard.


The games that I played on this keyboard were primarily FPS, MMO and classic strategy games like Supreme Commander and Command and Conquer.  During the long gaming sessions that I was wrapped up in, the RK-9000V2 performed admirably and perfectly. The Windows lock feature is crucial for any gamer and I especially liked how the key for this lights up when active.  I found the RK-9000V2 to have excellent ergonomic properties and was still comfortable after hours of gaming.   If I had to add a feature, it would be backlit keys since most of my gaming is done in low light conditions.  However, the RK-9000V2 features laser printed keys and the printing is raised slightly and I was able to tell what key my finger was on based on the tactile feel.
Overall the Rosewill RK-9000V2 is a wonderful keyboard and if you are looking for a mechanical keyboard, I would recommend considering it.  However, at $89.99 the RK-9000V2 is a slightly over priced.  Similar mechanical keyboards at this price point offer backlit keys and programmable keys and macros through their software interface. However, the build quality and craftsmanship is exceptional and will allow it to endure years of hard use and abuse.  Overall the design and layout not only make the Rosewill RK-9000V2 a great gaming keyboard but also a great keyboard for even boring office work with its ten key.
Pros
Cons

Available in several flavors of Cherry MX including Blue, Black, Brown and Red
Windows Key-lock
Rock solid build quality

No backlighting
No macros
A bit pricey