The role that SD and MicroSD cards play in our ever-increasing mobile lifestyle is becoming more and more important.  As our devices become more advanced and file sizes become larger, read and write speeds are increasingly crucial to how we interact and use our devices in our daily lives.   When you install an older card that you may have laying around into a new device, it could impact not only the performance and usability but also your overall perception of the device.  Much like the difference a SSD drive makes in a new PC, the same concept applies to SD cards.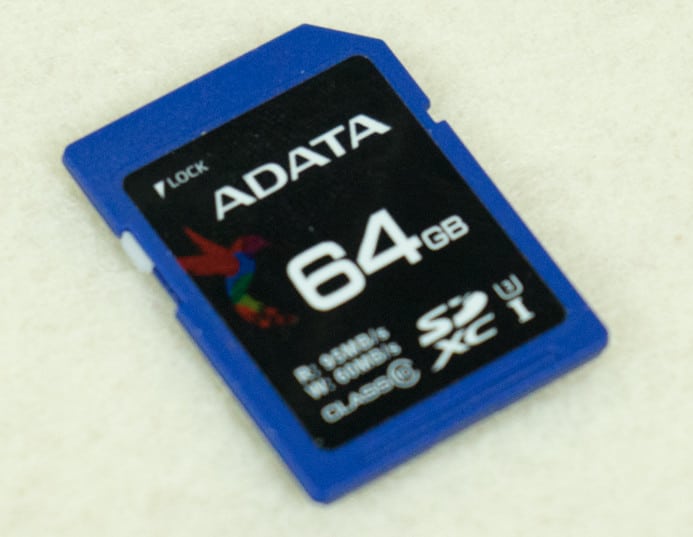 The SD card we are reviewing today is the ADATA Premier Pro SDXC UHS-I Speed Class 3 (U3), which is currently their flagship card for professional photography and video including  4K resolution.  This Premier Pro SDXC card is designed to deliver read/write speeds of up to 96/60 MB/s,  perfect for any modern D-SLR cameras and devices capable of shooting 4K video.
Special thanks to ADATA for sending us the Premier Pro SDXC UHS-I Speed Class 3 (U3) to review.
Specifications
Premier Pro SDXC UHS-I Speed Class 3 (U3)
Capacity
64GB/128GB/256GB
Standard
SDA 3.0
Operation Voltage
2.7V ~ 3.6V
Performance
Seq Read/Write speed up to 95/60 (MB/s)
Compatibility
SDXC Card and SDXC USH-I Card enabled host devices
Certifications
FCC, CE, BSMI, VCCI
Warranty
Lifetime limited
Operating Temp
-25°C (-13°F) ~ 85°C (185°F)
Packaging
The packaging that ADATA uses is extremely glossy on the front side and colorful.  The packaging is relatively flat with the exception of the clear plastic bubble near the bottom that encase the card. Near the list that the card is water proof, shock proof, magnet proof, X-ray proof, it gives the temperature range and finally the life time warranty.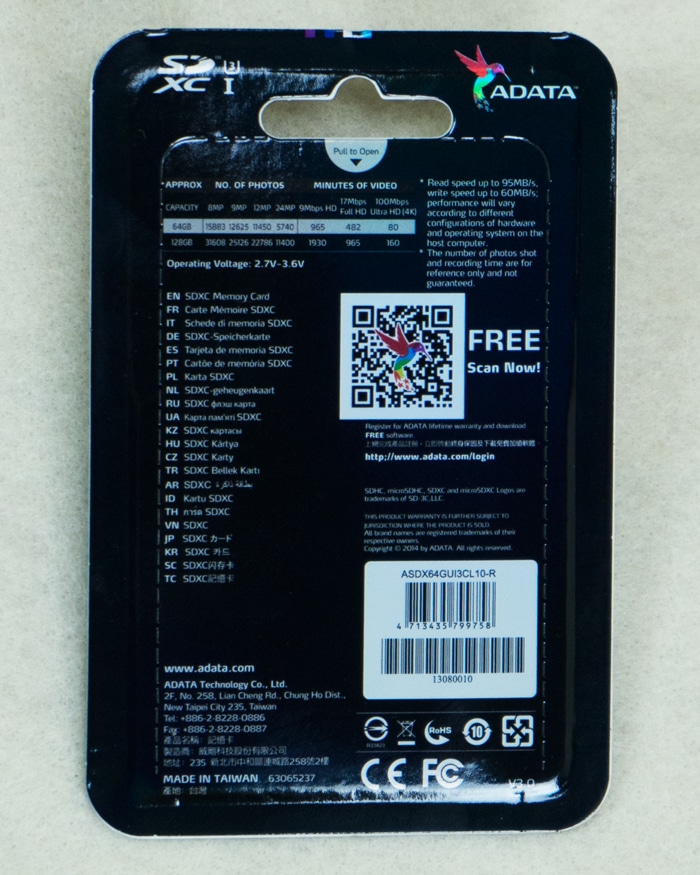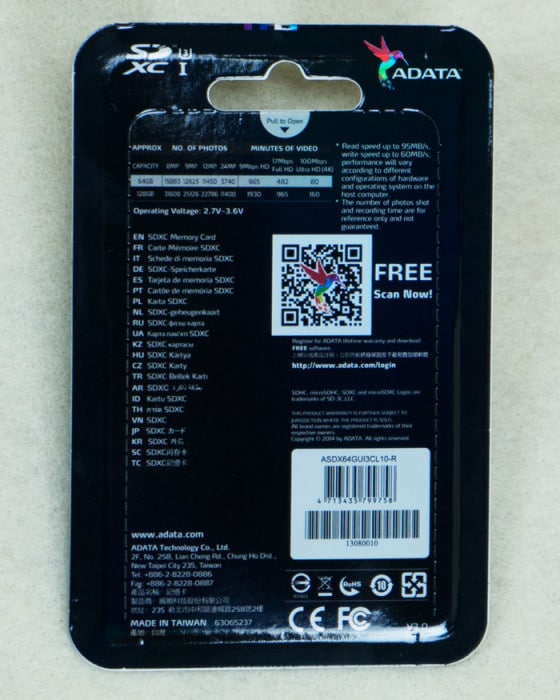 On the back side there is a chart showing the number of pictures the card can hold according to megapixels; keep in mind this is highly dependent on your camera and the settings you have chosen. Also on the back is the QR code that directs you to the ADATA website and allows you to register the product.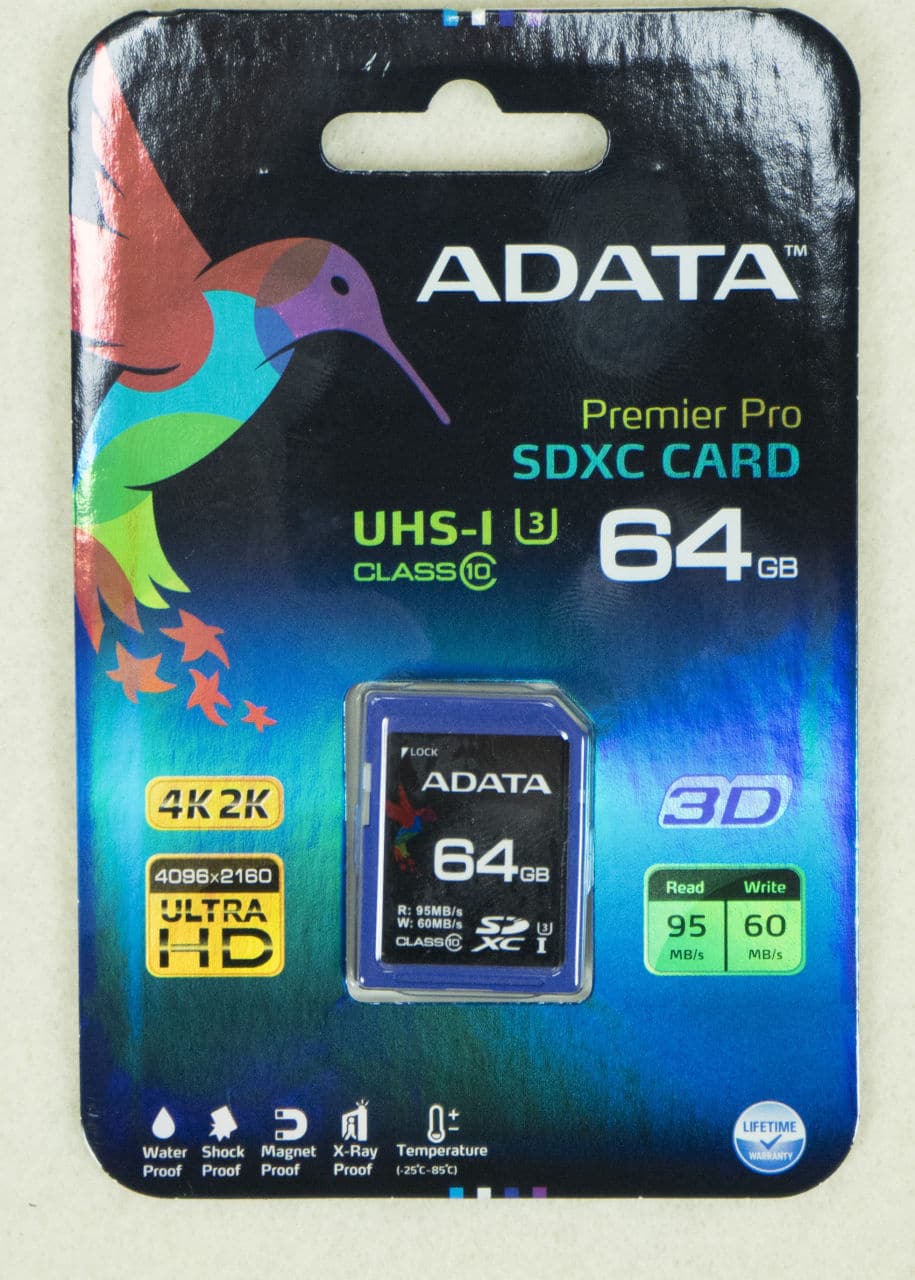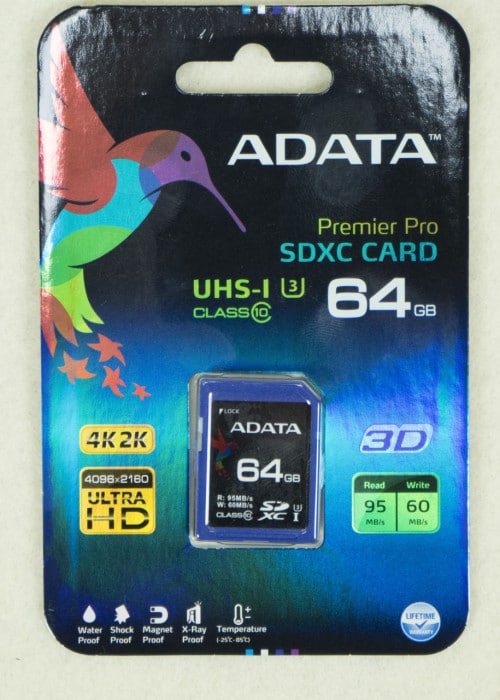 The card is made up of blue plastic with a black sticker on the front with basic information about the card like the read/write speeds, capacity and type of card.  Also shown is the locking mechanism for the card.  On the back side are the gold-plated connectors.
Testing and Performance
For testing I utilized my Sony A7 Dslr and to test the performance I used the Enermax ECR-501 card reader that uses the USB 3.0 bus to transfer data.  The testing software I used was CrystalDiskMark  version 3.0.4 and ATTO disk benchmark.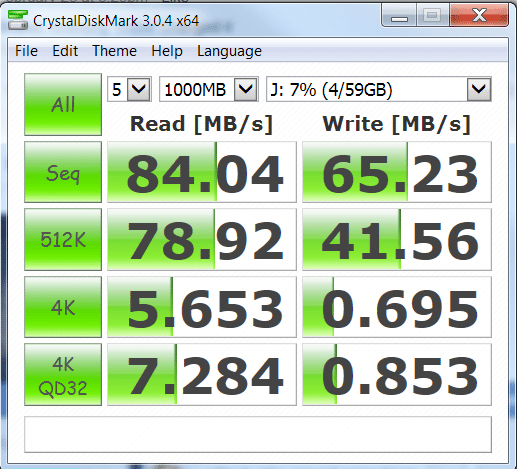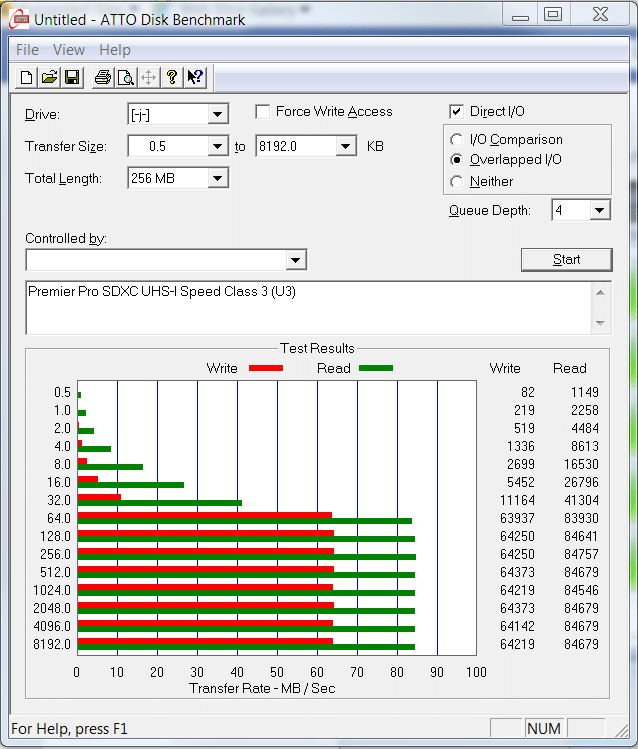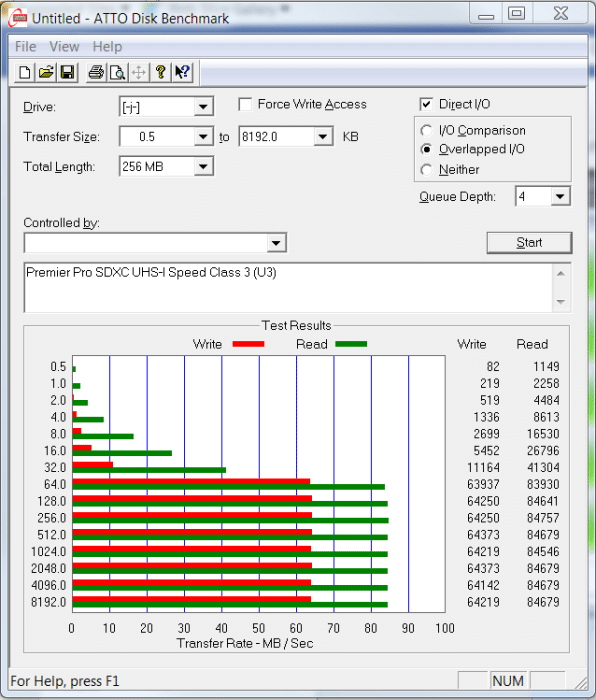 During our testing with the Adata Premier Pro U3 card we achieve some surprising results and in order to rule out error we ran the test several times on different machines.  The results we achieved were slightly lower read speed and higher than advertised write speeds.  We only achieved 84MB/s read compared to the 95MB/s advertised. However we did achieve a write speed of 65.23MB/s compared to the 60MB/s that is advertised for this card.   While it would have been preferable to  achieve the read speeds listed by Adata, I found the faster write speeds to be preferential when shooting Raw picture files and 4k Video.
Conclusion

The Adata Premier Pro U3 card was a bit of a surprise for us during our testing with the read/write speeds we achieved. Overall this works in the card's favor since at the current time the U3 speed rating this card holds is designed for high-end photography and video equipment applications. Ultra fast write speeds are key for shooting raw photos in rapid secession or while doing 4k video. While we would have liked to see this card live up to its advertised read speed of 95MB/s it still achieved a solid 84MB/s.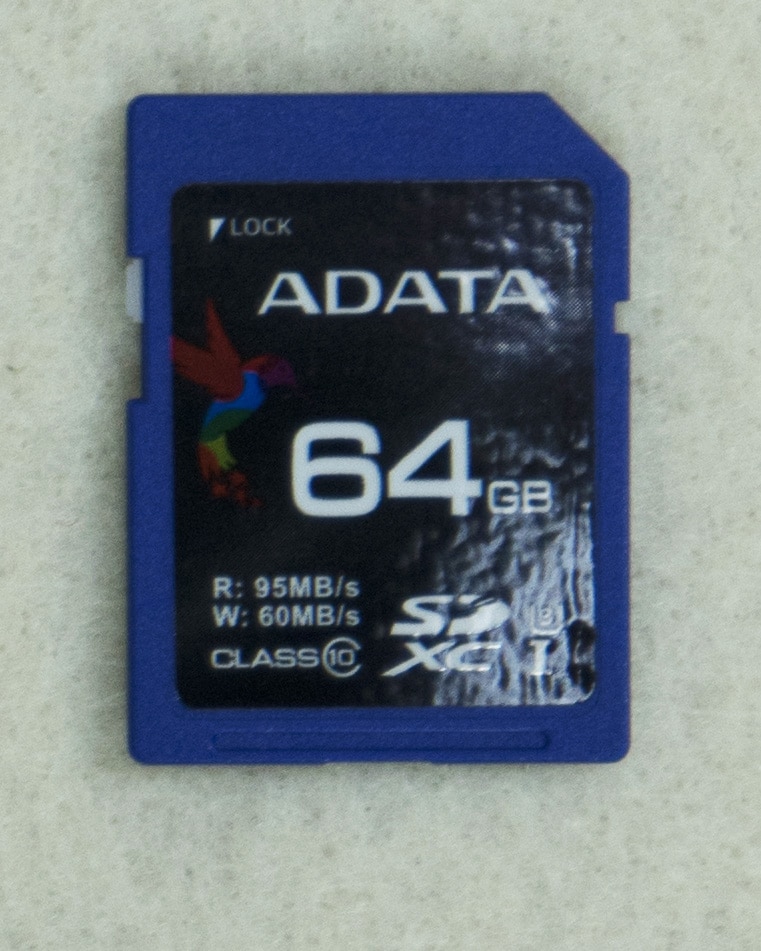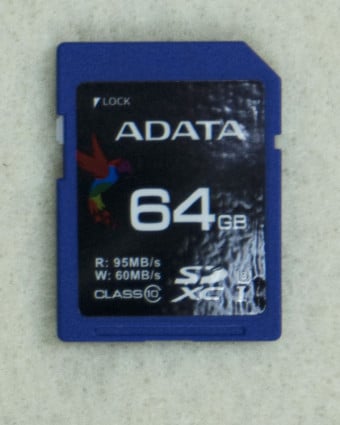 The Premier Pro is available in several different capacities to suit need and they range from 64/128/256GB.  The 64GB model we tested can be found on Amazon for $48.  As with any SDXC card it is crucial to do your research to determine if your application supports the size or speed that this card delivers.  While we cannot testify on the performance of the 128GB or 256GB model we assume that the results would be similar.   Hereby Bjorn3d awards the Adata Premier Pro 8 out of 10 and we feel confident  in recommending this card.
| | |
| --- | --- |
| Pros | Cons |
| Faster than advertised write speeds | Slower than advertised read speeds |