It's been a while since we've had an XFX GPU crossing our test bench but today we have the XFX R9 290 Double Dissipation boasting 2560 Stream Processors 160 Texture Units and 64 ROPS. The Core speed of 947MHz on the XFX R9 290 with a full 4GB of GDDR5 with a highway wide bus of 512-Bit this monster can shred 4.9 TFLOPS. The core on the XFX R9 290 is built on the 28nm process and is a Hawaii Pro Graphics processor, the Hawaii graphics processor is a large chip with a die area of 438 mm² and 6,200 million transistors.
The XFX R9 290 gets it's power from one 8 pin and one 6 pin PCI-E with a maximum power draw of 275w and hosts a bevy of display connection options. Among the connection options offered by the XFX R9 290 DD are 2x DVI, 1x HDMI, 1x DisplayPort. At launch the monster card retailed for $399 and can be found for $279.99 (at times with a 20 dollar rebate making it $259.99) which puts it in competitive range with the GTX 960 price wise.
While the GTX 960 has been all the rage in the news its narrow 128 bit bus has been an impediment in acceptance with GPU enthusiasts. Well if the narrow 128 bit bus put's you off the XFX R9 290 DD might be a good choice for you. The full 4GB of GDDR5 with a 512-bit bus on the XFX R9 290 DD doesn't hurt our feelings at all. Games are starting to demand a full 4 GB of memory and the XFX R9 290 DD offers that at an affordable enthusiast friendly price of $279.99.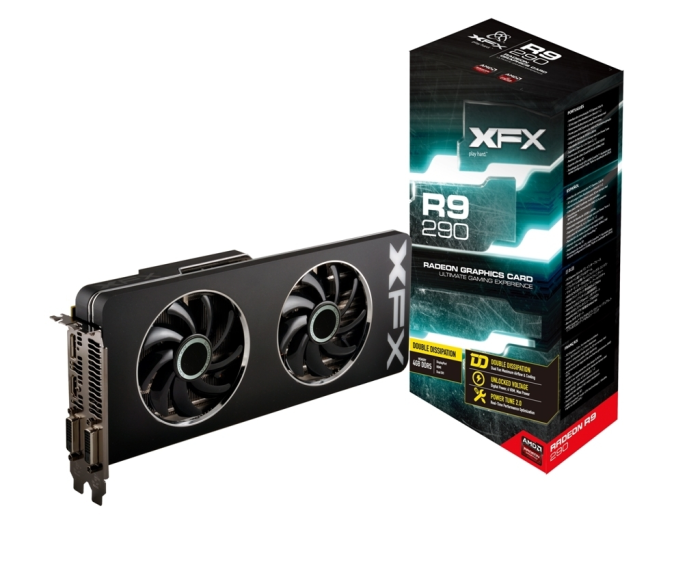 Sporting two large fans up to 13 dBA quieter than single fan offerings the Double Dissipation heatsink can deliver up to 7°C cooler than reference designs. Video memory is used to store 3D Vector information, textures, and overlays for gaming and having 4 GB of GDDR5 will enhance your gaming experience. Run short of Video memory and you can experience low FPS and video stuttering which can destroy any gaming experience. There's nothing worse when gaming than hitting a stutter and when the GPU breaks out of it you've been headshot the high-end XFX R9 290 DD should keep you gaming at highresolutions with high FPS in most modern games.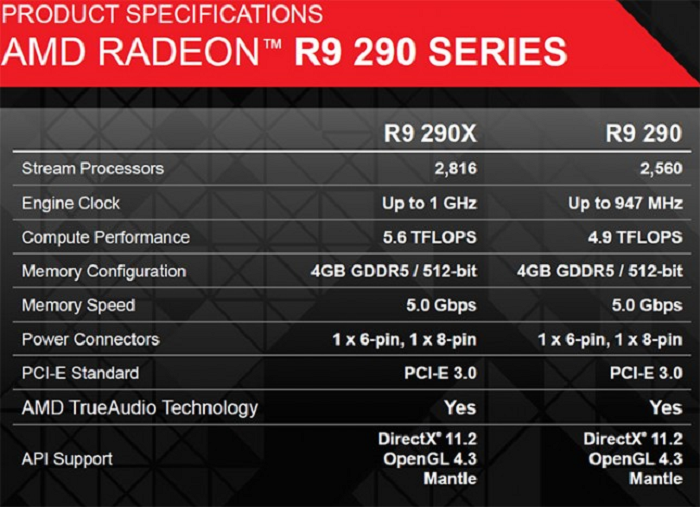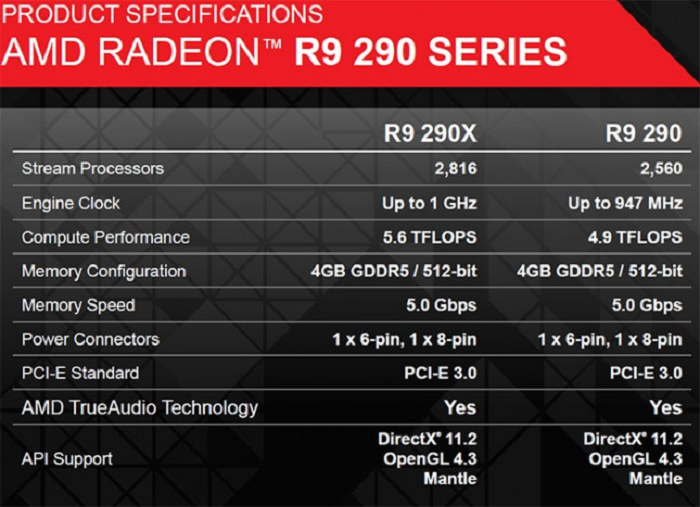 System Requirements
External Power – 6-pins : 1
External Power – 8-pins : 1
Minimum Power Supply Requirement : 750 watt
XFX Recommended Power Supply : XFX 850W PSU
The recommendation for a 750 – 850W PSU is a little steep but it's always better to have plenty of clean power for your system than running out there on the bare edge. A good rule to follow is to allow for an extra 25% on your power supply. For instance if your system needs every watt of 500W then go with a 650W good quality (and we stress good quality) PSU. AMD GPU's like their power so a 750W PSU isn't unreasonable for these FPS churning beasts.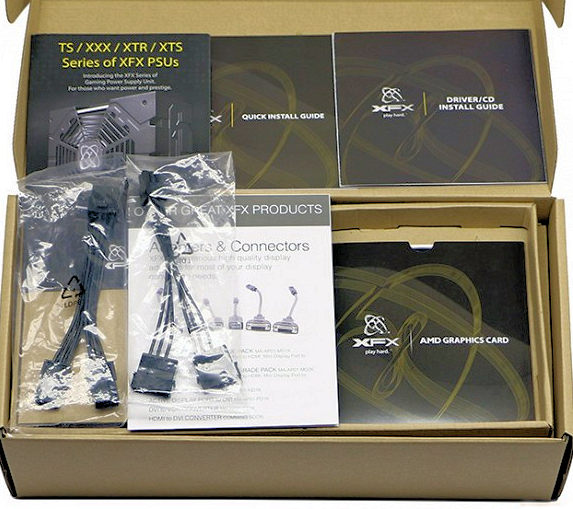 Like most GPU's these days the XFX R9 290 DD is a little slim if you are used to a game being shipped with enthusiast grade GPU's. When the XFX R9 290 DD first shipped it did include a download code for Battlefield 4 but since the price drop that fell out of the bundle. Still it is nice to see a game bundled these days, you pop for an enthusiast GPU and your wallets flat that bundled game looks pretty good.
Included in the current bundle:
6-pin to 4-pin power cable : 1
8-pin to 6-pin power cable : 1
Driver Disk Installation Guide : 1
Installation DVD : 1
Promotional Bundles : PSU Cross Marketing Insert
Quick Installation Guide : 1
Most noticeably no Crossfire bridge is included but AMD lost their Xfire bridges and now you just go into the CCC (Catalyst Control Center) and enable Xfire and it's handled through the PCI-E slot. We are all for bridge-less Xfire and of the two GPU Giants AMD is the only one to do away with the legacy GPU bridge. We keep a keen ear for the rumor mill and R9 300 is "rumored" to feature GDDR5 HBM (high bandwidth memory) so it will be an exciting time for GPU enthusiasts to see if R9 300 utilizes HBM and which of the GPU giants will field HBM first.