A Closer Look at the GTX 980 Ti
Click Images to Enlarge
The GTX 980 Ti comes in looking pretty much exactly like a 980, almost it carries the same metal cooler shroud and dark internal fin array ensuring all of the important bits say cool under load.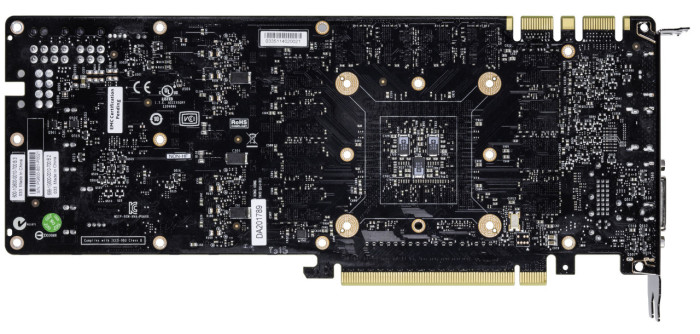 Click Images to Enlarge
Now comes the almost, as you can see the 980 Ti comes sans backplate which was a bit of a surprise as a premium flagship card with a nice backplate just finishes off the overall quality and high end feel of the card, but im also not one to knit pick small things so no backplate is a not a deal breaker here merely on the fact alone that the backplate is merely a protection or style device and for the protection part I love them as it keeps SMDs from being chipped off teh rear but it also can trap heat if a rear component has air space around it, but now were just going way too far off of what matters. In reality f the card performs and doesn't have important components that require cooling on the rear then I am ok being sans backplate.
With all of that said there is no memory chips on the rear it honestly looks pretty much like most TITAN or 980 PCB I have seen for the most part especially on the TITAN side with the solder pad location in place for a front mounted power connector.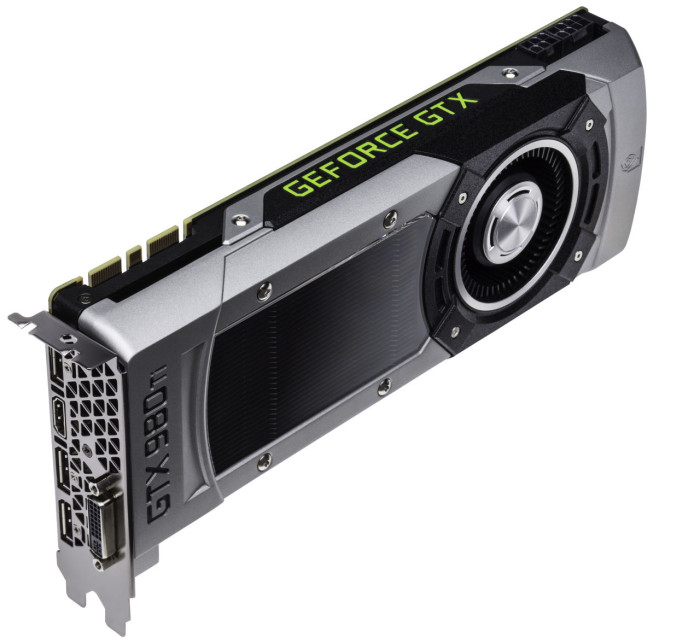 Click Images to Enlarge
The top of the card houses the all too familiar dual SLI bridge connectors which allow for full 4-Way SLI functionality. This obviously is not something that Nvidia ever supported officially, as they never really have pushed the whole ideal of 4 way, but those with 4 way capable boards and the need for serious amounts of available gaming horsepower can run it. This capability would permit a system to scale well beyond a single GPU's performance potential, should a game require it (Crysis 3 and Metro: Last Light come to mind here).
The display connectivity is very interesting as it employs a port layout much different than one we have seen from Nvidia.
1x DVI
1x HDMI
3x Displayport
This is actually a very good solution as it allows for the excellent performance capabilities of Displayport such as enhanced color depth since many modern displays now offer Displayport connectivity. while the card still offers a standard DVI and even HDMi to make sure most common monitor types are covered and whats also very cool about this is that Displayport adapts very easily to pretty much any connector so no matter what your display runs you can get it hooked up on the 980, Now do keep in mind that while there are 5 display outputs you can only use any combination of 4 at one time.
Also you can see at the leading edge of the card the PCIe power connector arrangement which is a 6 Pin PCIe and 8 Pin PCIe connector which along with slot power can easily keep the 250W rated card well fed. Nvidia recommends a 600W PSU for the 980 Ti which should account for other items in your system as well but if you want the extra headroom you can always take a 750W just so you know you are in a nice comfortable spot for efficiency should you add other devices.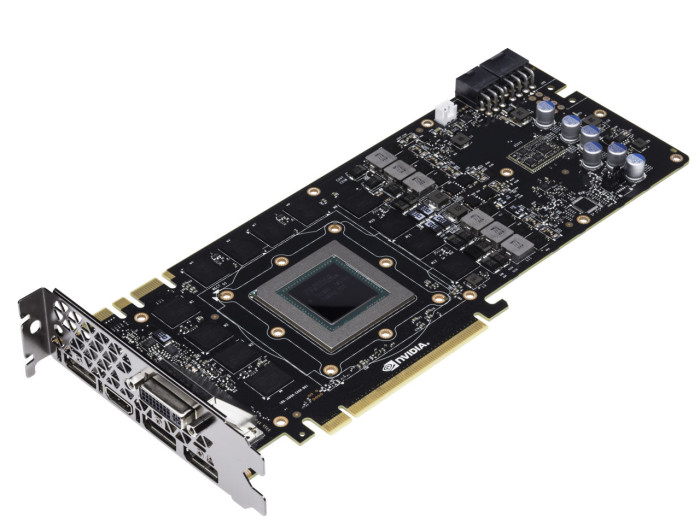 Click Images to Enlarge
Here is the bare card image as supplied by Nvidia and as you can see it ad monstrous GPU in he middle surrounded by 6GB of 7GHz framebuffer just waiting to tear thru some games. To say I am excited to test it would be a massive understatement.
Our Final Thoughts
The GeForce GTX 980 Ti has tons of potential on paper and im sure it will put in some work when installed and ready to rock.
Once I receive my card I will get some scores up to show you just how this card performs and even match it up to the new TITAN X so you can see how it fits in the stack but so far the new 980 Ti is a worthy flagship and at a price point that will easily attract some high end enthusiasts gamers.
Beyond the card I would like to point out that some of the new Nvidia gaming technologies just proves Nvidias dedication to figure out new ways to give gamers a better gaming experience instead of just a static FPS number, because if it was simply horsepower that would be cool but seeing that they are pushing every angle on improving the gaming experience and not just for the high end should make all of the gamers out there very happy.
Lastly I want to mention the new Notebook GSYNC, I have not tested it as of yet but if it's on teh same level as the desktop GSYNC I have come to love and so many gamers have as well, this is a win for everyone and I am super excited to see it roll out!
Keep your eyes peeled for the soon coming performance review on the new GTX 980 Ti in the following weeks following Computex in Taipei!