Introduction
Hardcore gamers swear by their mechanical keyboards due to the tactile feedback and the low actuation force needed to register a key. No doubt that you have noticed there are tons of mechanical keyboards on the market, and almost every one of them are using one of the four switches from Cherry: Black, Brown, Blue, or Red. Every gamer has his/her own preference on which Cherry switch they prefer.
While hardcore gamers love their mechanical keyboards, casual gamers may not be into the clickity-clack sound that all mechanical keyboards make. Especially if your primary system is a laptop; most of them use scissor switches. The clicky feeling of a mechanical keyboard can be somewhat hard to get used to. Not to mention that the price of a mechanical keyboard is higher than a scissor switch model. Even the cheapest mechanical gaming keyboard would still cost about $100, while more expensive models can go as high as $200. Compare this to a non-mechanical keyboard that can be purchased for $30-$40 cheaper, and non-hardcore gamers may consider saving a few bucks and opt out of the mechanical keyboard.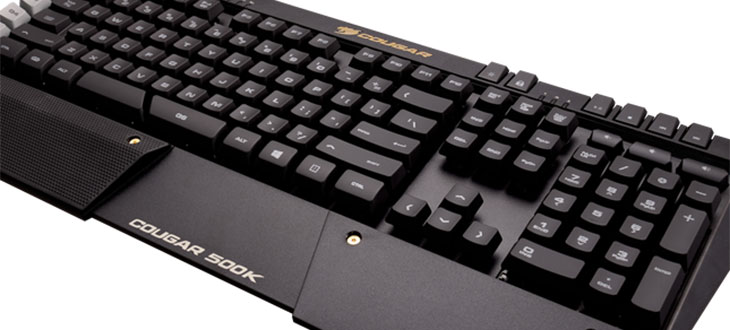 This is where the Cougar 500K comes in. Retail priced at $79.99, the keyboard is designed to provide those who want a gaming keyboard without spending a lot of hard-earned cash and do not wish to be bothered by the clicky sound of a mechanical keyboard.
Cougar is well known for their computer peripherals, and they even offer a couple of mechanical keyboard such as the 600K and the 700K, which are aimed for hardcore gamers. Realizing that there may be a market for non-mechanical gaming keyboards, the company introduced the 500K. Instead of using mechanical switches, the 500K uses membrane switches. I know you maybe thinking, yuck, membrane switch for a gaming keyboard. Pass. Well, do not pass the judgment so quickly, stay with me a bit longer before you make your decision.
Features
FULL KEY BACKLIGHT

5-step brightness adjustment by the backlight key

ON-THE-FLY MACRO RECORDING KEY

Convenient one-touch to start recording a new macro on the fly

ON-THE-FLY MODE SWITCH KEY

Convenient one-touch to switch your profiles (Mode 1~Mode3) on the keyboard

MULTIMEDIA KEYS

Convenient one-touch to access multimedia commands

WINDOWS LOCK KEY

Quickly disable the Windows key with one touch

DETACHABLE PALM REST

Relieve palm discomfort and keeping your palm in an ergonomic typing position

NON-SLIP RUBBER FOOT

Base remains stable in the intense gaming sessions

BRAIDED CABLE & GOLDEN-PLATED CONNECTORS

Sturdy and durable solutions for gaming
Specifications