VisionTek 800w Bronze Power Supply, A Closer Look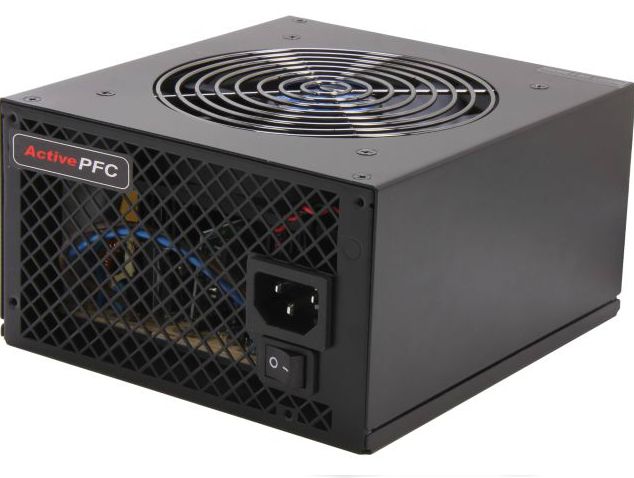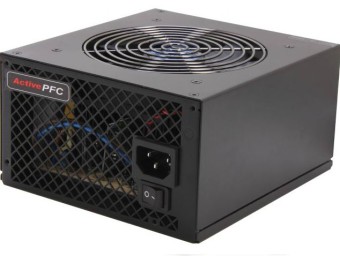 The VisionTek 800w 80 Plus Bronze Modular Power Supply provides 85% efficiency with 80 plus bronze certification and is an active PFC PSU. There are two types of power supplies, Active PFC and Passive PFC (power factor correction). Passive PFC is use on less expensive power supplies and is somewhat undesirable for modern uses. Active PFC has a number of advantages and is more expensive to produce. The preferable type of PFC is Active Power Factor Correction (Active PFC) since it provides more efficient power frequency. Because Active PFC uses a circuit to correct power factor, Active PFC is able to generate a theoretical power factor of over 95%. Active Power Factor Correction also markedly diminishes total harmonics, automatically corrects for AC input voltage, and is capable of a full range of input voltage. An easy way to tell if you have Active PFC or Passive PFC is to look at the back of the power supply and if you see a slider switch to select 110 or 220 volt it's a passive PFC and you should probably hit the web looking for a good quality Active PFC power supply.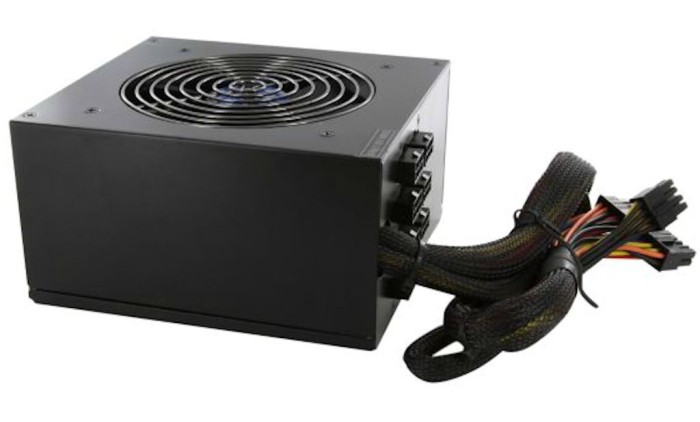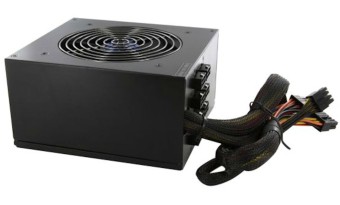 While the VisionTek 800w 80 Plus Bronze Modular Power Supply is listed as modular the 20 + 4 pin Main connector and the 4+4 and 8 pin CPU power connectors are hard-wired, that's pretty normal unless a power supply is listed as totally modular. Typically totally modular are more expensive. Since every computer has to utilize a 20+4 pin Main and at least a 4 pin CPU connector having these connections hard-wired isn't really a disadvantage but totally modular is a little easier to wire neatly.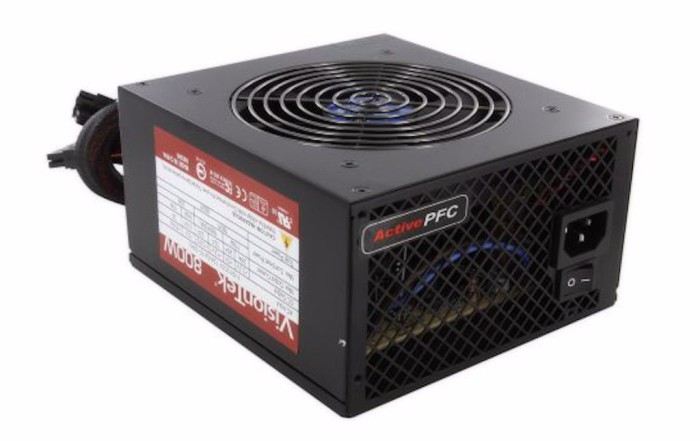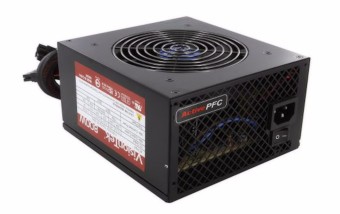 The Nano bearing fan on the VisionTek 800W 80 Plus Bronze Modular Power Supply is whisper quiet and during the heaviest load we could throw at the PSU it maxed out at 36dBA or for those that don't speak dBA that's about as quiet as a Library.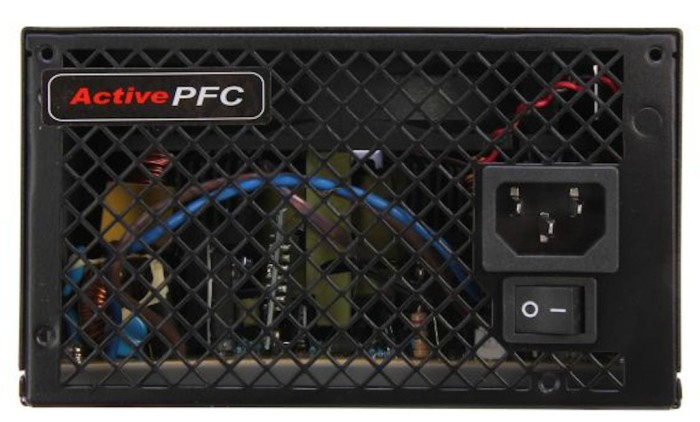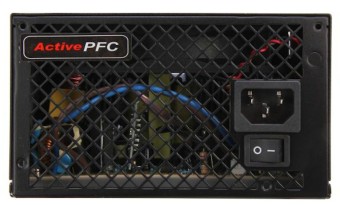 Peeking through the back of the VisionTek 800W 80 Plus Bronze Modular Power Supply  you see a nice open screen design that will provide maximum air flow to keep your PSU cool. Until we reach massively cold temperatures (and even then somewhat) some efficiency is lost to electrical resistance, that loss shows up in the form of heat so the fan draws cool air into the power supply and exhausts it out the back. The weight of a power supply and its subsequent heat sinks are a decent indicator that you are looking in the right direction for quality. If your power supply weighs in at around a pound use a shotgun on it and buy a decent one. Don't believe us take a look at a lot of OEM machines and the PSU are capable of running the off the shelf machine but most will shorten the life of your investment and more suitable as a post apocalyptic swinging mace weapon than a computer power supply. Pick up the VisionTek 800w 80 Plus Bronze Modular Power Supply  and the weight tells you there are nice heavy heat sinks protecting your computing dollars.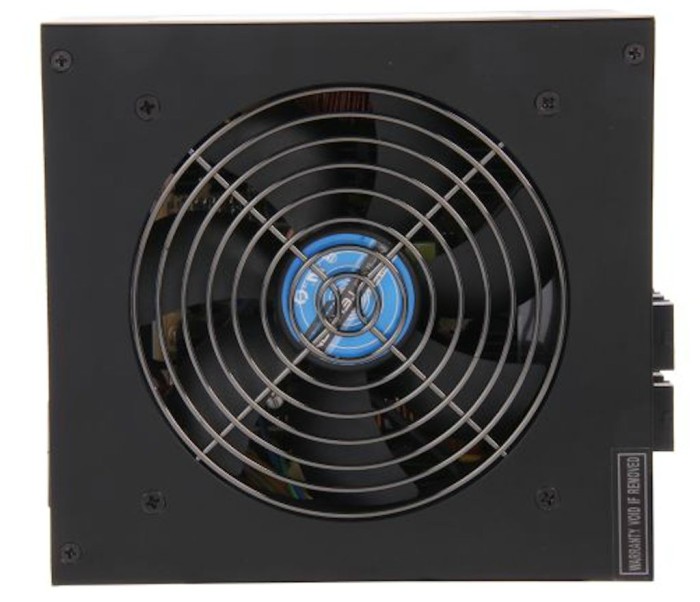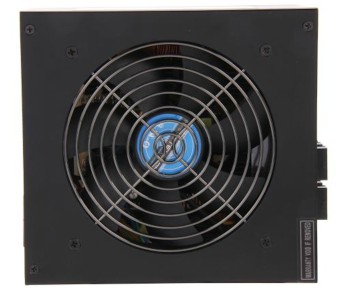 There's a look at the 120mm fan and protective grate flowing cooling air through your power supply and exhausting it out the rear of your computer.  The patented nano bearing fan is rated to run between an amazing -40° to 100° Celsius and I would like to put the fan in a hotbox at boiling point to test that but I suspect it's the only component rated to run at those temperatures.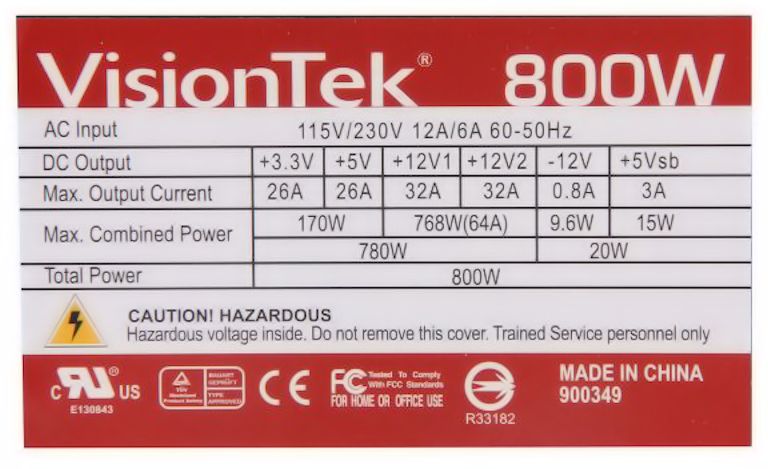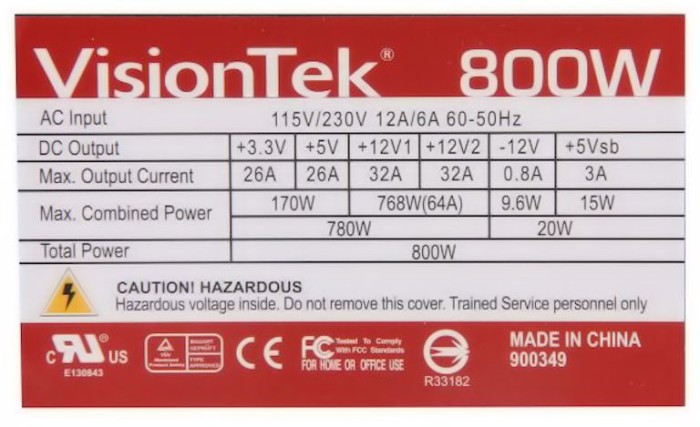 This isn't a large single Rail power supply and there are two separate Rails, some people prefer a large single Rail other people think a Rail is what a train rides on. We've never really had a problem with single or dual Rail power supplies but single Rail tend to have a little less ripple.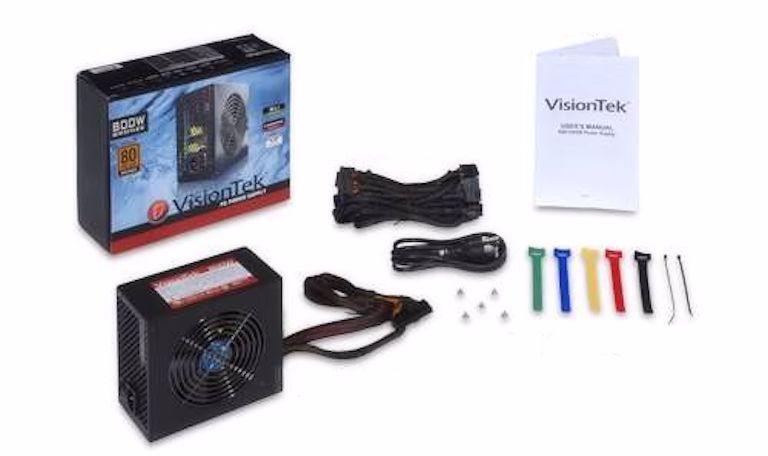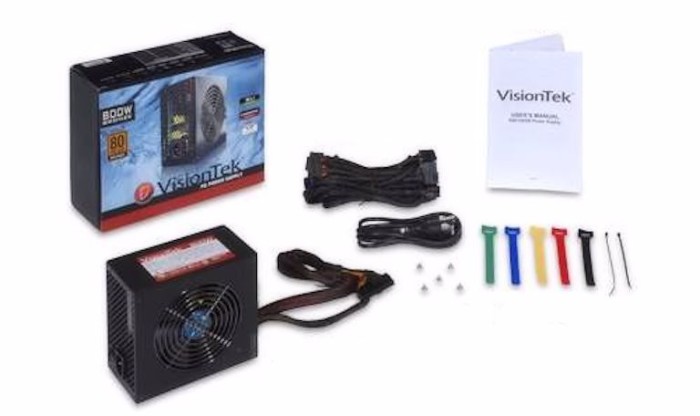 Included in the package are the Power Supply itself, the external power cord, screws to attach the PSU, a manual and some colorful cable ties. Of course there's a generous selection of power connectors and you can peek at the list below.
1 x 20+4pin Main Connector
1 x 4+4pin CPU
1 x 8pin CPU
8 x SATA
2 x 6pin PCI-E
2 x 6+2pin PCI-E
4 x Peripheral (Molex)
1 x Floppy
Review Overview
Quality - 9
Innovation - 8.5
Value - 8.5
Performance - 9.5
Features - 9
8.9
The VisionTek 800W 80 Plus Bronze Modular Power Supply delivers where it counts, clean, stable well regulated power pumping life into your dream machine.