Kingston M.2. SM2280S3 120GB M.2. SSD, A Closer Look
The Kingston M.2. SM2280S3 120GB M.2. Solid State Drive isn't one of those slick-looking "Pretty Cowling" products, it's a performance part that's small and tucked away in inconspicuous spots on your motherboard.  Sometimes it's the smallest parts that make the biggest difference.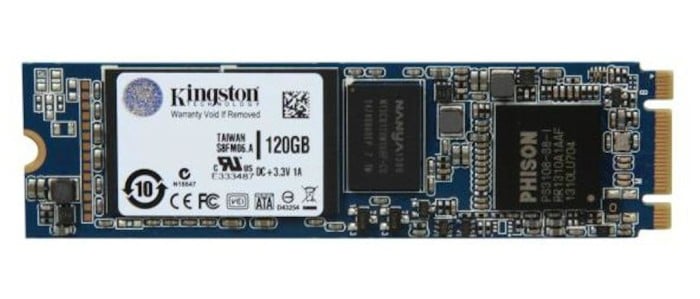 The tiny form factor of the Kingston M.2. SM2280S3 120GB M.2. Solid State Drive makes it a perfect addition to any size conscious build.  Despite the size it provides speeds mSATA can only dream of. For designation purposes this is a B & M type Key M.2. SSD and the most common of the three types. The other two types are the "B" and "M" both of which are 4x PCIe connectors. Note under the sticker are a couple of NAND flash chips, more in a second.

Now switching to the back we find two More NAND Flash chips identical to the ones under the sticker undoubtedly saving us from getting sticky fingers peeling off the sticker to show you. 128GB of NAND flash memory with 8GB reserved for some of that SSD magic like Trim.  Each of the NAND flash chips can store 32GB so total storage 128GB minus (GB for system maintenance and you get 120GB format-able storage.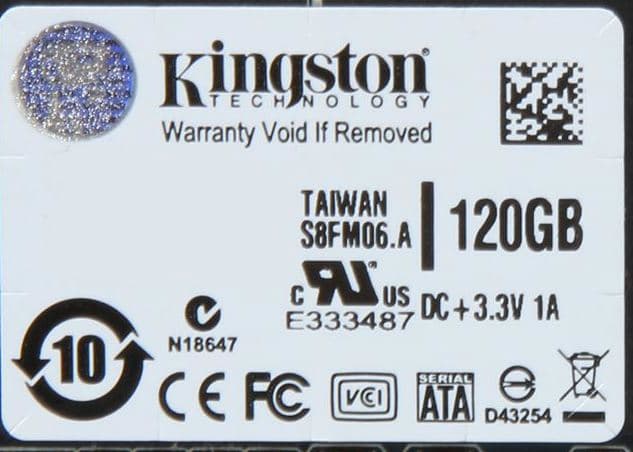 There's a close up of the sticker we were trying not to remove and you can see that the Kingston M.2. SM2280S3 120GB M.2. Solid State Drive sips at power consuming 3.3V at 1 Amp and a member of the Serial ATA (SATA) family. Notice the warranty void if removed on the sticker, so keep your fingers off the sticker if you value your warranty.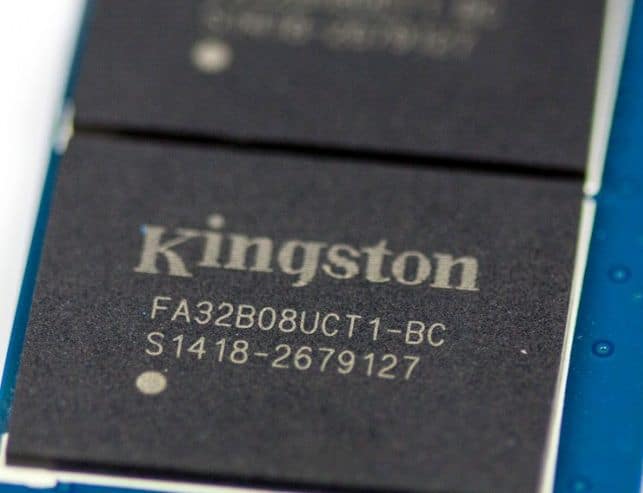 The designation on the chip is  FA32B08UCT1-BC and due to the capacity of the drive we already know each is a 32GB NAND chip (Raw Capacity), We checked for possible outsourcing but all we could find in reference is the chip on the Kingston drive.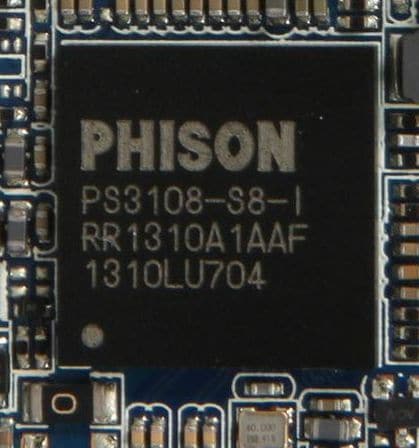 The Phison PS3108 chip pictured above is typically seen as a budget part but supports DevSleep for ultra low power modes and  of course garbage collection and TRIM to keep performance consistent over the drive life. Drive endurance is rated at 230TBW and 1M hours MTBF and a lot of that is derived from wear-leveling algorithms.  The SM2280 also has firmware based power loss protection and continually flushes the cache to non Volatile Nand Flash preventing data loss from power outages.
Review Overview
Performance - 9.5
Value - 10
Innovation - 9
Quality - 9.5
Features - 9
9.4
The Kingston M.2. SM2280S3 120GB M.2. Solid State Drive surprised us with it's size and speed. Loaded down with an operating system, tested to the max it blew us away in Size, Price and Speed.