Today we are testing the ZOTAC GeForce GTX 970 AMP! Extreme Edition card, a pre-overclocked GeForce GTX 970 card with custom fans. And as expected we came away very impressed.
KEY FEATURES
We have visited the AMP-edition cards before and they always offer us more performance out of the box. With the AMP! Extreme-version Zotac has gone all out to add new exciting features.
IceStorm
IceStorm is the name of the tre-fan cooling system that is designed to keep the card cool whatever you do with it. It has copper-heatpipes, aluminum fins and three 90 mm fans which all help keep the card cool and silent running. The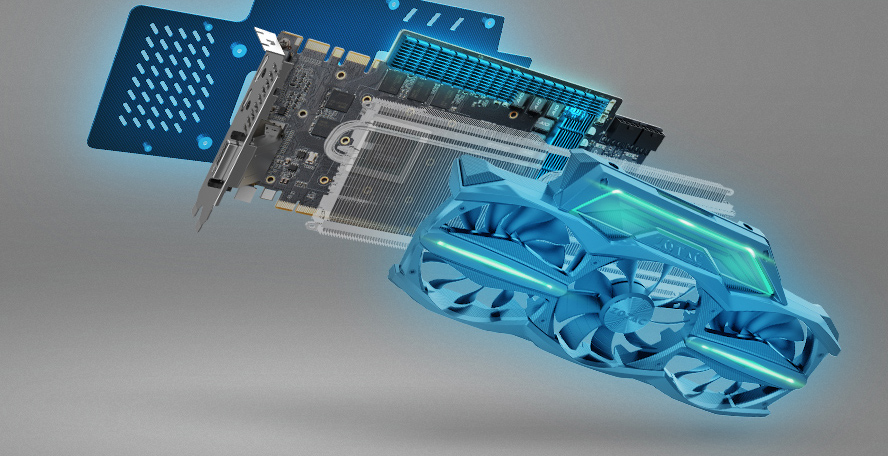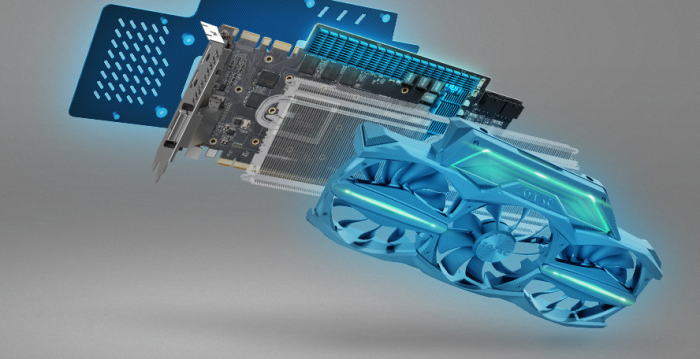 The fans are multi-angled so the cover the whole heatsink and also focus on different areas.
ExoArmor
At the back of the card we find the "ExoArmor" which helps funnel the air and handle vibrations as well as having thermal plates that have direct memory contact and, together with the back plate, offers the most cooling possible, nice to have when you are overclocking the memory.
Power+
Smooth power delivery is vital when it comes to intense gaming sessions. ZOTAC Power+technology monitors the GPU's power requirements in real-time to optimize the power delivery circuitry for maximum stability while minimizing wasted energy for long-term reliability and extreme performance.
OC Plus
ZOTAC OC Plus1 is an independent power regulation controller that communicates with the graphics card PWM via an internal bus and interfaces with ZOTAC FireStorm via external USB connection. When the OC Plus controller is connected to the PC via USB, advanced features such as voltage adjustment2, status monitoring and other detailed overclocking options are enabled with ZOTAC FireStorm software.
Light.ID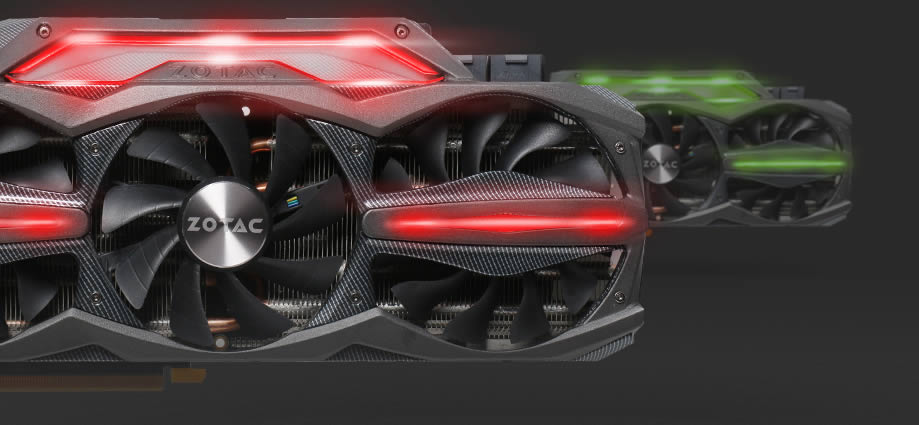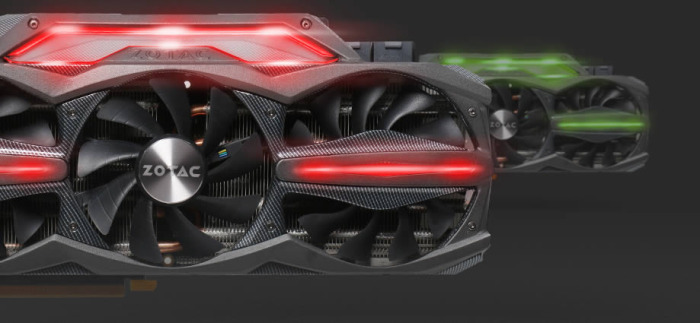 Light.Id visualizes the load on your GPU by changing the color of the led depending pn the load. A green light is used for light loads while red signals a heavy load. This can of course be disabled in the FireStorm software.
Specifications
Model
ZT-90103-10P
Interface
PCI Express 3.0 x16 (Compatible with 1.1)
Manufacturer
NVIDIA
GPU
GeForce GTX 970
Core clock
1203 MHz (base) 1355 MHz (boost)
Cores
1,664
Memory Clock
7200 MHz
Memory Size
4GB
Memory Interface
256-bit
Memory Type
GDDR5
Ports
DVI x1 (2560×1600)
HDMI x1 (4K @ 60 Hz)
DisplayPort x3 (4K @ 60 Hz)
VGA (with included adapter)
Package Contents
DVI-to-VGA adapter 2 x Dual 4-pin-to-8-pin PCIe adapter Mini USB-to-internal USB header cable Driver Disk User Manual
Let's look at the different clock speeds that Zotac offers us with their GTX970 cards.
Zotac GTX 970
Zotac GTX 970 AMP! Omega Edition
Zotax GTX 970 AMP! Extreme Edition
Core clock
1076 MHz (base) 1216 MHz (boost)
1102 MHz (base) 1241 MHz (boost)
+2.4% / +2%
1203 MHz (base) 1355 MHz (boost)
+12% / +11.4%
Memory clock
7010 MHz
7046 MHz (+0.5%)
7200 MHz (+2.7%)
The Zotac GTX 970 AMP! Extreme Edition comes pre-overclocked with around 11-12% better core clock depending on base or boost clock and a tiny speed bump with the memory.
Review Overview
Performance - 9
Value - 10
Quality - 9
Features - 9.5
Innovation - 9.5
9.4
The Zotac GTX 970 AMP! Extreme Edition offers a lot of value with excellent performance and great features, all for a relatively low price.

One of the consequences of having run this site for almost 20 years is that you have seen a lot of GPU-launches and thus are a pretty jaded when it comes to new GPU's. They usually are a bit faster, come with a few more features that few use and to be honest mostly are a waste of money for most as even cards from 2 generation back can run most games great. The launch of the Maxwell GPU's, the GTX 970 and GTX 980, though has been different. It has been a long time since a new generation so utterly has made its previous generation cards as well as most of the competitors cards obsolete. And while the GTX 980 of course is the performance leader it is the GTX 970 that has caught a lot of people's eyes as it offers excellent performance for its low price.