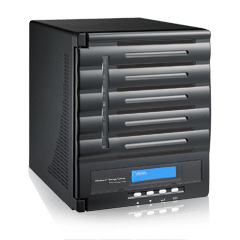 Thecus has released new line of NAS that uses Windows Storage Server 2012 R2 Essential. The new NAS features data protection, remote access, cloud service with support for Office 365 integration and Microsoft Azure backup. Based on the Microsoft OS means that it comes with features that is found on the latest OS from the software giant such as File History, Active Directory Domain Service, and data deduplication, It also features built-in automatic client backup and supports up 36 languages.
Available in the US from mid-November, the new models are designed for home and small business environments. The W2000, W4000, and W5000 support 2, 4, and 5 SATA drives. The internal components are same for all three models that they use Intel Atom processor clocked at 2.13GHz, comes with 2GG DDR3, VGA, HDMI, and 1 eSATA ports. To help with system boot up time and responsiveness, the 2 and 4 bay models include 64GB SSD while the 5 bay model includes a 500 SSHD.
The units are retailed at $350, $450, and $550 for the W2000,W4000, and W5000. They are rather affordable for those who are looking to upgrade or getting a new NAS for their home or small office.
Source: Thecus