Overview of the EVGA X99 CLASSIFIED
Click Image For a Larger One
The packaging for the X99Classified is super clean with mostly black, minimal support logos and minimal artwork. This in itself makes a very good feel for me because it doesn't feel cluttered or overdone, kinda like a Honda with a thousand stickers on it… this has more the muscle car with a few sponsor decal feel to it.
Click Image For a Larger One
Here we see all of the accessories we get with the EVGA X99 Classified:
User Manuals
Installation Discs
Metal case badge
IO Shield Cover/Shield
EZ Voltage Checkpoint Cables
SATA Cables x6
SLI Bridges (2 Way, 3Way & 4 Way)
IO Shield
GPU Link Cables
USB 3.0 Expansion Bracket
2x Screws for M.2 Mounting
This bundle will get your new X99 board up and running however with 10X SATA ports onboard you only get 6x SATA cables so if using more than 6 ports you will need to source a few more. One area I see lacking as well is the IO Shield as the classified comes with a standard stamped metal IO Shield instead of one with the nicer quality and padded IO area, and this is something I normally see with much lesser boards so that's a bit of a surprise. This really seems like a very strange and minute area to save a few cents.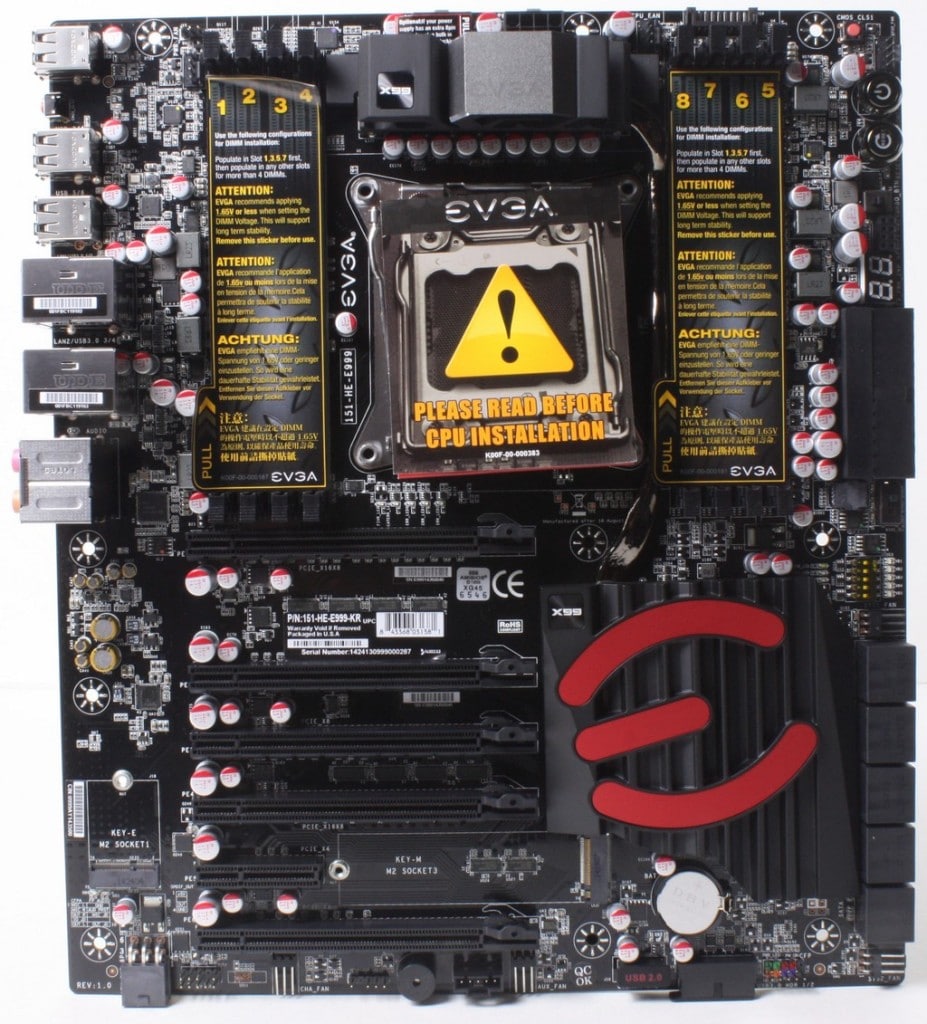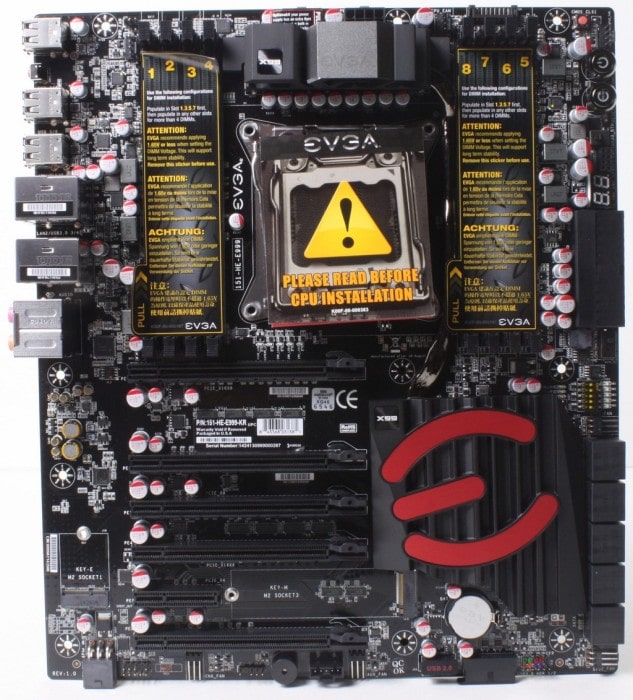 Click Image For a Larger One
Here we have a top down or direct shot at the board and you can see that first off a lot more of the PCB is used for features which is awesome to see as the classified takes a step up in my eyes as more of a contender against the Rampage and XPower boards in terms of feature set and quality. The right angle connectors I am surely mixed feelings about as when placing the board into a case I quickly found that the wide board and addition of laid over 24 pin main ATX connector meant that the 24 pin cables would need to take a very sharp bend or possibly miss the cable management cutout completely making cable management actually more work than needed. but pending placement in the case is spot on then you can get some awesome results from this layout not to mention all of the USB 3.0 cables being right-angled shows potential to manage cables better pending the cable being plugged in does not exceed the whole due to laying flat over it.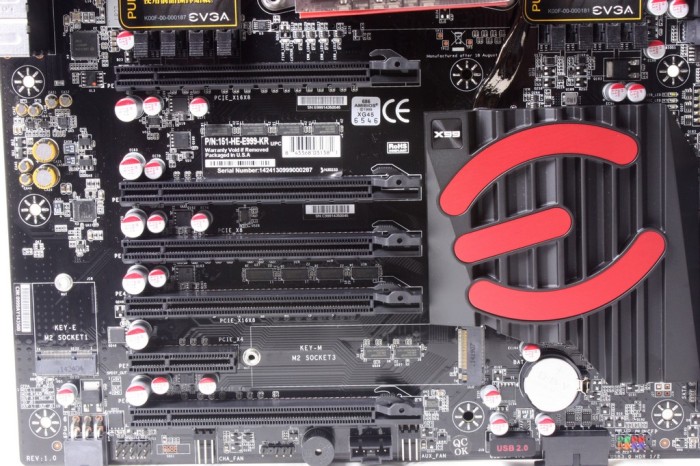 Click Image For a Larger One
The slot layout is optimized for enthusiasts configurations to take pretty much anything from single card all the way up to maxed out 4 way card configurations. With a 40 lane processor you could have a ton of capability from HBA and processing card configs or even just an extreme benchmarking rig ready to push for the next world record.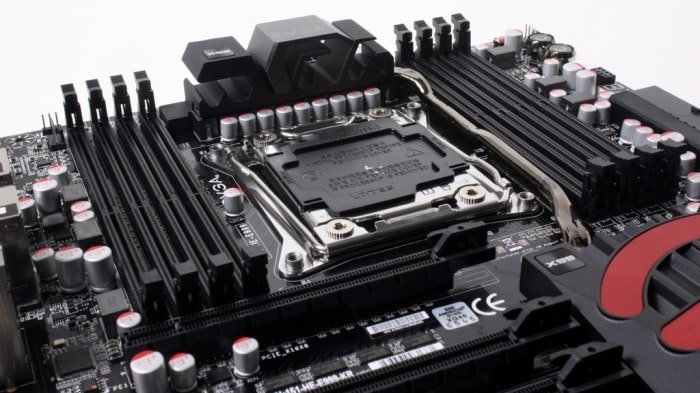 Click Image For a Larger One
The memory is capable of a stated up to 128GB memory and speeds range up to 3000MHz+ which in essence is about what others are stating and it really comes down to how good of an IMC and how good the sticks are that you have. Do remember that also DDR4 just came around so the potential of memory is just being seen and as it is refined I am hoping for some really good things coming from memory manufacturers going forward.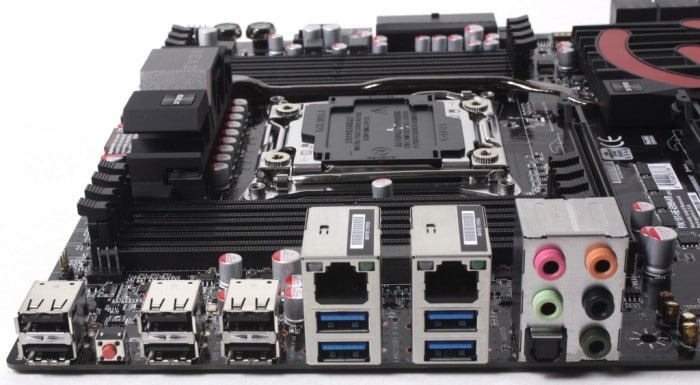 Click Image For a Larger One
The rear IO is actually quite basic for what we have seen so far from X99.
6x USB 2.0 Ports
Clear CMOS Button
Optical SPDIF connector
4x USB 3.0 ports
2x Intel Gigabit LAN port
up to 8 Channel HD audio via Realtek ALC1150
The connectivity of the Classified I find a bit on the weaker side, for a benchmarking board it has what you need but for anyone looking at this for a daily cruiser, it is lacking things like WiFi and more USB 3.0 connectivity.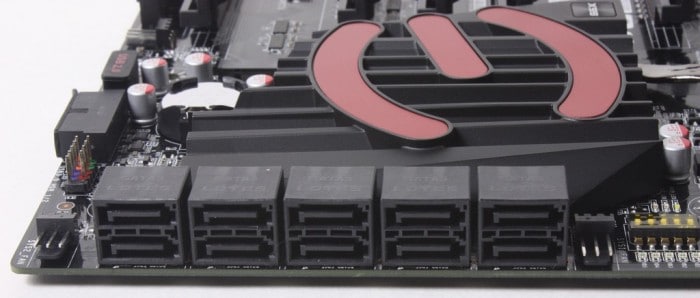 Click Image For a Larger One
For storage the Classified board is offering a straight 10 ports from the PCH offering up to SATA 6G speeds. EVGA decided to skip the SATA Express which in all honestly might not be that bad of a thing as I have not seen much for drives on that front and havent seen much on the horizon either.
Click Image For a Larger One
At the top right of the Classified you will find the power and reset buttons along with other controls or as I have called it the "Overclockers corner" and here is where you find many of the controls which will be helpful in the benchtop environment. This is also where you will find the BIOS chip selector, GPU Link cable ports, GPU disable toggles and even the turbo switch. Also an addition here is the LCD Debug code which works as a CPU temperature readout once posting is finished.
Click Image For a Larger One
The Classified has an interesting M.2 solution offering the Type 2 Key E solution on the left hand lower corner of the board for smaller devices (WiFi Cards) and the higher performance PCIe X4 capable slot can be used for high performance M.2 SSDs.
Click Image For a Larger One
On the lower left edge of the board houses the audio hardware as well with solid good quality Nichicon audio Caps and fed by a Creative Core3D Codec.
The bottom of the board employs a 6 Pin PCIe connector to add supplemental power to the PCIe slots feeding multi GPU combinations without overloading the traces from the 24 Pin power connector.
Click Image For a Larger One
Here is the VRM area, EVGA puts a 10 Phase solution to work here. The cooler is a new design from them and looks nice while being beefy and functional to keep thermals on the power components at bay.
The VRM is fed by a primary 8 pin EPS connector and there is a second in place should the need arise for massive amounts of power for the CPU. In most cases the single EPS connector will be more than enough for enthusiasts everyday builds so if your PSU only has one there's no need to worry.
BIOS Overview
EVGA really stepped up their game in the UEFI department. Back when UEFI was just being adopted  their offering was very weak but EVGA has stepped up and proven themselves to be a contender with not just a solid delivery as far as visuals but the feel of the bios is quite refined and everything is pretty easy to find. Anyone who has ever step foot in a BIOS or UEFI before should have no issue navigating the waters of this board.
Review Overview
Performance - 8.5
Value - 9
Quality - 8.5
Features - 8.5
Ijnnovation - 9
8.7
The EVGA X99 Classified is a extreme board ready for someone to push its limits and the performance shows when in capable hands!