Introduction – EVGA X99 Classified
EVGA is one of those brands we have all seen come up and become a very strong force in the graphics card market and even motherboards. Their history is a bit of a roller coaster ride starting with NF series Nvidia chipset boards which no doubt had their fair share of issues finally eclipsing with the 790i which thankfully is when EVGA was able to offer intel chipset boards. With that they also picked up Peter Tan AKA Shamino and his engineering and overclocking knowledge made for some real magic with the X58 Classified among a few other boards, but a short while later Peter left and wound up at ASUS and EVGA boards showed this as feature sets and even performance suffered, but EVGA trudged through the tough times and looking at what we have here today they are all the better for it. I have a belief that you can tell a lot about a manufacturer not by how they do when everything is going well but by how they push through and never give up when things are hard.
The board we have here today is the X99 Classified and this at the time of writing is the top X99 based motherboard model EVGA offers. Normally the Classified stays the top model through the chipset life cycle so we will need to assess this as we do not expect any higher model to arrive.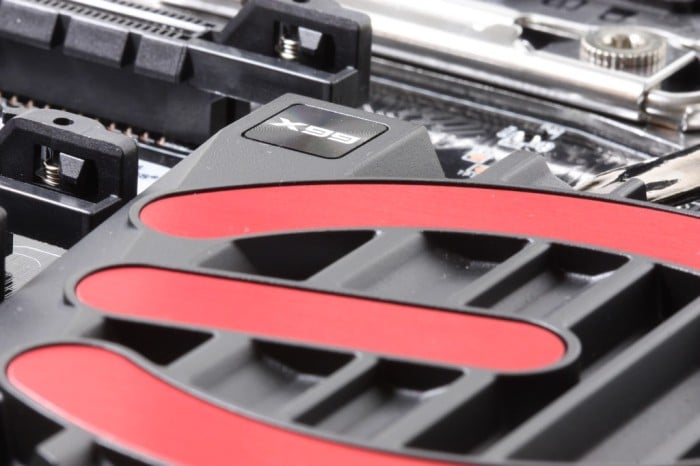 The board comes in at a street price of $399.99 Directly from Newegg at the time of writing. This places the Classified in a pretty high-end territory among the other top overclock boards although admittedly it is a bit less than some of the competing entries.
Features & Specifications
10 Phase power design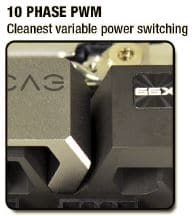 EVGA went pretty solid with their CPU power design giving 10 Phases which I believe is good since this board is meant to push the clocks to the limit in the most extreme overclocking sessions. Add to this we have already see the new Haswell E CPUs can pull a ton of amps when heavily clocked so a decent amount of power phases to spread the load and a large amount of power handling is a must for this platform.
Dual 8 Pin CPU Power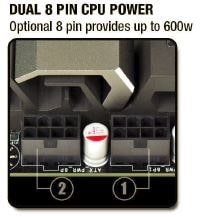 Here you can see the power feeding this beefy power circuitry is done via dual EPS 8 pin connectors. This is not a requirement and actually not even necessary even when pushing things until you get to the extreme end and that's where you might start to pull over what a single connector should give and it's always good to be able to split the loading. However even with the massive amount of amperage these chips can pull I do wonder if dual 8 pin is necessary when I see the other boards pushing 8+4 but if you have dual 8 pin EPS its better to have the power on tap than be left needing it.
EZ Read Points
EVGA employs a voltage reading solution which many board manufacturers have done but I have to give them credit as they employ the solution in a very useful way. Instead of having individual plugins for probe points the board has a solid plug with multiple leads coming from it allowing direct connection to the lead you need without having to plug-in all of the leads separately one at a time like some others we have seen.
PCIe Disable Switches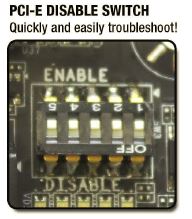 EVGA has offered PCIe disable switches for some time now which allows disabling of a PCIe slot so that you can post without detection or operation of a specific slot and I see this as a nice benefit to those who maybe have multiple liquid cooled GPUs or even GPUs on LN2 as you can now test to find an issue without having to disassemble a complete rig. Whats great about this is that EVGA opted to enable dip switches rather than jumpers which can be lost or dropped when moving them.
Right Angle 24 Pin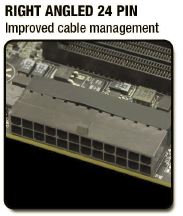 EVGA introduced right angle connectors onto boards some time ago and to much fan fare. It is said to be able to help with better cable management possibilities and we will look at that soon.
Triple BIOS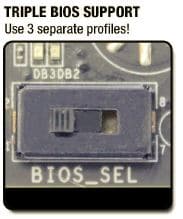 EVGA has offered a triple BIOS feature on their top end boards for some time now, and the X99 Classified  is no exception. This allows for users to test out different BIOS settings or even different BIOS versions while having dual backups to fall back on should the settings not work out.  Also you can have an everyday BIOS with standard gamer settings while you have a Benching BIOS with all of your overclock and extreme settings. The major advantage I see would be the ability to boot from a different BIOS chip in the event the main one corrupts or does not flash properly.
M.2 Ports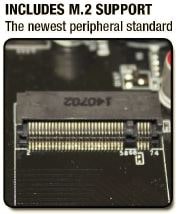 EVGA included M.2 ports on their board which honestly is pretty standard fare for this platform but the way they applied it is pretty strange as there are two keyed slots one being Slot E and one being Slot M. This does not allow for multiple length units as the Slot M only fits 2280 based M.2 drives which is pretty common but it does eliminate usage from 22110, 2260, 2242 and etc.
New GUI BIOS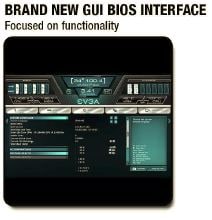 EVGA has remade their BIOS which honestly we have seen big moves from them in this category since for a while they were behind the curve as one of the last to adopt a clickable UEFI. Now to current you can see that the BIOS is much better looking, cleaner and easy to navigate and we will be covering that in the section further in this overview.
EVGA E-LEET Tuning Utility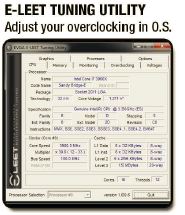 EVGA's E-LEET tuning utility reminds me much of the CPUZ utility used by benchmarkers around the world but with the ability to just key overclocking settings and voltages which allow overclocking to some extent within windows. I normally do not use tools like this when testing overclocks as setting within windows can be very trciky and the strangest instability in the OS can cause all kinds of issues.
Review Overview
Performance - 8.5
Value - 9
Quality - 8.5
Features - 8.5
Ijnnovation - 9
8.7
The EVGA X99 Classified is a extreme board ready for someone to push its limits and the performance shows when in capable hands!